When it comes to bringing panoramic views to every room, nothing beats this house with glass walls all the way around. Take a look.
/// Thailand ///
Story: Suppachart Boontang /// Photography: Soopakorn Srisakul /// Owner/Designer: Issaraporn Prasongkij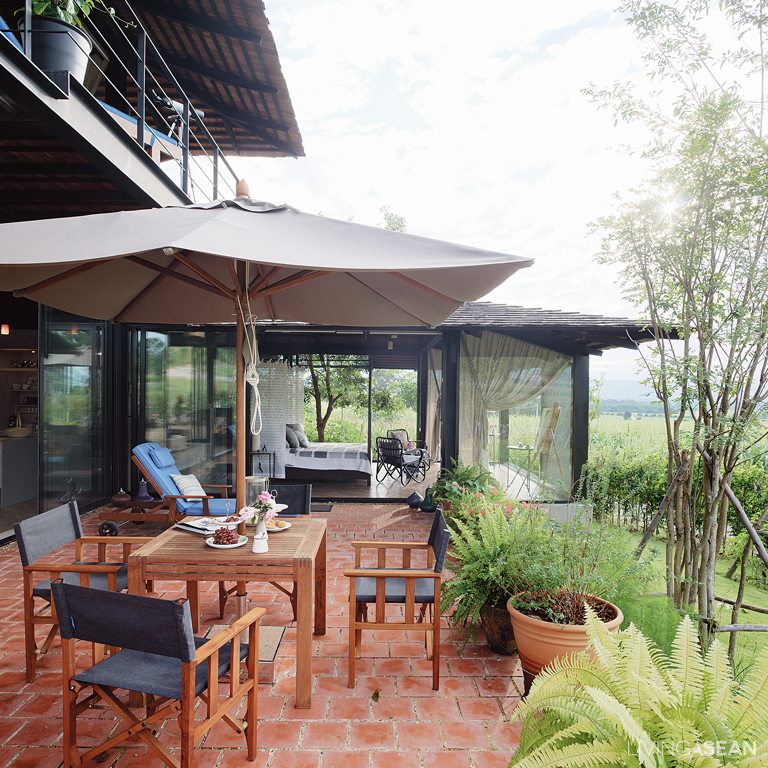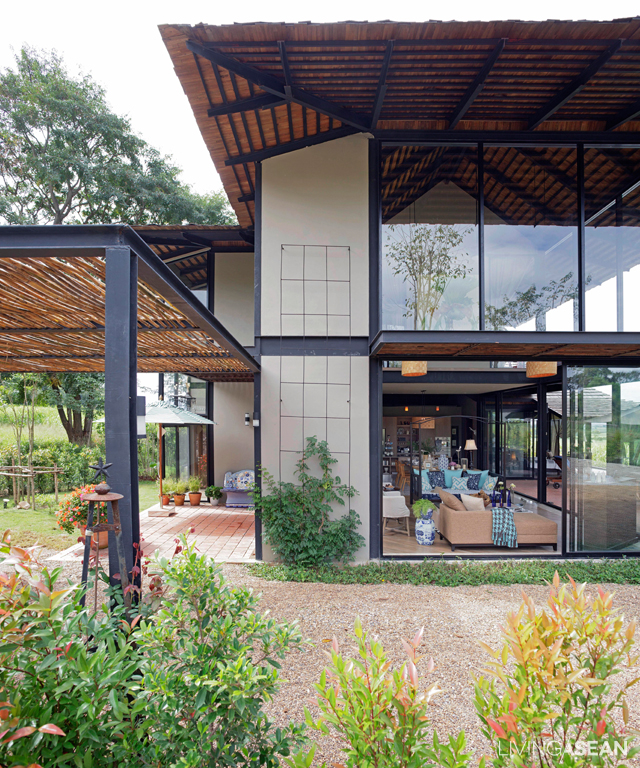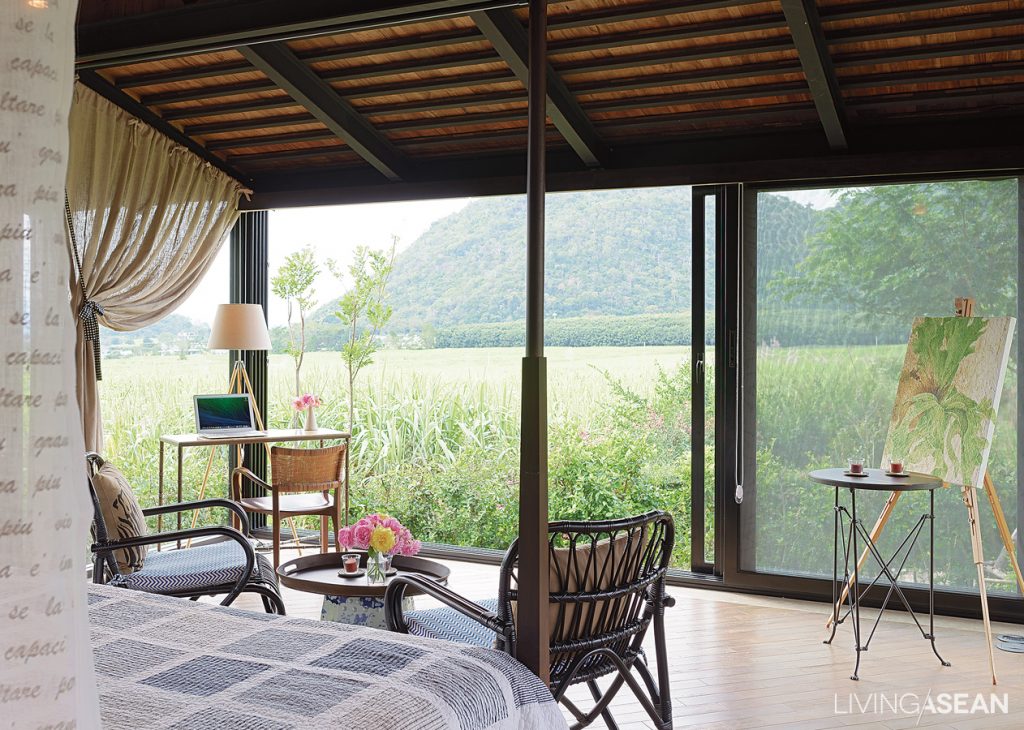 Aptly named "Baan Asai," literally a place to live, a modern glass house in Nakhon Ratchasima was crafted with skill and imagination to achieve one goal – soak up the spectacular views. The owner, Issaraporn Prasongkij, designed this residential cluster development herself.
An amalgam of the traditional and the modern, the two-story, cube-shaped home was built fast thanks to advancements in metal tech industries. Metal became the primary building materials for two reasons – cut down construction time, and in turn reduce any effects on the environment.
From the outside, the house looks like the coming together of three mirror cubes, each of which serve specific functions. To minimize reflections in glassy and metal materials, the designer chose to cover them with hip roof design in pleasing shades of brown. The muted earth-tone colors not only gave the house a comfortable feel, but also enabled it to blend into the natural surroundings.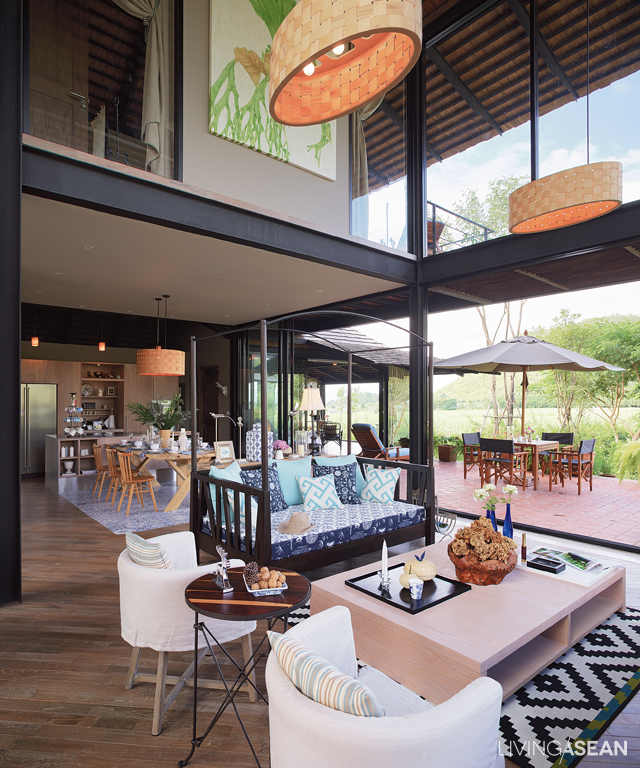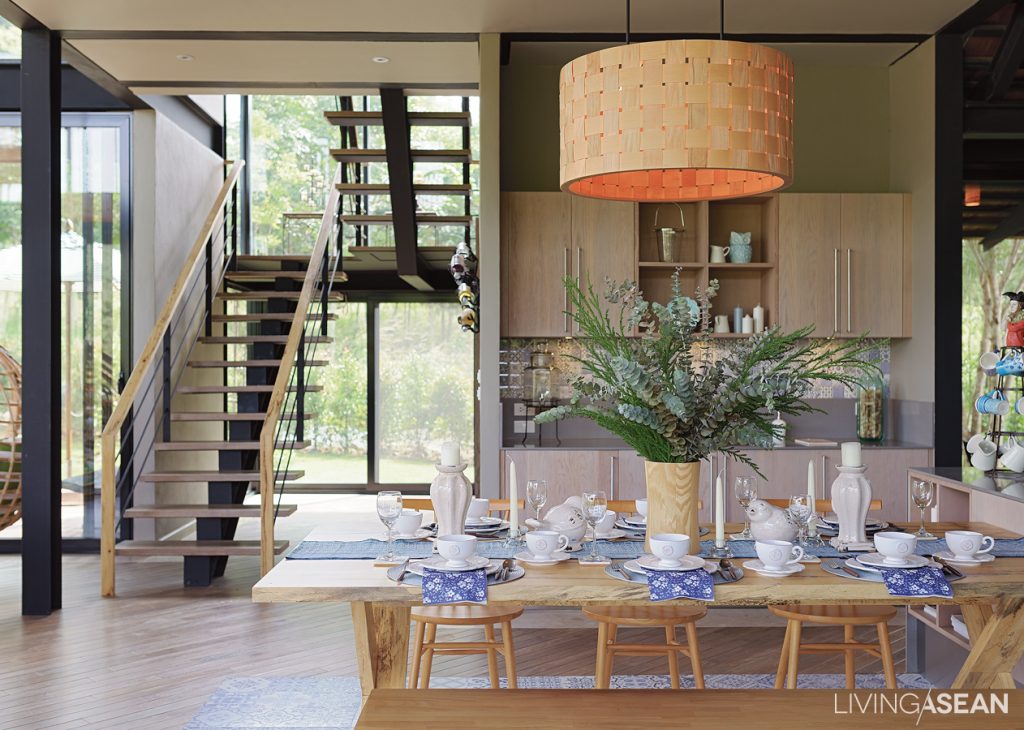 Because the outside walls are transparent, much of the house's interior can be distinctly seen. The beauty of it lies in the detail of furniture, fittings, and other decorative accessories. The owner and her husband handpicked these items for their cozy appeal, from carpets to cushions to porcelain sets. They even designed some of the items themselves.
To take in great panoramic views, glass panels mounted on aluminum frames are chosen over ordinary solid materials. The first floor living room boasts high ceilings that rise as tall as 10 meters from the floor to the apex. Close at hand, an alfresco leisure corner and dining space with an island kitchen counter stand within easy reach from the carport.
With good reason, areas that require privacy, such as bedrooms and baths, are partitioned off from the rest. The house's two bedrooms are tucked away in the innermost part of the second floor, which affords sweeping views of the Khao Yai Mountains.
The couple also has plans to build a community of urban residents in the area. They are looking at a form of co-housing similar to the ways of the Thais in times gone by. It's interesting to see how that will take place in years to come.