Everyone living together in a warm communal atmosphere makes this wood house a true family home.
/// Thailand ///
Story: Jeadwonder /// Photography: Sitthisak Namkham, Piyawuth /// Design: Spacetime Architects Co.,Ltd.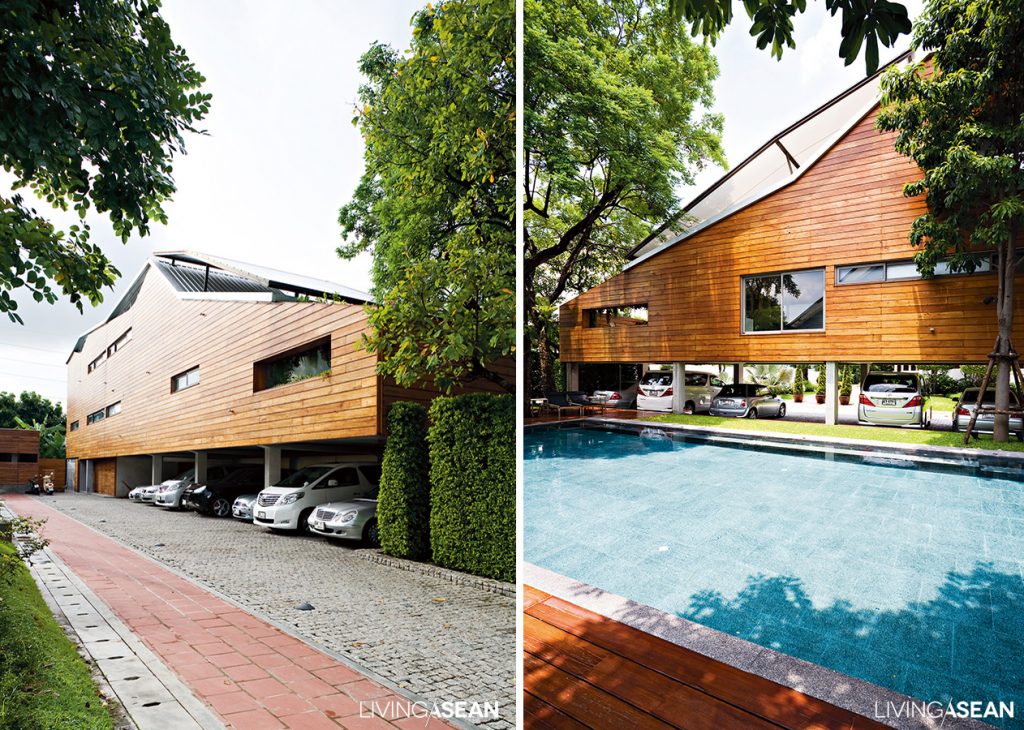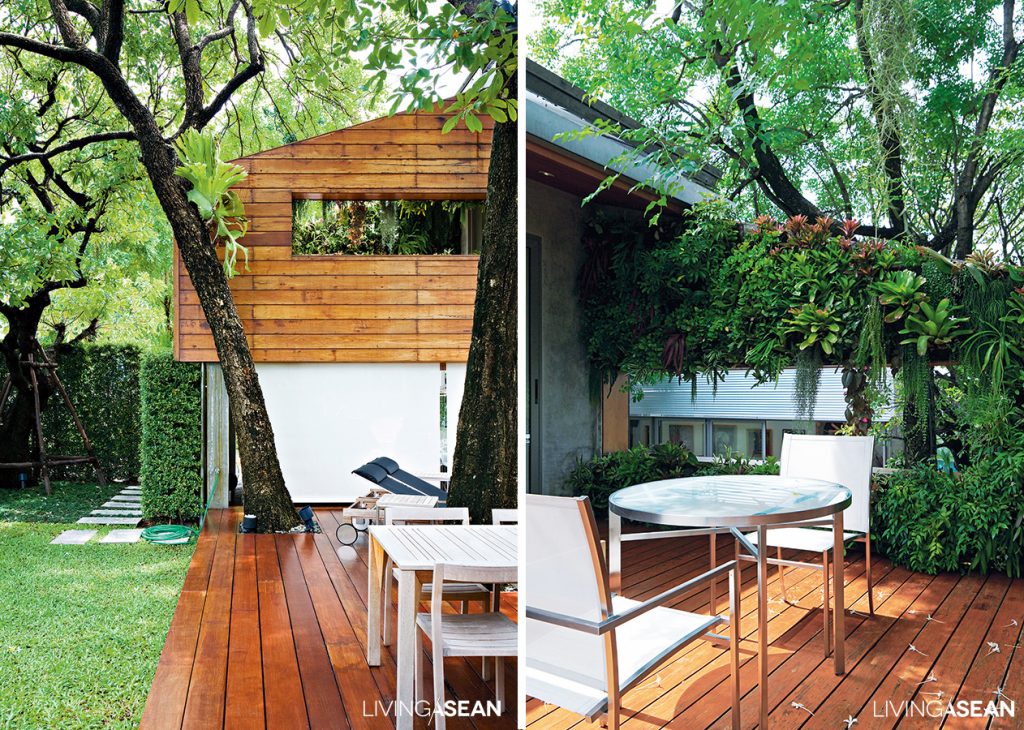 Young married people these days tend to move away to have children and live separately, but Chang (Somprasong Sawat) and Bua (Buachomphu Ford) have brought their family back home.
"We're all one big family, Mom, my sister, and my family, which right now is me, Bua, and our three young sons. It's comforting to have relatives nearby. Grandma and Auntie help with the grandchildren," Chang says with a smile. Kanika Rattanapreedakul designed the house: Chang had learned about her work from a magazine article about house design in New York's Soho district, where Kanika was the single Thai woman featured among a number of Westerners.
Her design resulted in this unique 1,000 square meter home, divided into three main sections. The first part, in the center, holds the swimming pool and central area of the house: living room, dining area, and Western-style kitchen. This is everyone's common area.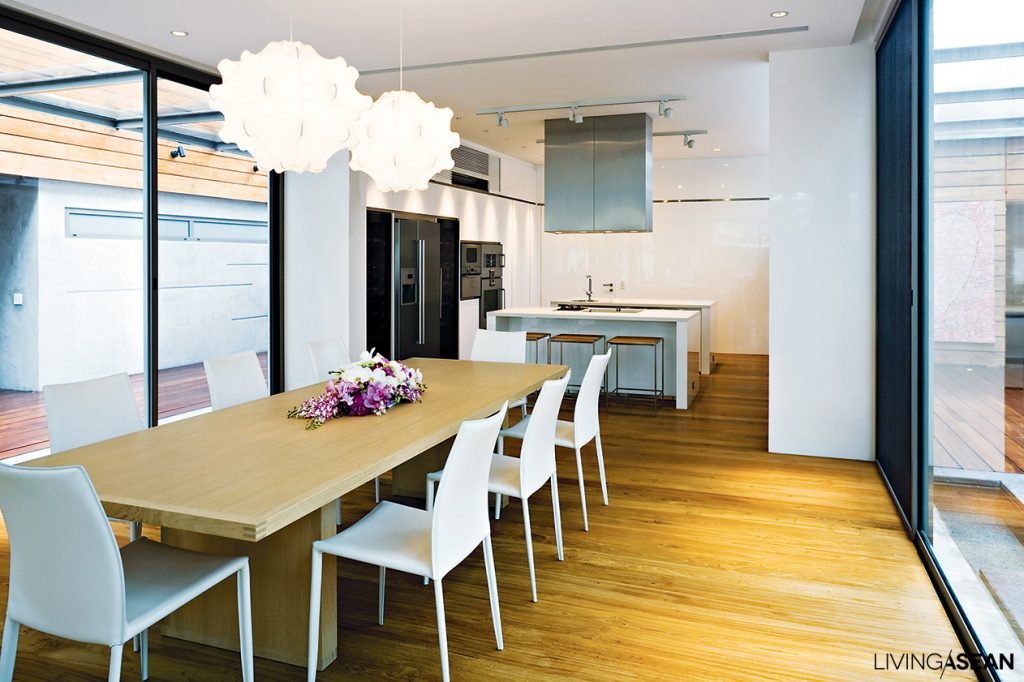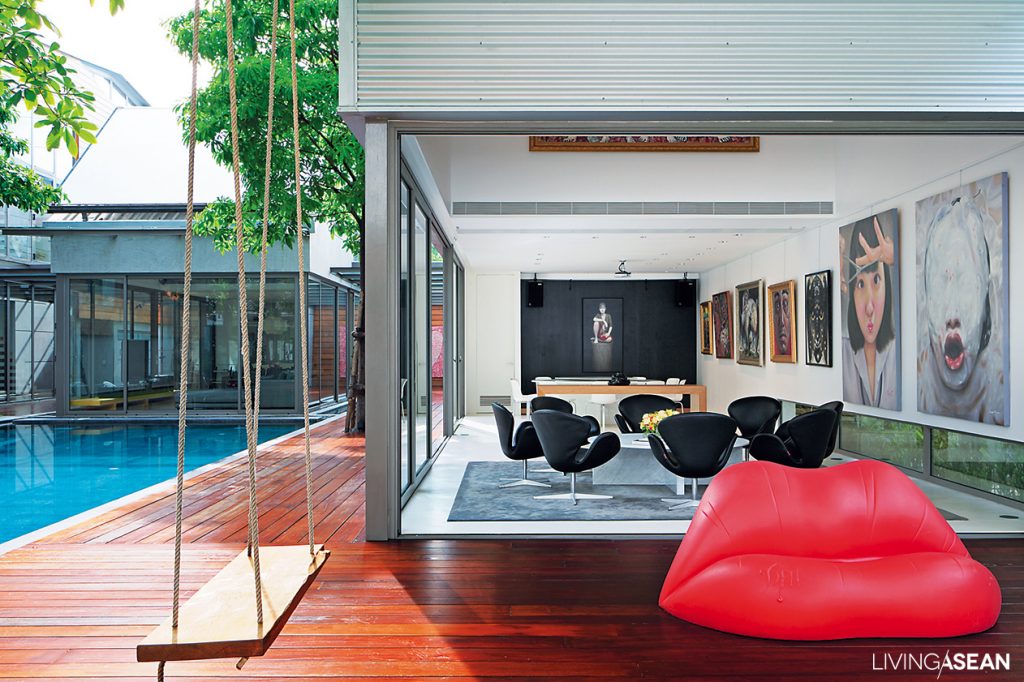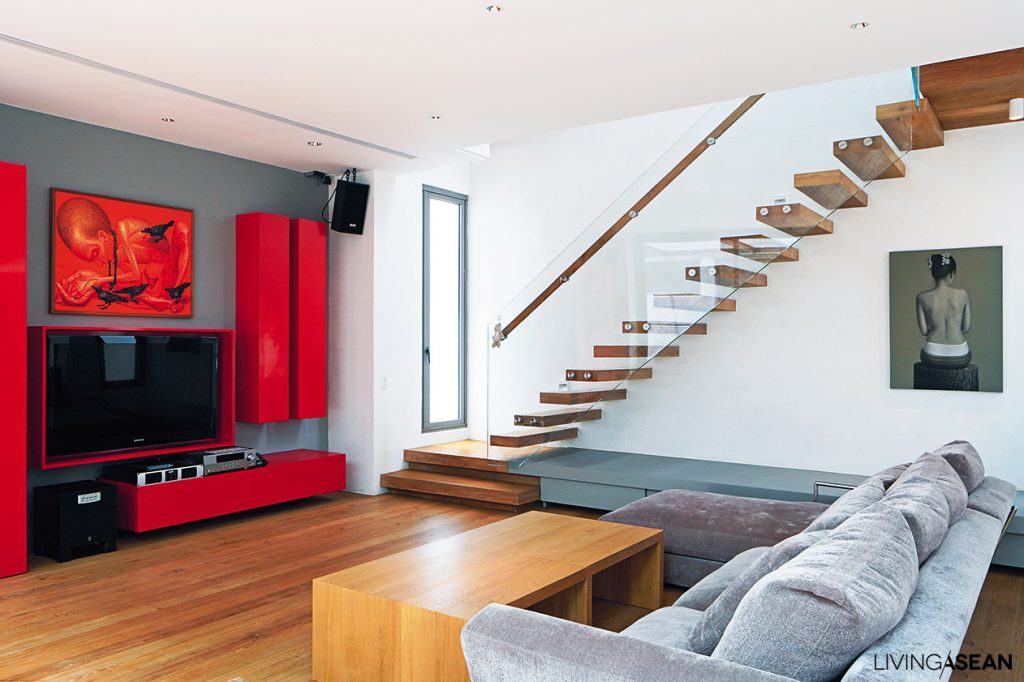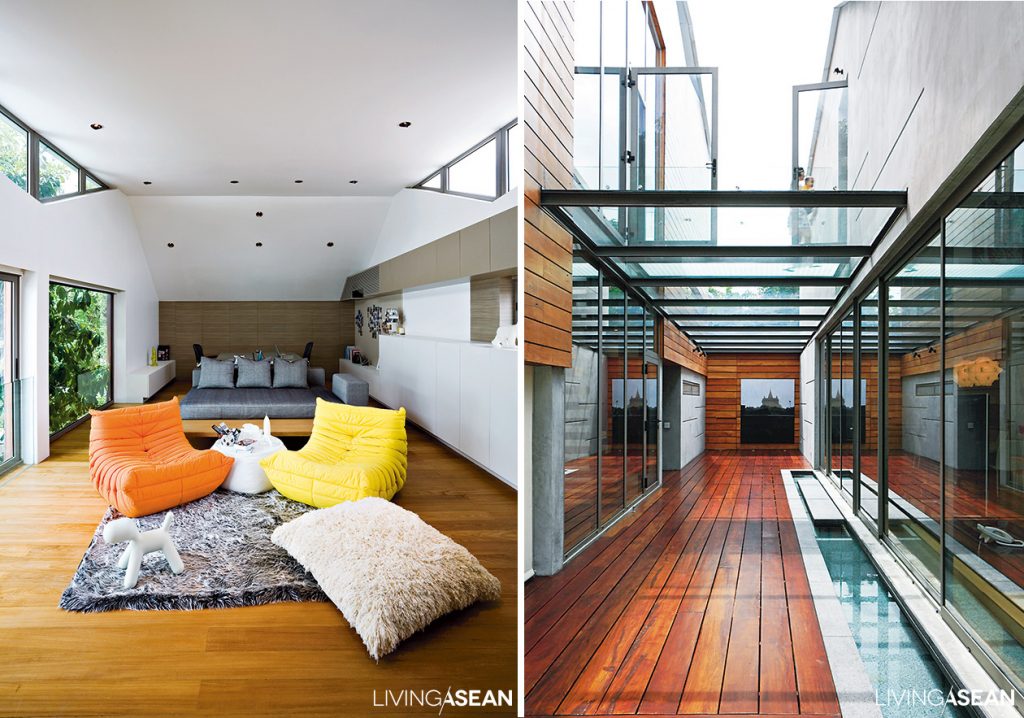 A section of the lower floor is designed for parking. The mother's bedroom on the second floor has a classic décor. A vertical garden adds a feeling of warmth. The third floor is Chang's sister's domain. The right wing is surfaced with aluminum paneling, for a modern, fashionable "industrial" look: the family calls it the "tin house."
"I collect paintings, so we have a room for them; in fact the room is designed around them. I favor surrealism and expressionism. You don't have to understand everything to appreciate the art: it's enough for it just to have an emotional impact."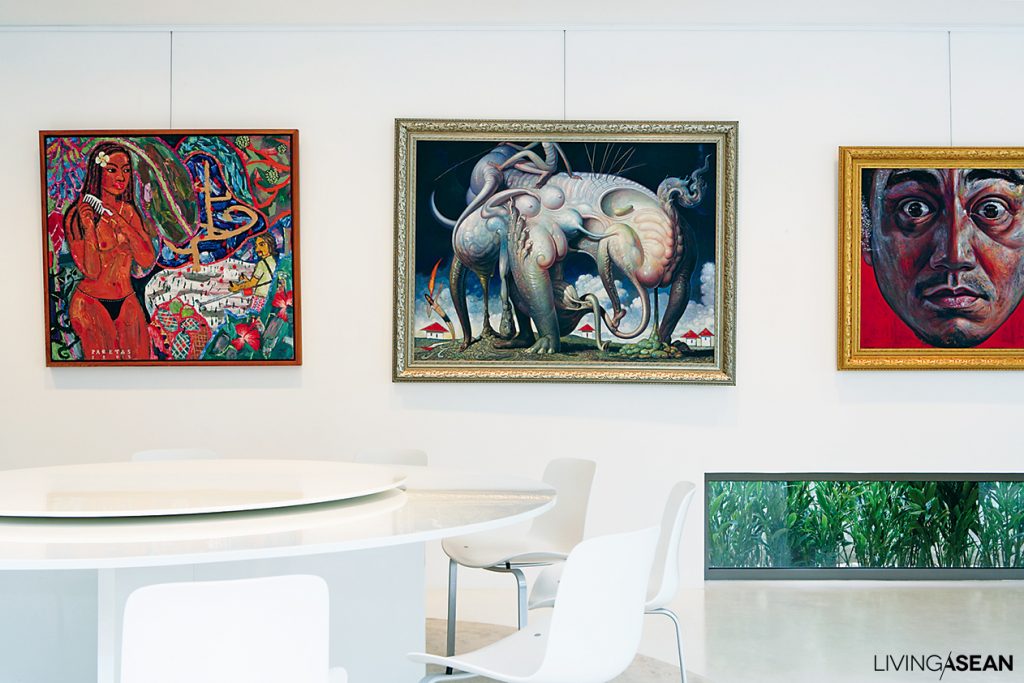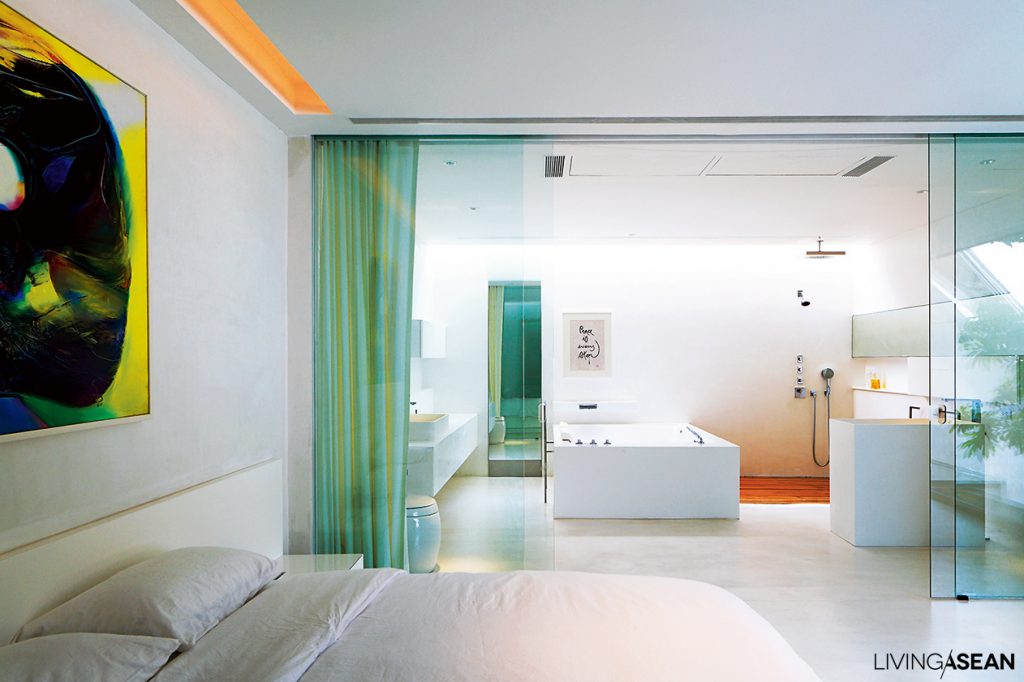 The ground floor next to the pool has a reception area for guests, decorated with Chang's art collection and next to a glass room where Bua practices yoga or sons play with friends, neighbors, and relatives their age. The second floor is a mezzanine, with young Matt's bedroom and a small pantry. Finally, on the third floor is Chang and Bua's bedroom and two more small rooms for the children as they get bigger.
The design takes everyone's needs into account in creating not only a beautifully designed and fully functional living space, but more than that, a place that brings together the love and warmth in the family, something that can't be found anywhere else but here, their "home sweet home."