/ Chiang Mai, Thailand /
/ Story: Wuttikorn Suthiapa / English version: Bob Pitakwong /
/ Photographs: Soopakorn Srisakul /

In house design, the phrase "limited space" raises worrisome questions for some. Here, though, owner Ek (Sarin Nilsonthi) used modern tropical design techniques and inner space connectivity to build large-house functionality and comfort into a compact area.
"I designed this house on one A4 sheet of paper," Ek says with a smile.
"Since it's small, I tried to write down all the functionality we'd need on a single sheet of paper, and named the house 'PSA,' from 'Paper Series A.' The name actually has nothing to do with the A4 paper dimensions, it's just an attempt at humor."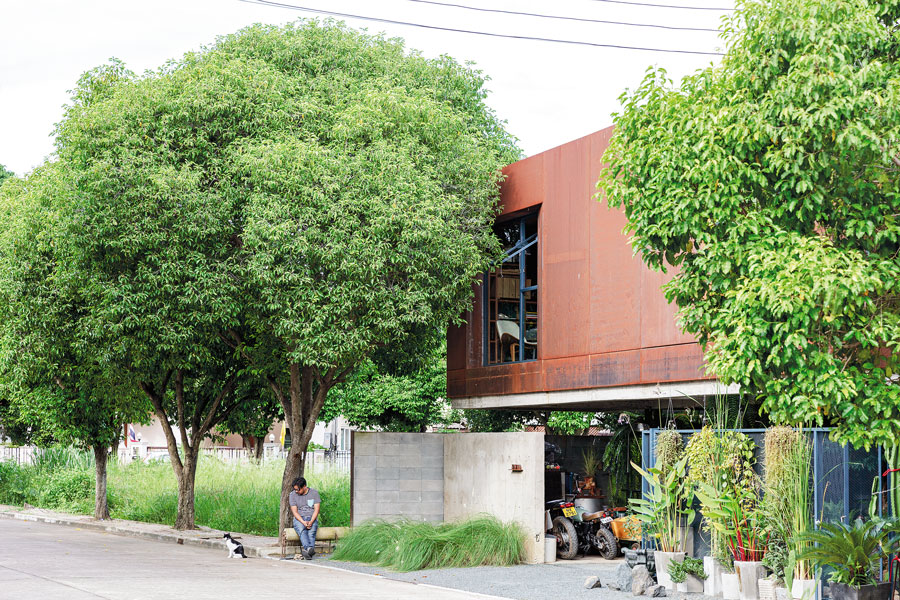 This "compact tropical" house is all about size and proportion. Posts and beams are angled and separated in unusual ways to create the right kind of space in each place.
"We didn't set the beams and posts this way because we wanted to, but in order to set things up in the right way. Still, anyone living in this house will have to be the same height as my wife and I, ha ha!"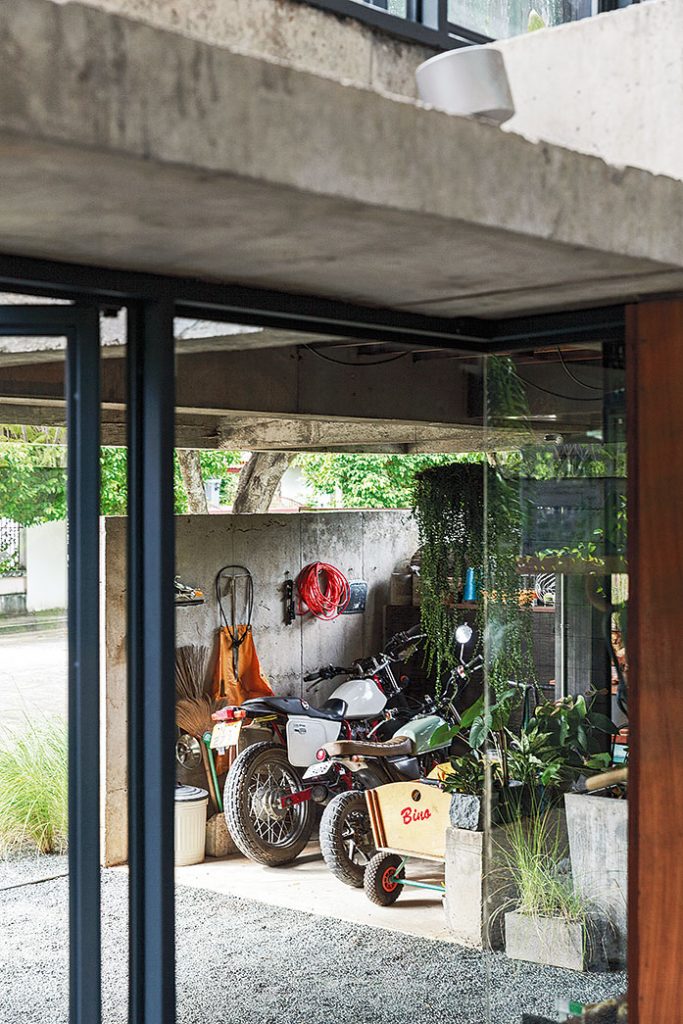 Coming in, the first thing we see is a large steel panel, which Ek leaves rusted to show a stylish authenticity of construction materials; this panel shields the second floor from heat while showing off the shipping-container design of the office area. Below is a carport paved with fine gravel reaching up to the house entrance.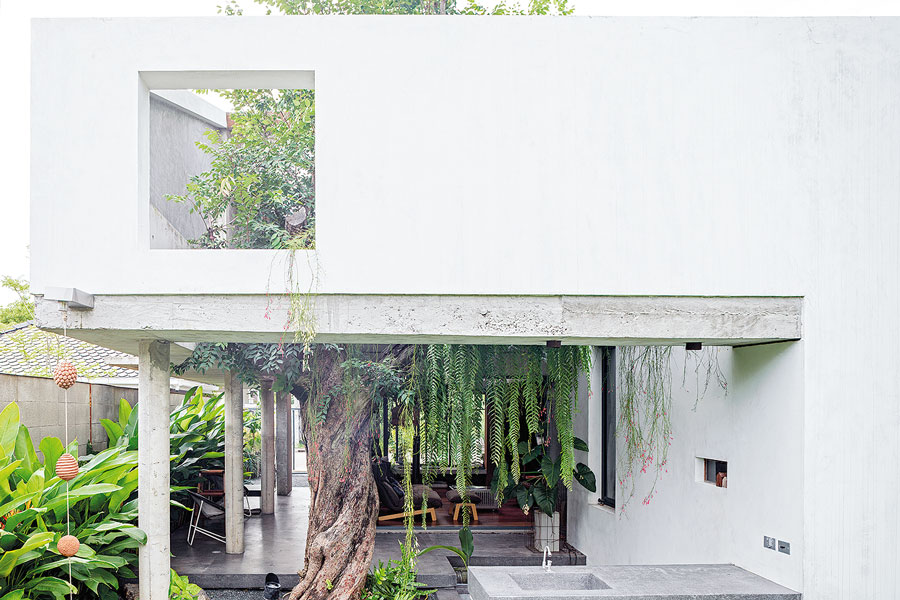 Ek intentionally shortened the fence, bringing it inwards to create a clearly defined "inside the fence" area, a gravel yard with benches and trees which actually becomes a part of the house itself. The house walls are rough concrete all around, and H-beams sunk into the yard support the office section, which is raised above a lower area where Ek and his wife Pla (Pairin Boonpinid ) plan to open a café in the future.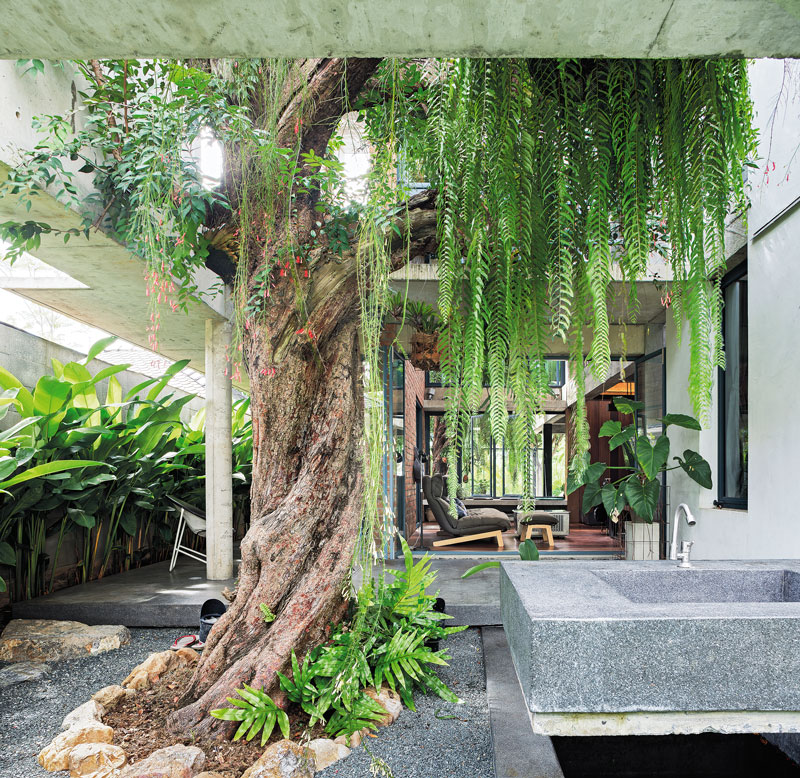 Inside, on the lower floor living room, dining area, and kitchen are all connected, each ceiling at a different level.
For good ventilation and a sense of spaciousness, the living room ceiling is "doublespace." Ceilings in the dining area and kitchen are lower, with electric lighting giving them each a unique identity.
The staircase has no railing, so is accessed from any direction; you can just walk down to sit and relax in the dining area, which is also used to store kitchen necessities: spices, condiments, even a refrigerator.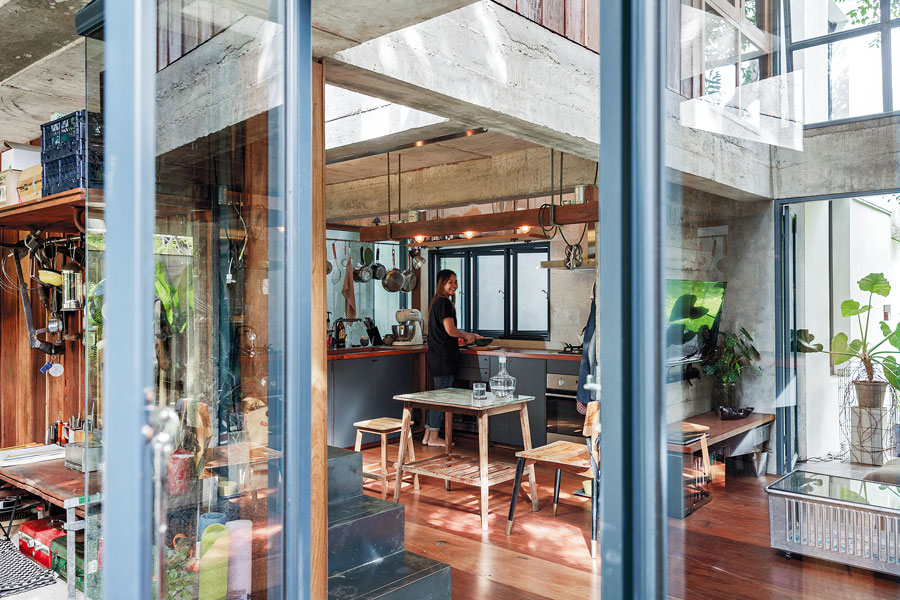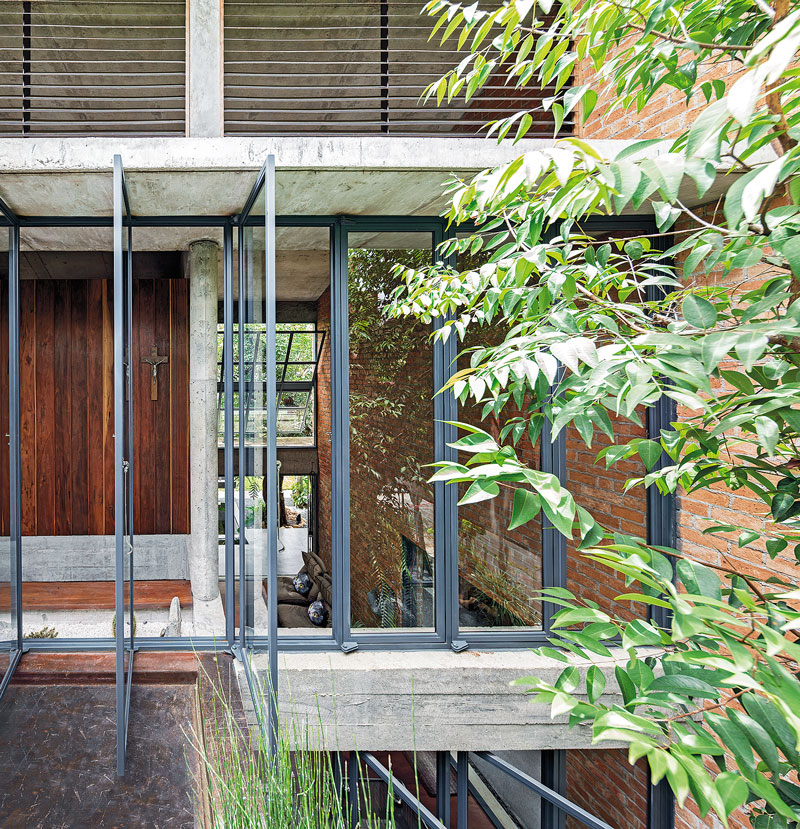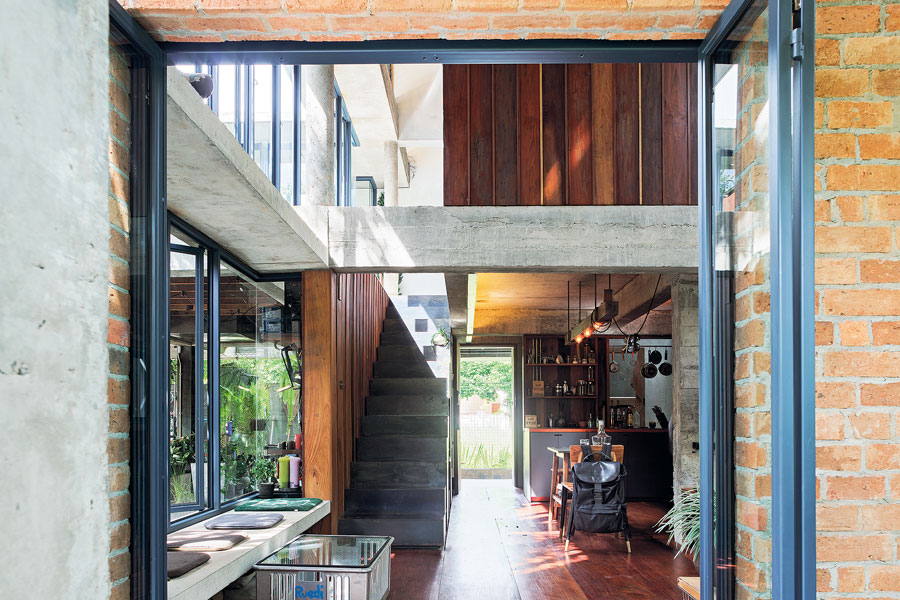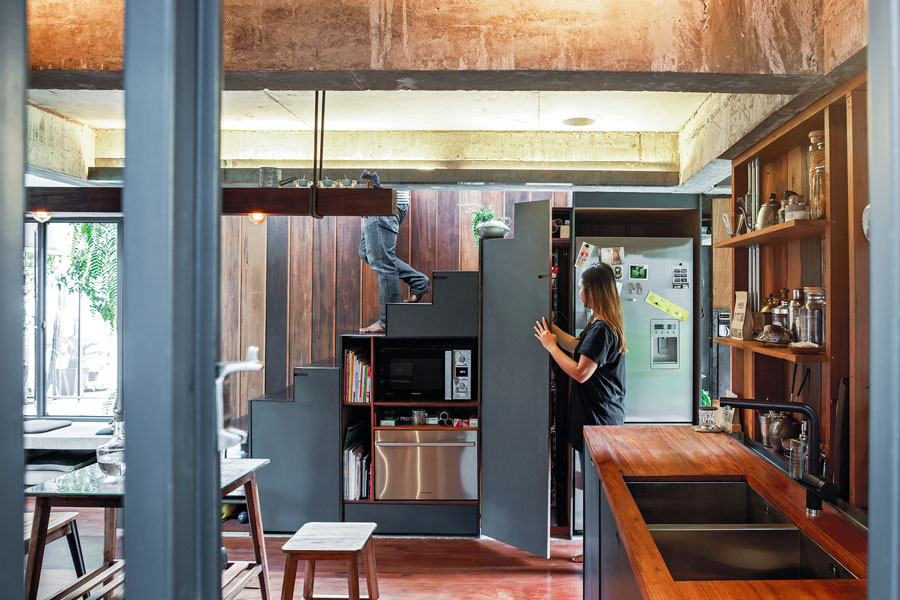 Going up the stairs and turning left brings us into the container-shaped office, the rusted outer wall reaching up to the third floor as protection against heat.
The container surface is rainproof, with a layer of insulation between it and a pressed wood surface that gives an orderly look to the interior.
On this floor also is a guest bedroom, currently used as a reading room, but planned as AirB&B tourist accommodation once the café opens.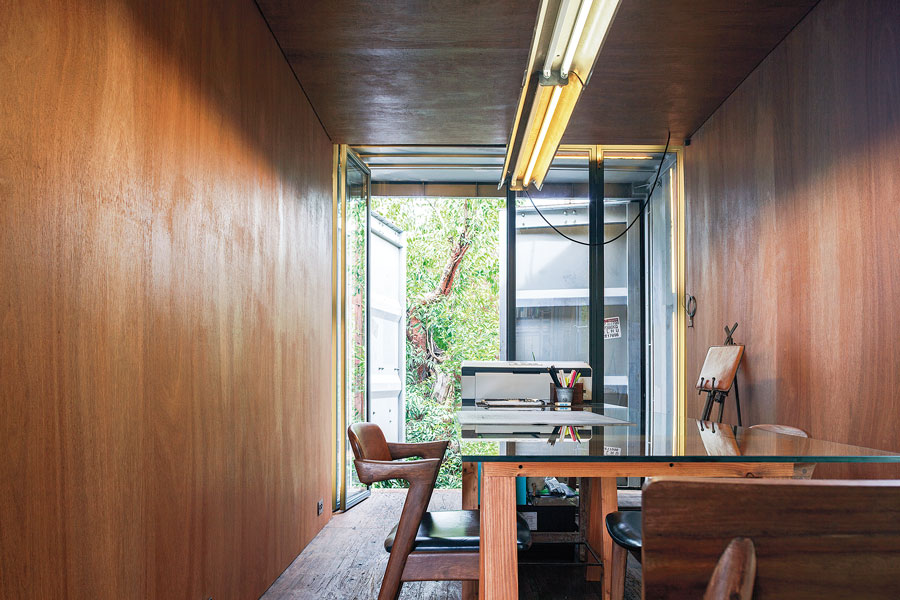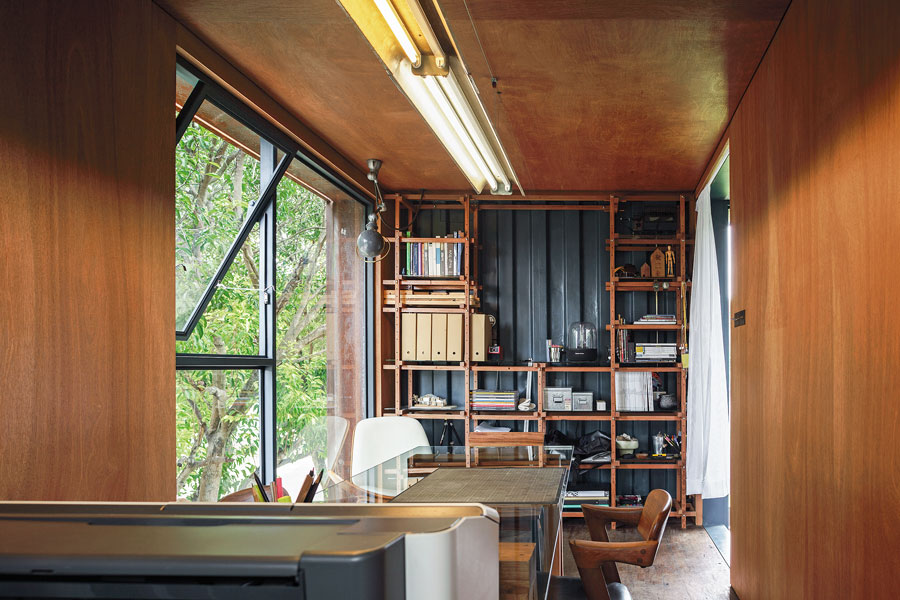 The master bedroom entrance is in back, along a walkway next to the kitchen; Ek designed it as a separate building, so as to remain private when the café/hostel section opens, accessible without going through other sections of the house.
Here the floor is raised up above the ground as protection against moisture, and there is a skylight above for indirect lighting.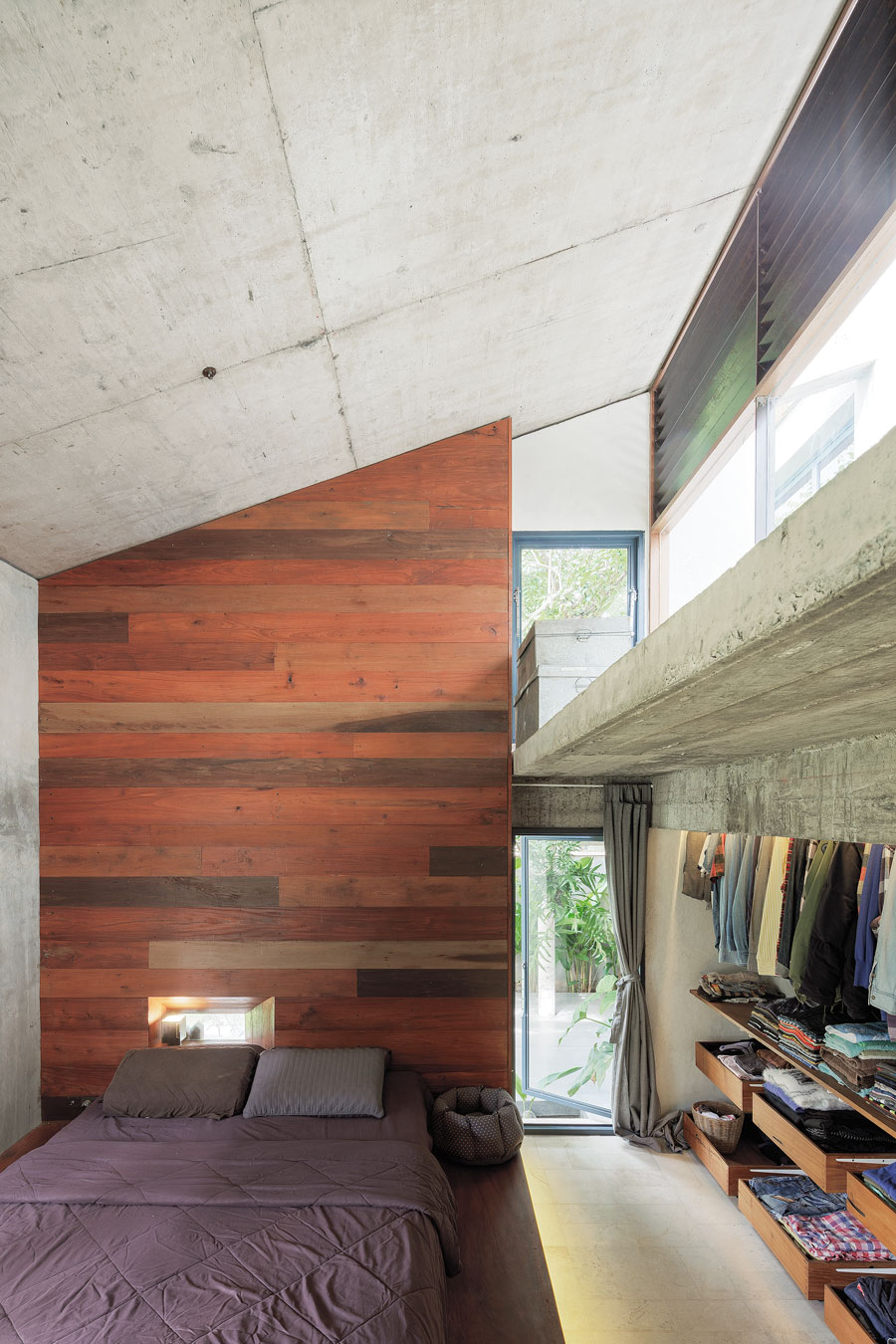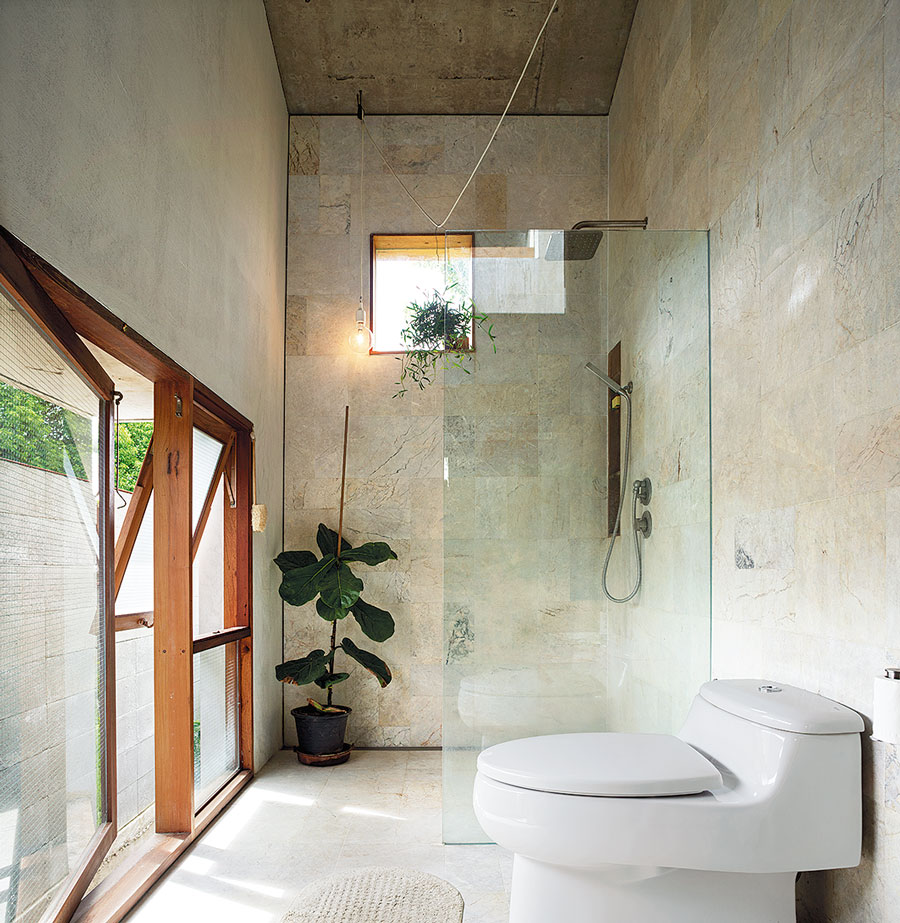 A tree reaches up into the second floor, its top directly in front of the office's picture window.
This and other features combine to give this compact house a comfortable, airy feeling, enhanced by imaginative placement of openings for breezes and natural light.
Ek refers to the greenery and openness as creating "breathing space," as rooms are all interconnected, airy, sunny, and in touch with the natural world.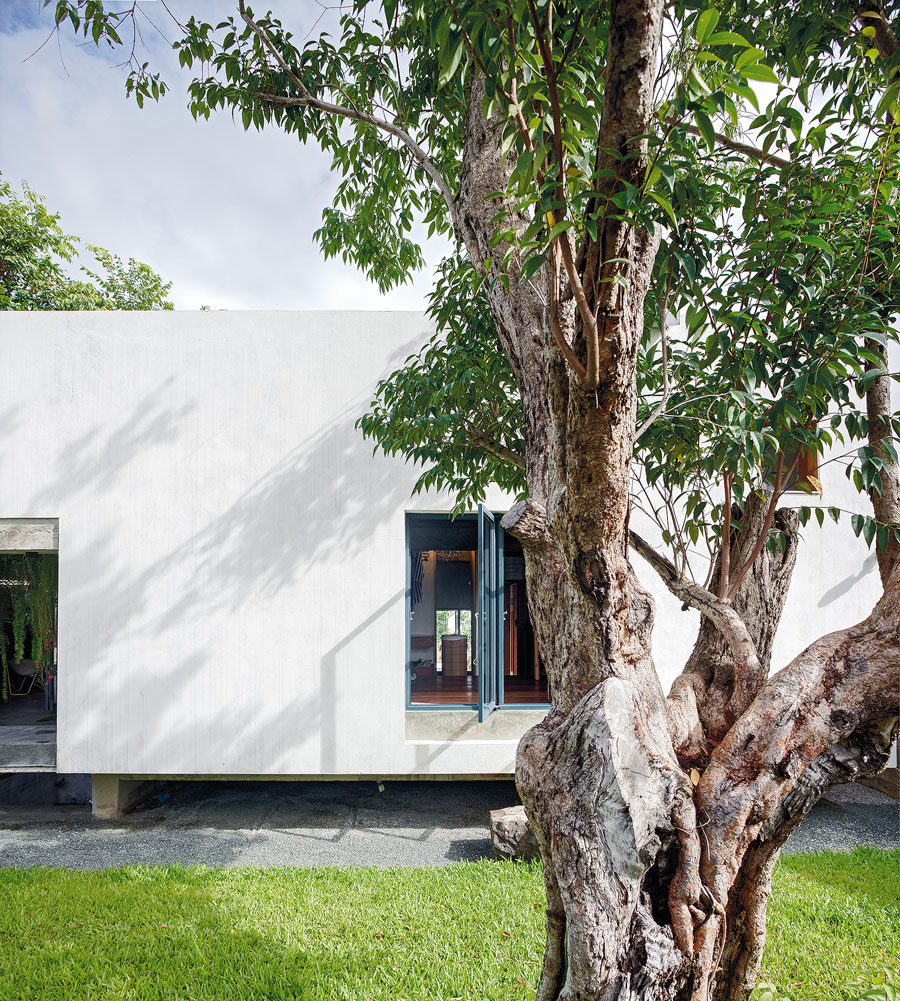 Ek likens this house design to a well-tailored suit: the tailor has to measure, ask about the wearer's taste, and plan everything to be comfortable and pleasing.
---
Architect: D KWA Architectural Design Studio
---
You may also like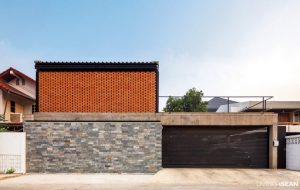 MODERN STYLE IN A NEWLY RENOVATED HOUSE