/ Lopburi, Thailand /
/ Story: Patsiri Chotpongsun, Sarayut Sreetip-ard / English version: Peter Montalbano /
/ Photographs: Soopakorn Srisakul / Styling: Jeedwonder /

Deep study of local architectural lore and analysis of locale-specific environmental and climatic conditions combined to create this house of fluid chic modern lines mixed into a look that clearly suggests the traditional Thai house.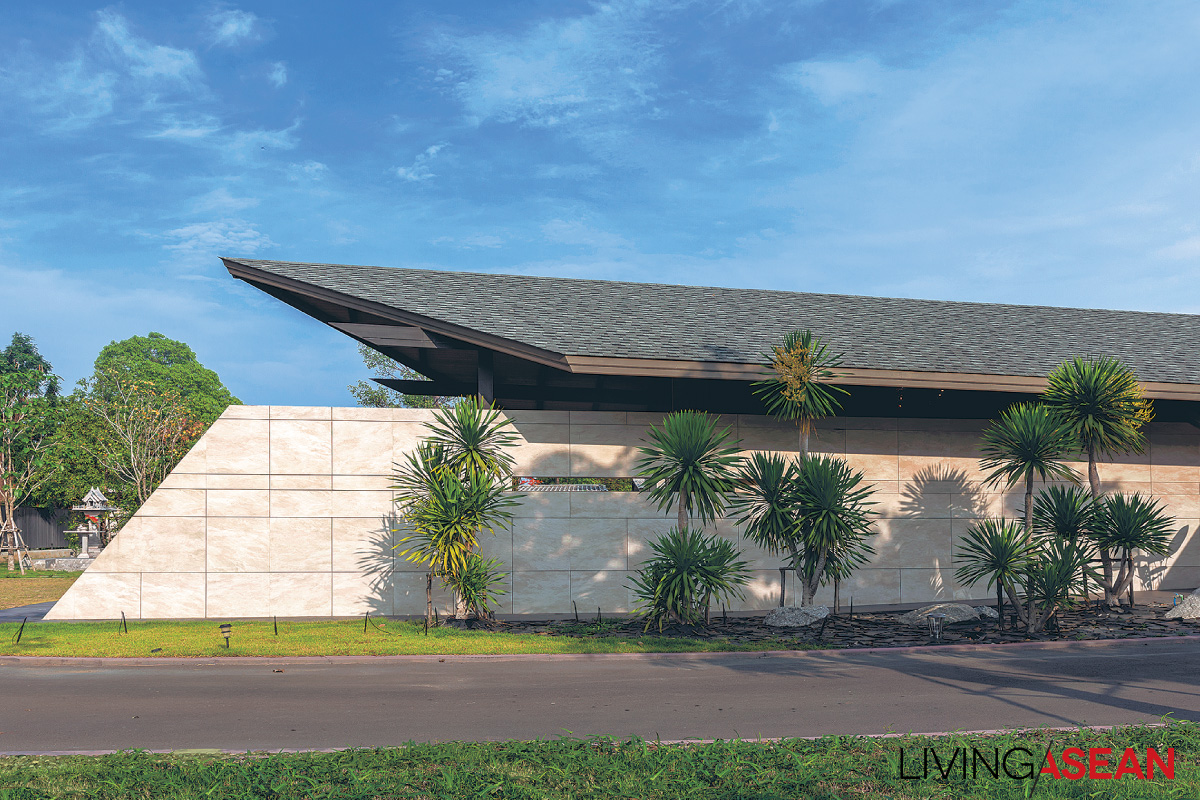 The owner wanted to provide his parents with a home where they could enjoy the ways of life of a new era. His first thought was to create a modern-style house with all customary functionality.
Combining the good points of old and new, the result is a single-story resort-style house with a contemporary look and a relaxed atmosphere reinforced by a swimming pool.
With a usable area of 700 square meters, the house takes the shape of the letter "U," filling a wide space the architect tightened up for the sake of intimacy: family members feel in closer touch with each other.
The openness makes for good air circulation, yet acts as a divider between common areas of the living and dining room and a more private side. The roof reminds us of a traditional gabled Thai house, but the gable is clearly steeper and higher.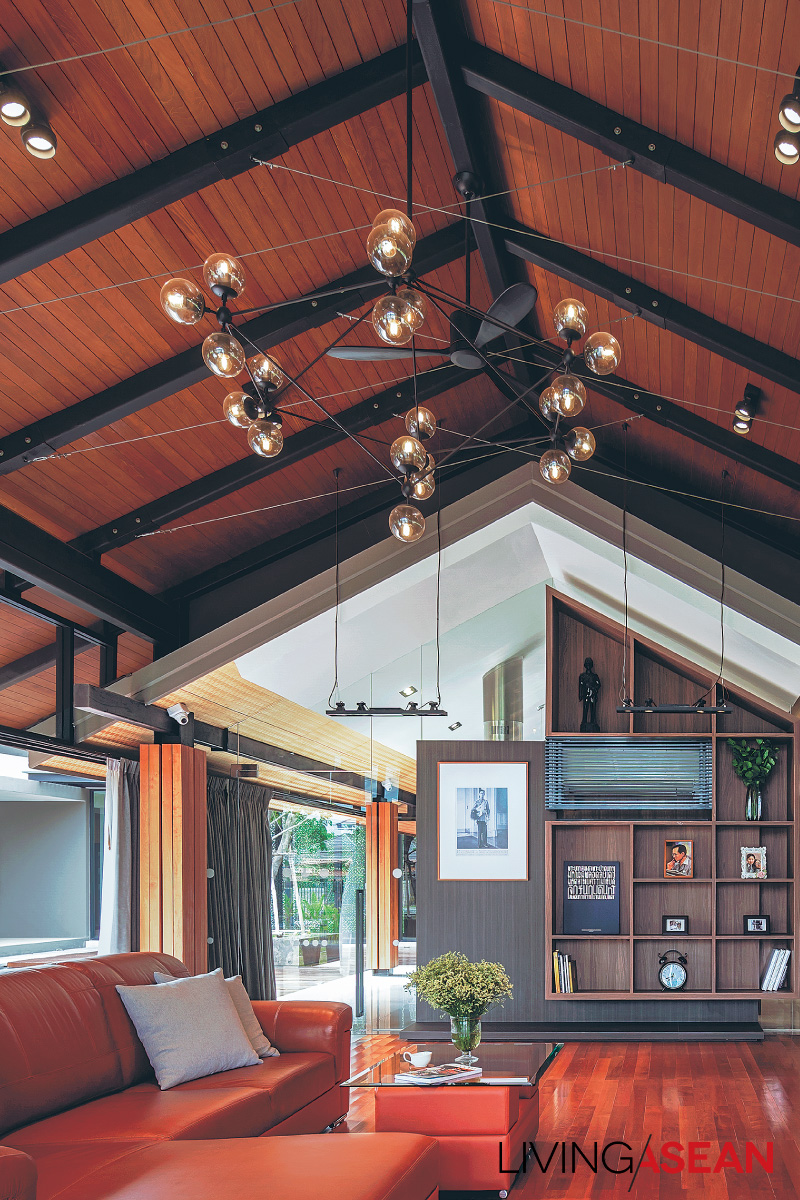 "Thai gabled roofs come in many forms," said the architect, "but if the gable faced any way but front it wouldn't be pretty, since it would make roof look unbalanced. From the side the sharply-sloping "lean-to roof" offers a rectangle.
"The house faces south to catch the wind, but also gets sun there, so the gable has to provide shade, and the eaves extend further out. Especially at the end the roof rises even higher, providing more welcoming open space in front of the house, an eye-catching feature with a contemporary look that also provides needed functionality."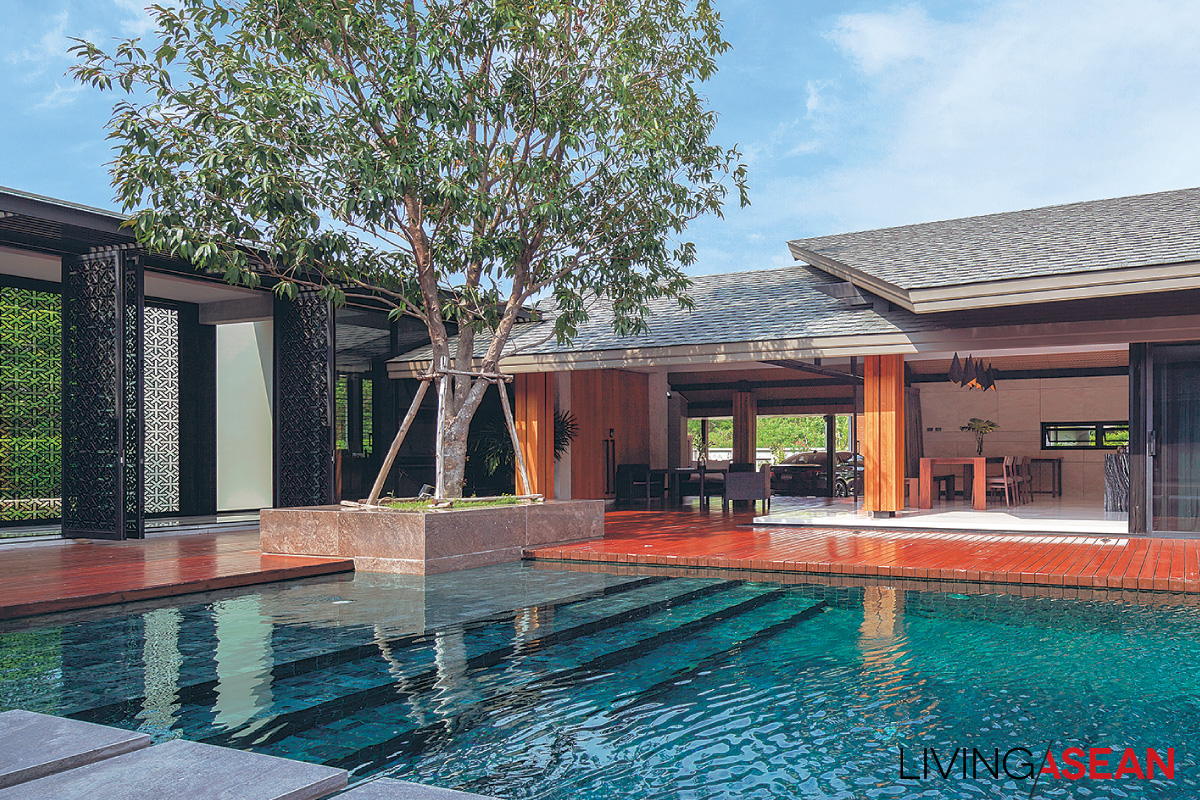 The high gables not only help protect against southern exposure to sun, but also build a characteristic aesthetic of this home continuous with interior building design elements.
The "U" shape leaves a space in the middle used as an open courtyard that holds the swimming pool and a gorgeous tree. Every point in the house looks out on it through the surrounding glass walls, connecting everyone with the courtyard and with each other.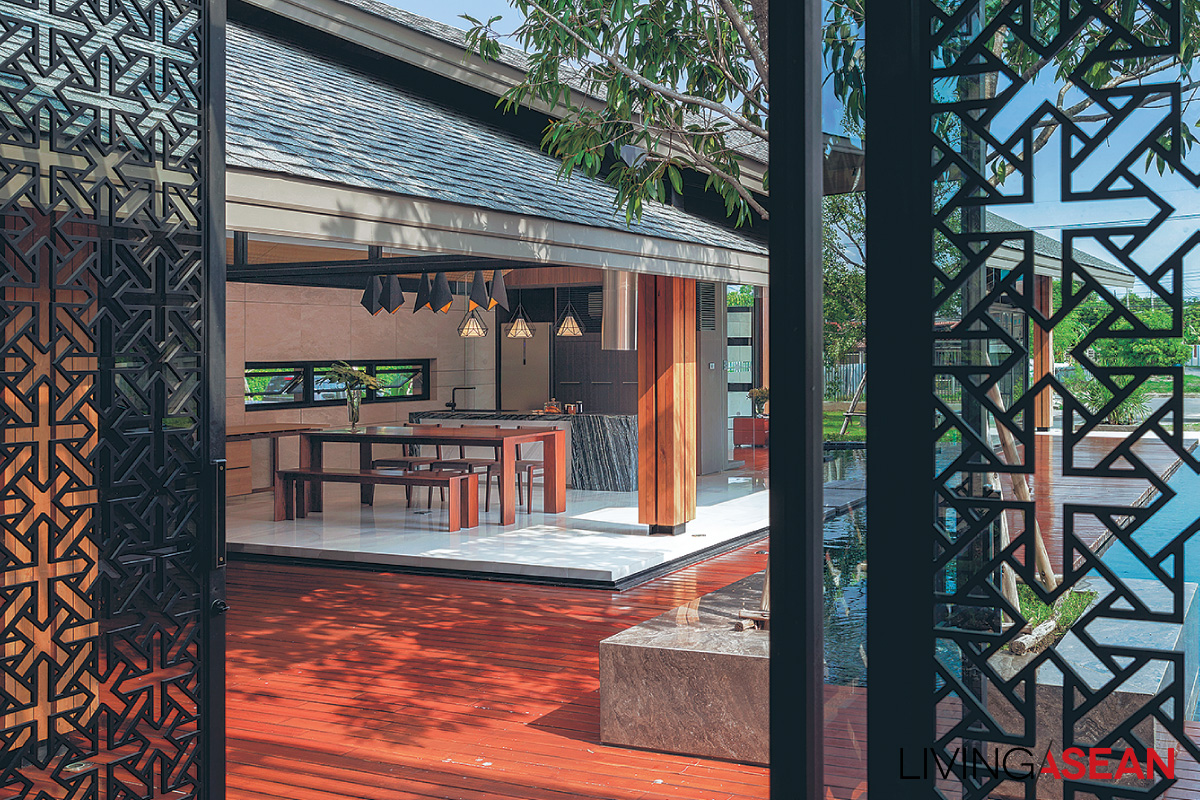 From the exterior, the architectural design flows inside into the interior in a play of shapes and lines.
The interior ceiling opens up into the gable-shaped steel frame where the hardness of the steel is reduced with the use of wood, again reminding us that this is a Thai home.
The furniture blends right in, shapes with modern simplicity and a lot of wood in the mix adding a sense of relaxation to this Modern Thai House.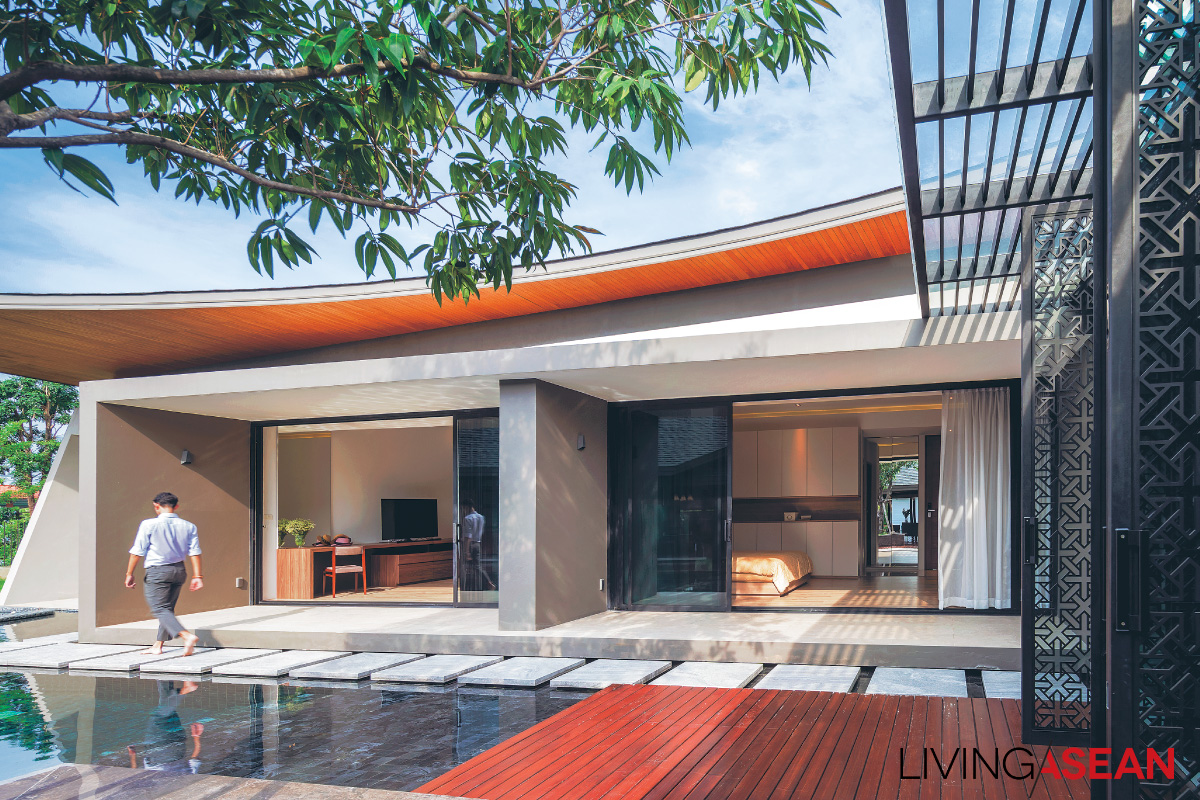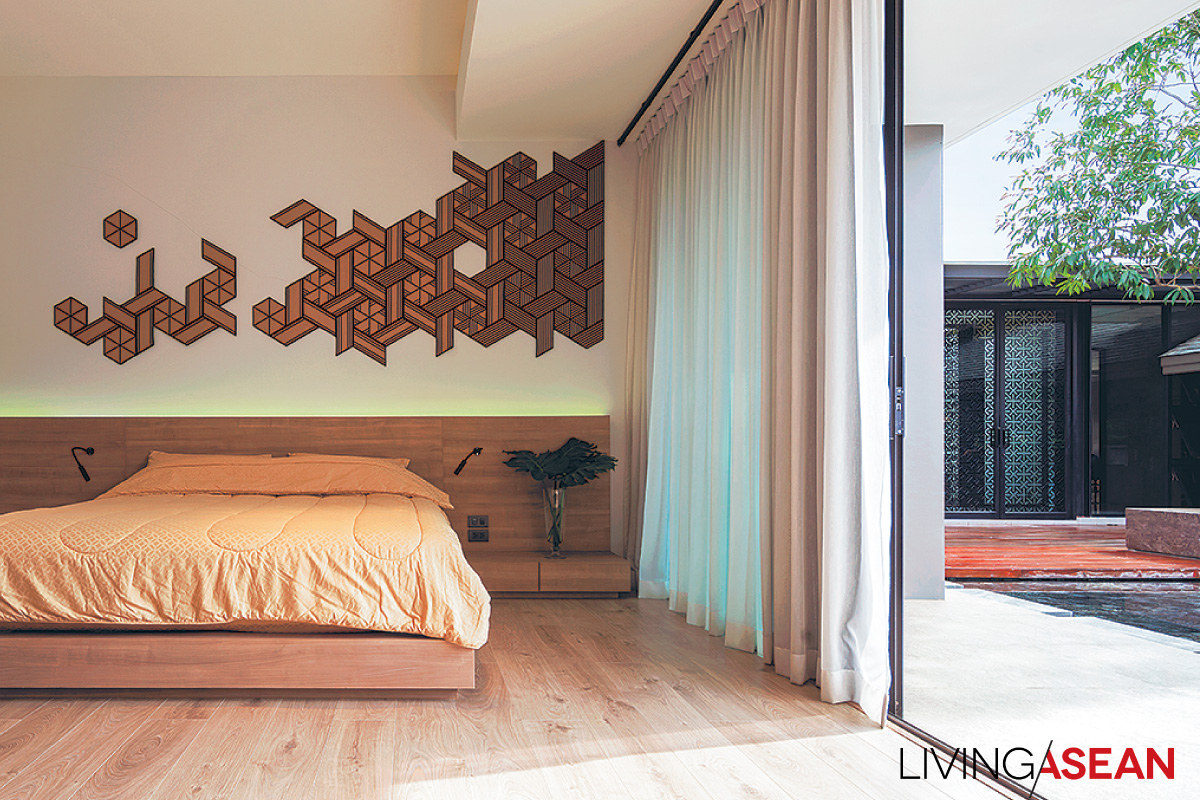 ---
Architect: NORMAL PRACTICE
Landscape Architect: Lana Studio
---
You may also like…