/ Khon Kaen, Thailand /
/ Story: Samutcha Viraporn / English version: Bob Pitakwong /
/ Photographs: Sitthisak Namkham /
Starting with the idea of building a temporary residence from commercial containers, Charnwit Ananwattanakul of Wish Architect Design Studio had to analyze the different characters of the family members who would live there. In the end, this temporary project became a permanent container house made from 15 containers.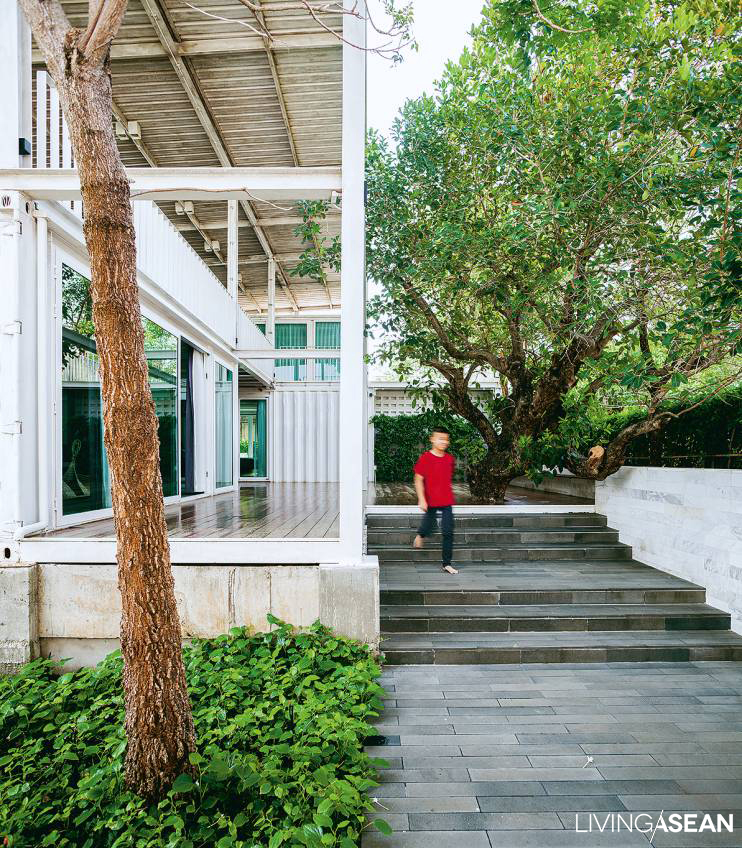 The container house has 2 wings, one used for the living area. The master bedroom is on the second floor. An open wood-floored multipurpose space runs longitudinally through the house as a sort of inner courtyard, enabling family interaction and serving as a channel for heat release and air circulation from front to back.
Similar decks in front and back follow the width of the house and set it back a distance to reduce heat entering the container elements of the house. Trees planted in front add another level of protection from the western sun.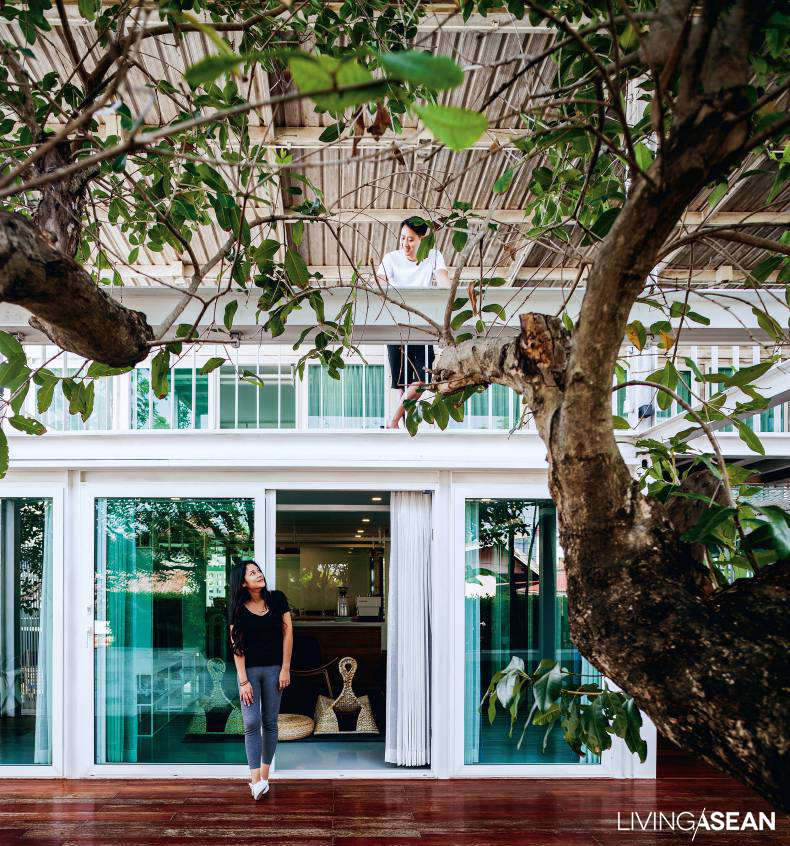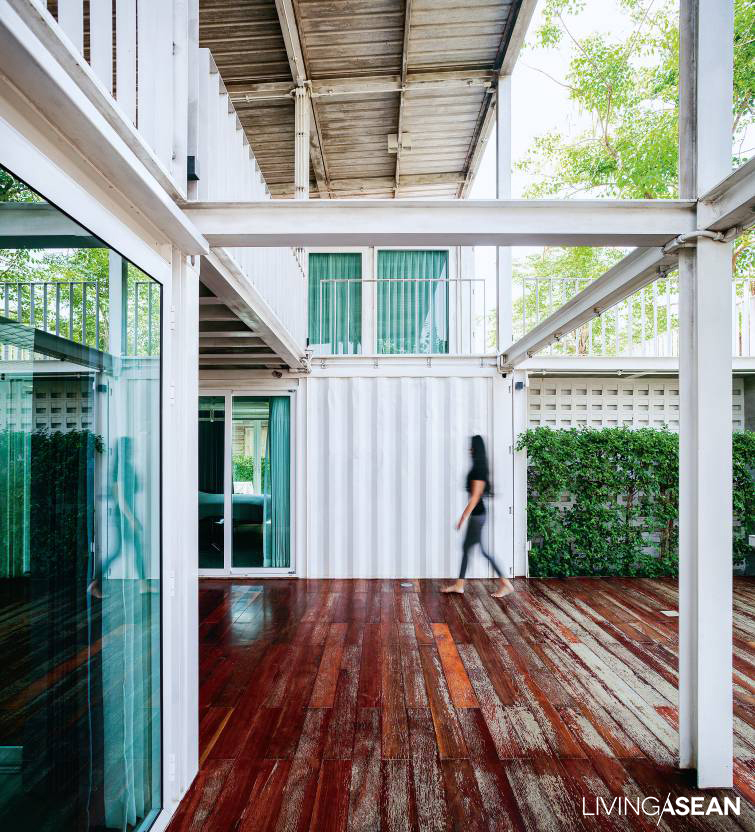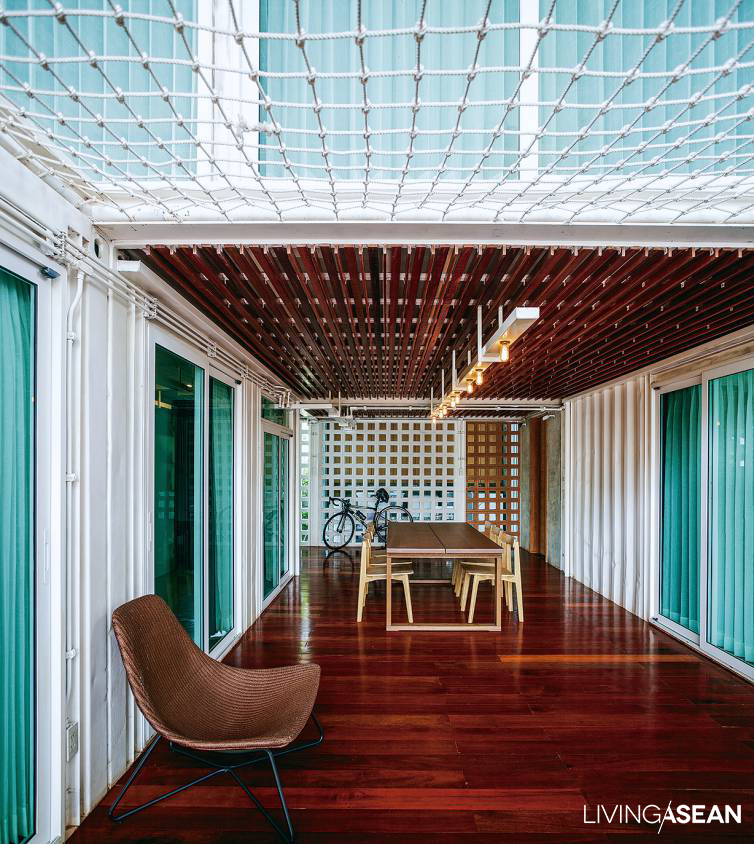 Blocking partitions behind this container house create a wind channel to reduce any late-morning heat from eastwards.
To minimize heat and humidity, bathrooms are placed on the south side, some containing plants suggestive of old-time country houses where bathing was done outside, pouring from water jars. Another important feature is the sprayed-in roof insulation.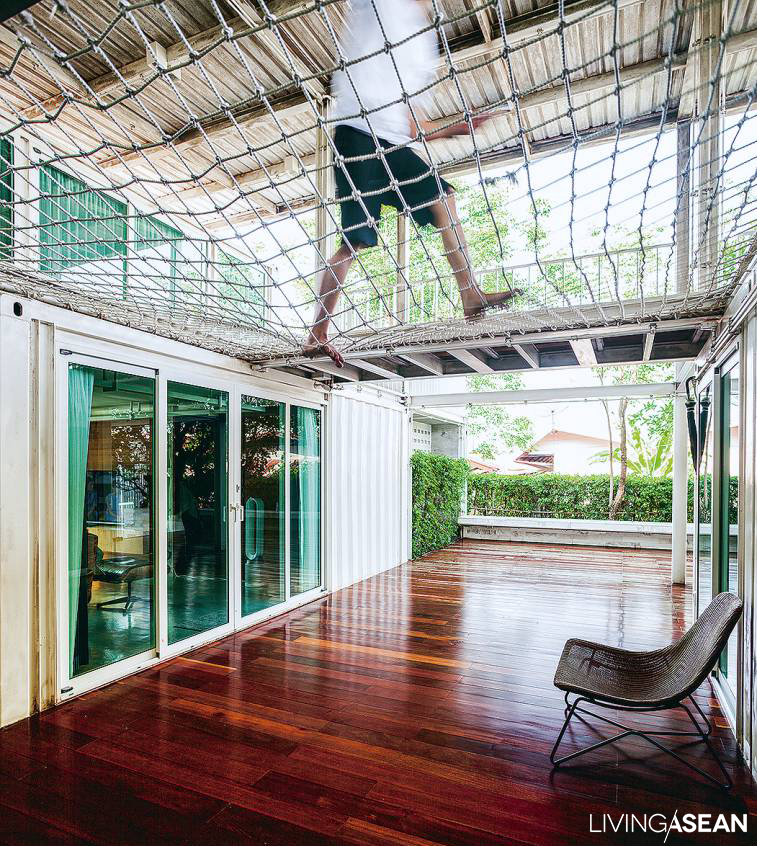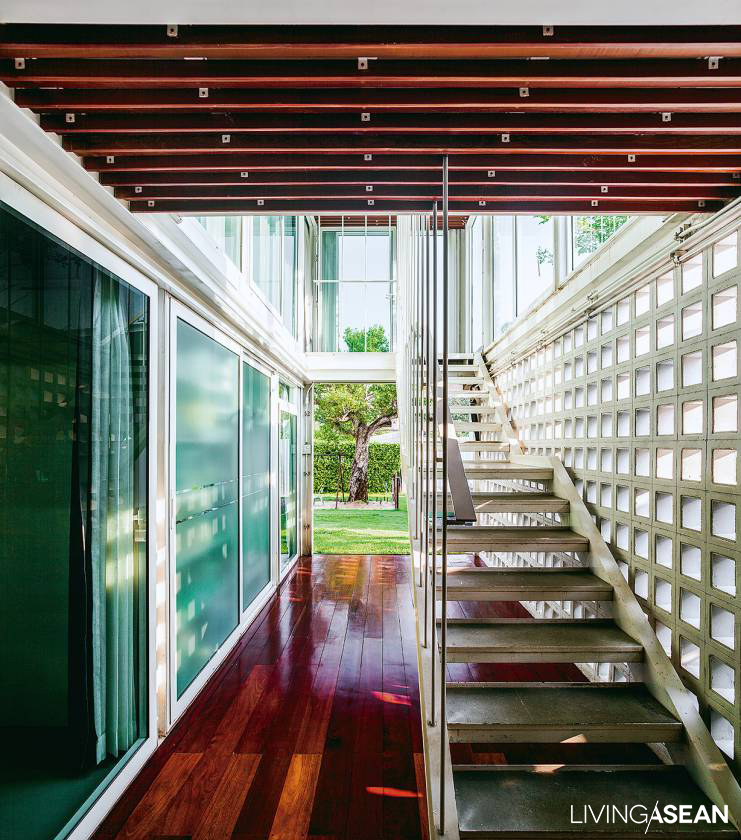 The living room is done in a spacious "open plan" style, connecting it to the large food preparation area/pantry with facilities such as a coffee brewer, an island with a gas range, and storage shelves for kitchenware with a large protective screen to keep the space more orderly.
The second-floor verandah has a gap cut where netting is placed for people to sit, lie back, and chill; this also helps release heat and brings natural light into the central area, as well as giving it depth.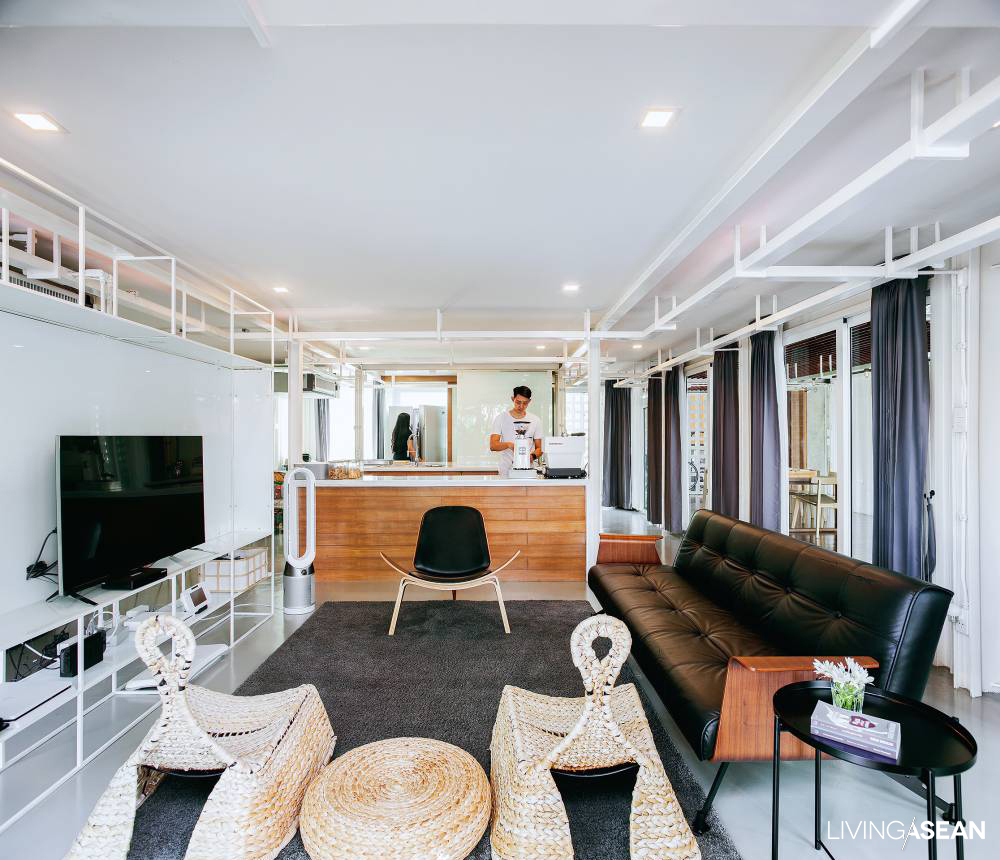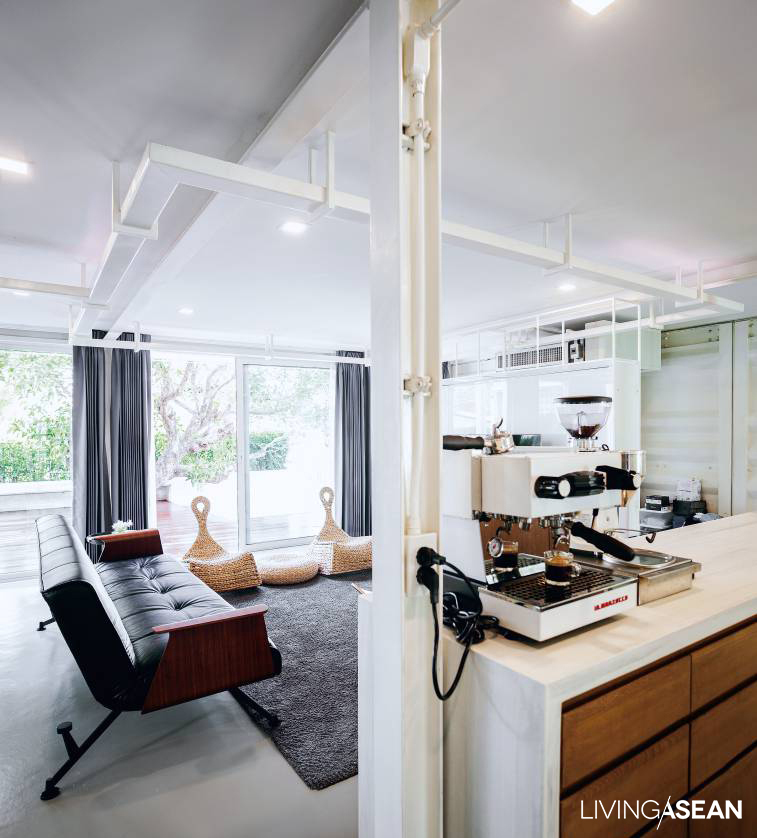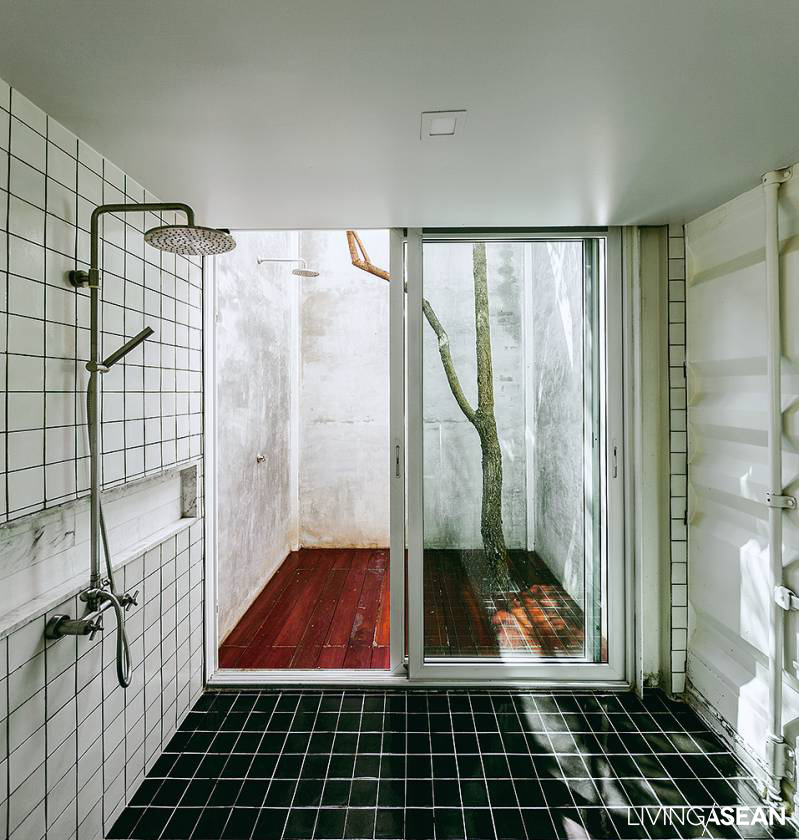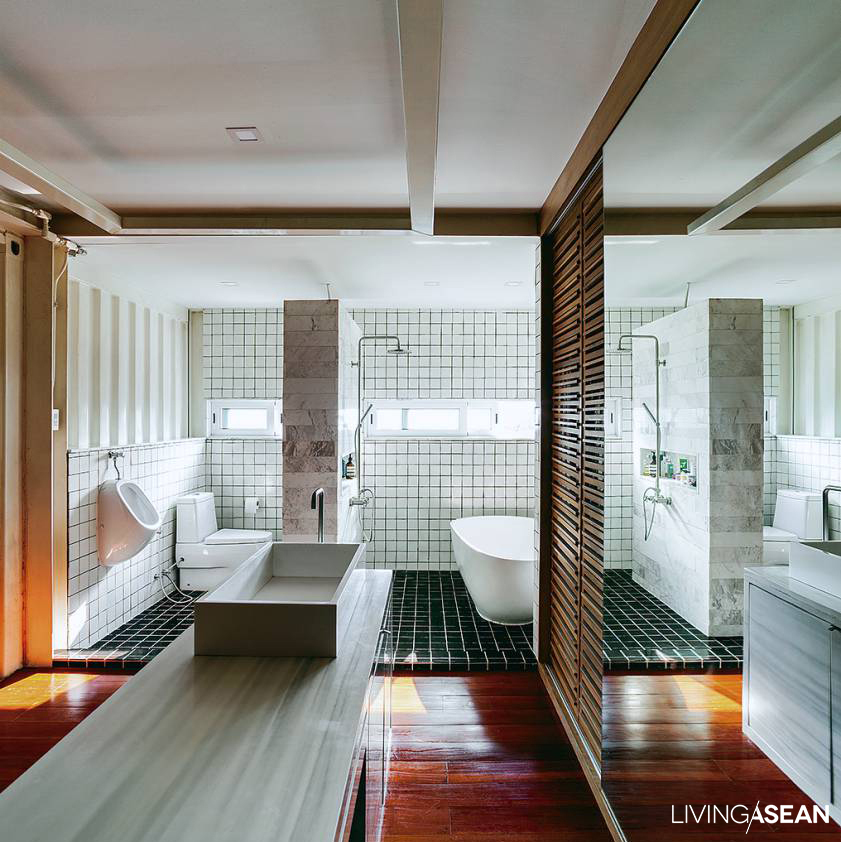 To avoid a busy look, white was chosen as the primary color for interior décor of this container house.
Because of the limitations of working utility systems, a lot of them necessarily show inside this container house. Some metal posts had to be added to container walls and ceilings to accommodate electrical systems without further lowering the already rather low container ceilings.
A steel framework was constructed to meet the proportions of container walls, as well. The wood of the inner "courtyard" and decks gives a warm feeling.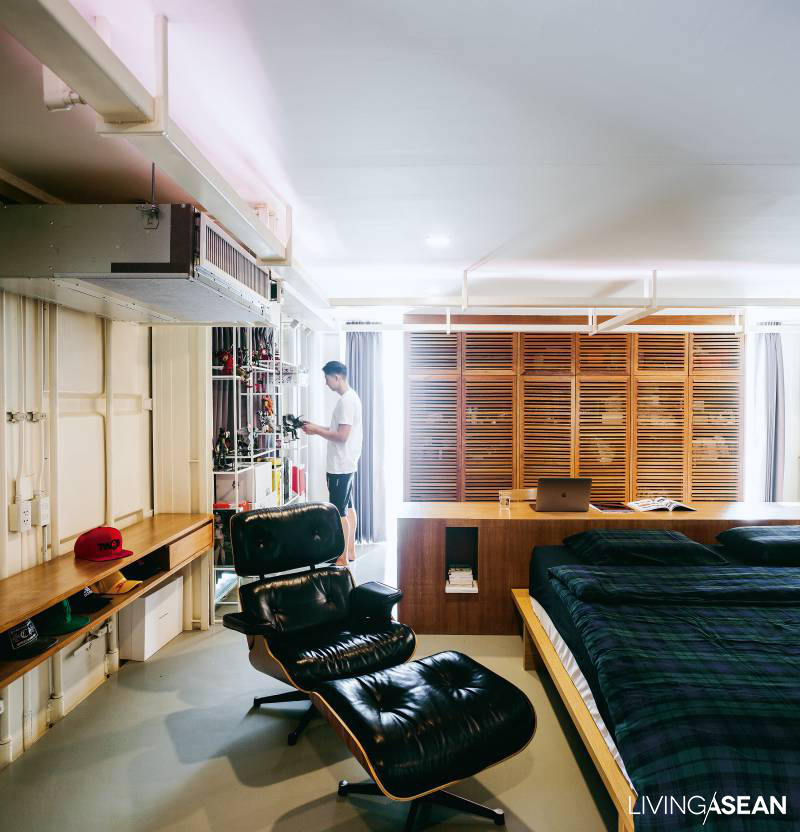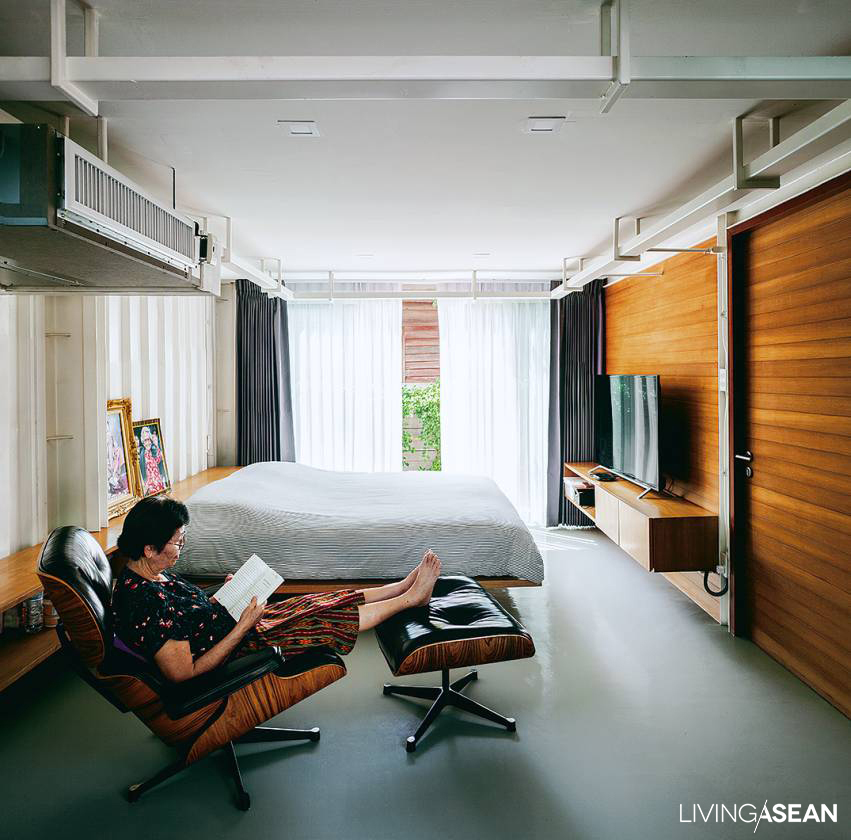 In front of the house that feeling is a little diminished, as real stone is used in the staircase area to give the atmosphere of a modern-design garden, playing off the boxlike shape of the container house.
The fence also features a play of vertical and horizontal lines, using the language of design to simultaneously create a look of transparency and a sense of privacy.
Each area is designed to suit the behavior of the family members living there, and this links the family and strengthens relationships all the more.
---
Owner: Non and Chutiporn Som Chobkhai
Architect: Charnwit Ananwattanakul of Wish Architect Design Studio
---