This one-storey wooden house is designed to bring the best of the old Northeast Thailand lifestyle into the modern age. Strikingly contemporary with its high-gabled roofs, it features a spacious adaptation of the traditional Thai house verandah where relatives and neighbors can come together, hang out, and shoot the breeze.
/// THAILAND ///
Story: Ektida N. /// Photography: Soopakorn Srisakul
In the peaceful countryside atmosphere of Si Chompu District in Khon Kaen Province, Wathinee Sudta calls her family's wooden house "Baan Boon Home." The English word "home" in Northeast dialect means "get together," so combined with the word "boon" (merit) the name comes out as "get-together make-merit house."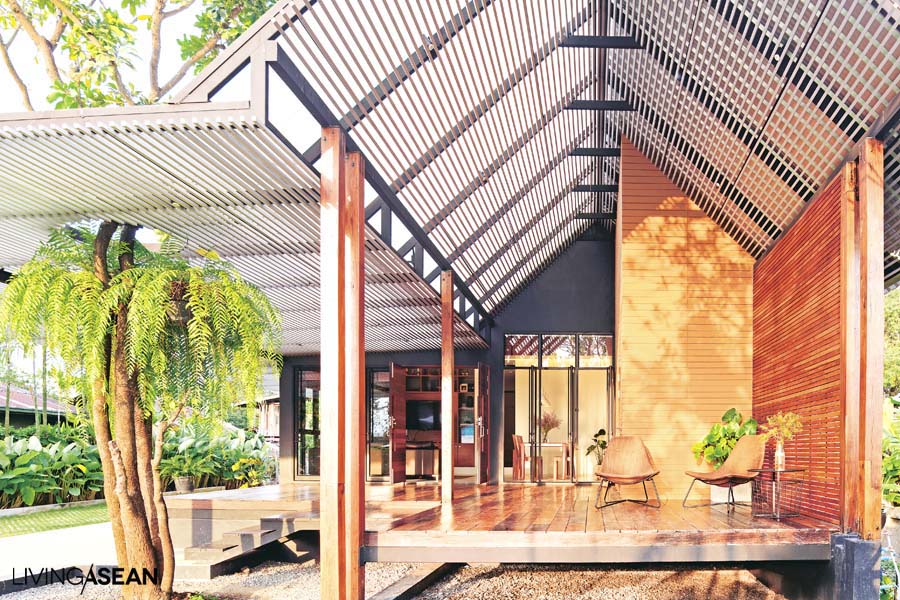 Originally, Wathinee wanted the designers of S Pace Studio simply to renovate the old 2-storey house. whose bottom level had cement flooring, with the upstairs all wood. After a full assessment of materials and building frame, though, it became clear that a completely new house was the way to go.
The first step was to raise the foundation above road level with landfill, to reduce the risk of flooding. Eventually they took advantage of the large property size to bring all the functionality of the former two storeys into a thoroughly modern single-level house with the added bonus of not requiring an aging grandma to climb stairs anymore.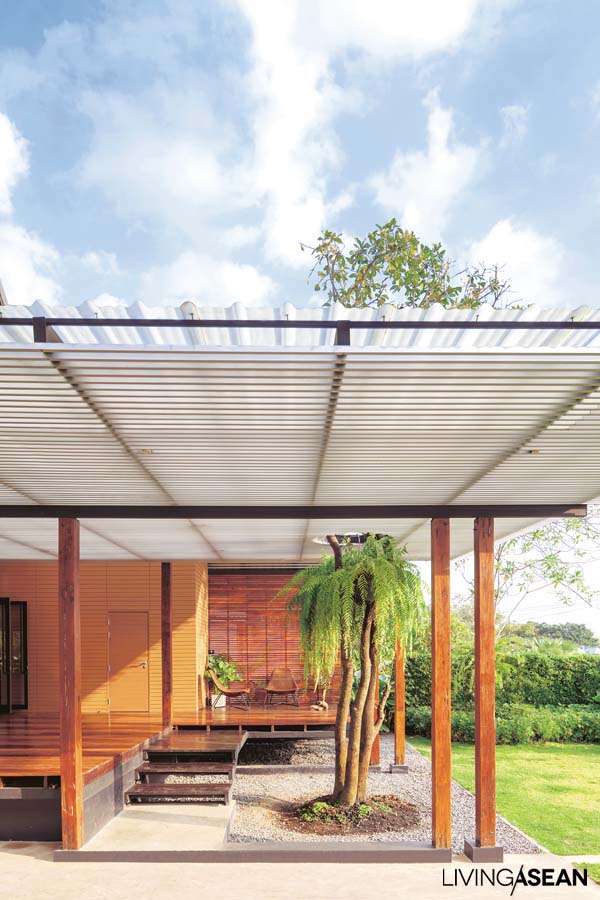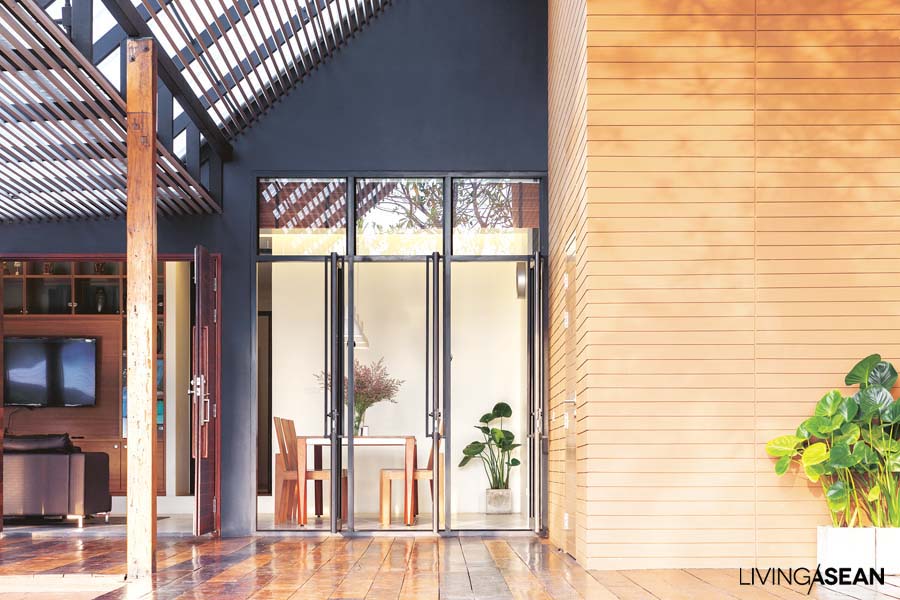 Baan Boon Home has a floor space of 190 square meters, with enough functionality to completely meet the needs of the fivefamily members. The rear section of the house has a high-gabled roof which overlaps the lower-gabled front, where the corrugated roofing is translucent, allowing natural daylight to shine in, an especially effective way to keep the 9-meter-deep verandah light and cheerful.
Another unique feature is the placement of the kitchen at the front of the house, with the thought that family members will tend to enjoy most sit-down meals together on the verandah. The kitchen is fully enclosed, and the walls have grooves etched and painted to resemble wood grain, all giving a clean, proportionate look to a highly practical design.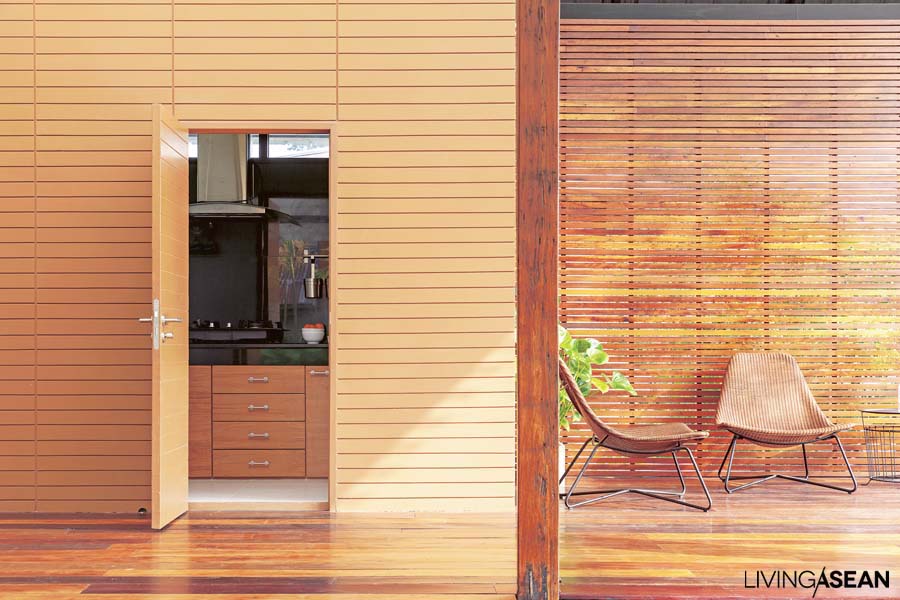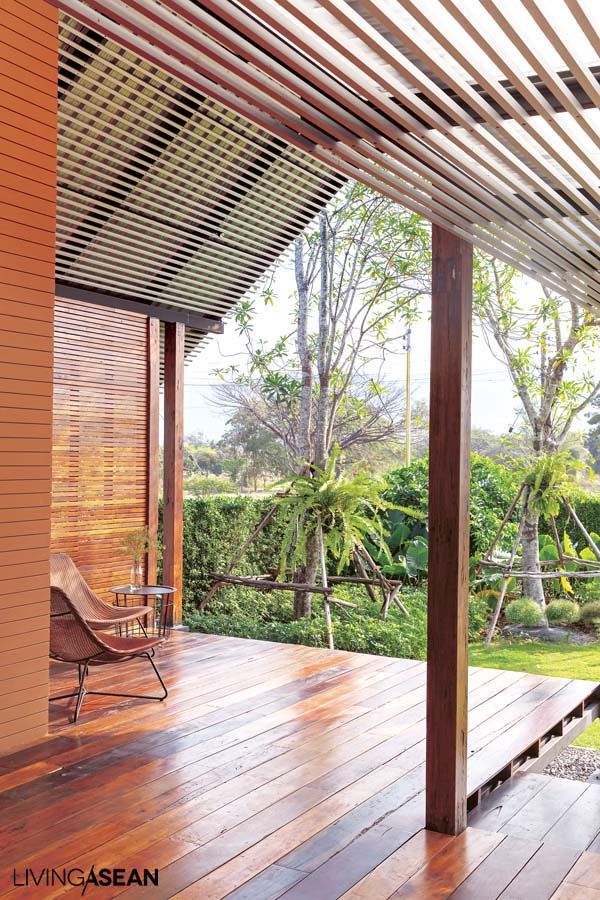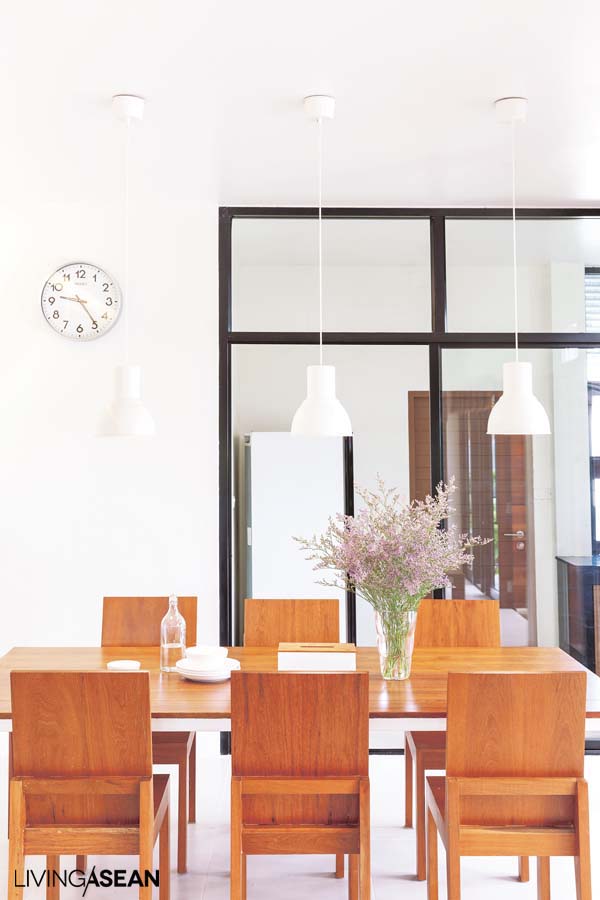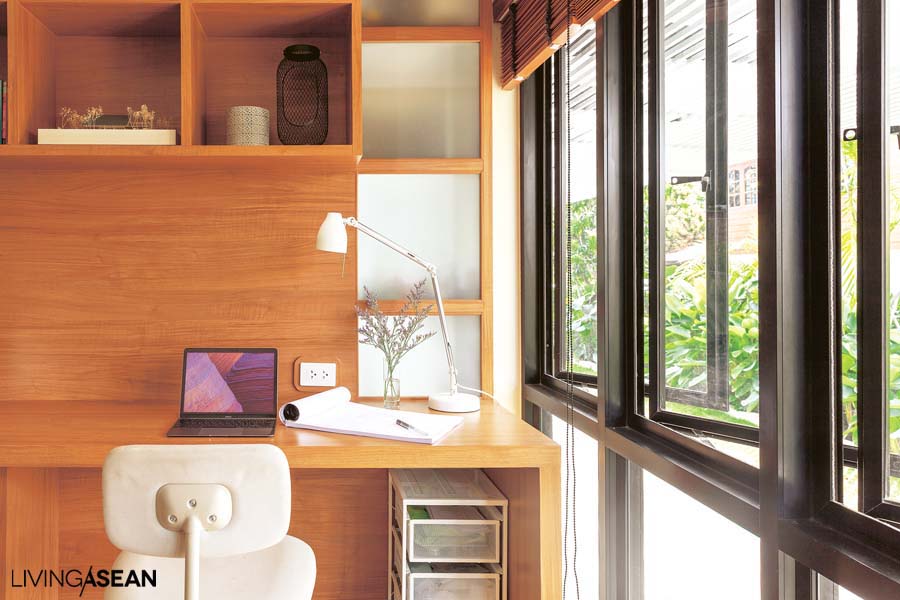 The wood used to build the house is mostly – 90% or more – real wood taken from the old house. This saved on the budget, and only the high-quality, strong wood was used, but the marks on its surface speak of character, faithful service over time, and add charm, keeping lifetimes of family memories alive and shining into modern times.
Link : www.baanlaesuan.com/99541/design/living/homeboon/
You may also like…