RATCHABURI / Because memories are made here, Puchong Satirapipatkul of the design firm OTATO Architect built a house for his grandfather Kumnung Yindeesuk. The new home nestles in a coconut grove overlooking Nong Salid Canal that connects to Damnoen Saduak, the bustling little town famous for its Floating Market.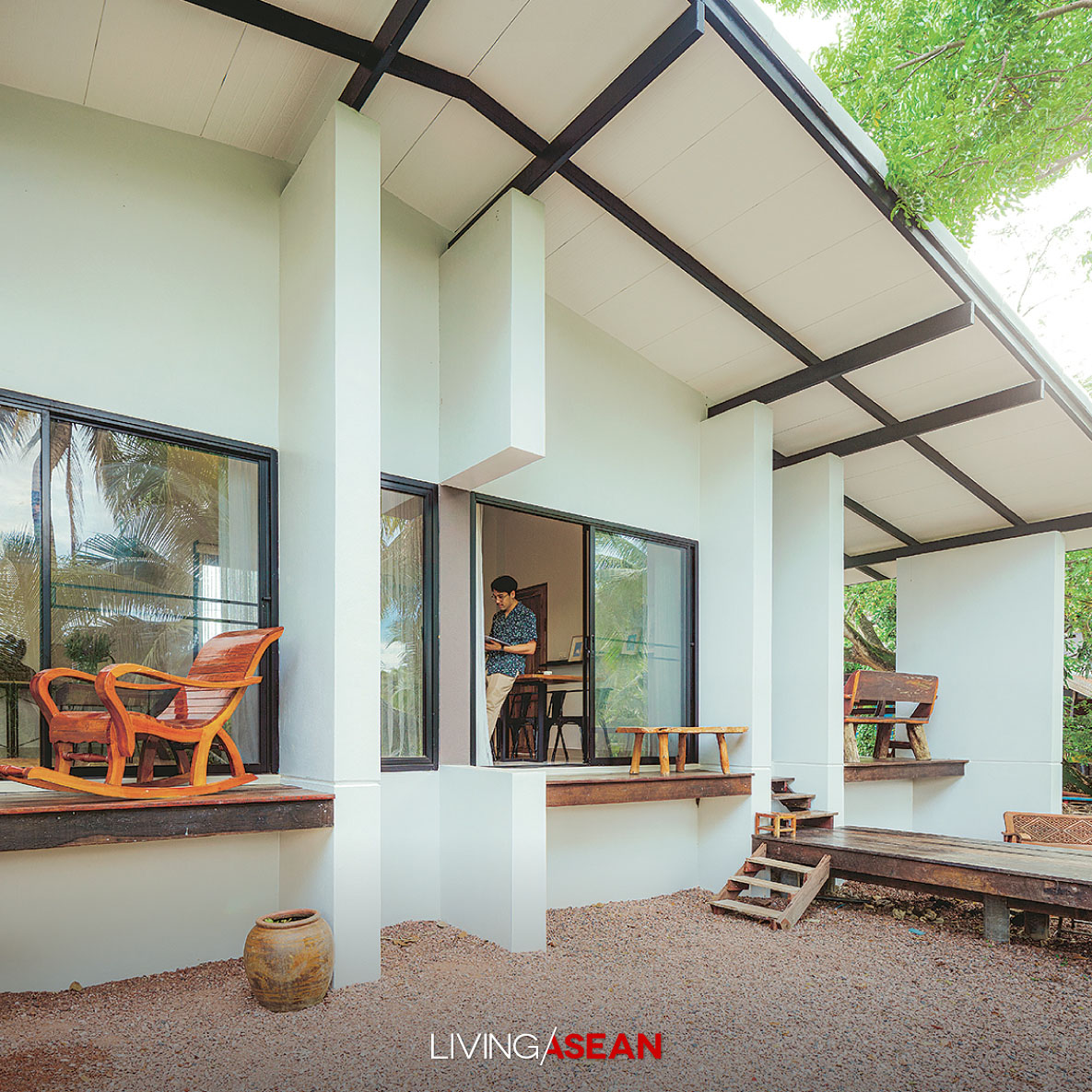 From the beginning, the orchard land was in a clutter of untidiness while the old house was more than 30 years old and impossible to repair. The only way forward was a complete teardown to make room for a new home. The old house provided vintage recycled building materials, which gave Puchong the means to avoid a large cost overrun. Ensconced in a grove of coconut trees, jackfruits, and tamarinds, the single-story house plan is well suited to a 100-sq-wah lot. Plus, it offers a warm, comfortable environment while minimizing costs. To keep within a 700,000-baht budget, the architect used locally sourced building materials and oversaw construction work himself.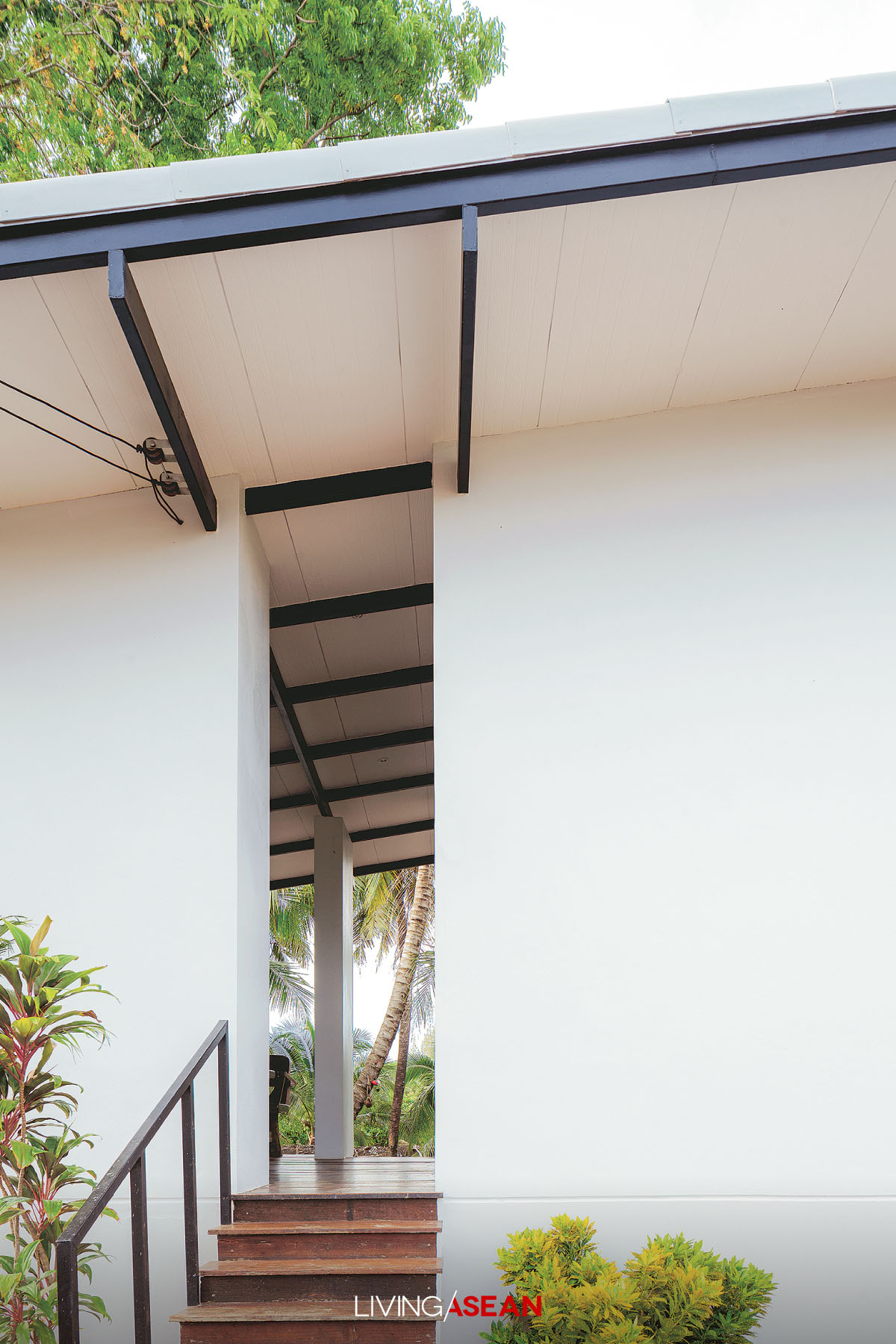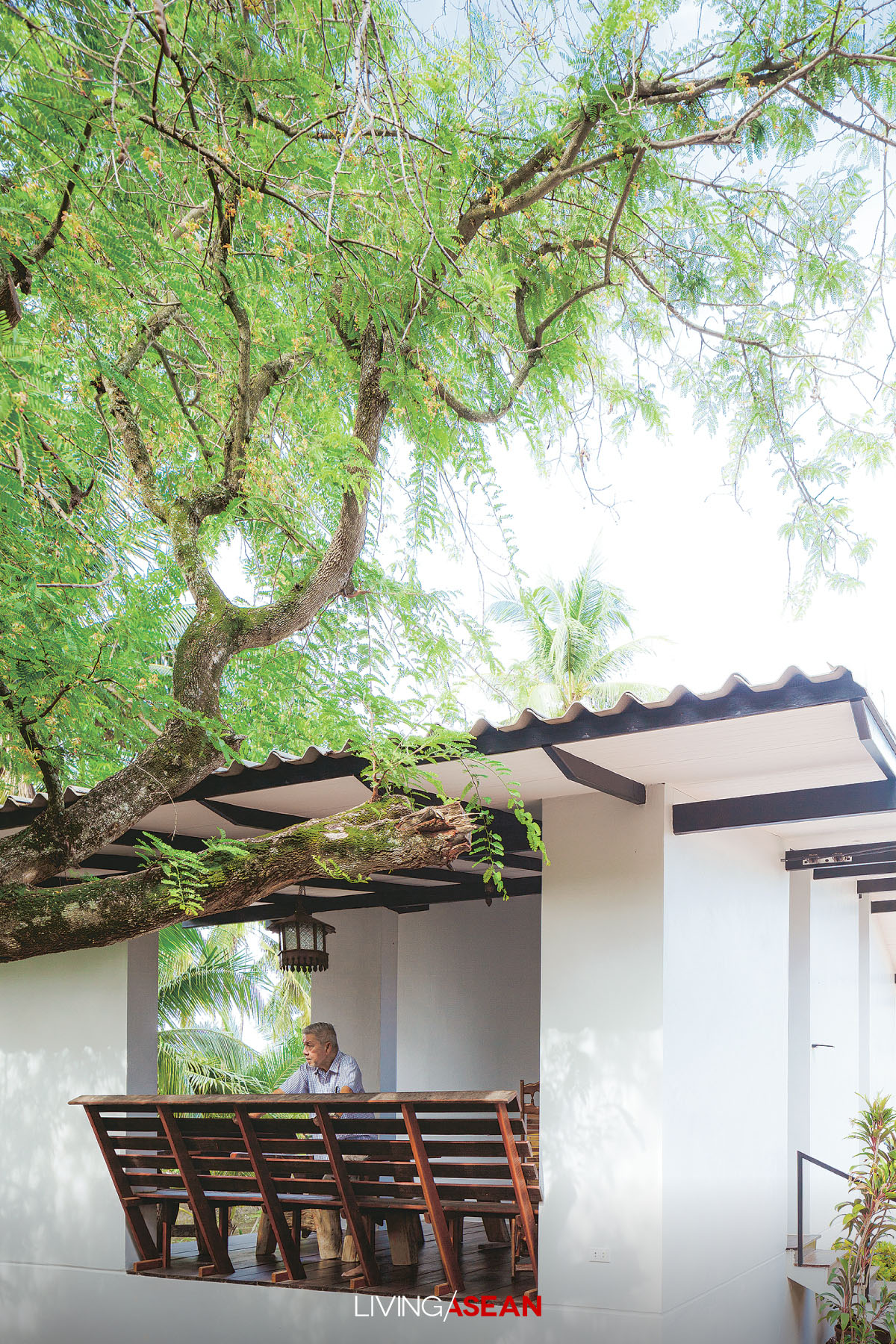 To enhance views of the garden, Puchong chose a U-shaped house plan that's made up of four blocks. Where appropriate, tall well-positioned windows create a stylish look and spacious feel. The result was a pared down tropical home for cool minimalist living. To merge into the landscape, he picked low pitch gable roof systems that blend harmoniously with traditional architecture in the area. Open floor plans maximize space and provide excellent flow from room to room. The front entry and south-facing walls that receive the afternoon sun are built of opaque materials to soak up the day's heat. For a more comfortable living environment, north-facing walls are open to take in fresh air and beautiful views of the canal.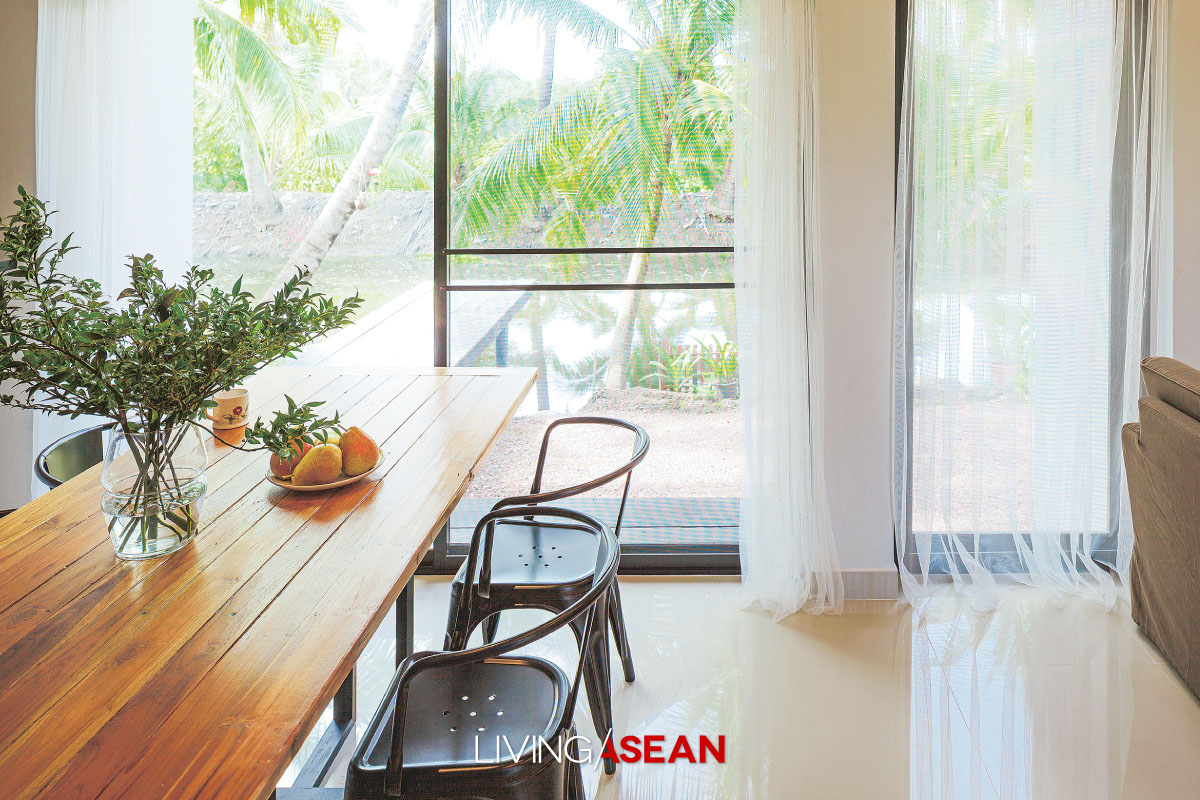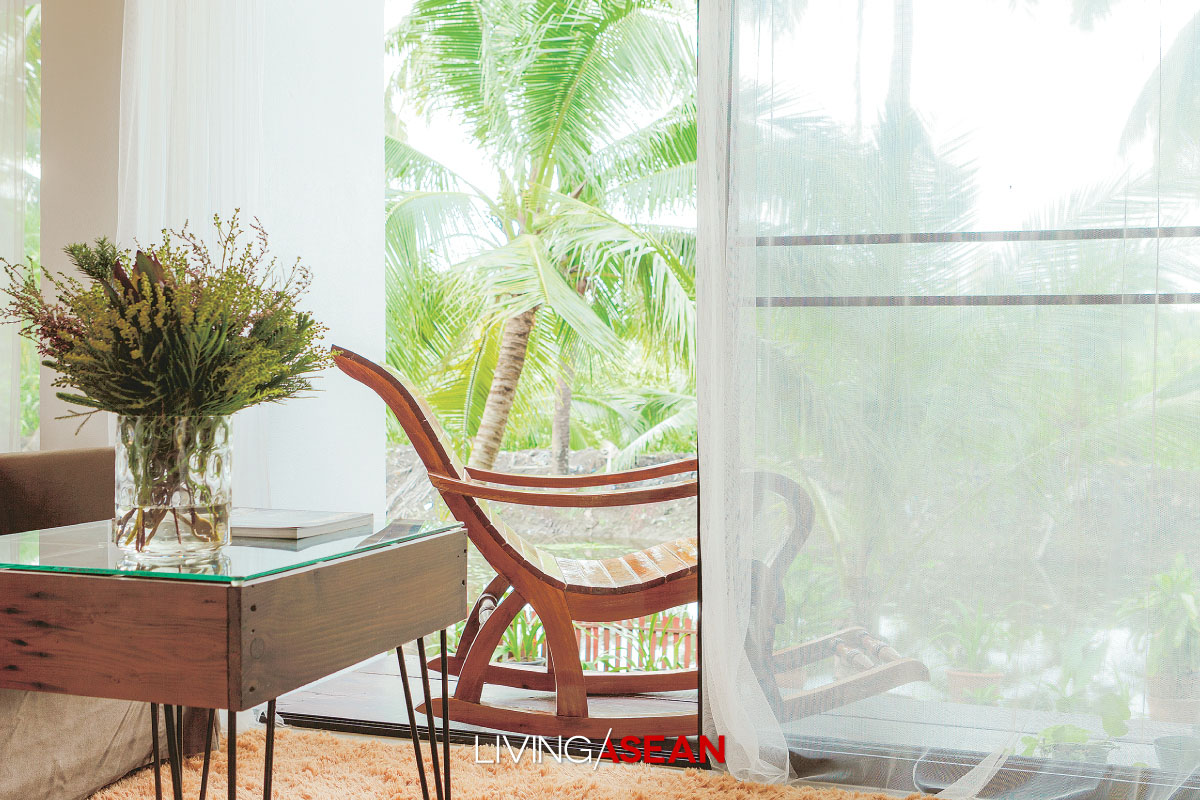 The south-facing block contains a pantry, work station, and clothes storage closet. For indoor thermal comfort, the north-facing block is protected by an array of vertical fins. Not far away, a viewing platform supported on girders extends from the house to the water's edge. The vertical louvre fins double as a privacy screen for the bedroom and provide light and breeze control. Together, they make the sitting room, dining room, and small balconies comfortable during daylight hours.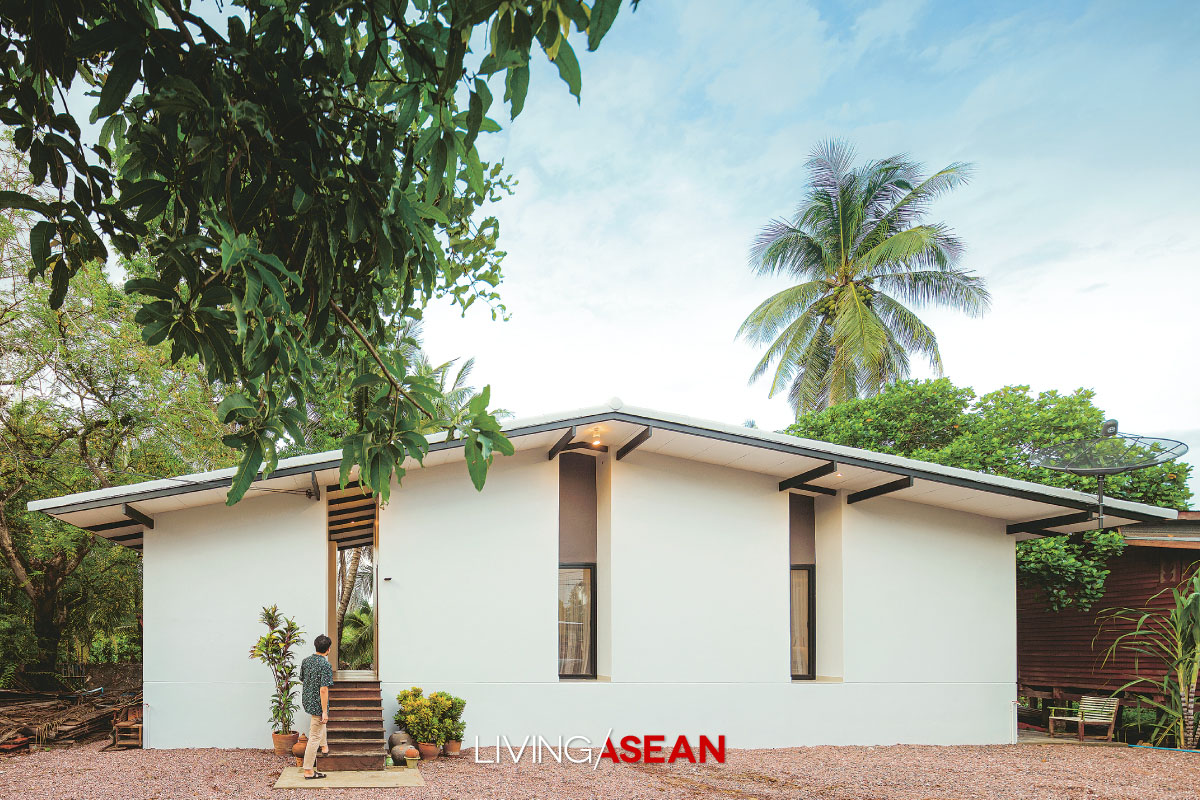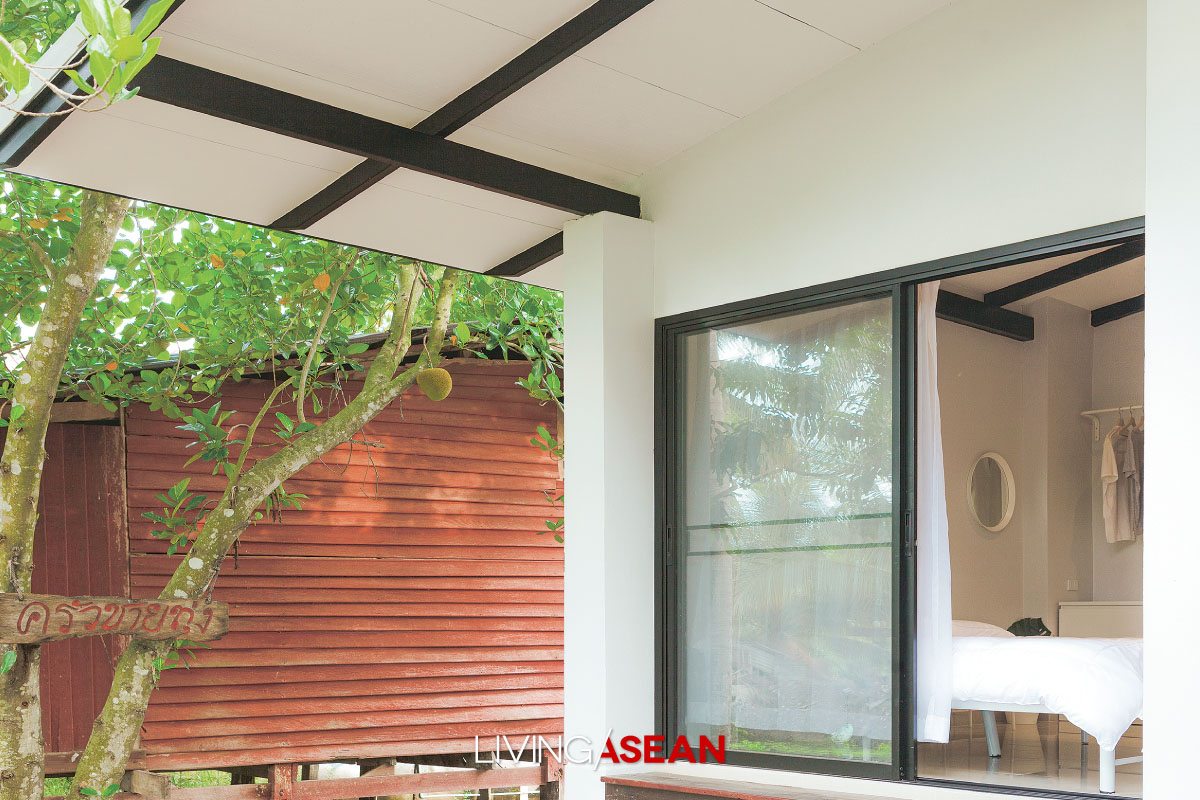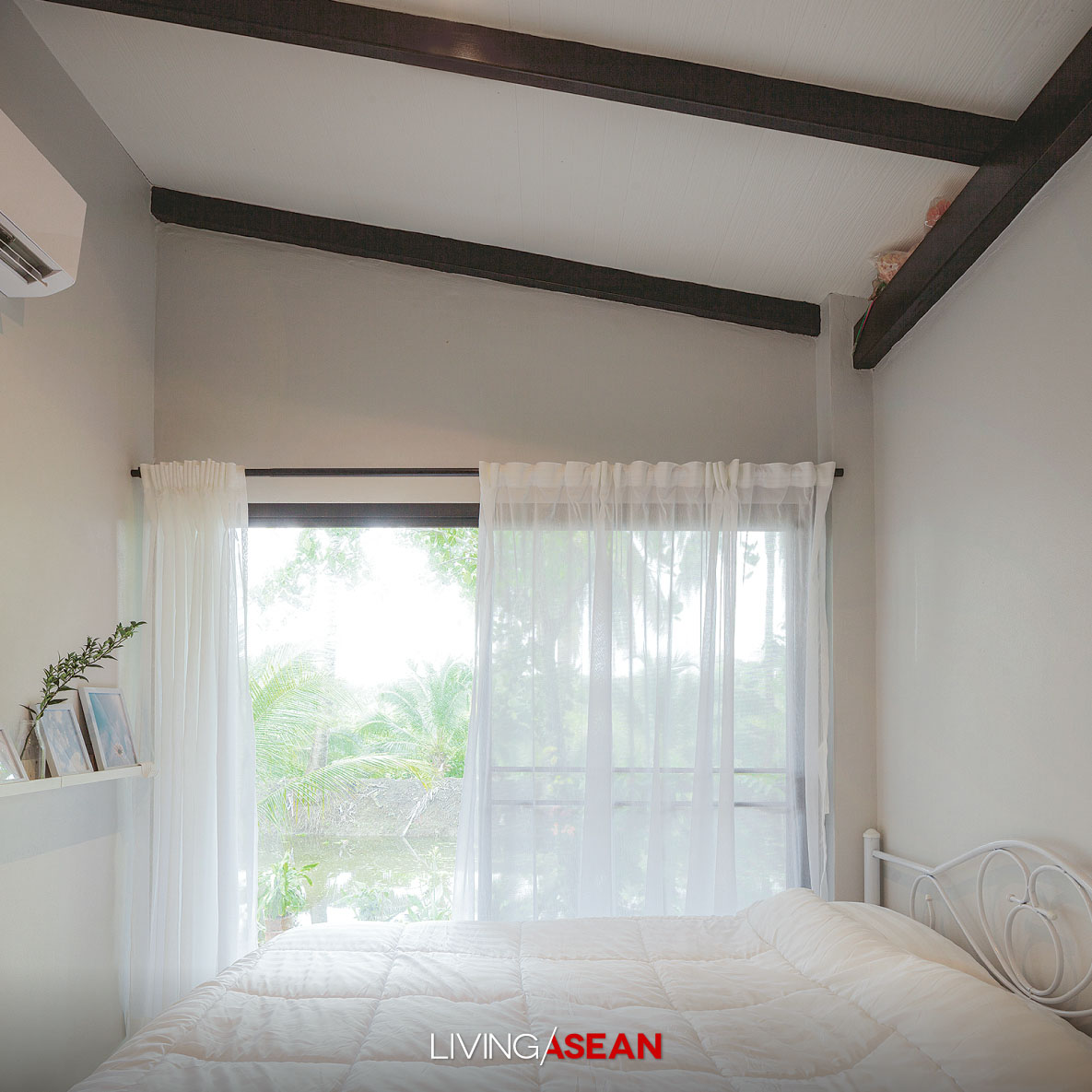 "Adjacent to the U-shaped house plan lies a raised passageway that leads out to a body of water. Functional spaces are carefully thought out. Private residential areas are on the right side, while semi-outdoor spaces for houseguests are on the left," Puchong explained.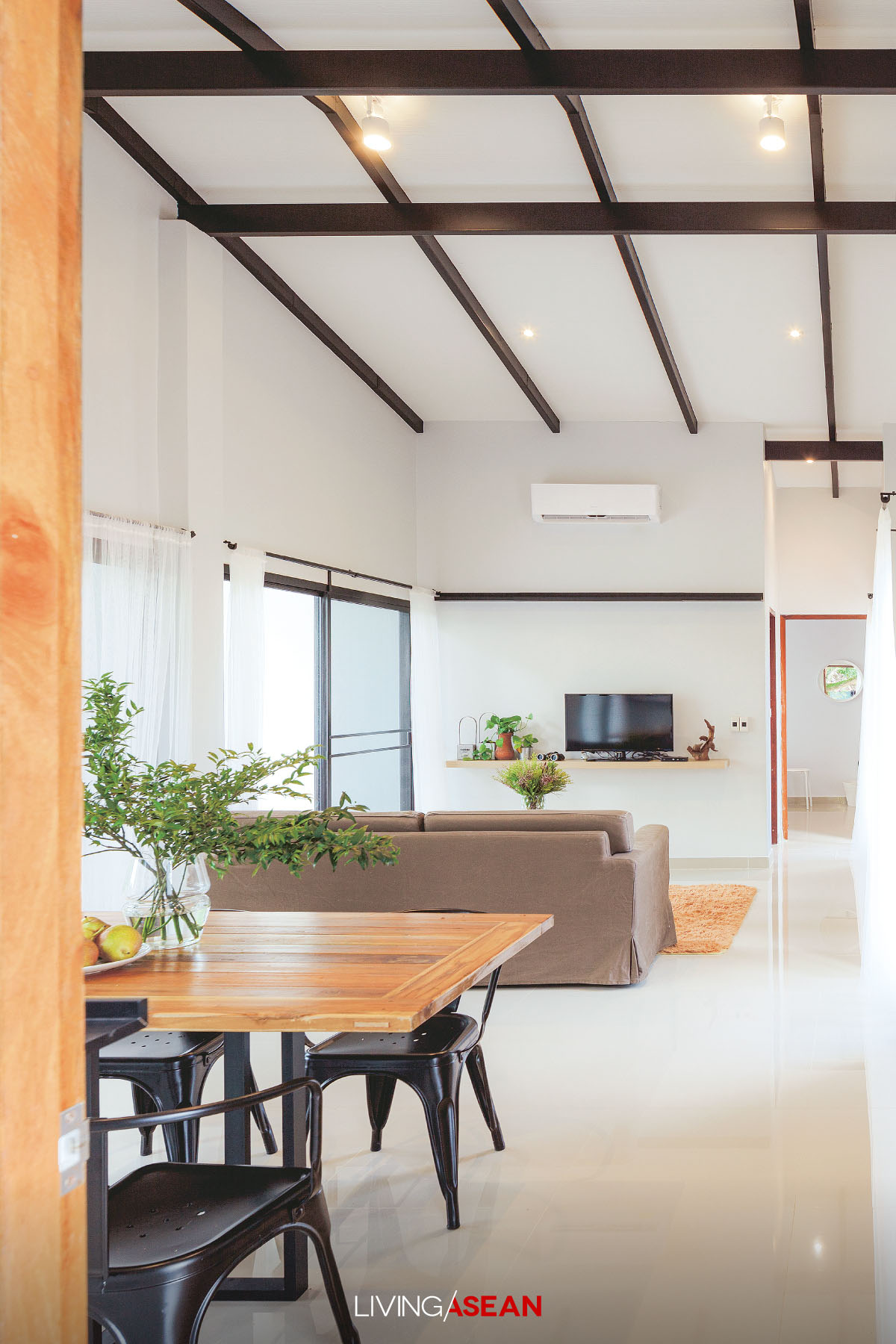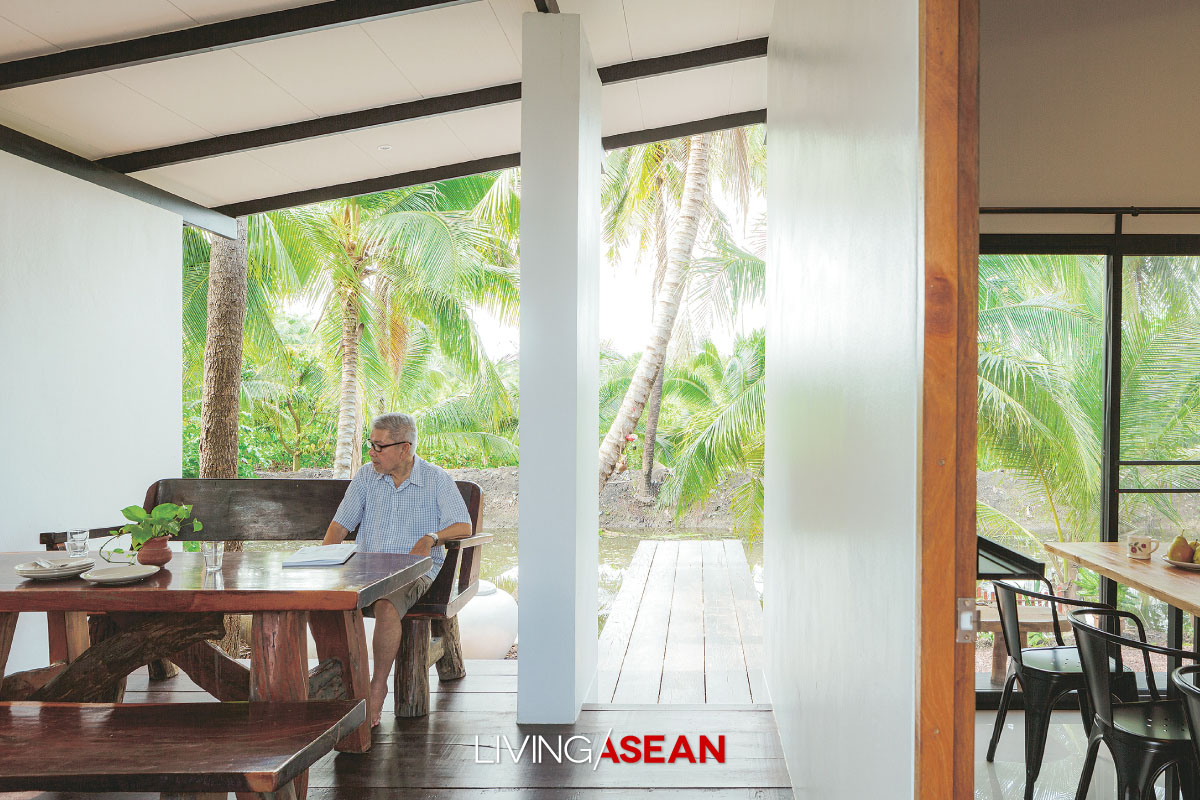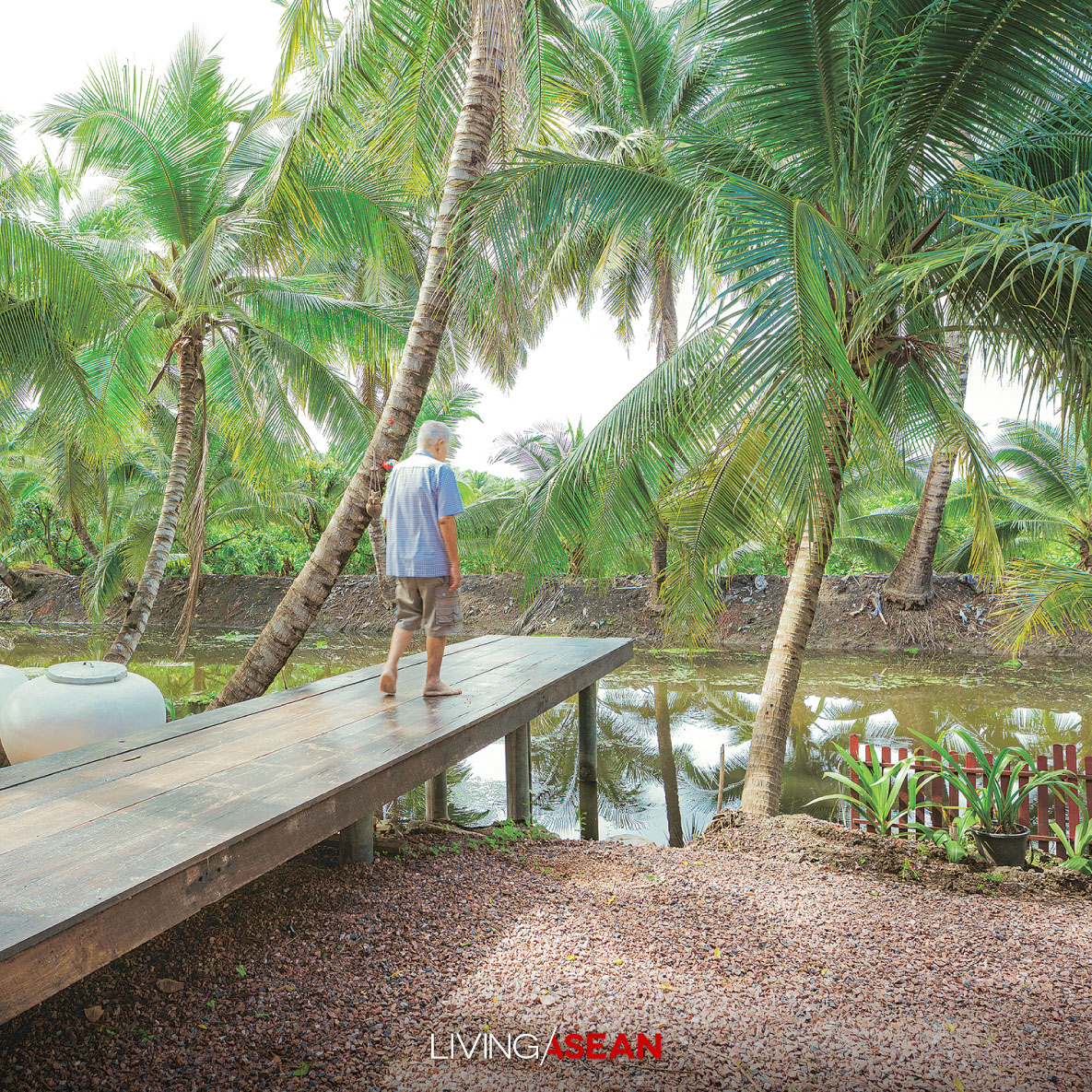 "Among other things, main functional spaces include a living room, dining room, bathroom, and bedroom neatly fitted into a small space. All of them have undisturbed views of the canal. High ceilings paired with tall windows make the house feel bigger, light and airy. To get work done fast, only standard building materials were used. They included ceiling panels, roof tiles, and glass in prefab sizes such as 1.20, 1.60, and 2.40 m. This made it easy for local builders to build, easy to maintain. Plus, it saves money, and reduces waste."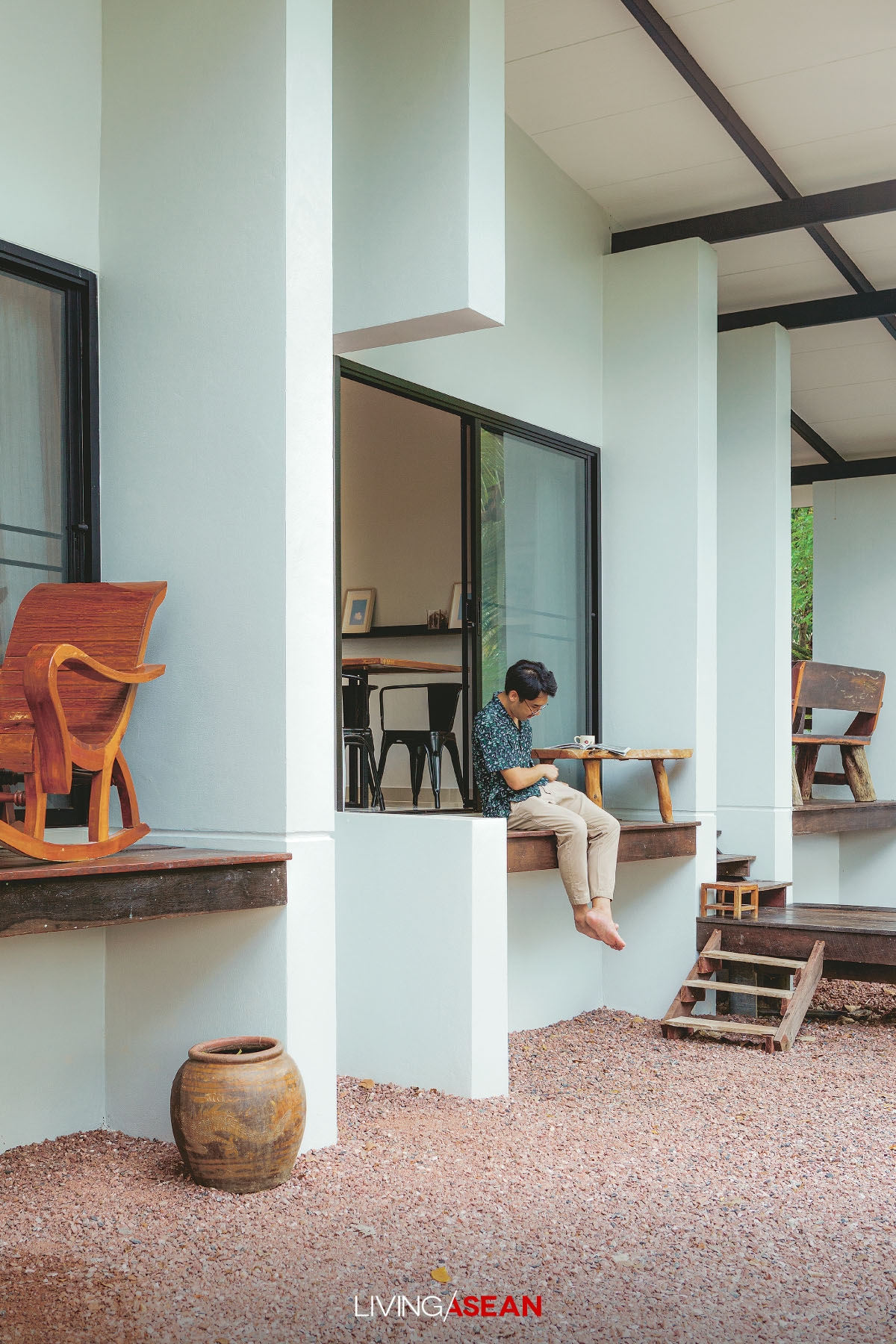 "Using vertical louvre fins is a technique that gives the house its character. They are architectural features that blend beautifully with the overall design. This is evident in the way every roof rafter is positioned to coincide with the top end of the vertical fin. Although in different sizes, the vertical fins are placed at regular intervals, resulting in a clean and simple exterior."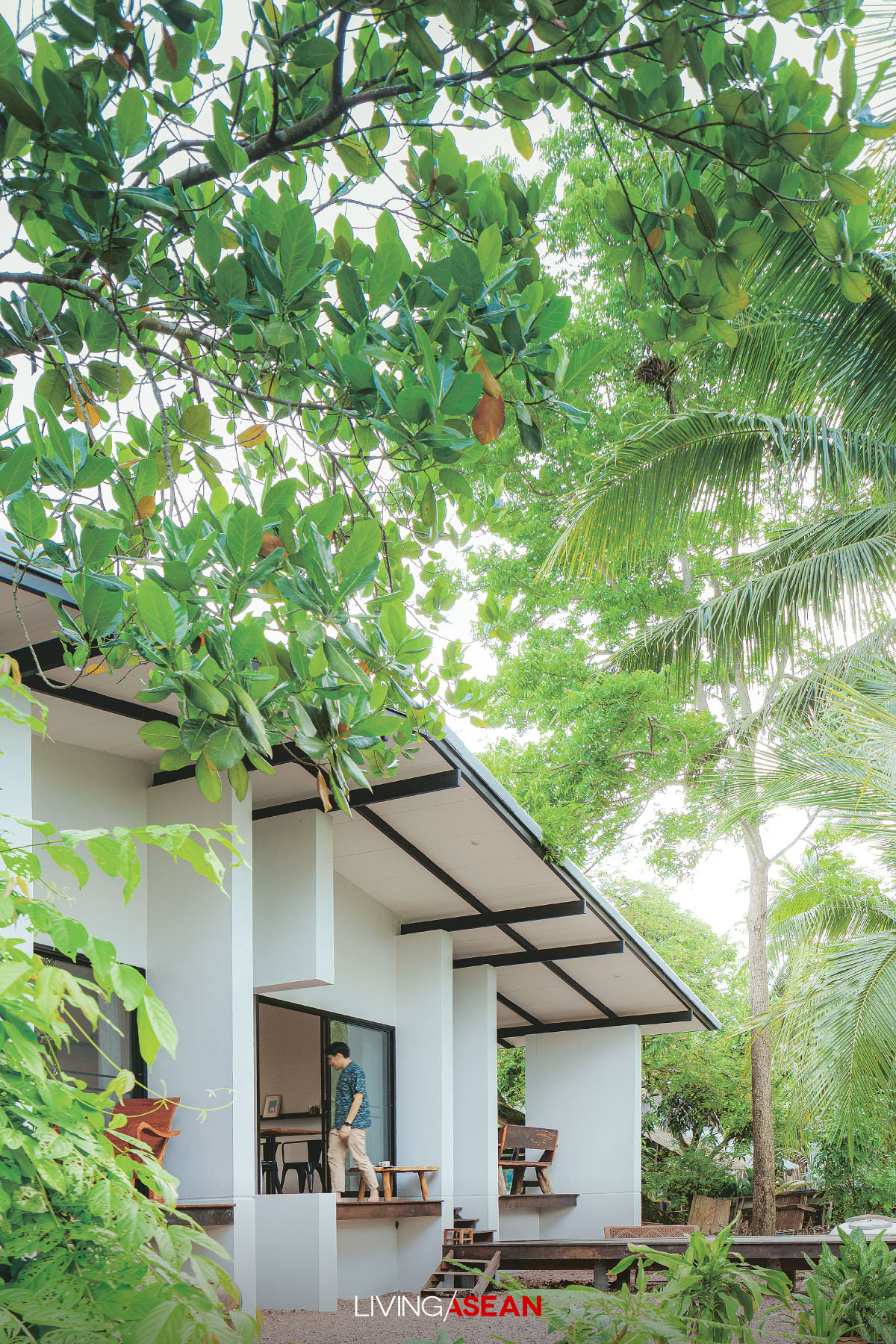 Embraced by nature, the house is well planned every step of the way. All elements are arranged in such a way that best accomplishes a particular purpose. More than anything else, it's about living in peaceful harmony with the land, the water, the trees, even the fireflies. For Puchong, building a retirement home for his beloved Grandpa is the absolutely right thing to do.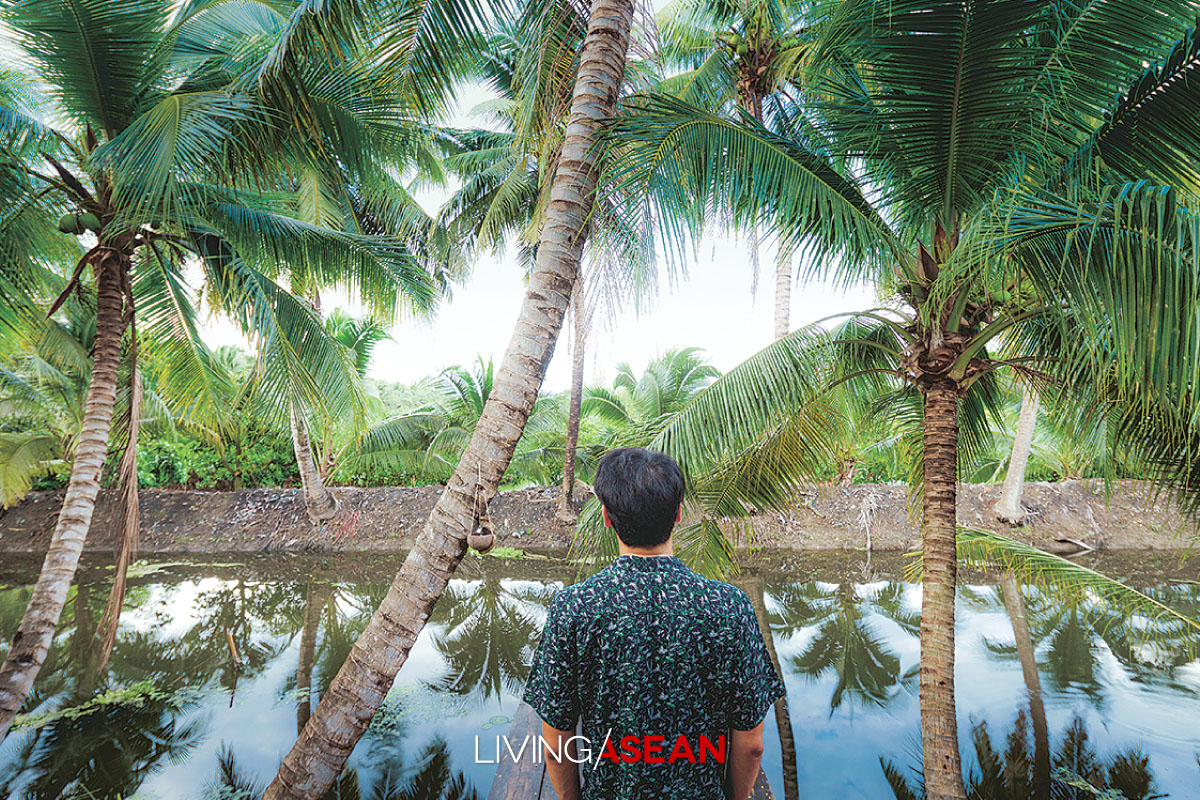 Story: Patsiri Chotpongsun
Photography: Soopakorn Srisakul