/ Chanthaburi, Thailand /
/ Story: Wuthikorn Sut / English version: Bob Pitakwong /

/ Photographs: Soopakorn Srisakul /

This is a stilt house design where the contemporary style merges with rural vernacular in Chanthaburi. It's built on the concept of home with a dual nature – a villa-cum-homestay. The design pays particular attention to the simple life and harmony with the surroundings, plus good positioning in relation to light and wind patterns makes it more comfortable to live.
Baan Lek Villa is the work of "Kaew" Rinrada Nirote, homeowner and architect at GLA DESIGN STUDIO, in collaboration with designer Pitch Nimchinda. It's intended to accommodate her family, house guests and friends of her mother ("Lek" Kuna Nirote).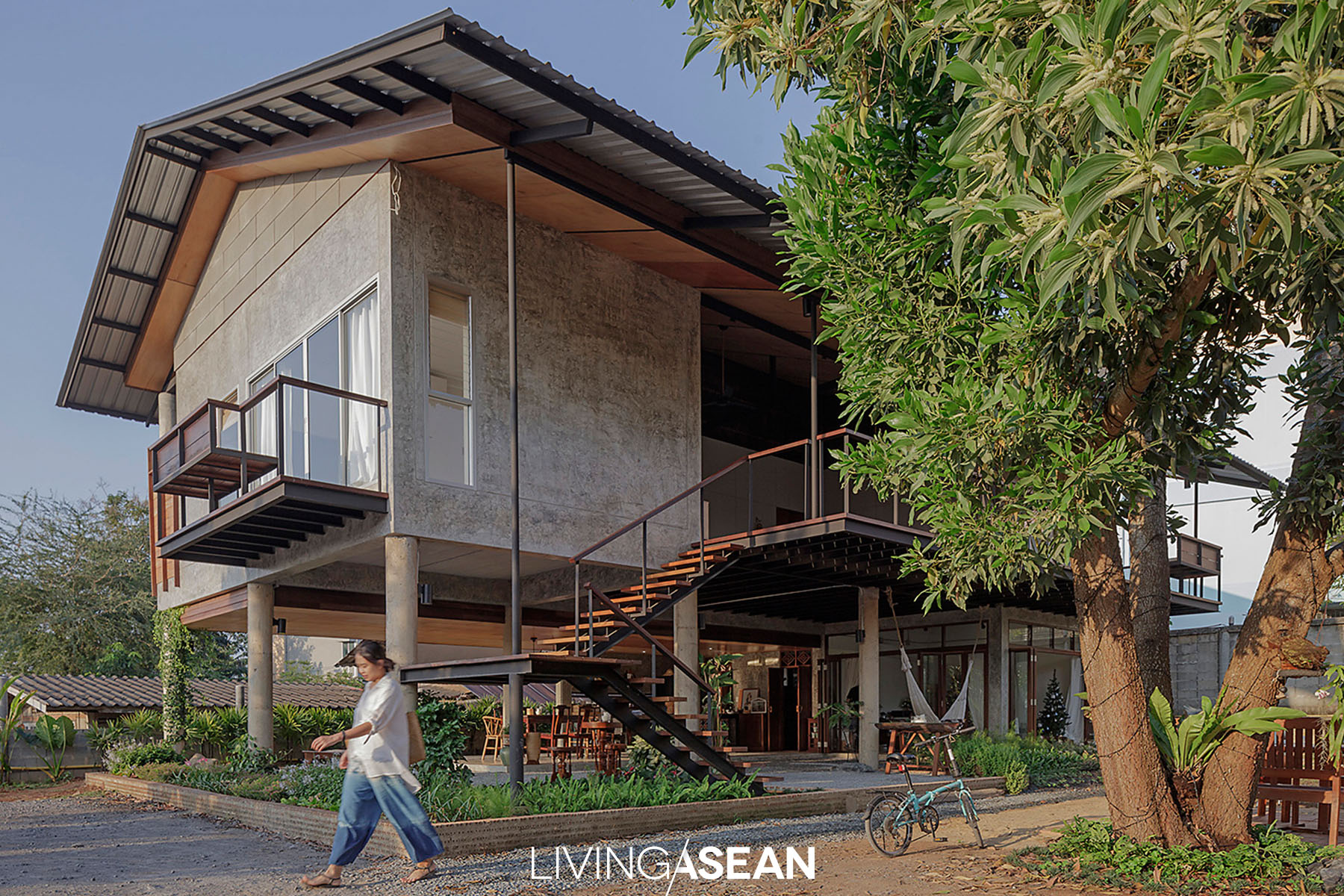 Rinrada came to Bangkok to further her studies and has worked there since graduation. Little by little it dawned on her that building a new house in her native Chanthaburi would be a good idea.
It would give her a place to stay and a small office away from the city. She wanted a design that looked simple yet attractive, kept within the budget, and blended into the community.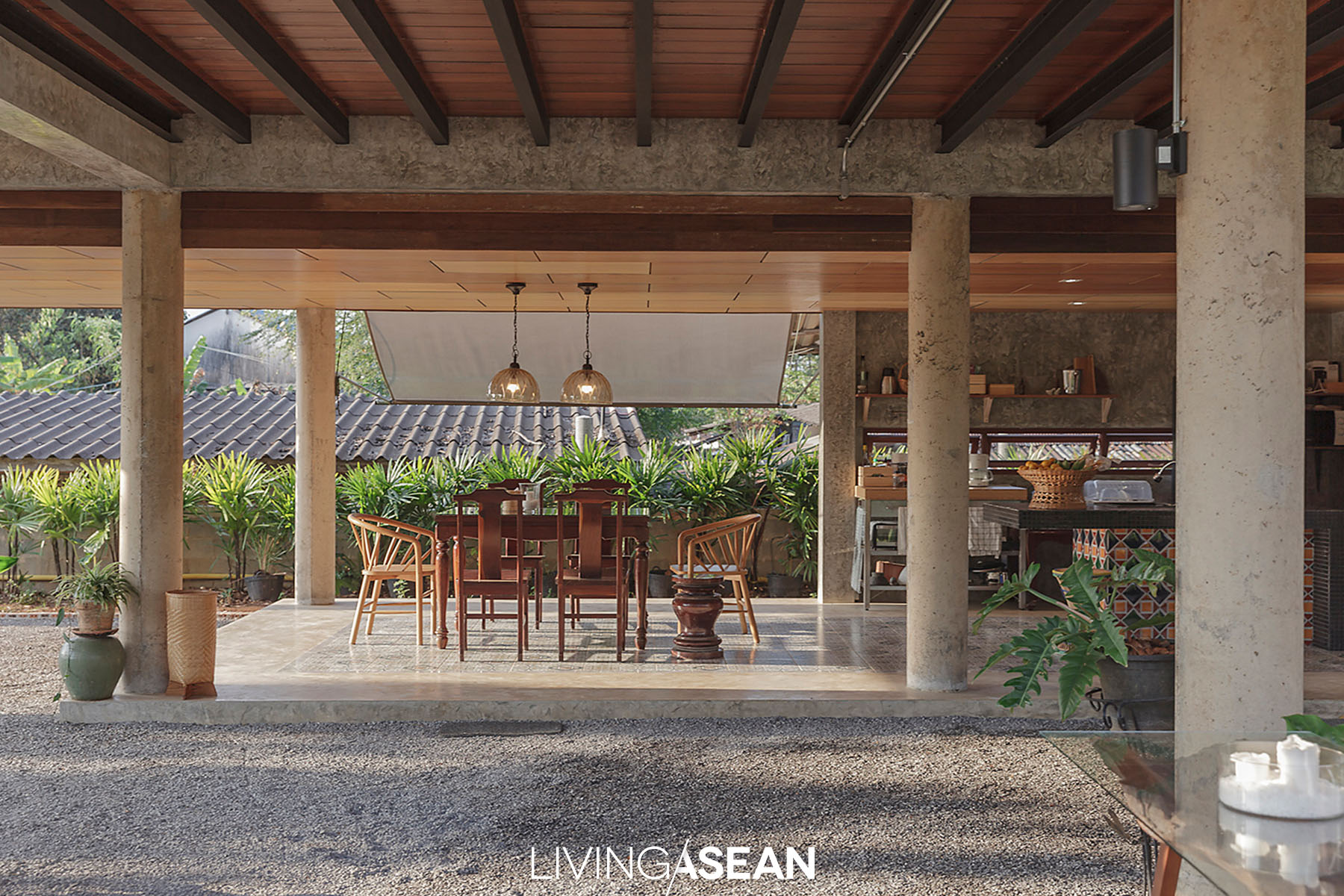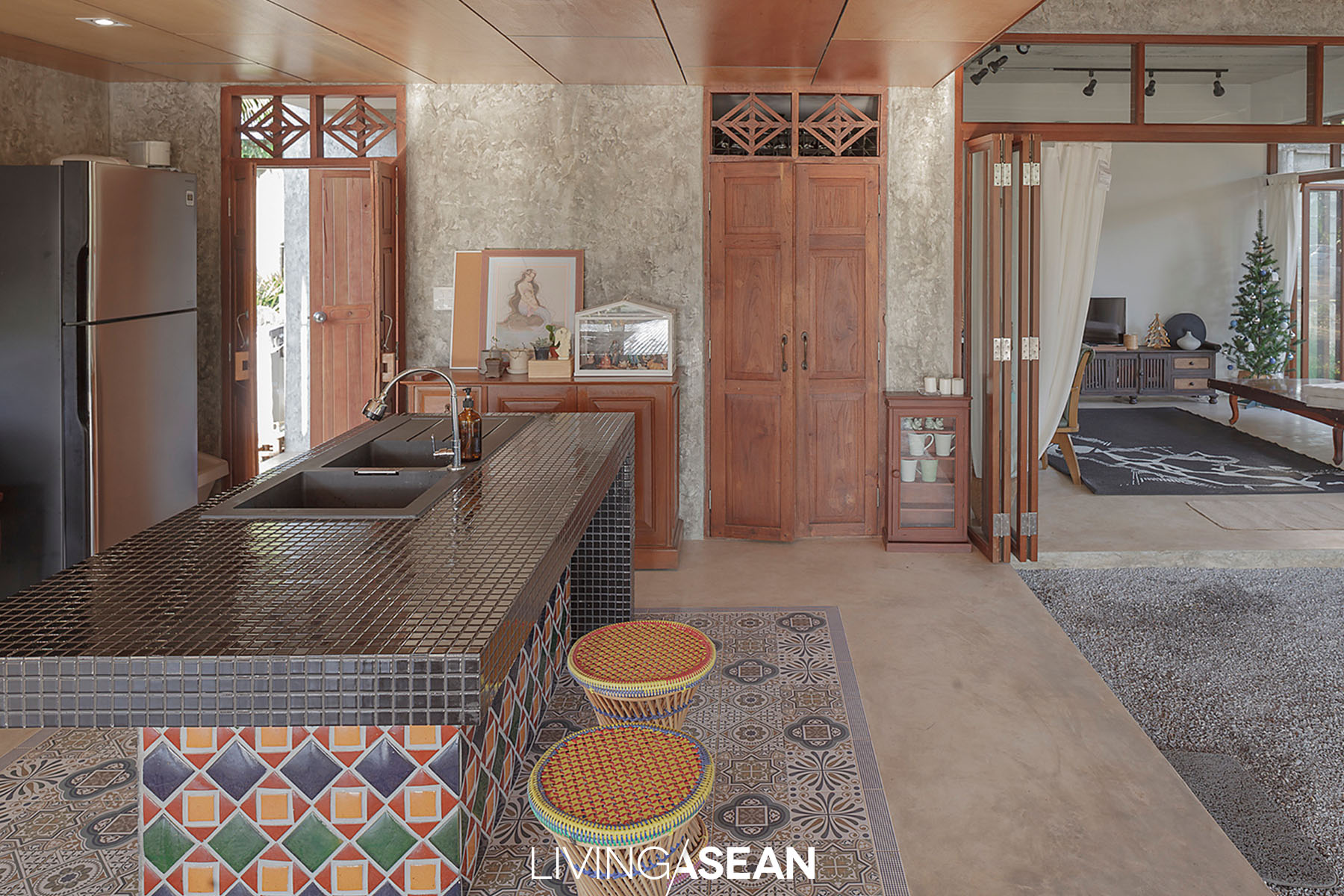 The result is a home that merges with the surrounding countryside. Simple house design offers two distinctly different zones – private and public areas.
The living space is raised up on piles, while the ample multi-use area underneath it is meant for dining and receiving guests.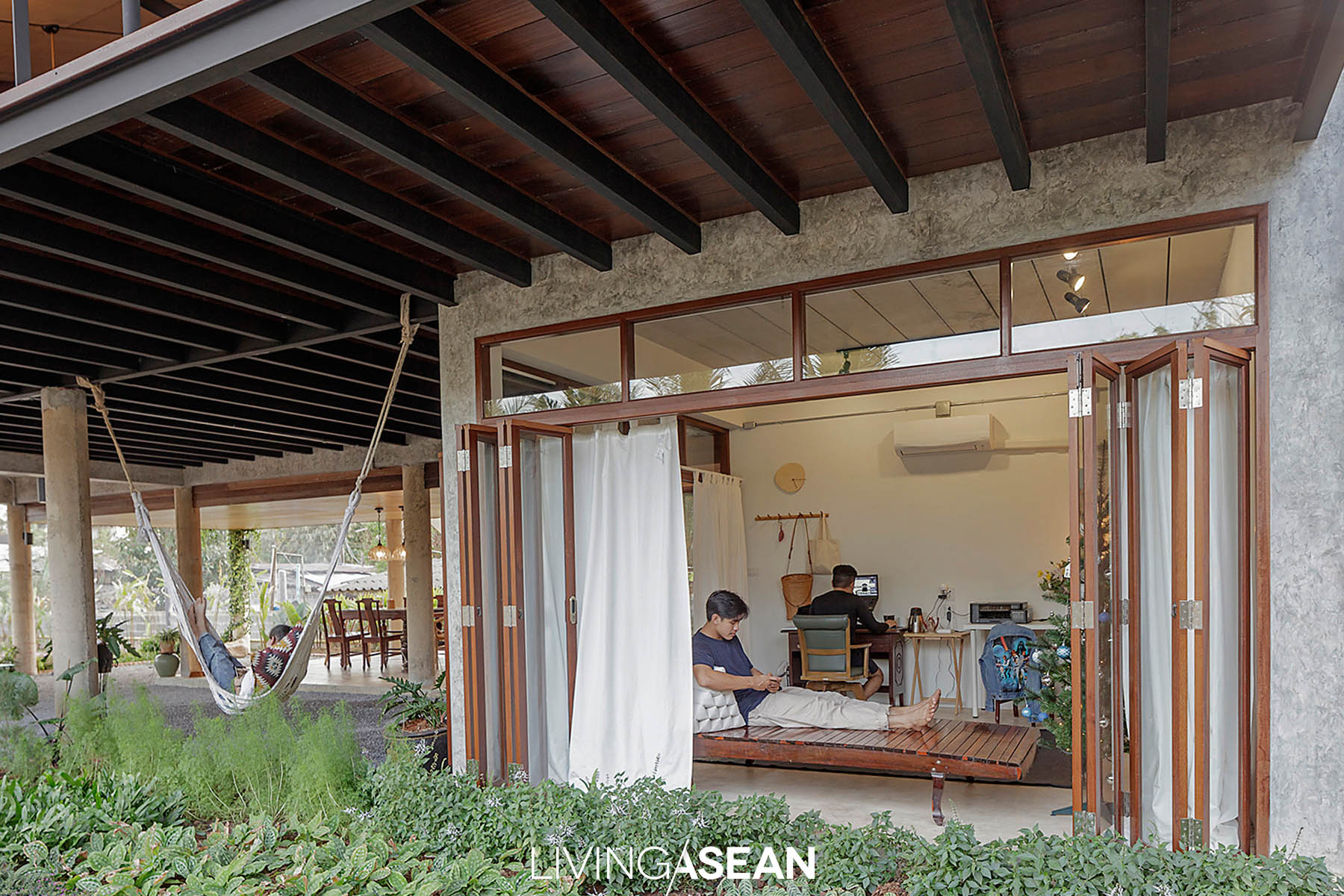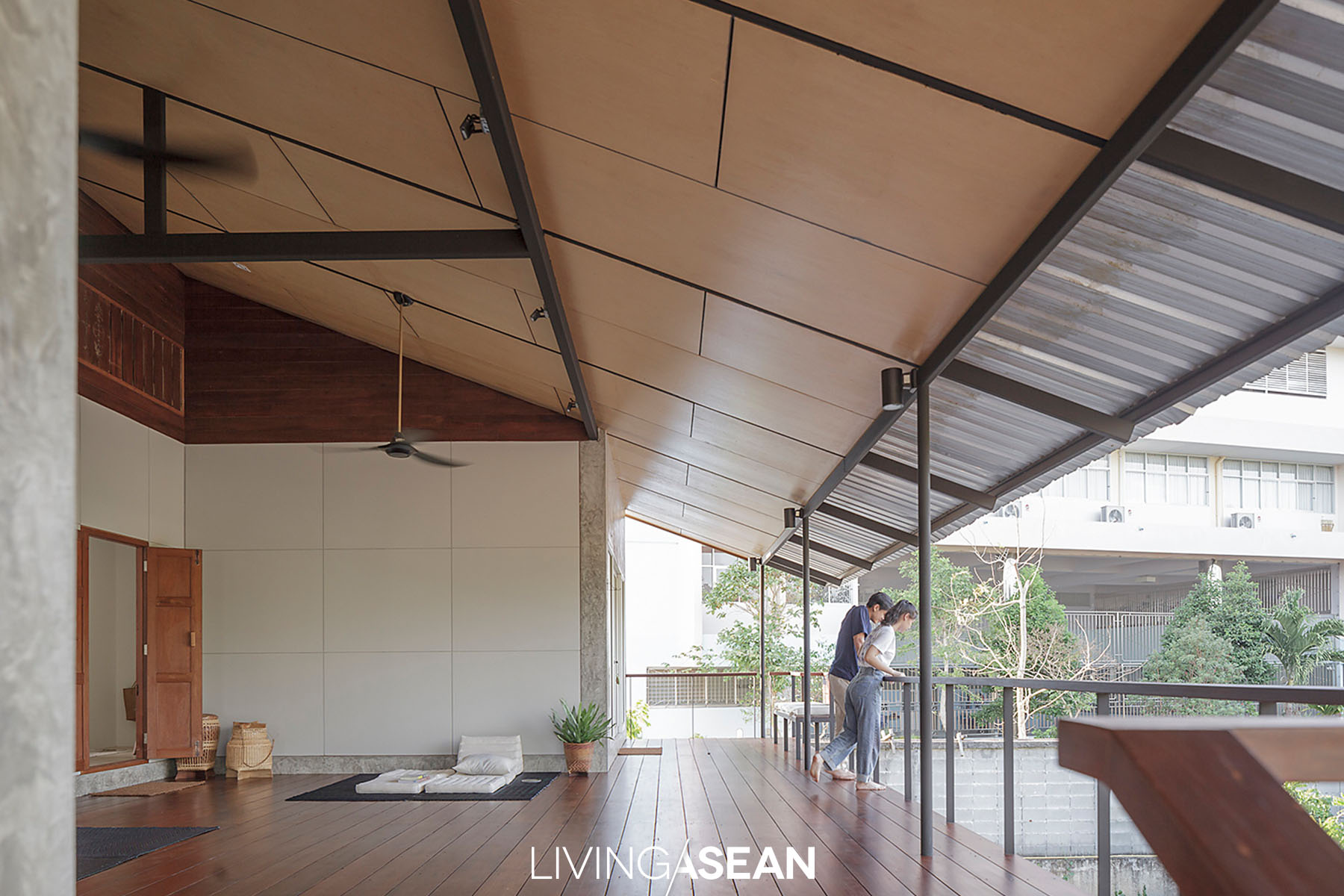 Sharing her slice of paradise, Rinrada says that nowadays more people are yearning for a simple way of living. Advances in technology have made it possible for us live anywhere and still be able to work. What we need is a case for carrying clothes and a few personal belongings, plus a portable computer.
Even better if you have a place of your choice that helps you relax in nature. Intended to make our breaks truly refreshing in the countryside, this house was complete only recently. So far it has received many guests and friends of her mother and brother.
"We didn't intend to make it a family business. I was into hotel designing to begin with. Now that I have a house of my own, Mom has invited her friends over. They loved it and spread the good word. So we thought the time was ripe to provide the accommodation of guests. It's important that they get to experience the relaxing side of Chantaburi town," she said.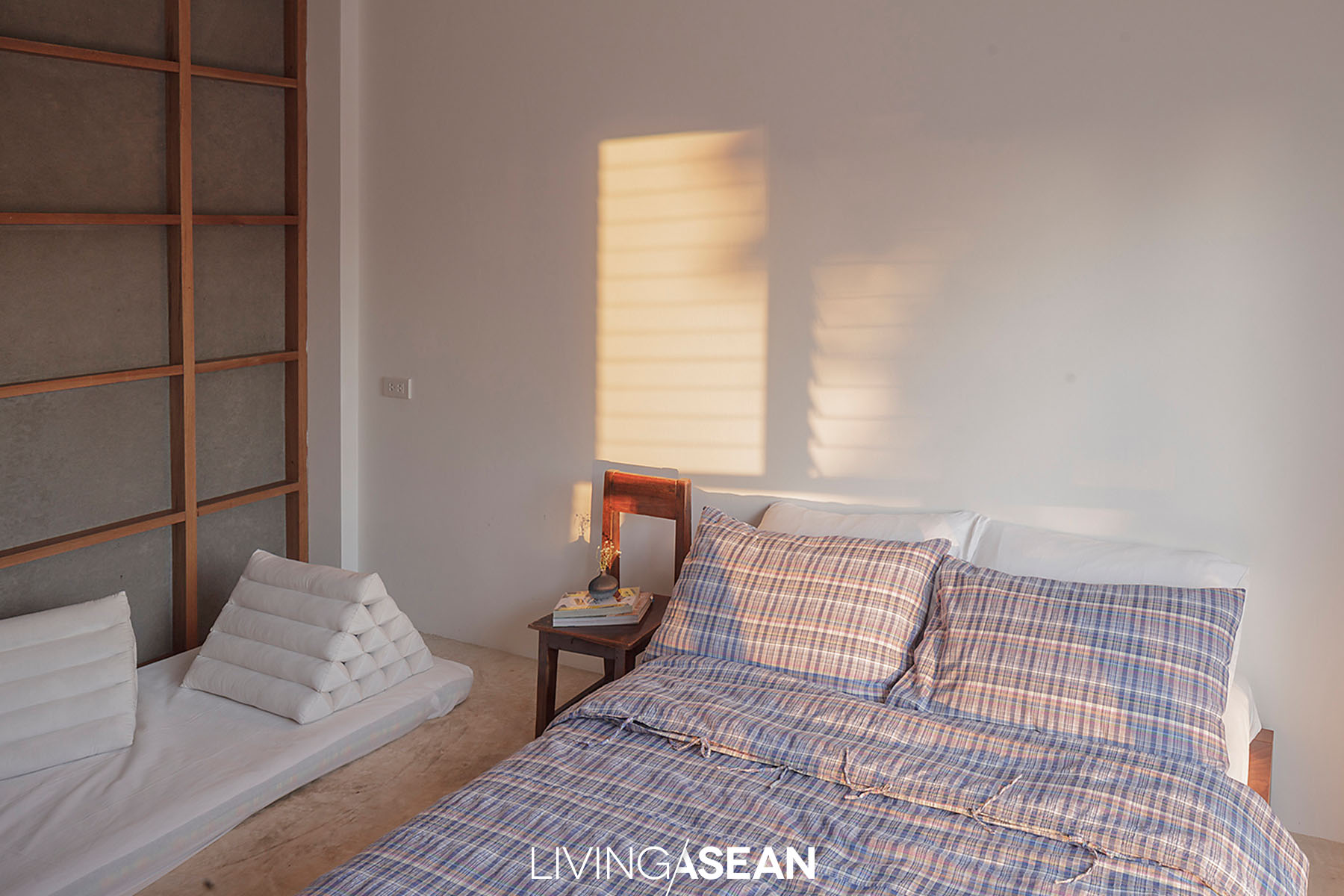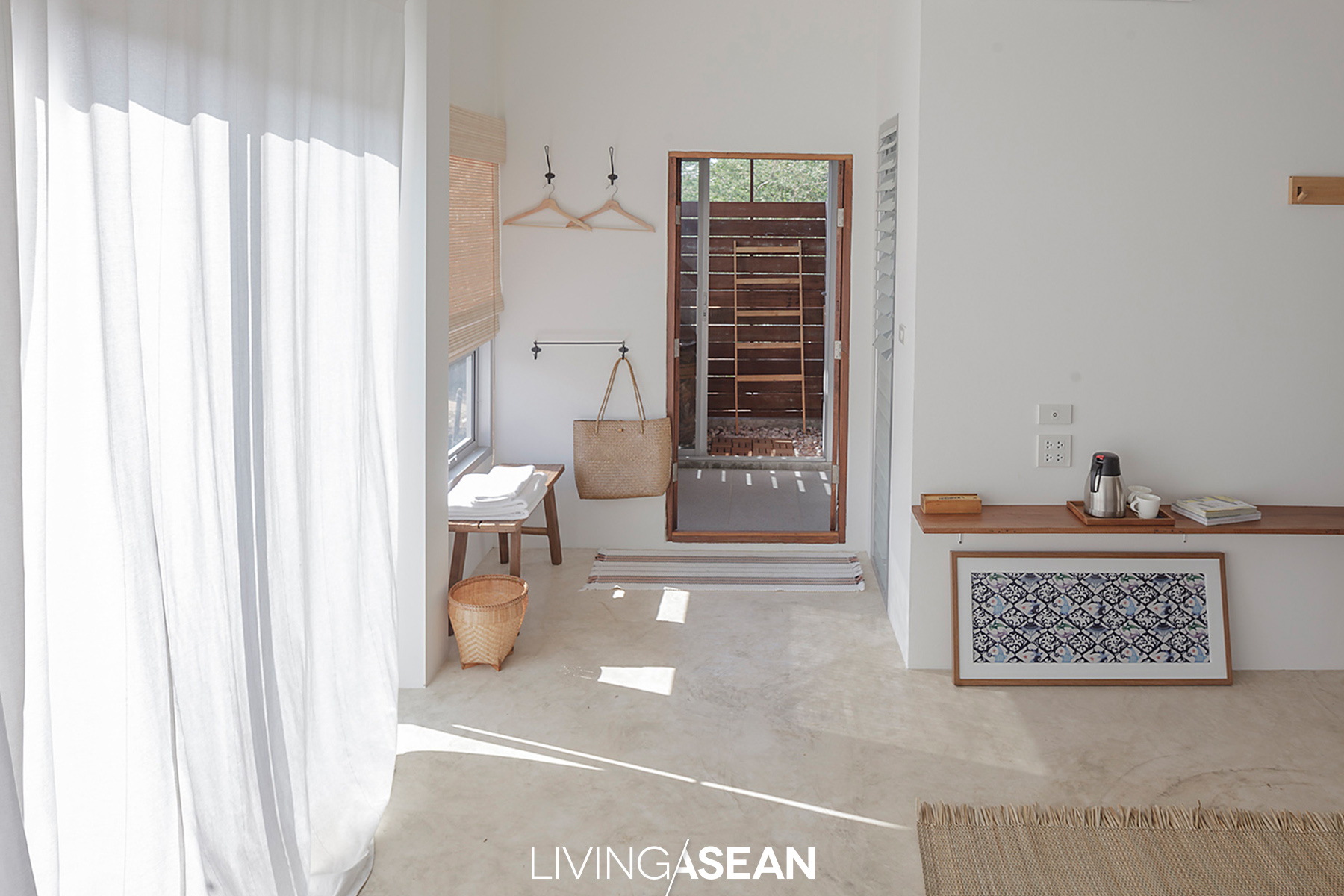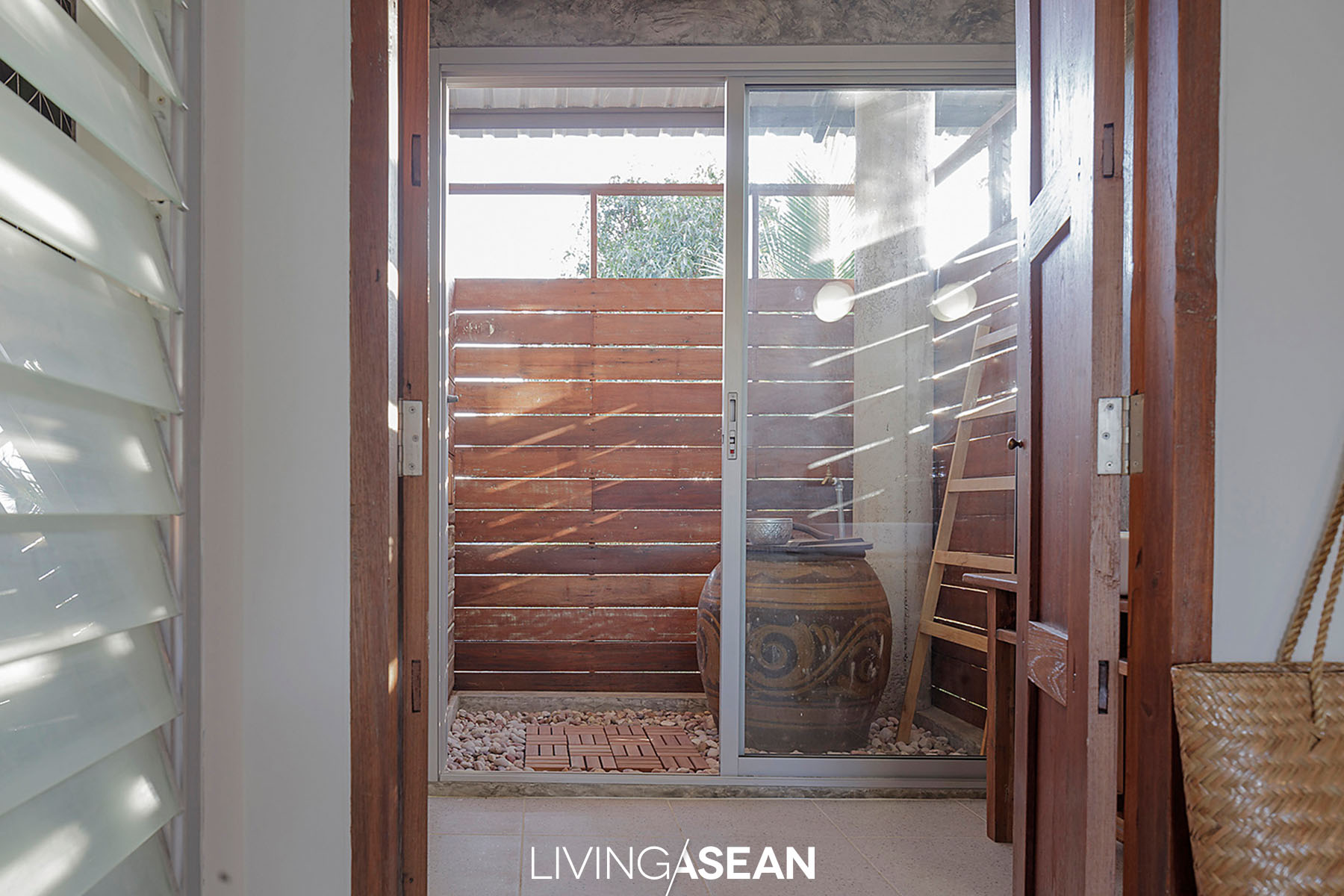 What makes this house unique is the architectural detail that's right for the climate of Thailand.
The design takes into account seasonal variations, such as sunlight and wind patterns, to create a comfortable environment. Rinrada got the inspiration for the multi-use ground floor from "Have you eaten yet?" a traditional expression of goodwill that Thais say as a sign of welcome.
This explains why a dining table set and kitchen counter are there. The area doubles as waiting room for people who drop by for a visit just like old times.
Walk up the stairs and you come to a more private area of the house, which consists of a large balcony and main living quarters.
Overall, the building is made of concrete that works well with beautiful wood accents. To make the building appear lightweight, the entire floor of the overhanging balcony is made of steel framework.
Taken as a whole, it's a perfect mix of concrete, steel and clever design that lets the beauty of natural wood stand out.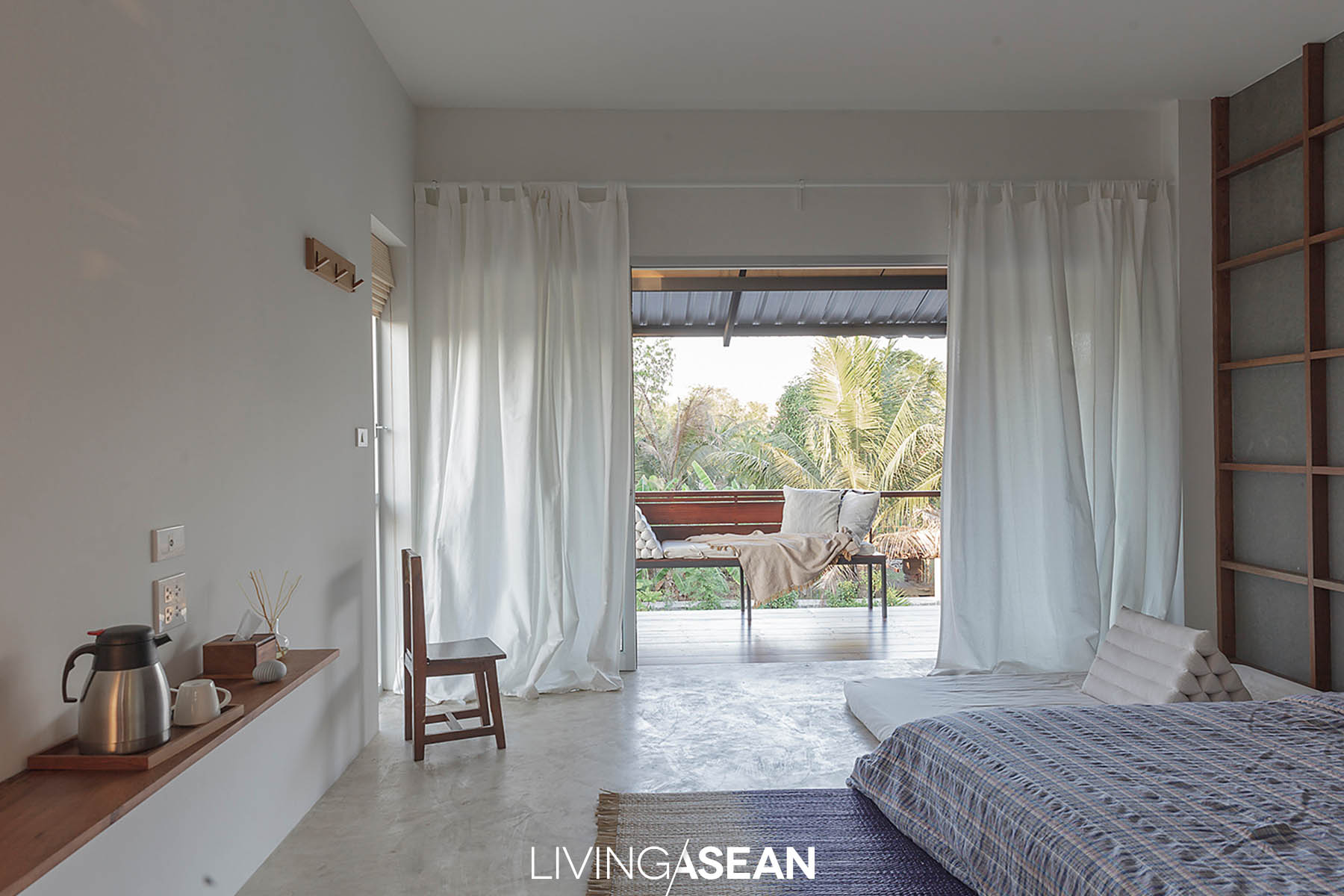 For an aesthetic appeal, the ground floor is covered to some extent by eggshell pebble pavers that seamlessly connect with the surrounding landscape. The garden sits in the shade for much of the day thanks to the house being positioned on the western side of land.
The fact that it's located in the further reach also leaves plenty of extra room available for future projects. For the time being, Rinrada intends to turn the front yard into an ample garden filled with large trees, shrubs and natural light.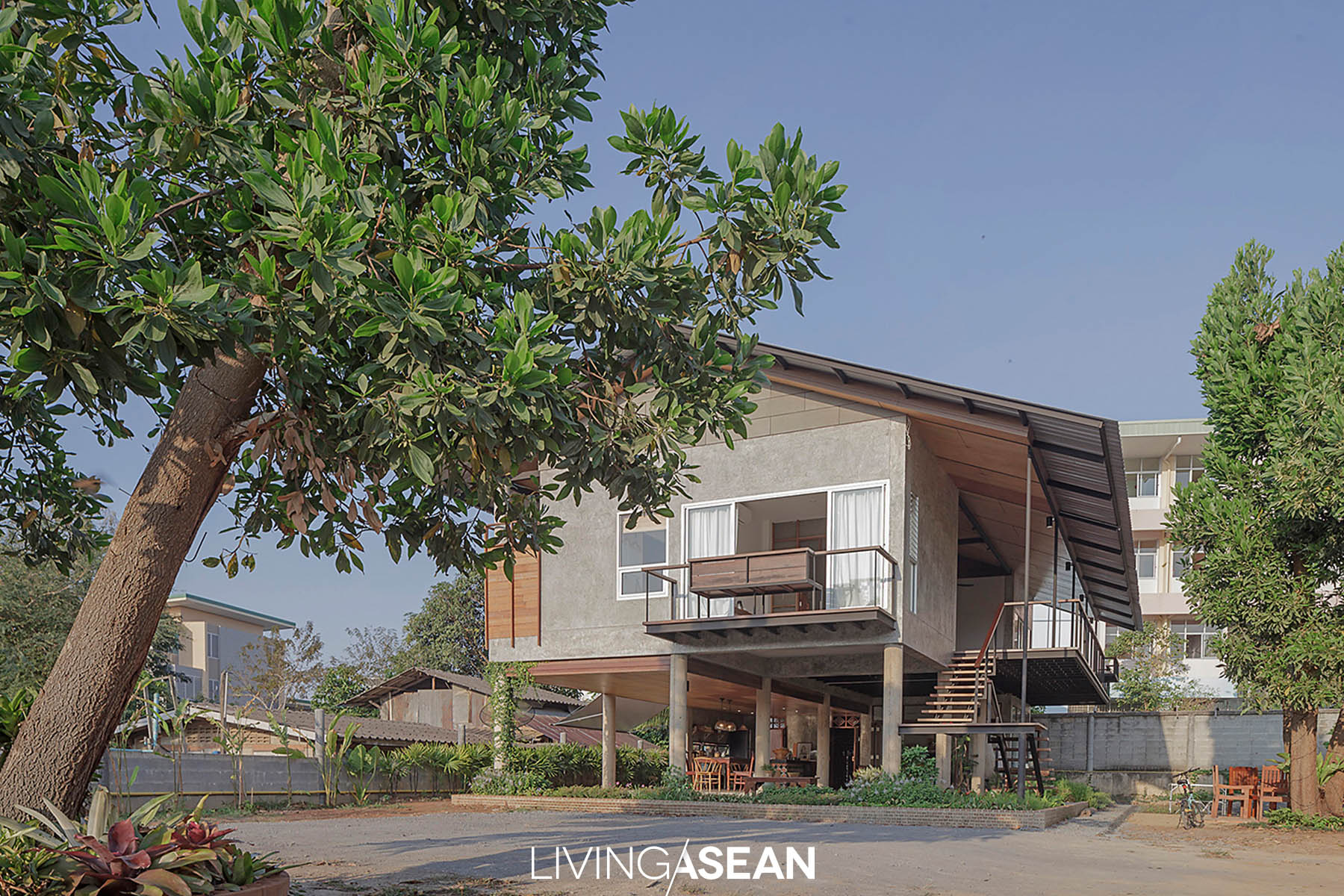 Most importantly, Rinrada says it's the understanding of the context that sets the main idea about good house design. Appropriate orientation involves more than just the sun's path or seasonal wind patterns. Every little detail must be taken into account.
This modest home is designed to blend with the environment and other key attributes that have made Chanthaburi town famous. It merges with rural vernacular and sprawling fruit orchards. It's built of material that's available locally, reclaimed lumber included.
All told, it's one that stands in perfect harmony with the community.
---
Owner: Rinrada Nirote
Architect: GLA Design Studio
---
You may also like