/ Ratchaburi, Thailand /
/ Story: Patsiri / English version: Bob Pitakwong /

/ Photographs: Soopakorn Srisakul / Styling: Worawat /

Here's an intimate little wooden house on stilts amid the coconut groves of Damnoen Saduak, a country town famous for lush orchards and a vibrant floating market. Built on a budget, much of it is made of reclaimed timber in various styles. Oh, by the way there's no need for air conditioning. It stands canopied by overhanging trees alongside water channels for crop irrigation, an ecosystem that drives natural ventilation to keep it cool all year round.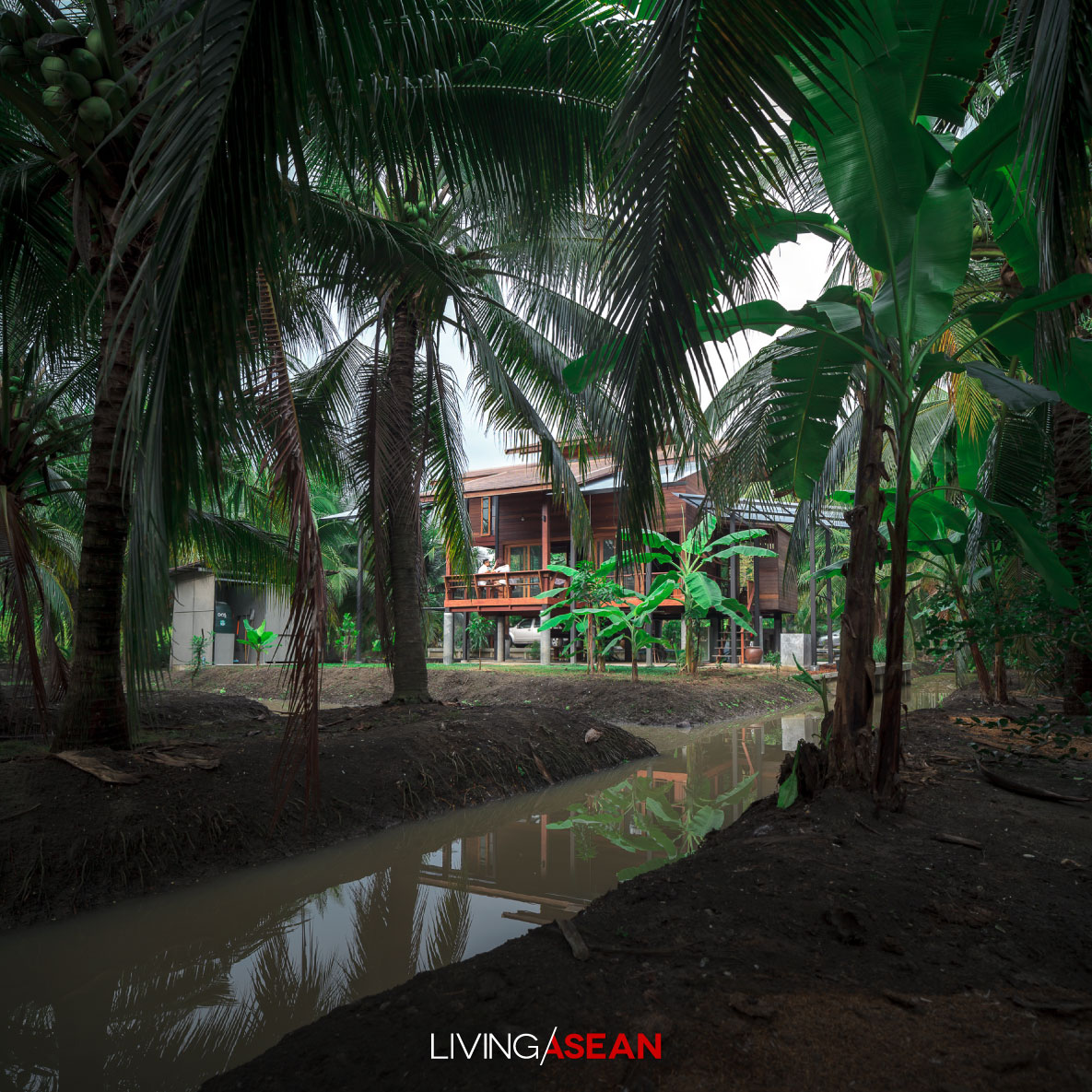 Since its heyday in the mid 1900s, Damnoen Saduak Canal had been a major route for water transport in this part of Ratchaburi. Traditional wooden houses were built mostly along the water's edge, while properties that lay further inland were used for agriculture.
This 7-Rai (11,200 sq.m.) piece of land was home to thriving fruit orchards for several decades. The wooden house now in the hands of the family's fourth generation was recently restored to all its former glory. In the process, parts of the water channels were filled to make room for a new contemporary home.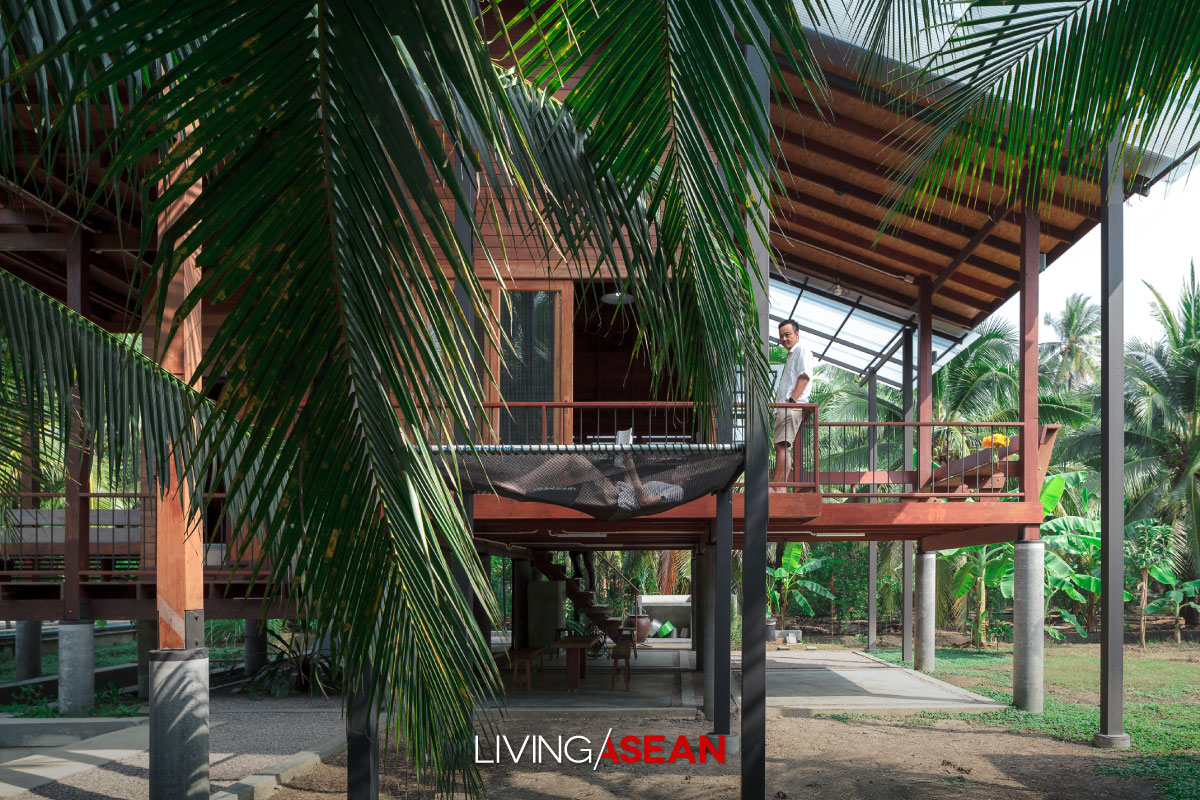 At first what they had in mind was a little house with one bedroom. But after having consulted the architectural firm Studio Miti, they were convinced that house-on-stilts design, something slightly bigger, was the way forward. It was a prudent thing to do since the area has experienced flooding in the past.
By using tall timber posts and beams, they were able to create a 112-sq-m home plan with high ceilings.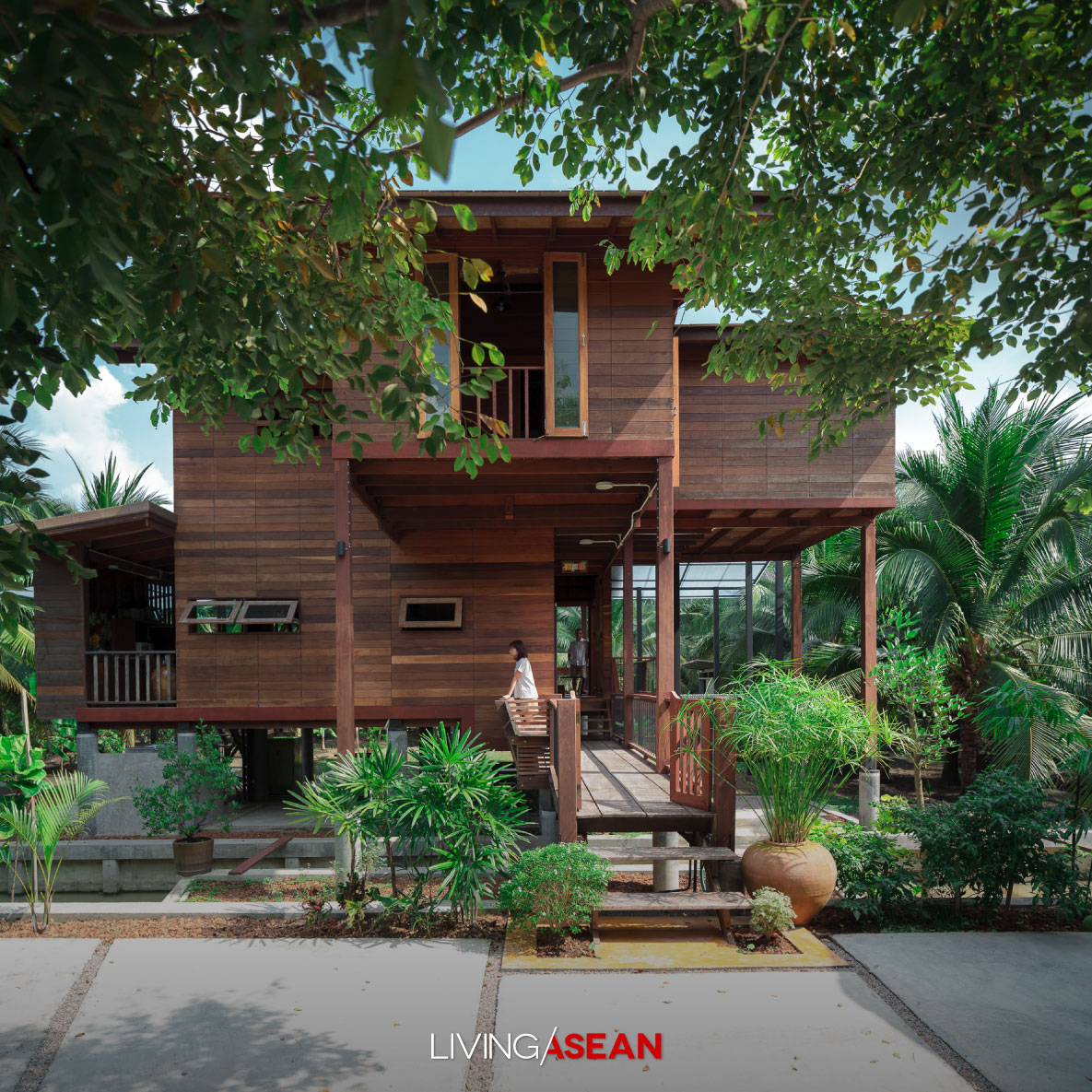 The wooden floor is elevated on concrete poles for stability and better ventilation, while the superstructure is crafted of weathered wood that gives the home rustic and contemporary décor.
The exterior walls are built of a captivating mix of reclaimed timber, including Praduak (Pterocarpus soyauxii) that's preferred for its bright orange red color, Mai Daeng or Ironwood (Xylia xylocarpa), and Mai Yang (Dipterocarpus alatus), which is light brown in color.
Where appropriate, shorter wall planks are used to add warmth and charm to interior living spaces.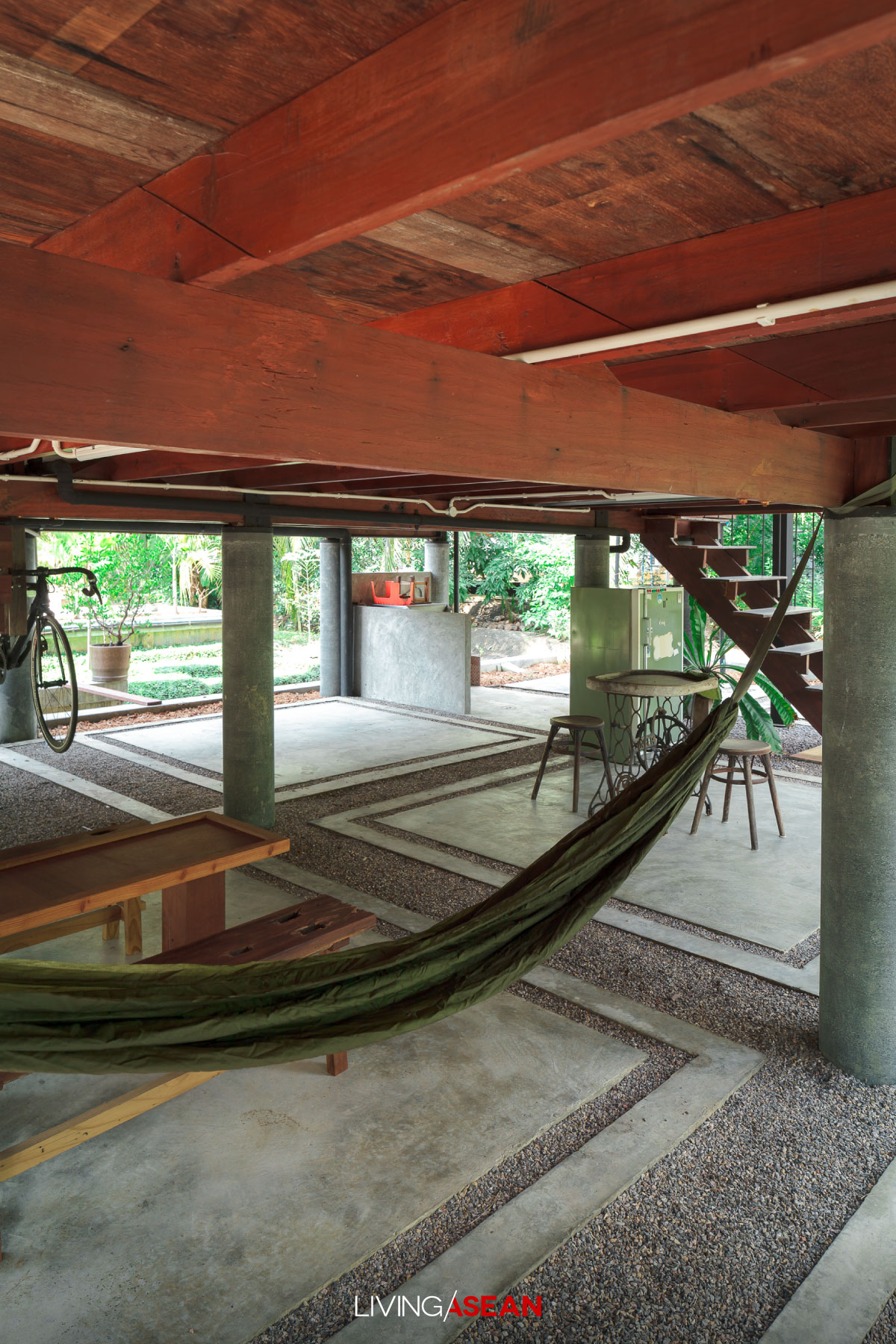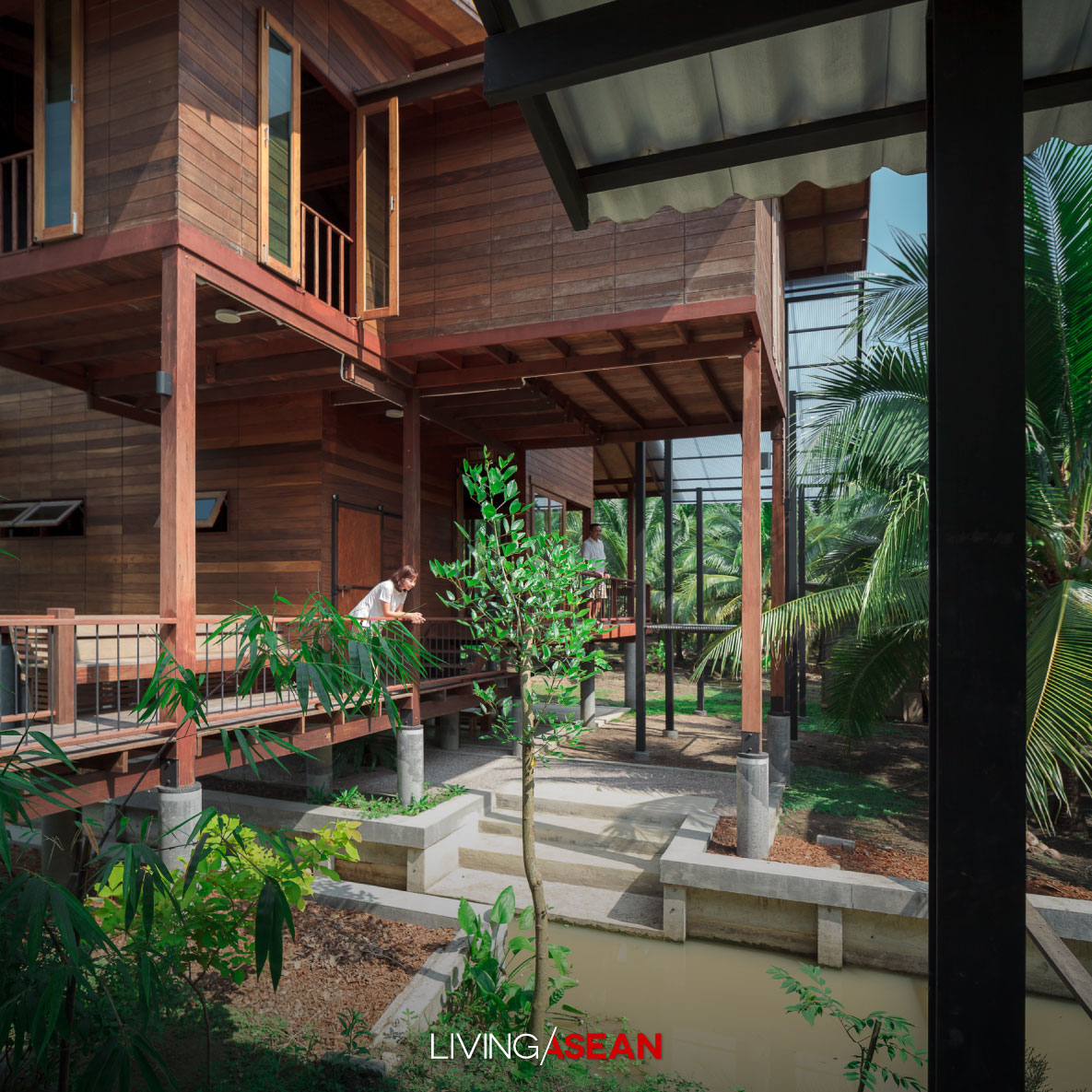 Taken as a whole, it's an open concept house plan that's just right for a small family's lifestyle needs. There is no guest reception area that's characteristic of the Western-style home.
Instead, the center of family life is a good-sized wooden table in the middle of the room that's fulfilling multiple functions as living area, dining room and space for relaxing and socializing.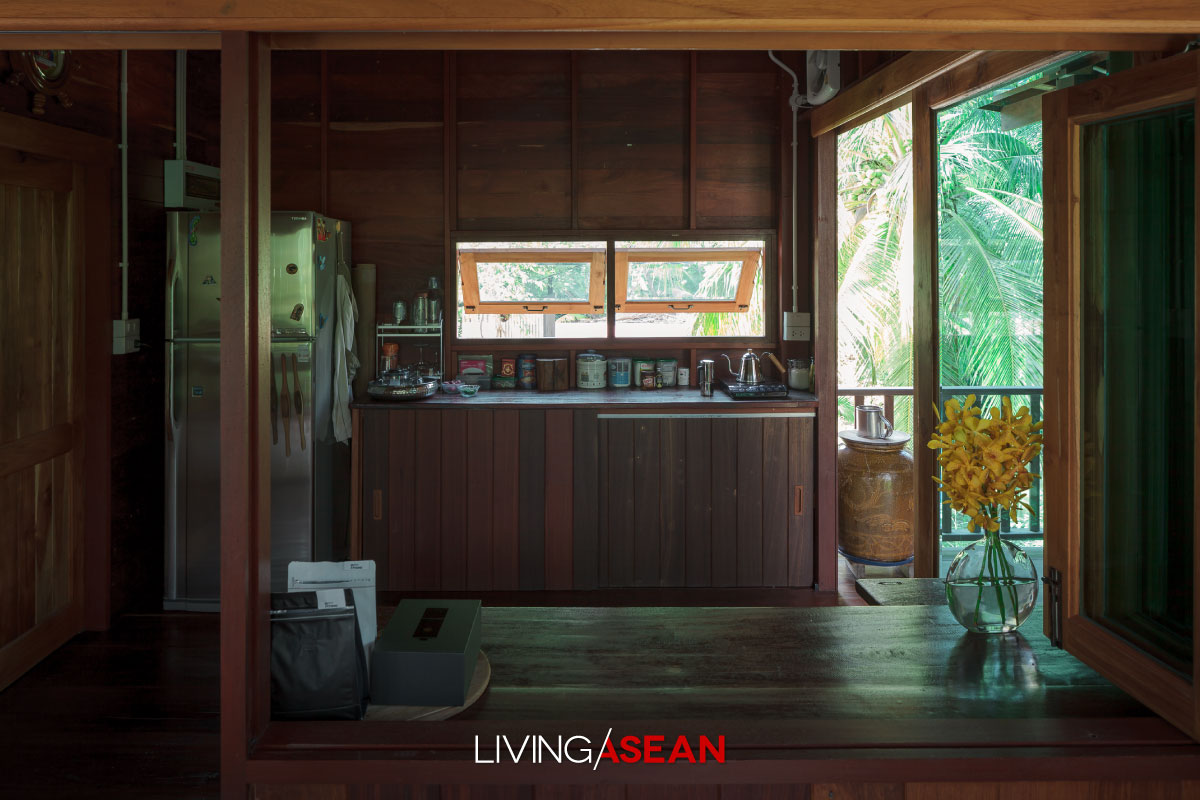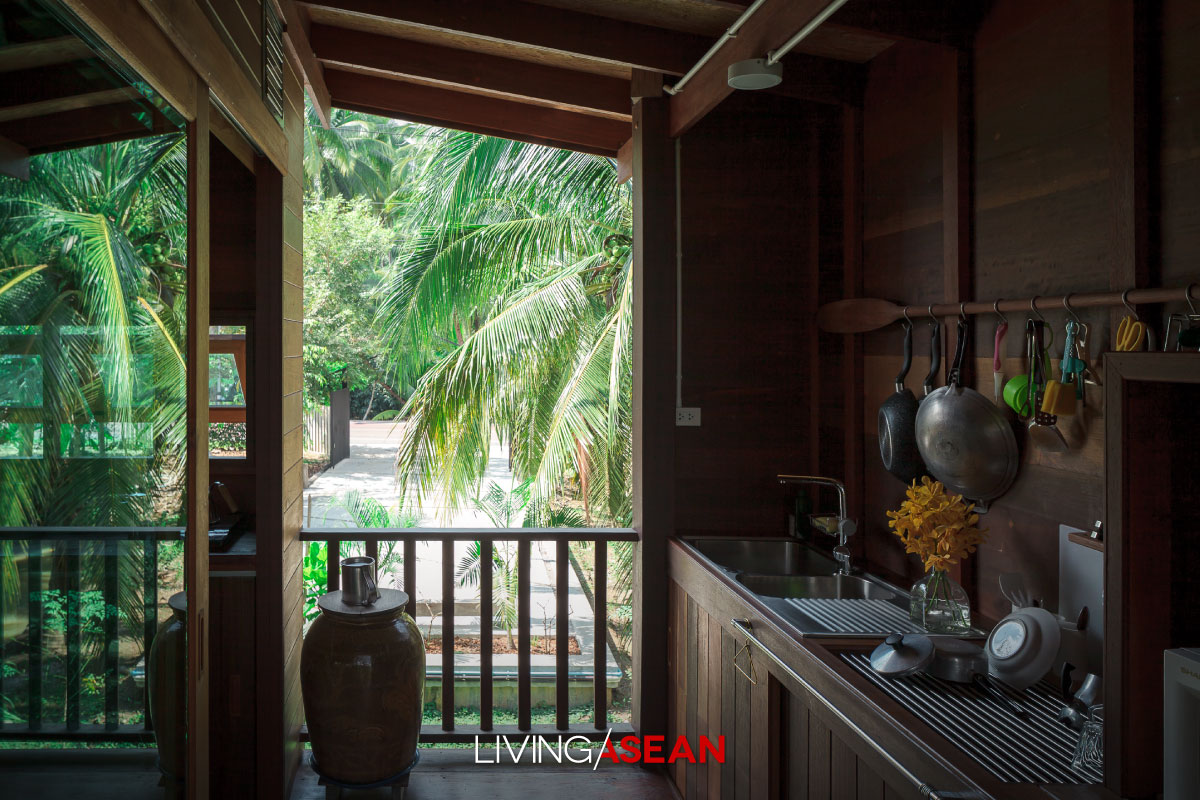 The kitchen formerly at the rear of the house has been moved to the ground floor that's made suitable for traditional Thai cooking. It's a way to get rid of food smells fast.
Only a pantry with necessary food, dishes and utensils are kept upstairs, where the focus is more on making light meals, coffee and other beverages. It's separated from the living area by roll-away shutters that open to circulate air and give a sense of cohesiveness.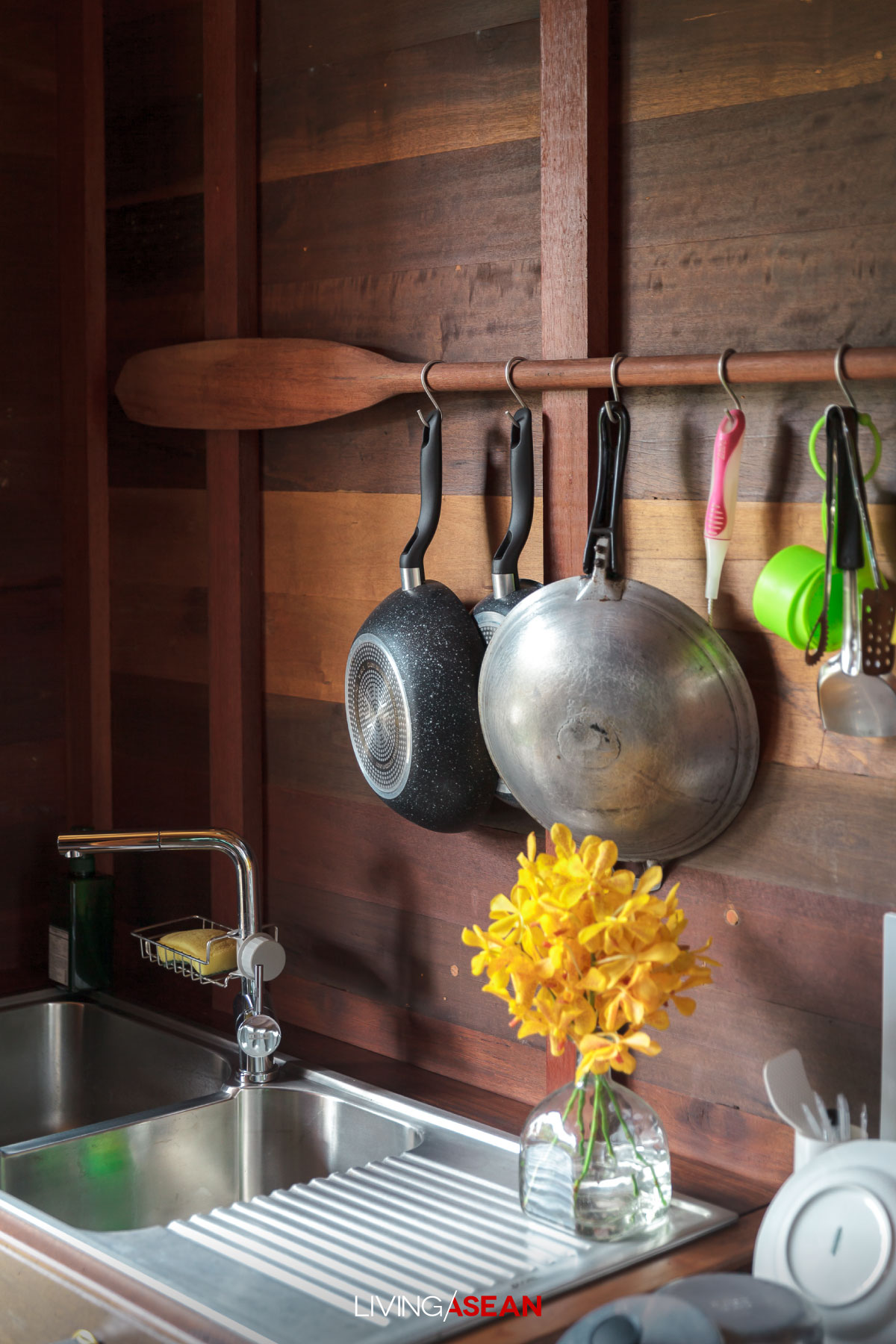 The wooden house has two bedrooms made especially relaxing by a monochromatic color scheme. A nexus between old-world charm and a calm, clutter-free life, each room has a mattress on a wooden platform canopied by a fine net to keep mosquitoes away.
Both of them are so well-ventilated that there's no need for air conditioning.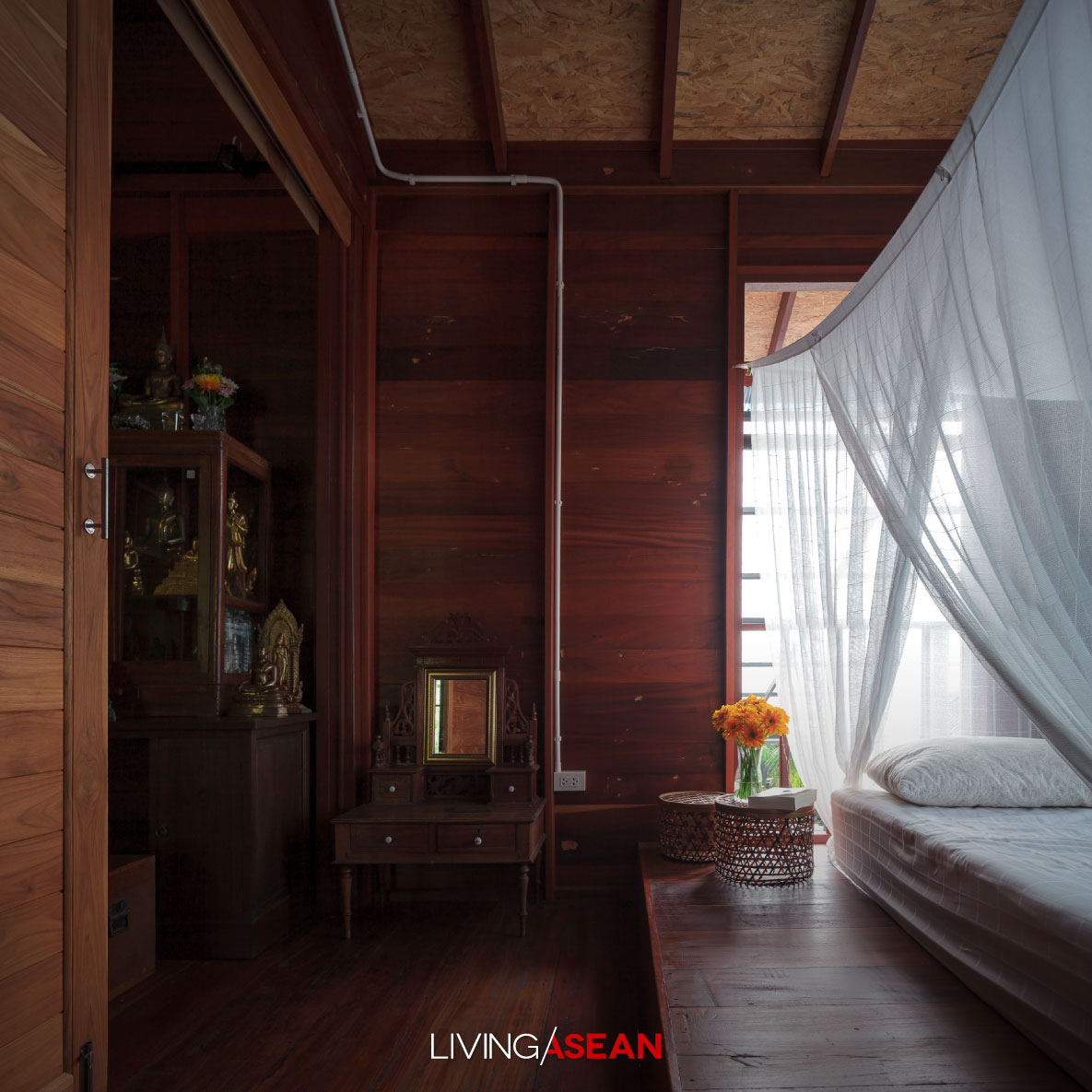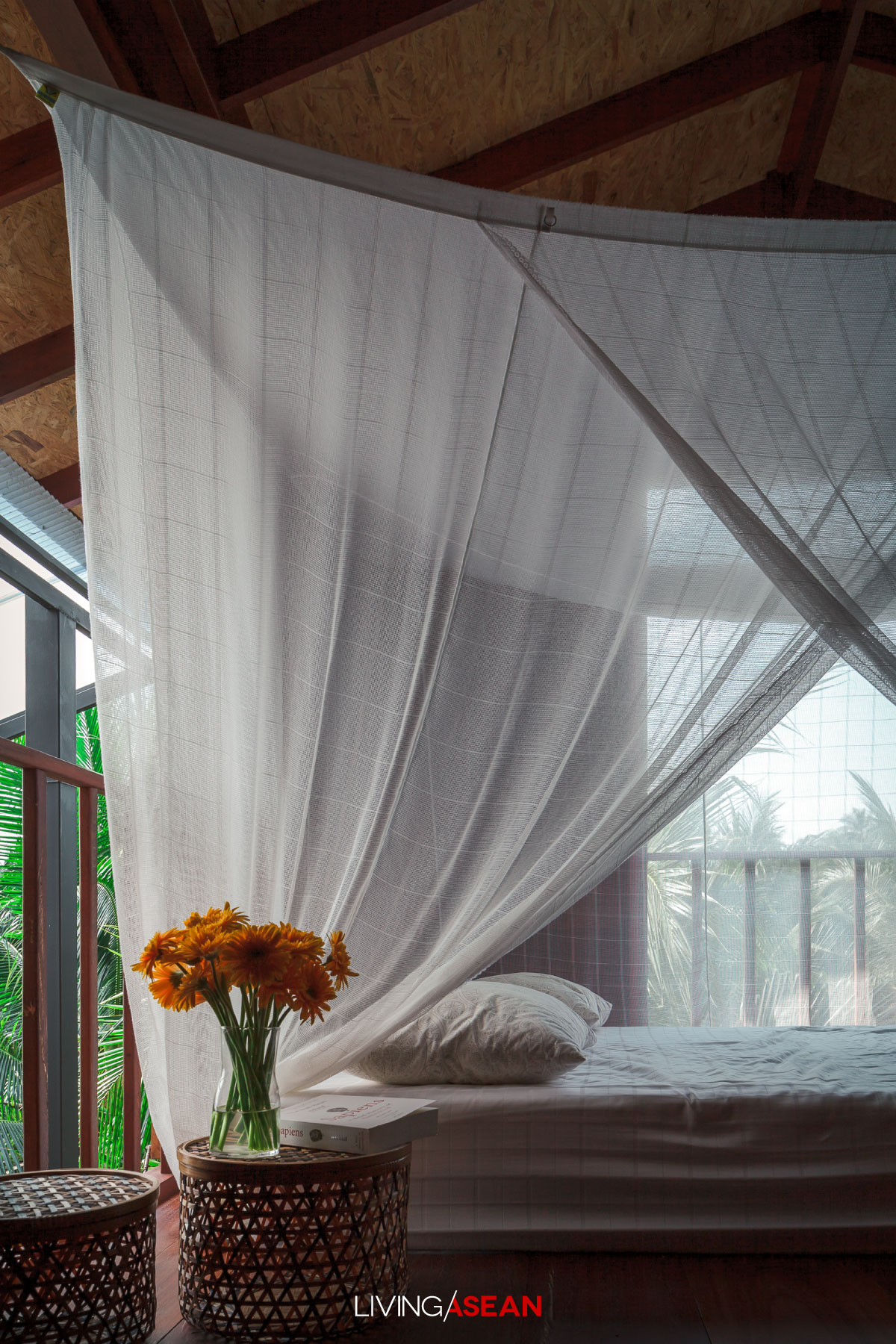 Wood has its benefits as a building material. It doesn't reflect or store heat very well, which results in hardwood floors not getting much hot in summer. This makes it comfortable to spend daylight hours in the shady space on the ground floor.
When evening comes, a gentle wind helps cool the home down. Otherwise, simple fans will do the trick. Outside, a canopy of overhanging trees and water channels make the home environment calm and peaceful.
In the rainy season, extended overhangs protect the interior from the elements.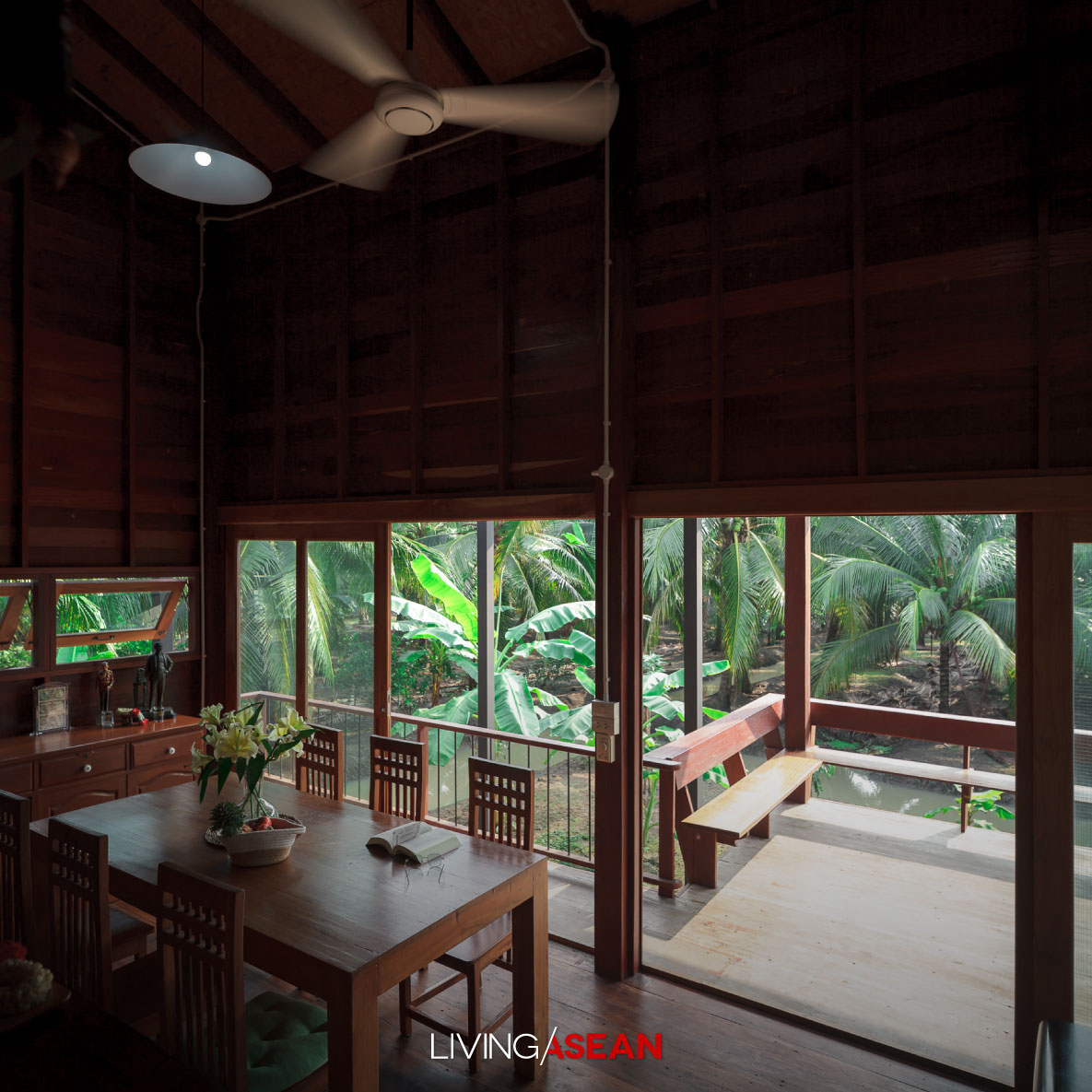 As timber prices continue to rise, the cost of building a home also increases at an alarming rate. Here, the architect is able to overcome the limited budget and deliver on his promise.
The result is a beautiful contemporary design that relates to its intended function and purpose — an intimate little wooden house amid the enchantment of lush coconut groves.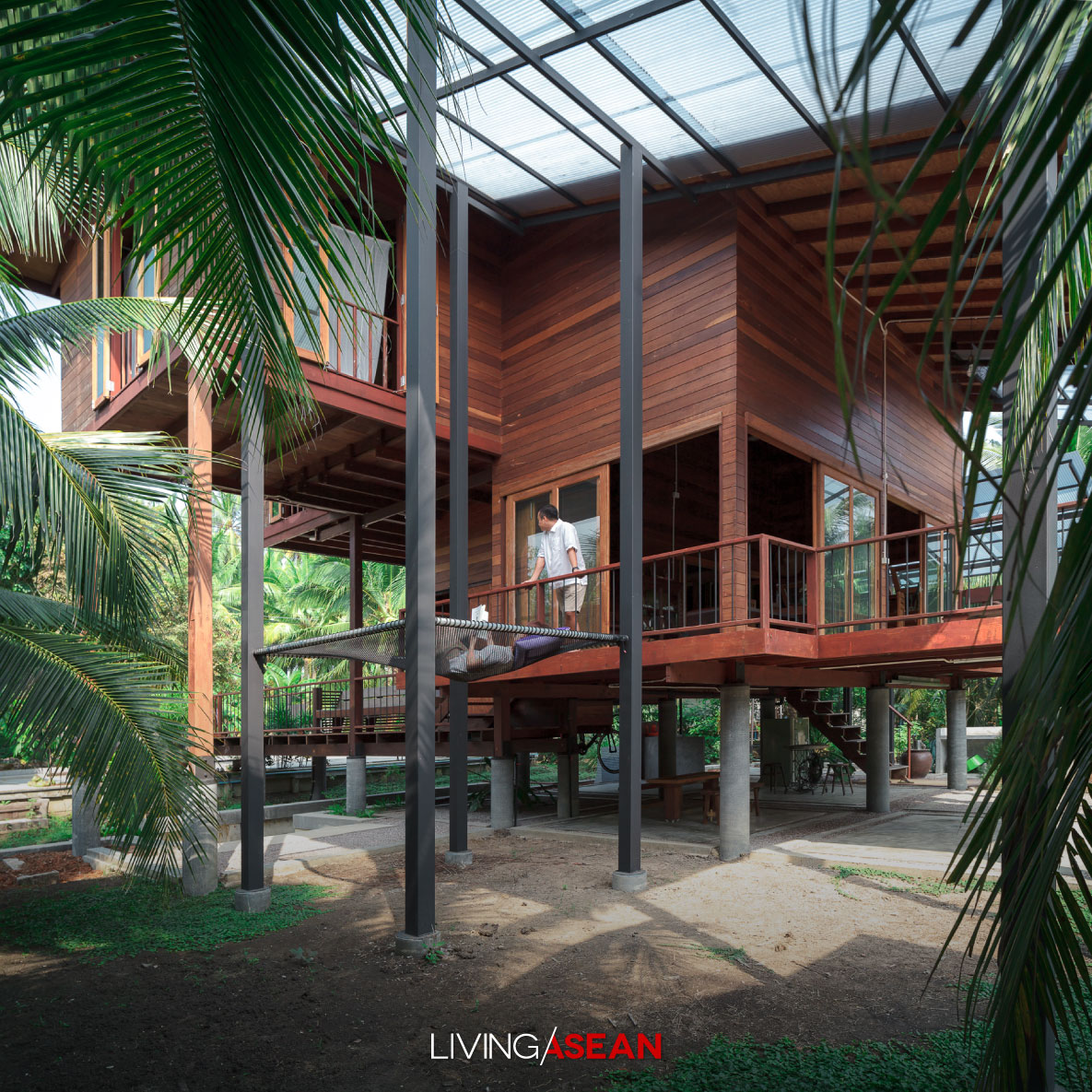 ---
Owner: Veerapus and Nuthapak Thamrongrojanabhat
Architect: Studio Miti
---
You may also like…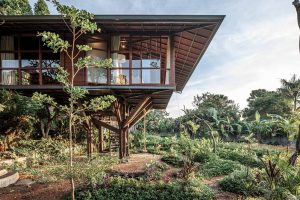 Treehouse C: Stunning Treehouse Design Unveiled