/ Bangkok, Thailand /
/ Story: Wuthikorn Sut / English version: Bob Pitakwong /
/ Photographs: Nattakit Jeerapatmitee /
An old townhouse in the heart of Bangkok's downtown has been lovingly restored in ways that adapt to changing lifestyle needs. No longer is it a stuffy, overcrowded space lacking fresh air and ventilation. A redesigned open floor plan has given it the feeling of home, a sense of belonging and purpose. Incredibly light and airy, it feels like anything but a townhouse, so to speak.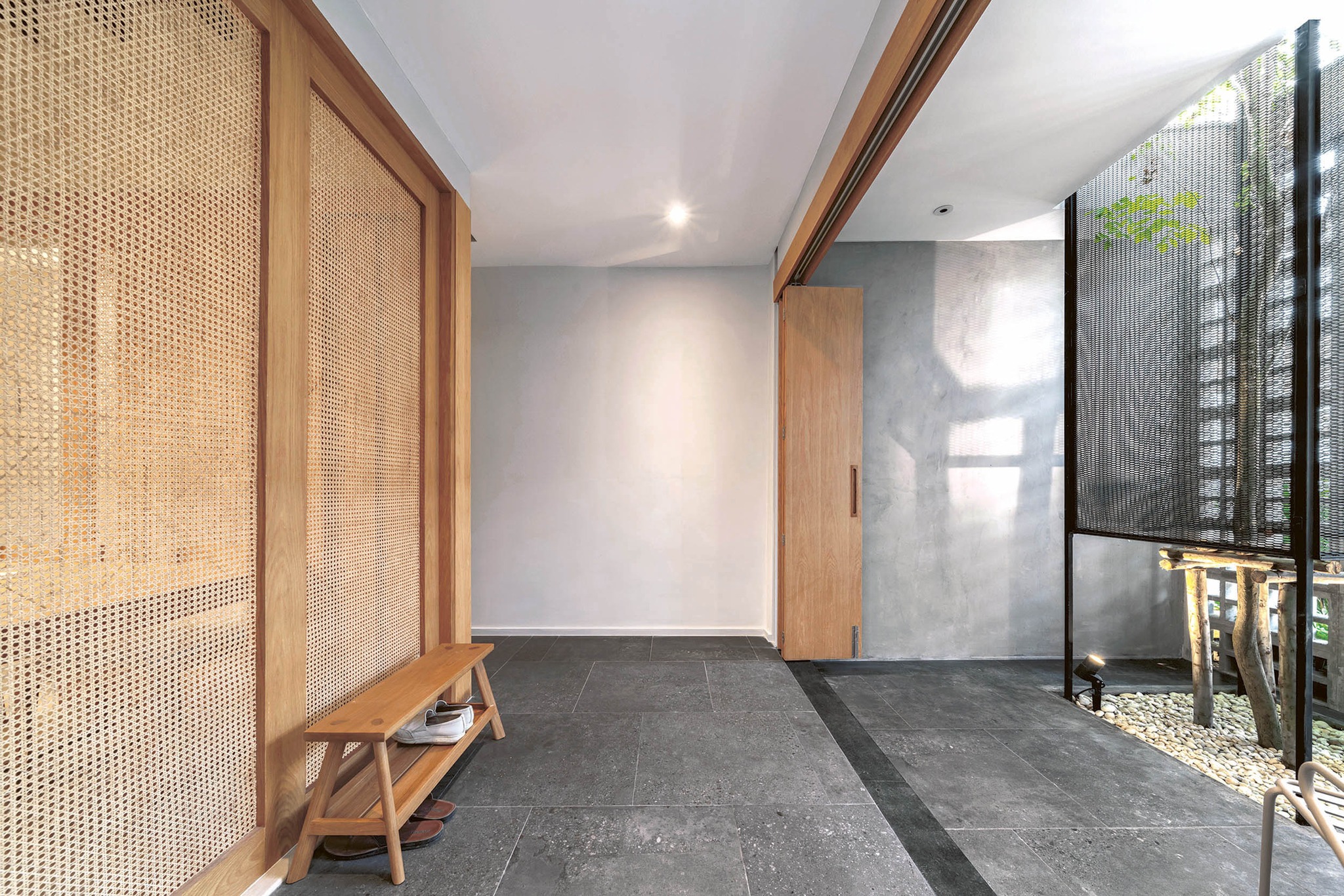 Inheriting the townhouse from his parents, the new owner has made a firm decision to renovate it to a good state of repair.
It's the place where he lives when traveling to the city for business. Or it can be available to be rented if need be.
The task of refurbishment was given to a team of architects from the design firm OAAS. Central to their work was the creation of an open concept home plan that's flexible for multiple uses.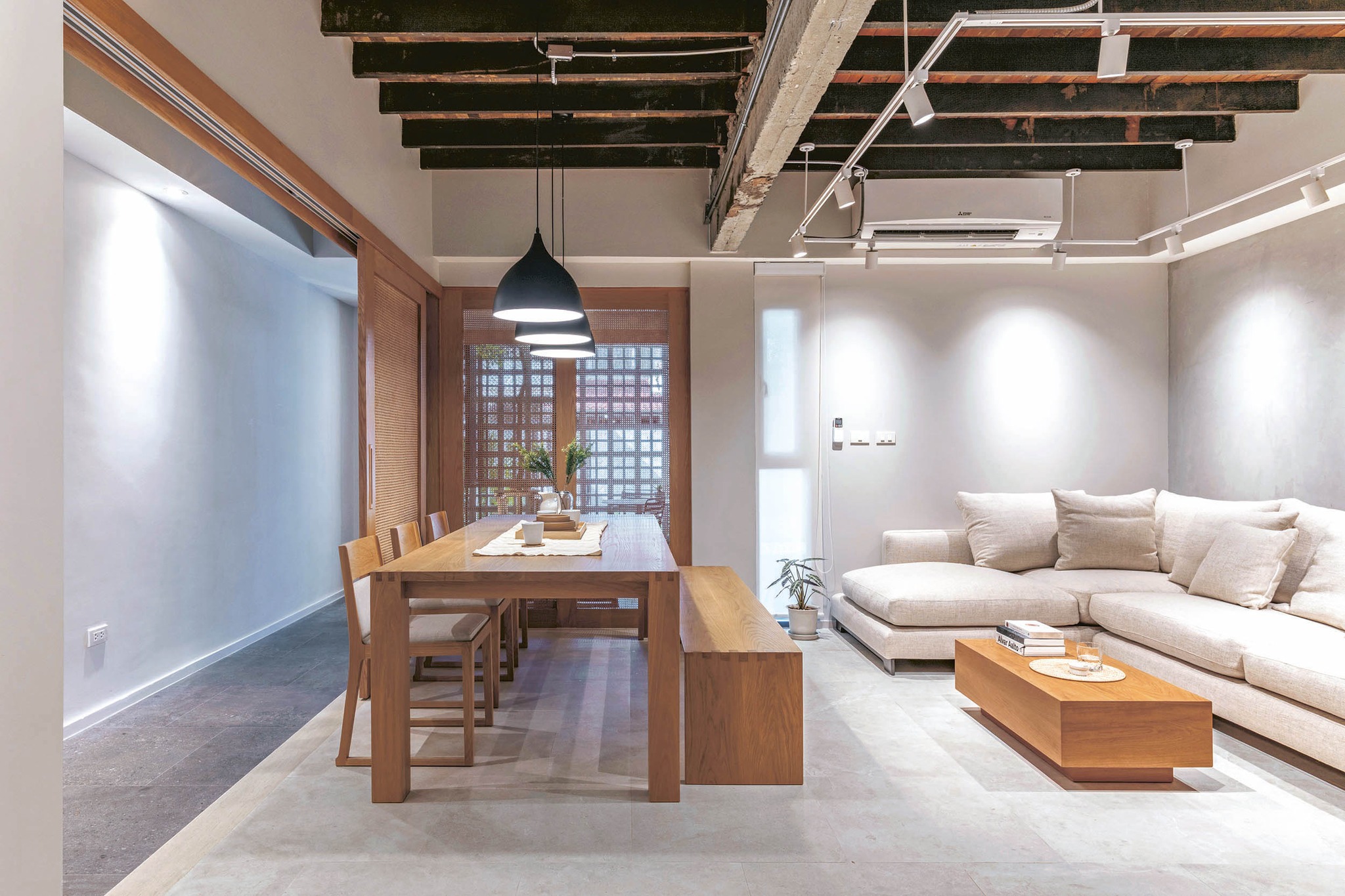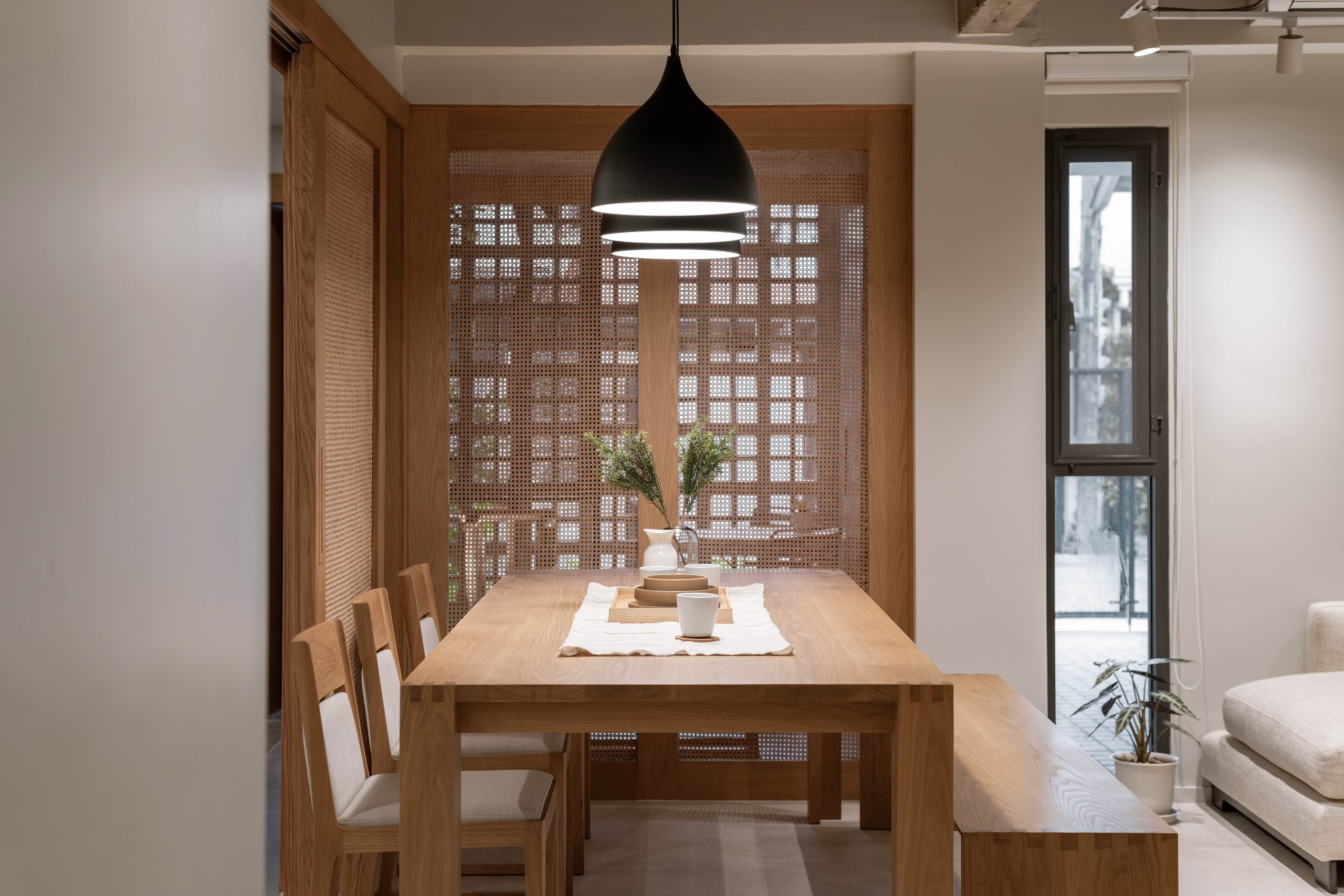 Accordingly, the old second-floor balcony was knocked down and replaced by steel framing for a light and spacious façade.
Upstairs, the entire floor plan was revised, while the ground floor platform was raised slightly to keep it above the edge of the water during a flood.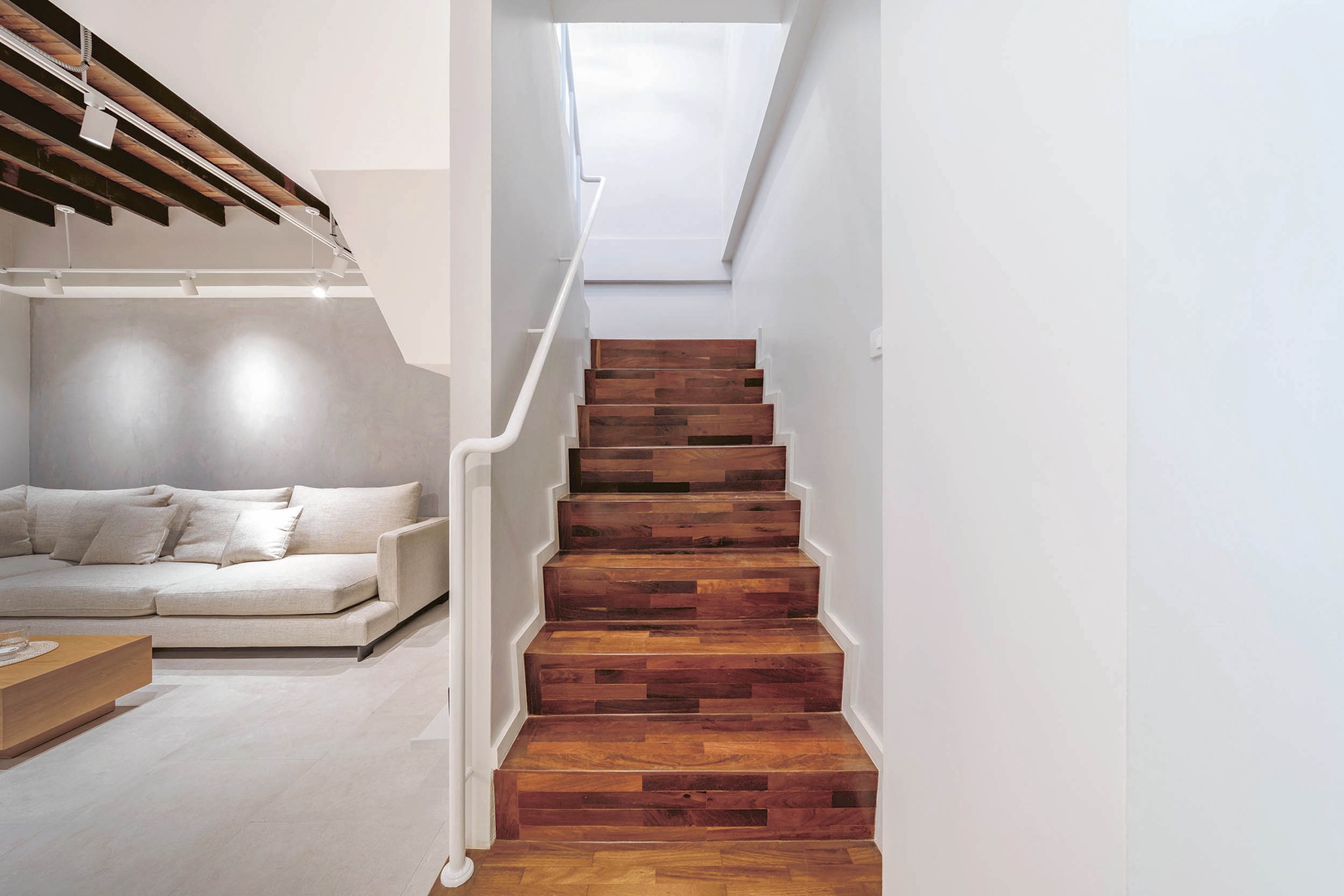 Never too small to make a difference, the newly refurbished townhouse stands out from the rest in that its building shell is made of air bricks that are great for natural ventilation.
The perforated bricks double as a decorative privacy screen that protects the home from prying eyes. It's a surefire way to improve air circulation and get rid of stuffy smells, a common problem of townhouse living.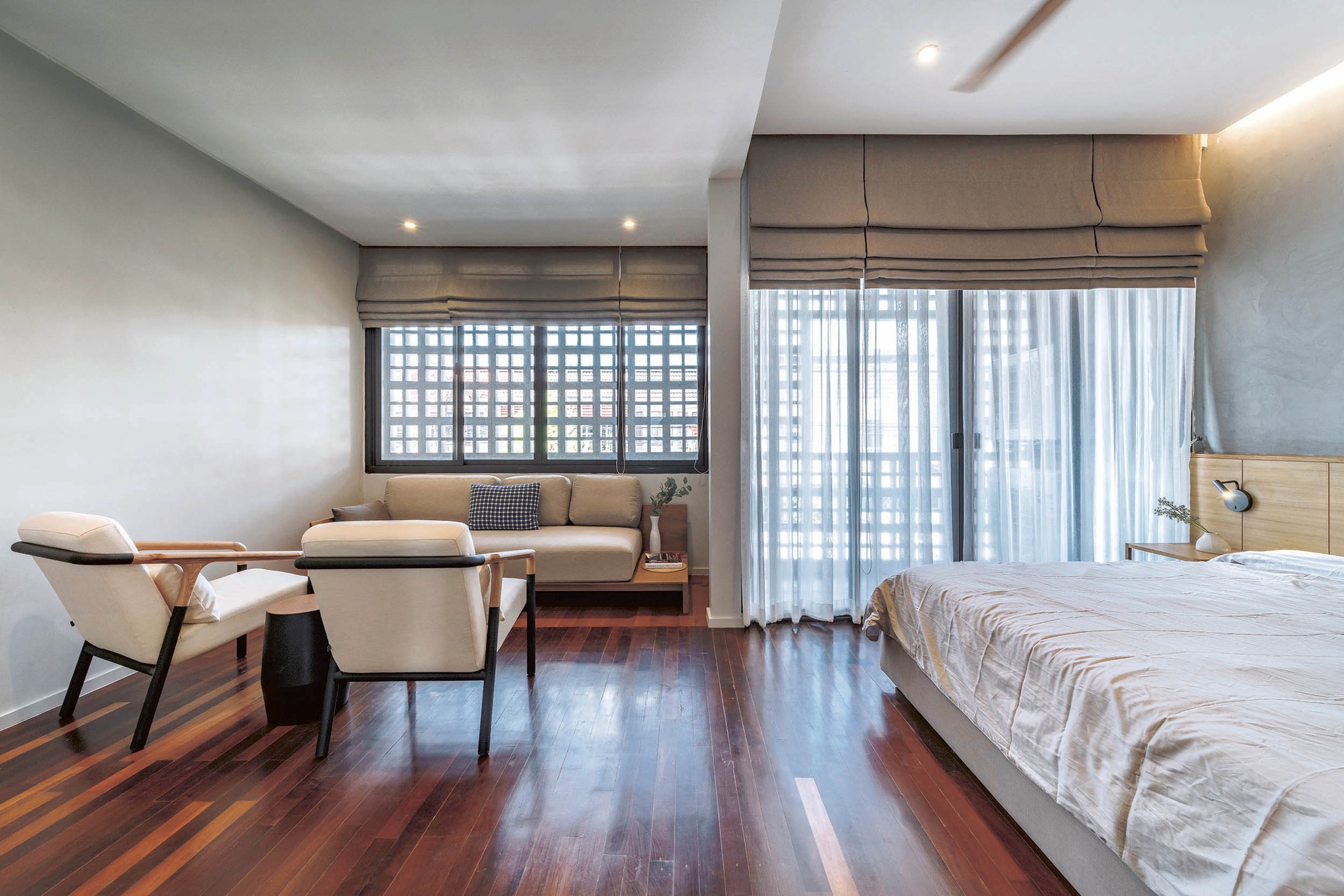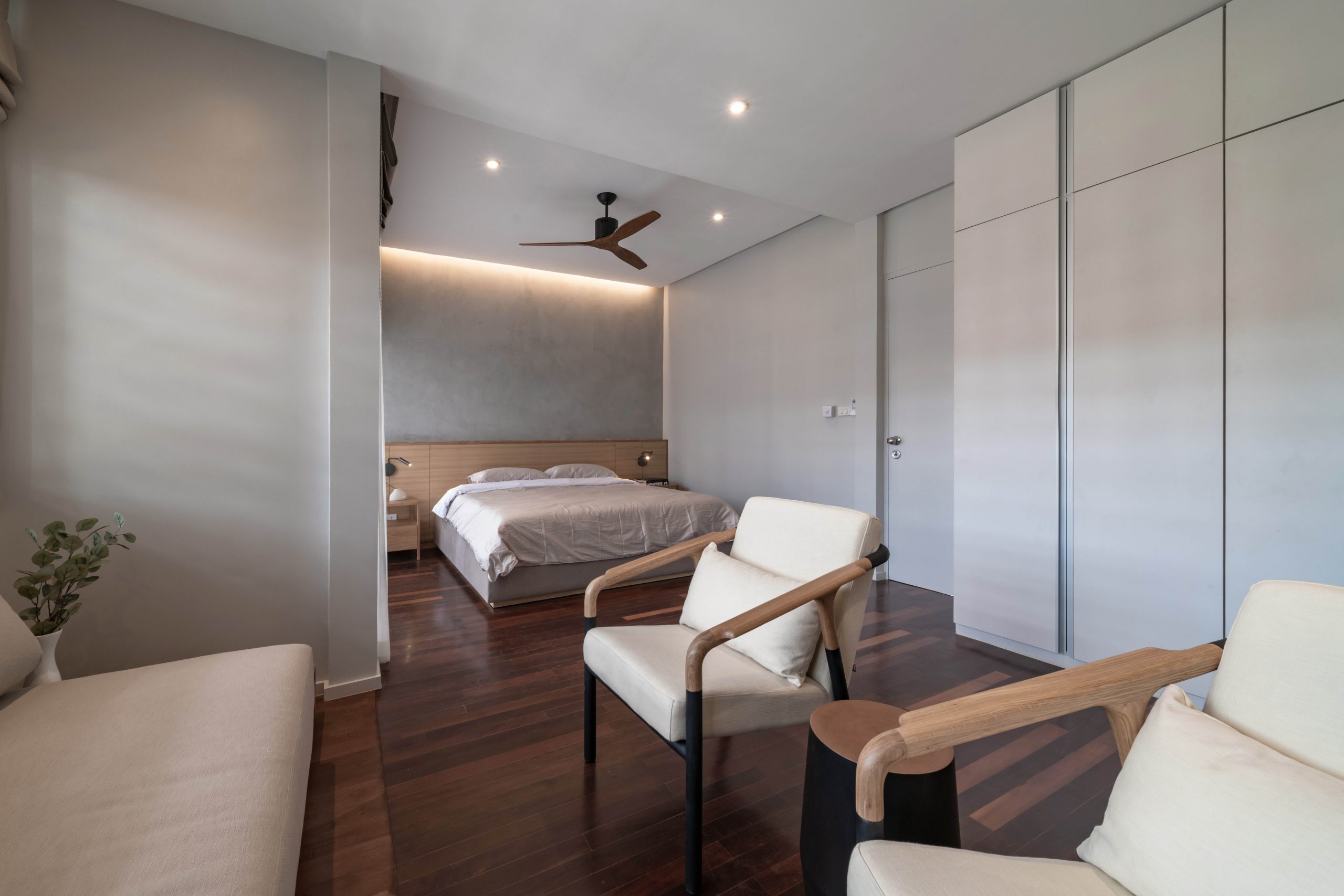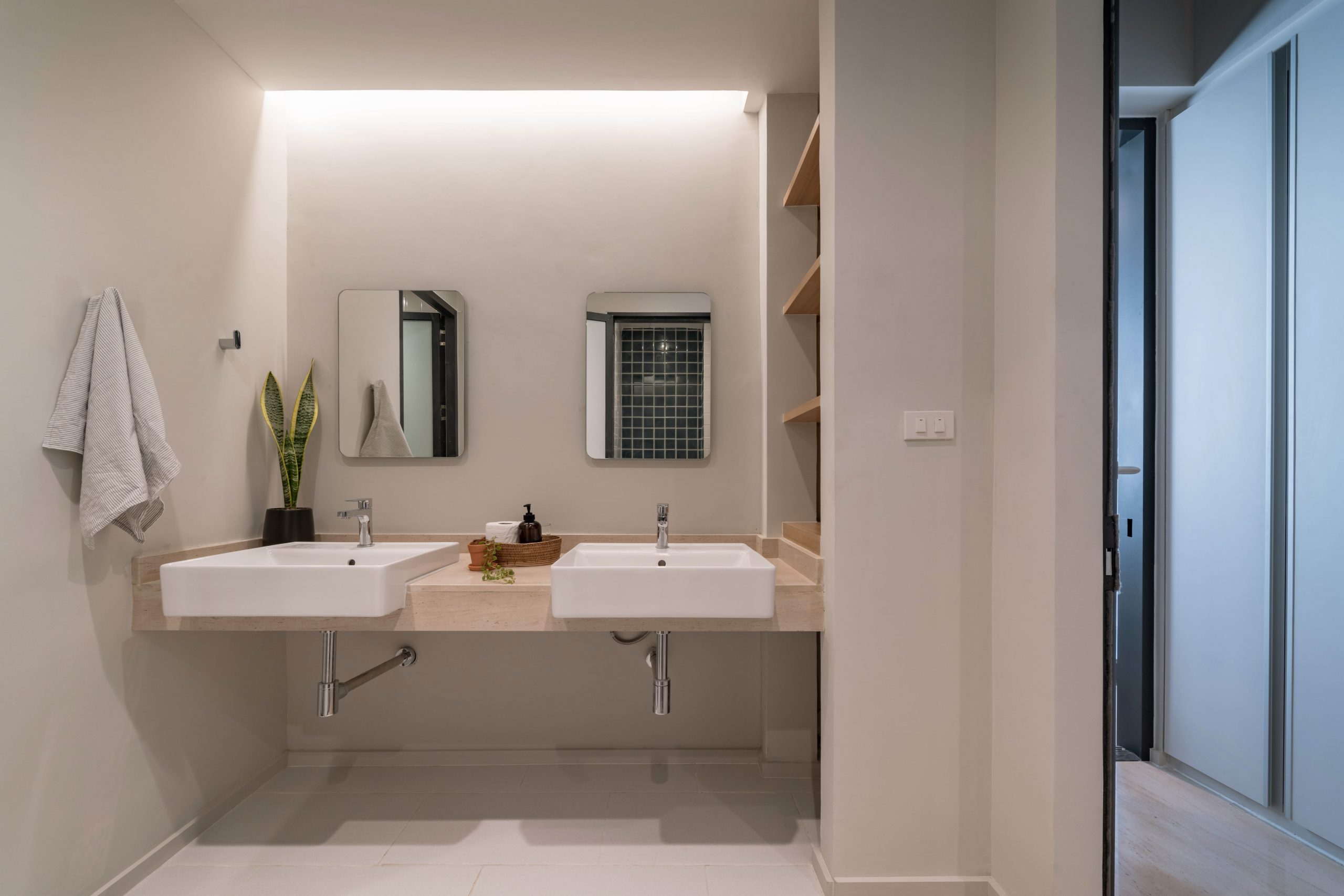 The wooden door opens into a surprisingly peaceful semi-outdoor room aptly named "Sala", which is Thai for garden pavilion. Albeit situated at the front of the house, it's a private living space that conveniently connects to the sitting room and dining area lying further inside.
Beautifully designed, it calls to mind an image of a garden sitting area with a side passage for walking along.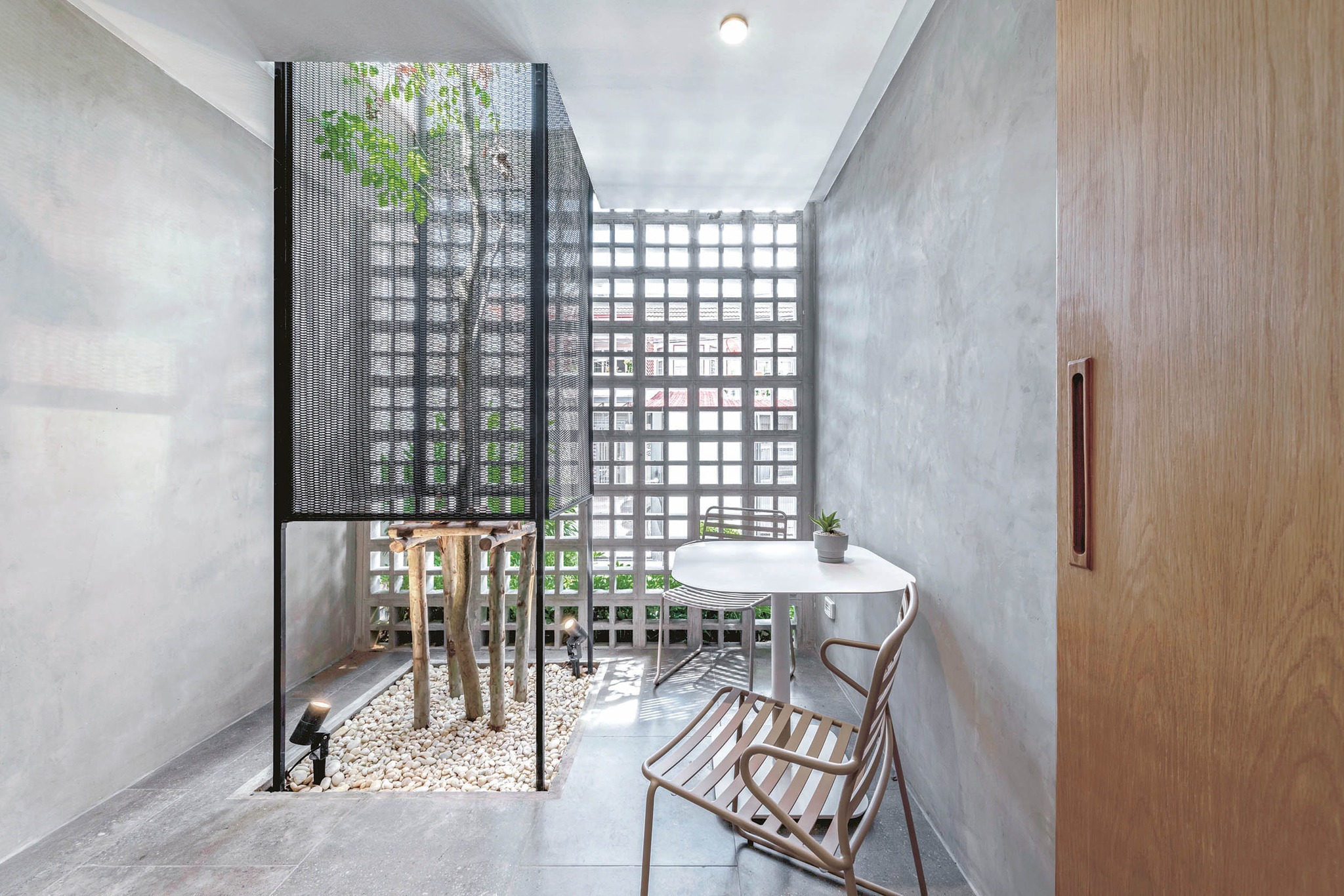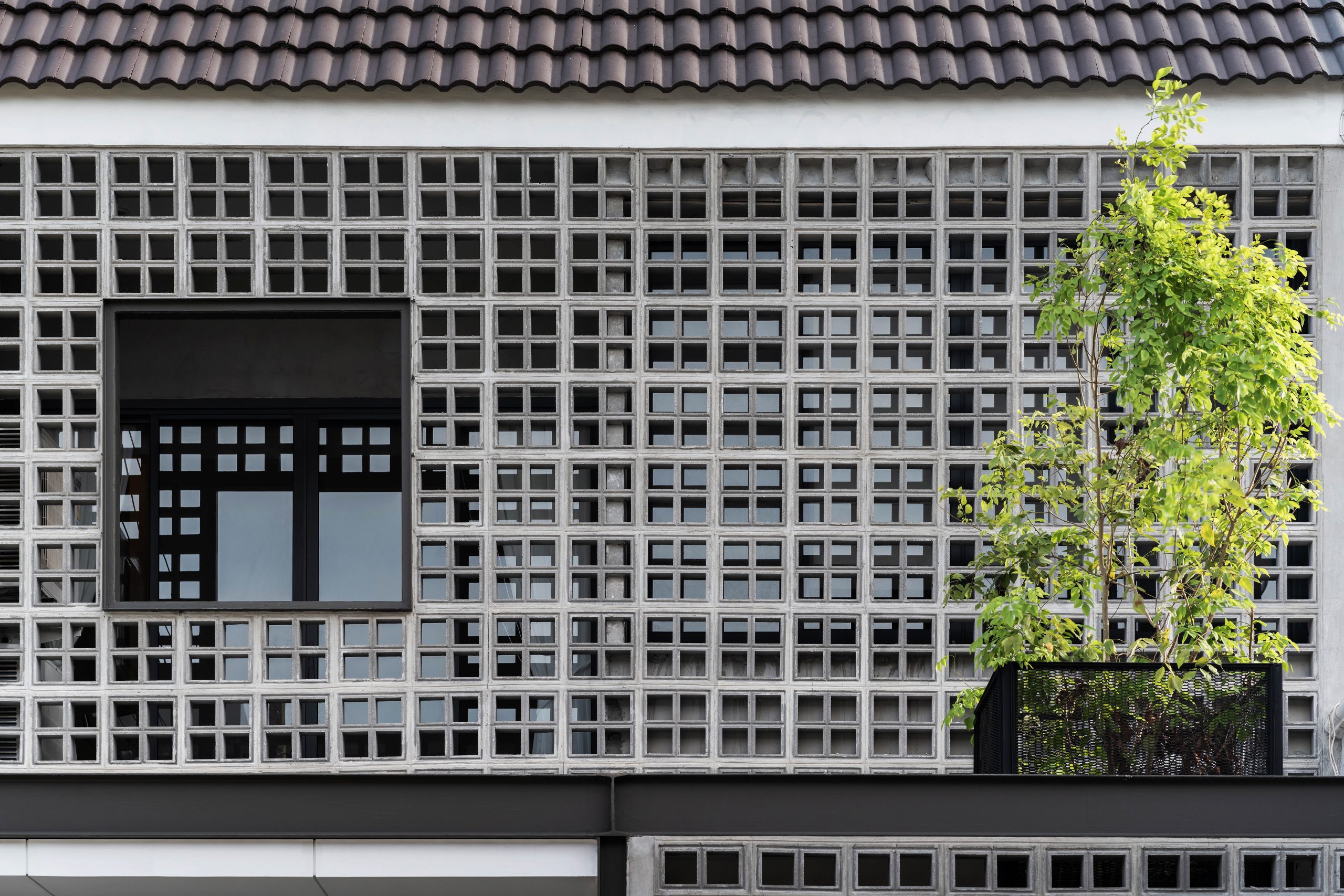 The overall effect is impressive. The side passage sets this townhouse apart from the others.
Since it's often impossible to build a walkway around a townhouse, it makes perfect sense to build one on the inside that connects the garden pavilion at the front with the living room and other functions at the rear.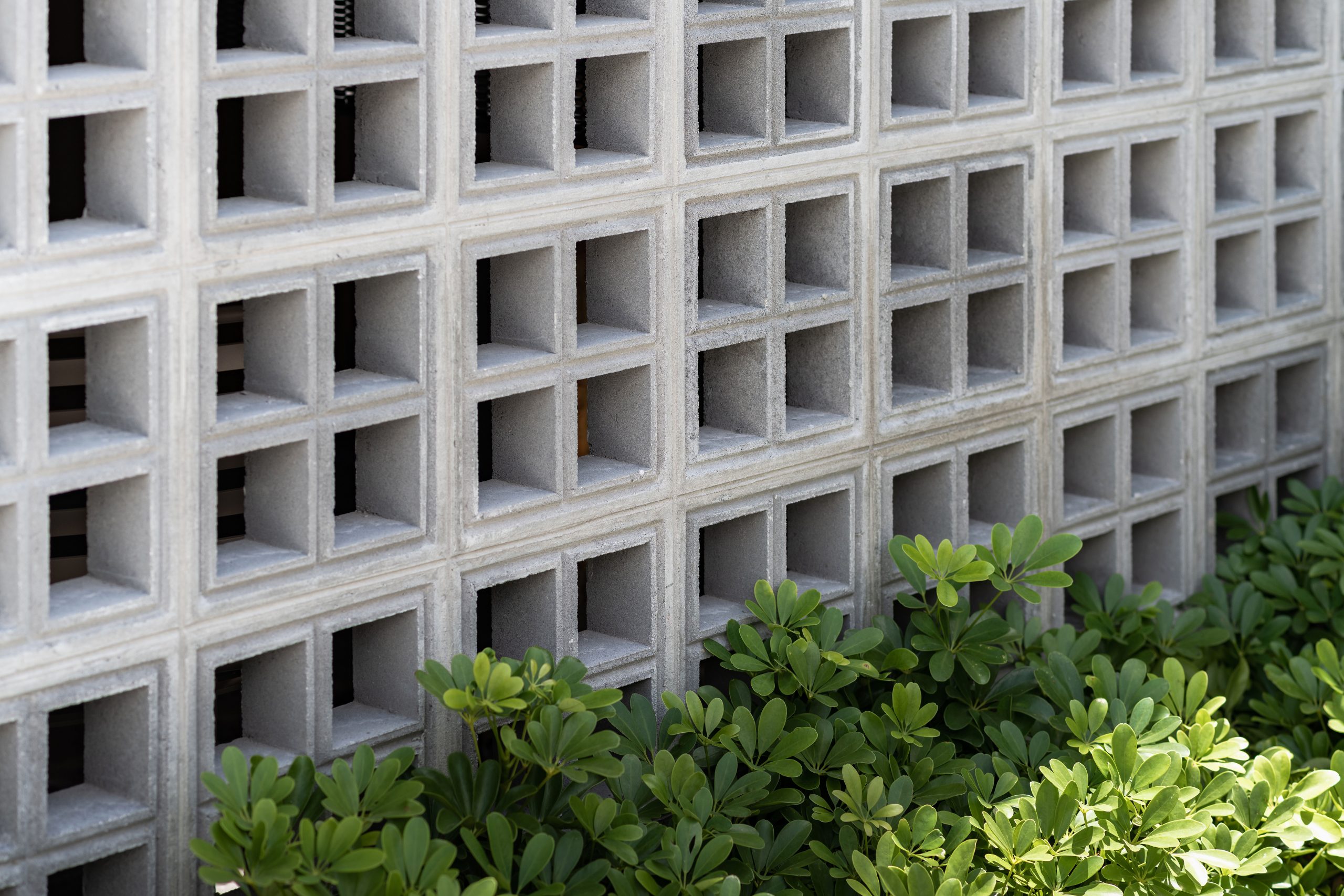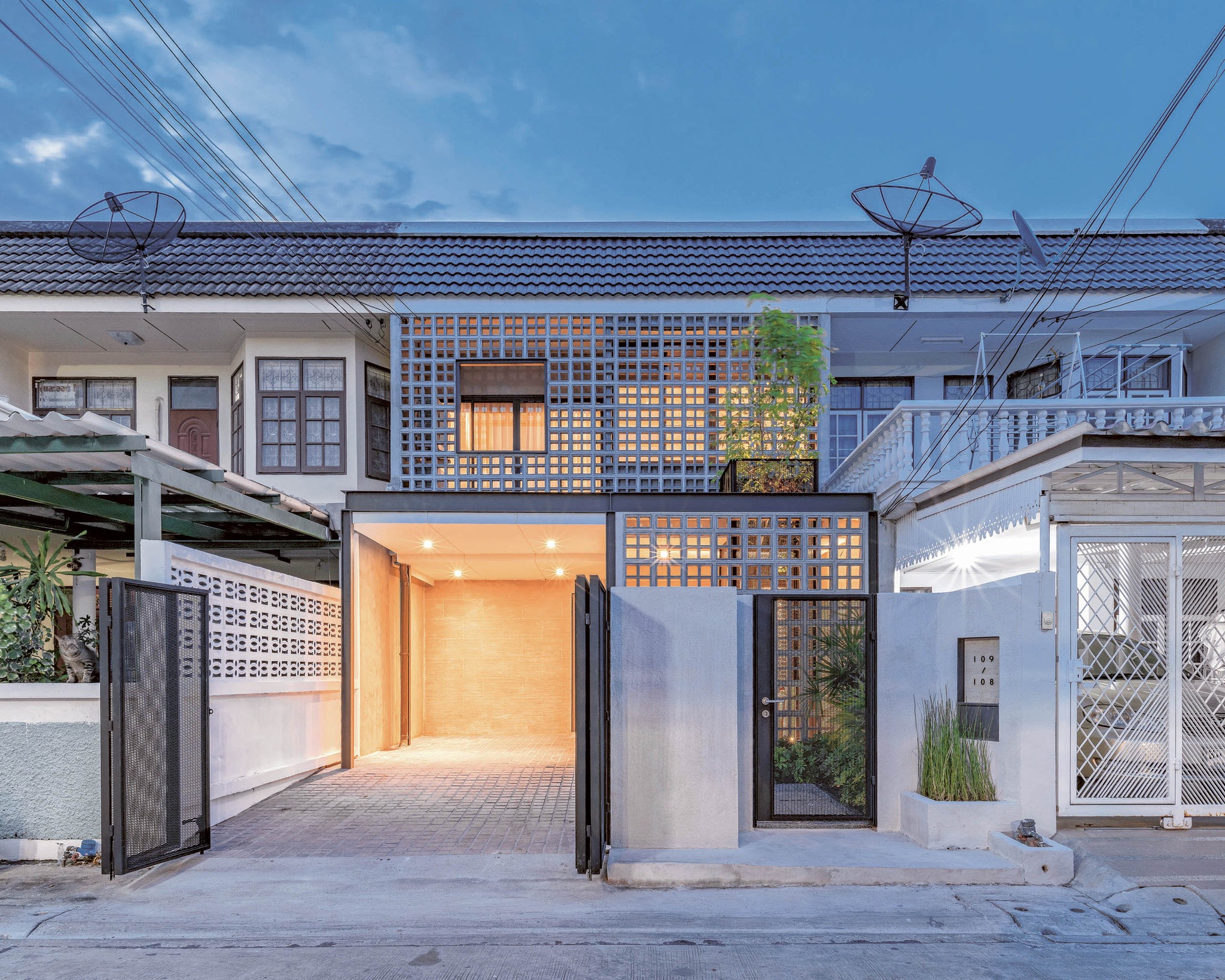 There is a challenge to overcome. Because the side passage takes away a large chunk of the square footage of the house, the designers have to make a choice from a range of possibilities.
Among them, an open concept floor plan is useful in making the home feel more spacious. There's no need for room dividers for a home theater or TV lounge since it's never a desirable lifestyle here.
Plus, by floating furniture, the owner is free to create a more intimate atmosphere and a layout that's capable of multiple uses.
---
Owner: Jiramate Chanaturakarnnon
Architect: OAAS
Design team: Sineenart Suptanon, Sirakit Charoenkitpisut, Nattakit Jeerapatmitee, Jiramate Chanaturakarnnon
---
The article is an excerpt from "Shophouse & Townhome", a proudly presented publication from the "Best Home Series" under "room Books Publishing."
Available in paperback (Thai Edition) at: https://www.naiin.com/product/detail/532110
Here's how to order online. https://www.naiin.com/how-to-buy/read/1125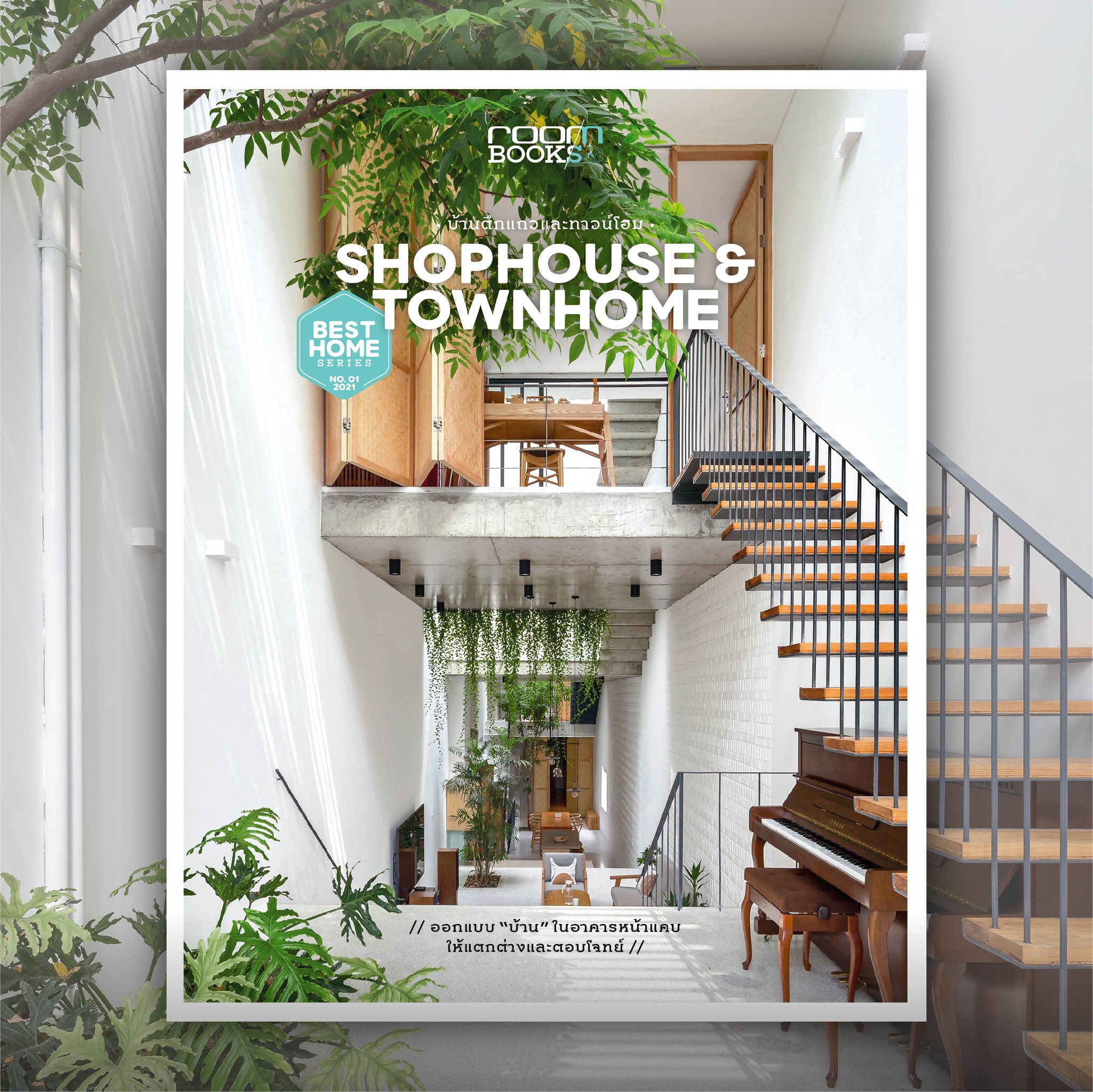 ---
You may also like…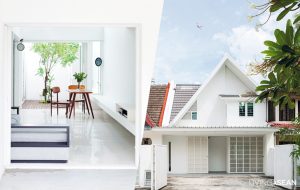 Incredible Small Townhouse Renovation in Selangor