/ Bangkok, Thaialmd /
/ Story: room Books and Living Asean Editorial Staff /
/ English version: Bob Pitakwong /
/ Photographs: Baan Lae Suan Fair Press Room /
A collection of inspiring quotes and flashbacks to the room x Living Asean Design Talk 2023,
at the Baan Lae Suan Fair Midyear, BITEC Bang Na, Bangkok.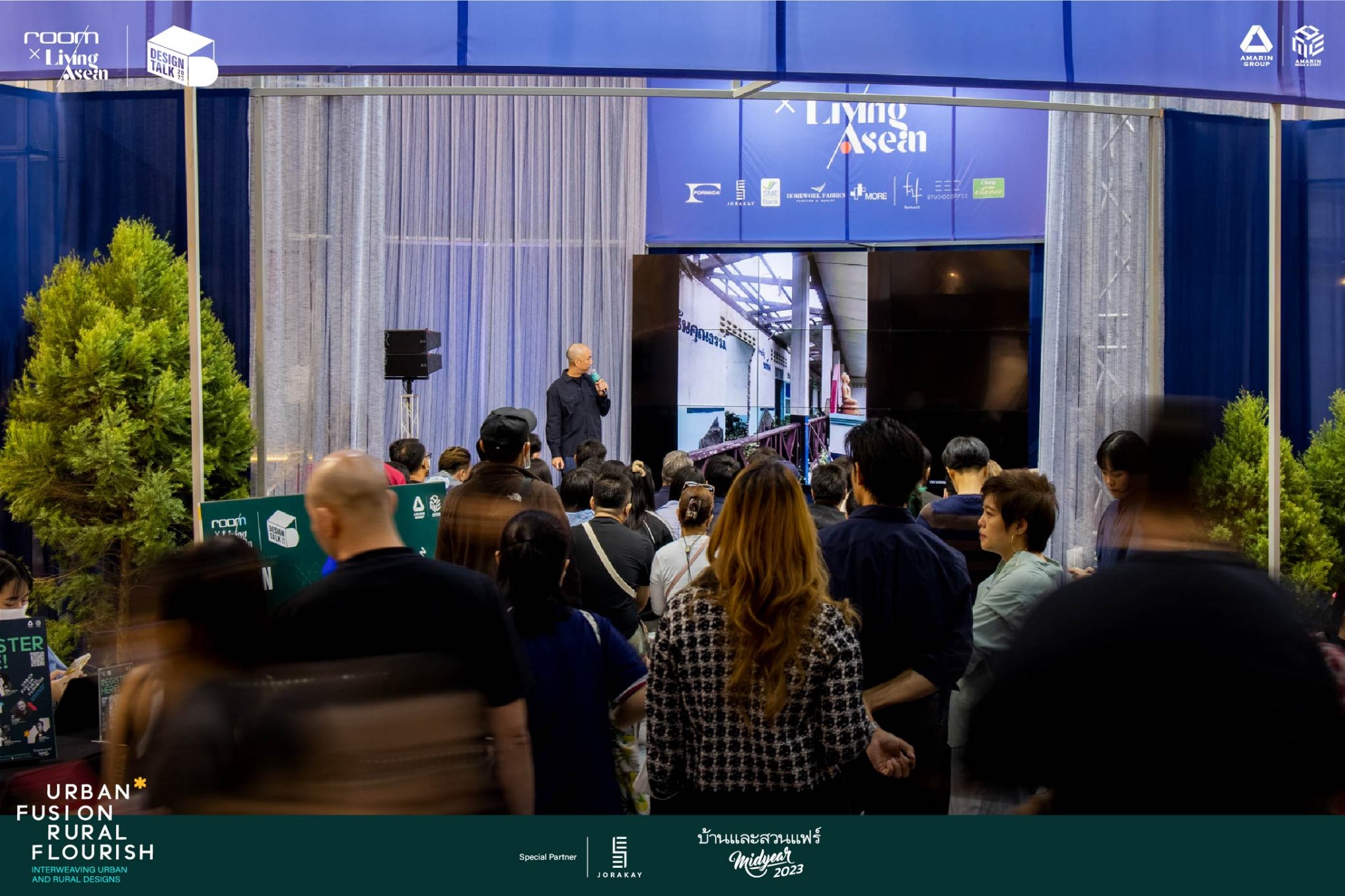 The latest architecture event "room X Living Asean Design Talk 2023" took place last Sunday 6 August. Convening a group of well-known experts from three countries, the annual conversation was on the theme of "URBAN FUSION / RURAL FLOURISH: Interweaving Urban and Rural Designs."
It's the star of the show at this year's Baan Lae Suan (home and garden) Fair Midyear.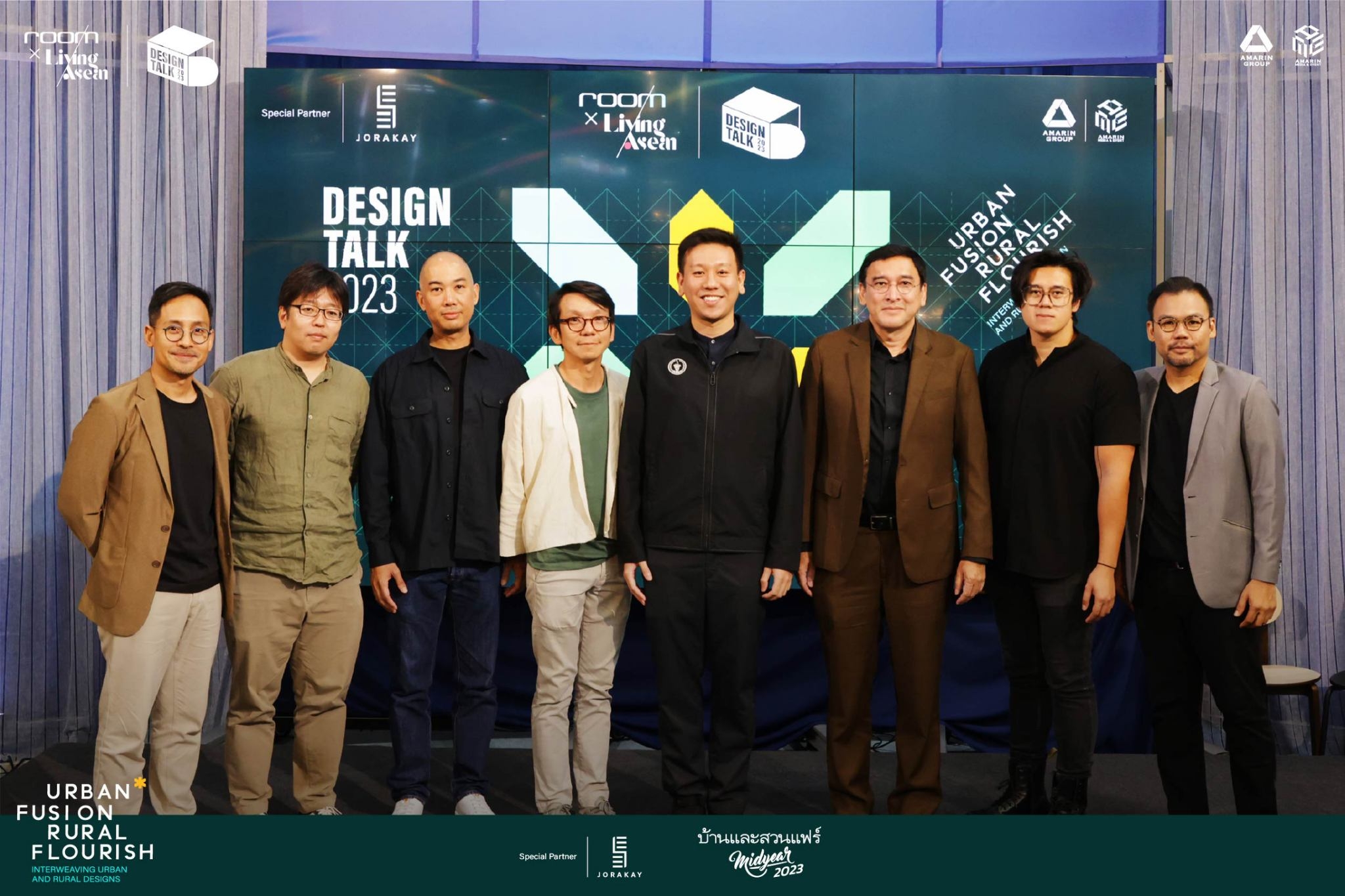 The panel included M.L. Varudh Varavarn of Vin Varavarn Architects Ltd., Bangkok; Supawut Boonmahathanakorn of JaiBaan Studio, Chiang Mai; Japanese architect practicing in Vietnam Shunri Nishizawa of Nishizawa Architects, Ho Chi Minh City; and Antonius Richard of the design atelier RAD+ar, Jakarta, Indonesia, with Bangkok's Deputy Governor Sanon Wangsrangboon as special guest speaker.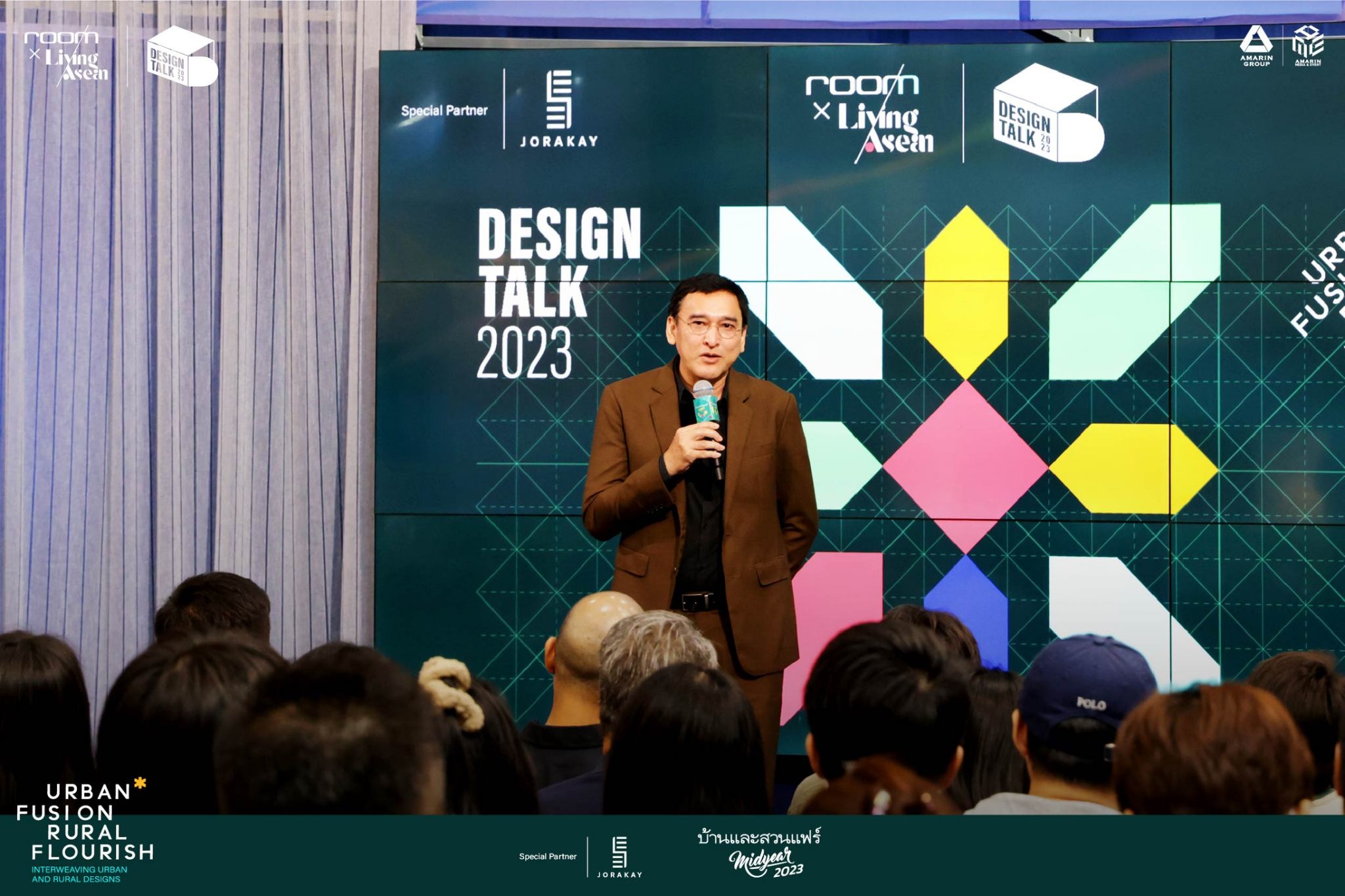 The Design Talk centered around the shared interest in design that's friendly to the environment and conducive to social development in both urban and rural areas.
And the Deputy Governor of Bangkok came in handy to touch upon the subject of official policy tools and collaborations with various efforts at developing public spaces and improving the quality of life for people in Bangkok.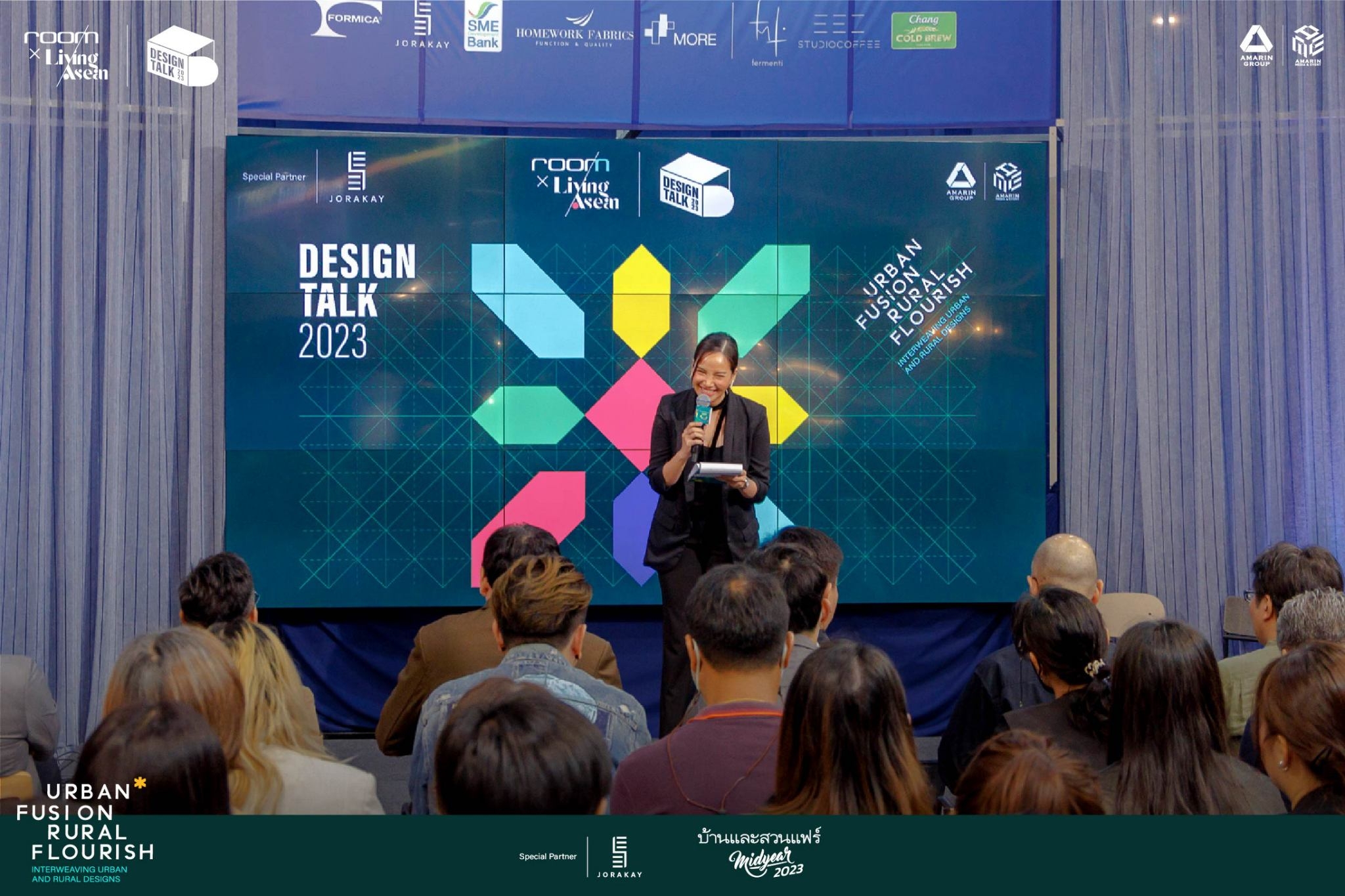 Essentially, the conversation is about building strong networks that will enable us to stay tuned to things happening in the city and communities across the country.
It's seen as a confluence of ideas between architects and people from different disciplines inspired to create a sustainable future together.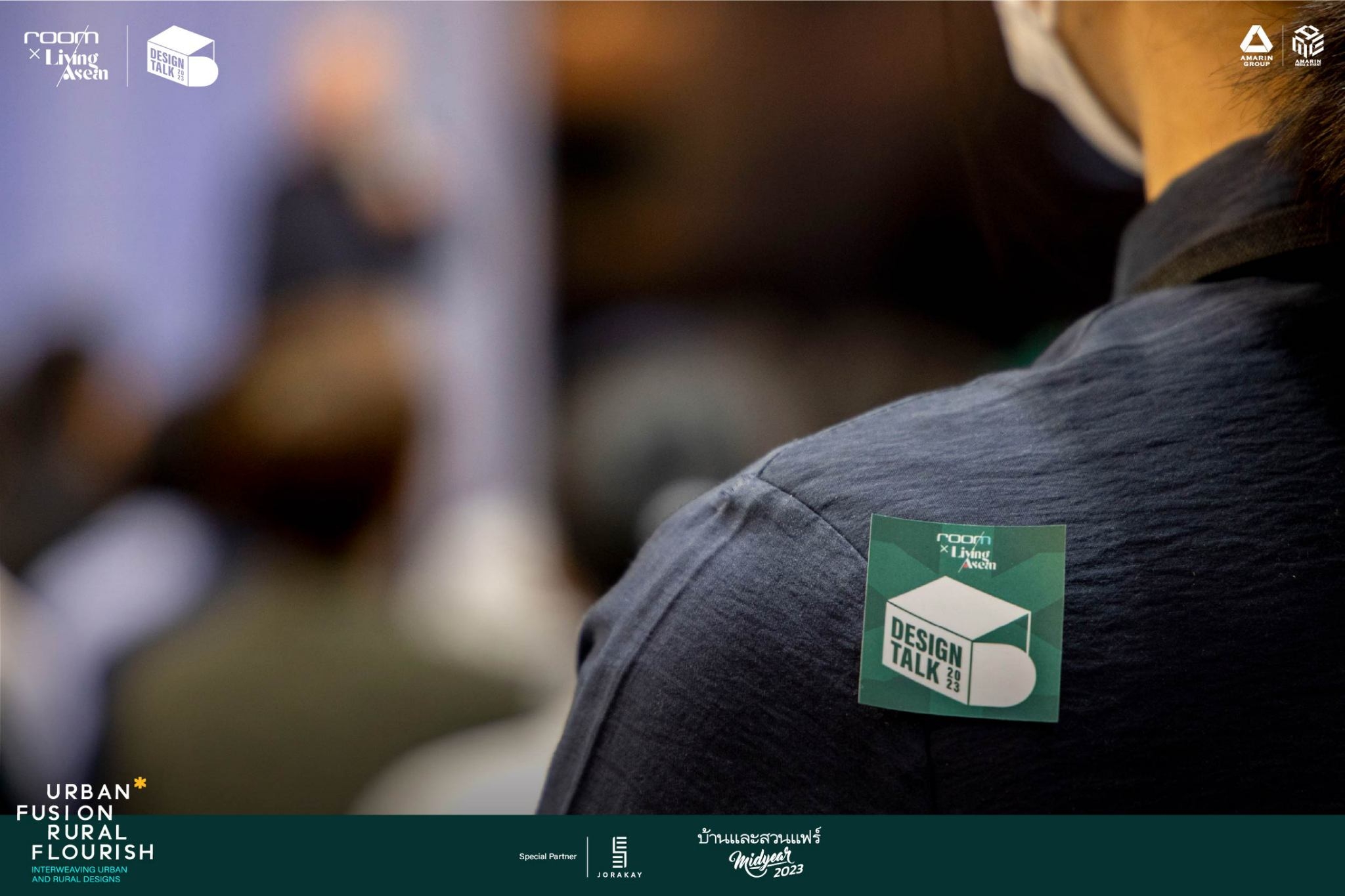 ---
The conversation event started with Bangkok's Deputy Governor Sanon Wangsrangboon, who spoke on "Urban Development Policy: Thoughts on response from and interactions with residents from different backgrounds."
He shared a great deal of careful thoughts and his vision of a "livable city," which he defined as one capable of accommodating people from all walks of life.
It's the place where residents live together in harmony. In other words, it's the type of surroundings where people participate in creating sufficient open spaces that lead to improved quality of life.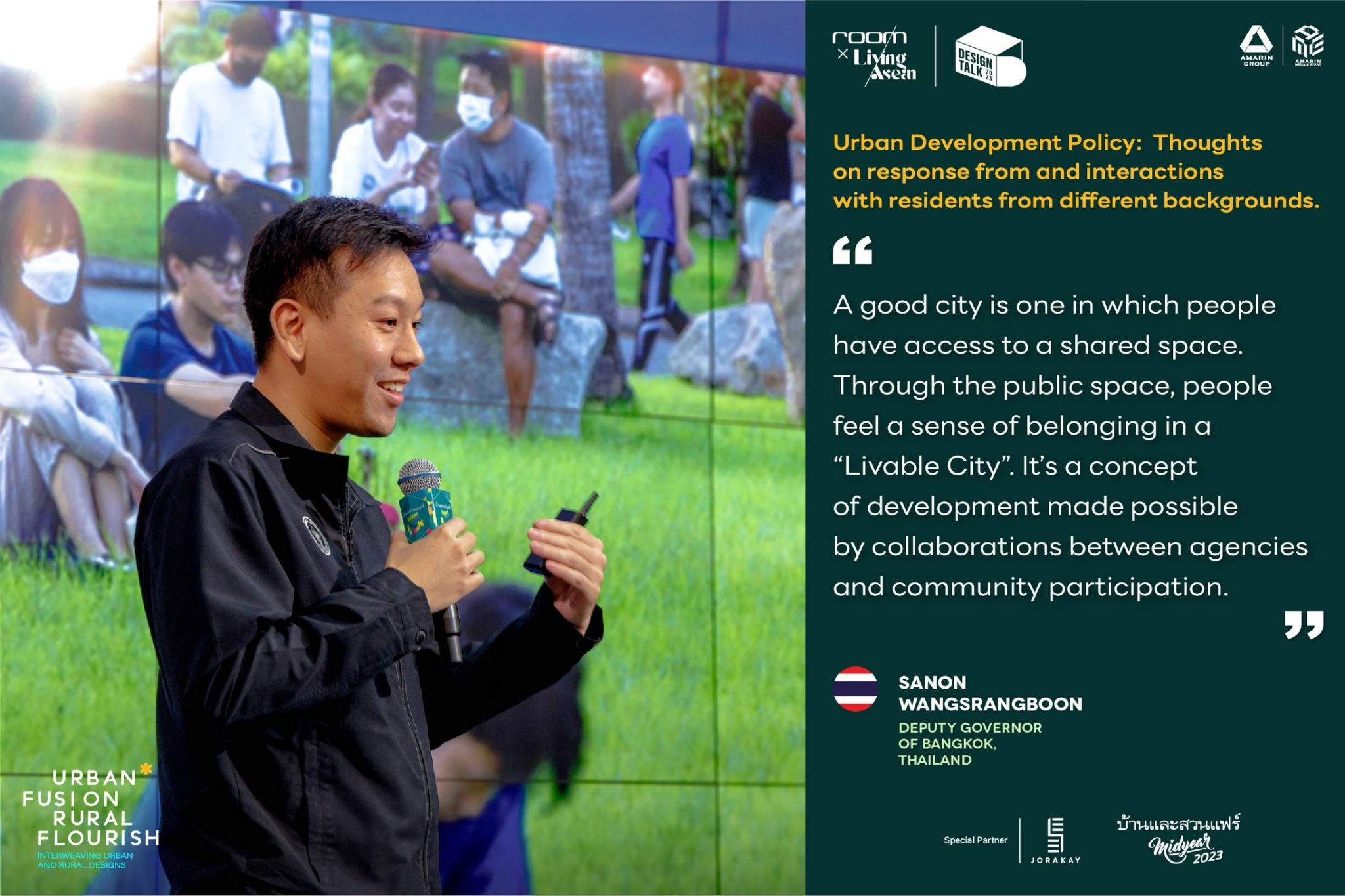 Sanon plays a part in furthering policy objectives and collaborating with multiple agencies working towards common goals. Front and center are projects aimed at improving the public spaces deemed crucial to the quality life of people in the city.
Apart from providing all the conveniences, a good city must offer the opportunity for people to live together happily. A "Livable City" can be defined as one that's open for everyone to participate in the development process.
When people feels a sense of involvement and affiliation to a place that's suitable for them, they have high hopes of making it better both for themselves and for others.
---
The next speaker, M.L. Varudh Varavarn of Vin Varavarn Architects, Thailand, touched on the subject of "Public Architecture and solutions to the problems brought on by the gap between people in society."
He emphasized that architects had an important role to play in helping to reduce social inequality. They had the knowledge and skills in the art and technique of designing and building and they could use them in the best interests of the people.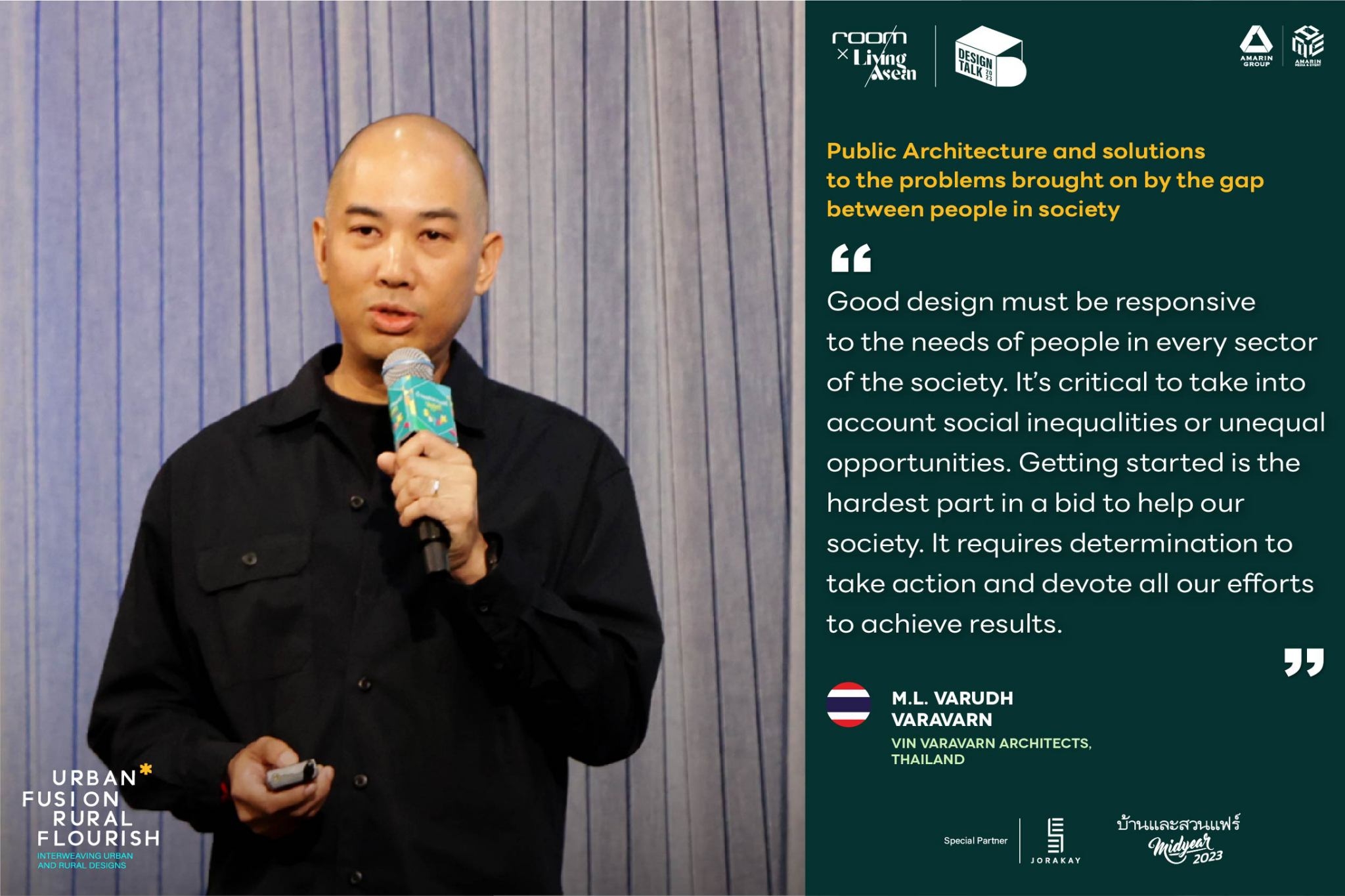 M.L. Varudh and Vin Varavarn Architects have won acclaim serving clients across a wide range of industries. Lately his focus has shifted towards designs that help solve problems in the society.
They ranged from schoolhouse planning thoughtfully devised to deal with earthquake risks, to low-cost housing opportunities for overcrowded city neighborhoods.
All of them speak volumes for the principles governing Vin Varavarn Architects' ideas and design strategies.
Essentially, it's about creating the right design that's capable of bringing about a change for the better for the people and the society as a whole.
---
And then Shunri Nishizawa, of Nishizawa Architects, Vietnam, talked about "Residential Design in Response to the Prevailing Climate and Limitations in Different Contexts."
He sent a strong message about the need to create living spaces that harmonize with the circumstances that form the setting of a place. Upon reflection, the relationship between man and nature is impossible to disentangle.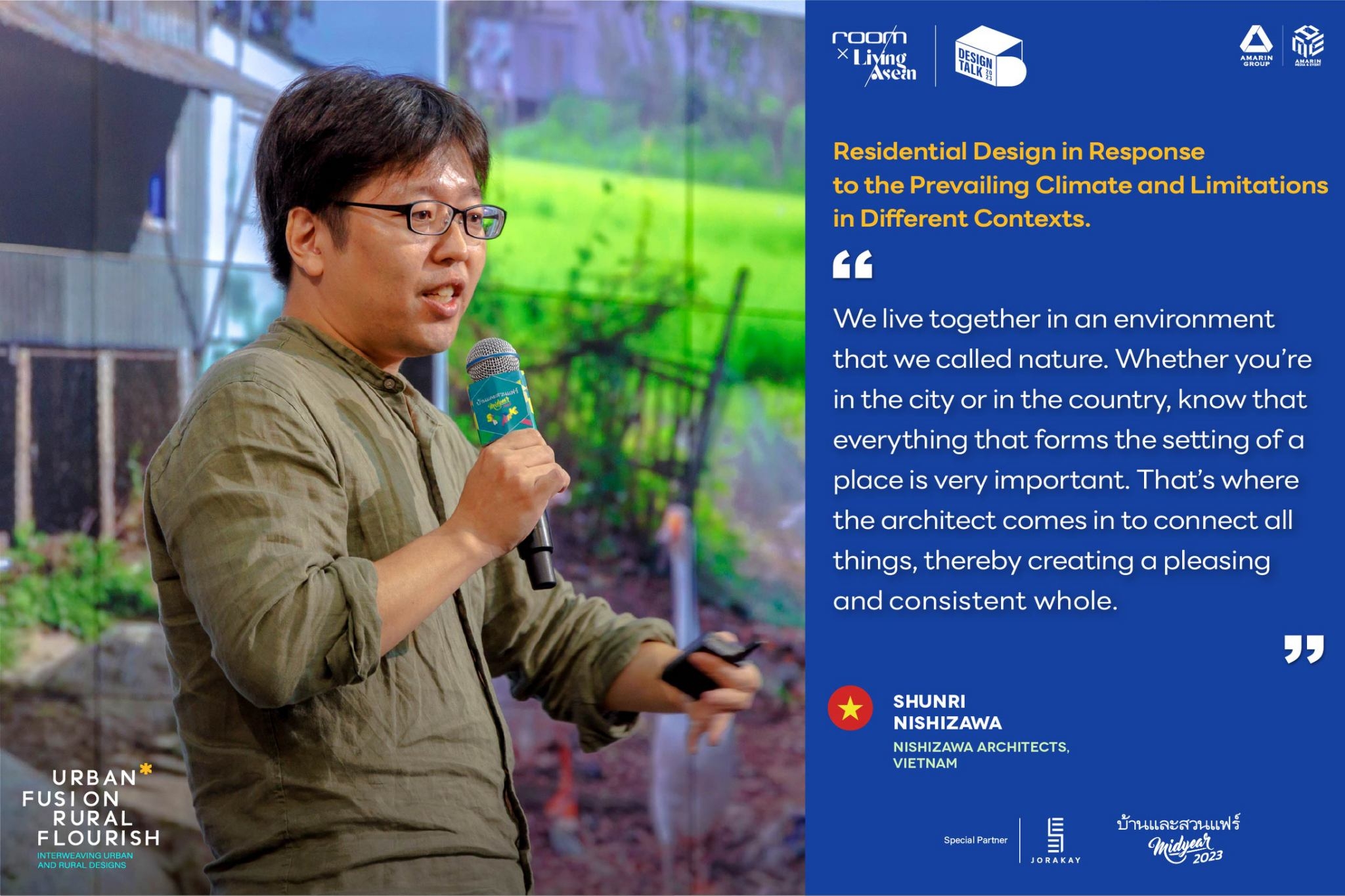 Shunri Nishizawa has practiced in Vietnam for over 15 years. He believes that an architect is duty bound to have a complete understanding of the context surrounding a project being developed.
This can be anything from humans and animals, to plants and the natural environment, plus the cultural context and so forth.
All of them must be treated with equal respect if we are to create a piece of architecture that adds a good complement to the surroundings.
Nishizawa Architects' finest works to date have made living with nature front and center.
Besides harmony with the natural surroundings, the designer group attaches special importance to choosing only materials that are right for the context of a place. That's the role of an architect the way he sees it.
---
Sharing similar opinions was Supawut Boonmahathanakorn, architect and founder of Jai Baan Studio, Chiang Mai, who touched upon "Rewilding the built environment: Interweaving urban and rural designs through non-human life."
He laid greater emphasis on biophilic design that called for rewilding the built environment and the restoration of all aspects of the physical world.
At the very center, the health of the natural environment is as important as that of humans, perhaps even more so.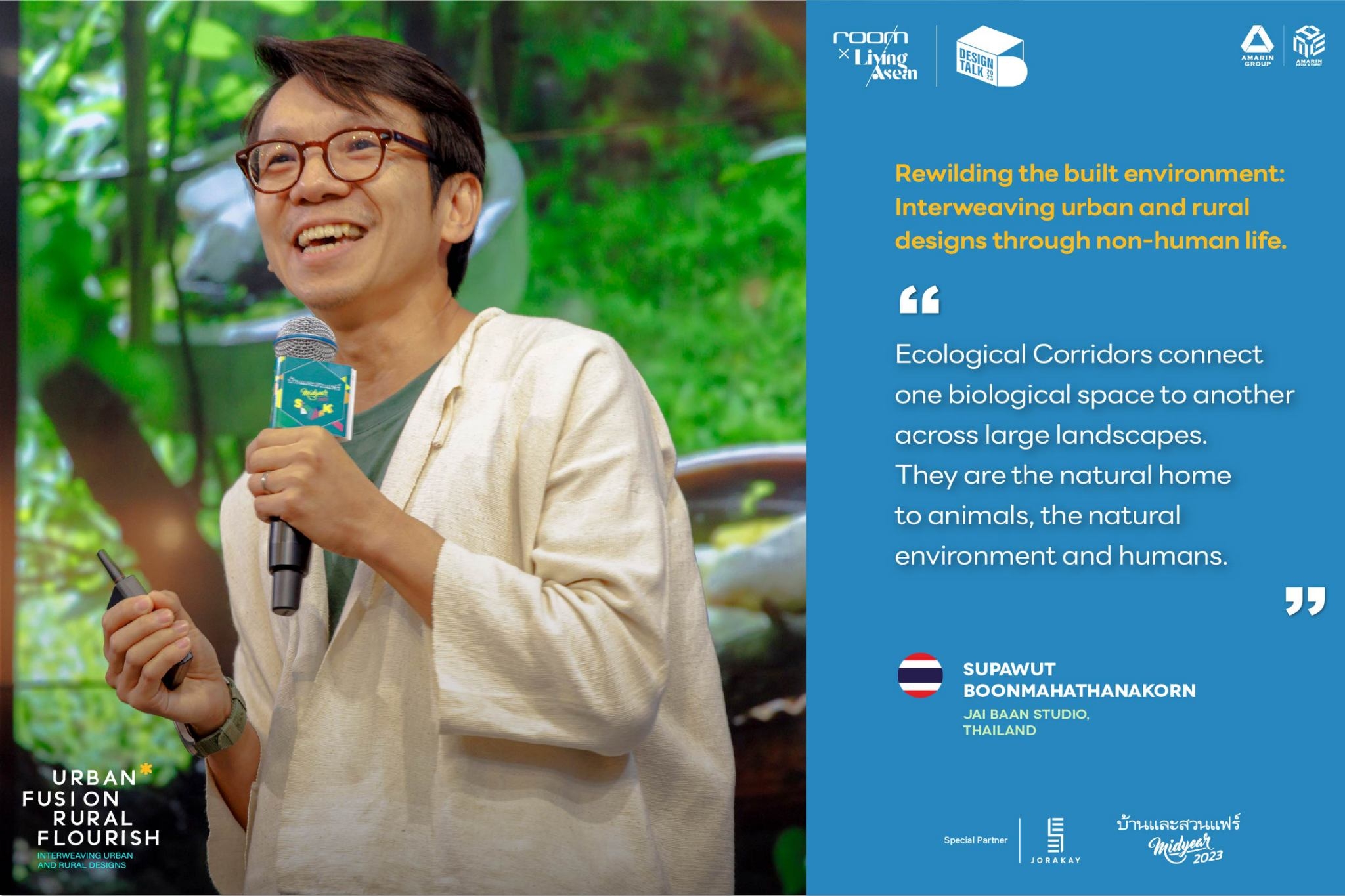 Supawut and Jai Baan Studio are renowned for their nature-inspired design, effort at environmental conservation and ability to connect with a sizeable proportion of the rural population.
Through multiple collaborations with property owners, Supawut is able to promote a good understanding of the connectedness between man and nature.
He gets his message across to the public that "time" is of the essence when it comes to restoring the natural environment to health.
His outstanding works include a project that transforms unused land into a green oasis in the city. It's achieved by rewilding, a process of reintroducing native trees and plants, thereby creating natural habitats for birds and other organisms native to the Northern Region.
As "ambassador" speaking on behalf of nature, he proves the point that the relationships between humans, animals, and ecosystems are inextricable.
---
Last but not least, architect Antonius Richard of RAD+ar, Indonesia, spoke on the topic of "Different aspects of design in response to the environment and surrounding circumstances."
He shared many useful techniques to incorporate natural elements in contemporary design. Plus, it's a discussion alive with insights into design features unique to Tropical regions.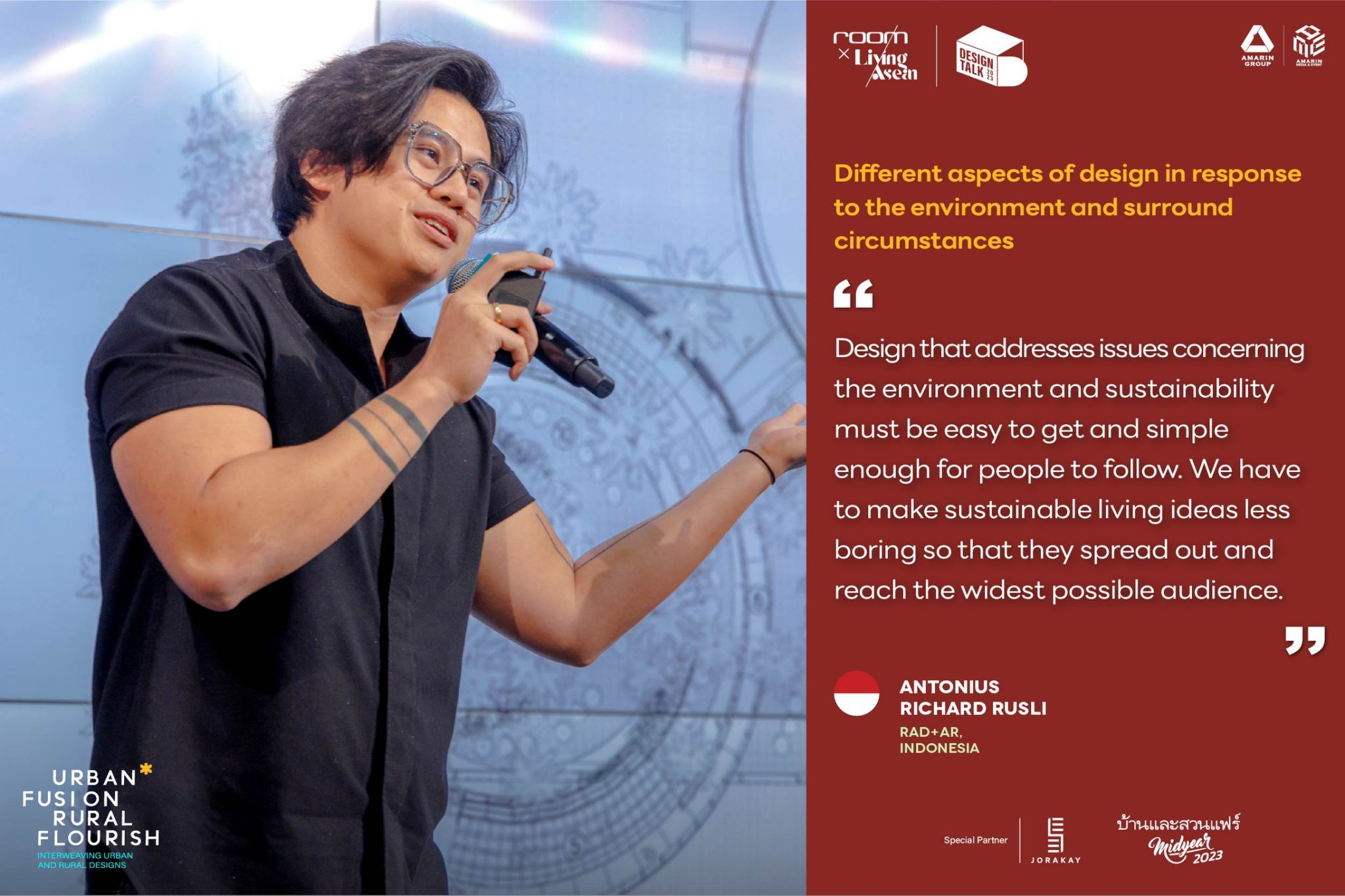 Mr. Richard spoke on the topic of integrating elements of nature in architectural design with respect to circumstances unique to Indonesia.
For the most part, his works deal with experiments undertaken to test the performance of new design in real life situations.
His experience encompasses a wide range of designs, from small projects such as cafés and restaurants, to homes and offices, to big projects such as commercial spaces and mosques that are designed to accommodate a large number of people.
Regardless of size, they share one common feature – a strict adherence to sustainable living ideas and design that's compatible with the environment. It's the quality that has served as the signature of Mr. Richard and his group of architects, designers and thinkers from day one.
---
More about architecture and design for better living, plus ideas for a sustainable society and conserving the environment, known collectively as the "Betterism" concept, are waiting to be discovered. Follow us and room Books for more!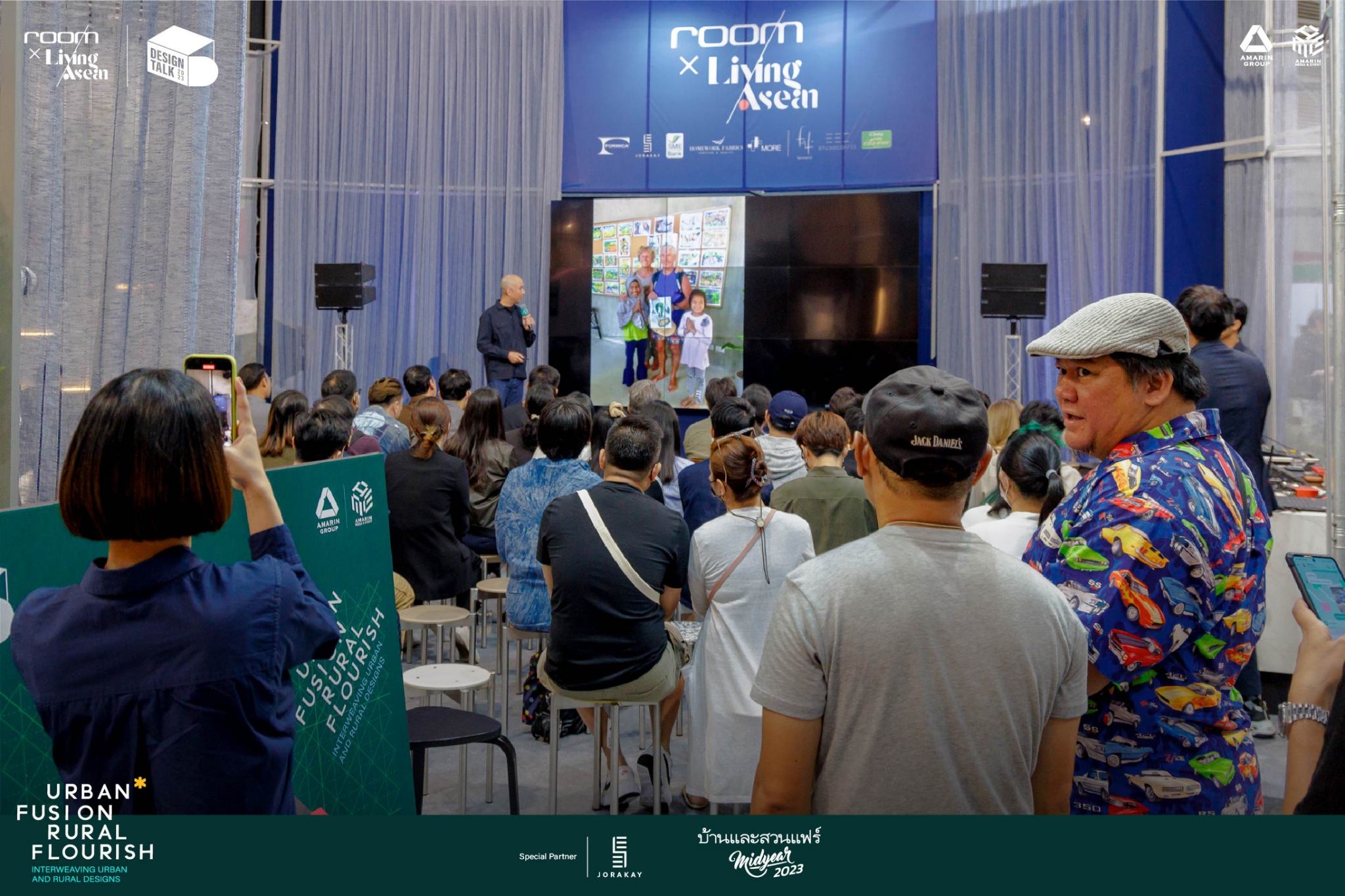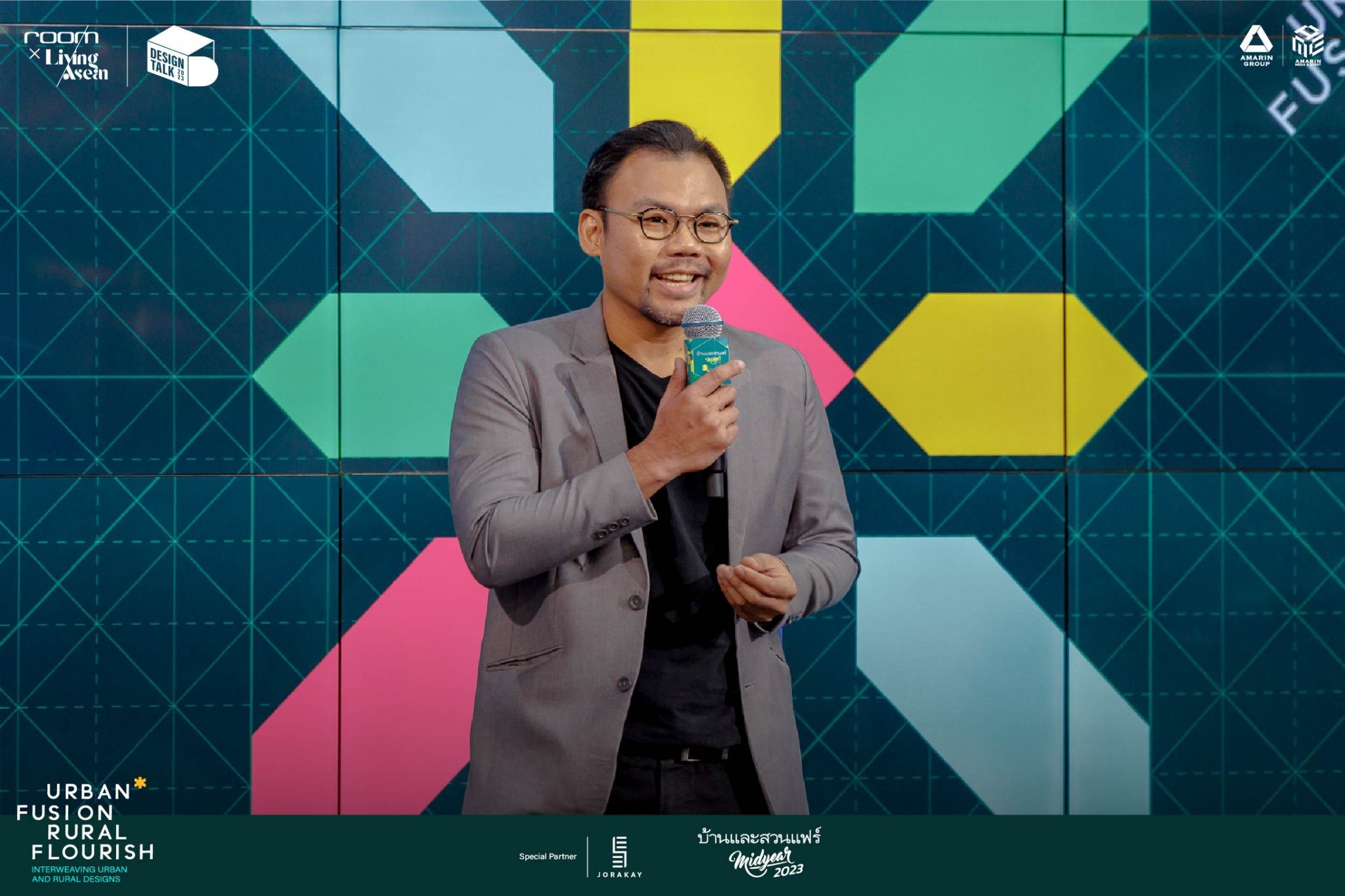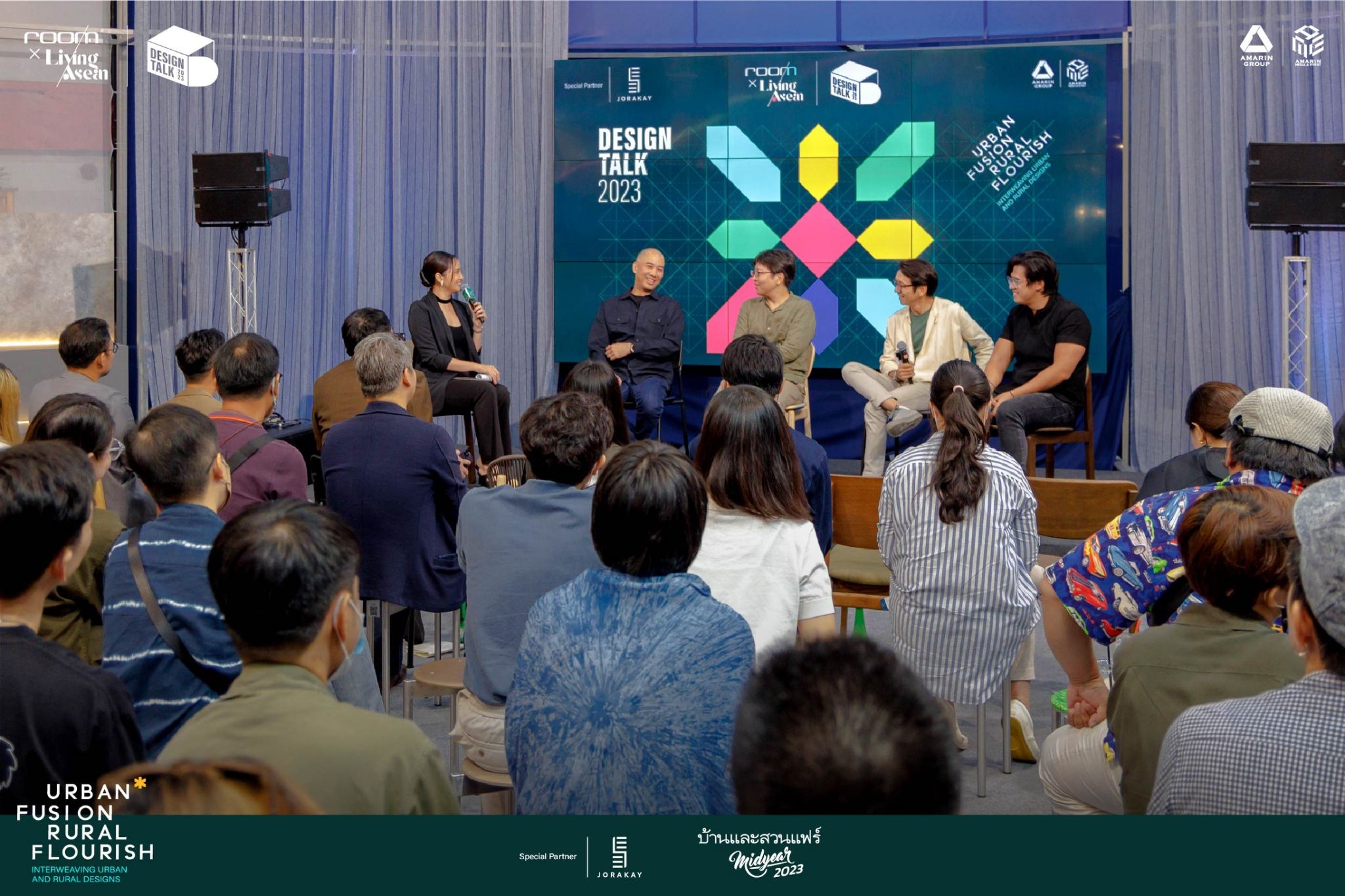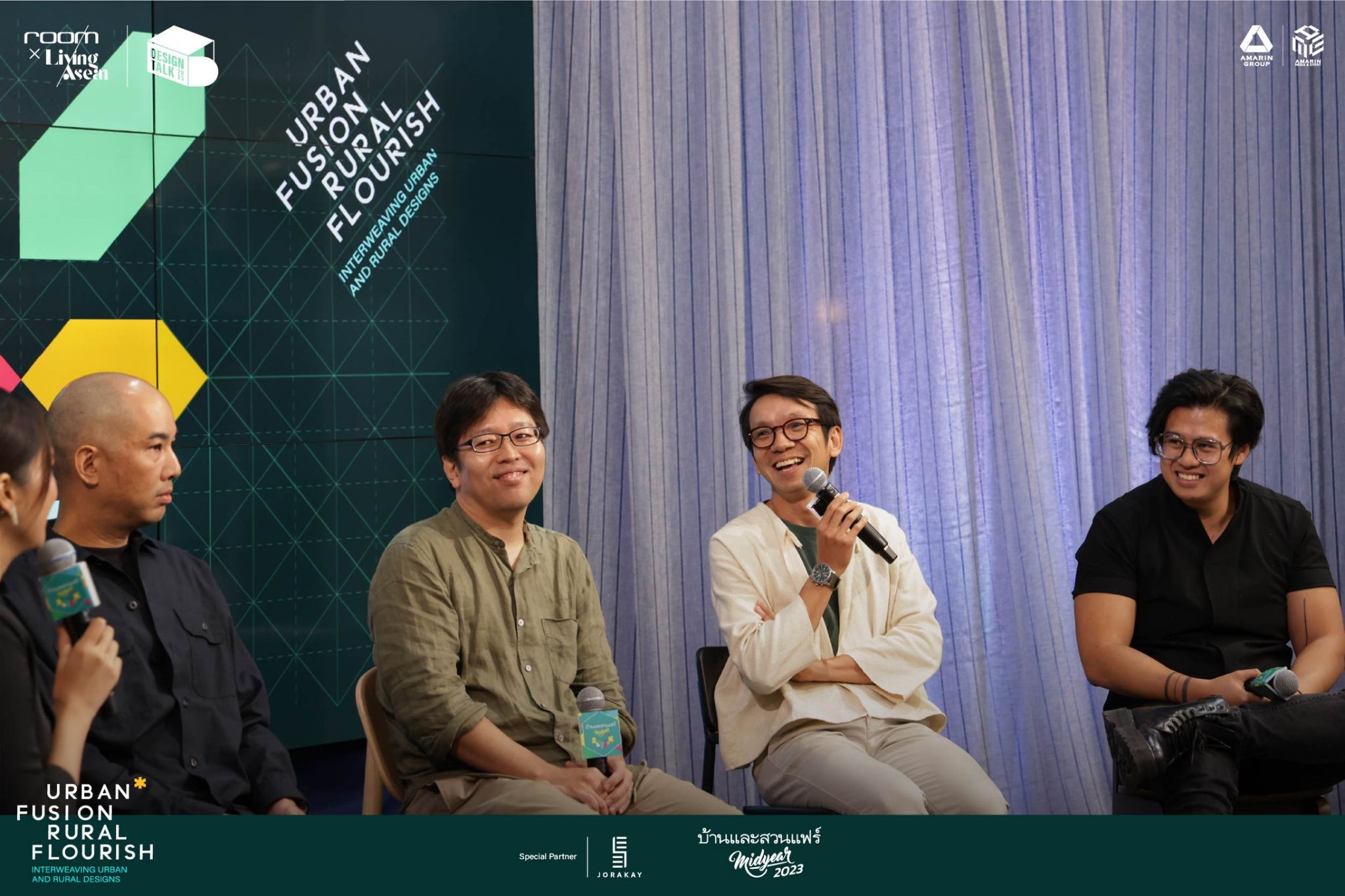 ---
You may also like…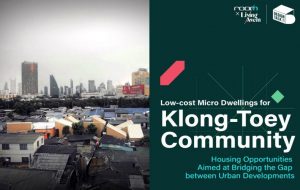 Low-Cost Micro Dwellings for Klong Toey Community: Housing Opportunities Aimed at Bridging the Gap between Urban Developments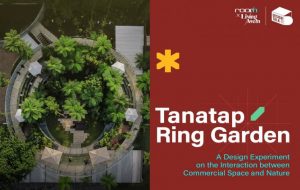 Tanatap Ring Garden Coffee Shop: A Design Experiment on the Interaction between Commercial Space and Nature