/ Kanchanaburi, Thailand /
/ Story: Patsiri Chot / English version: Bob Pitakwong /
/ Photographs: Anupong Chaisukkasem /
On Kanchanaburi's River Kwai we stand beneath tall trees, their canopy of robust branches and green leaves filtering sunlight into shade as a cool, comfortable breeze riffles the water and we gaze out across the Erawan National Park forest. This enchanted spot is where CEO Dr. Suwin Kraibhubes of Beauty Community, Pcl. decided to build his riverside home.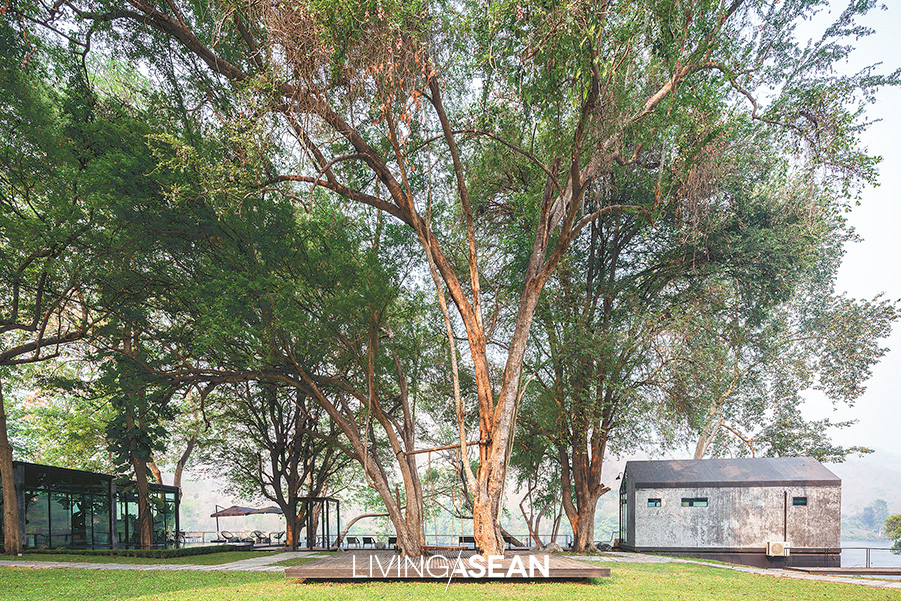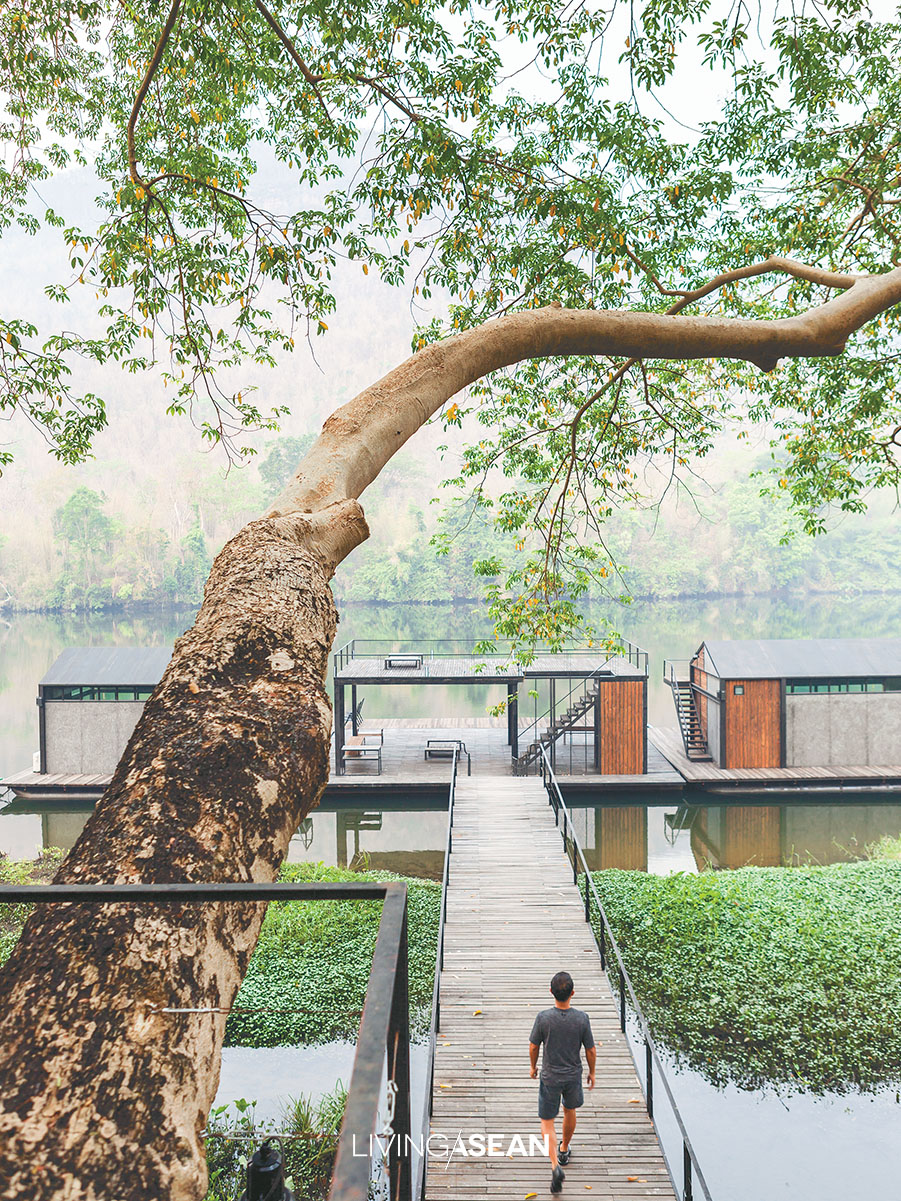 "In the old days there was a resort here, but abandoned, it fell apart." Dr. Suwin said.
"Coming here on a visit I found myself getting excited about this panoramic mountain view, the forest preserve, the peaceful river. I hadn't known  Kanchanaburi had such a quiet, pleasant riverside woodland as this."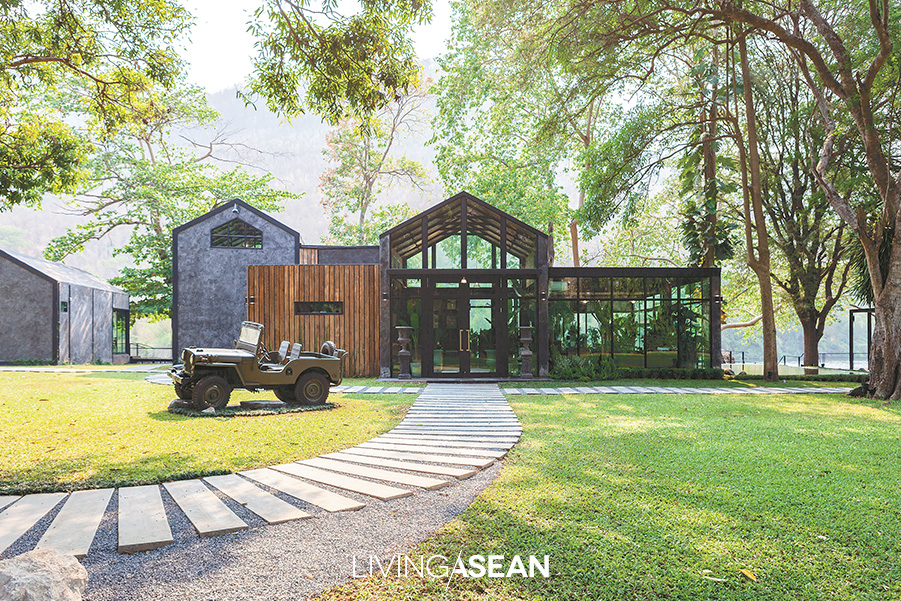 Dr. Suwin had always had a deep feeling for good design and home decoration.
He followed this up with a lot of reading from many sources, and bought furniture and house accessories to add to his own collection and deck out this riverside home in a style suiting this great location on the River Kwai.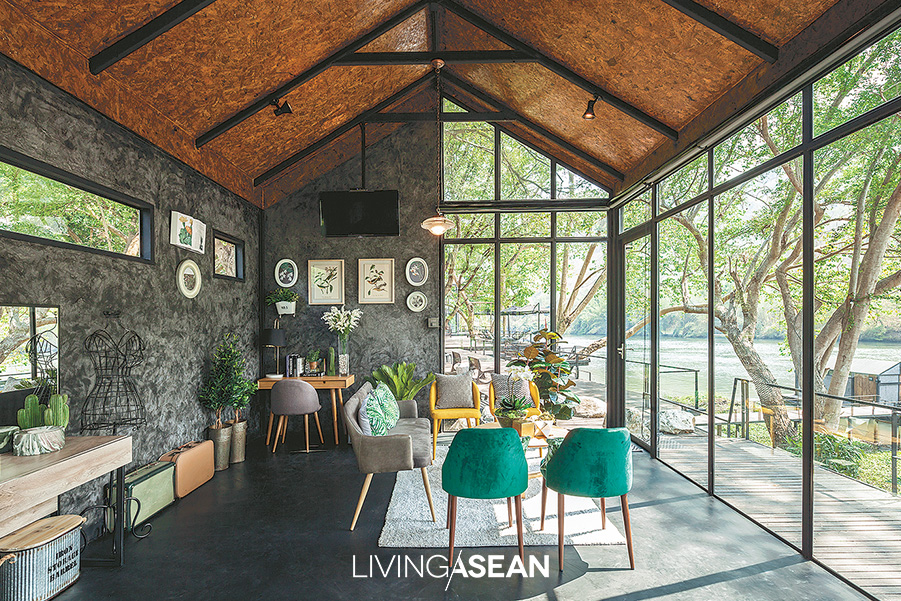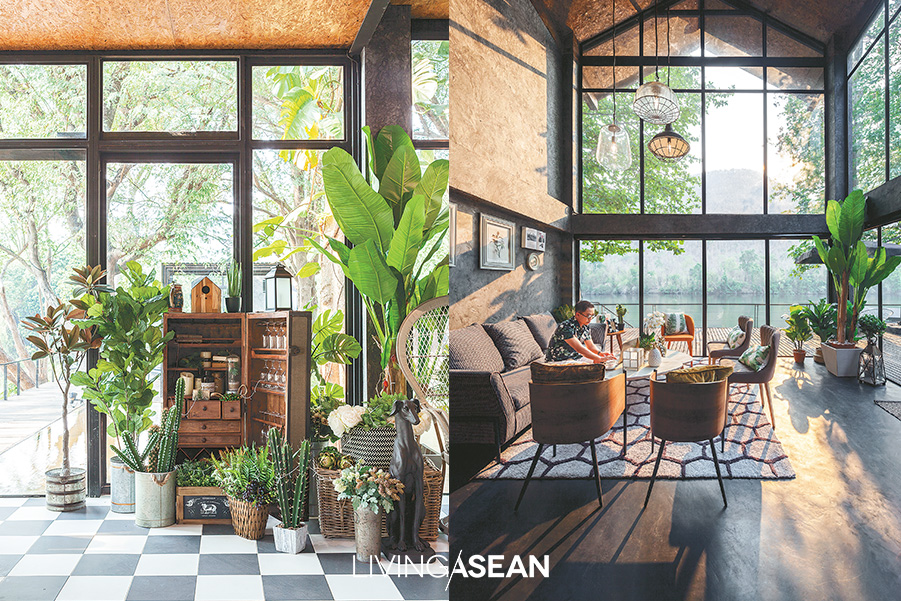 "I had a lot of ideas, including building on the original resort's foundations, and found an architect to help," further explained the owner.
"With modern-style gable roofs, the shapes are reminiscent of a tobacco-curing plant.
"I didn't want to make the house too eye-catching, but more low-key, in tune with nature, so we used strong, dark colors with natural materials such as wood, stone, and steel, materials with beautiful colors and textures of their own, that also are easy to maintain.
"The result is a relaxed retreat where we don't stay every day, but that fits in beautifully with the natural environment."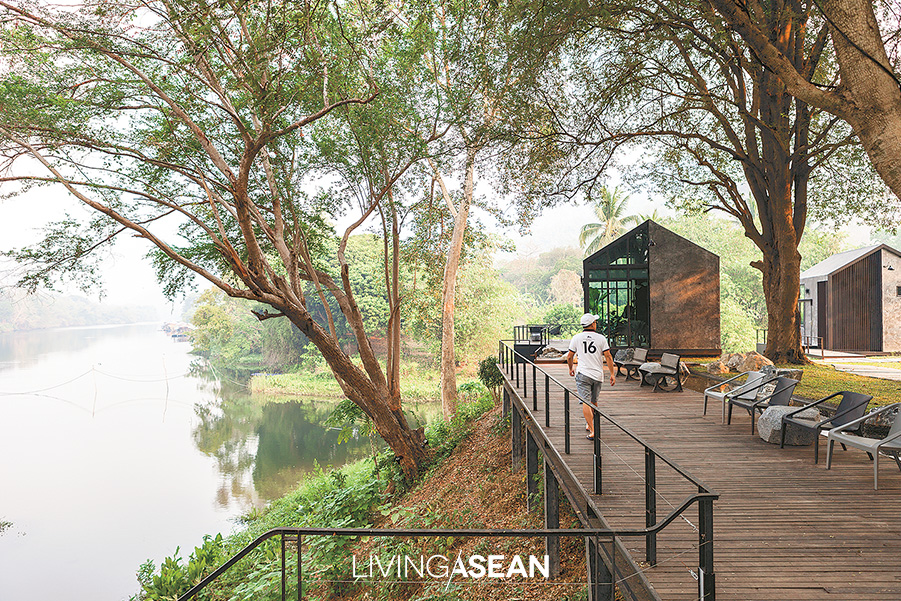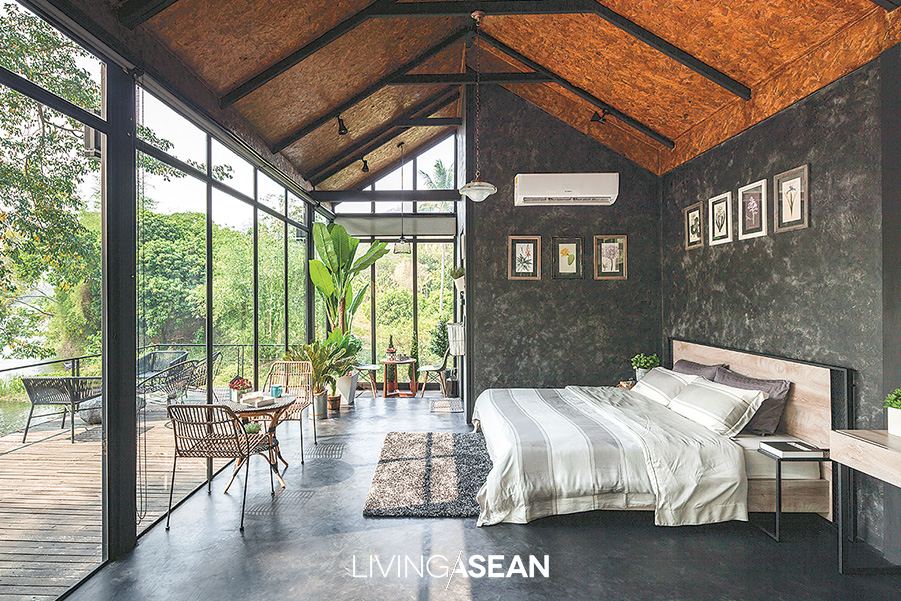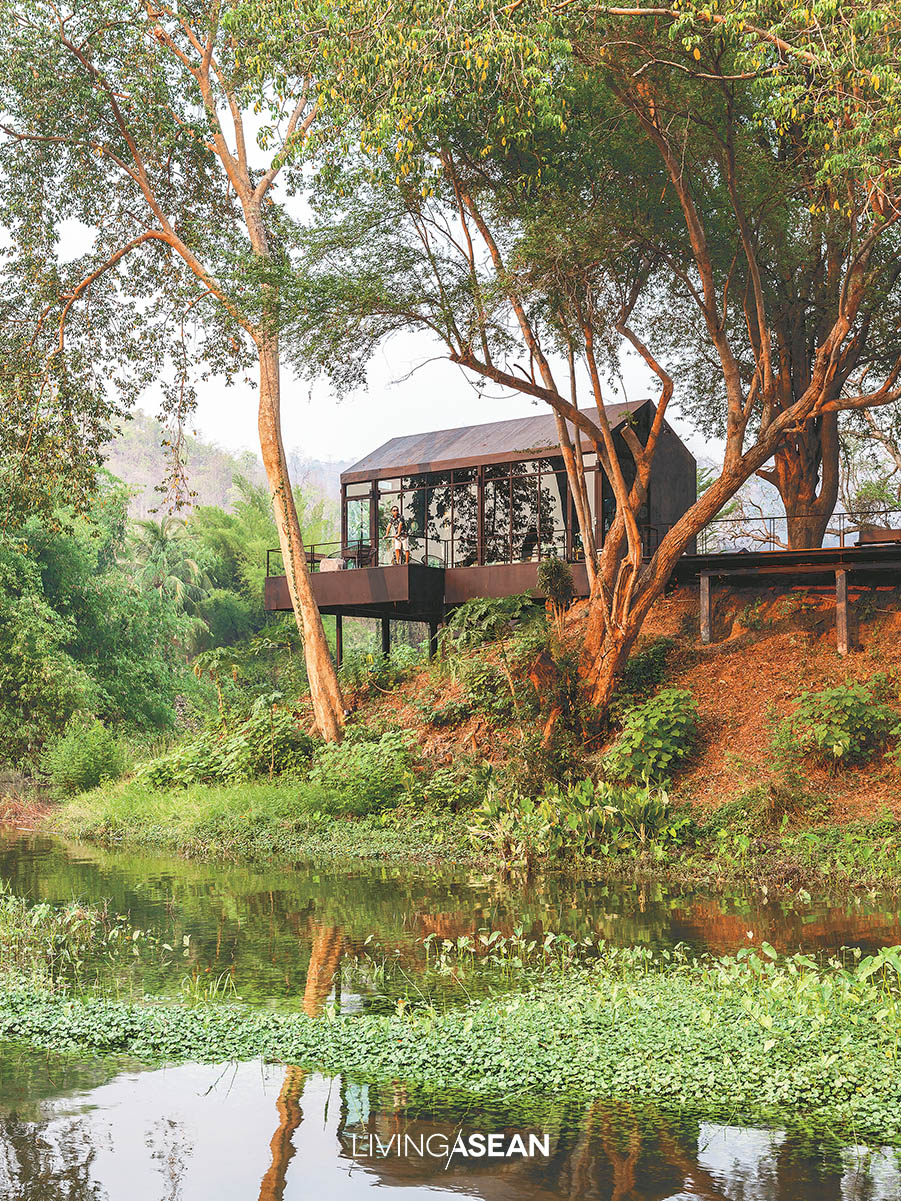 Dr. Suwin's personal living space is a compact house on a hill directly above the water. The full residence extends across the property: another three steel-frame buildings are set in a quiet corner.
There is a separate structure in the center for use as a reception area and common dining room near a two-story house built to accommodate more family members and friends.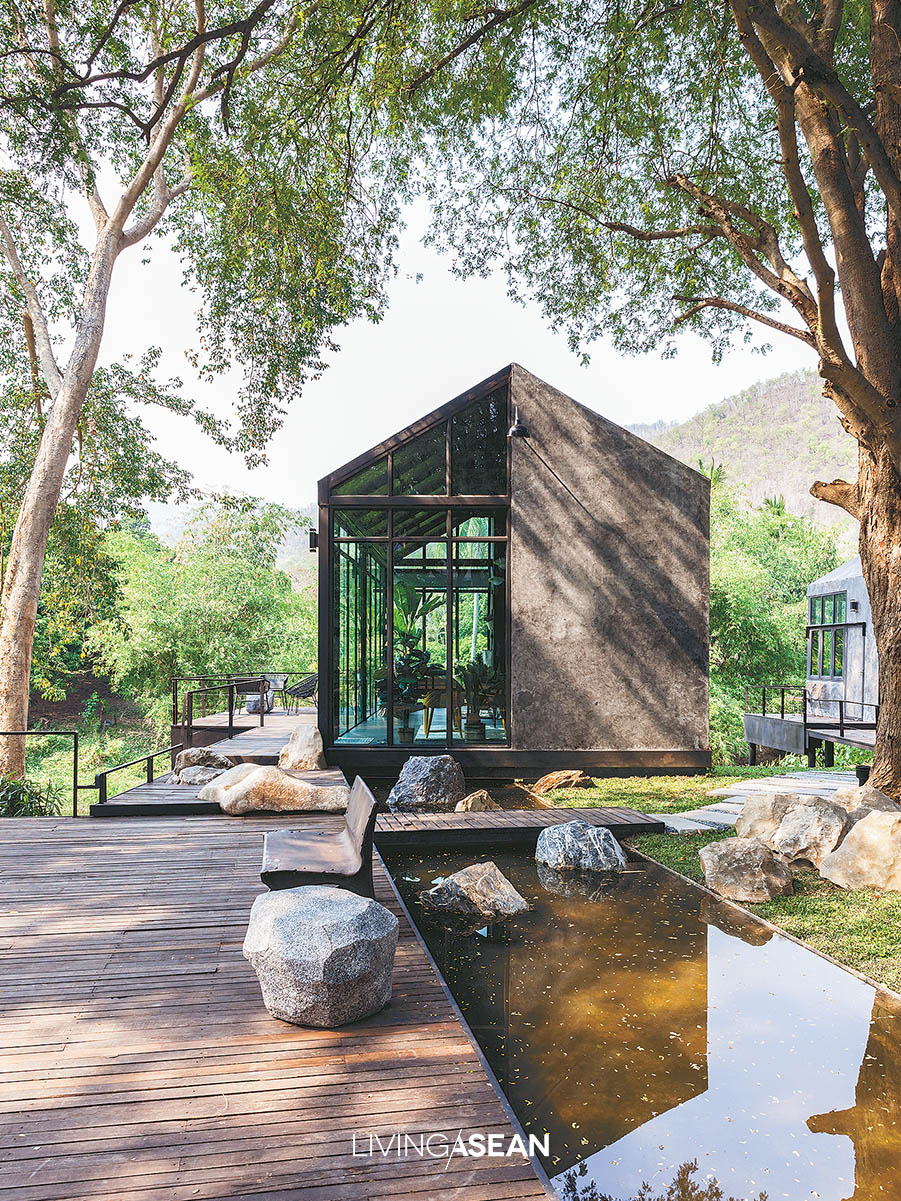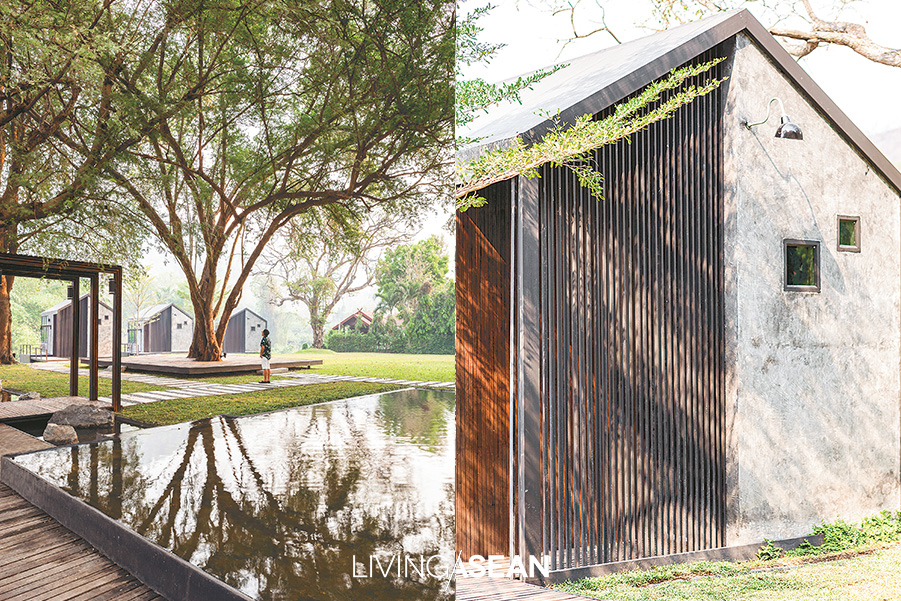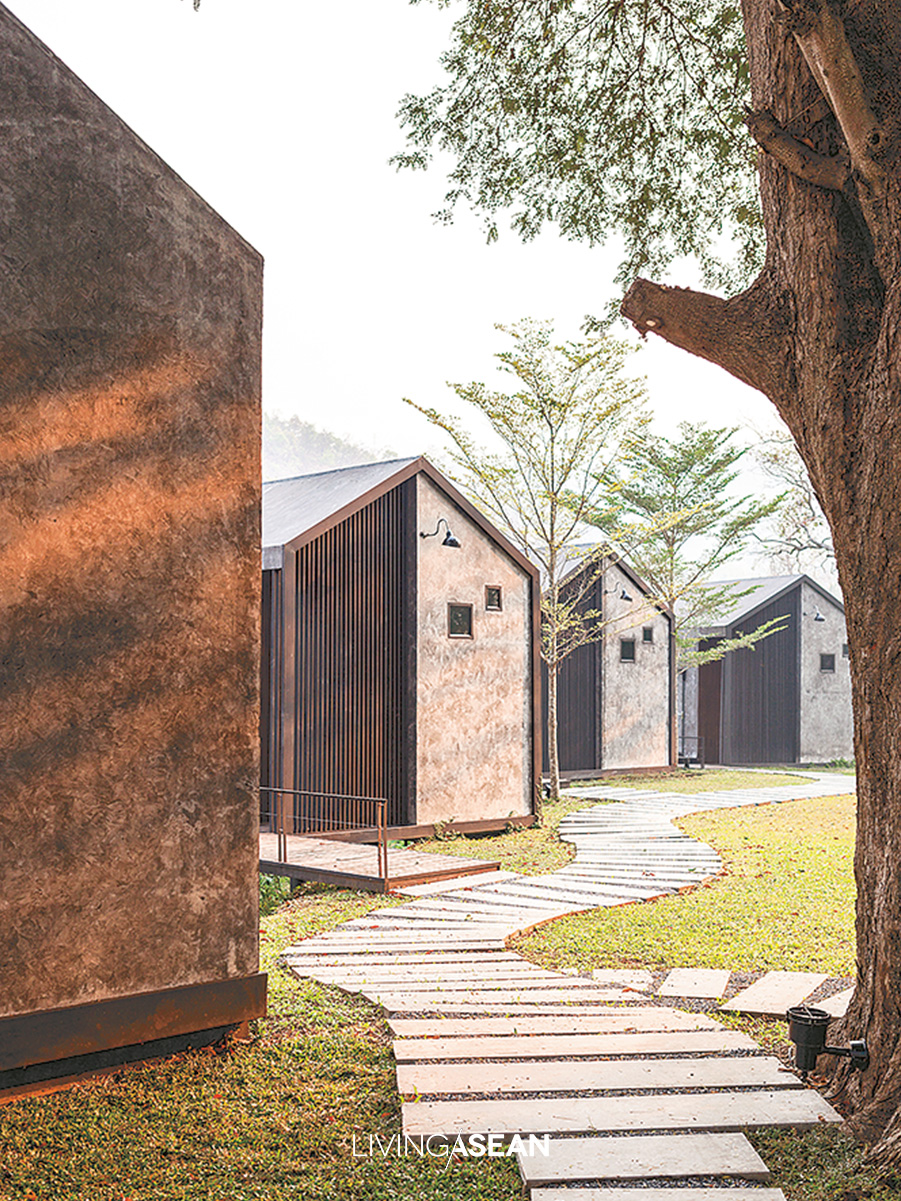 He also added, "I live on the river bank for comfort. It's a little like a greenhouse: the walls are glass and face out on the river, giving both a beautiful view and privacy.
"Mornings I really enjoy looking out from the porch. I can see everything from there, it feels like we're in the middle of everything!"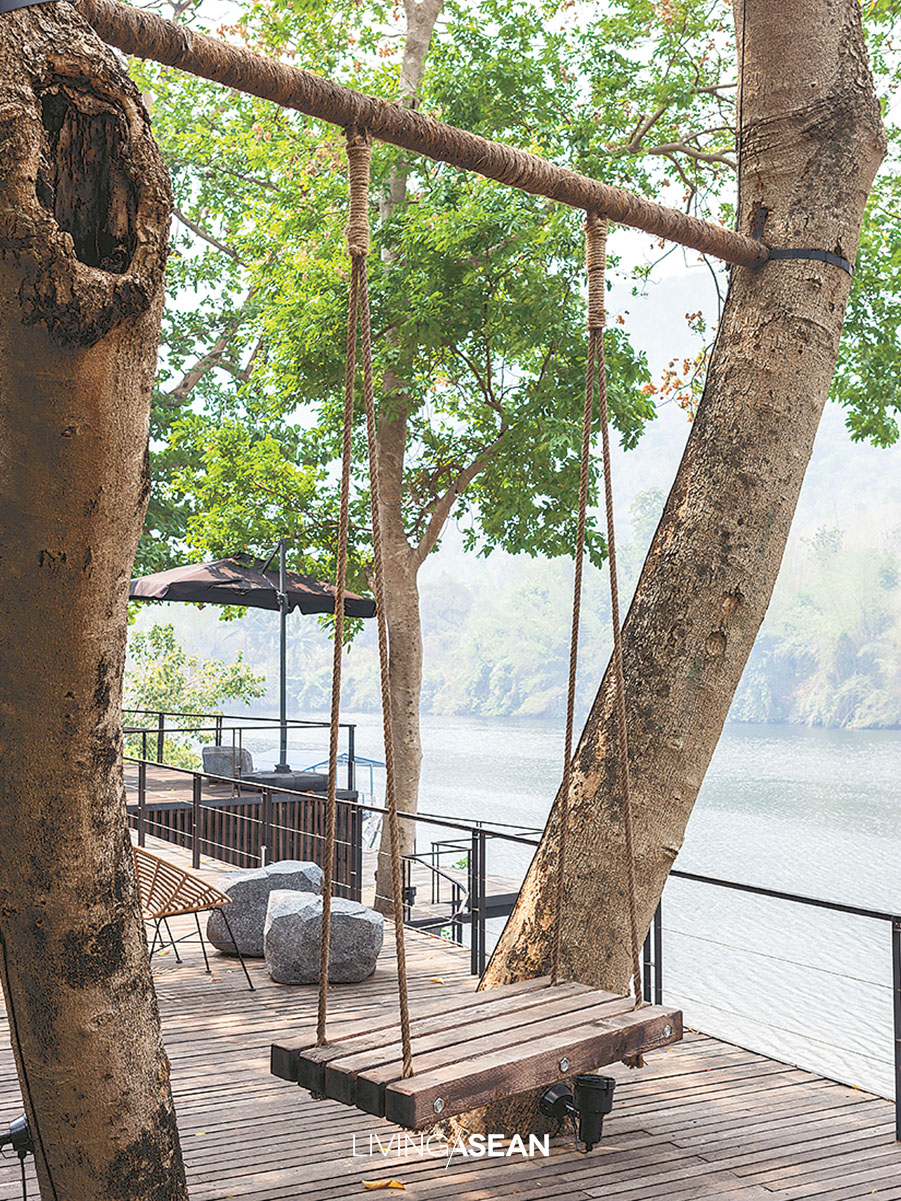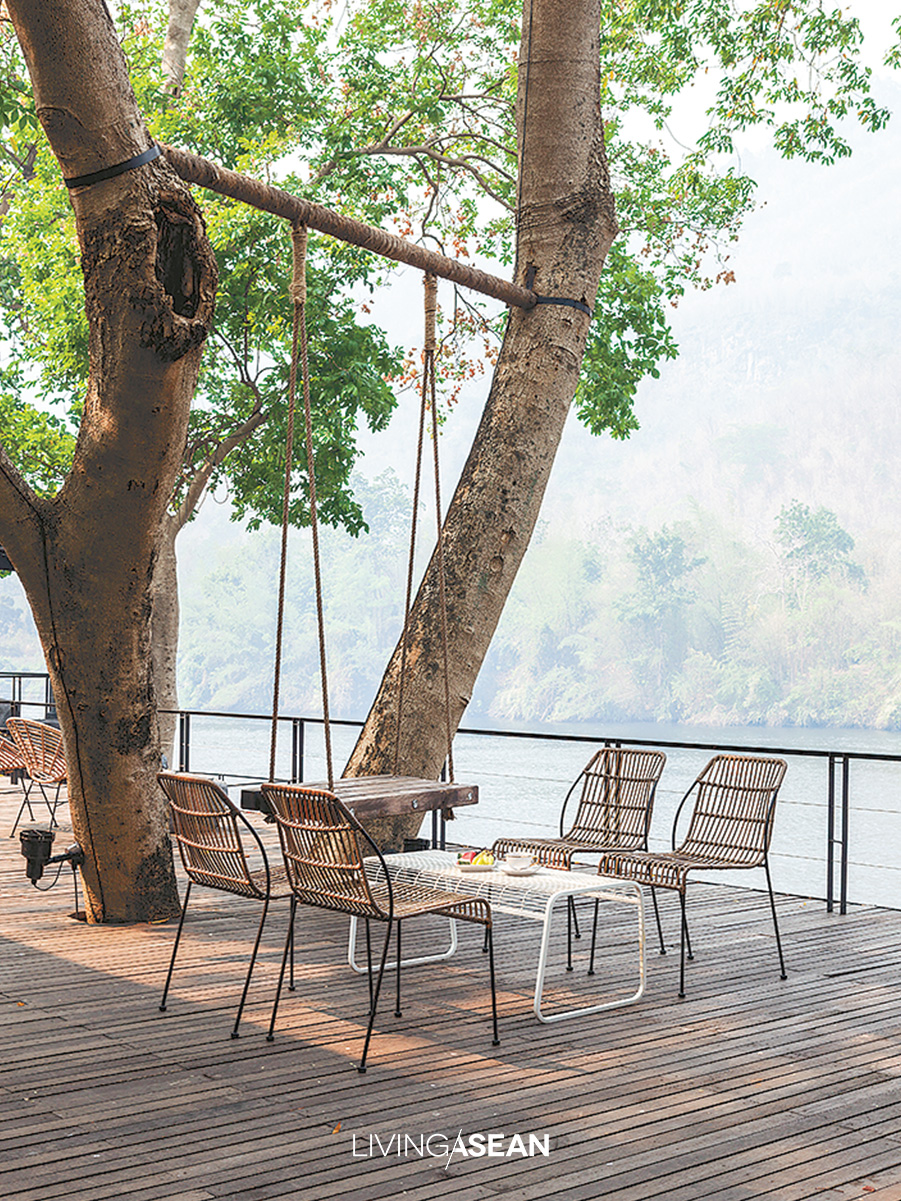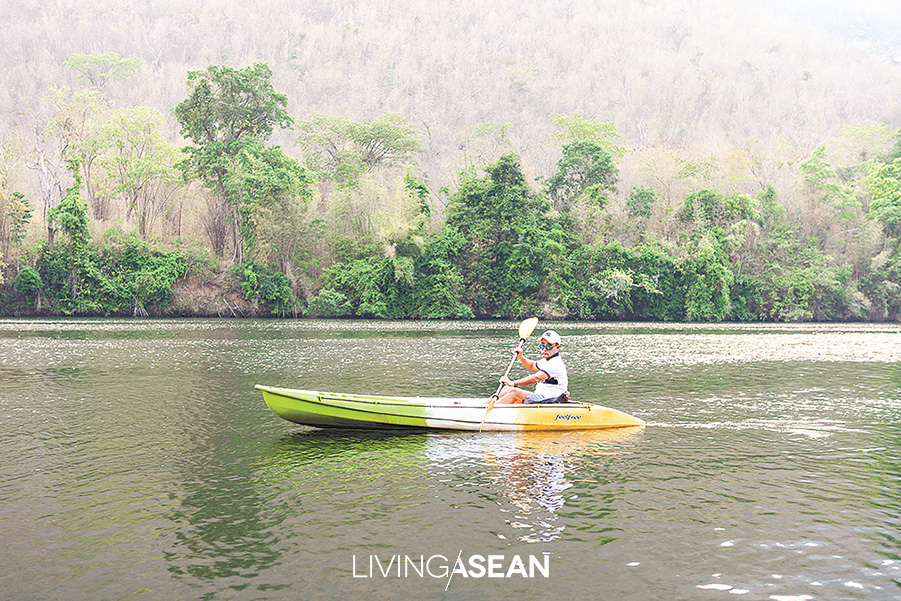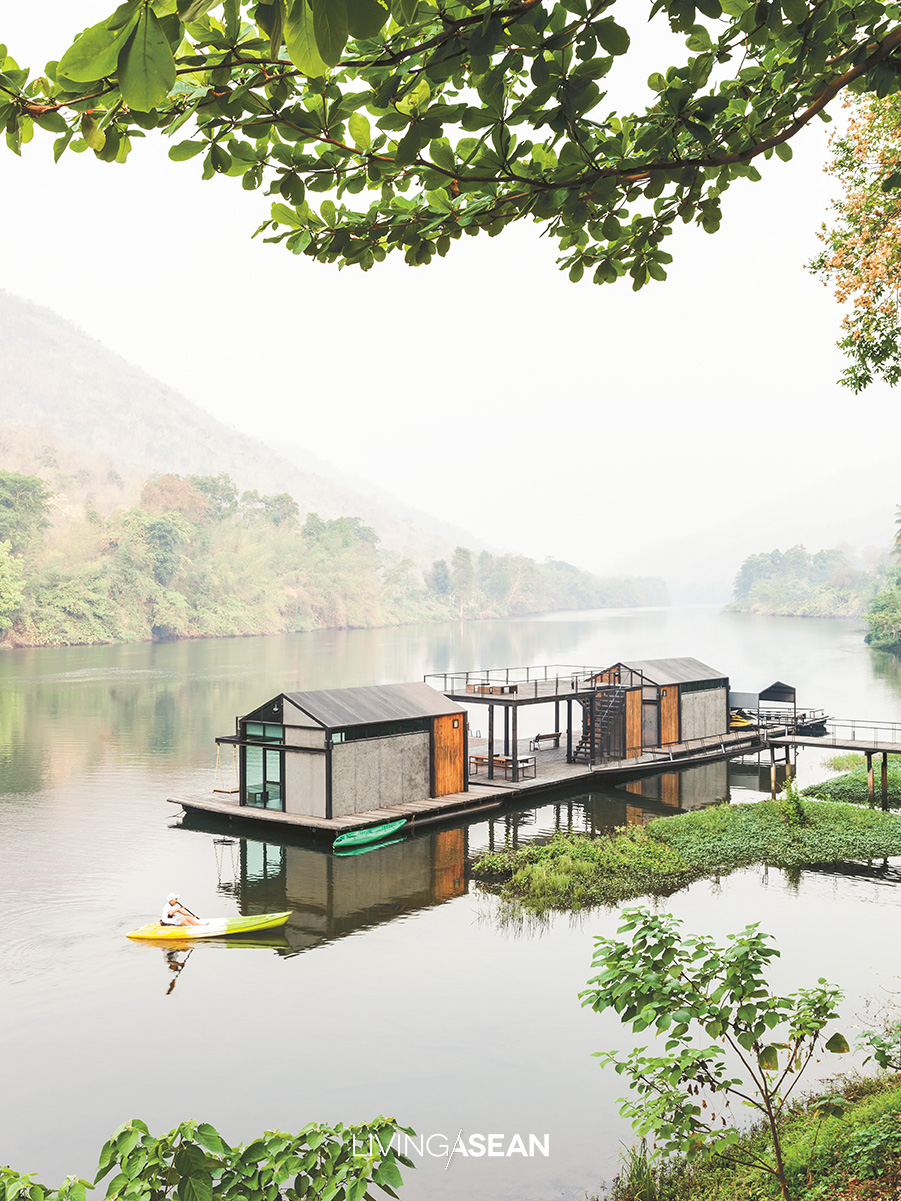 Dr. Suwin gets a lot of outdoor time here, playing in the water with the kids, kayaking, jet skiing, enjoying nature by Tha Thung Na Dam.
Sometimes in the cool evening air he sits out on a raft, socializing with his friends.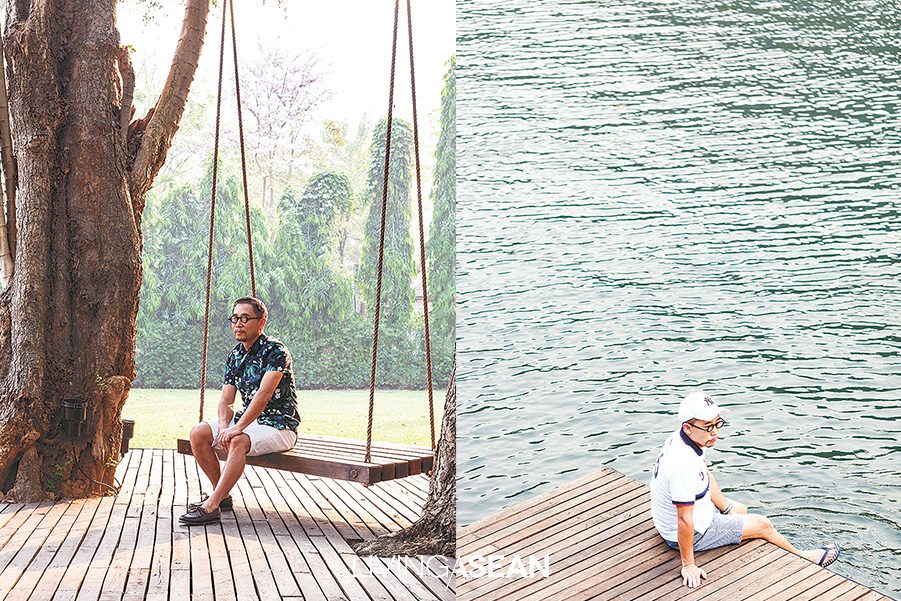 "I really love that this house has both mountains and river. Outside we get the full benefits of being close to nature: almost no landscaping needed," he summarized beautifully.
"I love the big trees the most, giving the house the refreshing, shady frame."
---
Owner/Decorator: Dr. Suwin Kraibhubes
Architect: Rojanin Milintanasit
---
You may also like…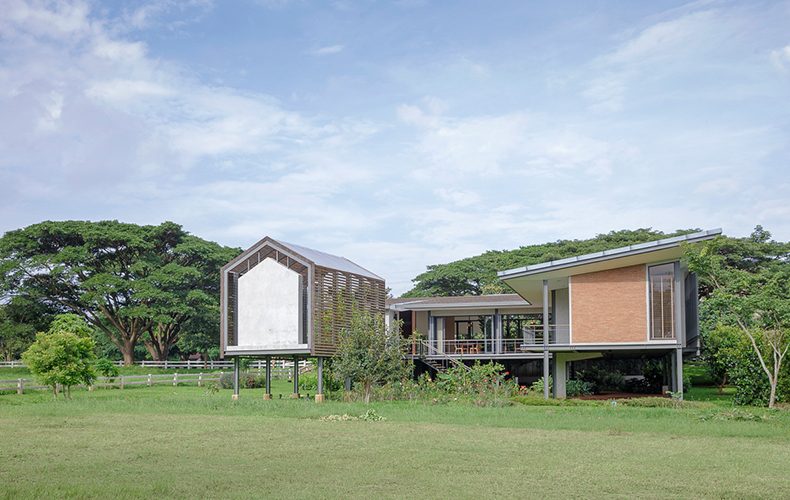 Local, with a Modern Flavor