/ Bangkok, Thailand /
/ Story: Samutcha Viraporn / English version: Bob Pitakwong /

/ Photographs: Soopakorn Srisakul /

Here is a cozy, modern lake home set amid beautiful countryside. It takes advantage of the natural features of a tropical climate to ensure cool and comfort all year round. Built for having fun and enjoying life, the house comes complete with a slide into the living room, a cat house, courtyard waterfalls, and a much-loved Japanese-style room.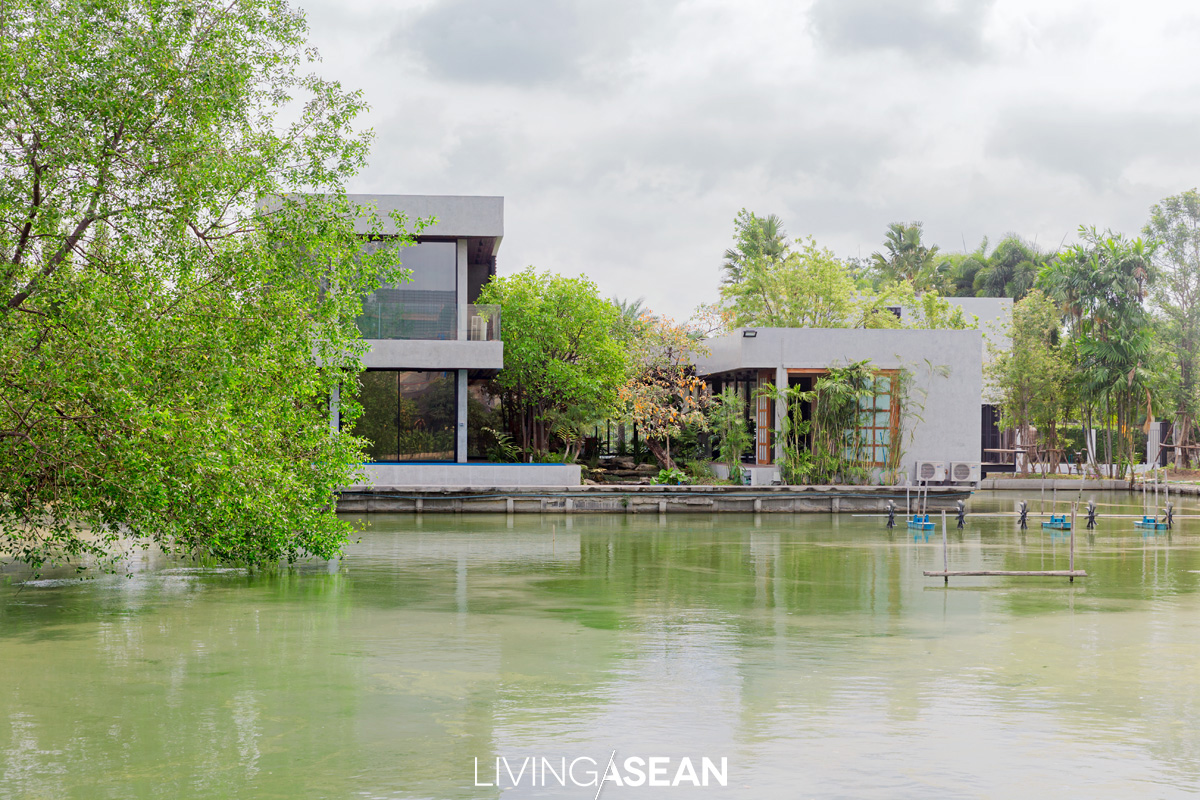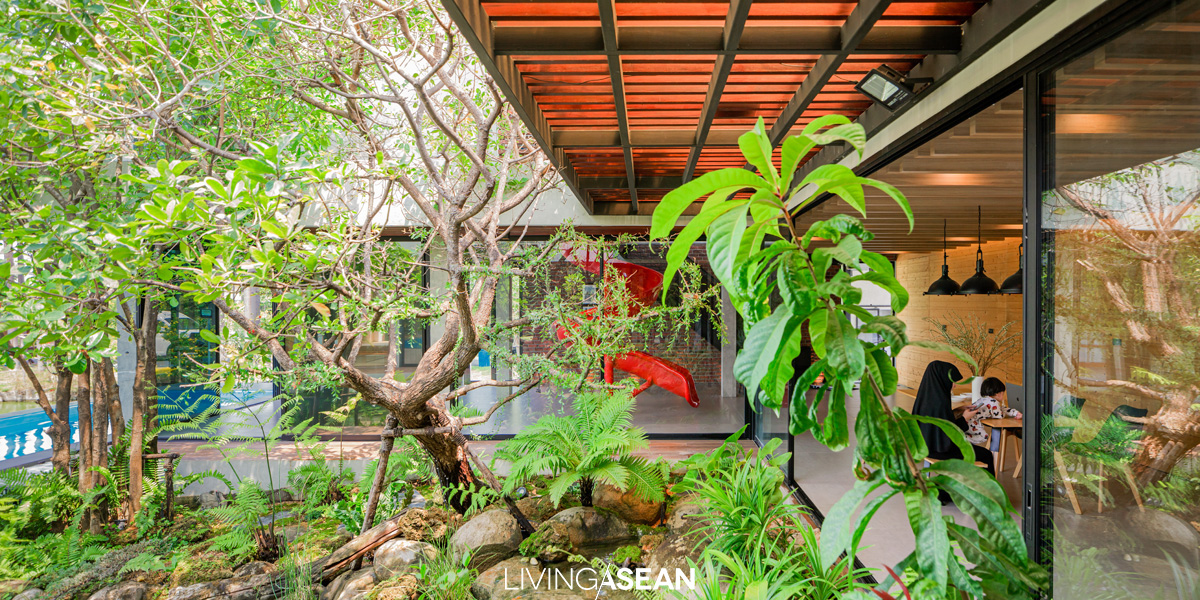 From an old farm pond to a beautiful lake home
This delightful modern lake home belongs to Sakdrin Sadlae, owner of a traveling Muslim prayer webpage. It sits on land that he receives from his mother. The parcel of land formerly was a part of the family farm in Bangkok's Pattanakarn area.
Back in the day, his grandfather built ponds here for water, fish and agriculture. Sakdrin can still recall growing up in the wetlands. Free time in the past was spent playing kid games, in which he confronted a crocodile played by his father.
Over the years, the wetlands ecology has given him inspiration. His dream house is one that's surrounded by water. To do that, an area fronting the lake was filled with layers of earth to create a strong building foundation.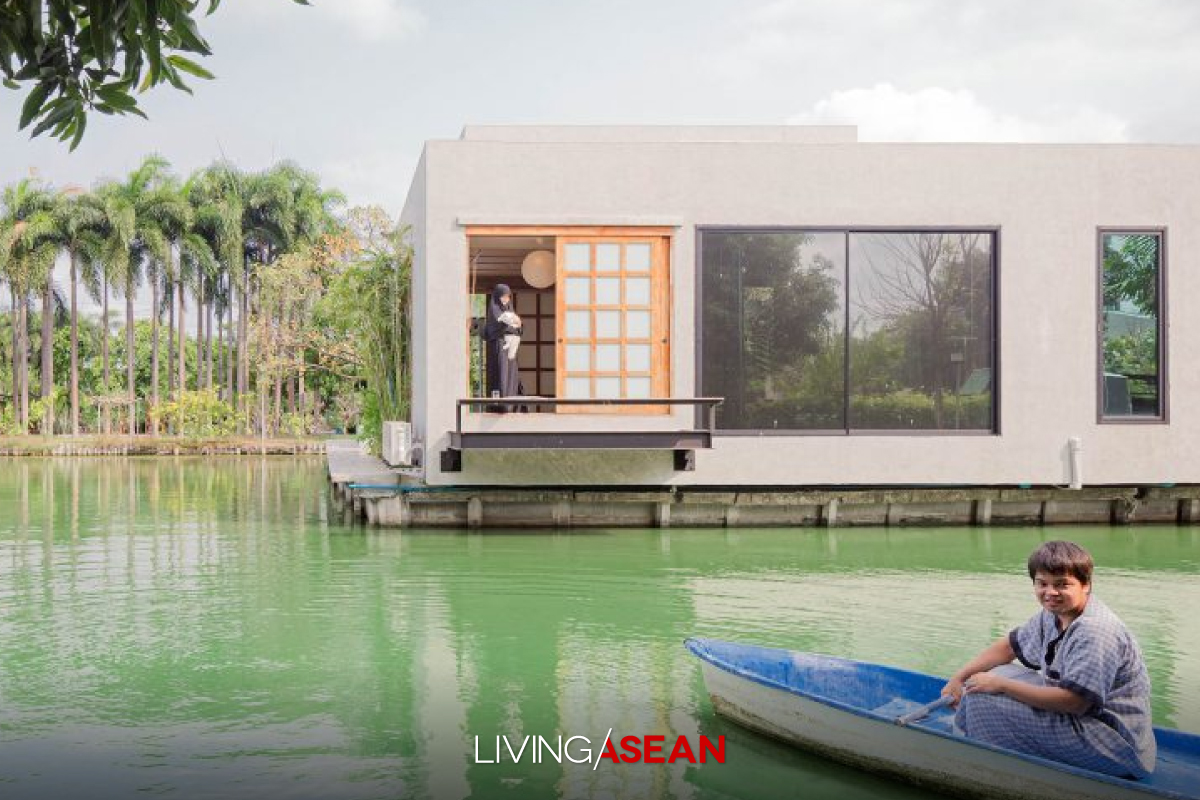 To keep within budget, he invited building dismantlers and construction projects in the neighborhood to dump unwanted earth and concrete debris on his property.
It was a win-win solution both for him and for construction businesses in search of dumping sites. He then sought advice from architect Khomsaan Kamsawas, while his wife Apaporn Mitnoy chipped in with many great ideas that led to the family making informed decisions. The result is a house plan that fits the bill, is suitable for a tropical climate, and comfortable to live in.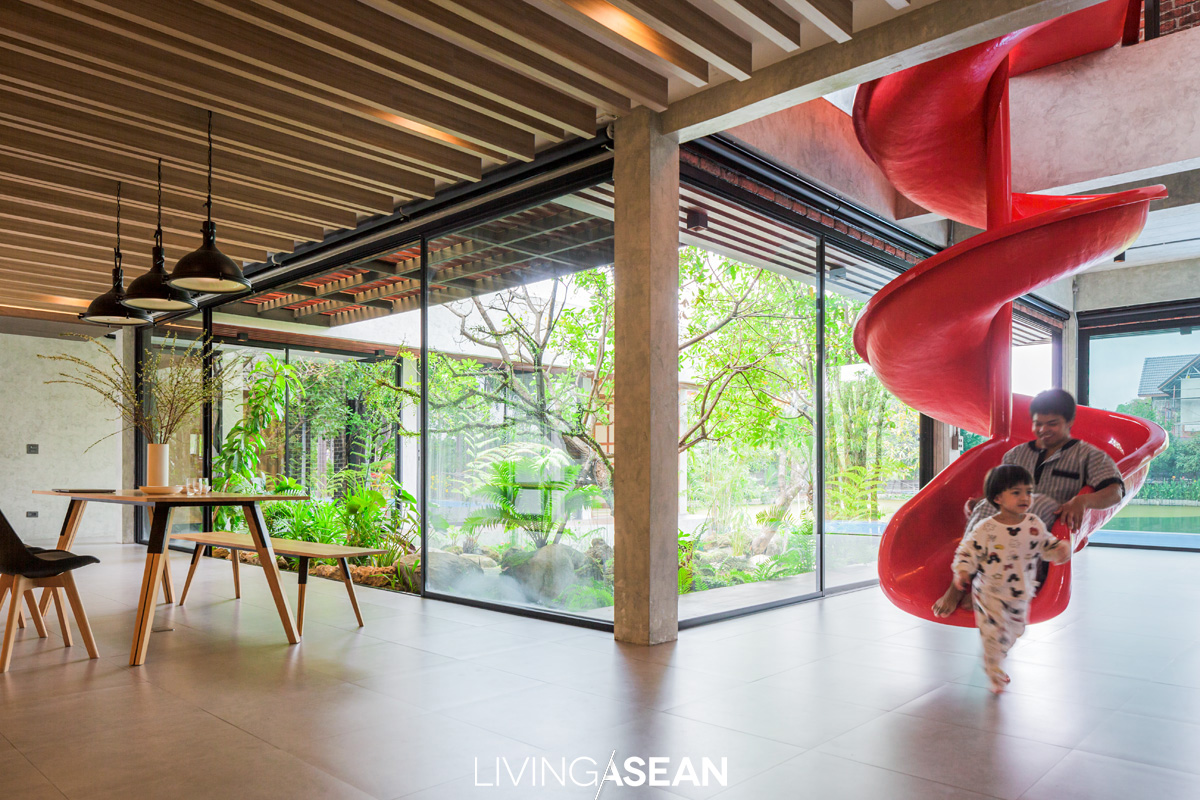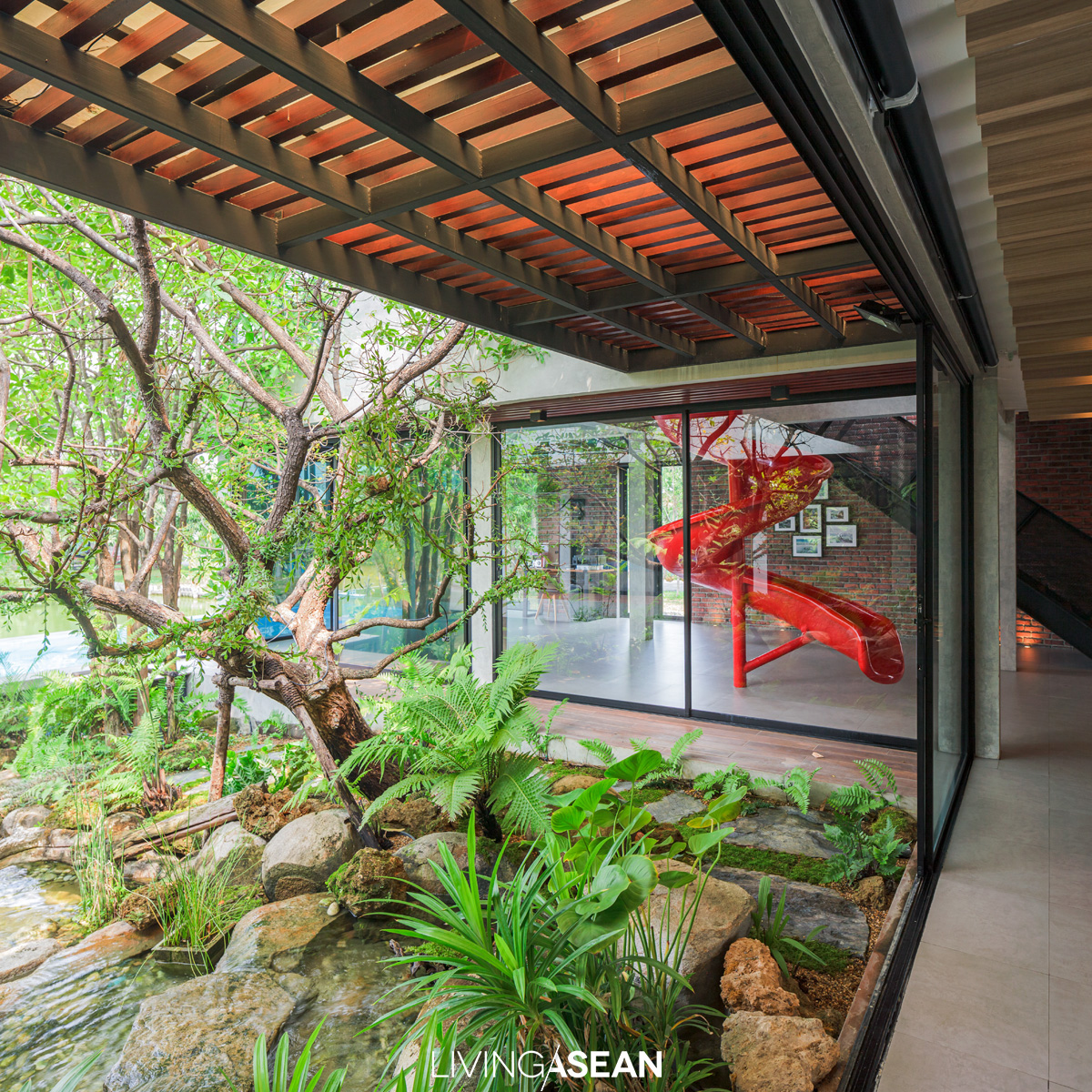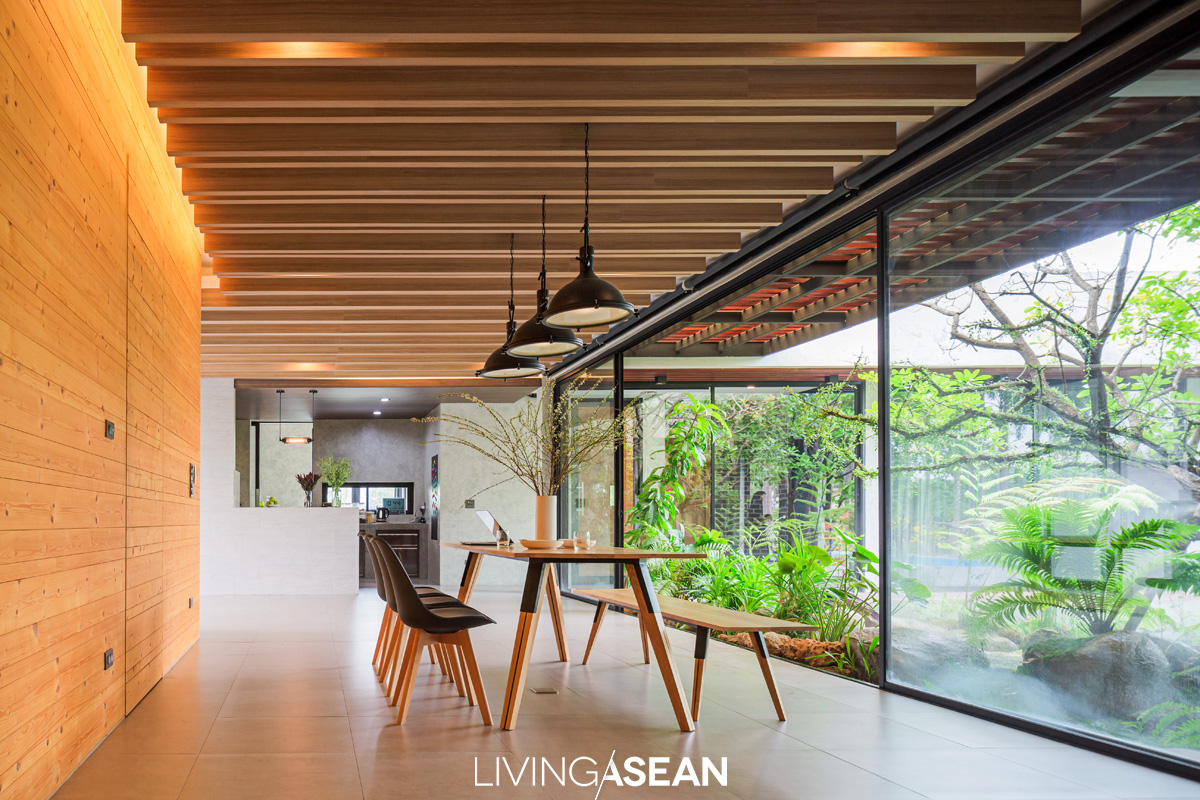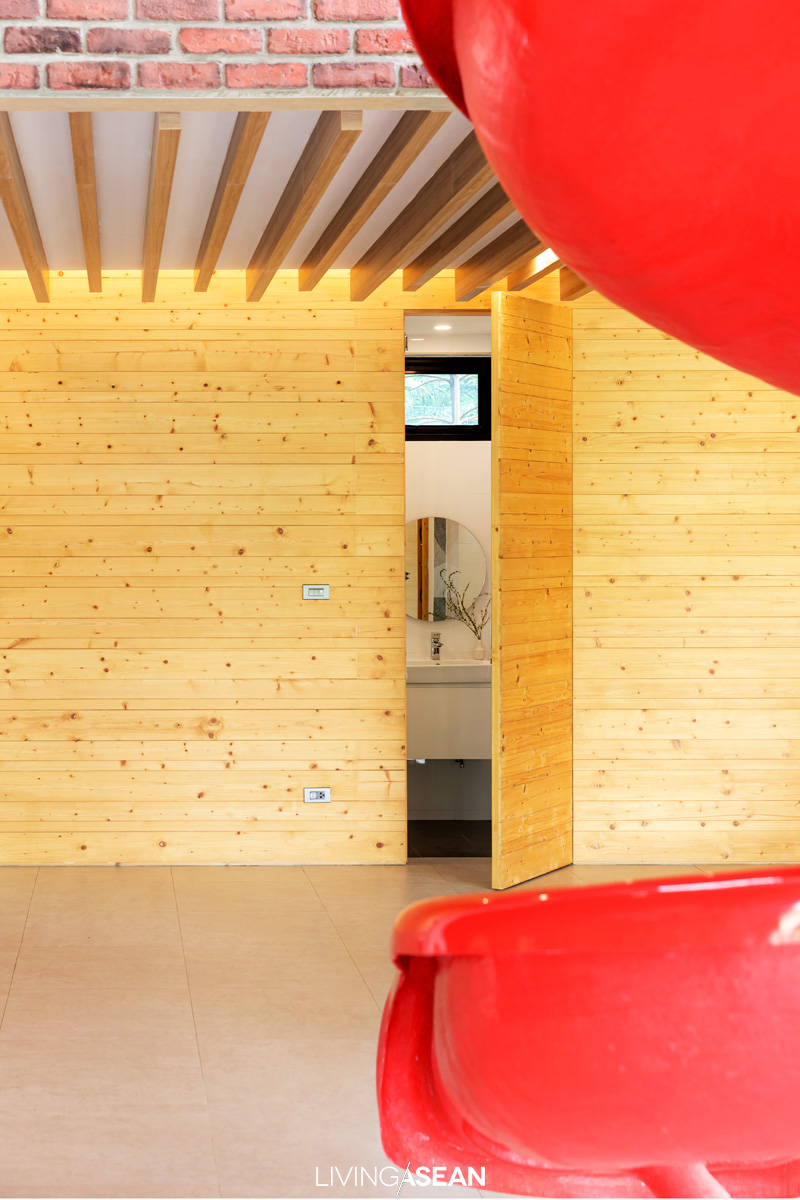 Coffee corner and color scheme inspired by Apple store design
While construction was underway, the couple went out to look at many coffeehouses in search of decorating ideas.
They wanted the kind of interior that would create a conducive home office environment. Later, they visited an Apple store and came away impressed by its simple, clean design that made visual merchandising really stand out.
Together, white, gray and black proved a perfect complement to wood panel walls in natural shades. The cool color scheme was adapted to give their modern lake home a warm and welcoming atmosphere.
Aesthetically, a center courtyard with waterfalls makes perfect sense with the U-shaped house plan. It affords beautiful views and makes the interior living space feel more comfortable.
Healthy, green spaces improve air quality and control sunlight filtering through trees. Plus, they create peaceful moods and encourage people to spend more time outdoors.
Sakdrin asked for the tropical plant Pandan (Pandanus amaryllifolius) for his garden because he liked eating rice porridge flavored with fragrant leaves. At one time, he even kept giant freshwater prawns by the waterfalls for food, but later stopped eating them due to emotional attachment.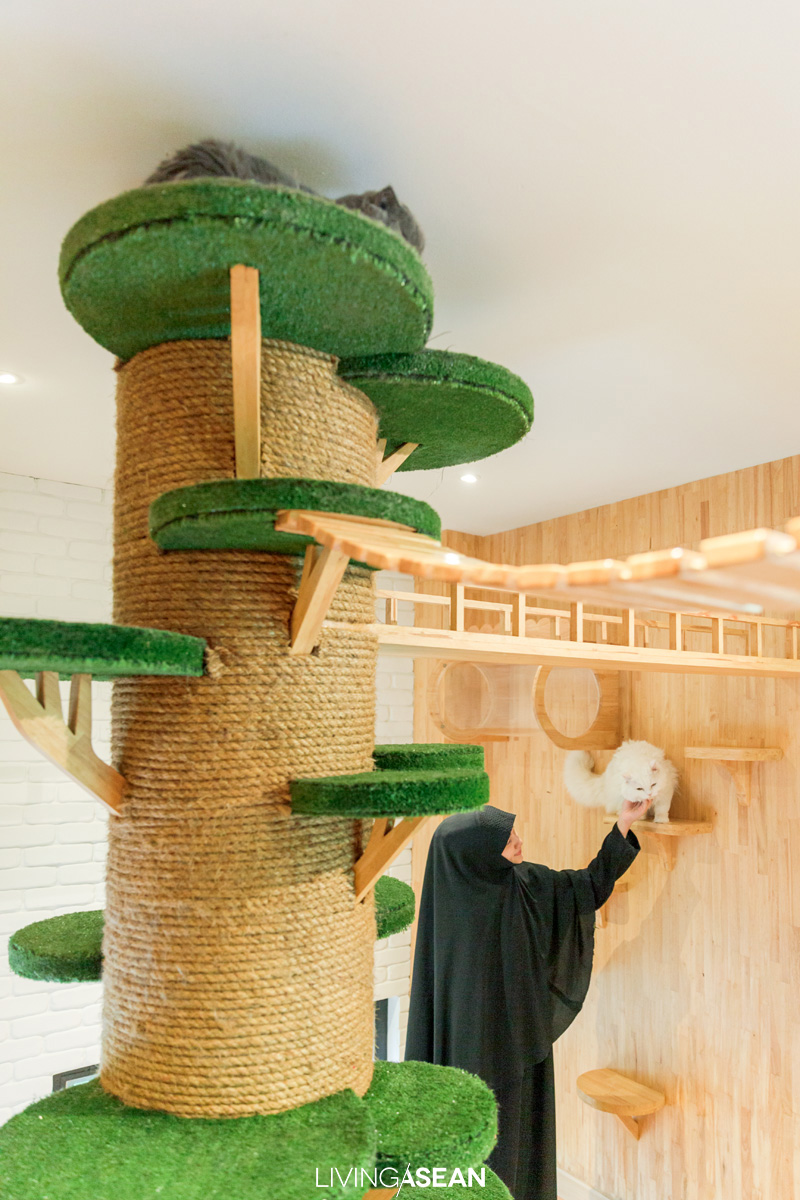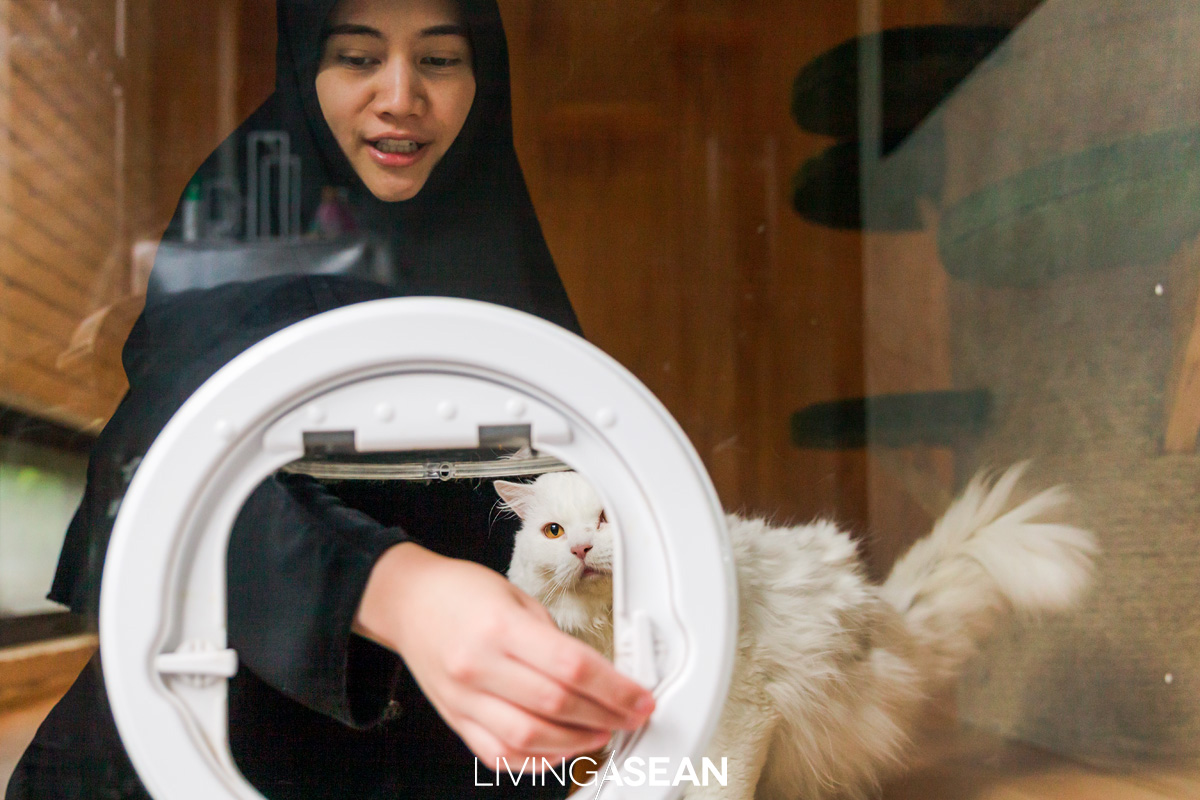 Water slide, cat house, and Japanese room
The furniture, fittings and other decorative accessories say a lot about this active family.
Sakdrin is full of energy and enthusiasm, the likes of which are obvious in his daughter. Even at this young age, the little girl enjoys sliding down into the living room by herself, apparently happy and content.
Meantime, his wife Aphaphon is equally pleased to spend time with and take care of her cuddly feline.
Sakdrin said that when he and his wife first met, the only places they went on a date were cat cafés in the city. Now that they had a house of their own, it made perfect sense to create a room just for cats.
For the love of Japanese architecture, they built a Japanese-style room in the opposite wing. Inside it, the floor is covered in traditional tatami straw mats, while bamboo lines parts of the exterior.
Long story short, it's an opportunity to experience the allure of the Japanese countryside. Only this time, it's tucked away in a peaceful rural setting off Pattanakarn Road in Bangkok.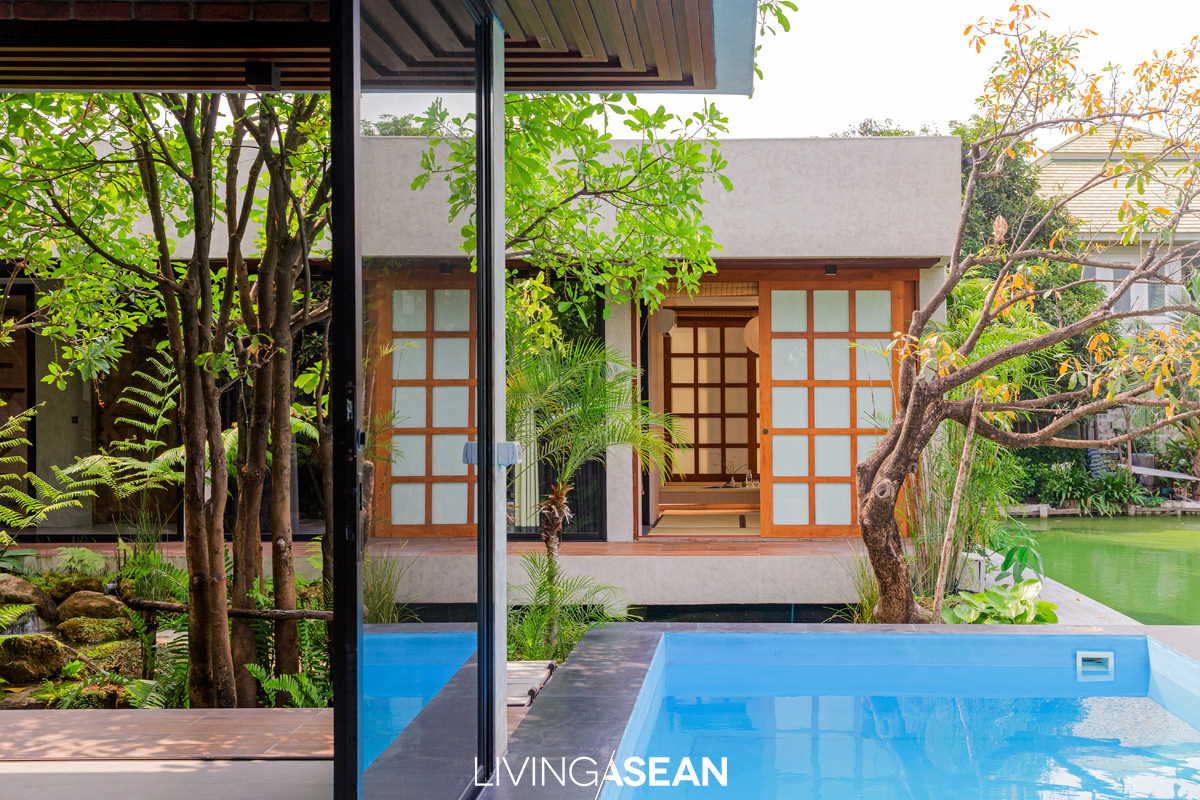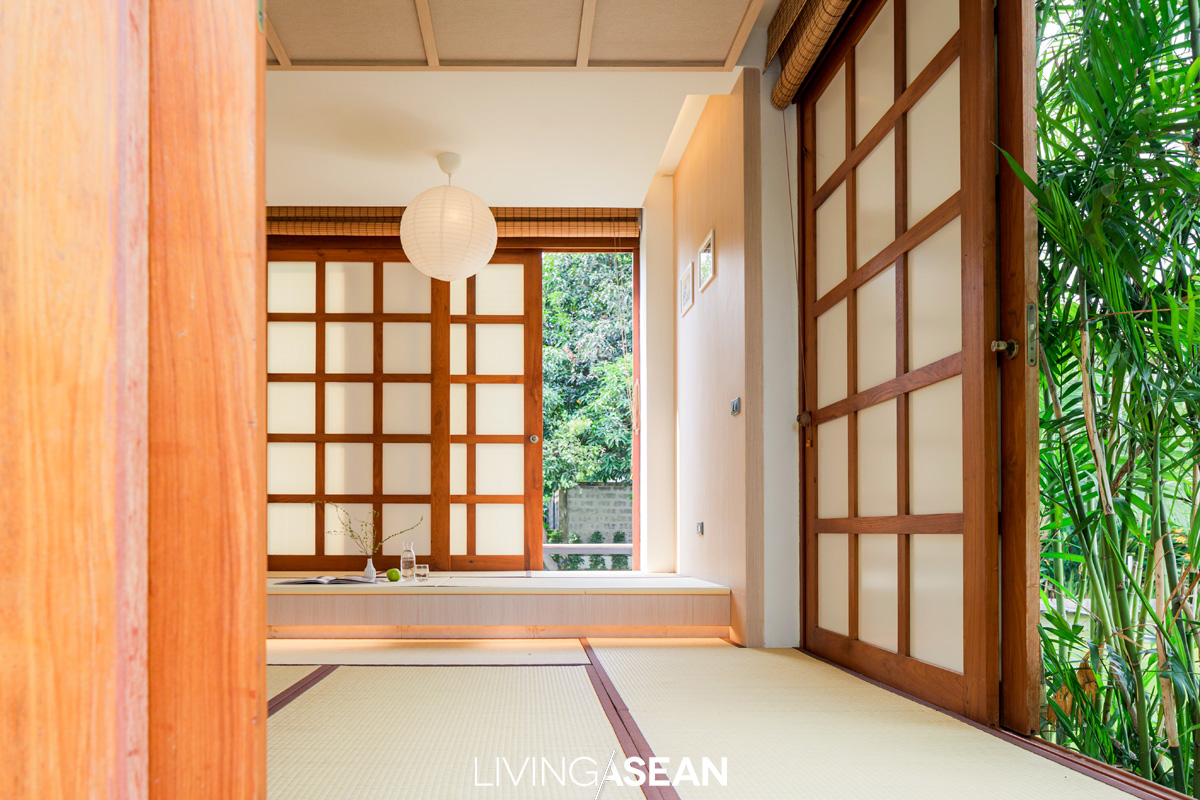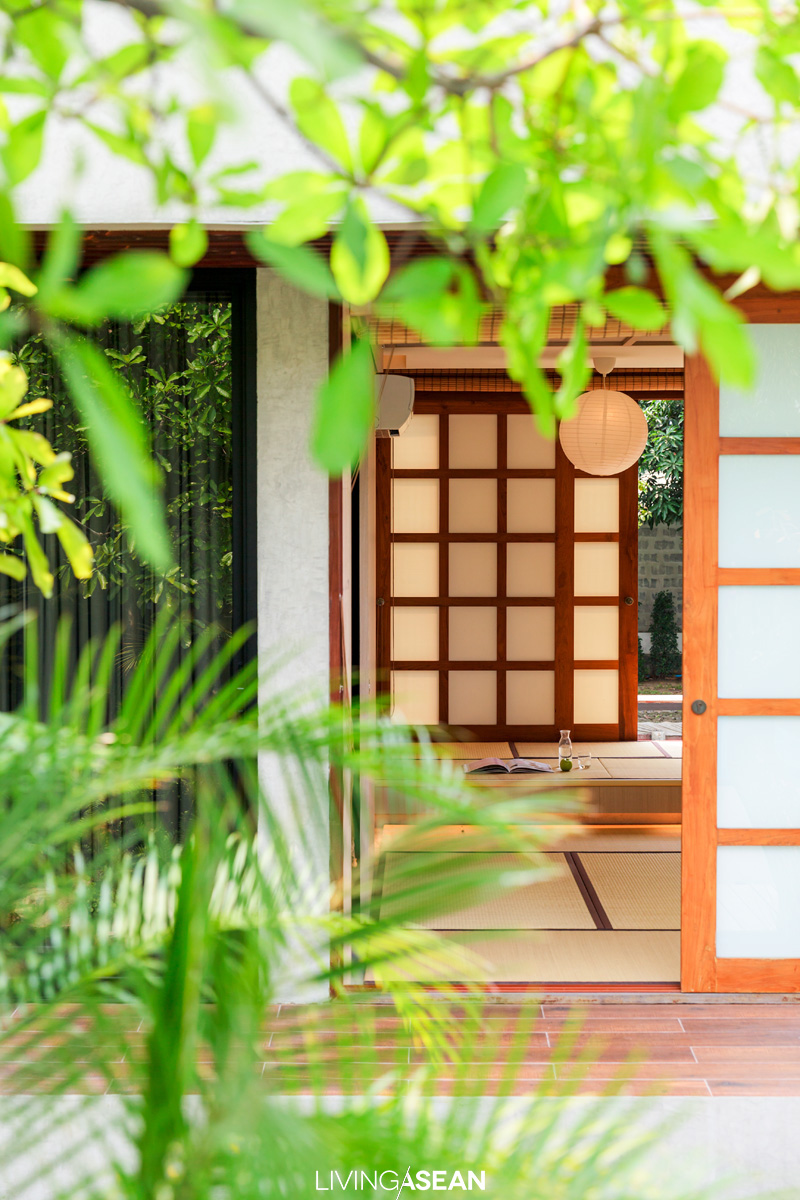 The importance of correct building orientation
The U-shaped house plan projects into a large water body formerly used in aquaculture for fish farming. The lake that lies to the west provides a buffer against warm air currents as sunlight travels straight down to Earth.
Westerly wind over the water surface produces a tremendous cooling effect, resulting in thermal comfort in the center courtyard and interior living spaces. The kitchen is separate from the living room to avoid lingering kitchen smells.
By design, this modern lake home makes a great first impression. Floor-to-ceiling windows on the front façade afford beautiful panoramic views of the lake and surrounding landscape.
Meantime, the center courtyard with artificial waterfalls brings down the ambient temperature and controls sunlight filtering through trees.
Further away, drooping branches of Lampoo or cork trees (Sonneratia caseolaris L. Engl.) line the lakeshore. All things considered, it's a house built for comfort, where every day is a picture-perfect summer day.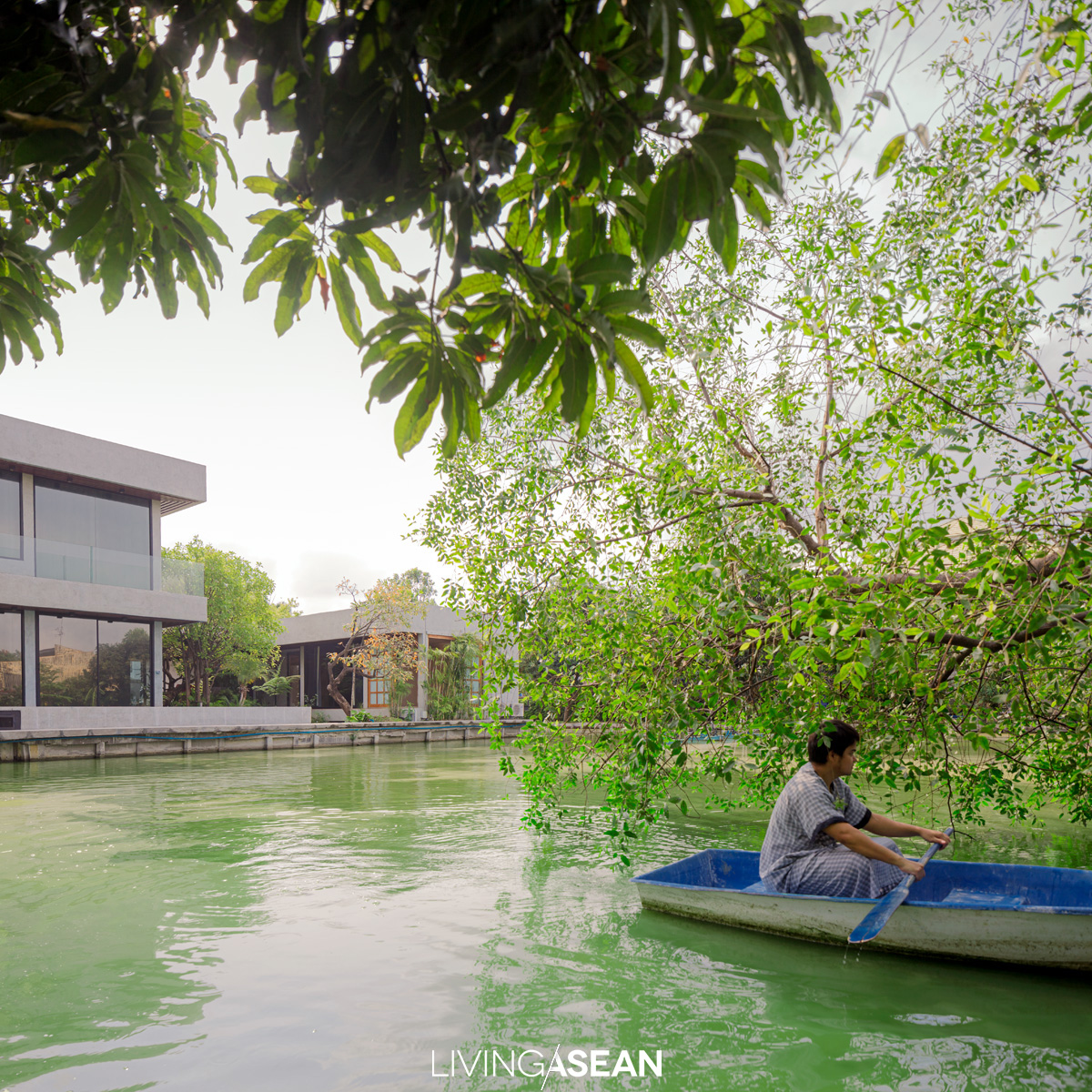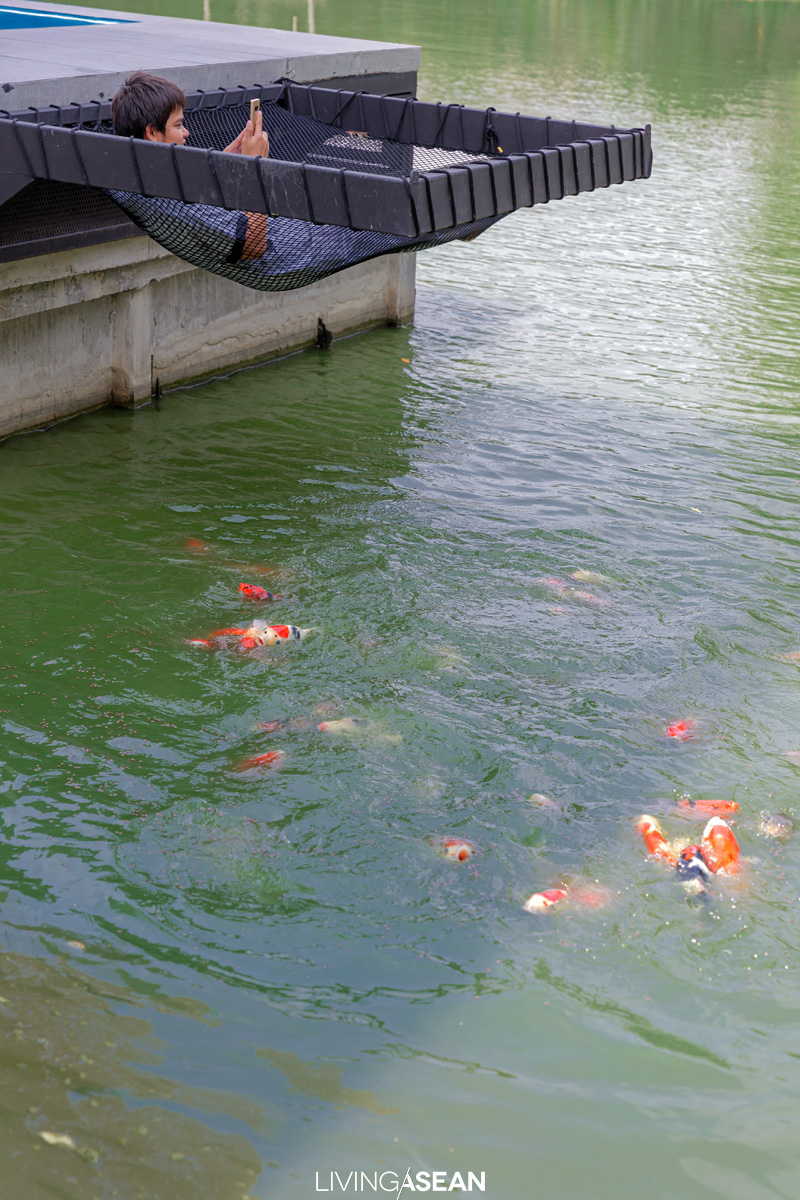 ---
Owner: Sakdrin Sadlae and Aphaphon Midnoi
Designer: Khomsaan Kamsawas and Apaporn Mitnoy
---
You may also like