/ Chiang Mai, Thailand /
/ Story: Patsiri Chotpongsun / English version: Bob Pitakwong /
/ Photographs: Sitthisak Namkham /
Turning left into a side street opposite Chiang Mai's Mae Rim district bureau, rice fields on both sides of the road have matured and only just begun to bear fruit. In the middle of it, all emerged a two-storey wooden house with vintage Thai-style appeal. It stood hemmed in by tall trees and lush green lawns. This two-storey wooden house showcases a mix of concrete and timber, its wide façade looking out on a fabulous panorama of mountains and paddy fields.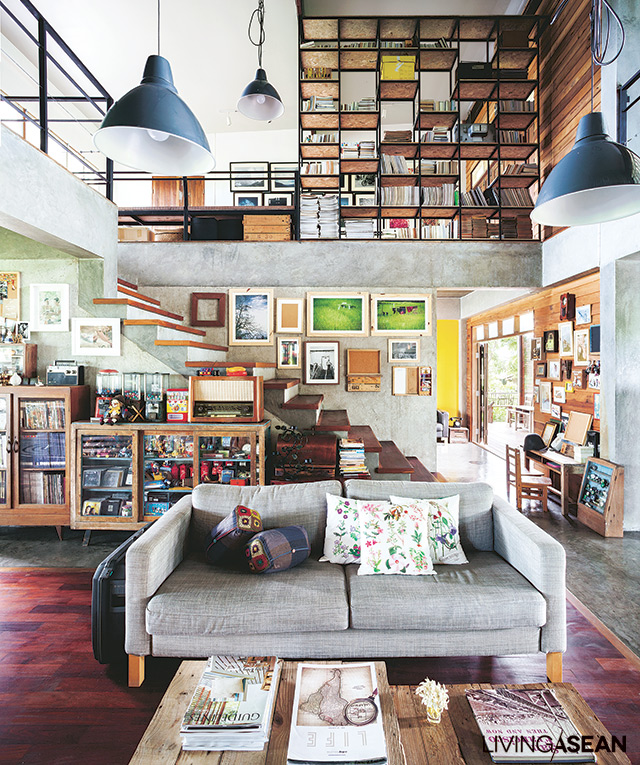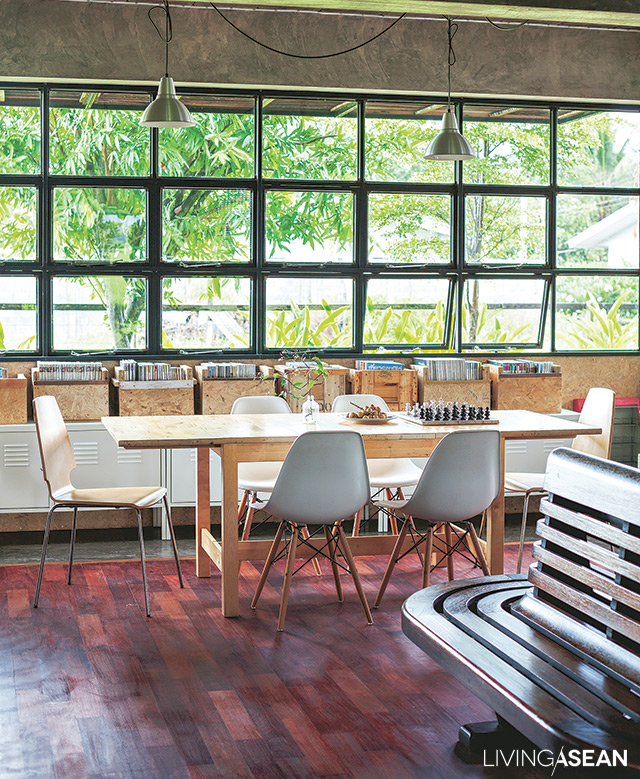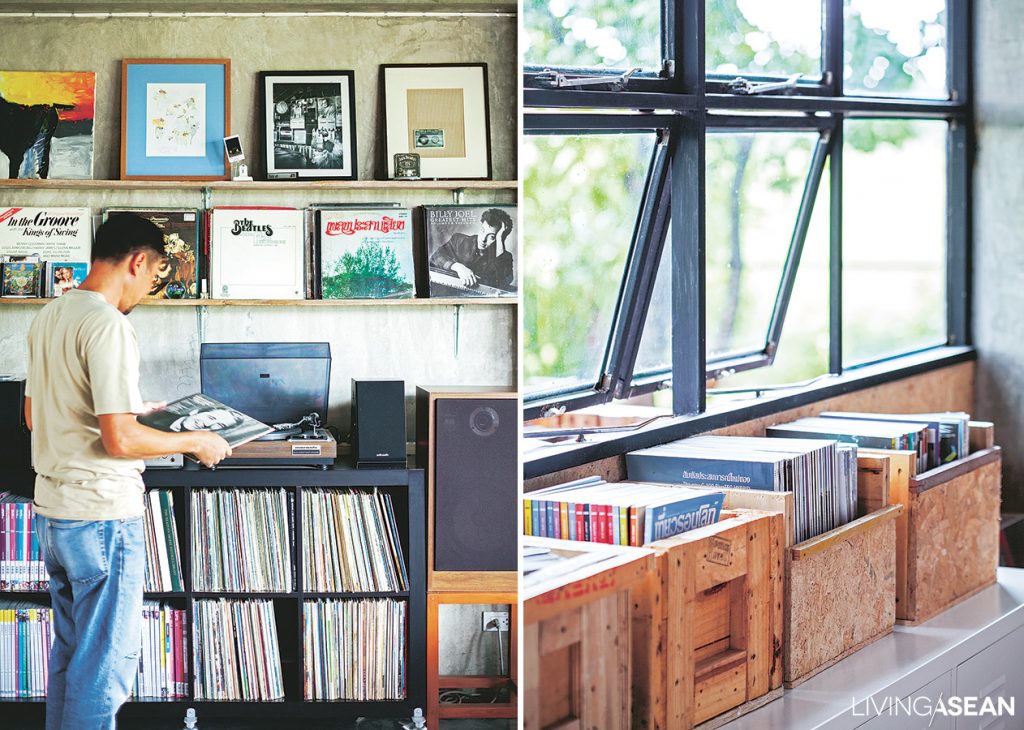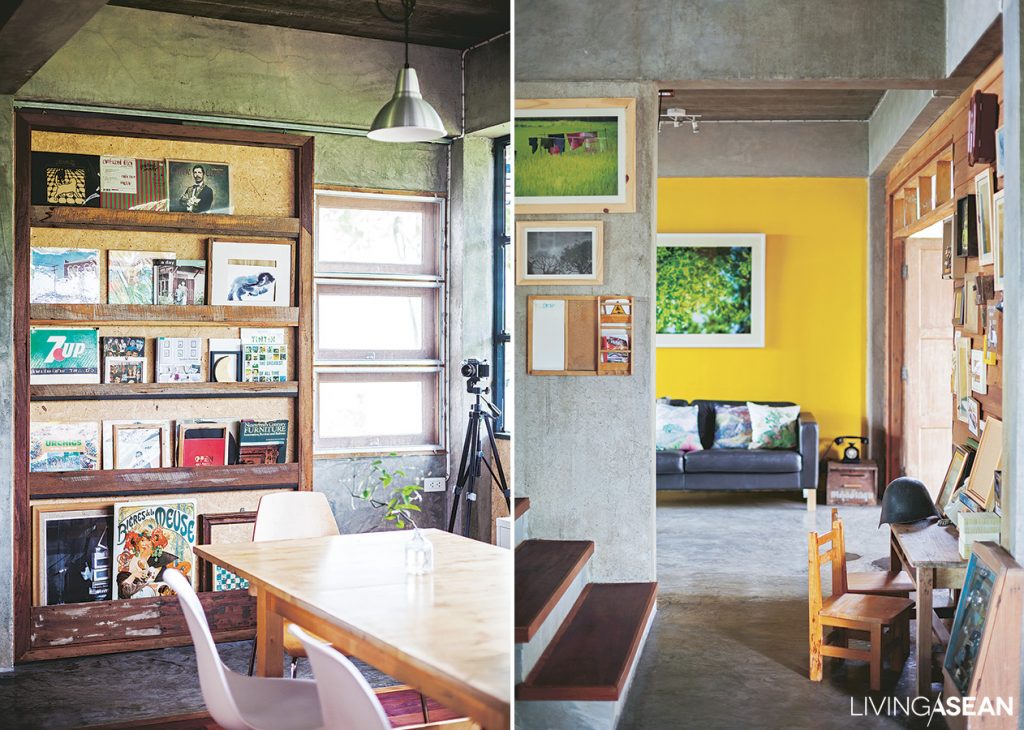 Anchan, the housedog, gave a welcome bark, followed by greetings from the mustached host, "Tom" Apichai Wangtragul. He introduced us to his better half, "Saa" Narawan Rajchasee Wangtragul, AKA the heart of the house. The Retro look of her Thai-style sarong matched the atmosphere of the home named "Good Old Days."
"Back in Lampang we had a small coffee shop offering snacks and selling guitars. It was very warm there, so we started looking for a new home in good weather. We found one on Google, not far from where we wanted to build our first home in Chiang Mai. One day that piece of land was up for sale, and we were lucky to have bought it," Saa said.
Tom was teaching draftsmanship courses in Lampang, when they met, and the rest is history.
In Chiangmai, he designed the new wooden house after first setting up a model to determine effects of different building orientations at various times of day. He kept track of amounts of sun and natural air circulation and used the information to aid in the design.
The result was a home that fit in well with its natural surroundings and weather conditions.
As he puts it, "The home facing west gets a full dose of afternoon sun. The glare can be felt, no doubt, but the trade-off is worth it.
Panoramic sunsets can be seen every day." To solve the problem, he has put in moveable latticework, which reduces the sun's harsh glare.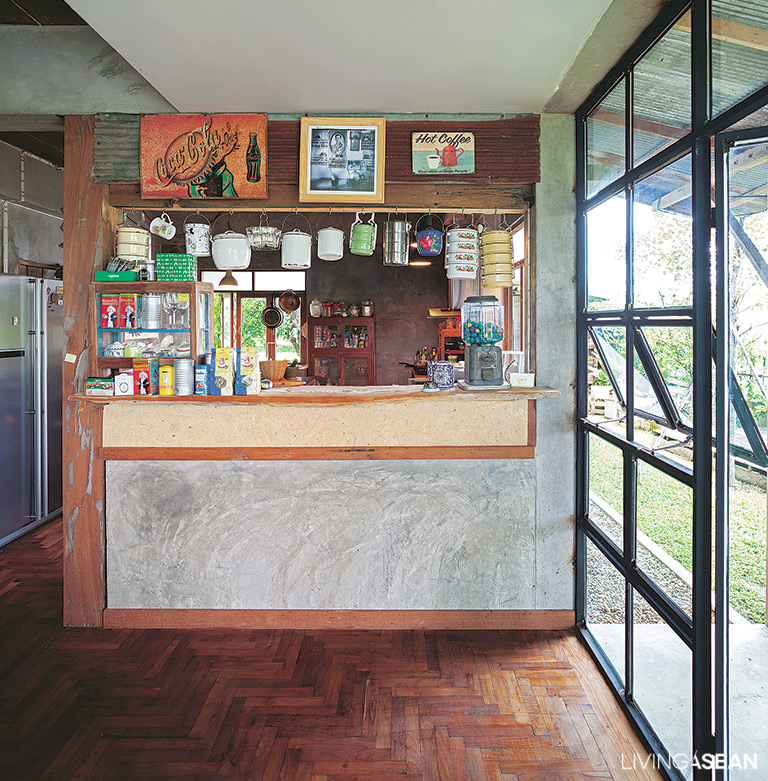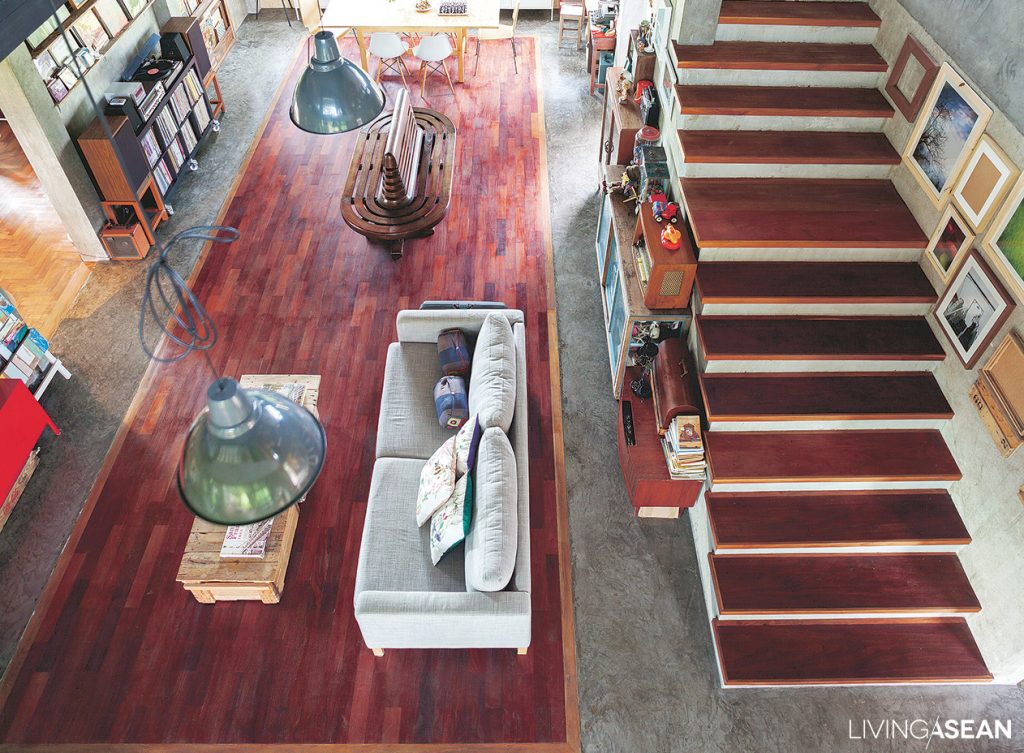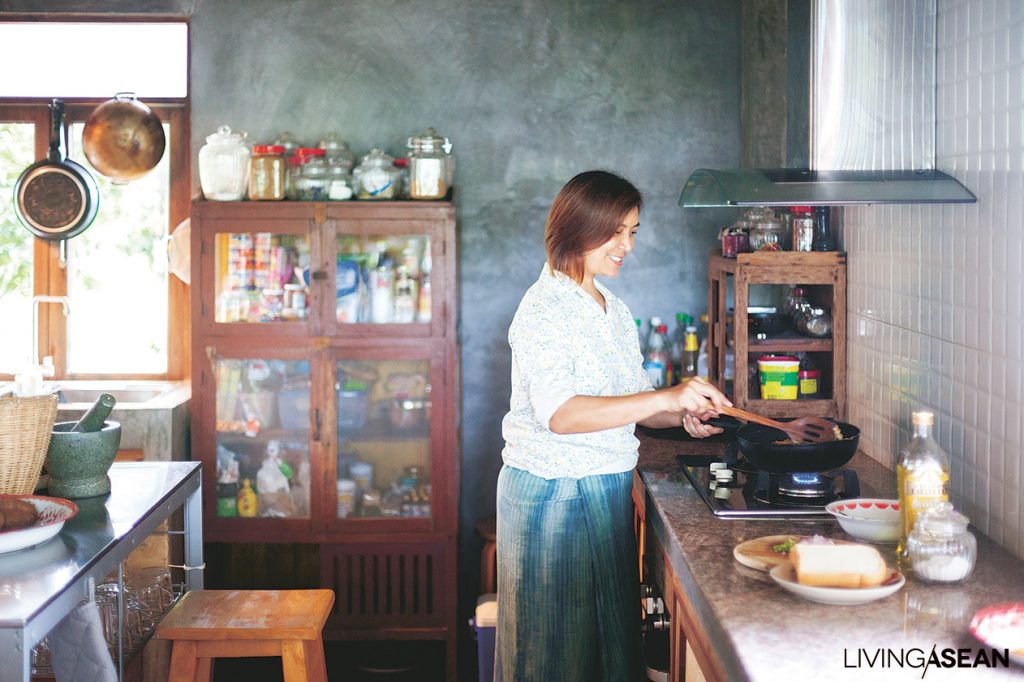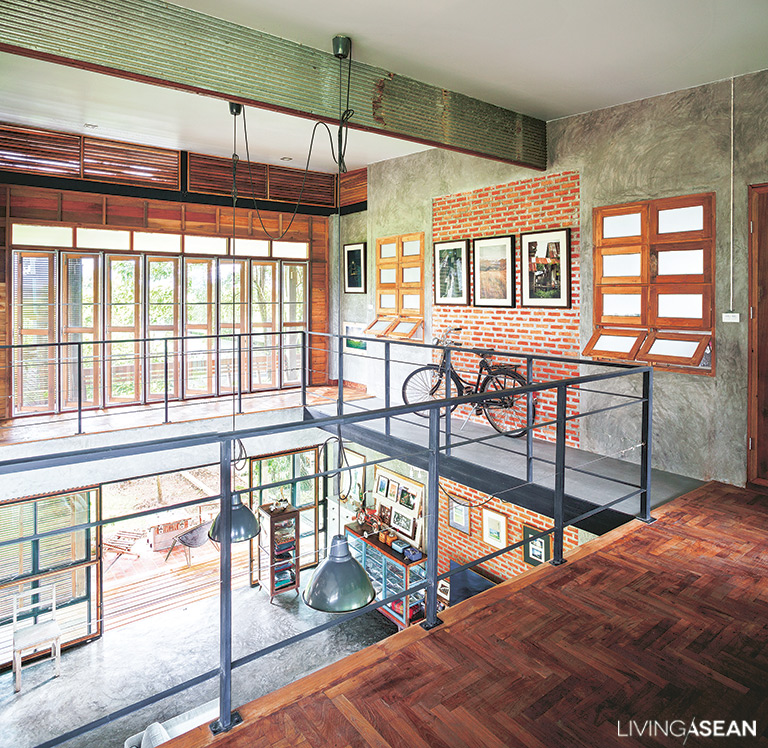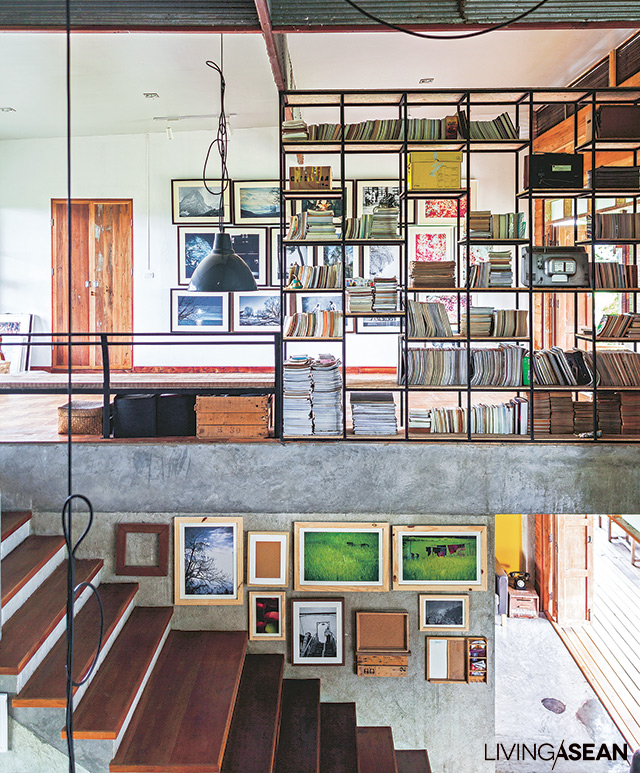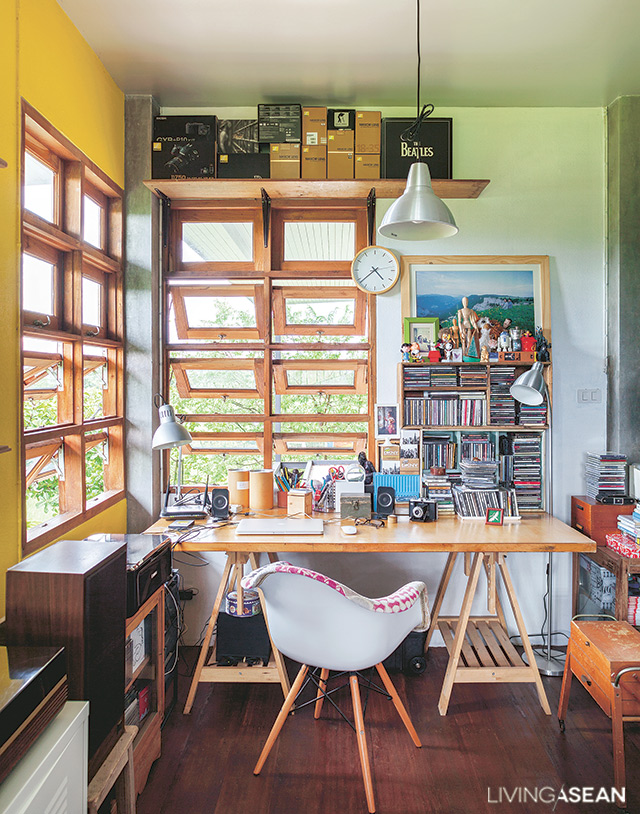 "I grew up in a wooden house on the water's edge. I told him I wanted one with a shed roof made of corrugated sheets just like old times," Saa recalled.
"Tom said that could not be done. So we built our new home using metal sheet roofing instead. I wanted doors with plantation shutters and places to showcase collectibles that we have cherished for a long time."
Tom made sure his loved one got what she wanted. He searched and found reclaimed timber in Sanpatong and paired them with old wood imported from Lampang.
The timber supplies included Burma padauk wood, ironwood, and teak. The couple sought blessings for peace and prosperity before every piece was put to good use.
Apart from carpentry details, Tom is passionate about modern style with an emphasis on naked concrete finishes. Together they make the building feel light.
The interior living spaces are light and naturally ventilated, thanks to plenty of openings on all sides. Each function area is clearly defined with floating furniture for easy updates.
This design concept applies to the sofa in the living room and the dining table by the rear windows. The kitchen comes fully equipped, as their house becomes a home-stay destination.
The couple does everything in-house from selecting natural ingredients to preparing indigenous meals. It is attention to details and good health practice that keep customers coming back.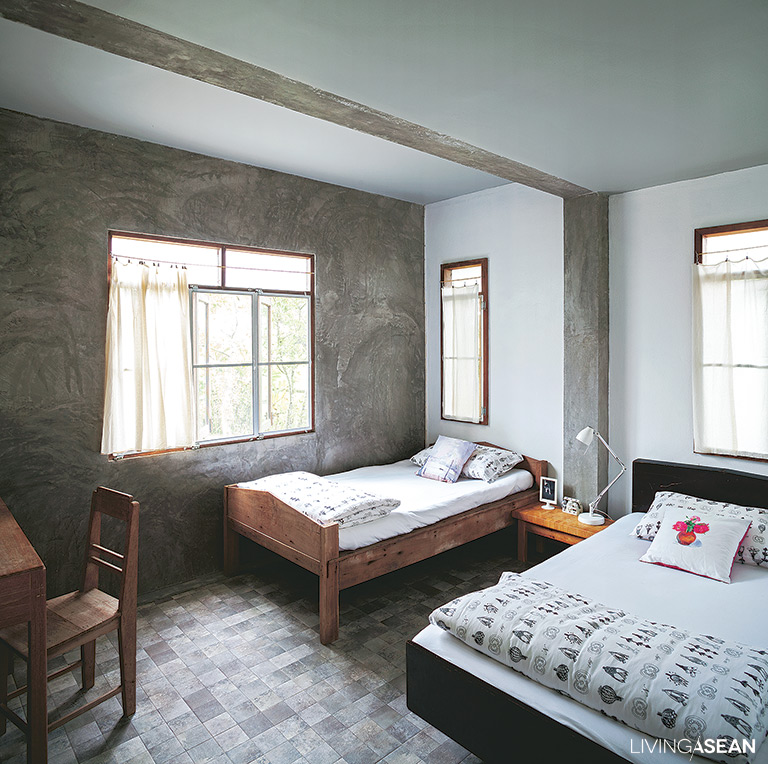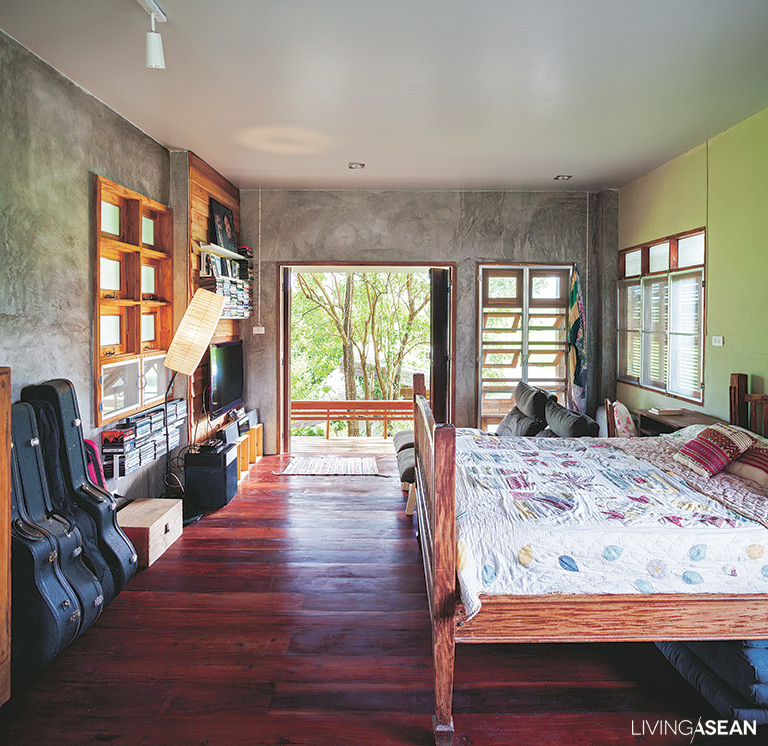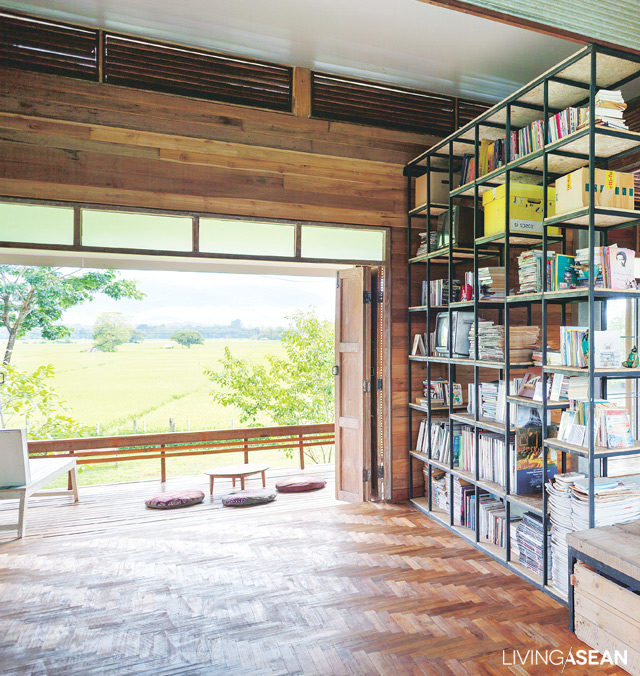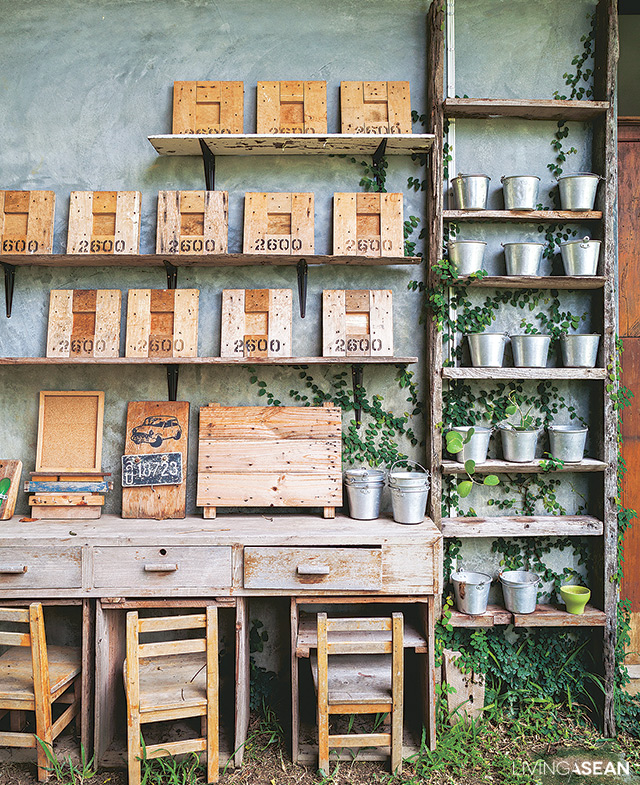 Tom keeps a collection of vinyl records for sentimental reasons. He likes listening to relaxing music on the old-fashioned phonograph while Saa cooks. Some of it is rare on this day and age. Here time goes by so slowly that it seems stuck in history.
The floor plan features a flight of stairs made of concrete and wooden steps. Located in the center, it keeps the two bedrooms on the first floor a good distance apart for added privacy. There are cabinets where old books and other collectibles are neatly kept. Nearby stands a gallery made for lounging, reading, and viewing pictures on the wall.
The second floor offers two good-sized bedrooms : one for guest accommodations, and the other for the couple's exclusive use. There are antique beds in all of the bedrooms. Saa said she felt good about them knowing they came from good homes. She bought them direct from their previous owners. Between the two rooms stands an office space, where Tom spends time working at his draftsman desk. The workspace is bedecked with collectibles including old cameras and vinyl records.
As Saa puts it, "This is the wooden house that strikes the right balance for the two of us. It effectively chronicles our love story and journey through time. I am just happy being here.
"Chiangmai is such a delightful place, with canals, plenty of water, trees, and beautiful culture. During the period from November to February, our house becomes a home-stay destination.
Known as "Good Old Days," the house has become a wholesome getaway for like-minded people. The service is not available during summer months, because we don't use air conditioning. Time is well spent in the great outdoors.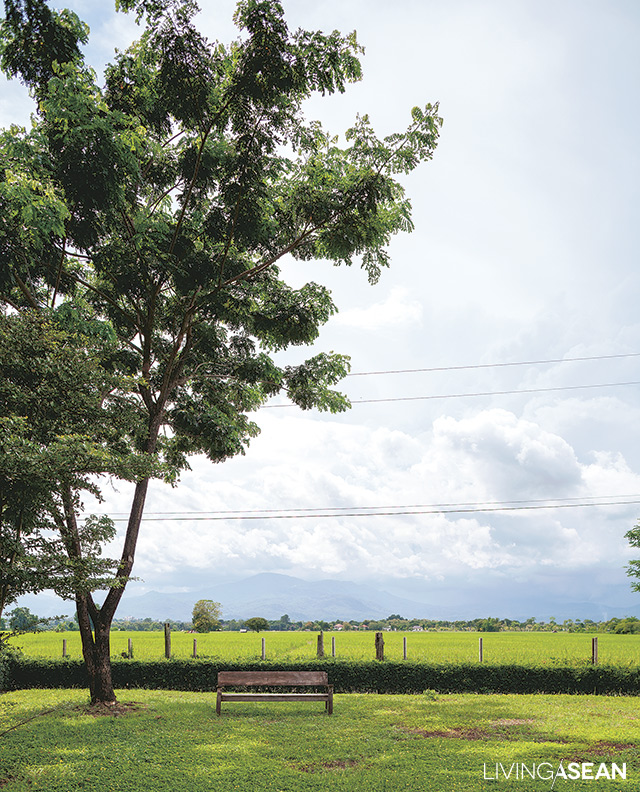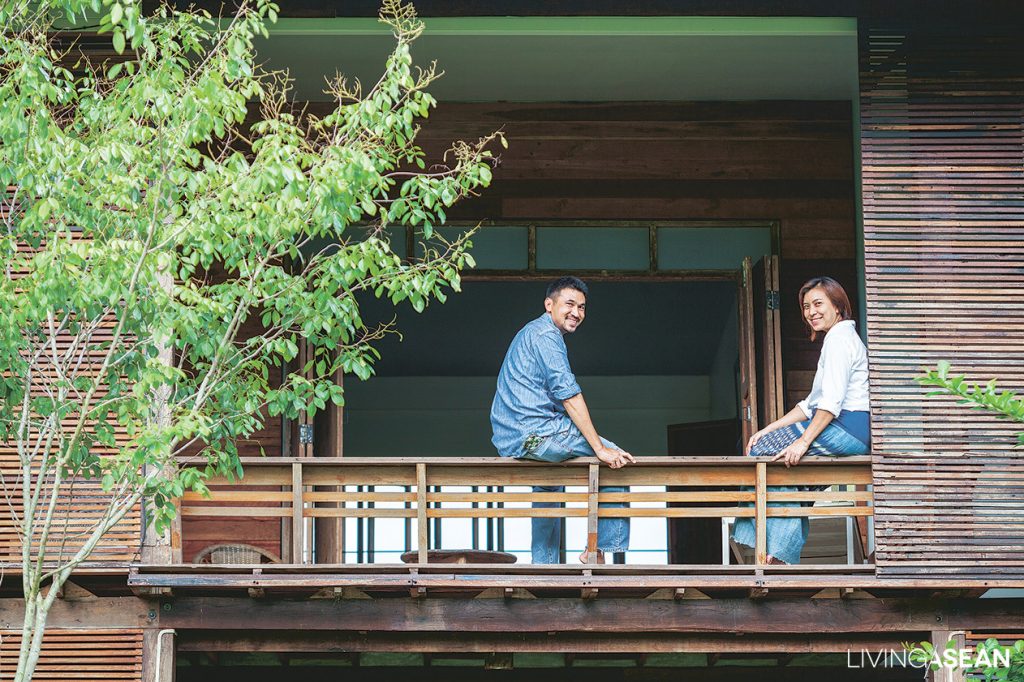 ---
Owner/Designer: Apichai Wangtragul
---