BANGKOK / Here's the story of a home renovation done right. Cherishing memories of the good old days, Chatchawan and Punjama Lertbutsayanukul recently had grandma and grandpa's house restored to its former glory. They sought advice from Jun Sekino of Jun Sekino A+D, who turned it into a beautifully crafted home with added personality and character.
Sharing his renovation ideas, Jun Sekino said: "After having talked with the homeowners, we were determined to keep the front-gable house plan very much intact. Several inspection visits in the ensuing days also gave me some ideas to do it right. It was like a journey back in time to preserve all its 1940's splendor."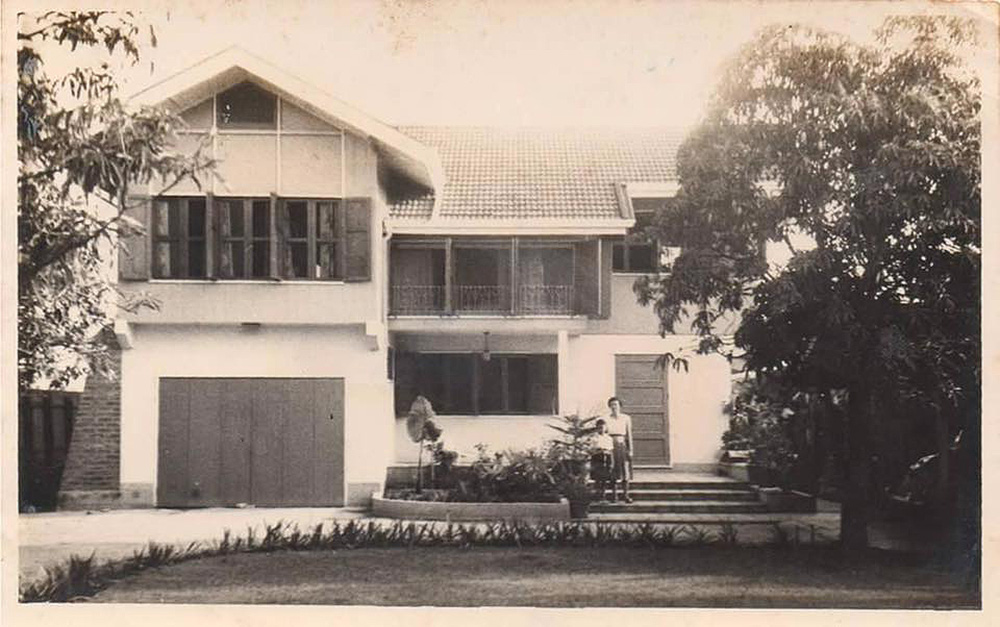 The 80-year-old house soon transformed into a new home that's more warm and inviting. It's aptly named "Nobita House" after the much-loved, fictional boy character in the 1970's cartoon series "Doraemon". In the fewest possible words, it's about rebuilding for a better future.
Restoring the old house to a good state of repair, the architect made sure the original framework was not damaged or impaired in any way. Thanks to collaboration with a team of structural engineers, the carport was reinforced to make it capable of accommodating two vehicles side by side. The front façade was built of reclaimed timber from the old house installed vertically with protective finishes over the top to protect it from the elements.
The gable roof was improved using new material and sloping at an angle that's proper under the circumstances. To make room for a higher ceiling, the second floor was built 1.50 meters taller than the original plan. On the ground floor, suspended panels were removed to reveal awesome ceilings with exposed wood beams. At the same time, wood windows and extra units of construction were added on to increase the floor space from 100 to 300 square meters.
Where appropriate, a system of micropiles was erected to carry an additional load. The covered shelter in front of the entrance was enlarged, while the side of the house reserved for shoe storage connected conveniently to the carport. Meantime, fully open layouts translate into better natural light and ample space for social cohesiveness. On one side, the exterior glass wall looks out over a backyard garden. On another lies a corridor leading to a small courtyard at the rear.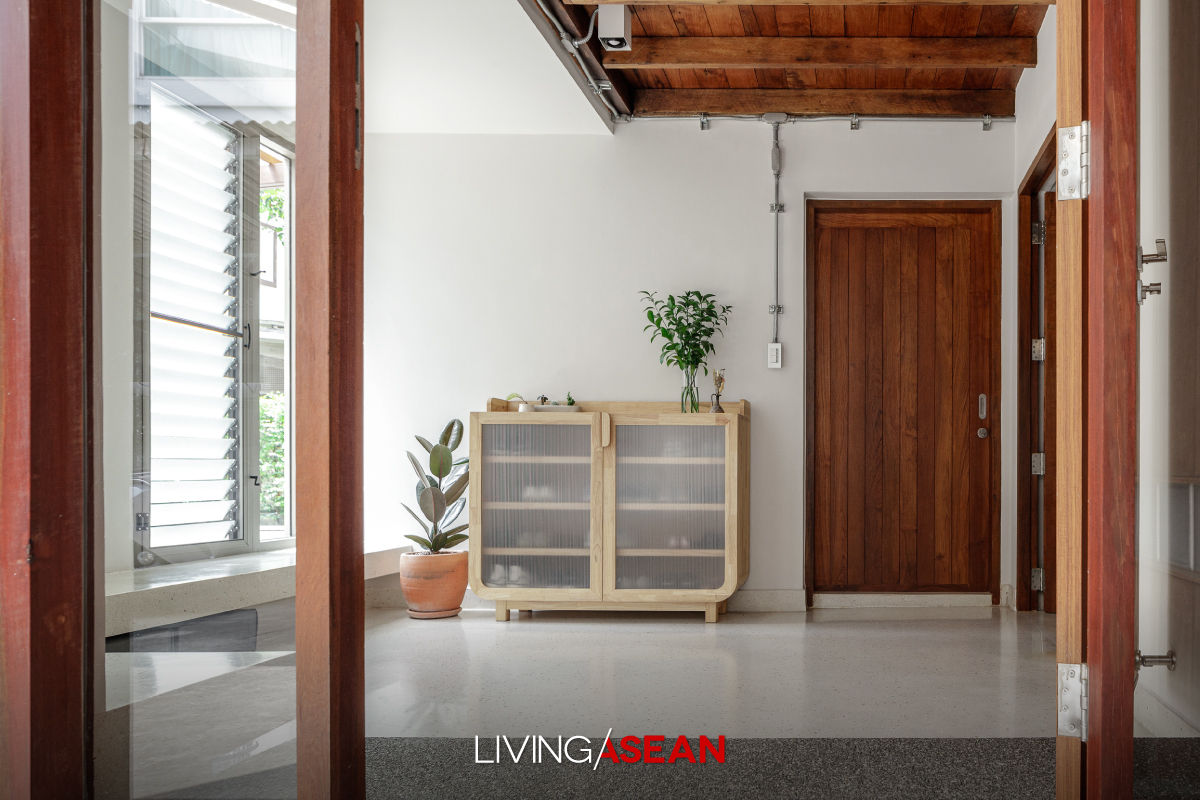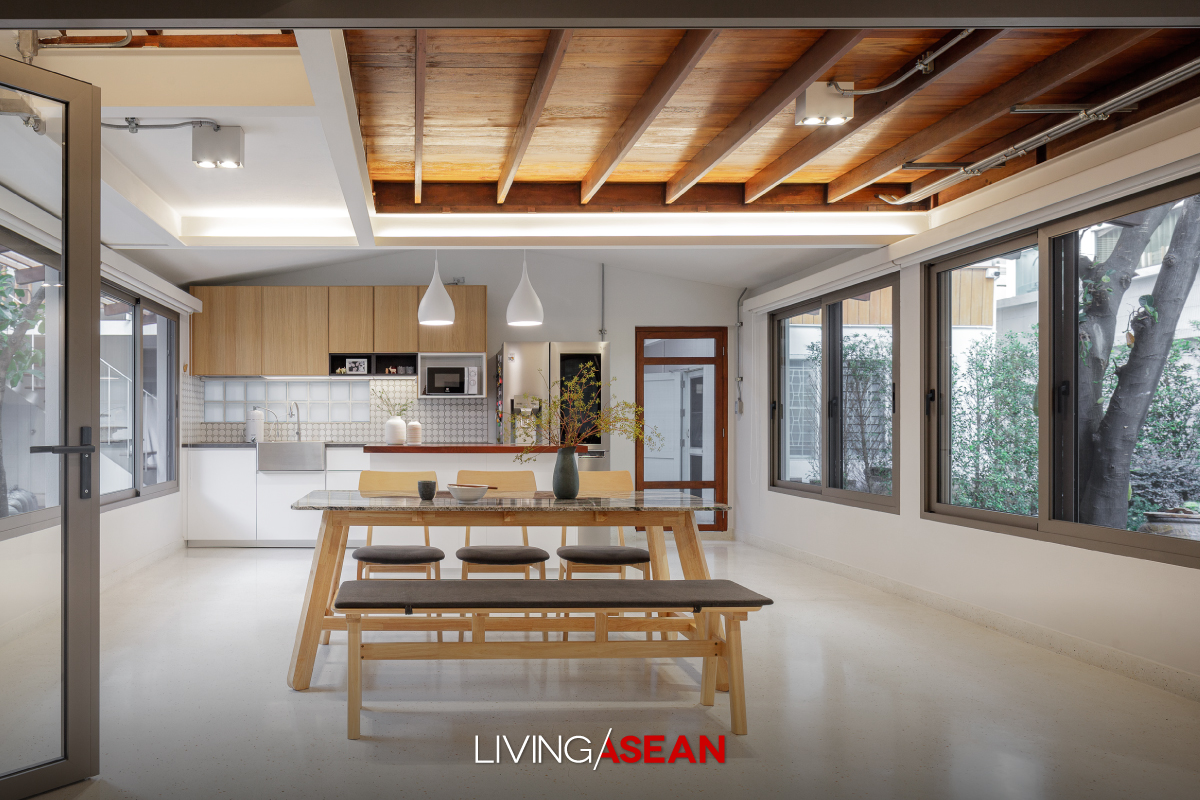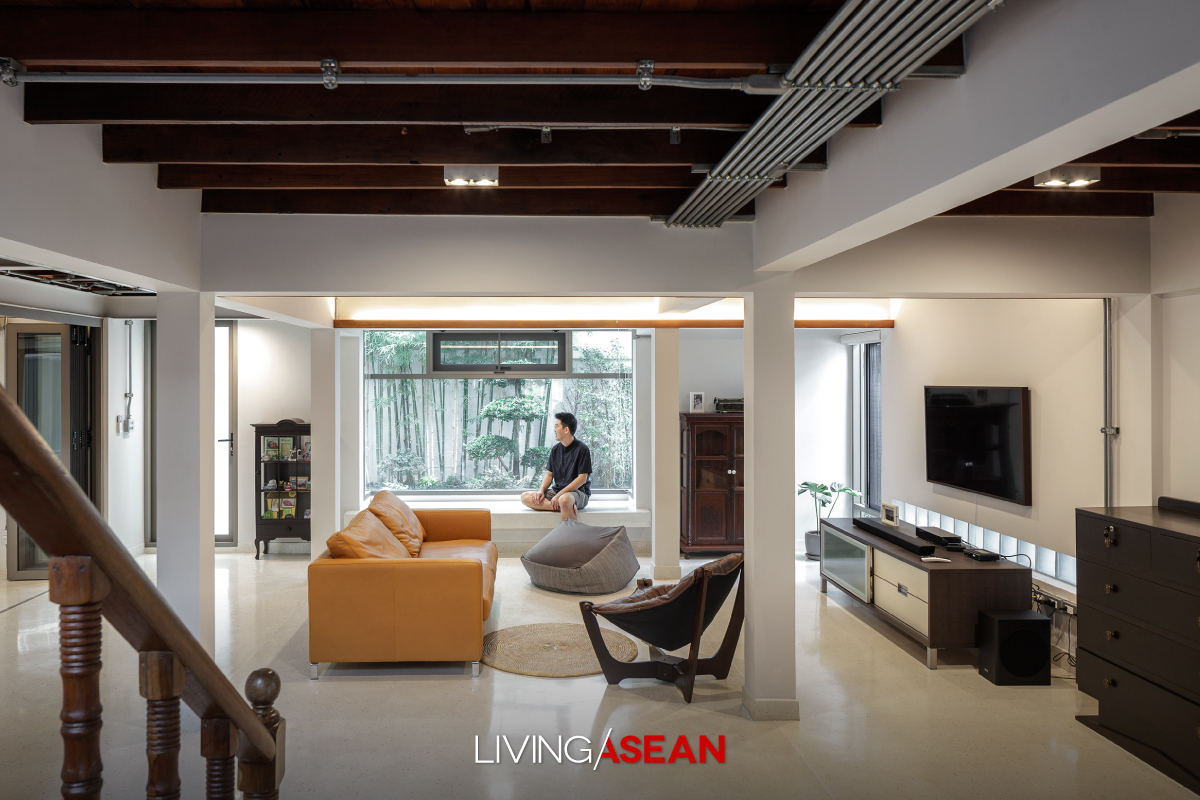 Thanks to open floor plans, the interior living spaces are easy on the eye. White walls with stained wood trim paired with natural light streaming in through the overhead transom create the illusion of a larger space. Nearby, white screens and Terrazzo floors combine to add vintage touches to home décor. Meanwhile, structural components made of steel, if any, are painted white to blend harmoniously with light backgrounds.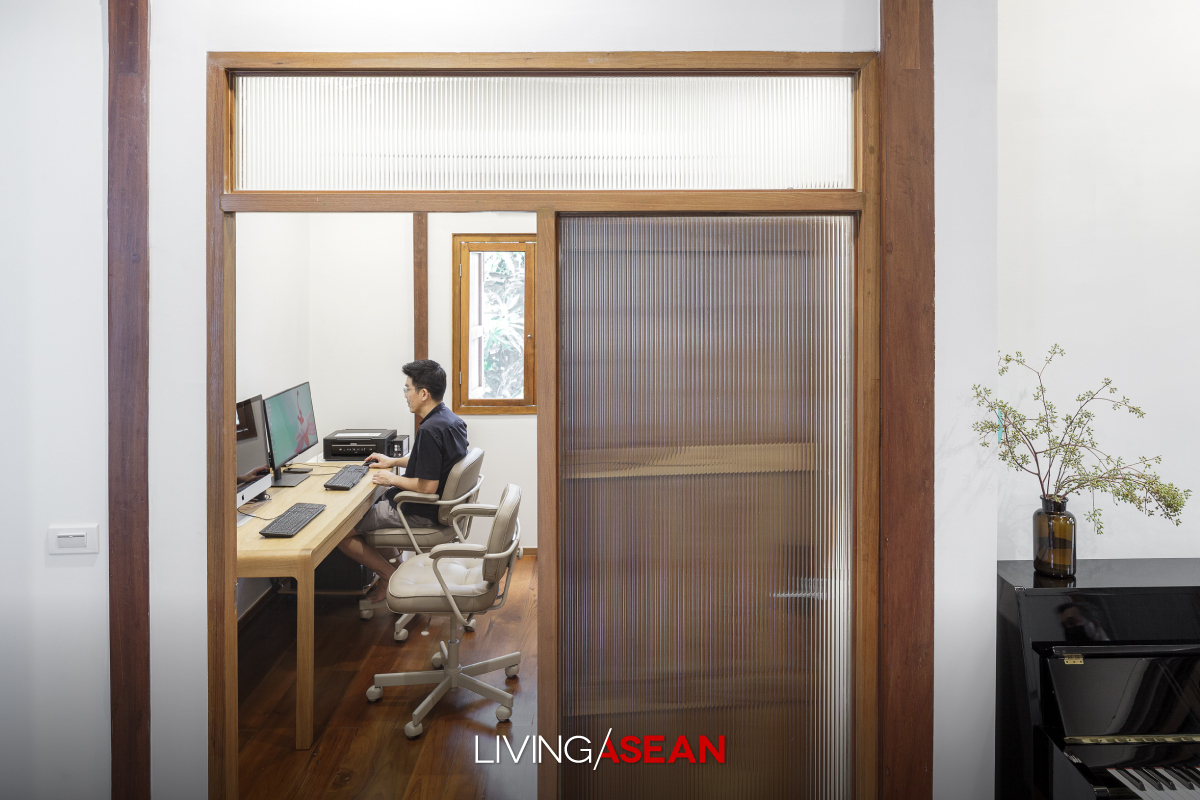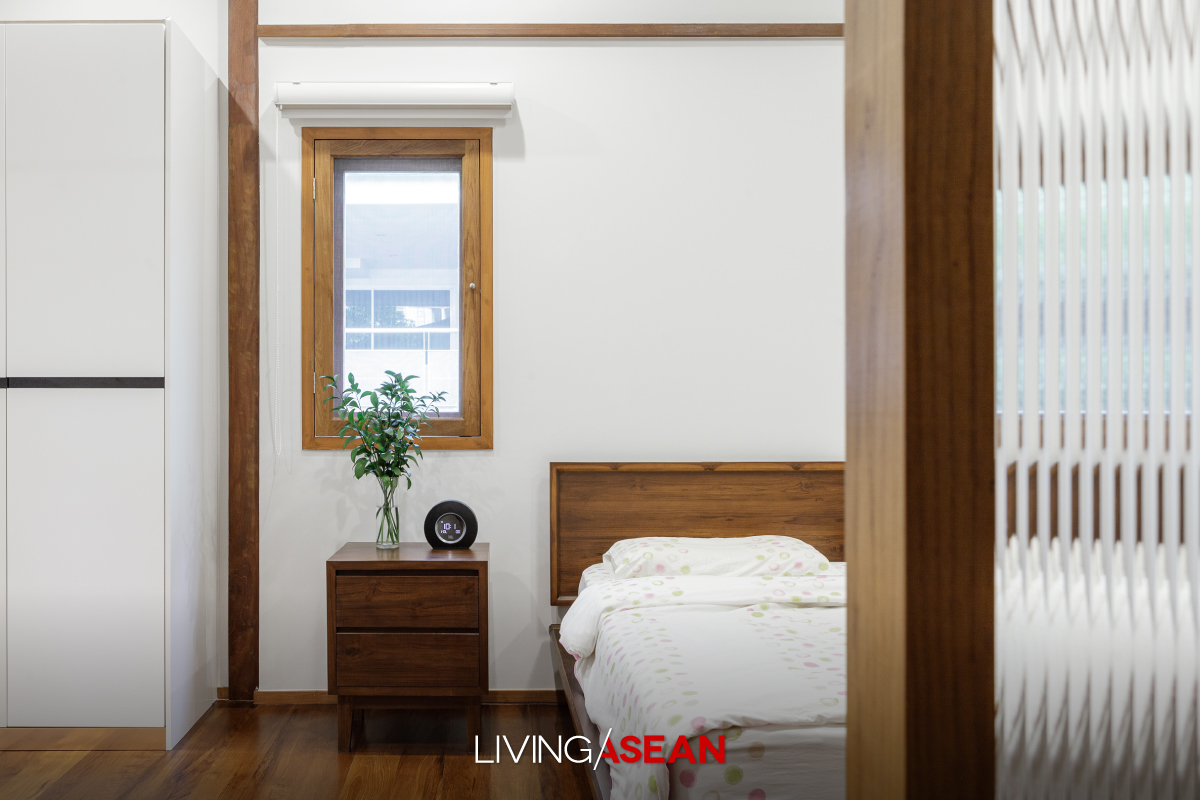 The second floor contains workspace with wood windows that evoke memories of years past. Wall paneling is flush with adjoining post and beam construction. The door frame with overhead transom is glazed using patterned glass. Not far away lies the restful master bedroom that's furnished in a simple style. The old living quarters for house workers accessible by a mosaic walkway remain intact. It's separated from a nearby outdoor laundry room by steel railing along the edge.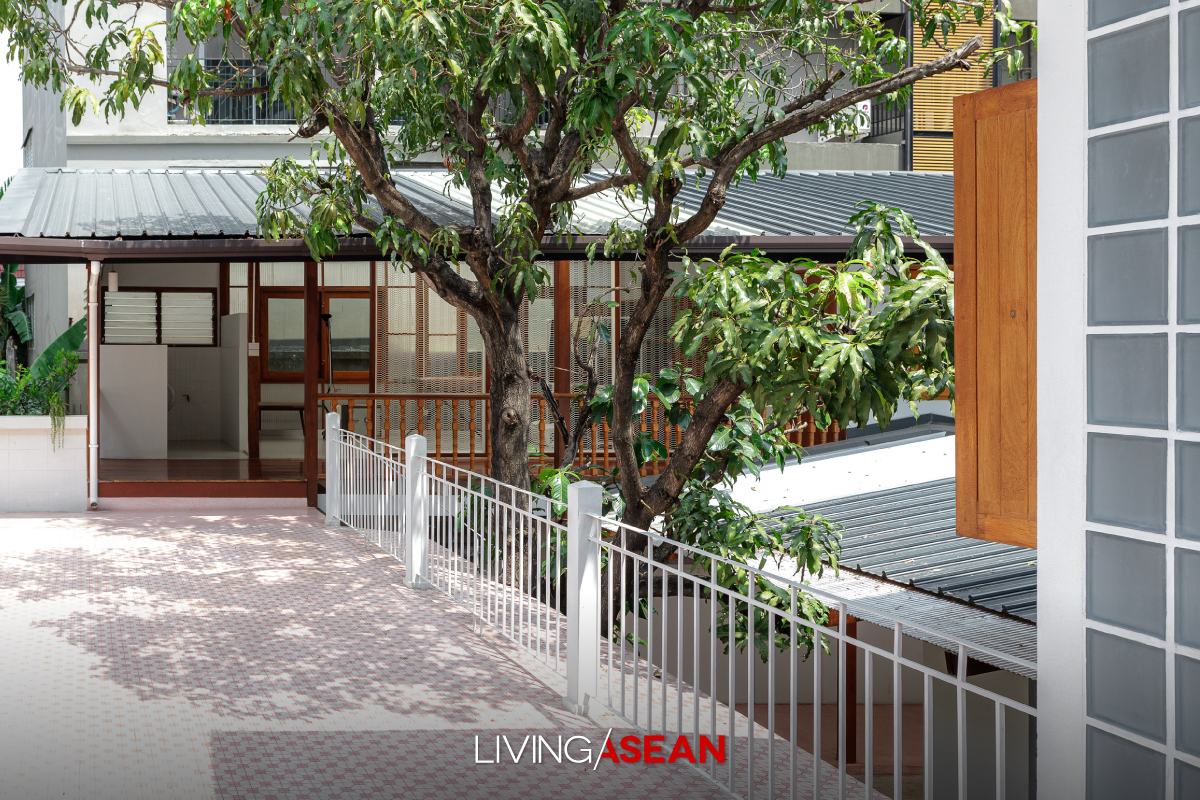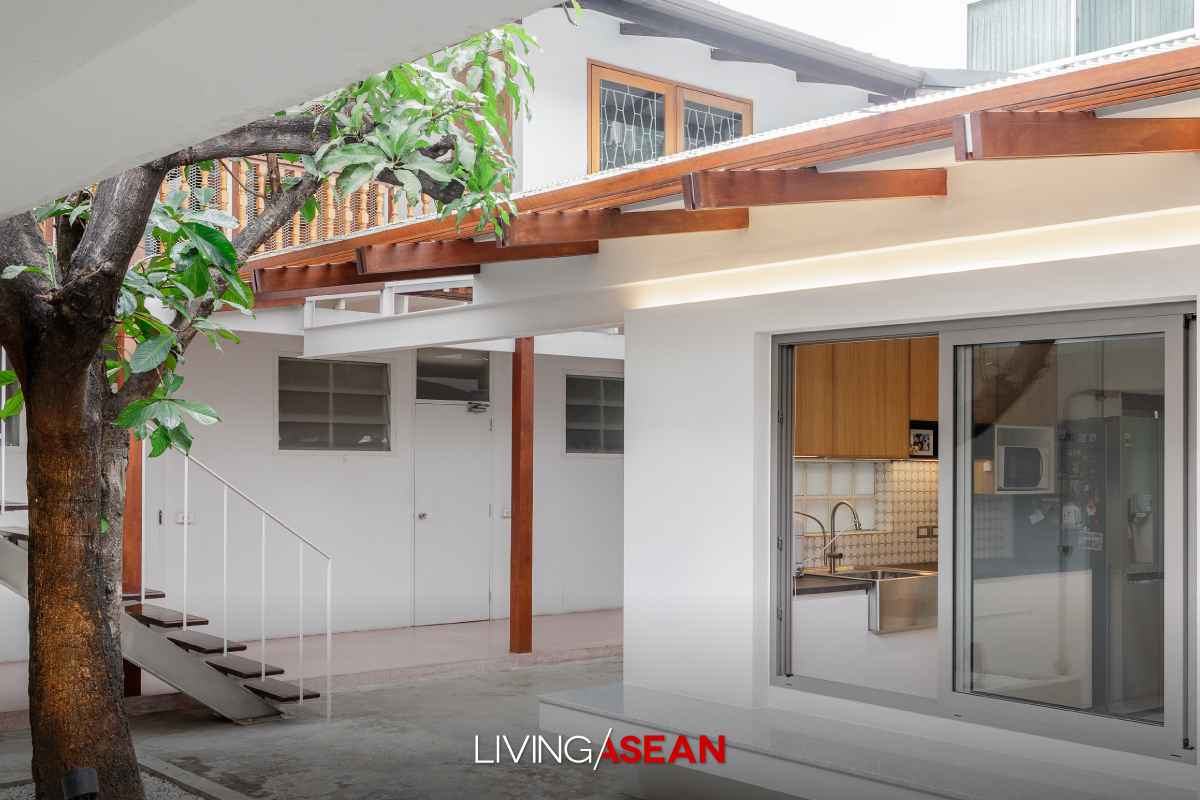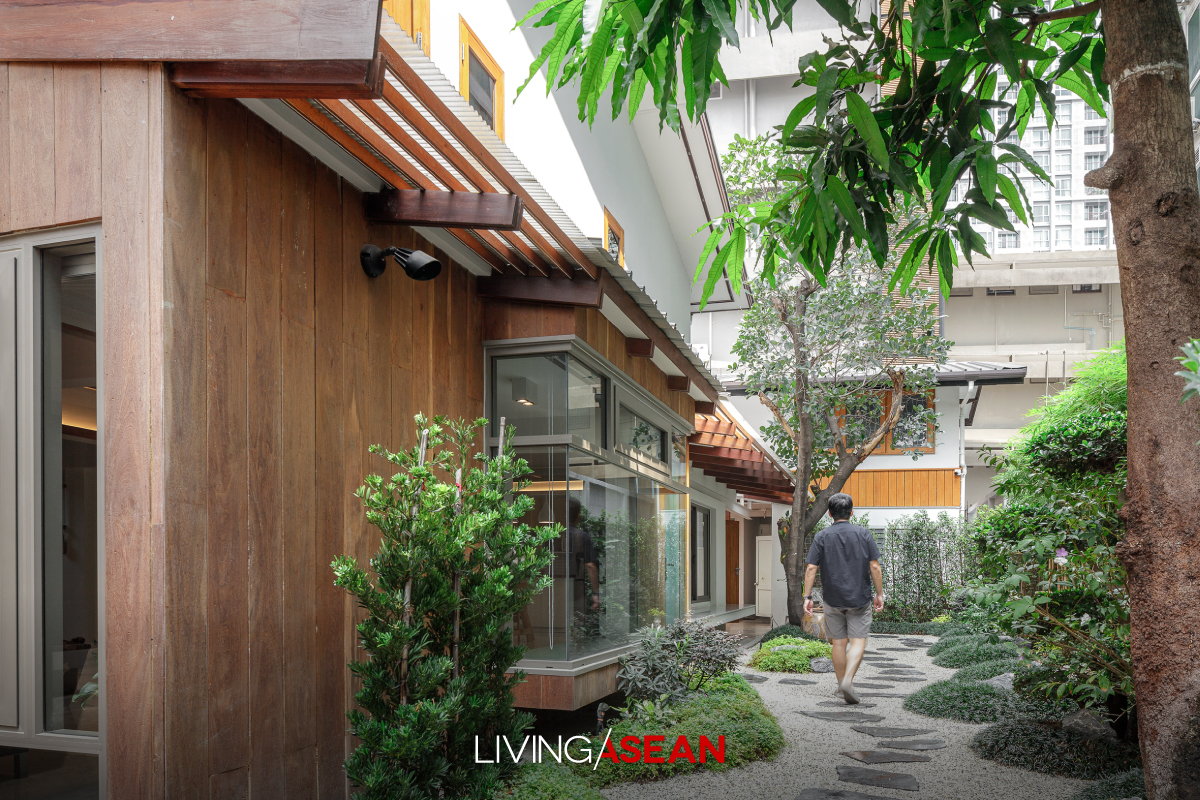 There are tall buildings nearby, while the house ground level is lower than the street. To effectively drain rainwater from the yard, decorative landscaping gravel is used. This is where garden designer Premrudee Cheewakoseth comes into play and where possible turns the ground into beautiful Japanese rock gardens.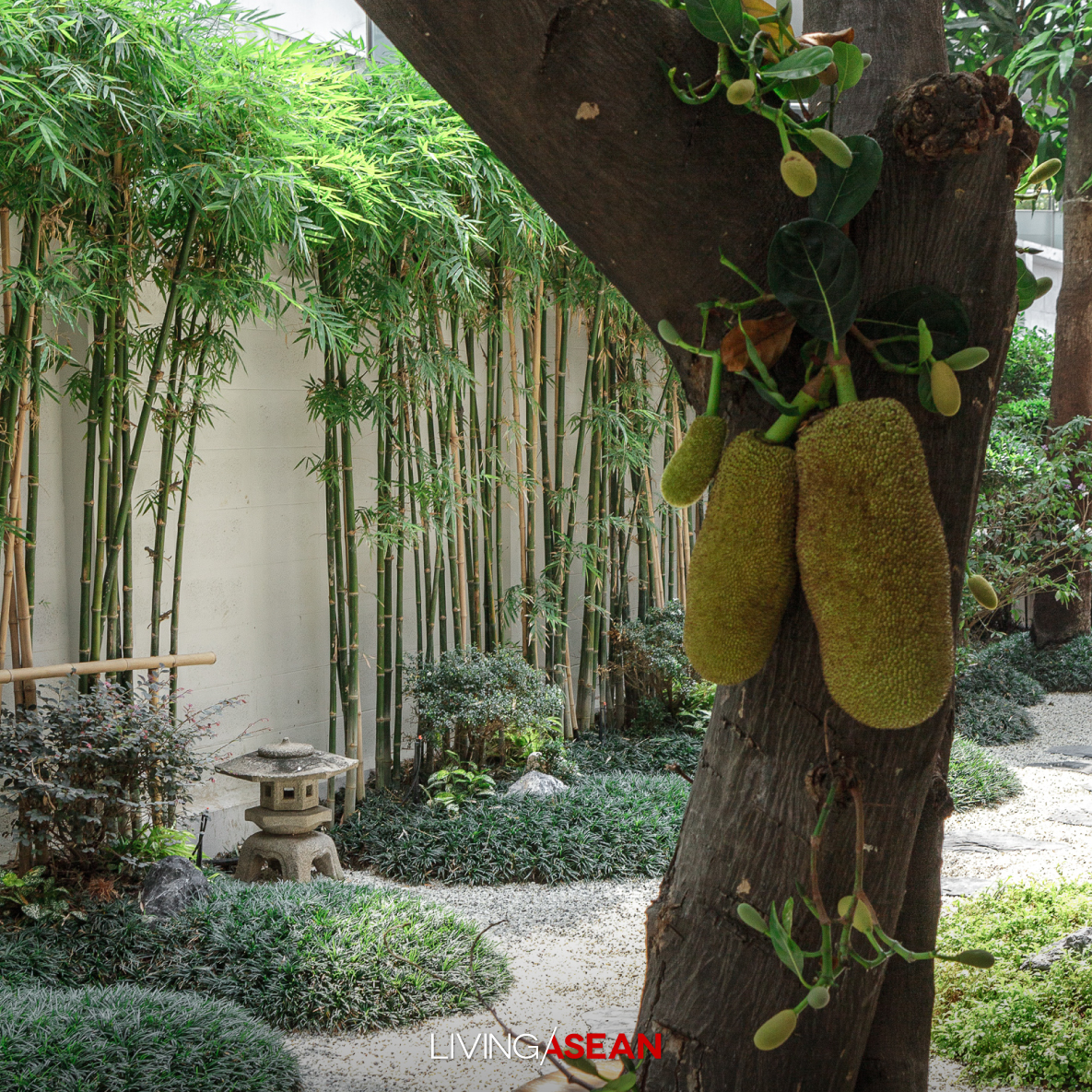 Trees that are planted for shade include Jackfruit and bamboo, while Mini Mondo Grass or Sneak Beard provides a lush ground covering. To avoid looking too Japanese, small terraces with garden path are put in. Overall, the house boasts certain appeal similar to that of the house of "Nobita", the much-loved, fictional boy character in the famous cartoon series "Doraemon".
Design: Jun Sekino A+D
Landscape design: D.garden design by Premrudee Cheewakoseth
Owners: Chatchawan and Punjama Lertbutsayanukul
Story: Samutcha Viraporn
Photographs: Soopakorn Srisakul
Style: Suanpuk Stylist