The renovation of this hundred-plus year-old rowhouse in Charoen Krung Soi 44 is more than a home improvement: for Mou Lumwatananont, it's a homecoming she'd never imagined.
/// THAILAND ///
Story: Sarayut Sreetip-ard /// Photography: Sitthisak Namkham /// Style: Jeedwonder /// Design: sea.monkey.coconut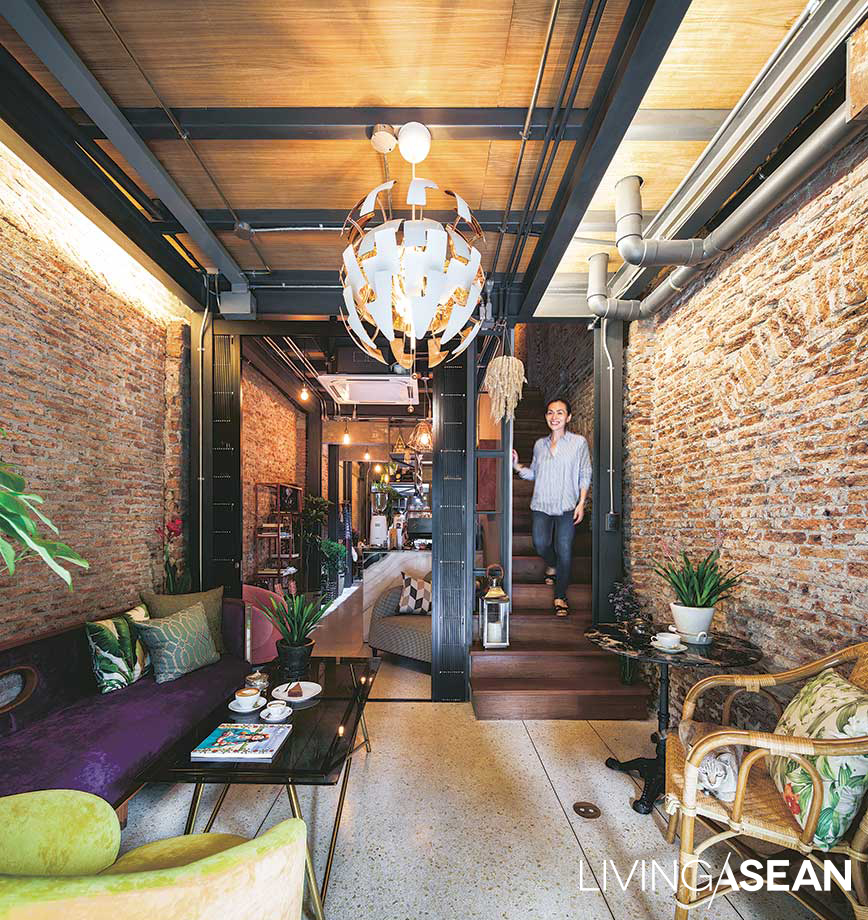 "My mother was born here, but we moved before I was two. After building it up from 2 storeys to 2½ storeys, my aunt continued to use it as an office. However, that business ended many years ago, and it has been only two years since we began making plans for renovation and conversion to fulfill our long-time dream of a guest house and a café."
This area's former prosperity is apparent in traces of European colonial-style architecture and bustling alleys that now welcome international tourists and backpackers to the charm of its storied history. Mou and architect Pok (Wachirasak Maneewatanaperk) from sea.monkey.coconut share views on the value of  preserving history through architecture.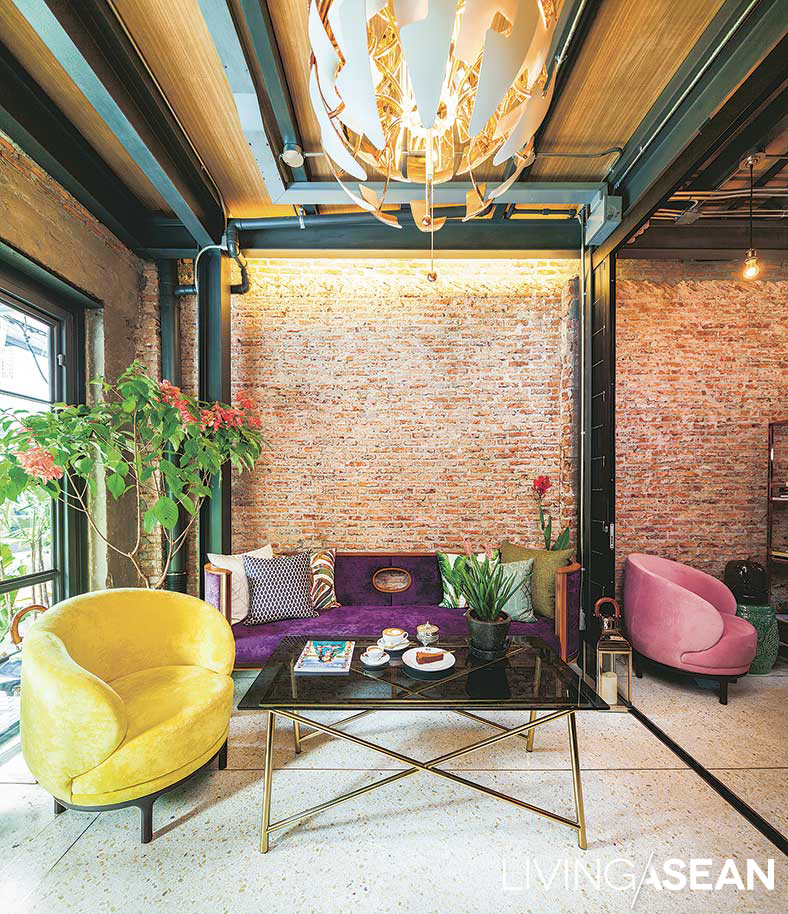 "Renovating this great old building, I didn't want to change a lot. But I discovered it had already changed. An upper floor had been added, and it had been expanded out back as far as it could go. The entire second-storey wooden floor had been covered with another material. In line with building preservation guidelines, Mou and I decided to make clear distinctions between old and new. We kept intact the front wall and brick walls all around, chiseling off interior mortar to show weight-bearing structures, including wood wall beams fitted into brick arches, and we kept the charming mortared patterns of the original roof."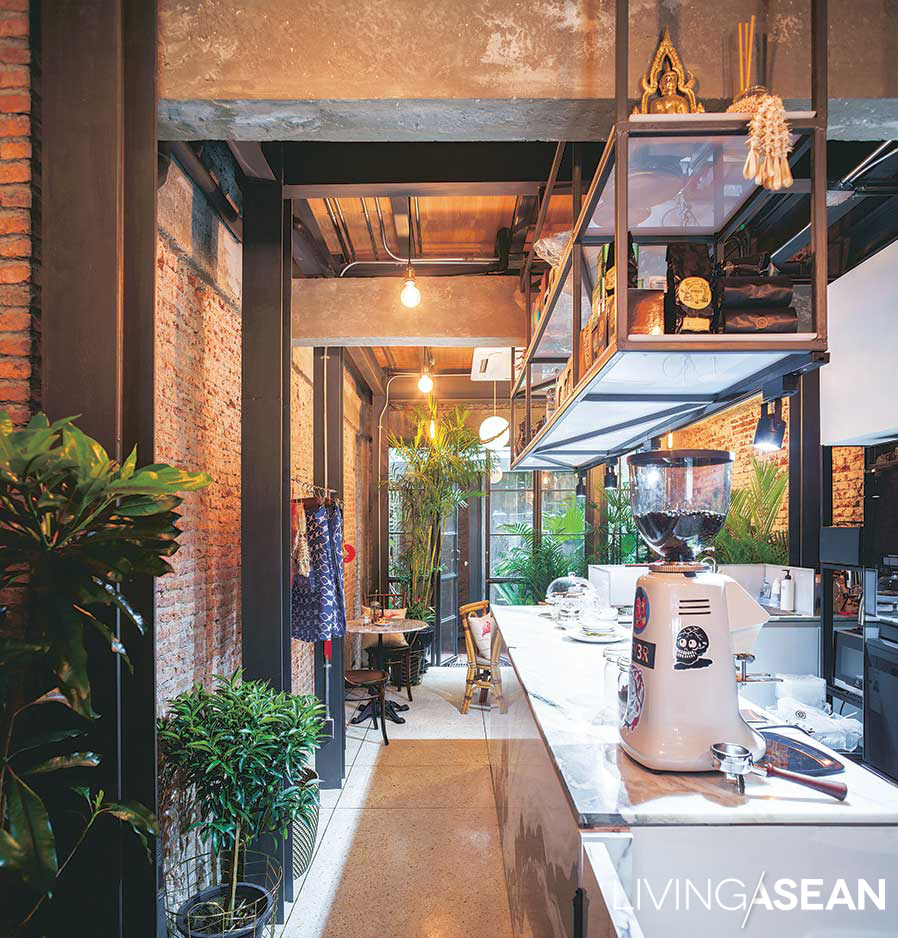 For warming the heart, the morning sunshine is no match for fragrant fresh-brewed coffee topped with milk foam and a gold-skinned croissant just out of chef Lolo's oven, amid a modern-vintage atmosphere with a touch of French and British, Thai and Chinese styles integrated seamlessly into an elegant whole. The lower floor is chic travelers' café, a wooden stairway stretching up to guest rooms above. Visitors might wonder about the functionality of the steel poles they see set at intervals throughout. AS Pok explained,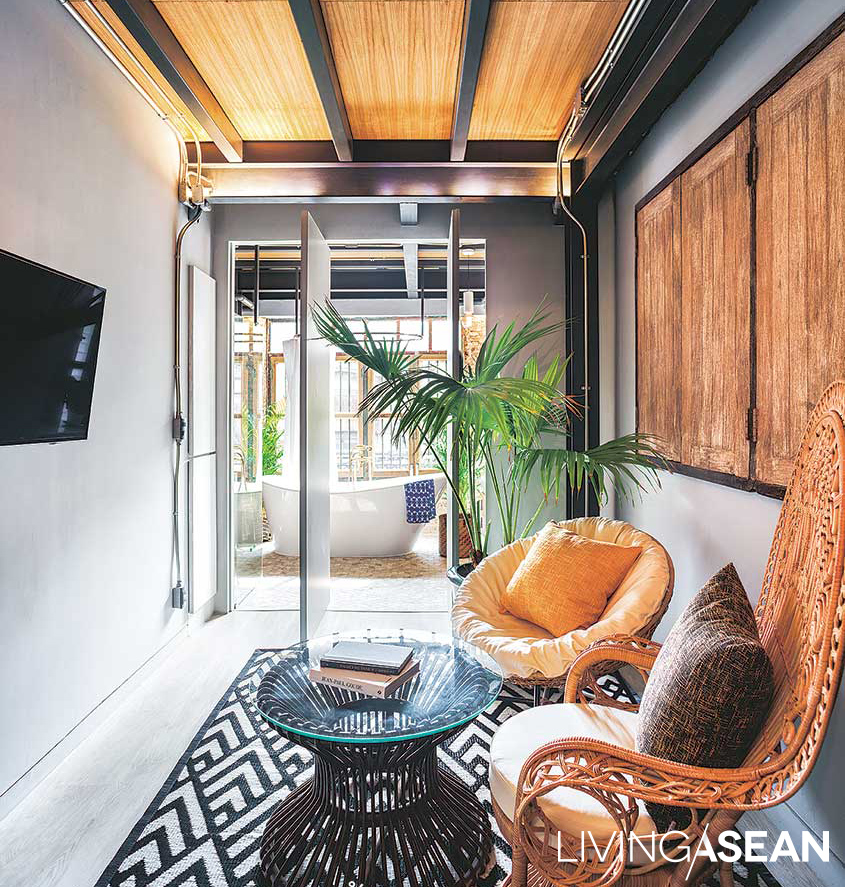 "This area is a walled-in rectangle, and without changing outer walls and structure at all we've created a new house within the frame of the old one, sinking micro pilings into the root foundation and installing all new support pillars. It was important to keep the new structure separate. Concrete flooring was poured on the ground level and separated by a foam at the joints where it meets the original walls. These "expansion joints" keep outer and inner structures from being attached, so if the floor subsides, it won't pull a wall down with it. On the second level, we'd intended to keep the original wood flooring, but found irreparable termite damage, so we had to replace it. Behind the house we changed to steel and drywall construction to install walls and latticework. Building here was difficult because of the limited space. Fronting on a narrow street made delivery difficult. There was nowhere to stack & store materials, so all work had to begin inside. When the inside was done, we brought in the materials stored outside and switched to working on the front. There was a lot of planning involved to make it possible for the craftsmen to be able to work at all."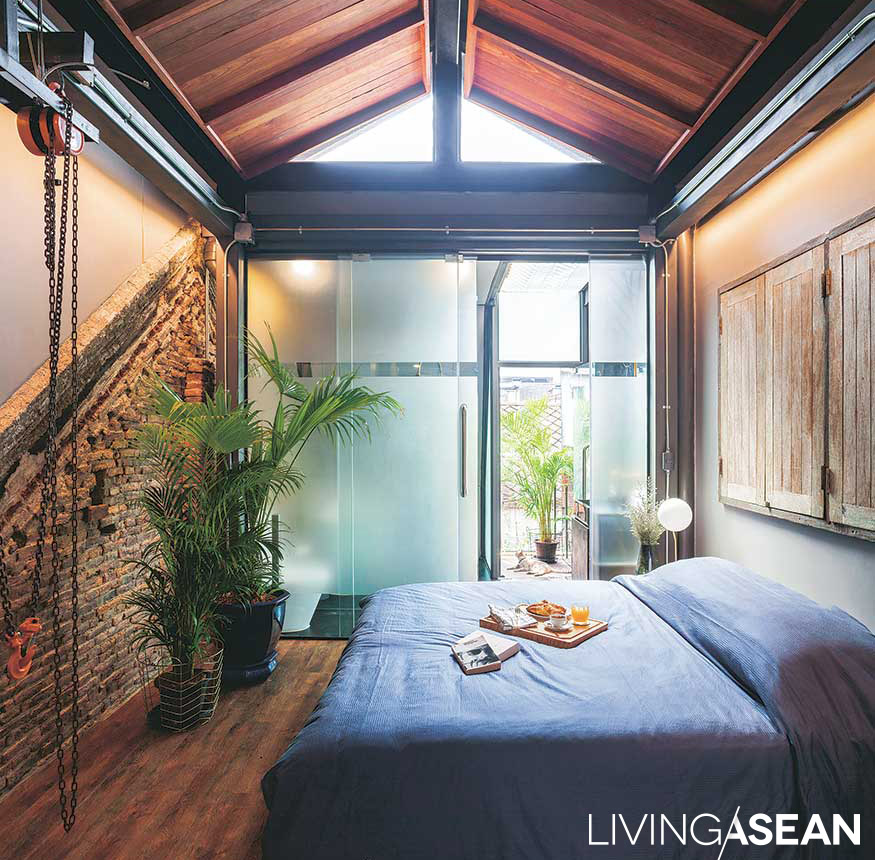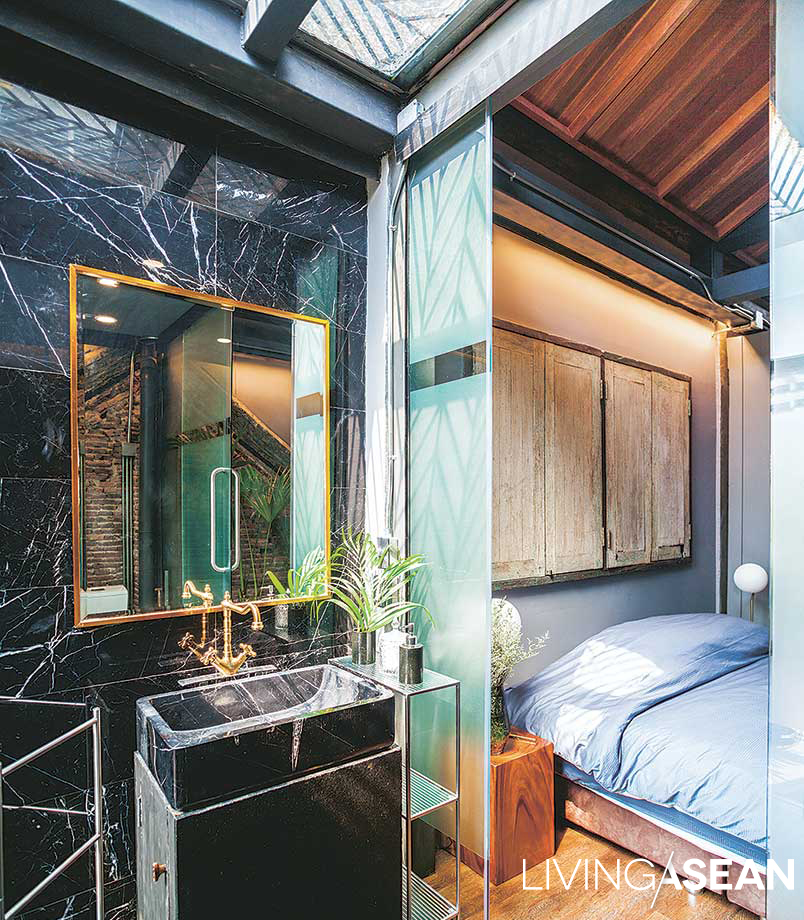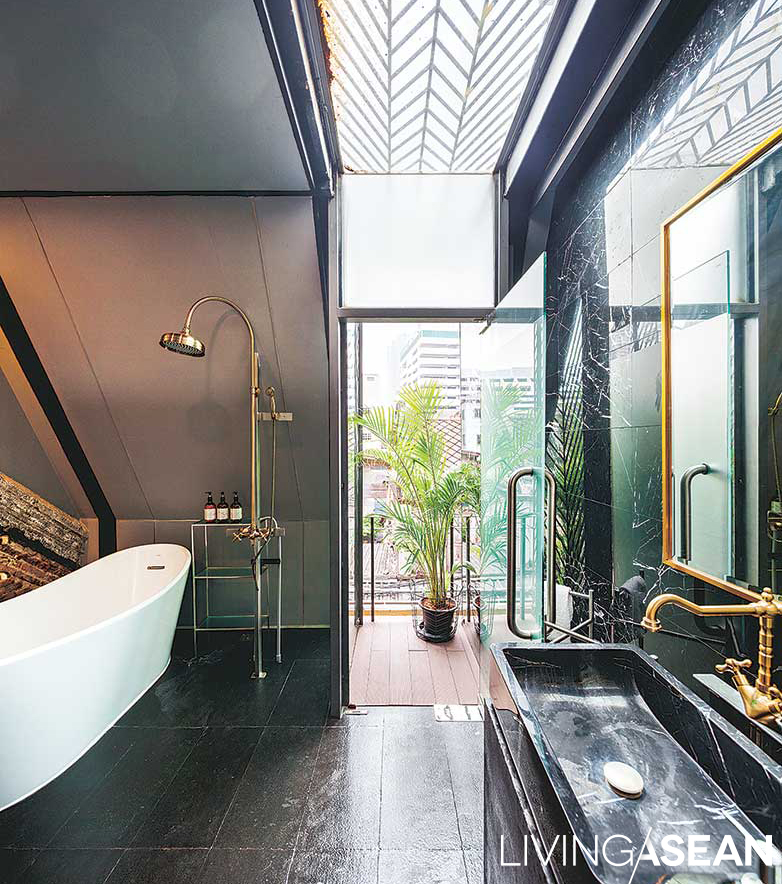 Row houses lasting more than a hundred years naturally tell stories with marks from sun and wind, just as with marks left on our lives by travel. Leaving to study and live in England for more than twenty years Mou could never have expected the winds would slowly blow her back to her origins with a new feeling, one born of love and dreams.
The word "Chez" is French, meaning "at," or "at the home of," hence the name: Mou has opened her home to welcome friends at "Chez Mou," where stories are told by marks on bricks and sweet smiles. Here is a place full of  feeling of release from travel, and full of a bittersweet, gentle fragrance.
You may also like…