Bangkok Art Biennale 2018 has now finished up. Here we'll look back at some historic images illustrating what was behind the scenes of this important page of Thailand's contemporary art world, which brought many world-class artists – Marina Abramović,  Yayoi Kusama, Choi Jeong Hwa, Jean-Michel Basquiat, and many others – to exhibit at 20 landmark locations in Bangkok.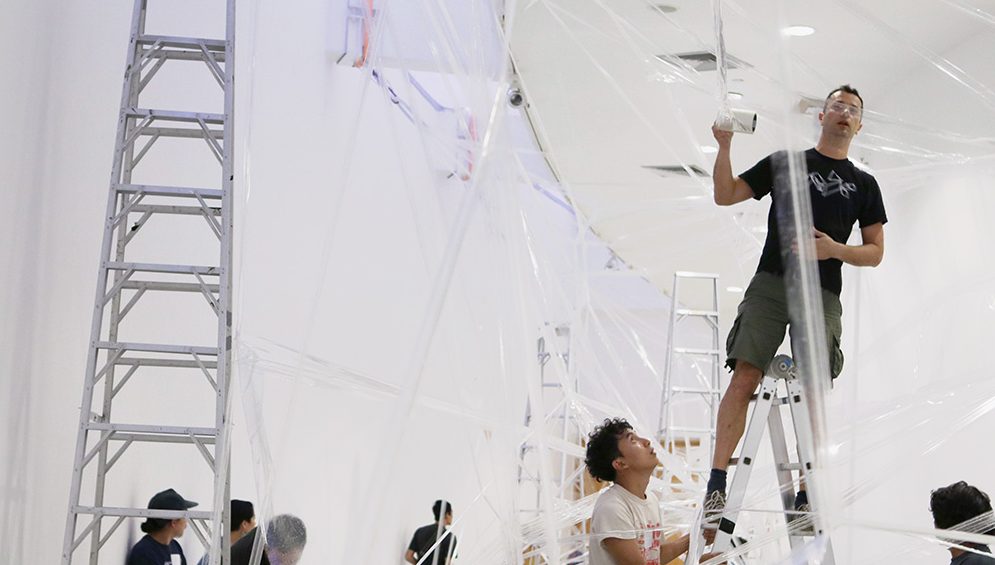 This is Tape Bangkok 2018, or "Adhesive Tape Tunnel," by Numen/For Use Collective Design. The artists had a foreign team work closely with the Thai team to teach installation methodology during setup on the 7 th floor of the Bangkok Art and Culture Centre.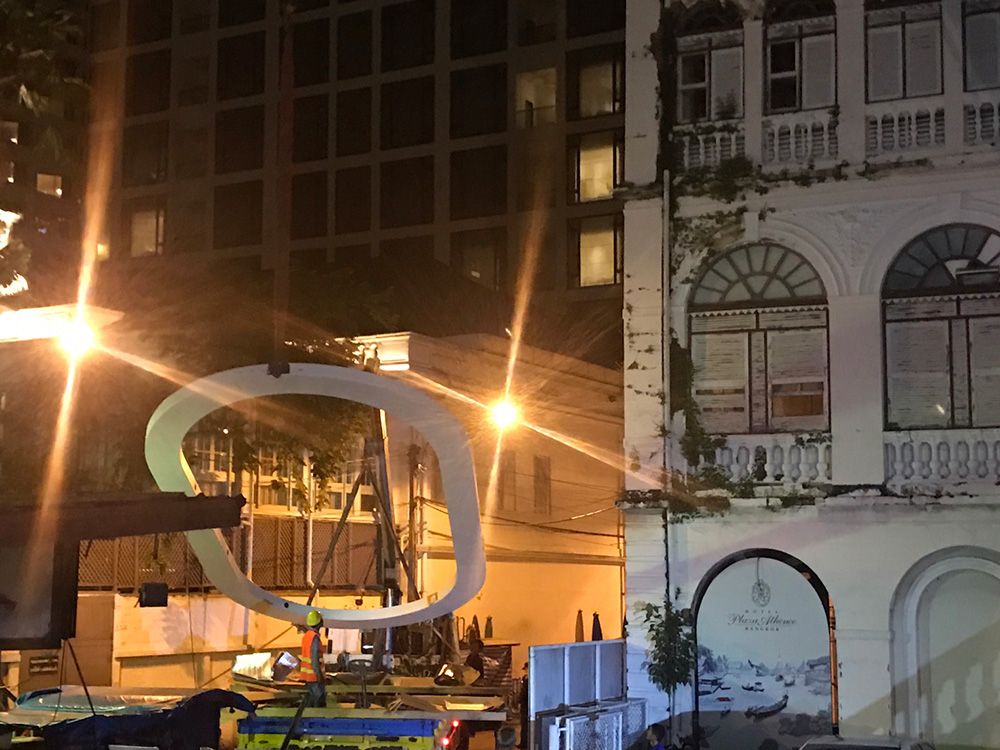 Zero, an 8.2-meter-tall installation art sculpture by Elmgreen & Dragset, required skilled Thai workmen using a crane to lift it into position in front of the East Asiatic Building.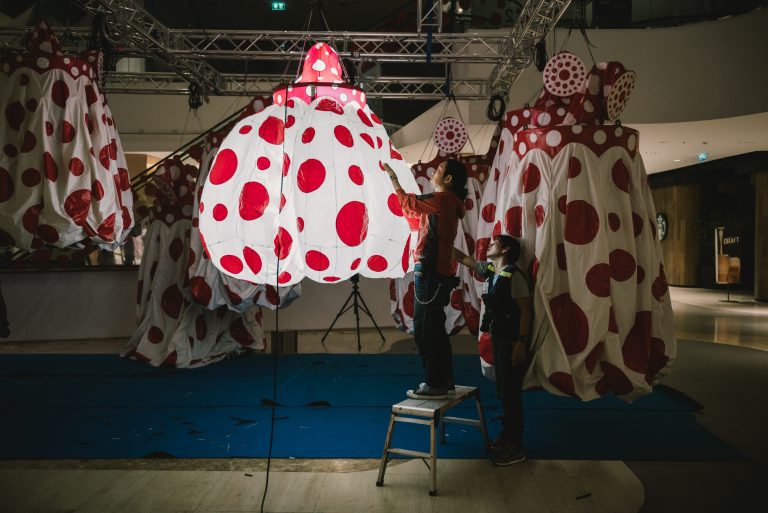 Our team found that three pieces especially grabbed the public eye at Bangkok Art Biennale 2018. The "mother goddess of polka dots," Artist Yayoi Kusama, sent a foreign work team to closely supervise the highly complex installation of her pieces after their arrival from Japan. The FAVForward/Lifestyle website in the Amarin Group, which monitored the installation, said, "The 14 Pumpkin balloons took a lot of days to set up, with meticulous attention to every detail by the Japanese team. Setting up "Inflatable Pumpkins Balloons" wasn't simple: it required stringing electric lines and constructing beams and internal
supports to get the pumpkins to float high above.
I Carry On Living With The Pumpkins (Silver Pumpkin and Red Pumpkin), two large and heavy works composed of inflexible pieces with lots of angles, had a hard time making it through the door. It took the staff a big chunk of time, and they told us that putting it all together was no easy thing.
Your Dog, the work of Yoshitomo Nara, another Japanese artist, at BAB Box @One Bangkok, was in a single piece and didn't involve difficult transportation or setup. The installation team simply lifted the 4.5-meter puppy, and in the clip below you can see the setup procedure.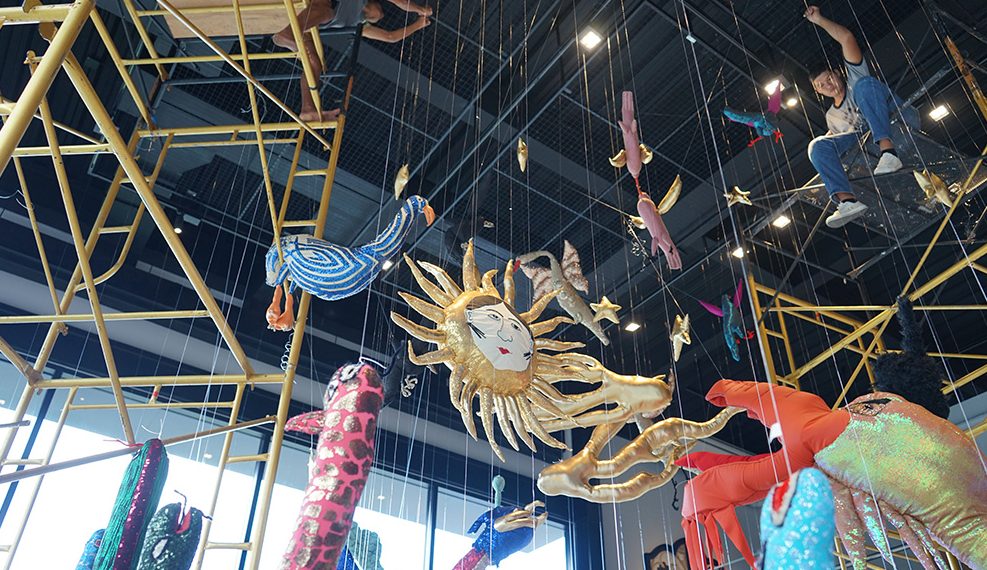 Turkish female artist Canan's Animal Kingdom involved installation of dozens of animals, large and small, at BAB Box @ One Bangkok. This animal kingdom took up nearly 10 square meters and was as tall as the 2-storey building itself. Installation required a work team to build scaffolding to fit.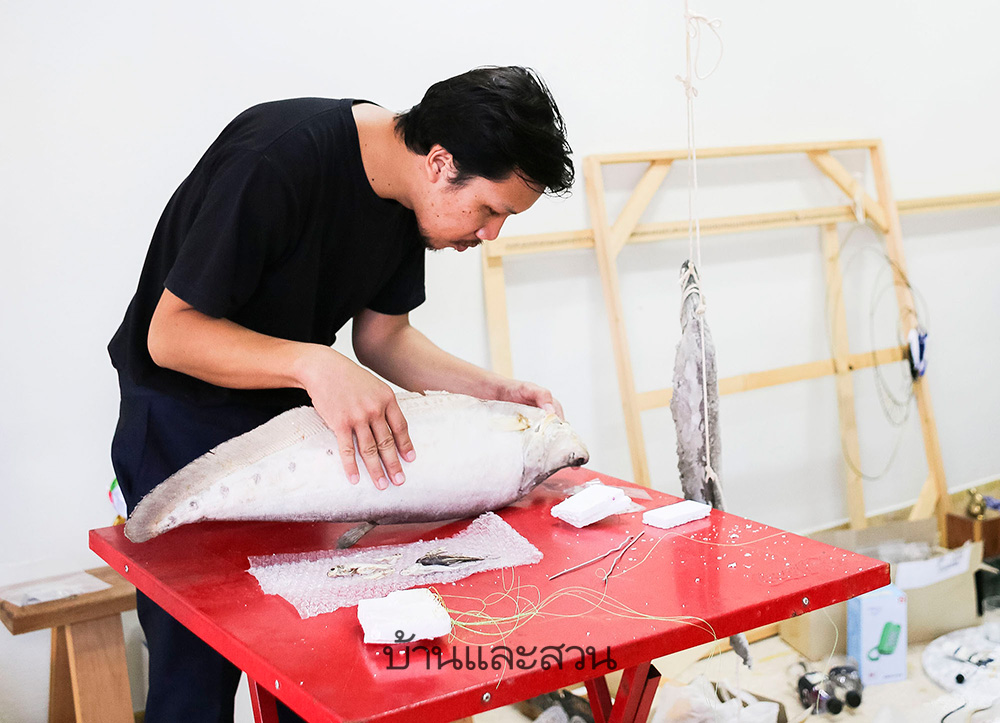 The work 2562++, by Tay (Patipat Chaiwitesh), was exhibited at the East Asiatic Building. It's full of fun, but that is blended with biting satire. The backstory here, Patipat tells us, is that the animals displayed here were all stuffed. He himself found them all in the market (not alive at that point, of course), and worked with lab experts at the Veterinary Department of Chiang Mai University to stuff them, preserving shapes and eliminating decay. After that procedure, Patipat left the lab and continued working on them in ways you can see in the video below.