With bamboo as its main material, the architect has integrated the modern tropical design to the nature.
/// Malaysia ///
Architect: Design Unit Sdn Bhd /// Story: Ekkarach Laksanasamlich /// Photo: Soopakorn Srisakul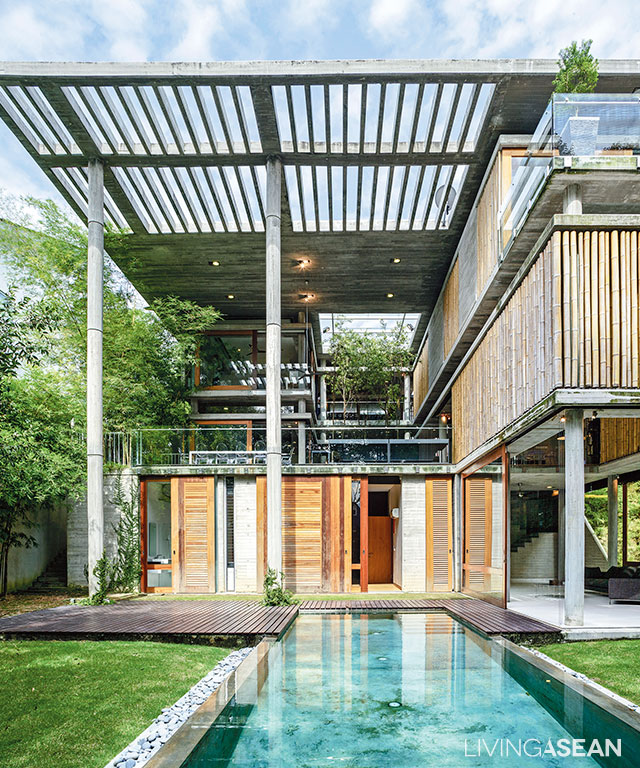 The house is located in Selangor state, Malaysia. The design was responsible by John G N Bulcock of Design Unit. Though the theme is modern tropical, Bulcock preferred not to limit his idea only to the word. "Actually, I'm not interested in defining it. I'm more curious to look into the floor plan, the atmosphere, the functions. And I like it the way it is."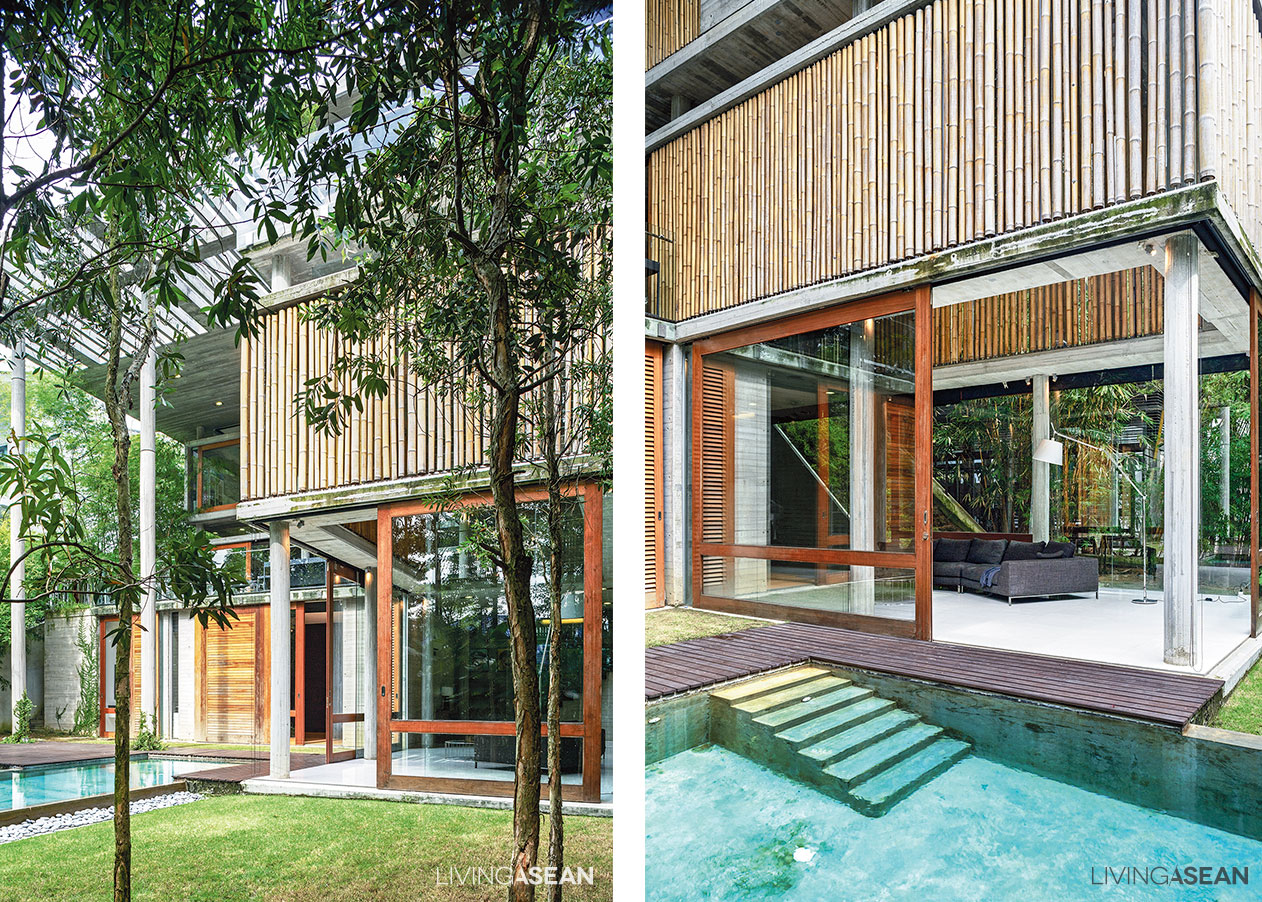 Fung Kai Jin, the homeowner gave Bulcock freedom to design. The only request was to feature bamboo into the work, although the material has some flaws of its own. "Bamboo is a gift from nature," said Fung.
"It is strong and durable to a certain extent. But it has some weaknesses. It doesn't last as long as other kinds of wood, or steel and concrete masonry and it requires more maintenance than other materials. But for those who have a penchant for bamboo, I think it worths the effort. After all, you get to spend time in the house that you love every day."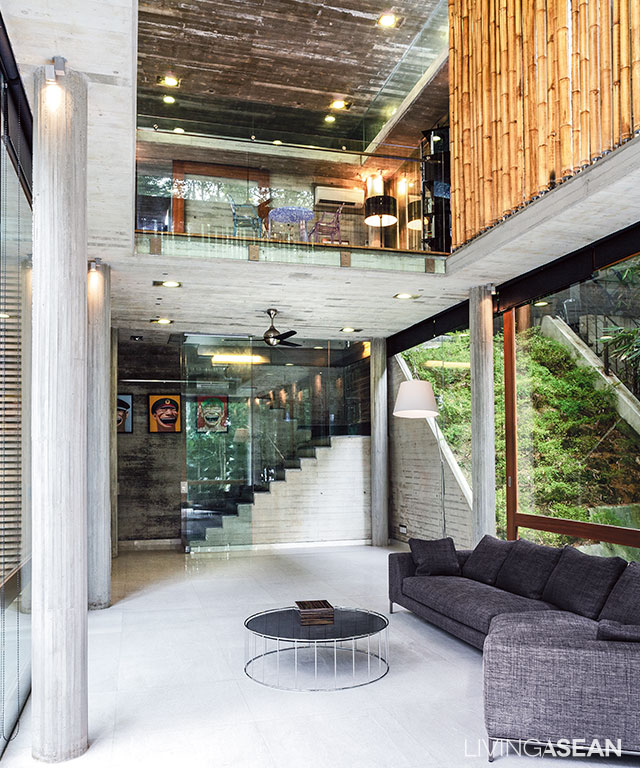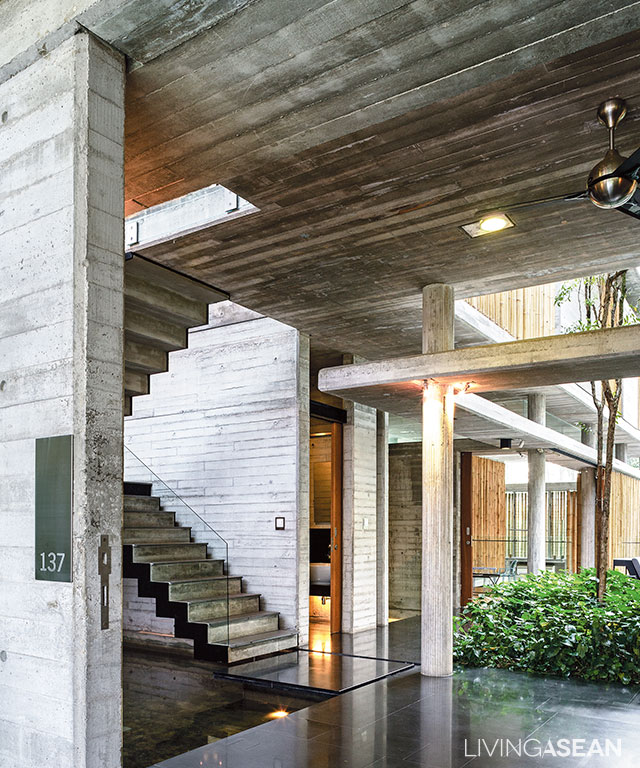 Bullock then decided the house has to be an integrated one. "The main idea is to make the house an integral part of the nature, he recalled.
"Meaning, it has to blend well with the land features and trees around it. So the plan calls for plenty of open spaces and undisturbed materials, such as plain concrete finishes, glass, and bamboo."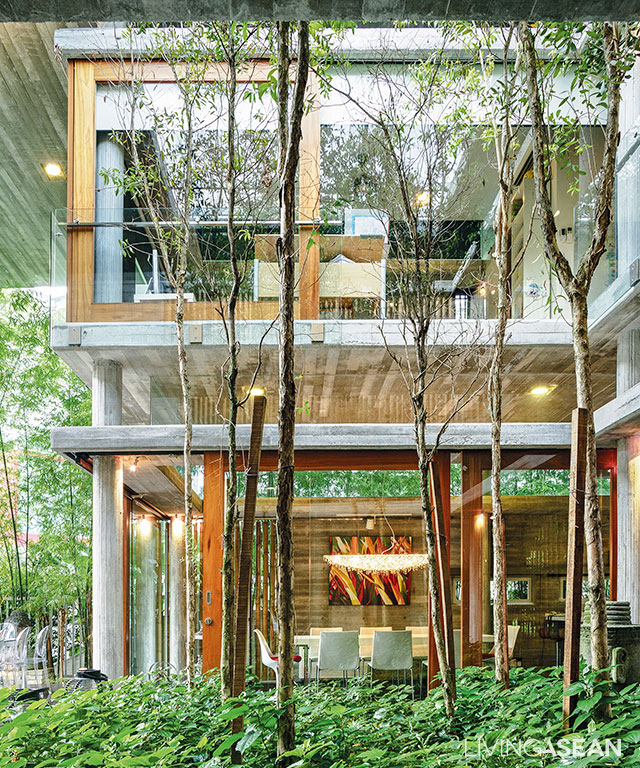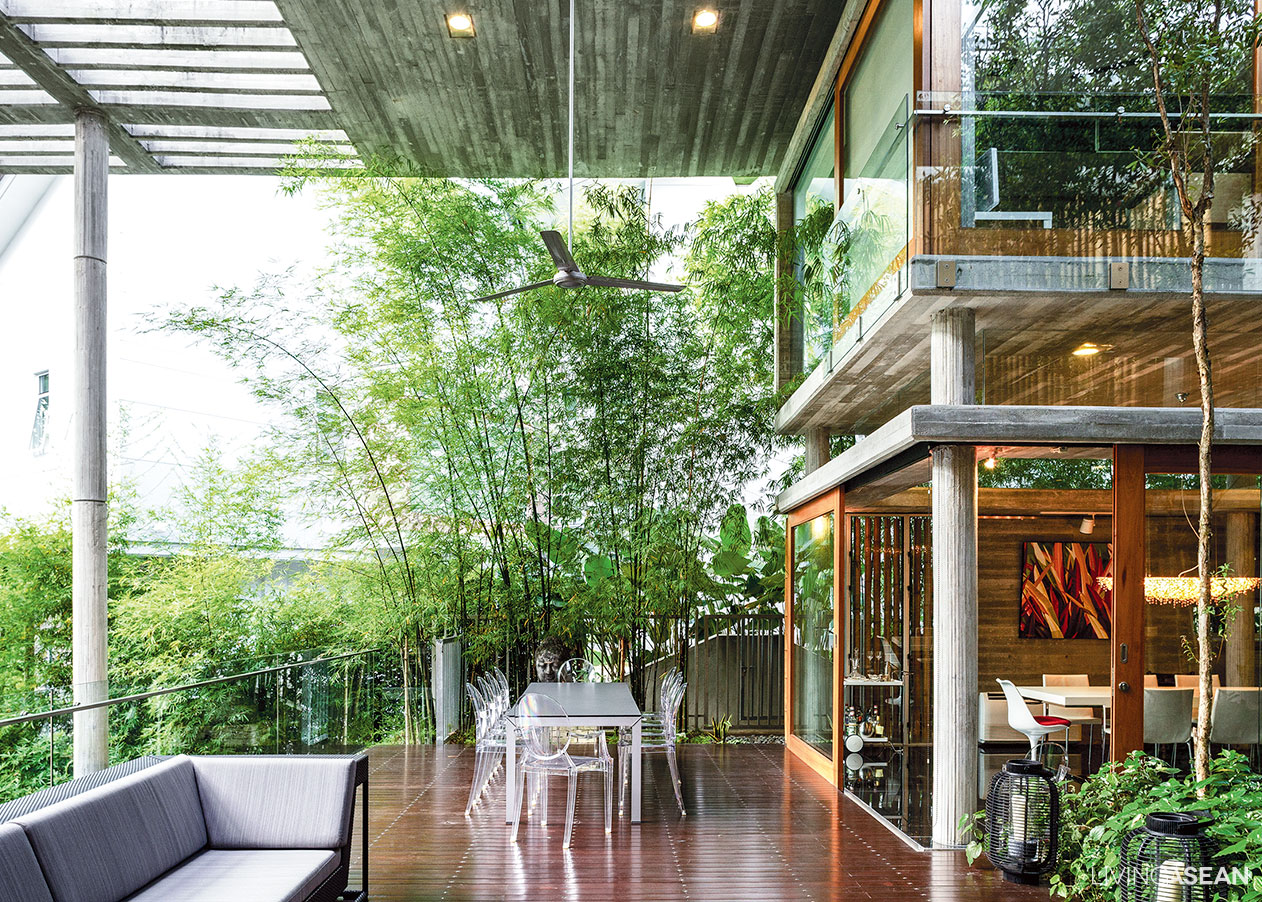 The three-storey house was set on a slope. So, Bullock placed a carport and a main entrance on the second floor for a practical use. The floor consists of a dining room, a kitchen, a TV room and a wide balcony overlooking a swimming pool. The lower floor includes a home office, a living room, a storage room and a maid's quarter. Private area is reserved on the third floor.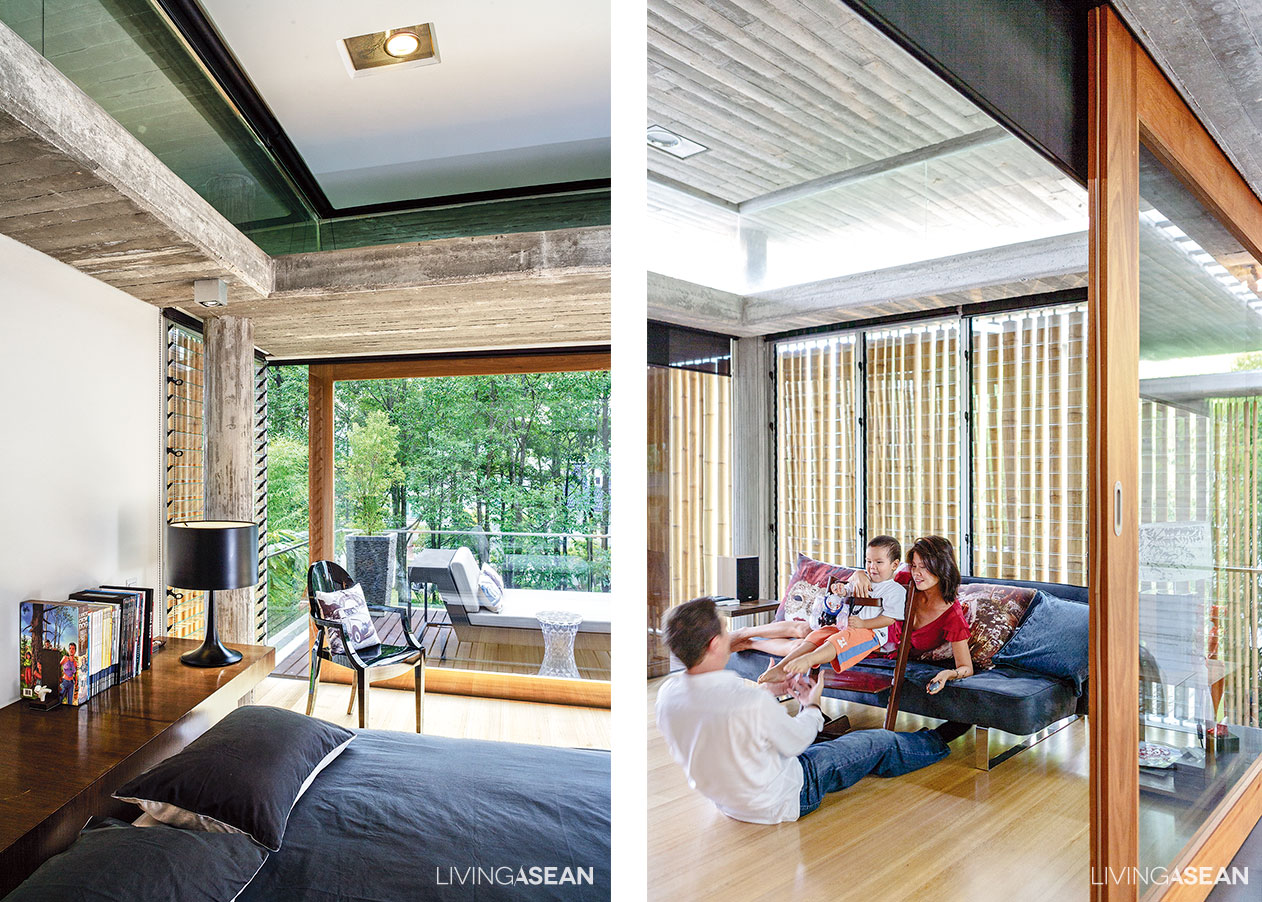 The house is kept small and uncluttered by dividing into rooms connecting through a roofed hallway that spans over 15 meters across the area. A small interval between the roof and the building is allowed for the rain and sunshine in.
There are also gaps between the main roof and nearby rooms to promote a good ventilation system. Fresh air circulates throughout the day through passageway and gaps in bamboo lattice. Courtesy to the tropical weather, there is no need for an air-conditioning machine.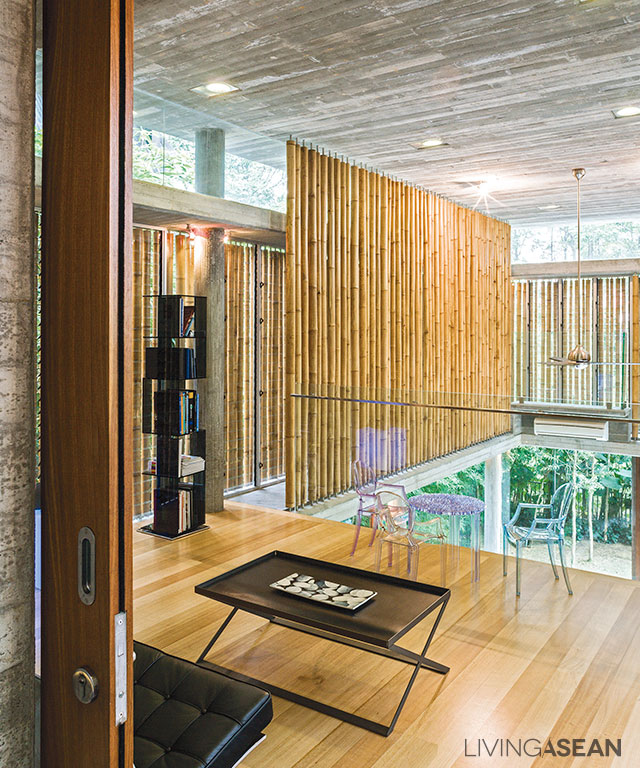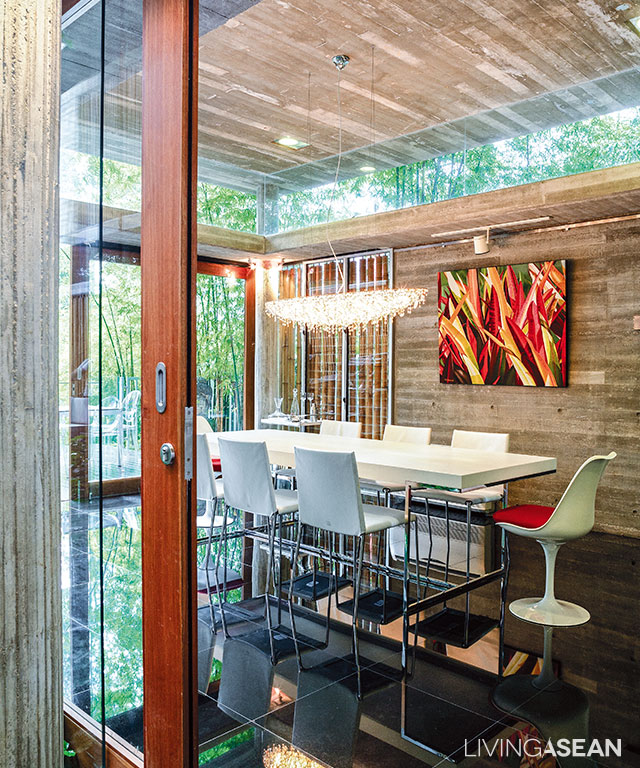 "As it rains, a fine spray of water descends upon bamboo lattice. When the owner chose this kind of material, he accepts that wet weather is normal. Call it living close to nature. We need to plan which part can be exposed to the rain and vice versa to avoid damage to the structure over time," Bullock said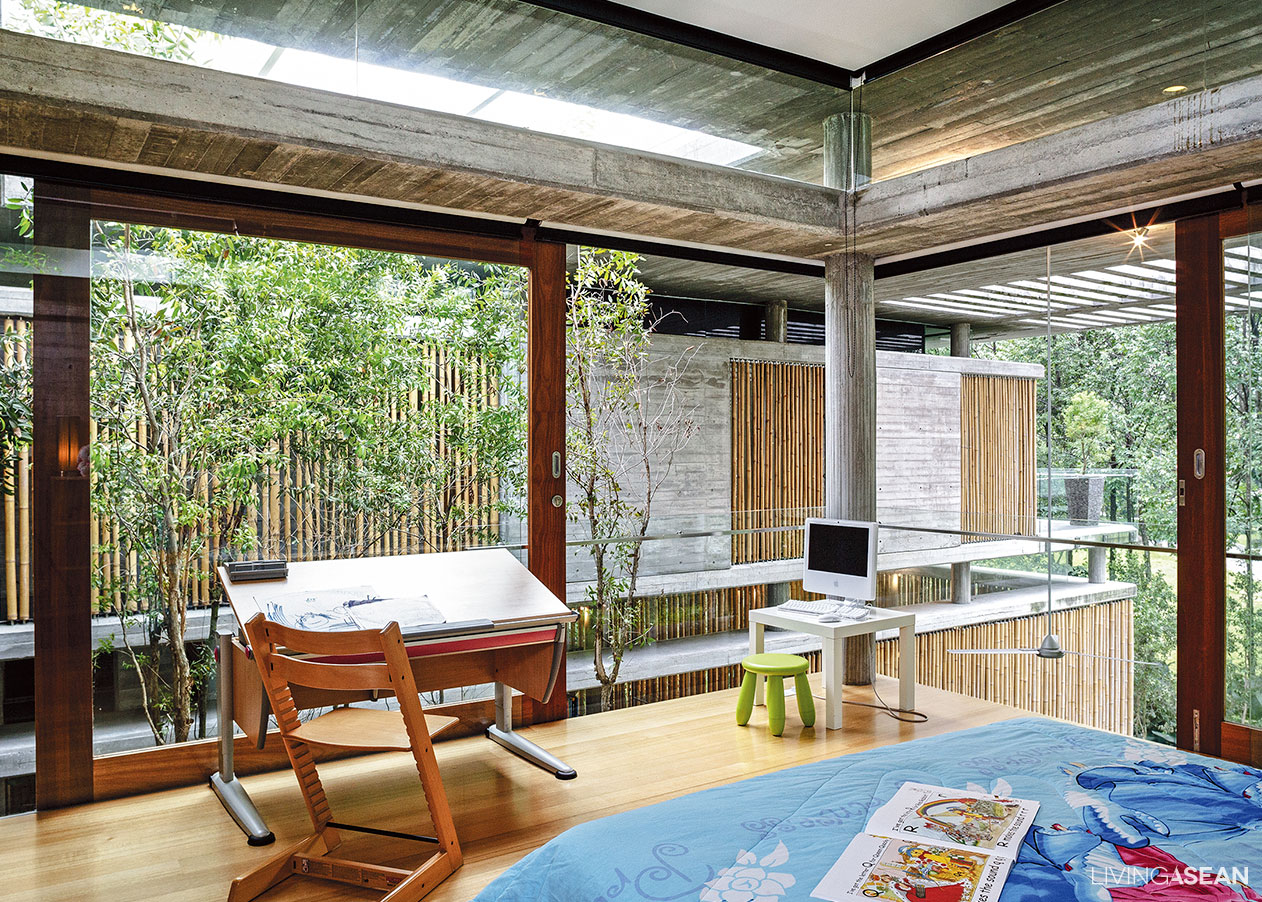 All things considered, this modern tropical house is a good example of what living close to nature should look like.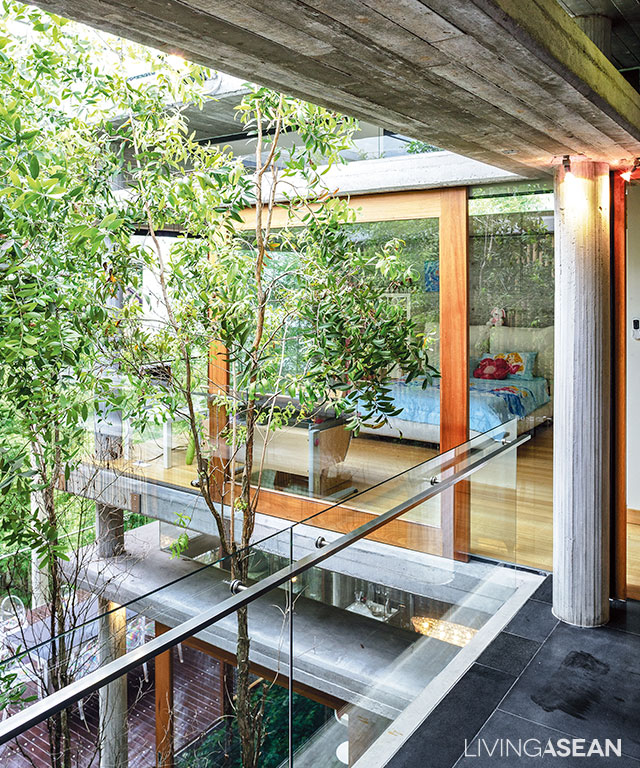 link: http://designunit.com.my/ / http://www.architectureartdesigns.com/17-worlds-most-amazing-tropical-houses-that-will-leave-you-breathless/