Shipping containers are easy to build and build onto. The owner of this home located in the Canggu area on the Indonesian island of Bali began trying out this concept with the intention of building a temporary home and ended with a permanent family residence.
/// THAILAND ///
Story: Samutcha Viraporn /// Photography: Sitthisak Namkham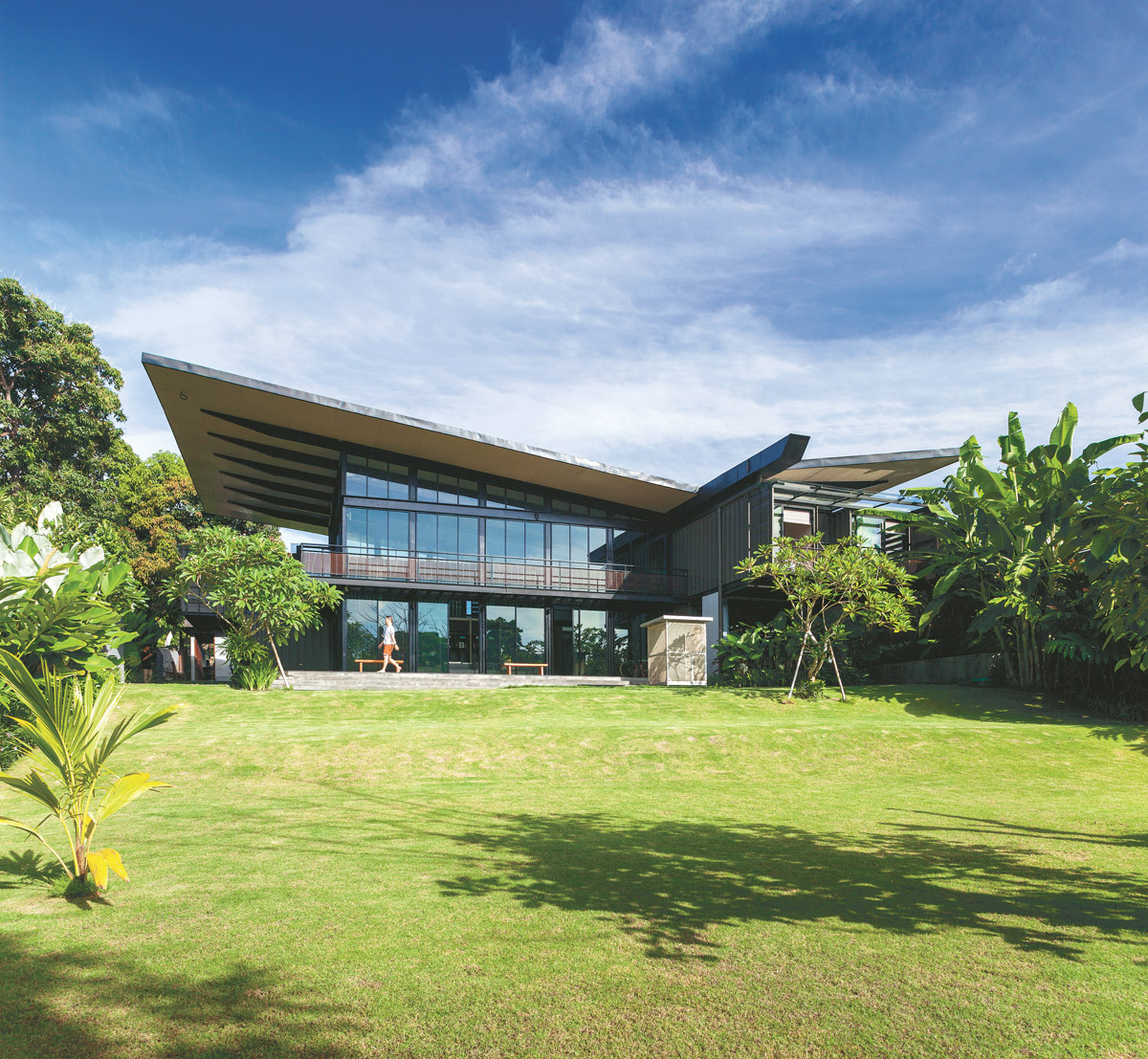 Studio Tana's designer architect Andika Japa Wibisana says the homeowner wanted to build a house and small office here, but the owner of the land wouldn't sell, so he decided to build a container house in case he would have to move and build elsewhere. The designer envisioned possibilities, and came up with a house that answered the needs of all family members.
The design places smaller boxes inside a large box, the larger one a steel and glass frame, enabling creation of double walls that reduce sunlight and outside heat. The interior is composed of eighteen shipping containers, some opened up for a spacious, L-shaped central living area with a high ceiling.
"A lot of family members from Jakarta sometimes come to visit, so the living room opens out to connect with the garden, where some vegetable plots are set aside for children's use," said Andika.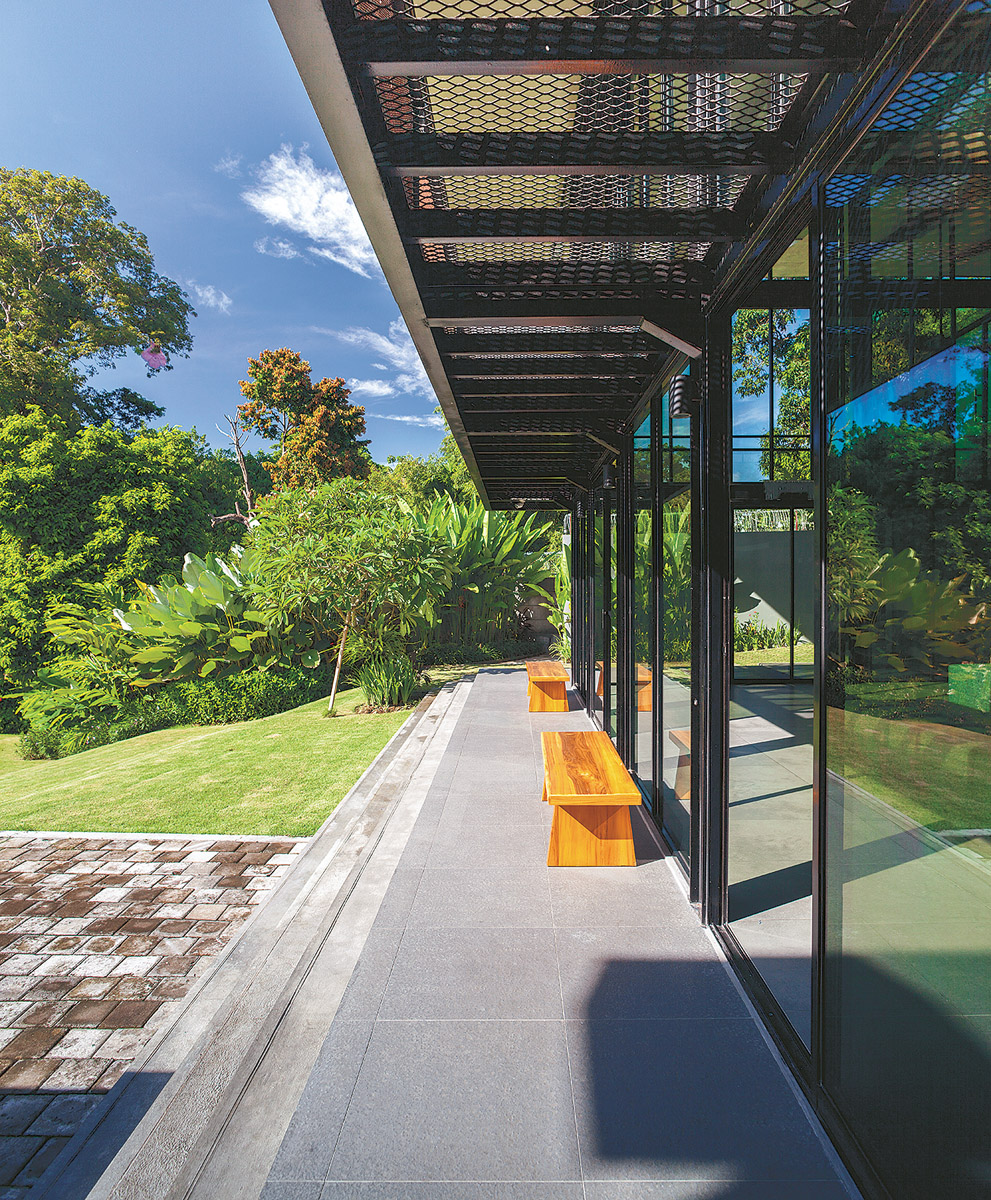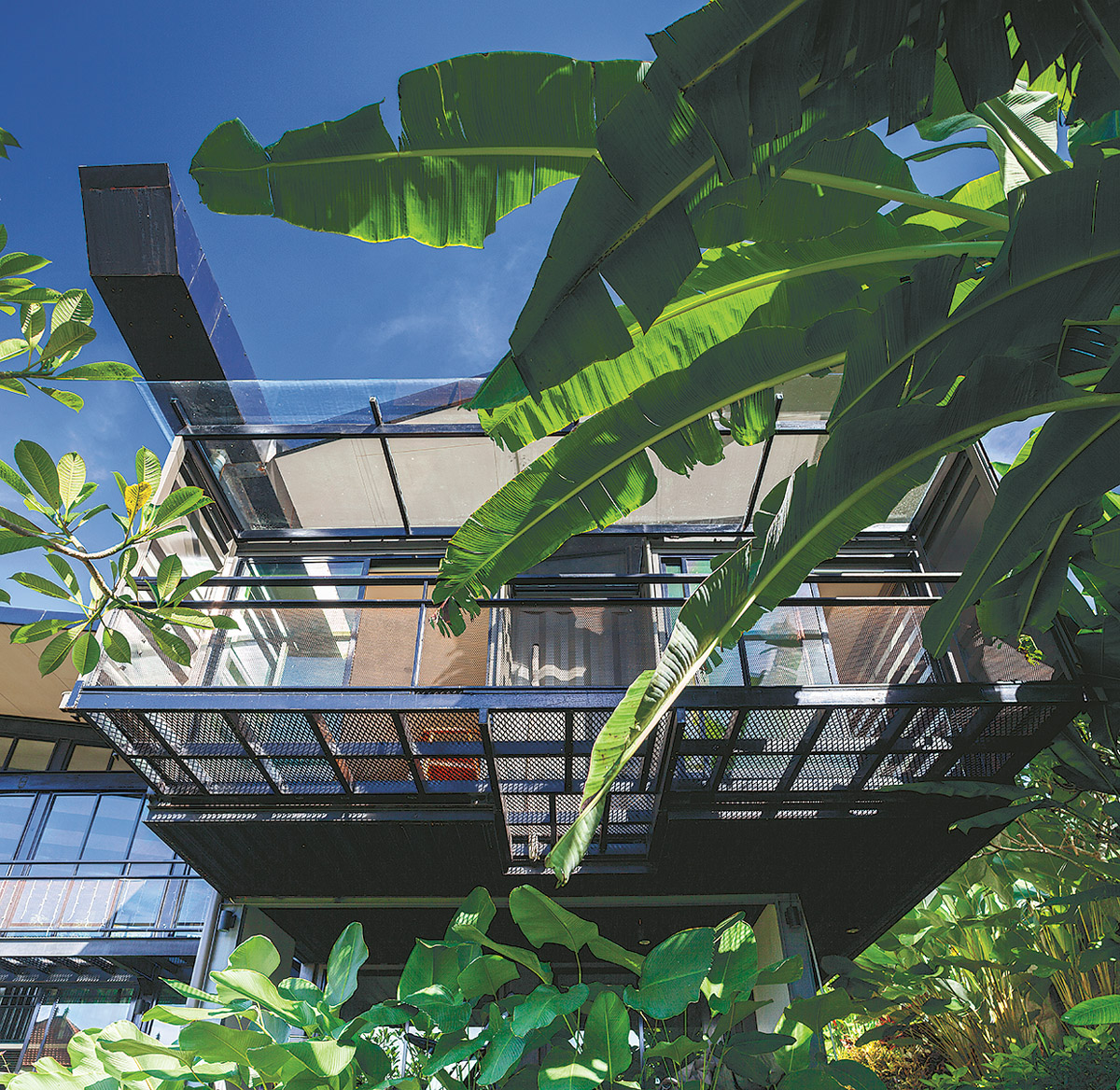 The property is lower than the road in front, making the house about a half-storey lower than street level, with the garden behind gradually sloping further down. Looking up from the garden, the house appears to be set on a hill of fresh green grass. This beautiful atmosphere is enhanced by the gurgling of a nearby small stream.
The building's left section holds an office and stairway, with that spacious open-plan living room to the right and service areas behind. Above, the shipping container near the garden projects outward for a better view of the green space: here is the master bedroom. Another section divides containers into kitchen and dining room. Interior décor here loses the industrial look: ceiling and walls are surfaced white, with real wood taking away the rawness of the steel.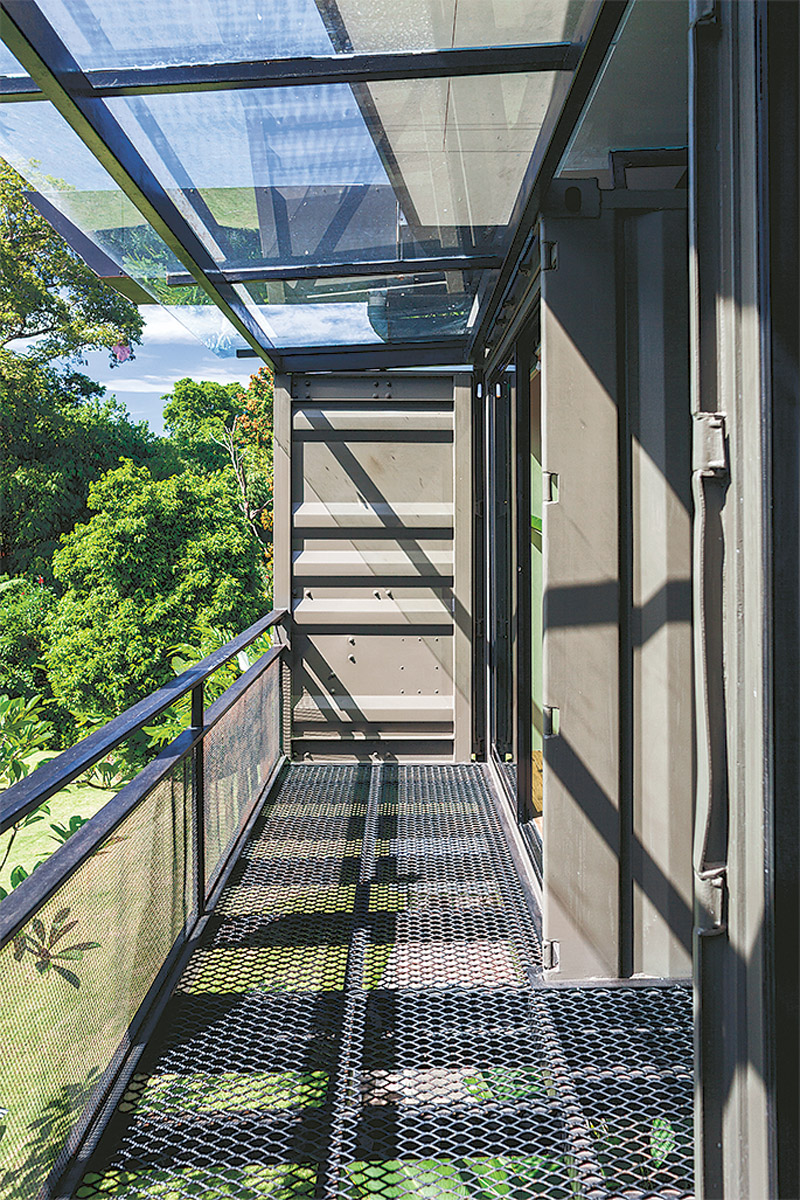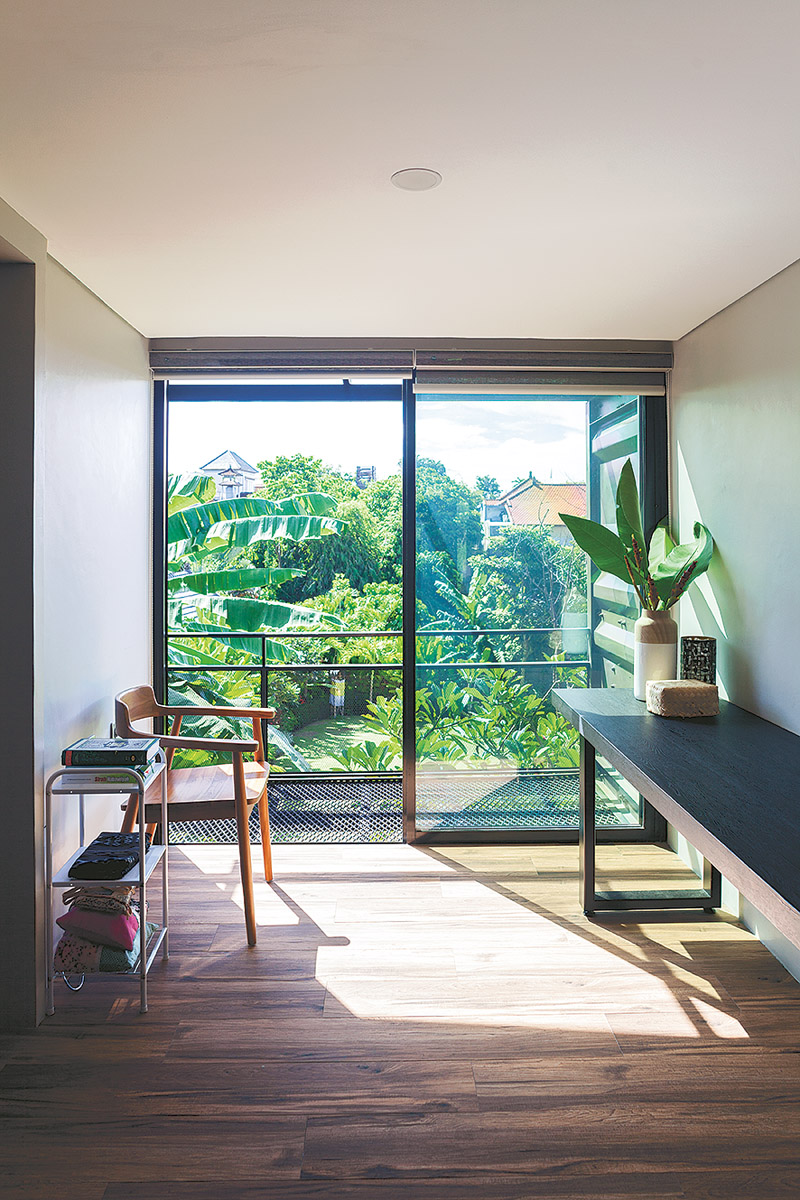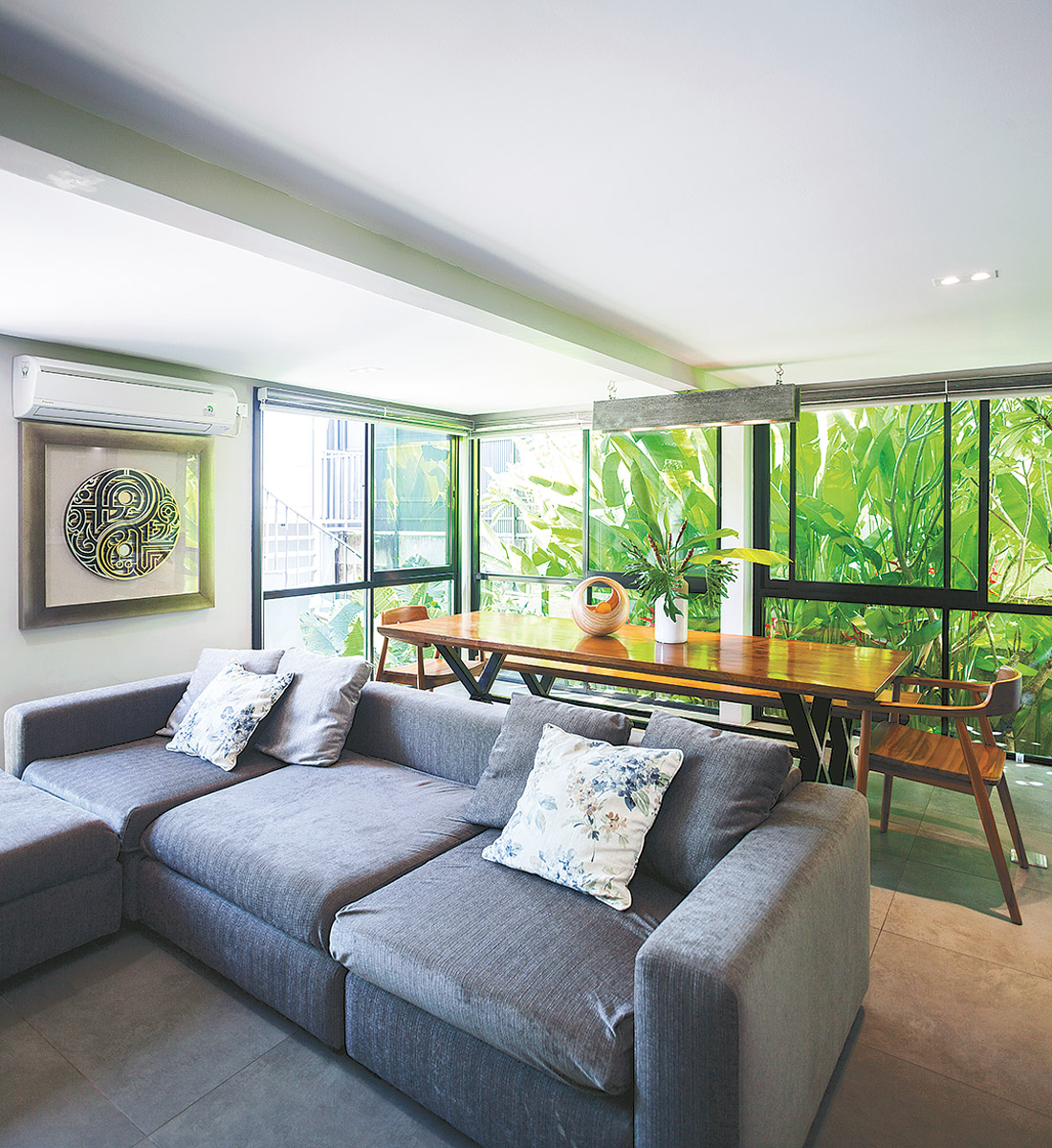 Plants grow by the glass wall  as protection against heat. On the other wing the second floor holds two more bedrooms, one container used for one room. The entire second storey has a sharply sloping steel roof that forms an eave. Beneath is a balcony with a long walkway connecting to the building's outer porch, all of exmet (expanded metal grating) for an attractive play of light and shadow below.
Even though some steel houses have a harsh look, this one is designed in response to a tropical lifestyle, with industrial materials combined in a way that gives an oriental look to this big 18-container home, creating convenience and comfort and meshing perfectly with the beautiful garden.