/ Ha Giang, Vietnam /
/ Story: Ektida N. / English version: Bob Pitakwong /
/ Photographs: Son Vu, Trieu Chien /
Lung Vai School stands in a small village and namesake located in the northernmost corner of Vietnam. Only 55 households of the Hmong tribe live in this mountainous terrain on the Vietnamese border with China. The natural environment is pristine, but it's hard to get there from anywhere. Public utilities, such as water and electricity are virtually nonexistent, not to mention schoolhouses of standard sizes and qualities capable of meeting children's learning need.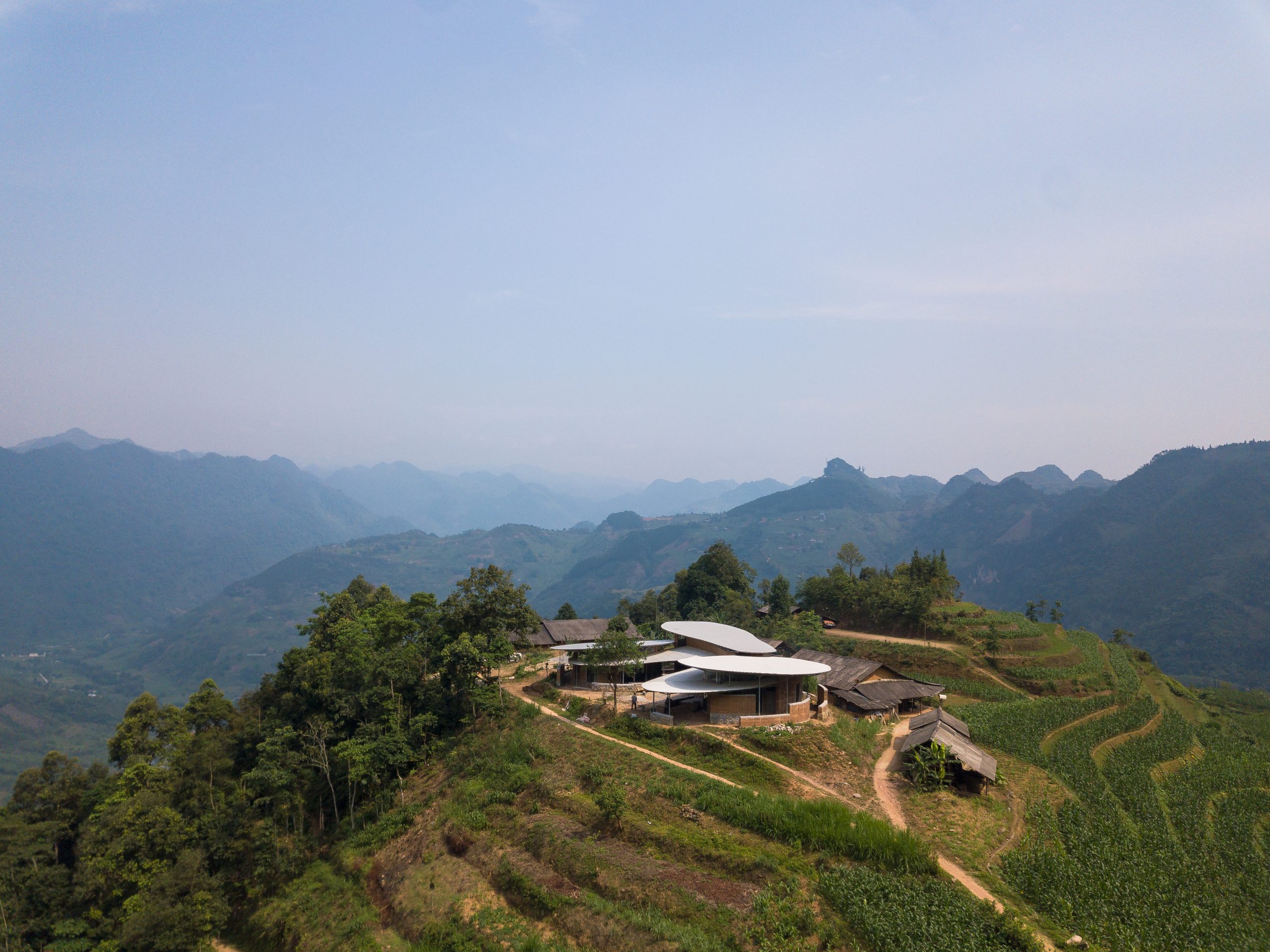 This school construction project was undertaken by AA Corporation, an interior design and furniture manufacturing industry in Vietnam. It cost 2 billion Vietnamese dongs to build, roughly 80,000 US dollars.
Its primary objective: bring educational opportunities to minority Hmong children. The schoolhouse complex performs a dual function as center of learning for kids and a venue for cultural activities in the area.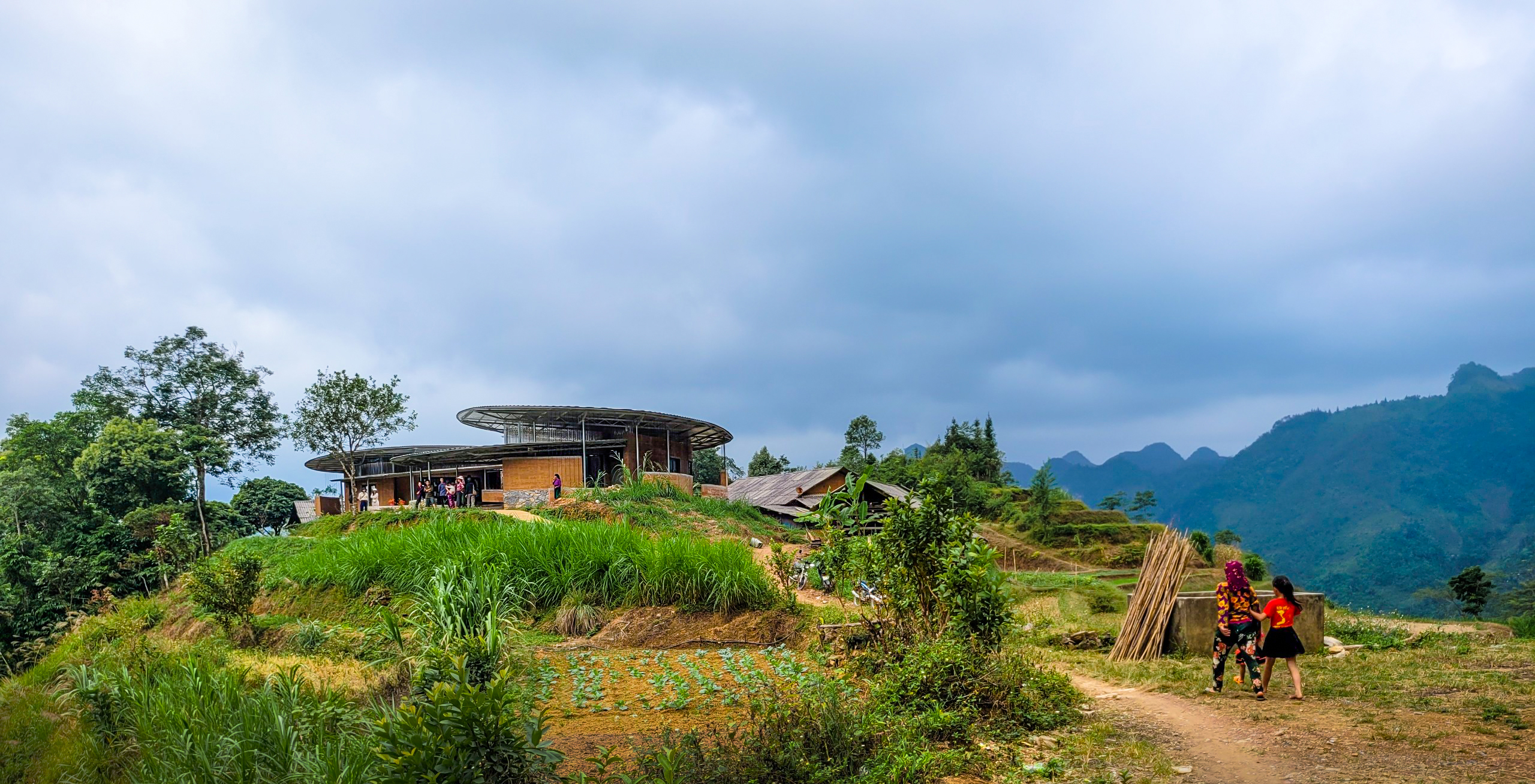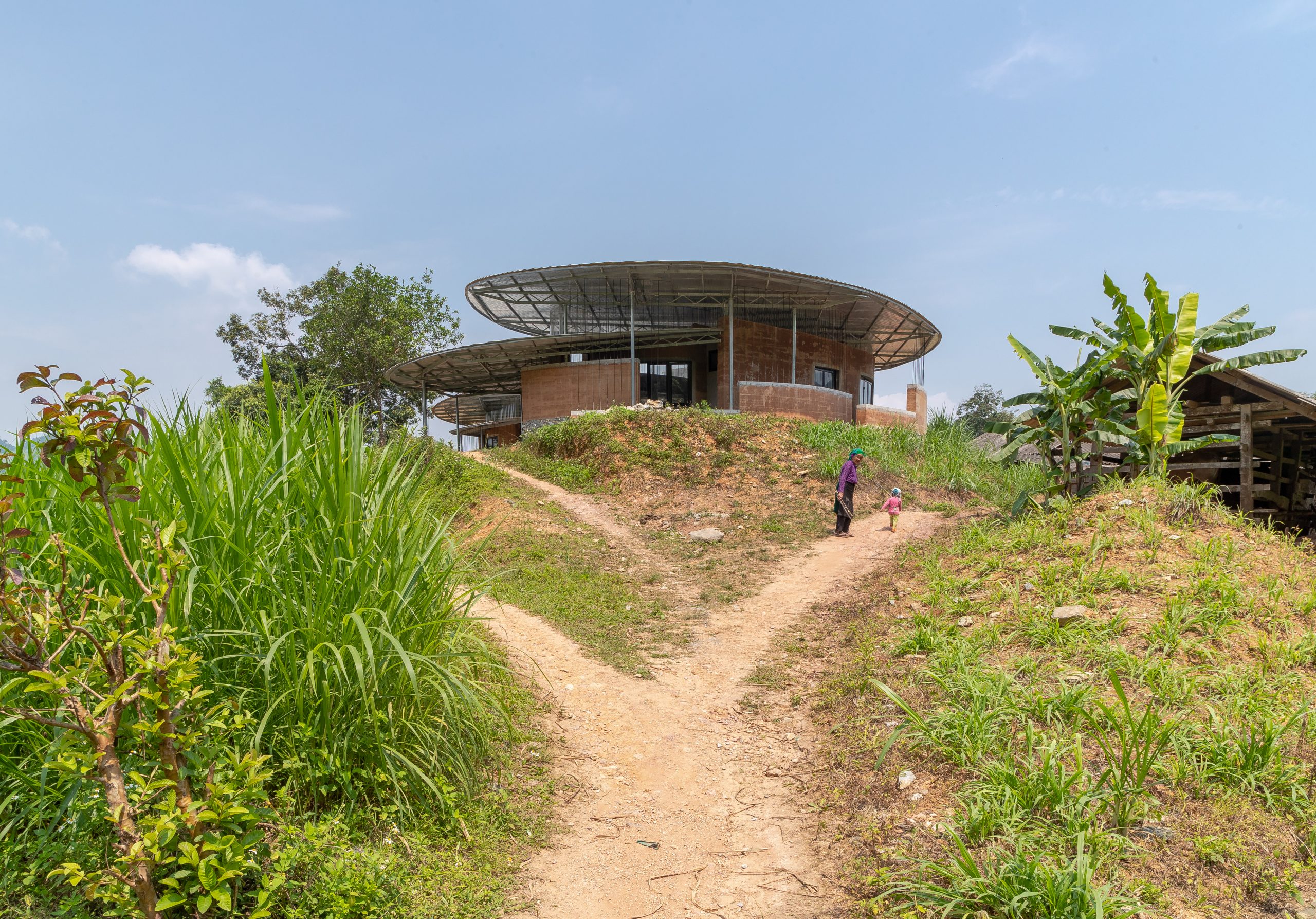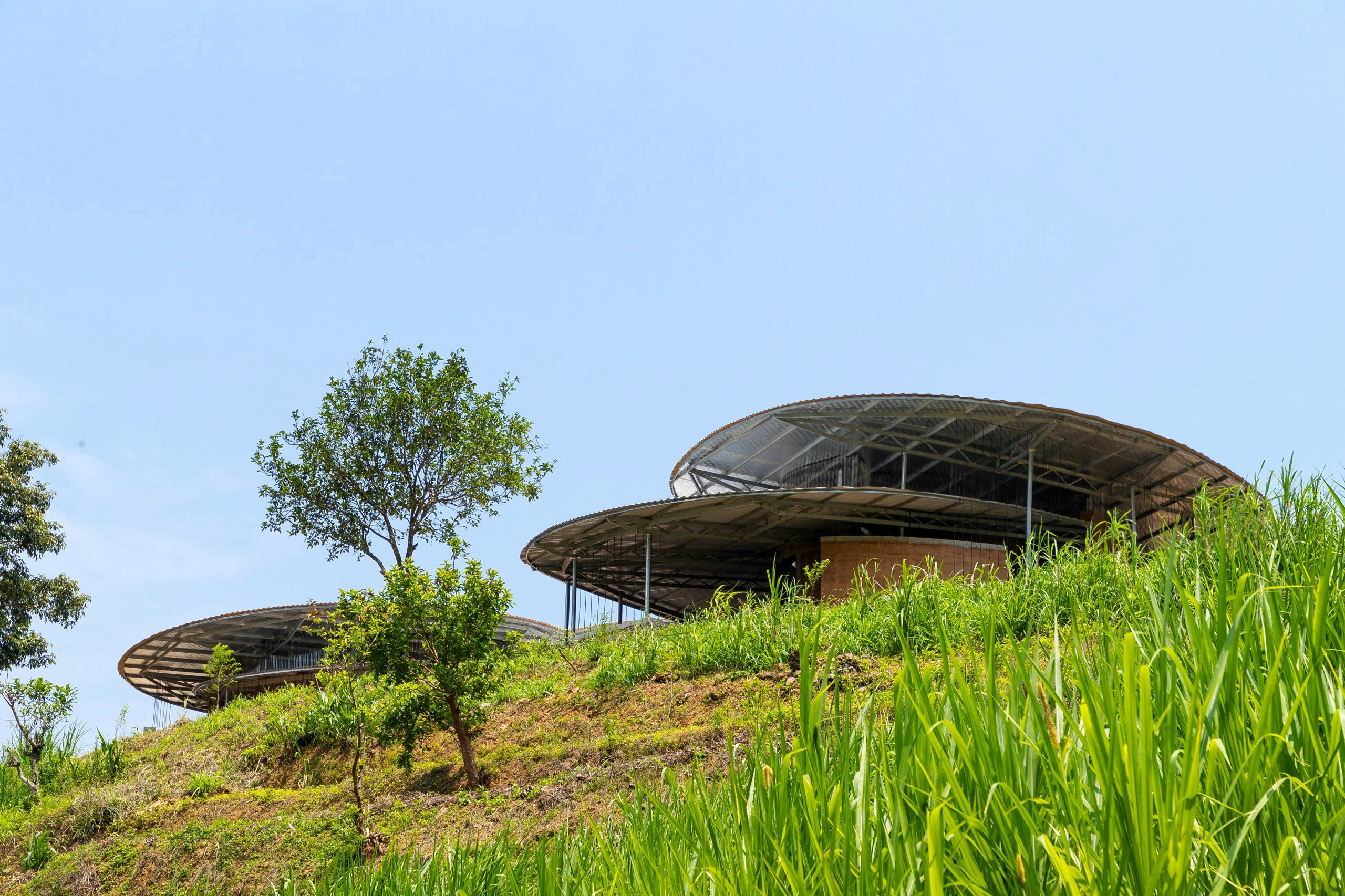 The project consists of three adjoining buildings situated a stone's throw from the village on a mountaintop. It offers a breathtaking panorama of the landscape covered in the morning's blue haze. The schoolhouses with circular roofs call to the mind an image of wild mushrooms shimmering in the sunlight amid a dewy meadow.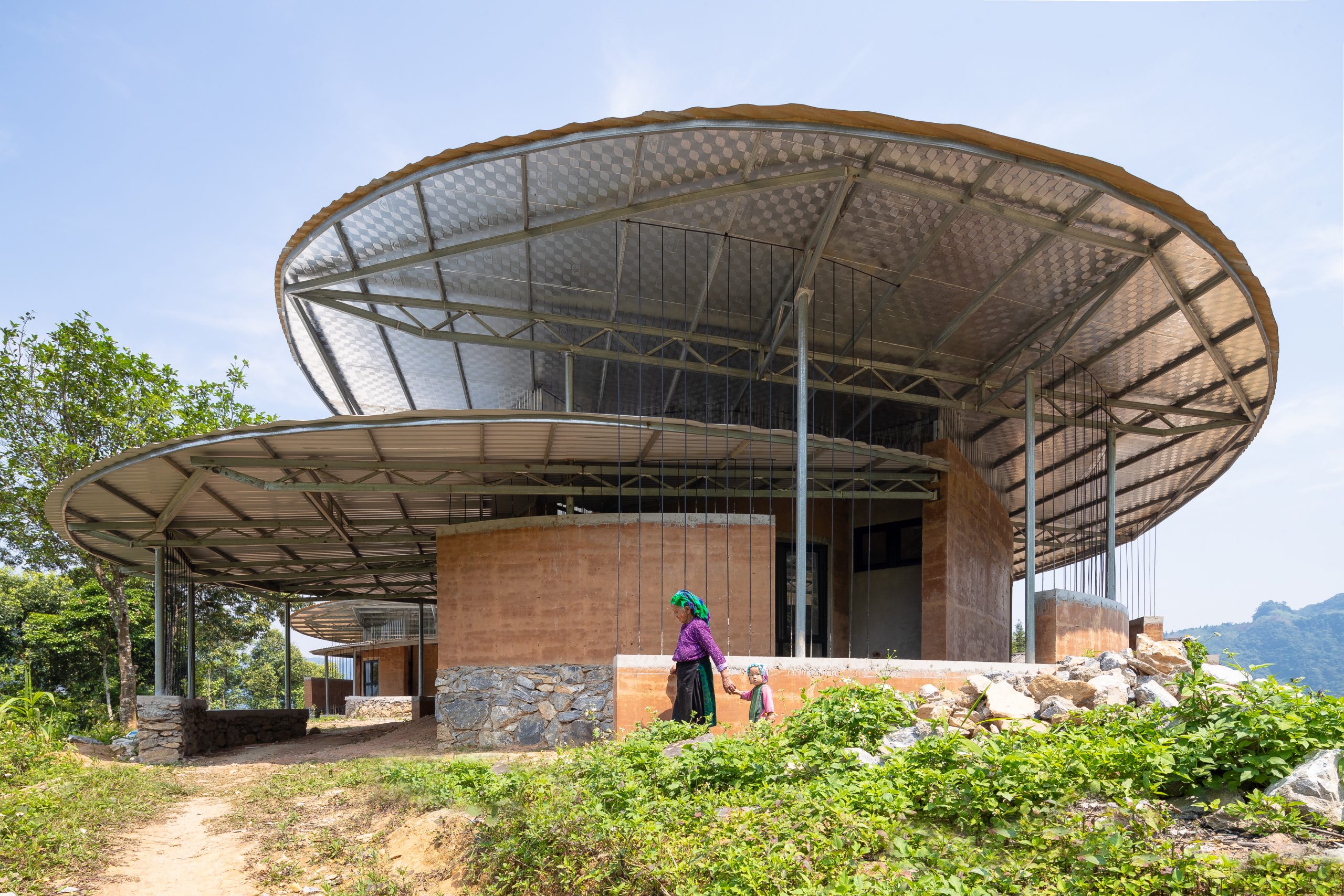 The trio includes one schoolhouse for the kindergarten, one for elementary school classrooms and the other housing the teacher's office, plus other facilities such as bathrooms, kitchen and multifunctional spaces supporting school activities. The schoolhouse project covers 250 square meters of land, perfectly adequate for the student populations at Lung Vai and neighboring villages.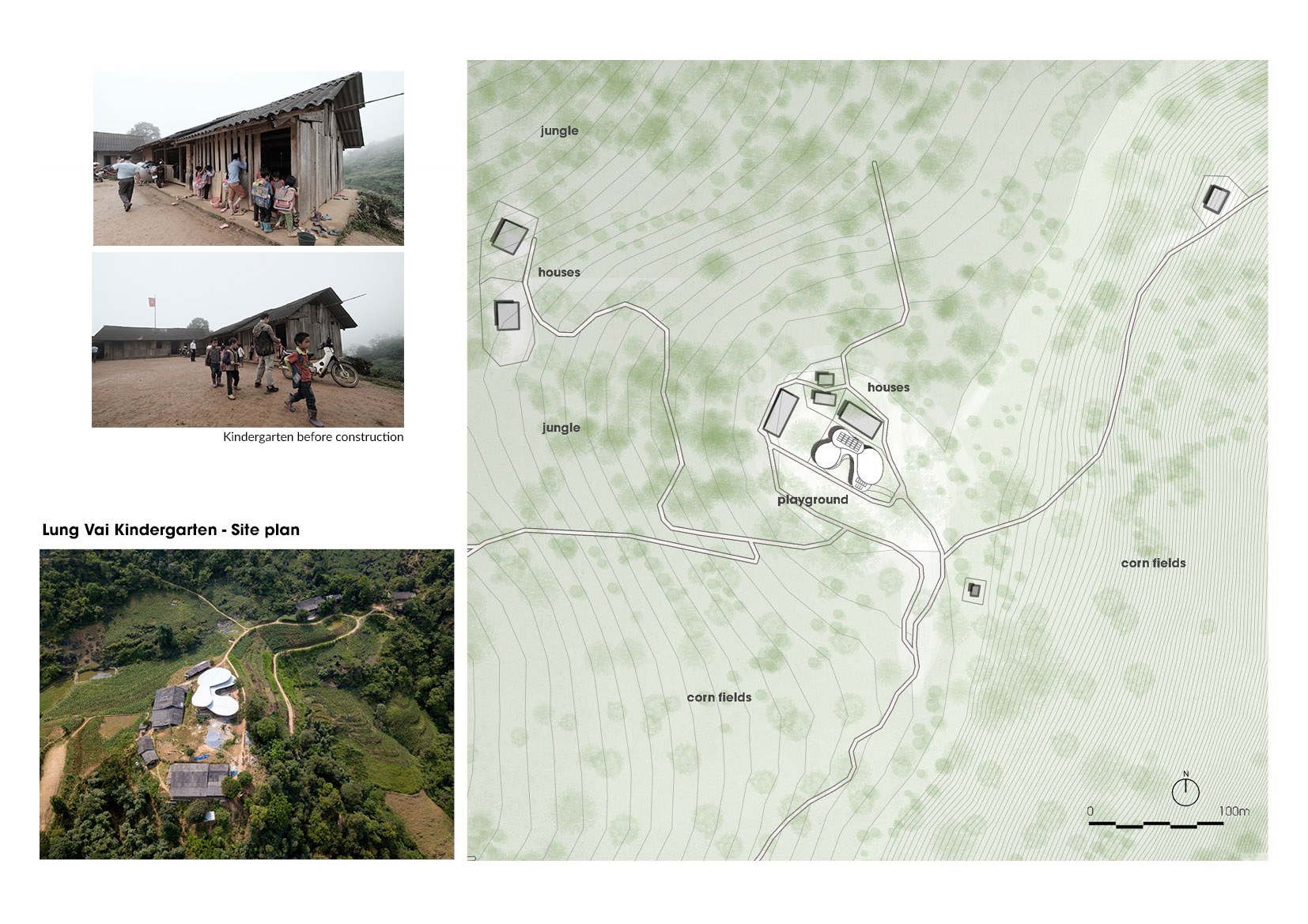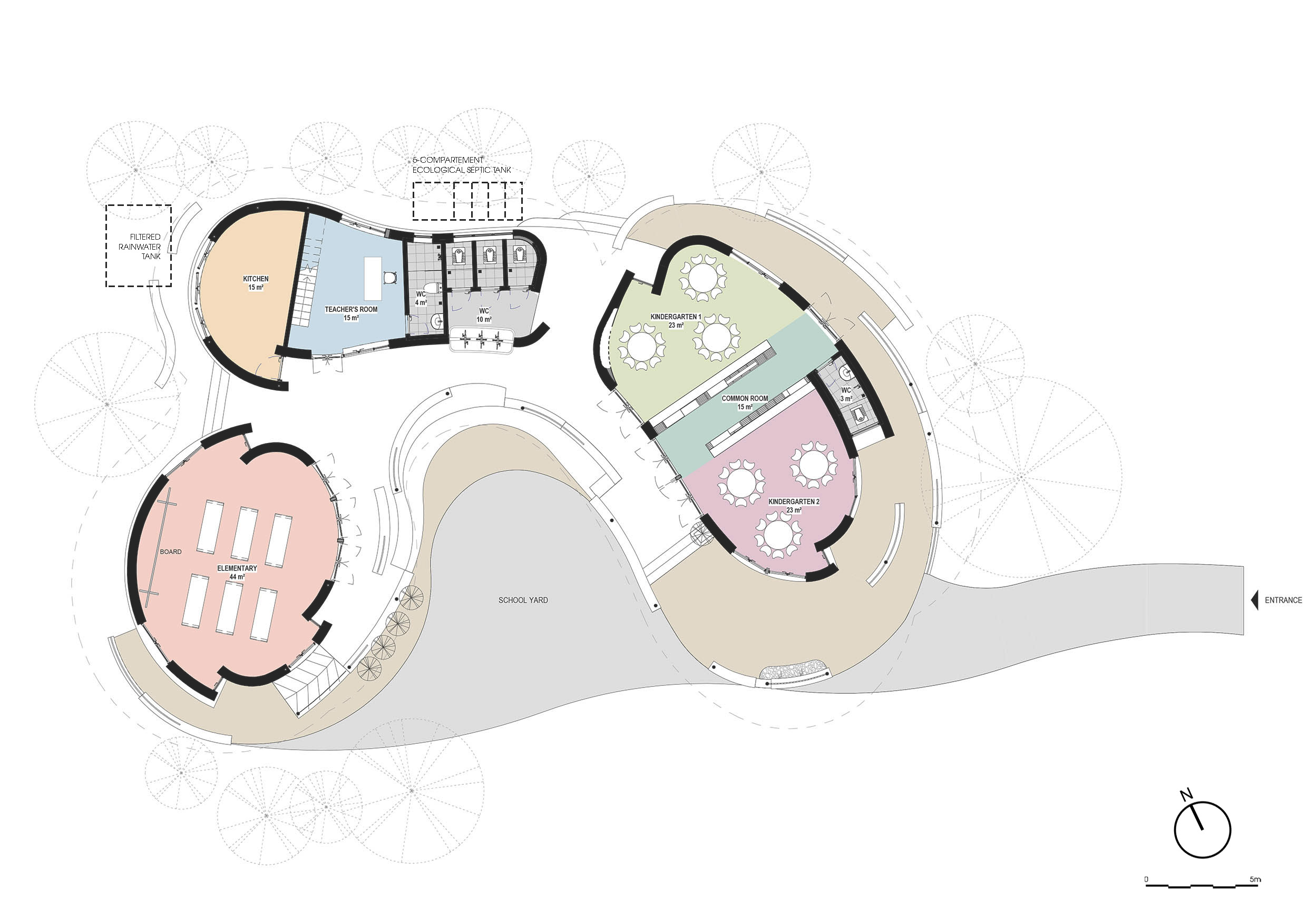 From afar, the curved roof buildings prove a perfect complement to their natural surroundings. They are put together in a way that the roof of one building overlaps another to create coherence in architecture.
It's a passive design strategy that goes to work facilitating the traffic between rooms, keeping the schoolhouses in shade and driving natural air circulation all day long. Like so, nothing disrupts the workings of mother nature.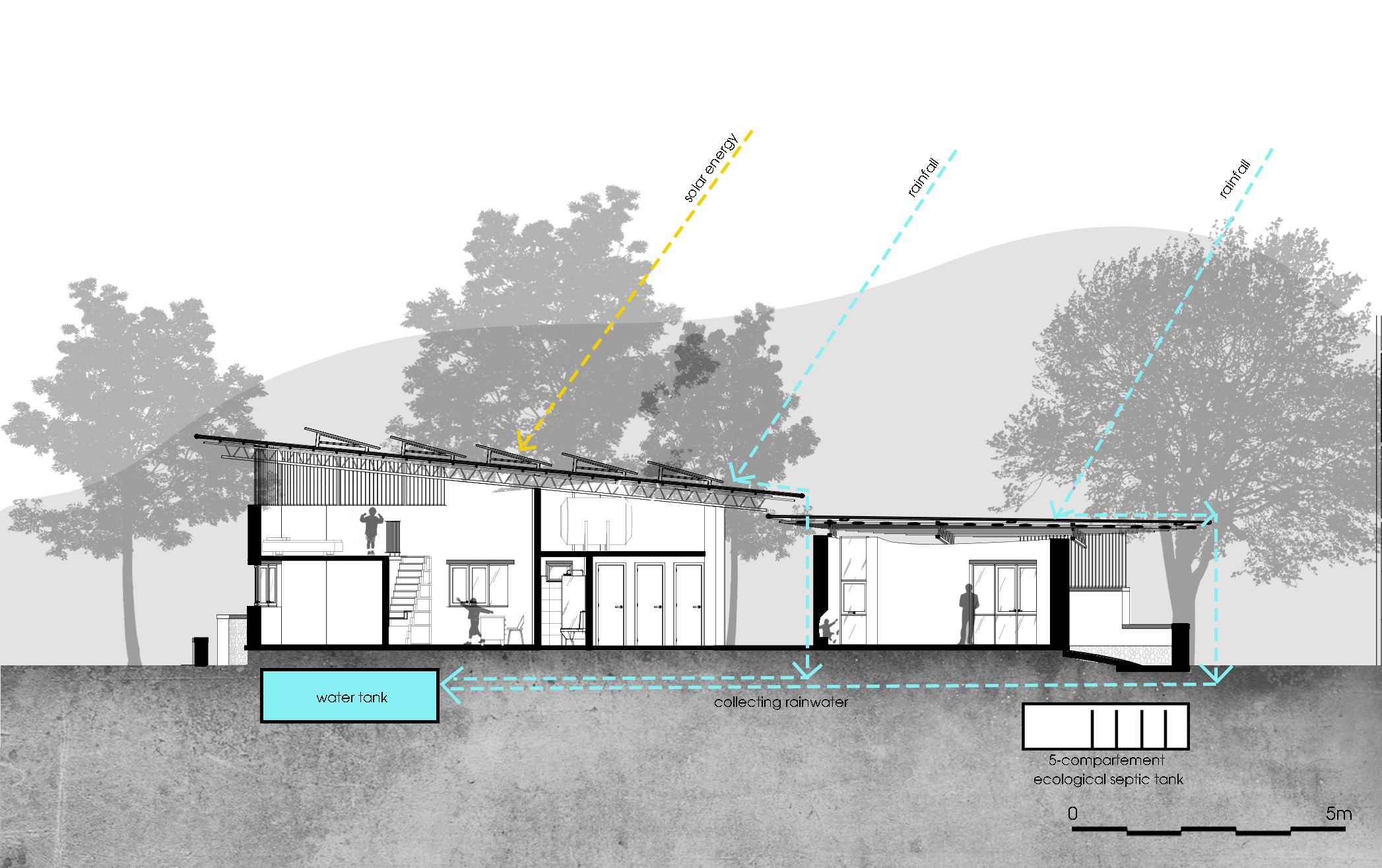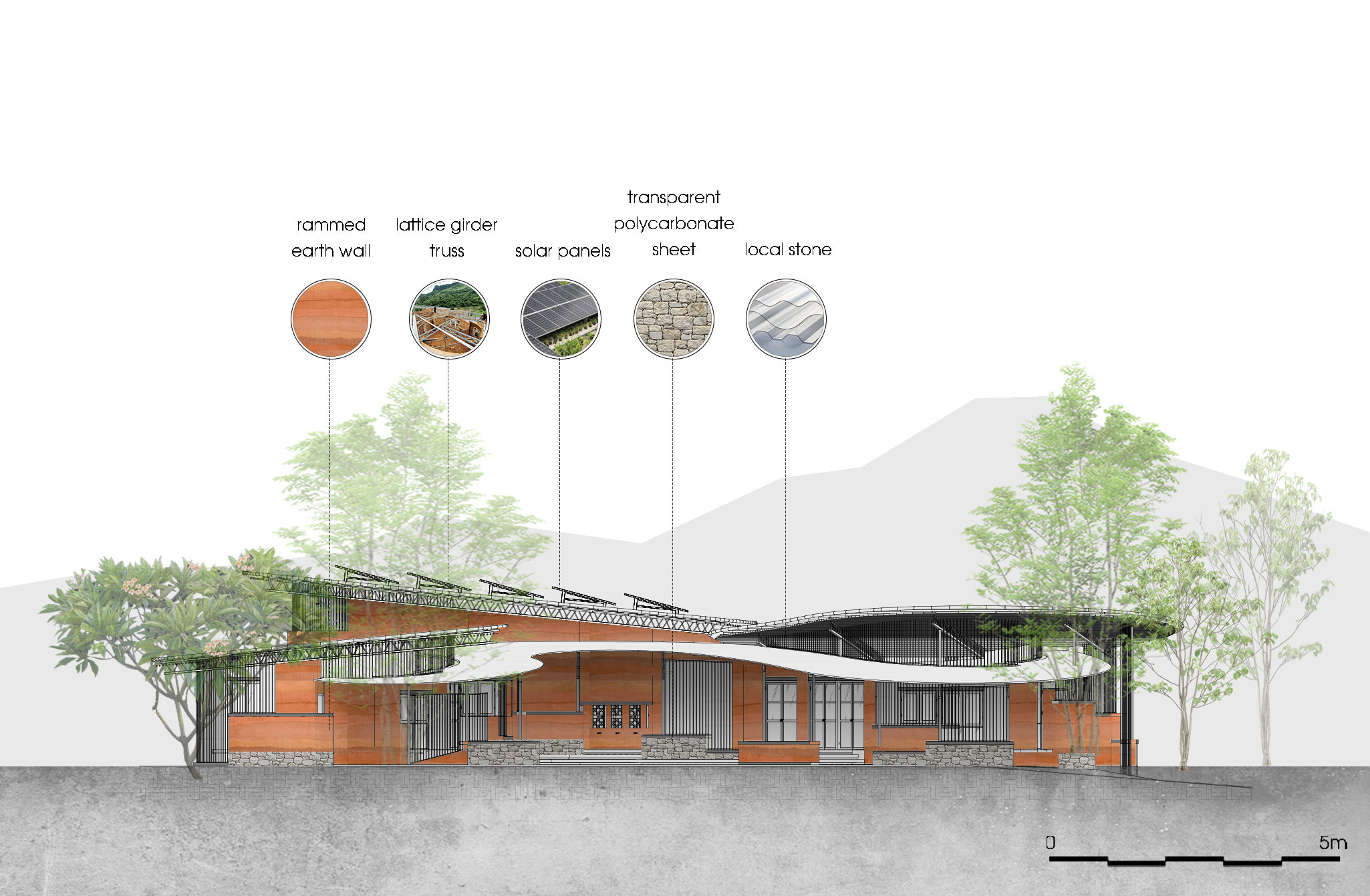 In terms of the language of architecture, there is a distinct synchronization of smoothly drawn curves that twist and turn as they converge at the mountaintop. All the elements of design blend together into a cohesive whole.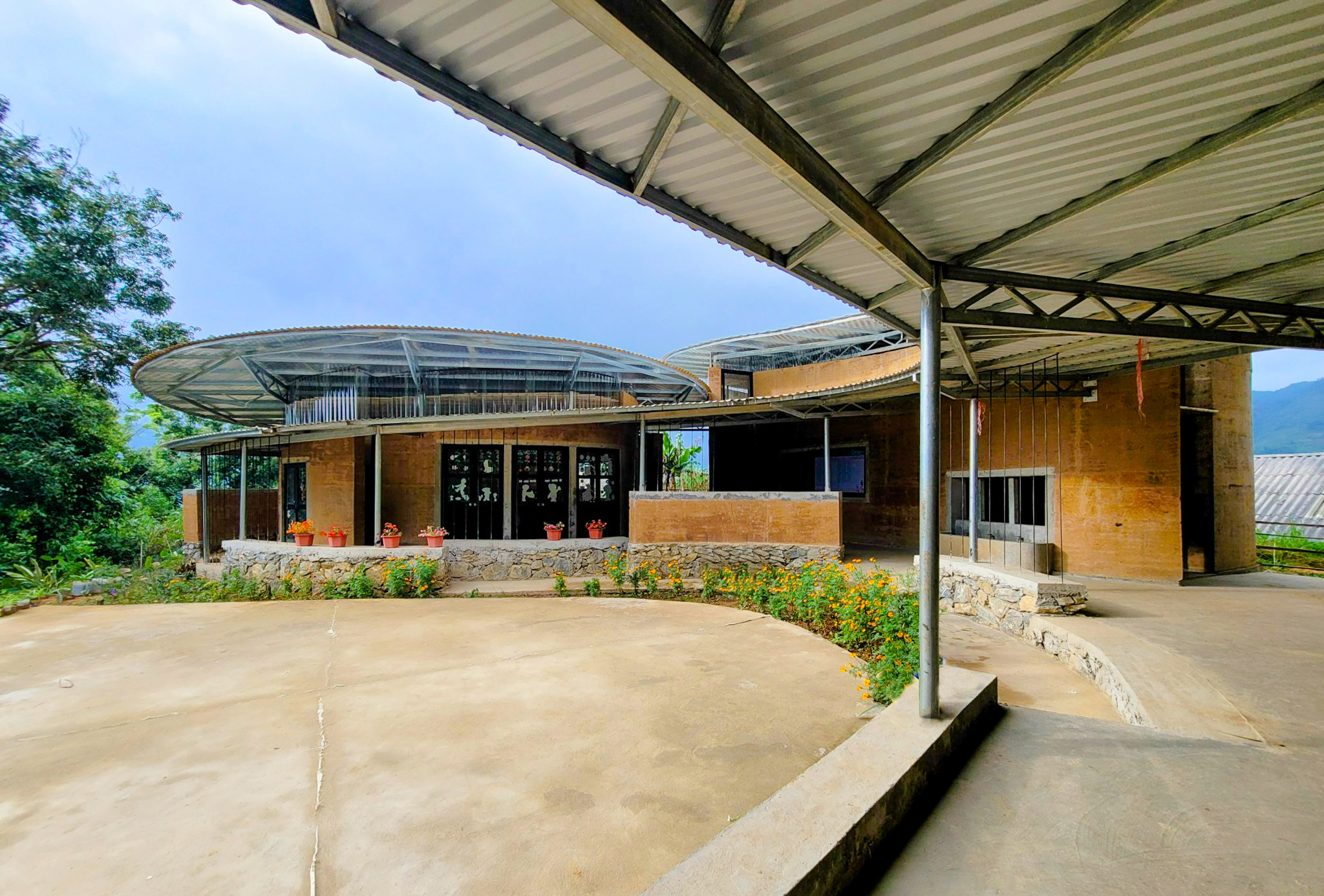 There is wisdom in challenges. Because the project is tucked away in a remote location, transportation is difficult to put it mildly. It was a dilemma that tested the ability of the design team at 1+1>2 Architects. And yet they rose to the challenge by successfully completing the project in only six months.
The secret to a mission accomplished lies in using building techniques and materials readily available in the area in perfect proportions, in particular rammed earth construction.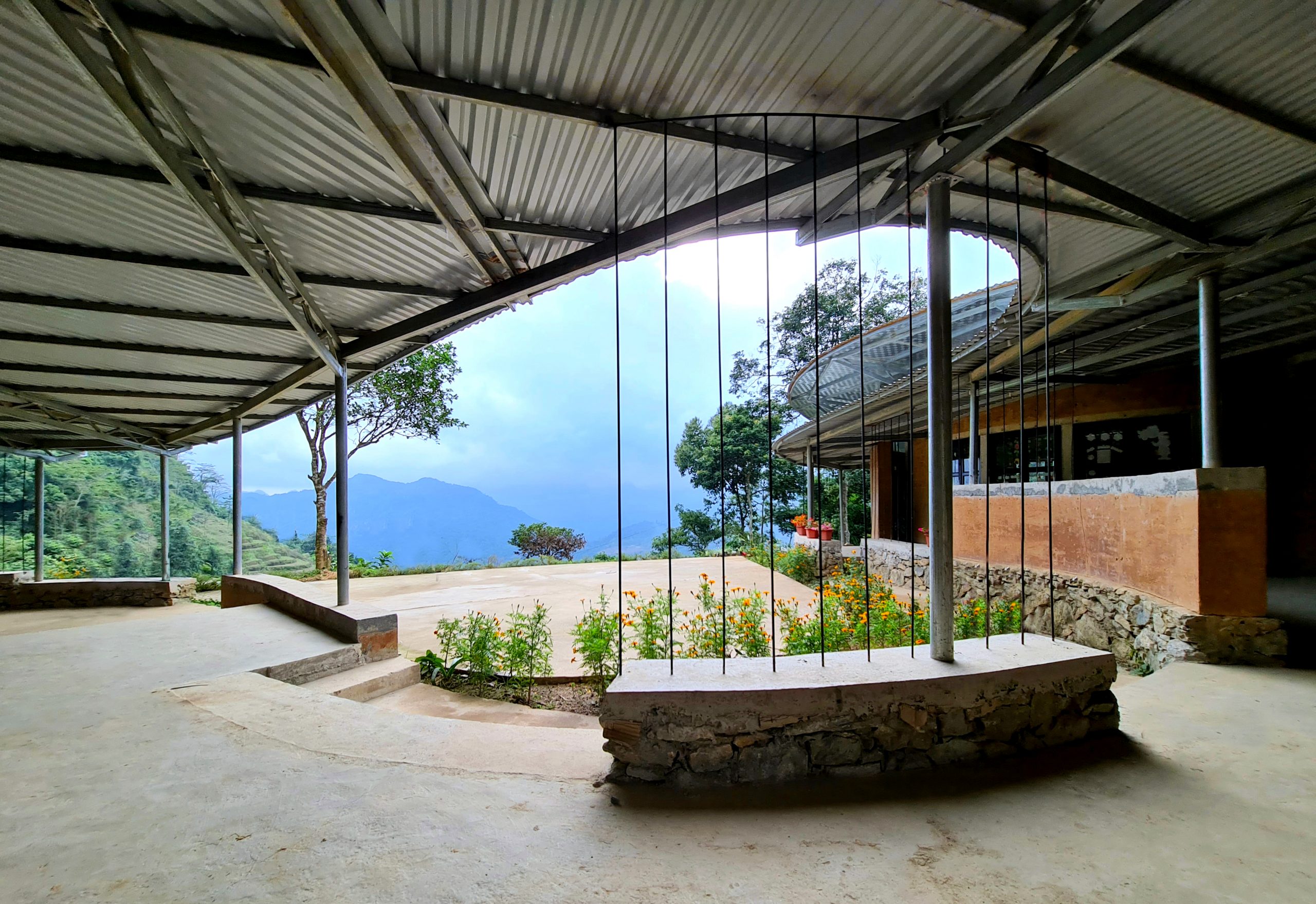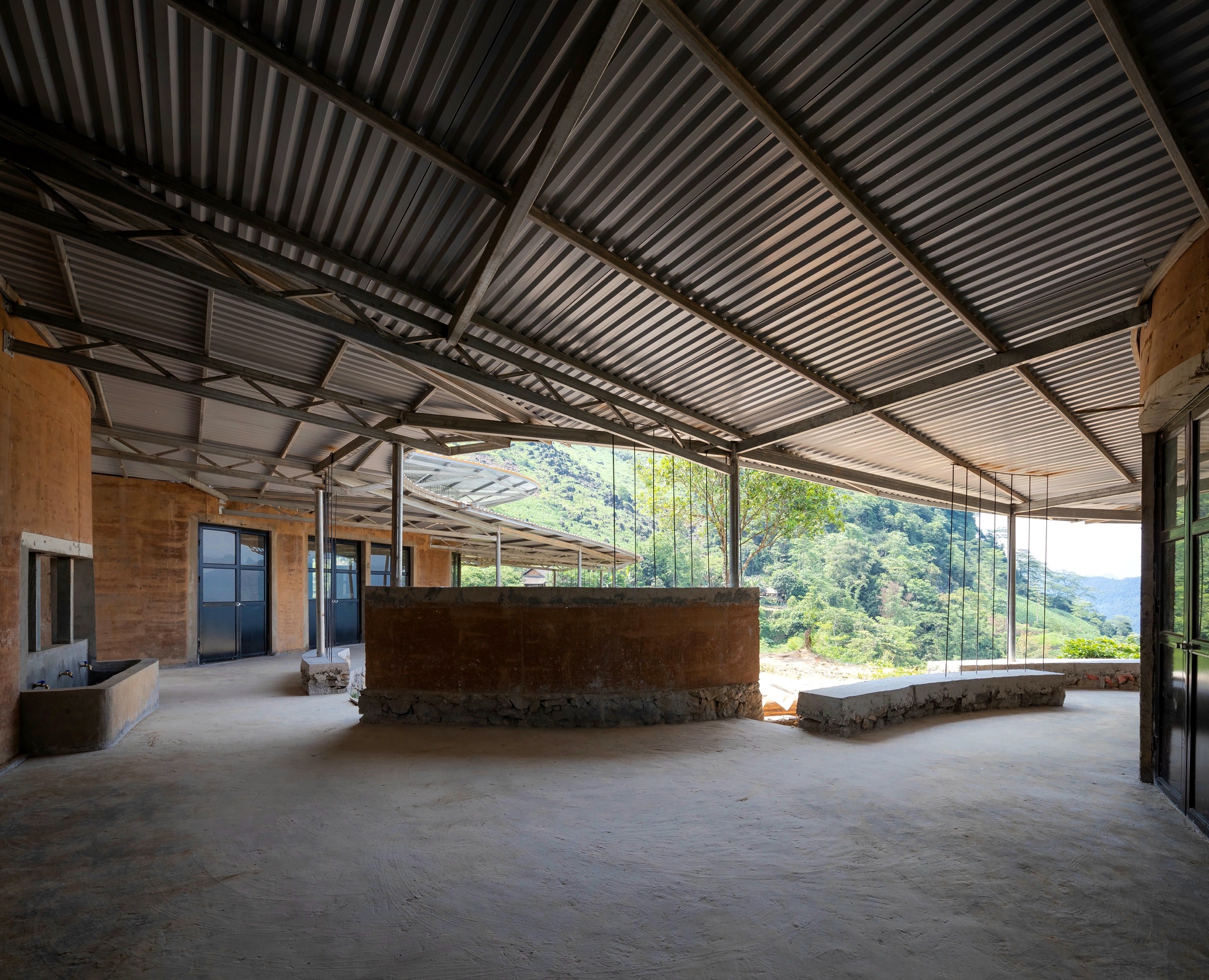 Building with rammed earth or mud brick brings many benefits. It's friendly to the environment and capable of reducing the ambient temperatures. Plus, it's durable even in extreme weather conditions.
Pleasant to look at, a mixture of sand, clay and other ingredients gives a rich warm color of earth hues that allows the schoolhouses to blend perfectly into the natural world around it.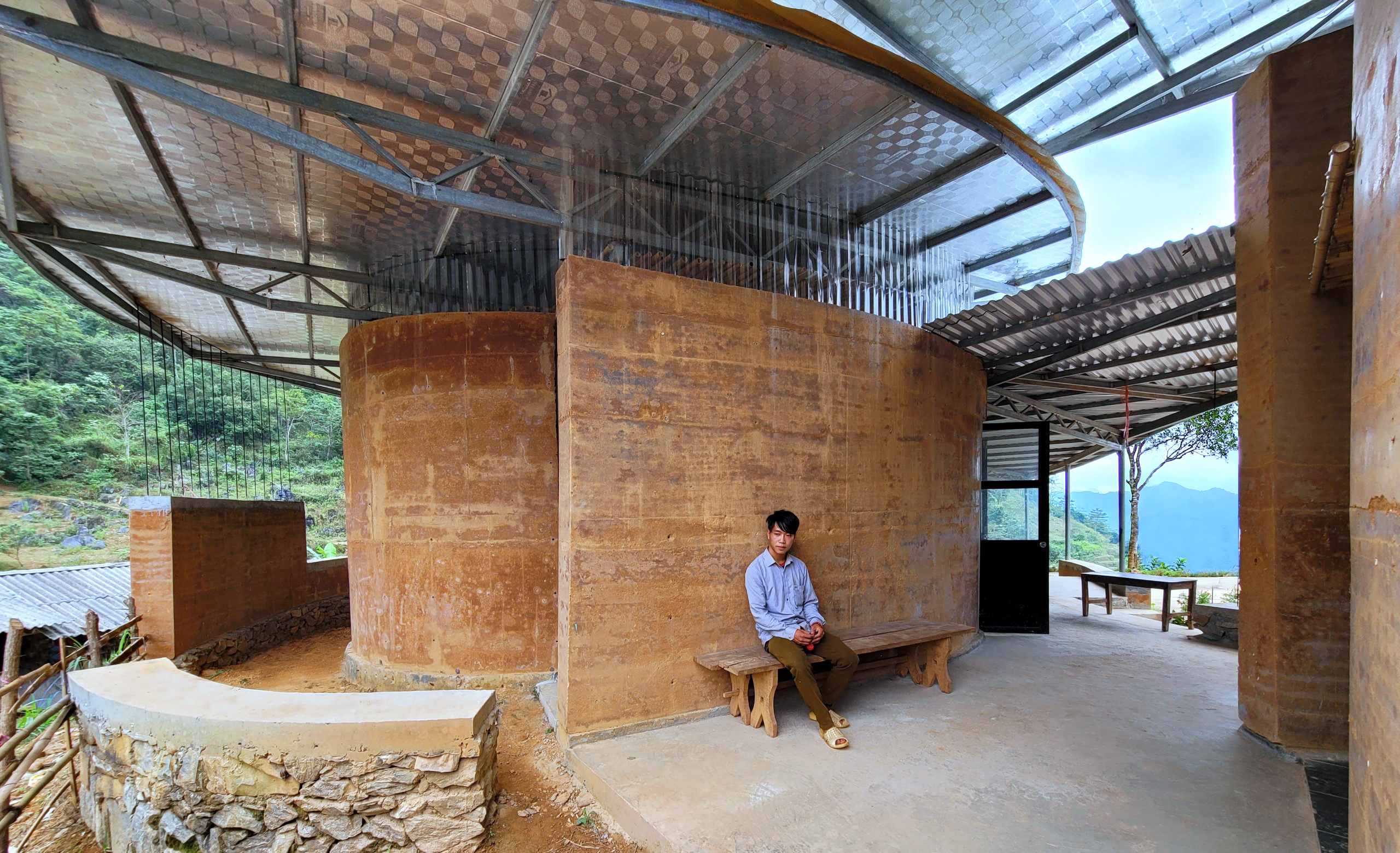 Rammed earth walls are capable of supporting the loads applied to them up to a certain limit. For strength and durability, the schoolhouses also contain parts made of other materials, such as steel framing supporting roof trusses.
Steel is chosen for speed of construction and overall robustness, especially where the distance between columns increases. Plus, it's perfect for building a great variety of roof shapes and styles.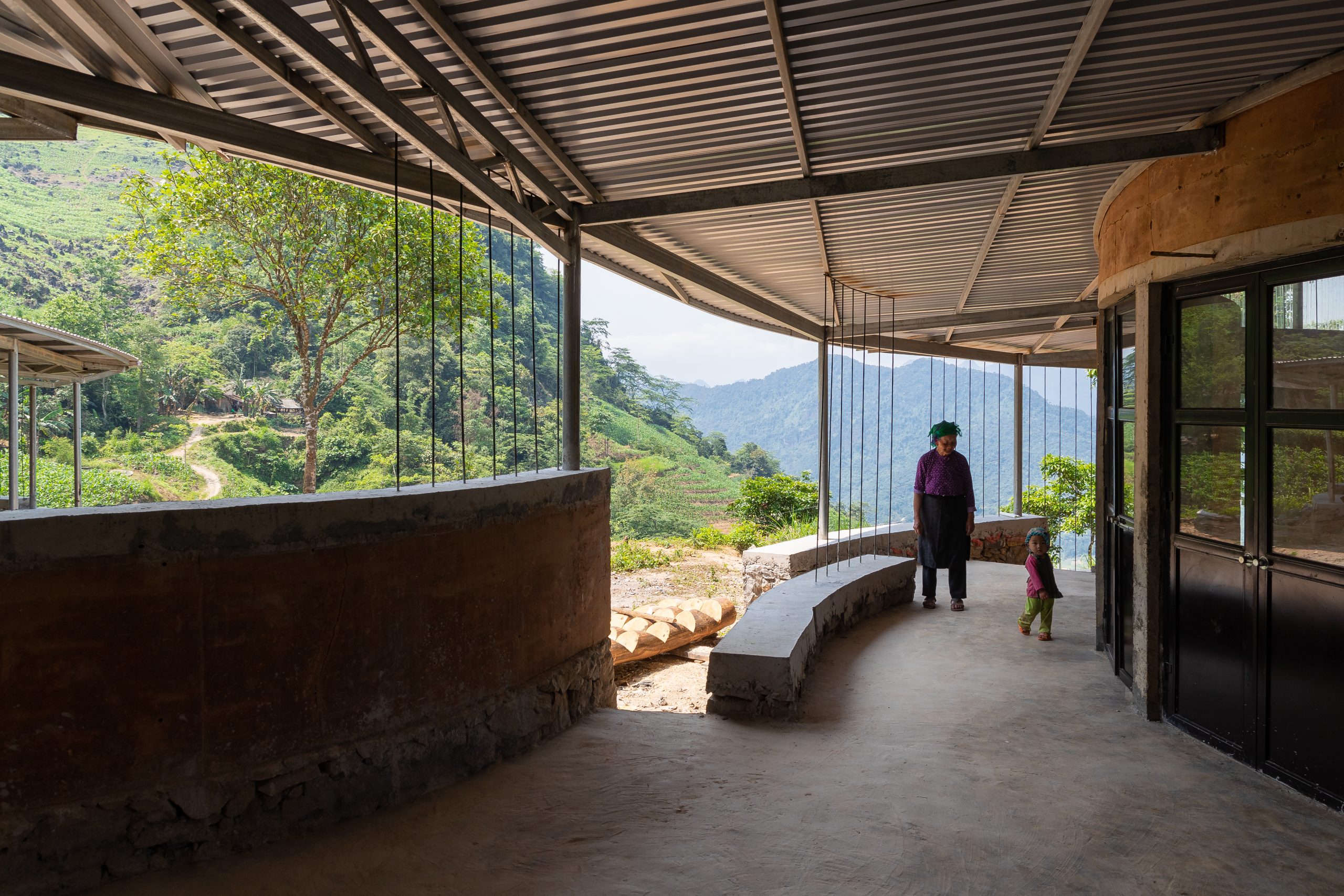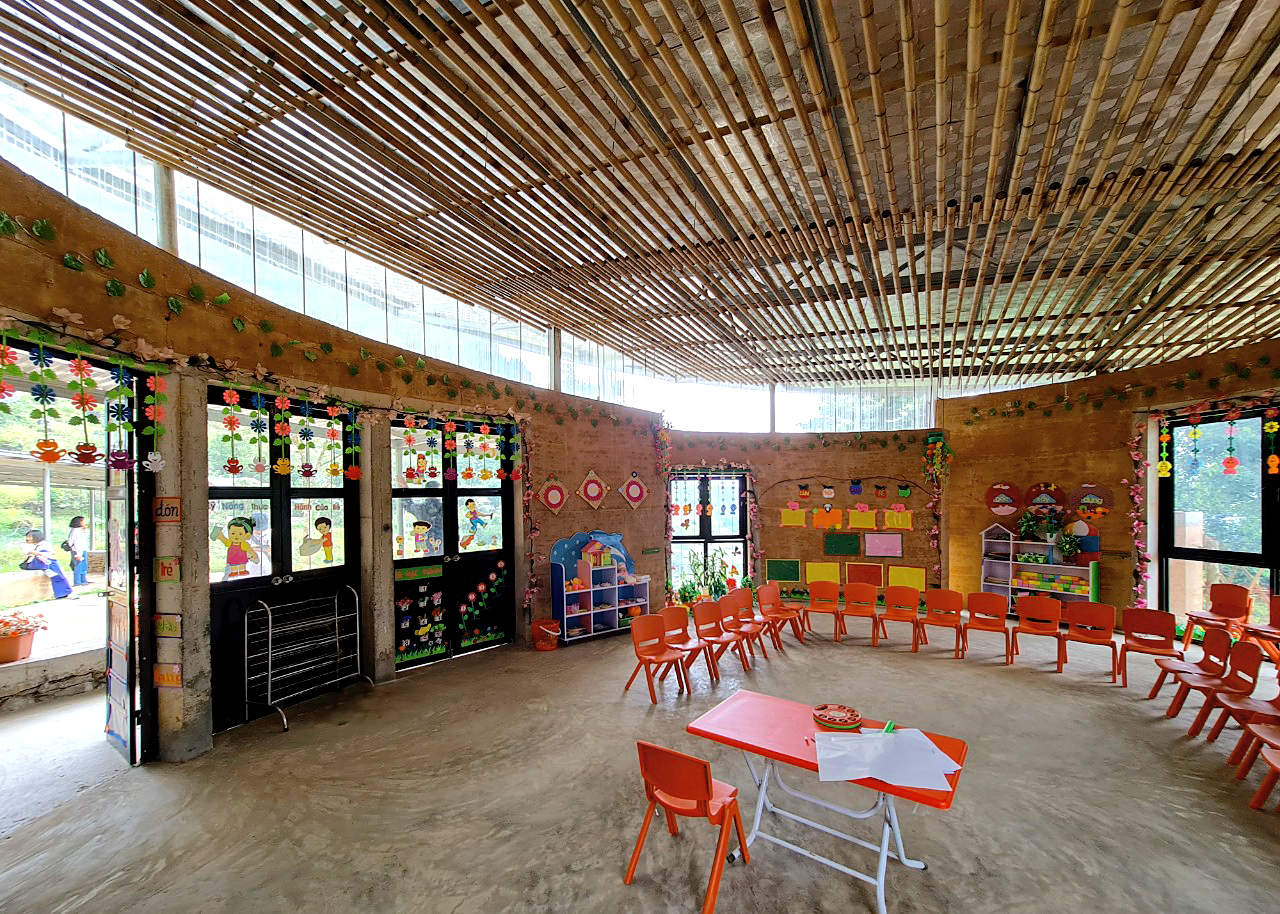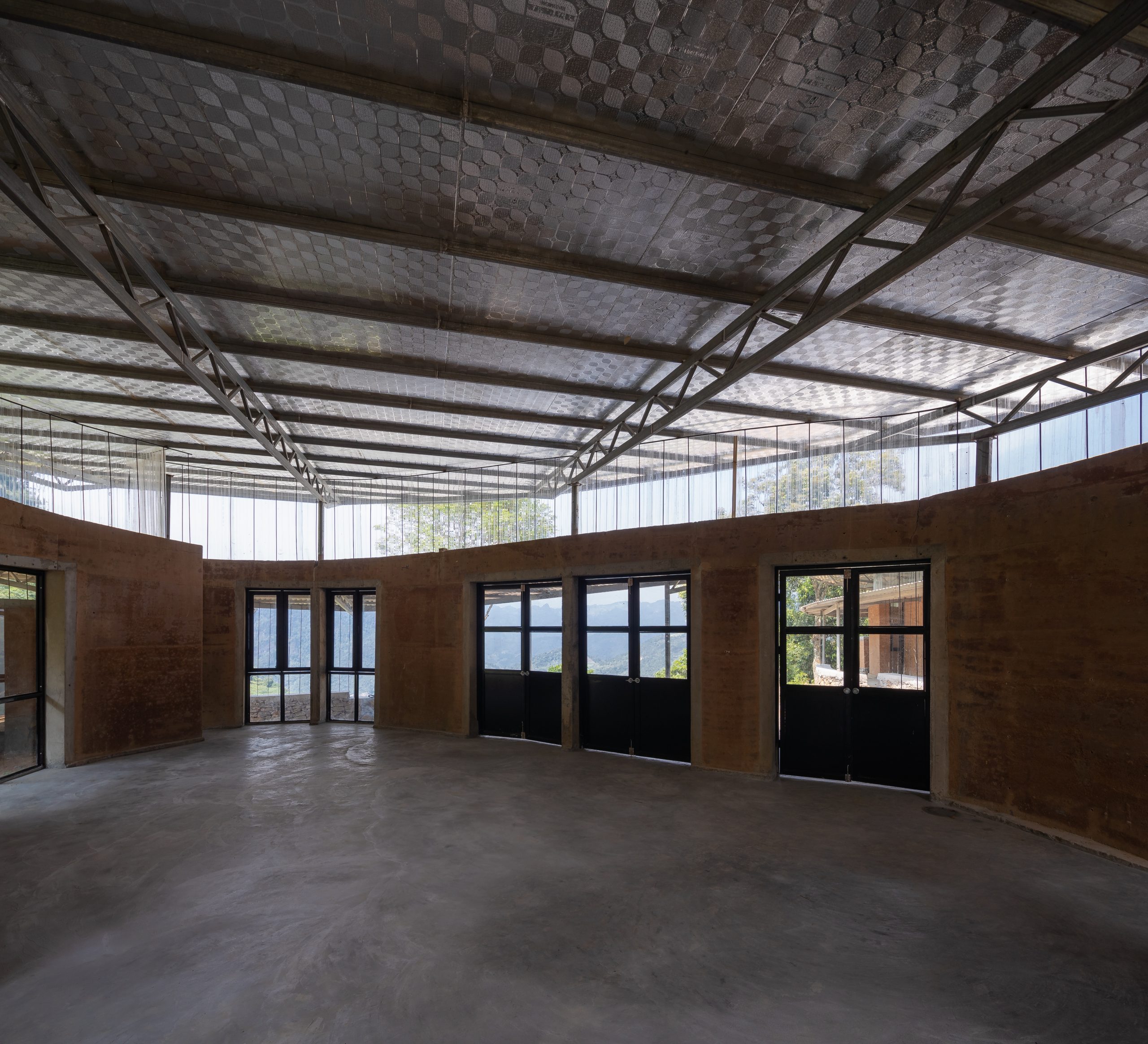 Taking everything into account, it's design that pays attention to detail in facilitating indoor traffic flows and interactions between rooms. This is evident in there being four entry areas conveniently linked to stairs and ramps leading from one floor to the other, as well as the internal traffic routes connecting all the rooms.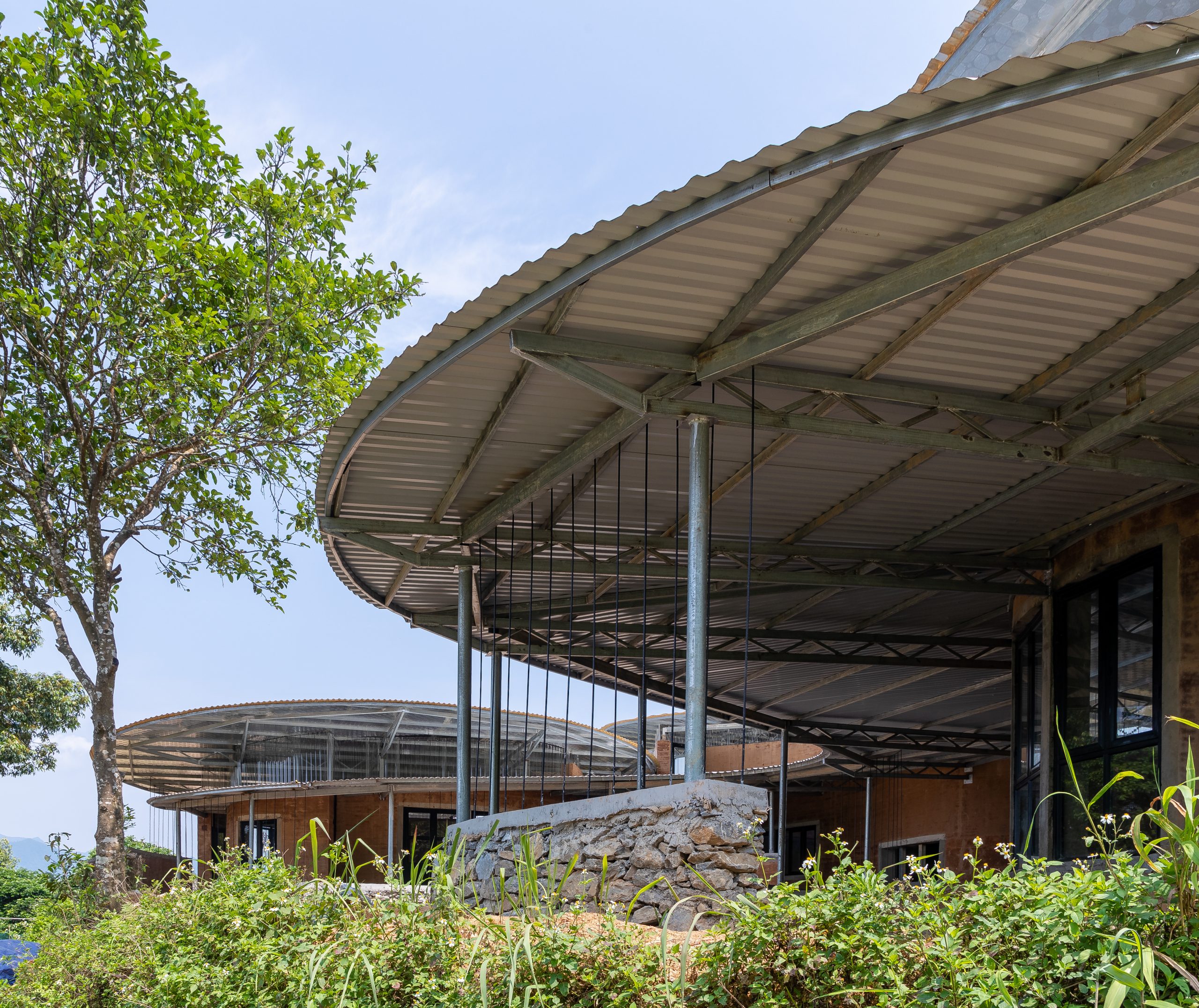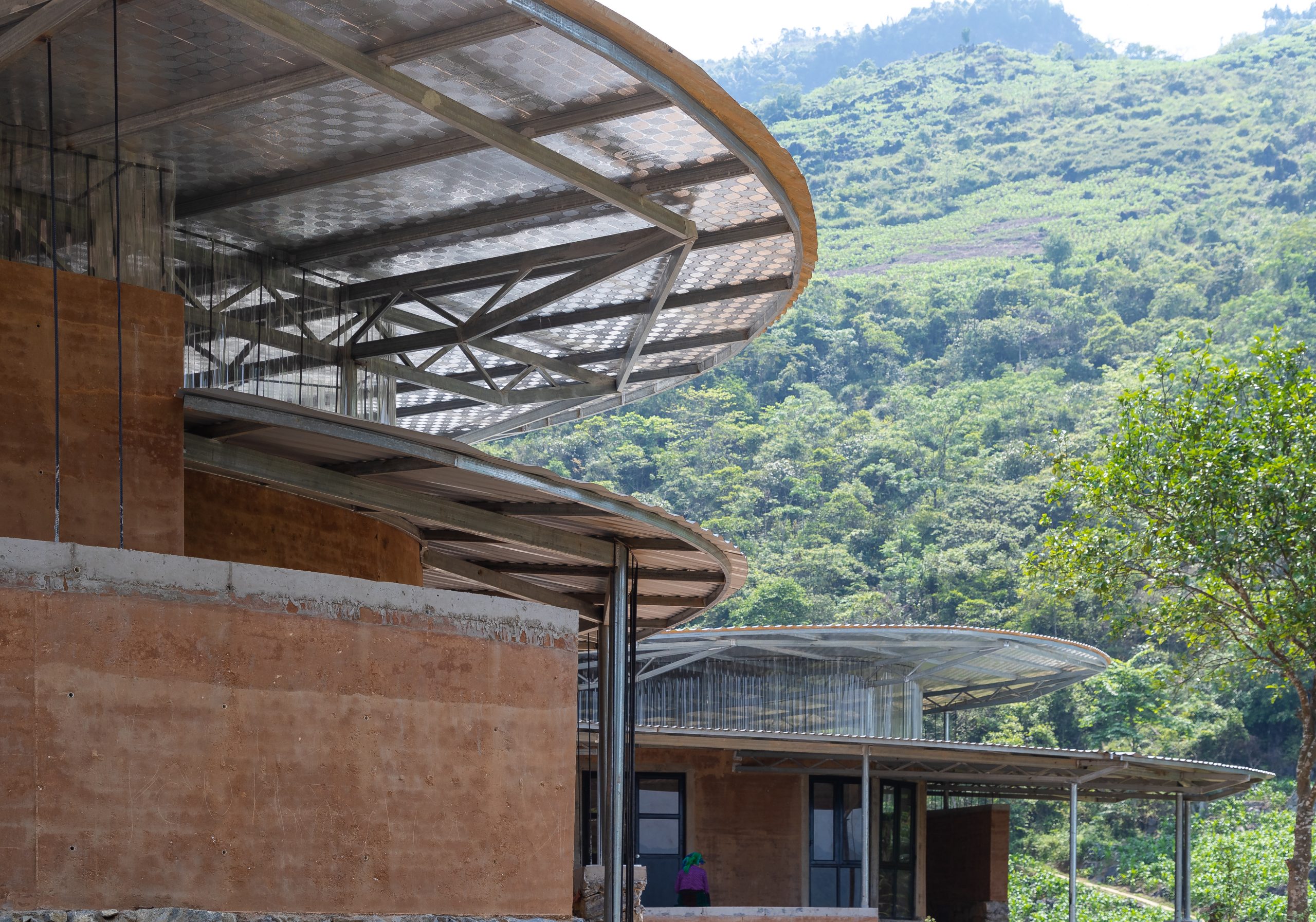 The schoolhouse floor is raised slightly higher from natural ground level, adding visual interest to design. The hallway leading to classrooms is built wider than average to provide space for built-in bench seating on the side. And there's still plenty of room left.
Other useful architectural features include the extended roof overhangs that keep the classrooms cool in the summer and dry in the rainy season. Priceless!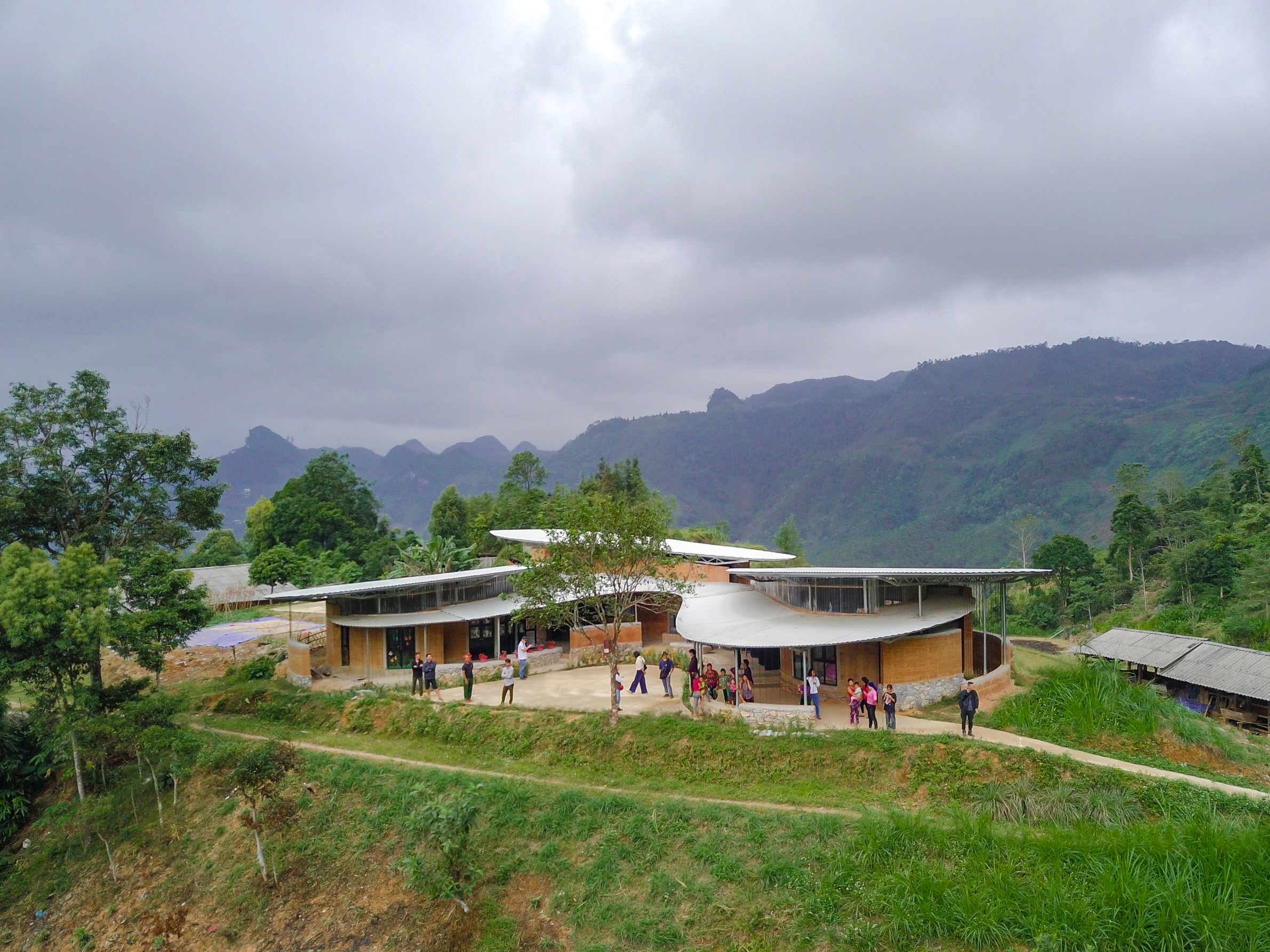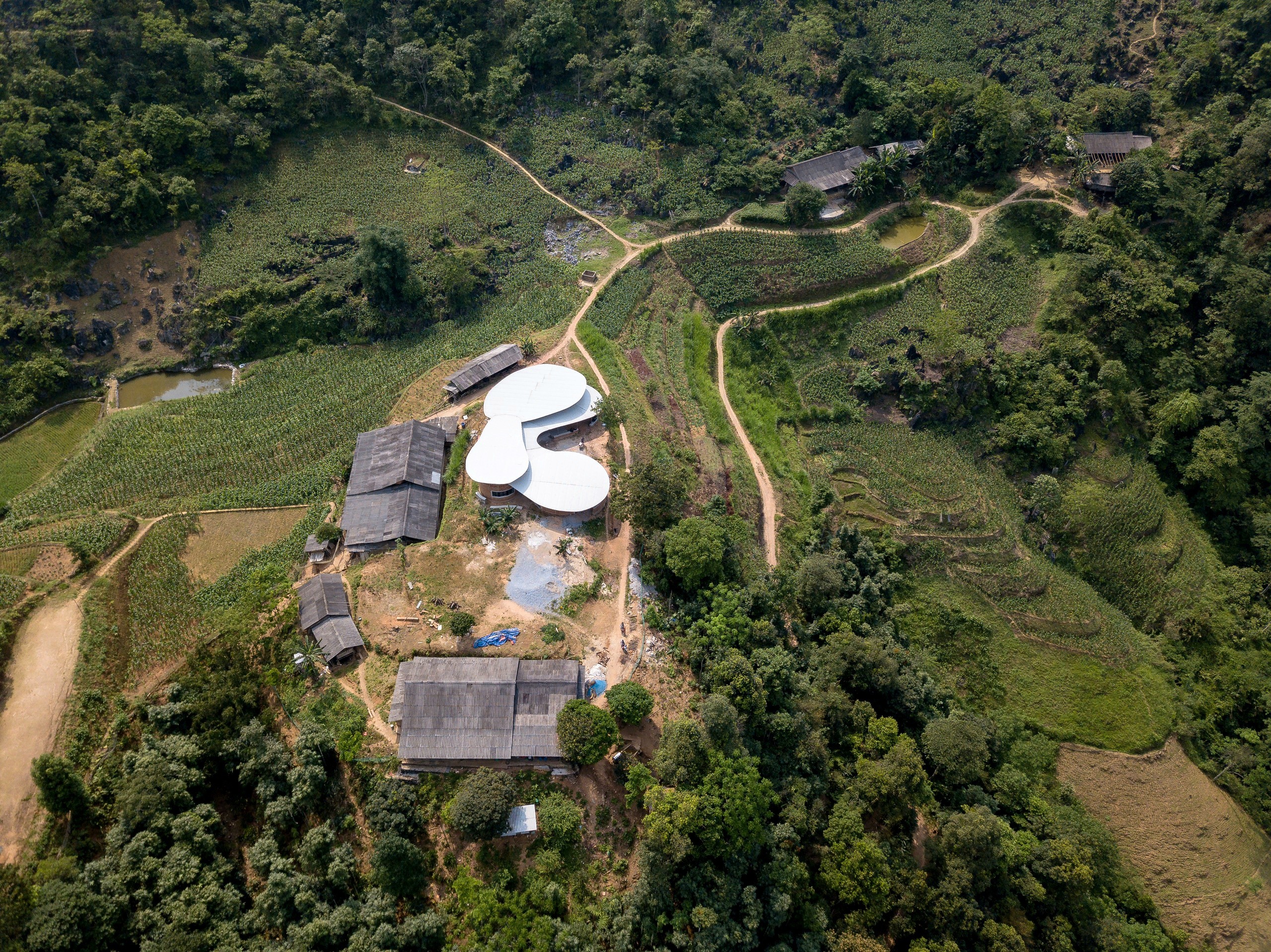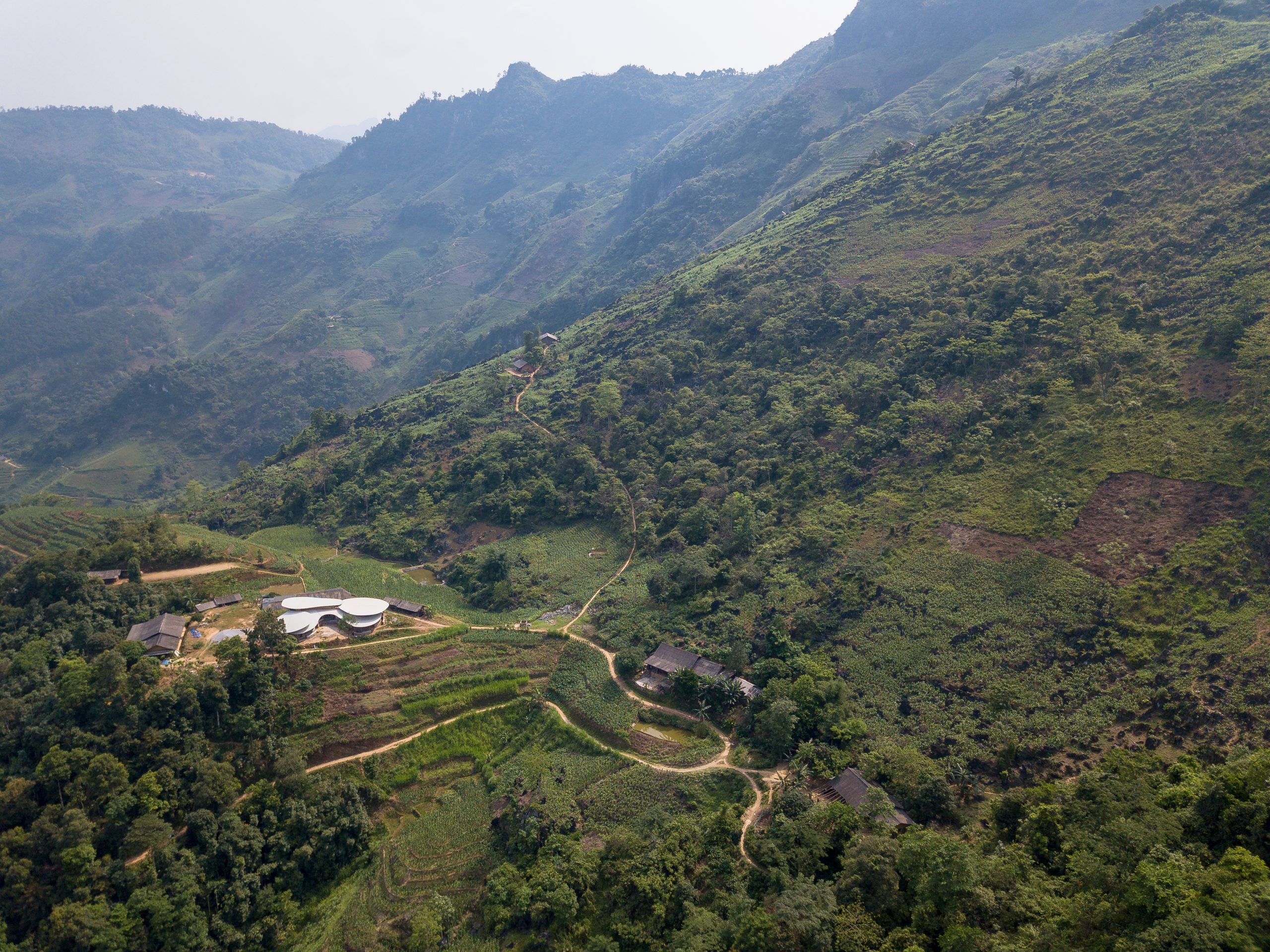 ---
Architect: 1+1>2 Architects (112.com.vn)
Lead Architects: KTS Hoang Thuc Hao, KTS Tran Hong Nam, KTS Nguyen Hanh Le
---
You may also like…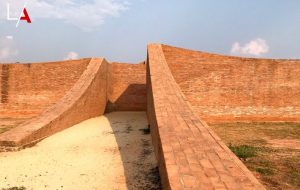 The Elephant World of Surin; Architecture Dedicated to the Asian Pachyderm and the Kuy People