Time and budget allowing, it's not hard to find a Chao Phraya riverside hotel in Bangkok for a night's stay. What's harder is to find a place rich with art and an atmosphere that makes you feel at home while taking you back in time to an earlier age in the river's history.
/// THAILAND ///
Story: Korakada /// Photography:  Soopakorn, BEE+ /// Owner: Passapol Limpisirisan, Wiboon Lee /// Creative: MONDAY /// Architect: Anupap Onsard /// Interior Designer: Sutida Pongprayoon /// Landscape Architect: Sawin Tantanawat /// Artist: Studiojew+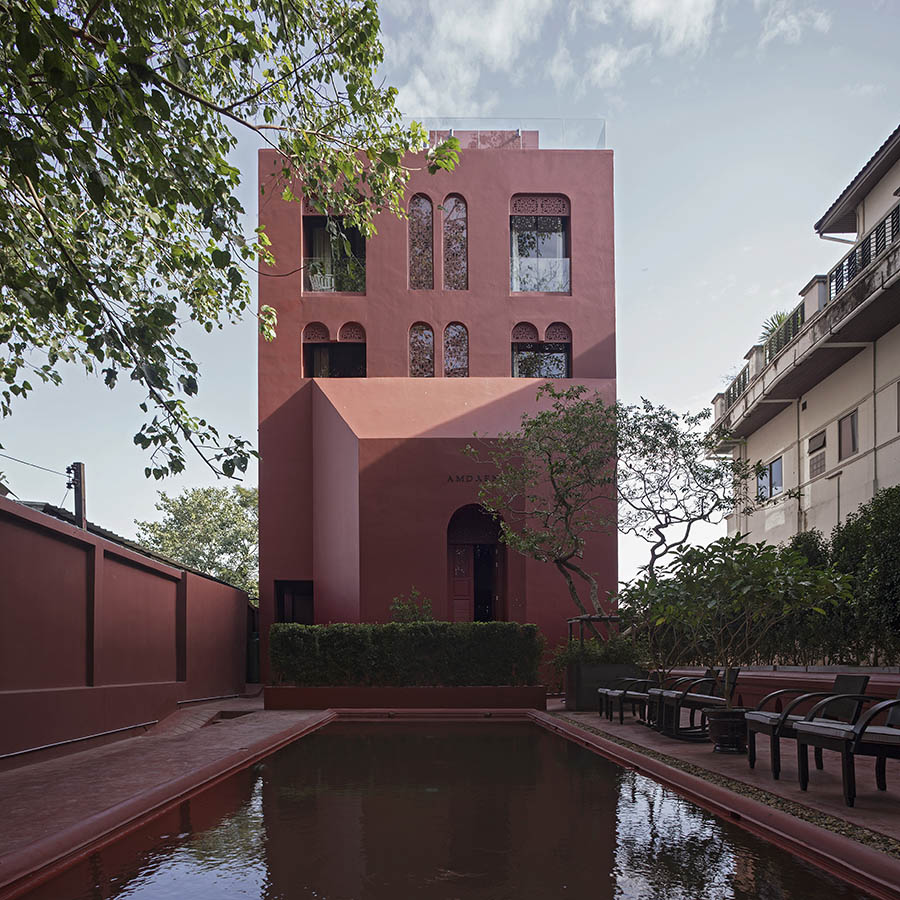 This 10-room contemporary hotel with a taste of "Thainess" stands on 100 square meters in a tiny alley just off Chiang Mai Street, in the same neighborhood as the fascinating tourist destination Lhong 1919. "Amdaeng," the hotel's name, belonged to a fabled woman from the past and was suggested by the "Amdaengkhlee" on a former owner's land deed from the Rama V era.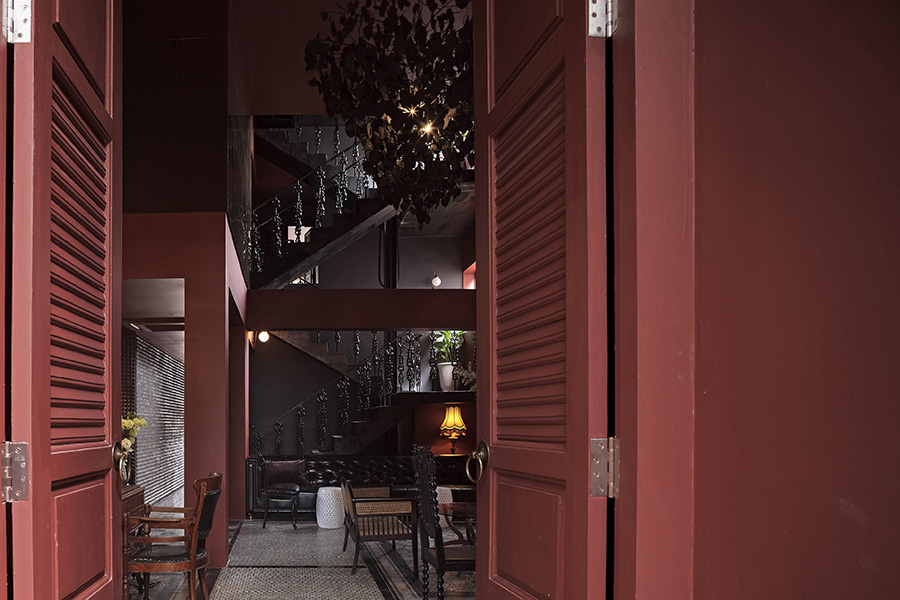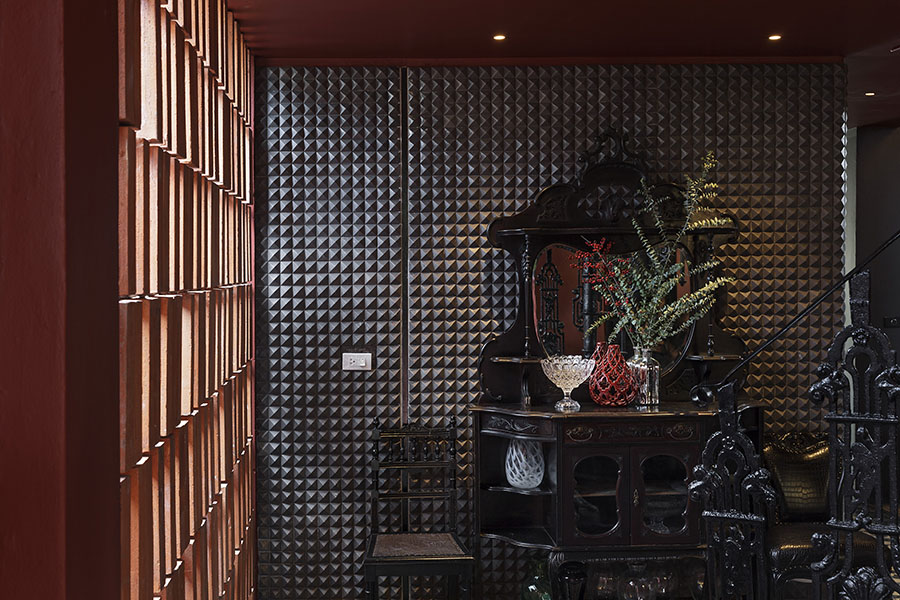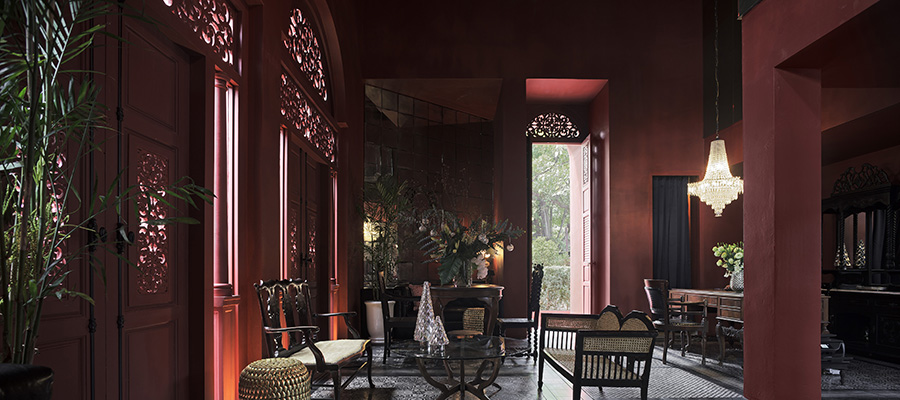 All the main architectural elements inside and out are painted vermilion: posts, beams, floors, walls, ceilings, so that looking from the other side of the river it stands out clearly from its surroundings. Coming in from the other side you approach the entrance through a maze of alleyways, as the scene gradually opens up to reveal a red building that seems to be composed of separate sculptures joined together to become one grand form in which the architect envisioned people living.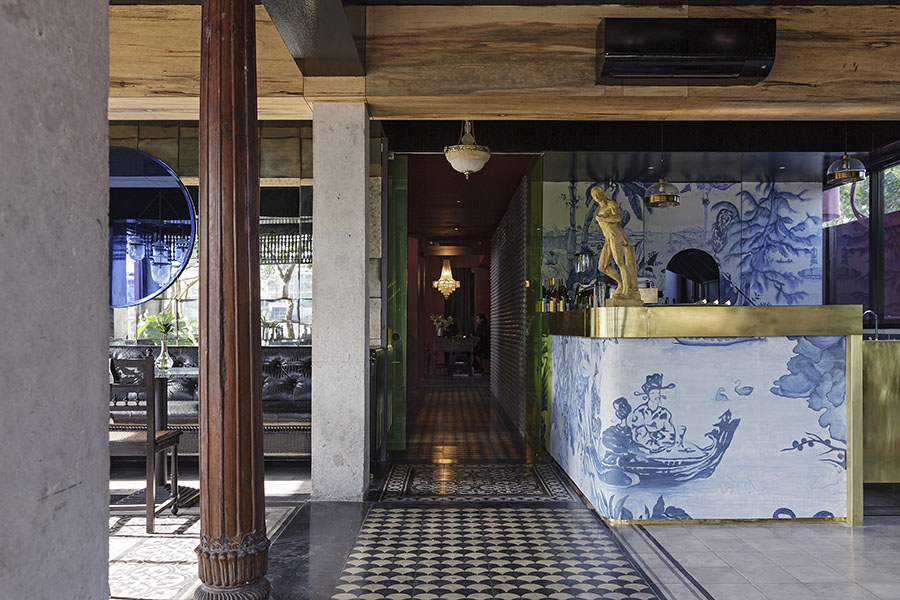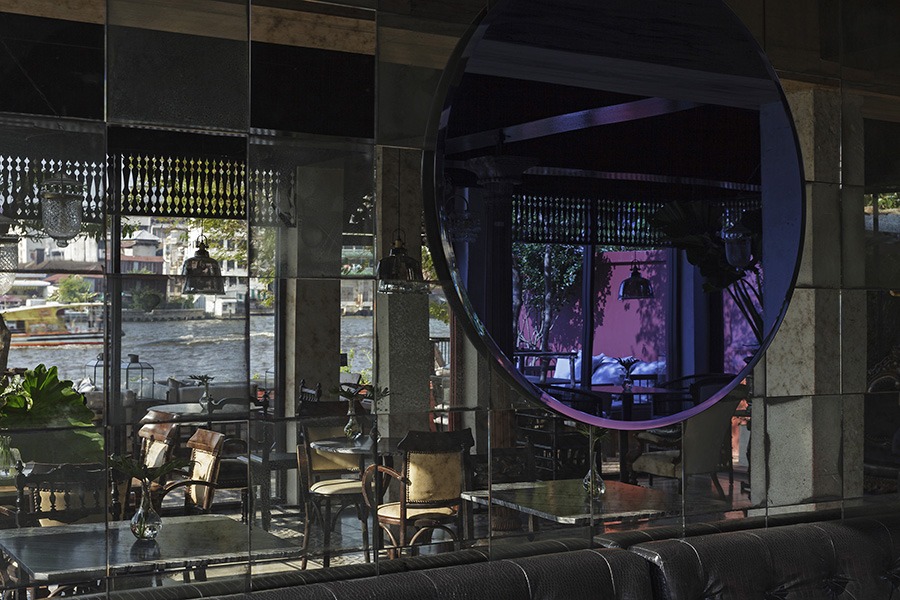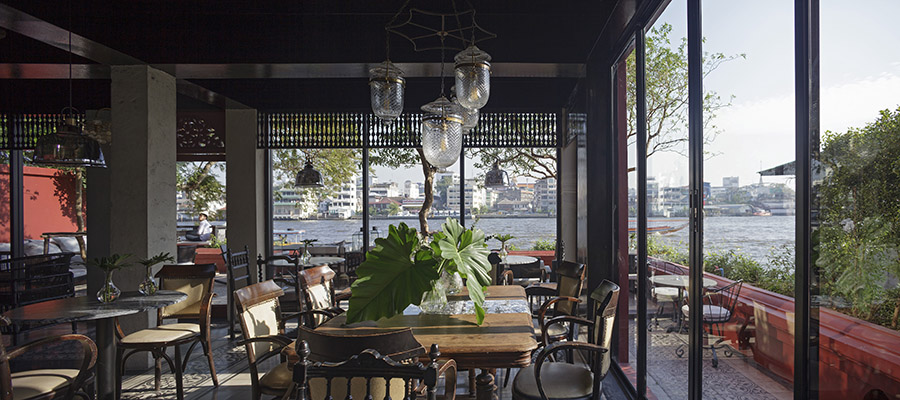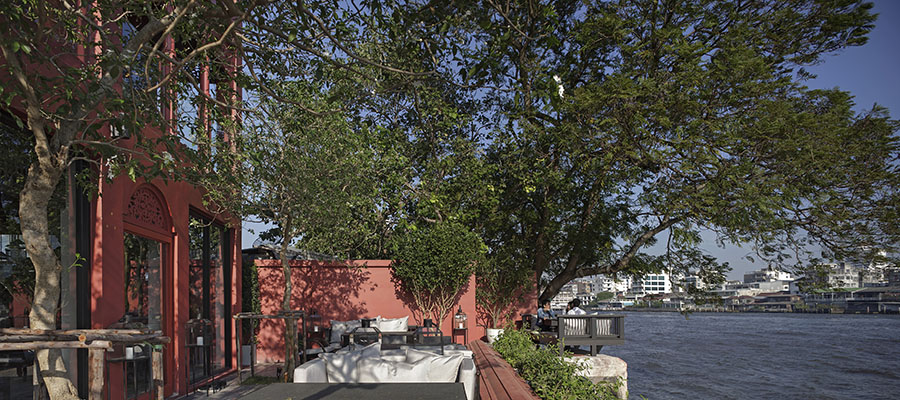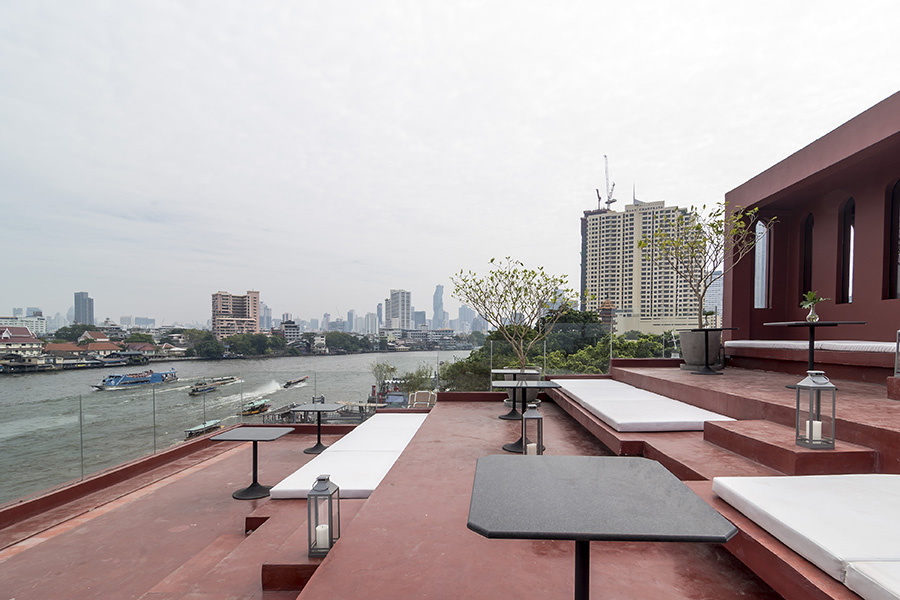 Inside is a restaurant with a quiet calm feeling, lowering the dial on the red, and also more masculine: The feminine "Amdaeng" calls for some male balance, so the restaurant is named "Nye," meaning "mister" in Thai. The restaurant materials and décor are simple and straightforward but rich with art, bringing to mind the phrase "blue and white," for the indigo-patterned tile of China favored by Chinese social clubs and found everywhere in old China. Up above is a fabulous roof deck with a sort of "grandstand" for viewing the river rising upwards in tiered circles like the chedi of a Thai temple. In the future this area will be a nighttime bar.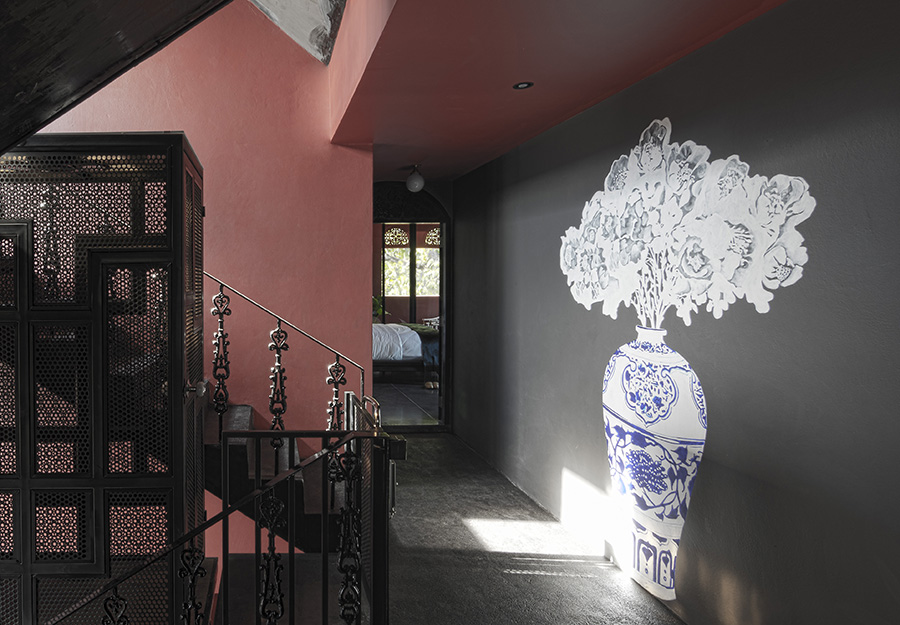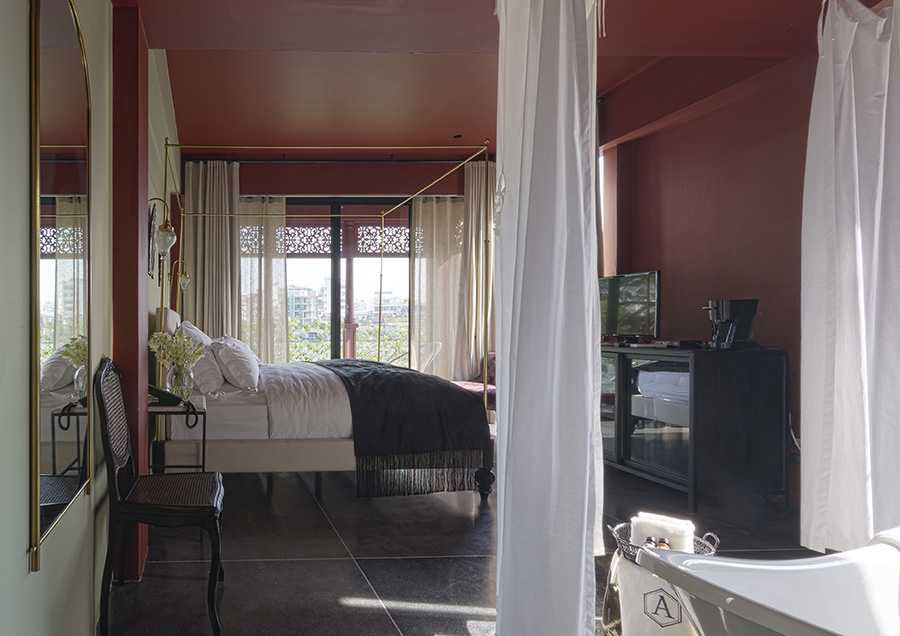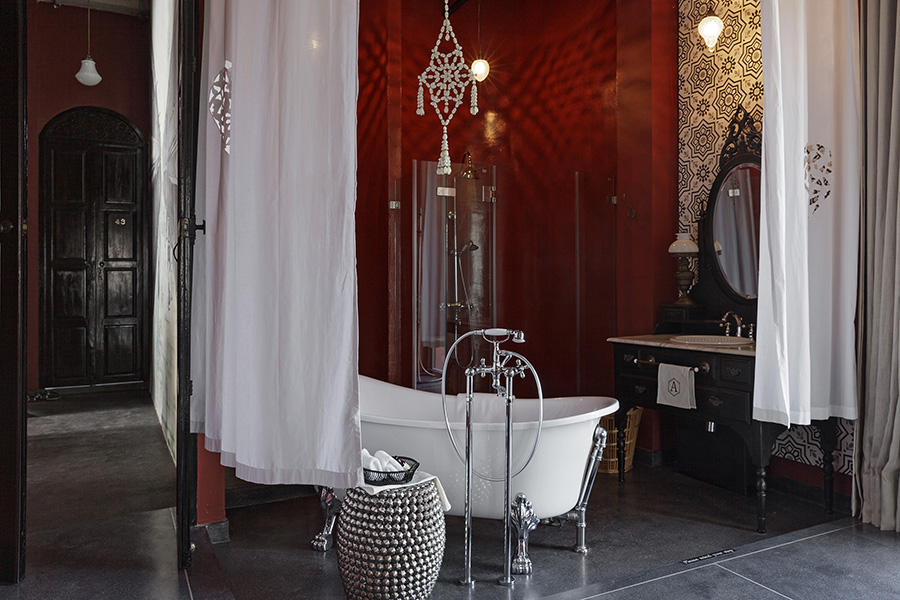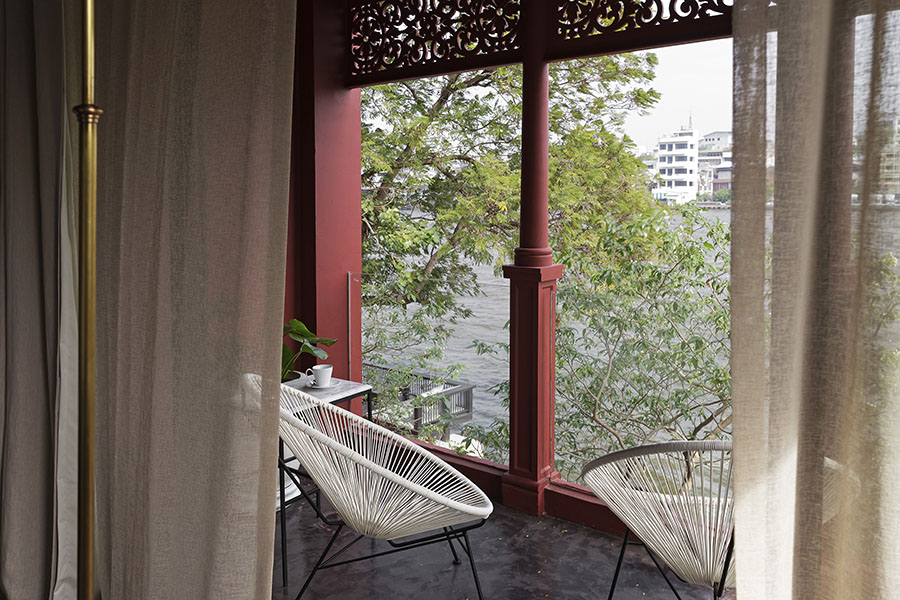 Guest room décor shows a mix of styles reflecting Thai as well as other cultures: Chinese, European, Indian. To recall an earlier era when the dominant cultures were mixing in a formative way, aging techniques are used to alter the look of the glass, the floor tile is dimmed with a charcoal color, antique furniture is used, and remodeling has added beauty and refinement to an atmosphere of bygone days so as to live up to the catchphrase, "The most romantic hotel in Bangkok."
Contact: 12/1 Soi Chiangmai 1, Chiangmai Road, Khlongsan Bangkok, Thailand 
FACEBOOK: AMDAENG
WEBSITE: amdaeng.com
TEL: 02-162-0138
Link: www.baanlaesuan.com/90546/design/directory/amdaeng-hotel/
You may also like…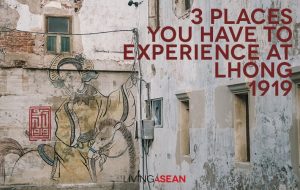 3 PLACES YOU HAVE TO EXPERIENCE AT LHONG 1919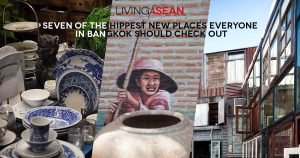 SEVEN OF THE HIPPEST NEW PLACES EVERYONE IN BANGKOK SHOULD CHECK OUT