A person's sense of proportion in creating a house to suit his own lifestyle can have energizing results. Here we visit a modern style home in Bangkok's Viphavadi Rangsit area that illustrates this. Nutt Chenyawanit, owner of Tin Home Toy merchandise, designed this house as a reflection of his identity.
/// Thailand ///
Story: Ekkarat Laksanasamrit /// Photography: Sitthisak Namkham /// Design: Nutt Chenyawanit and Jirayut Chaiyajamrunphon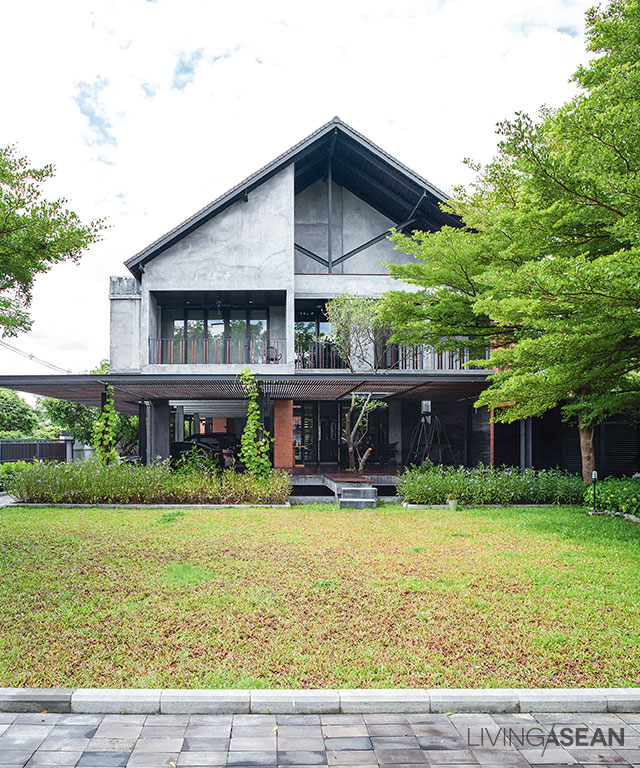 From details of home décor such as galvanized iron and stylish plant containers to the overall house design, we see a modern style home that retains the flavor of tropical architecture. Open and relaxed in a Thai style reduced to essentials, with high gabled roof, extended eaves and awnings for sun and rain protection, this home has a contemporary appearance and looks fun to live in, too. Nutt explains:
"We like high ceilings; low ones feel cramped. The living room and stairwell area reaches up a full two storeys, and on the ground floor ceilings are generally three meters or higher. On the second floor ceilings follow the roof slope: bedrooms with high ceilings feel too buoyant."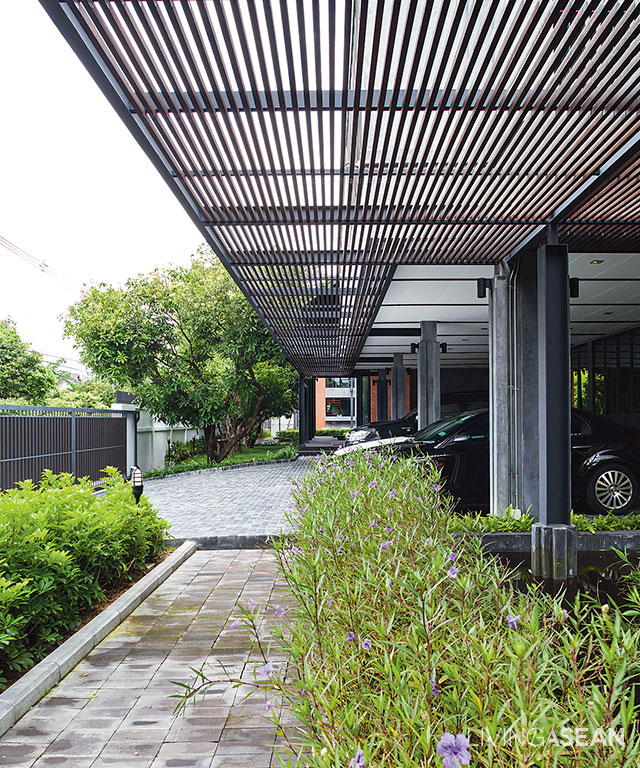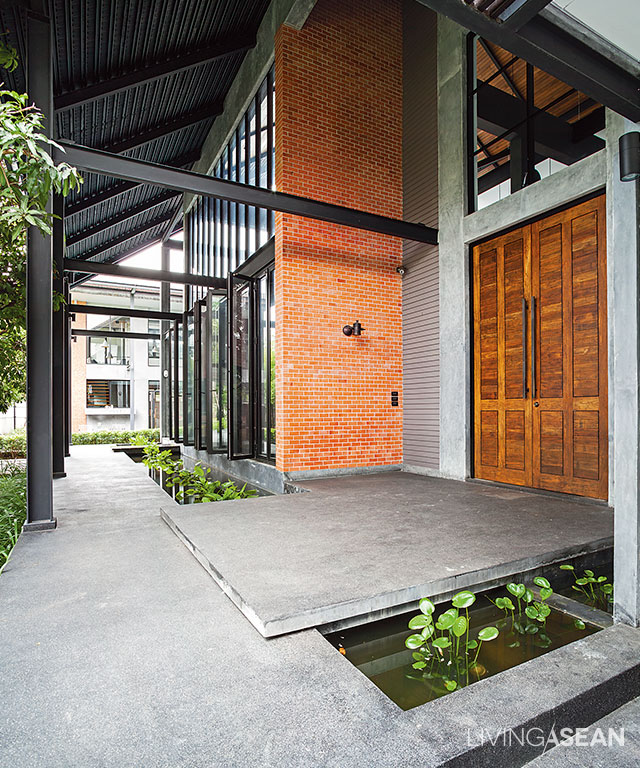 The Tin Home Toy office building next door, built in a similar style, was here before the house and now is separated from it by a swimming pool. Nutt favors architecture with steel-based frames that give it a raw cool modern style. The metal post-and-beam design for floor and roof here made for rapid construction and quick cleanup, and presents a stylish façade of show brick walls and glass panels.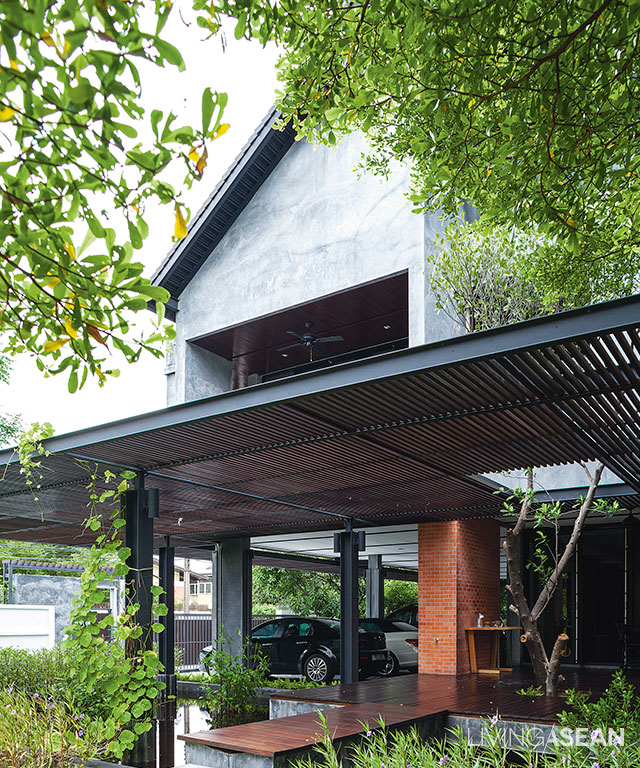 Extended eaves and large doors and windows provide good ventilation and help the house to be comfortable for living. Metal frameworks minimize the need of support posts for the extended eaves, freeing more space for parking. High ceilings allow warm air to rise and be released through upstairs windows.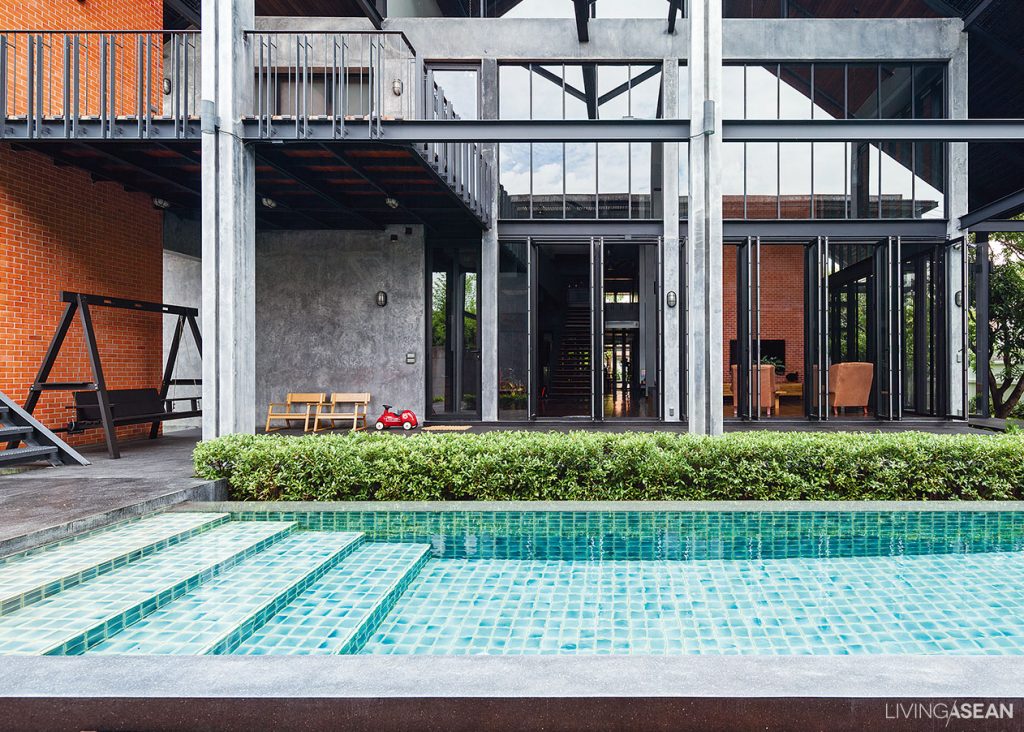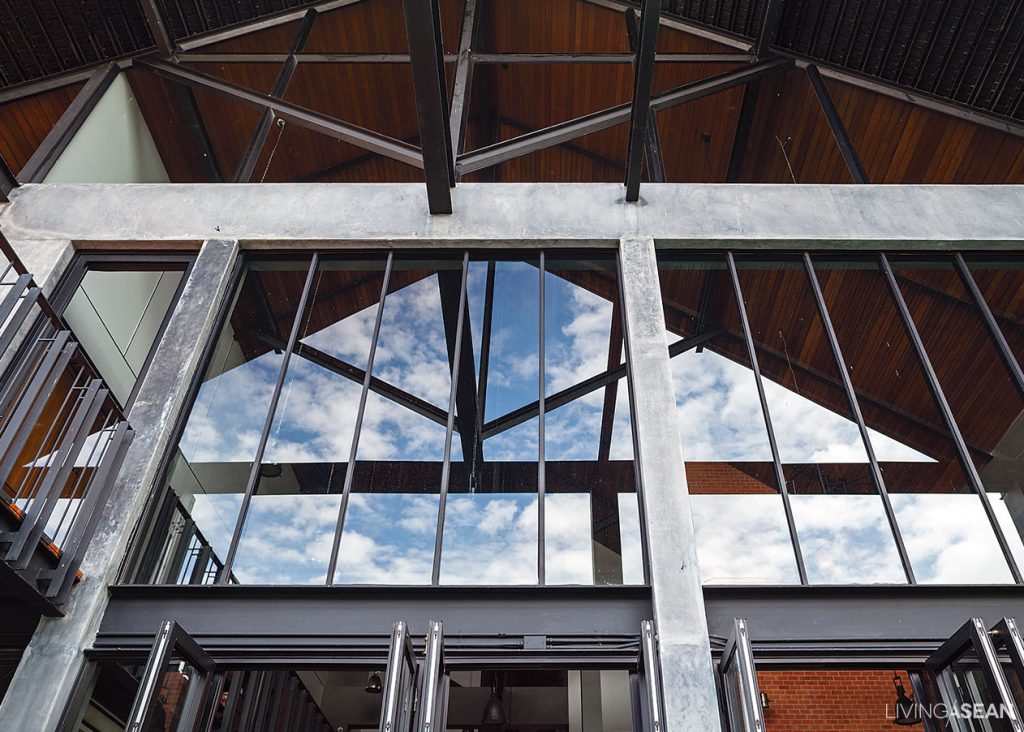 Usable space in the house on the ground floor is made up of living room, stairwell, dining room, kitchen, and service areas like a storeroom and laundry. Upstairs consists of bedrooms and a workroom. Halls are at least 2.5 meters wide, for a spacious feel. Walking around, a visitor has the sense that each space is made for specific purpose, some for children, some for moving around in comfort, some for convenience.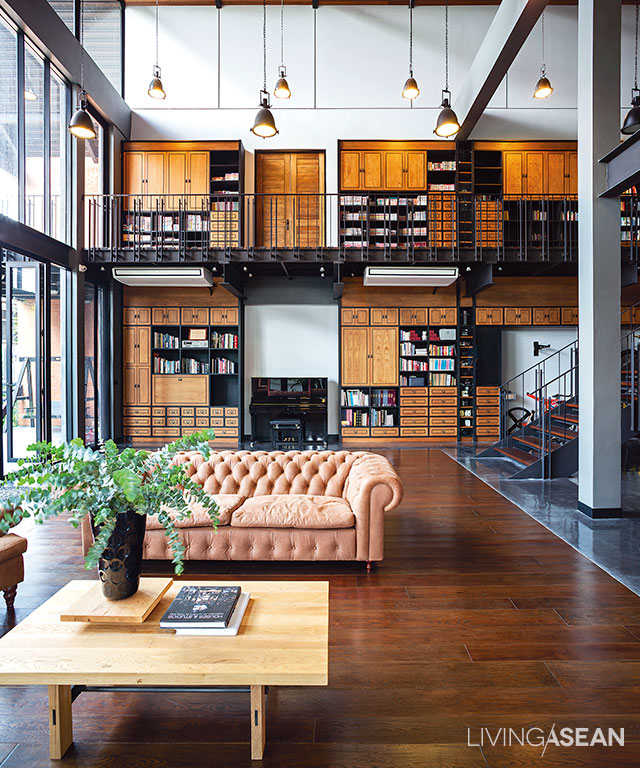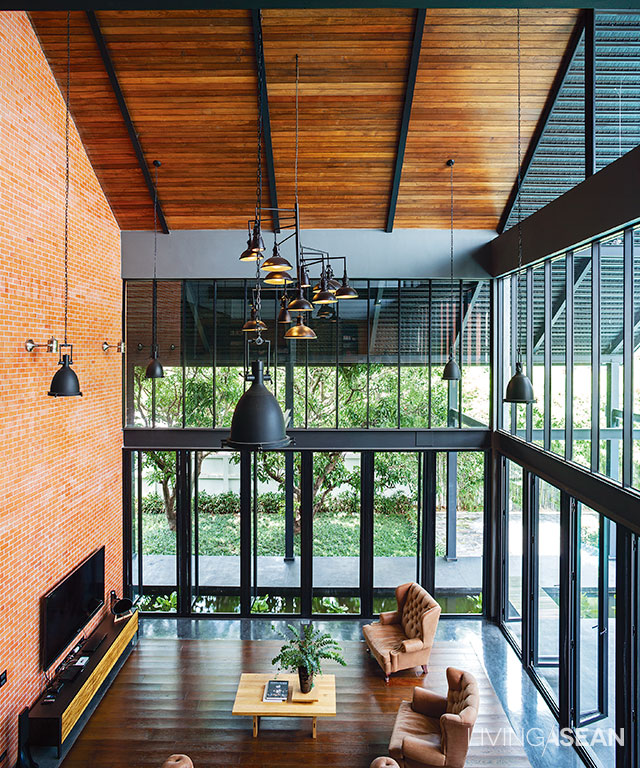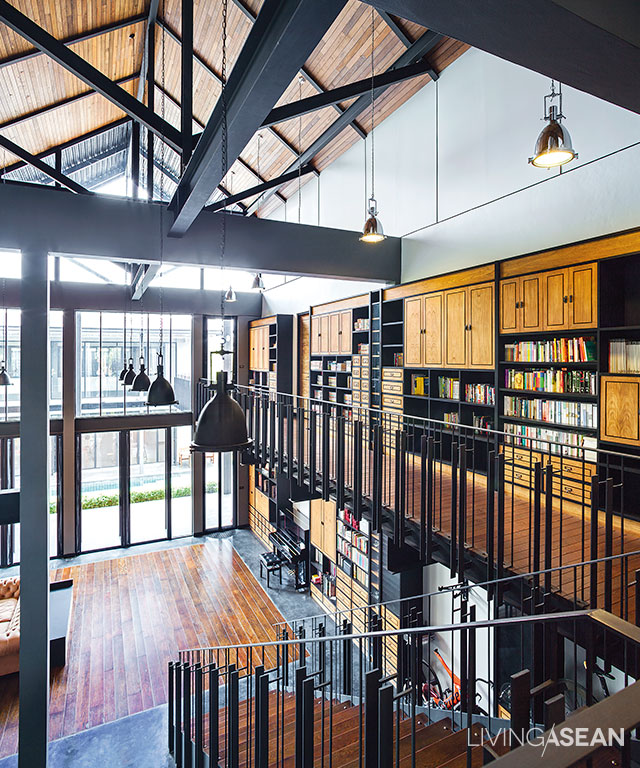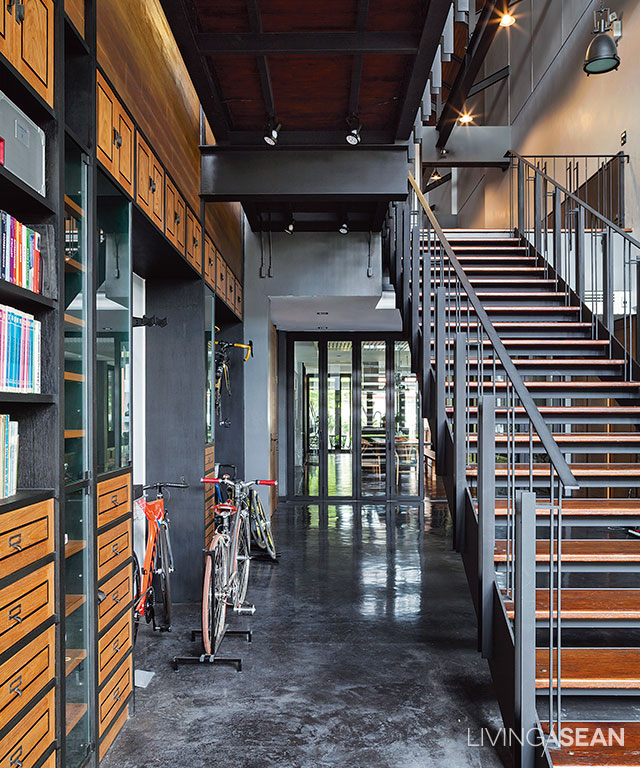 At first glance, a visitor might have questions about the house design, but a close look reveals a "set aside" concept that reflects the way good decisions are made in all our lives. Standard ways of doing things have a potential to limit flexibility and result in mediocrity, whereas innovations such as high ceilings can bring the sort of happiness and contentment we find in this house.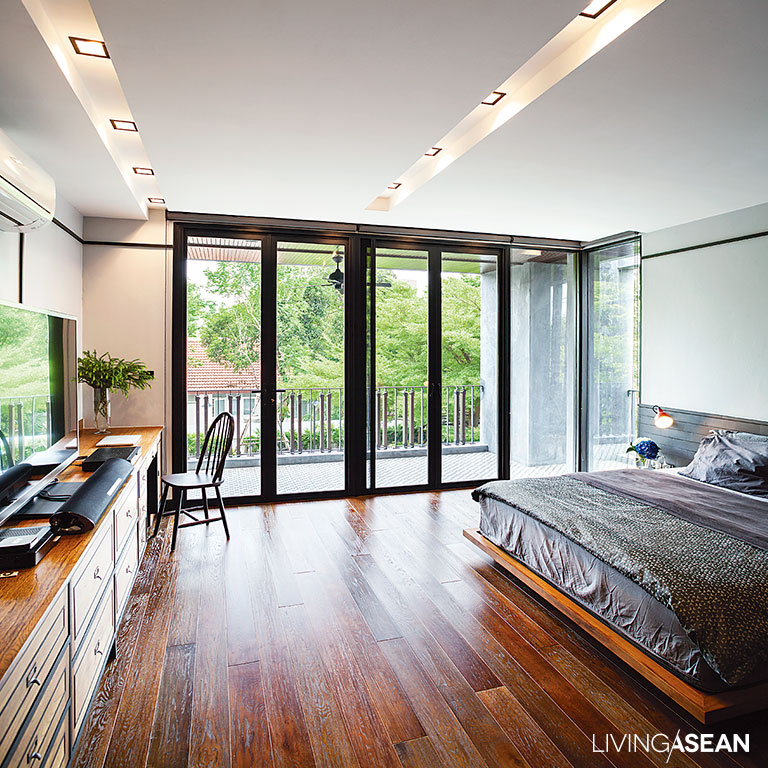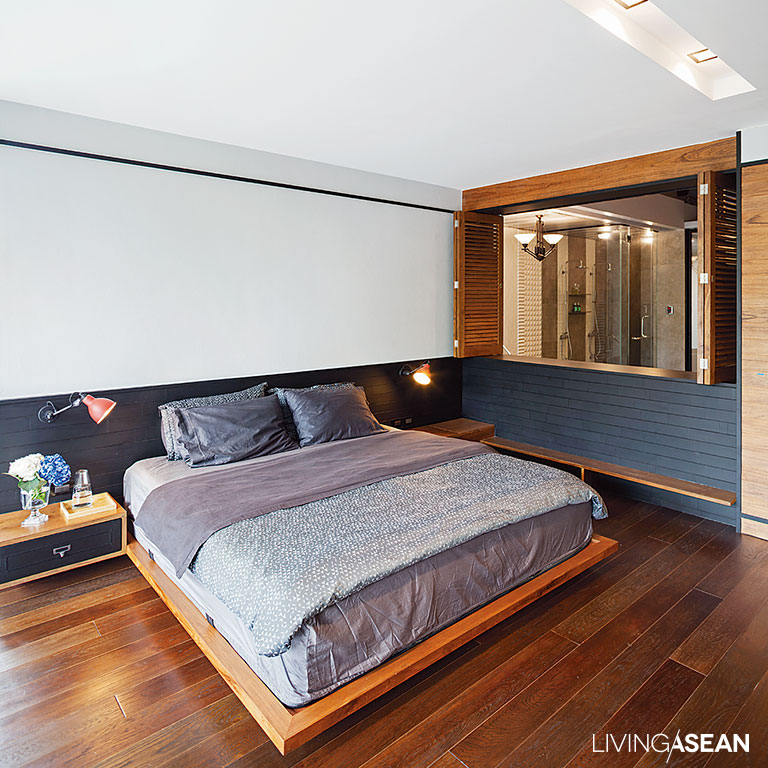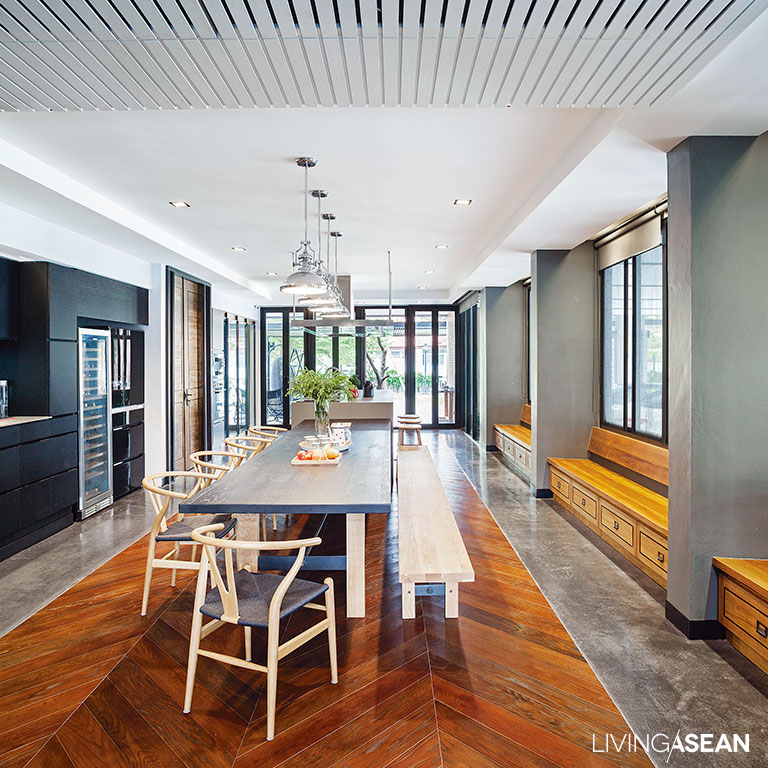 link: http://www.baanlaesuan.com/763/baanlaesuan/happiness-space-house/