Before moving into this 3-storey Chaeng Watthana townhouse, Architect and university instructor Bhradon Kukiatnun really put his heart into the design and décor to bring about a conversation among people, animals, and things, partly intentional, part by impulse. Here are imperfections that are either blemishes or beauty marks, depending on our viewpoint.
Bhradon's business is booming, but designing his own house raised a tremendous number of new questions, not the least of which was how the new living space would accommodate his eleven cats!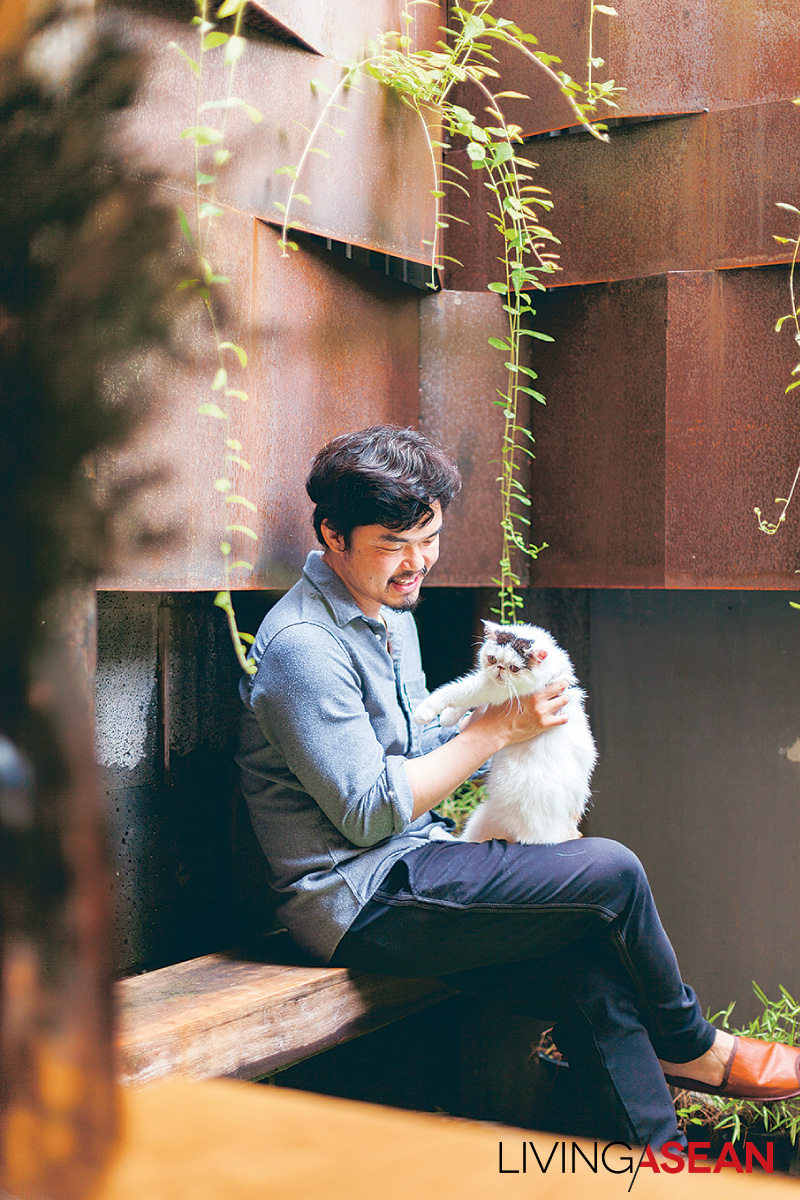 "Three years ago I bought this place new, and it took 2 years to fix up. First problem: organize storage space to hold the tremendous amount of personal stuff needed in my life while still keeping the house orderly. Then, I didn't want a typical town house atmosphere, but neither should it be jarringly different. Part of the answer is this new façade, using a type of latticework found elsewhere in the project that fits my personal lifestyle.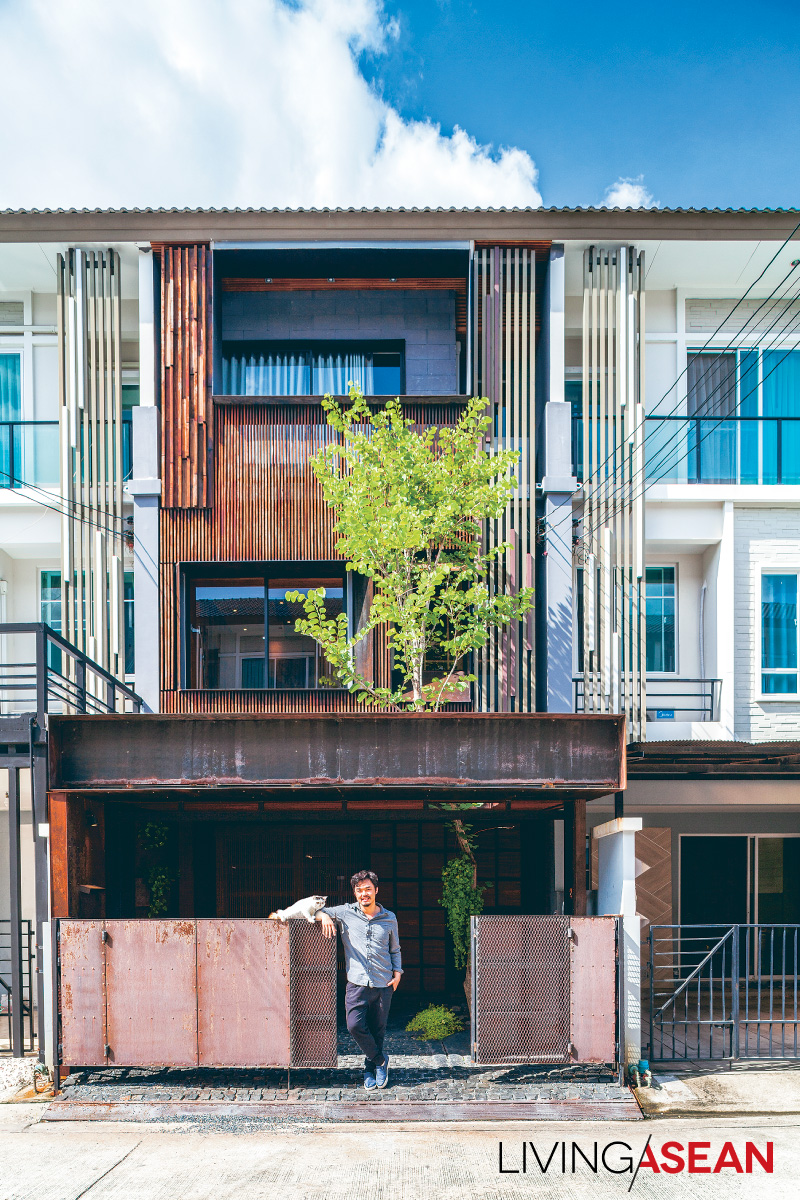 "There's more than meets the eye in that front view: a lot of the functions are hidden," explained Bhradon, as most town houses add a roofed-over carport in front. "To really express myself I had to go back and look at fundamentals with flexibility and an open mind. The space in front is limited. Would I rather have a carport there, or a garden? OK, garden: so I designed a garden where I could park the car! Quite different from having a carport decorated with plants."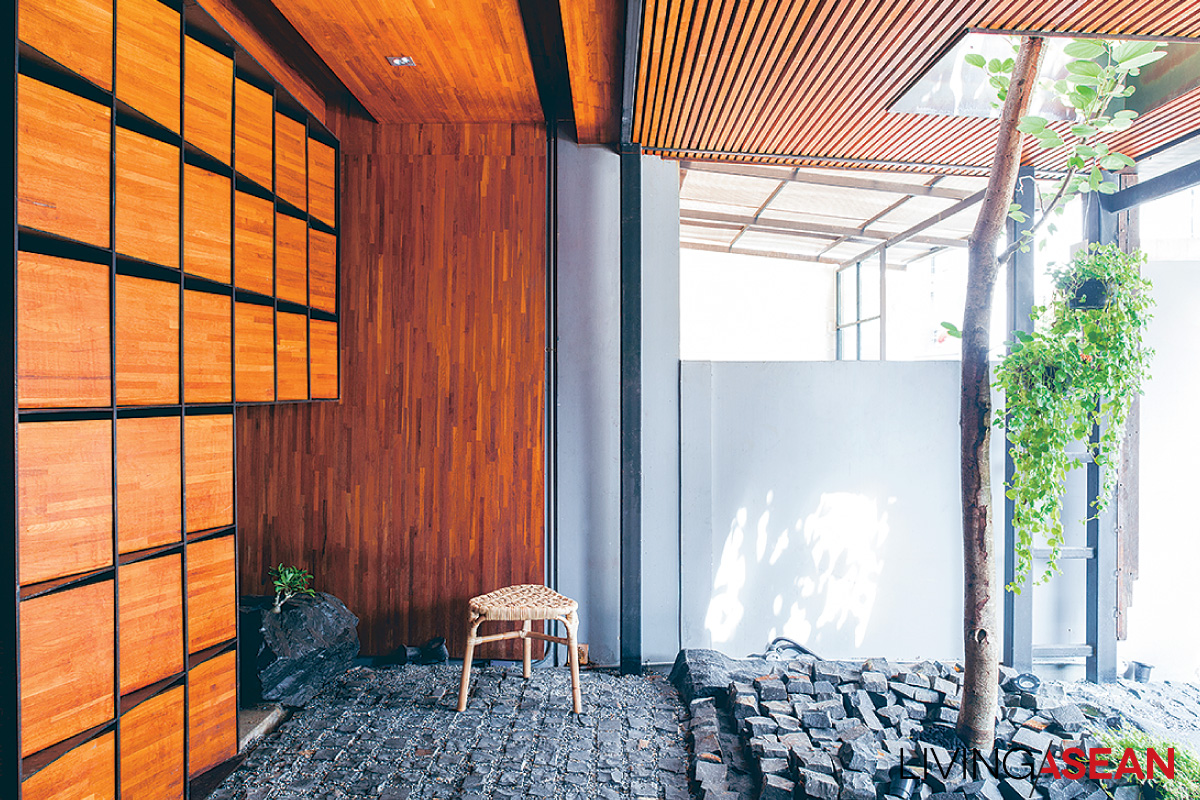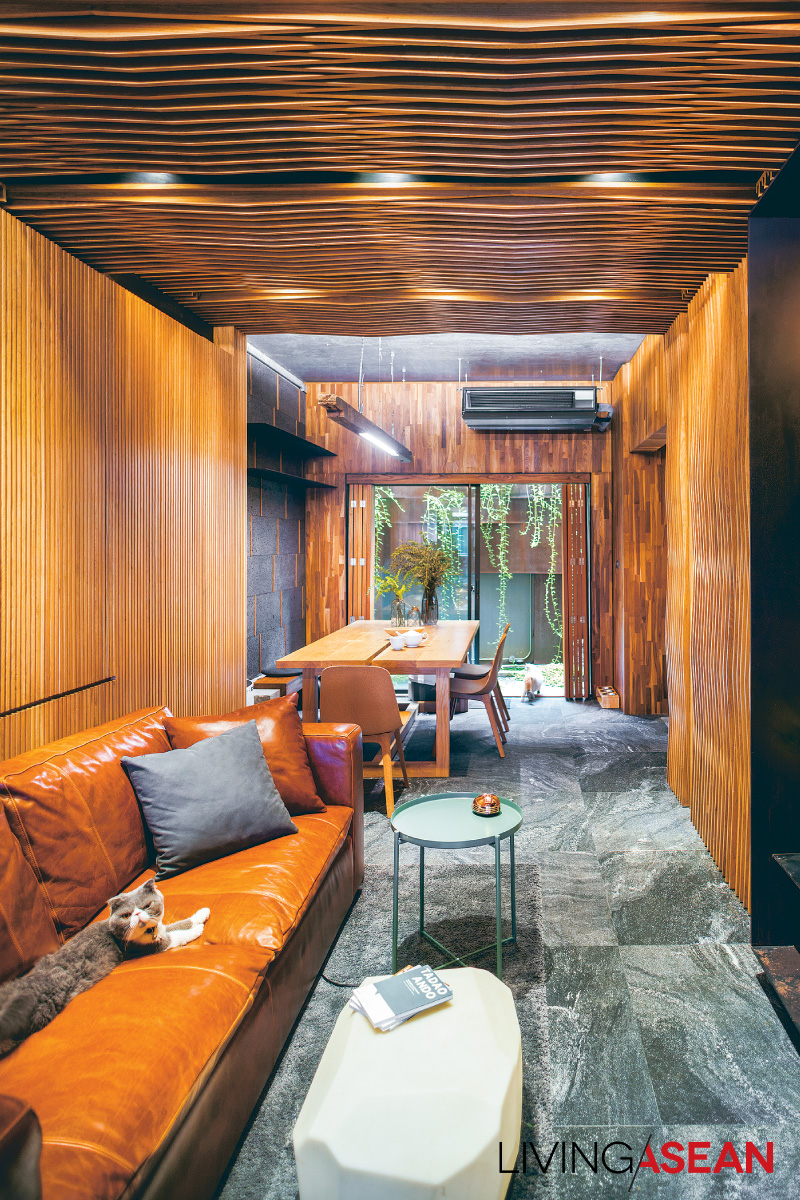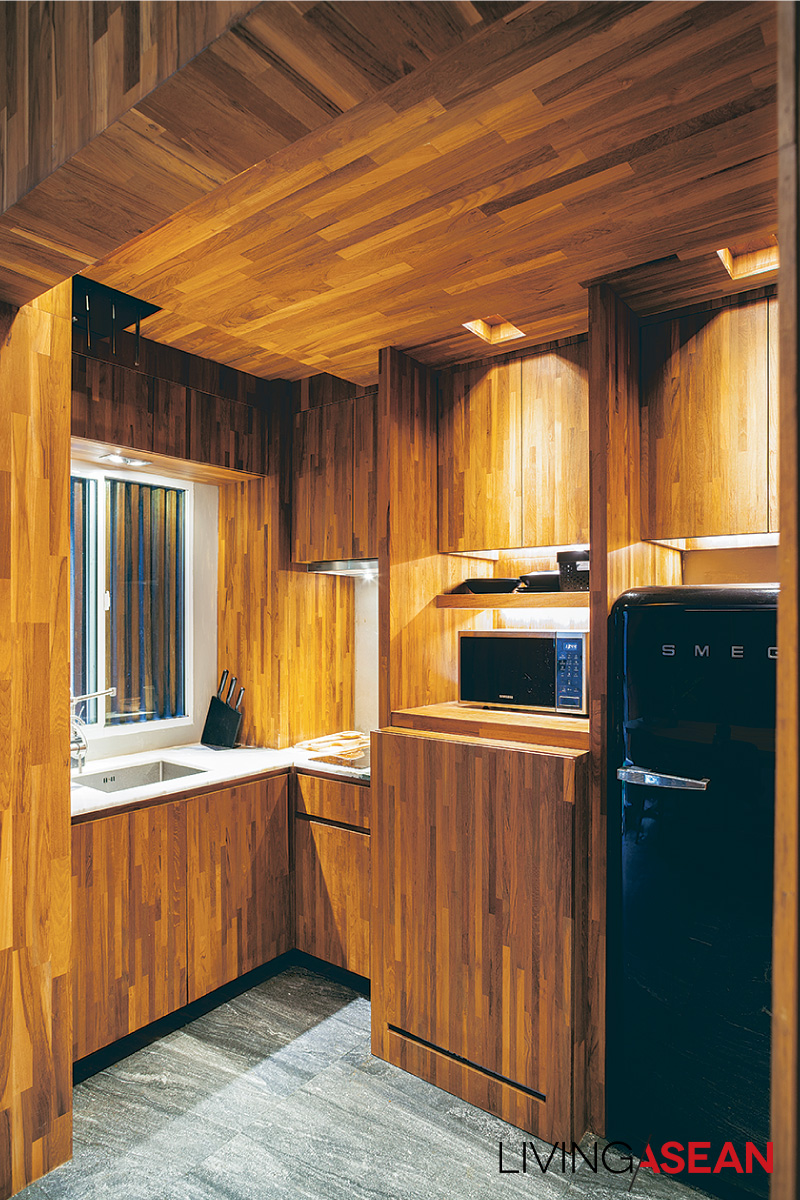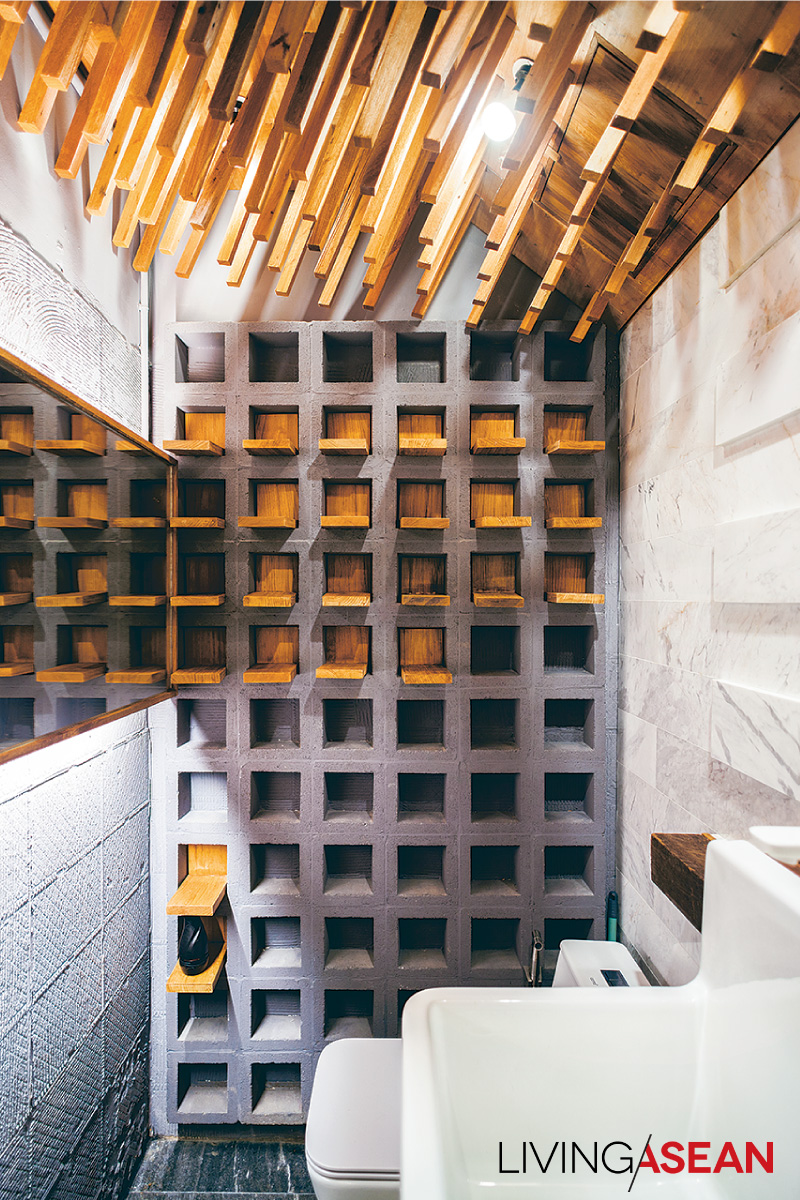 The design called for no structural alterations, but space was apportioned differently. The ground floor holds the living room, dining area, and pantry; second floor, a small bedroom and a workroom; third floor, the master bedroom. "Inside you might mistake a door for a wall, or vice versa: my overall concept was to focus on highlighting specific points, making them fit in by hiding some elements. In the living room, the TV wall is highlighted by hiding its functionality in a wall; the use of covering elements gives the feeling of being in a cave."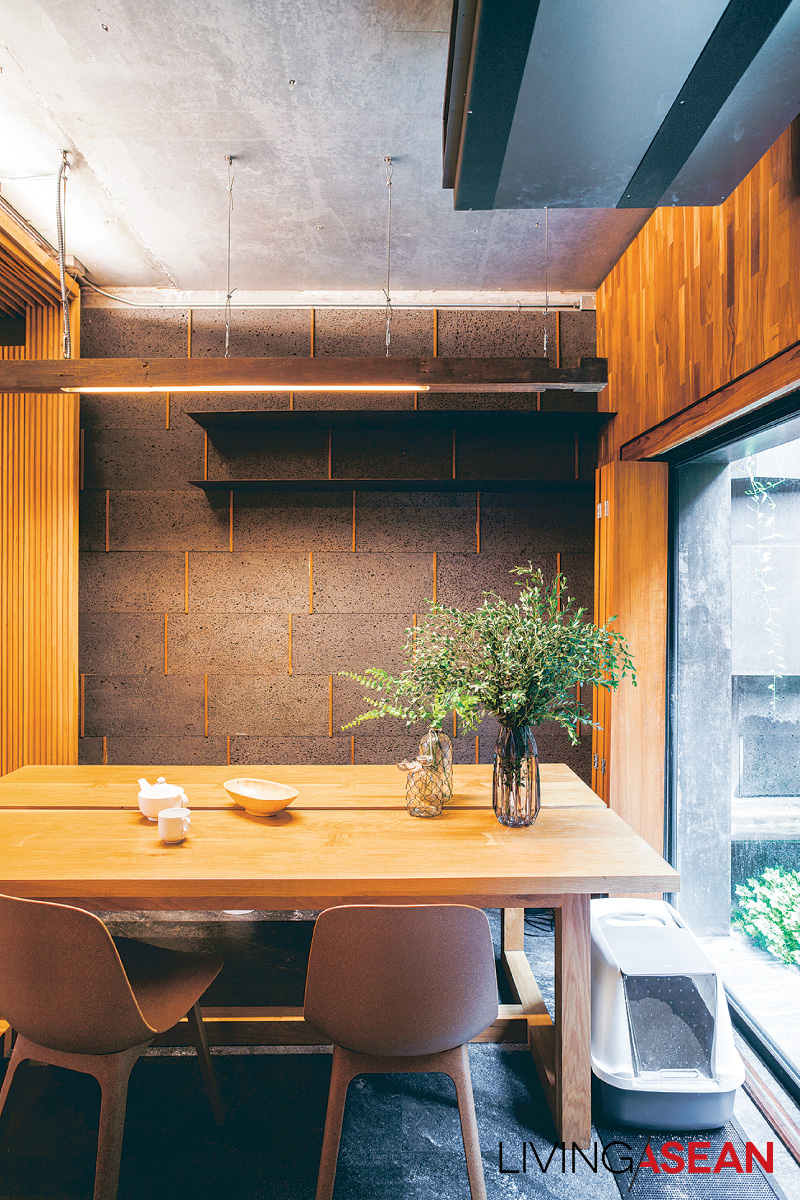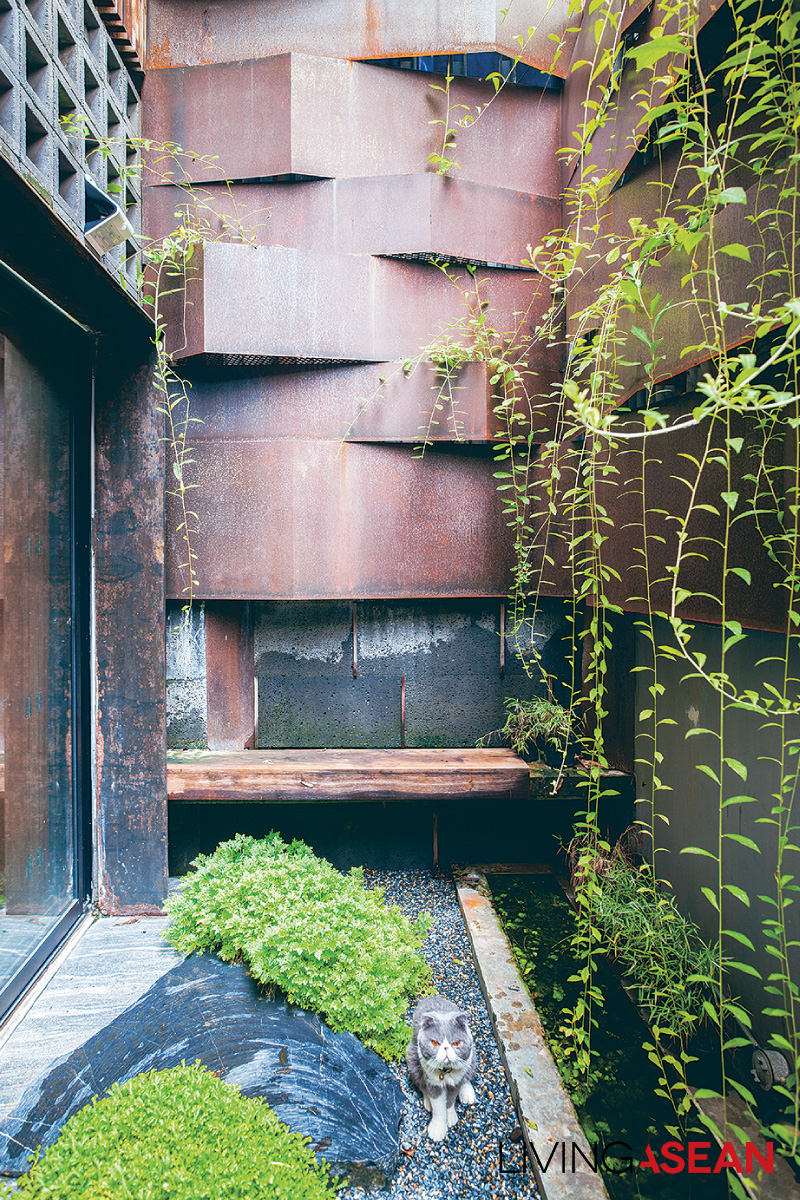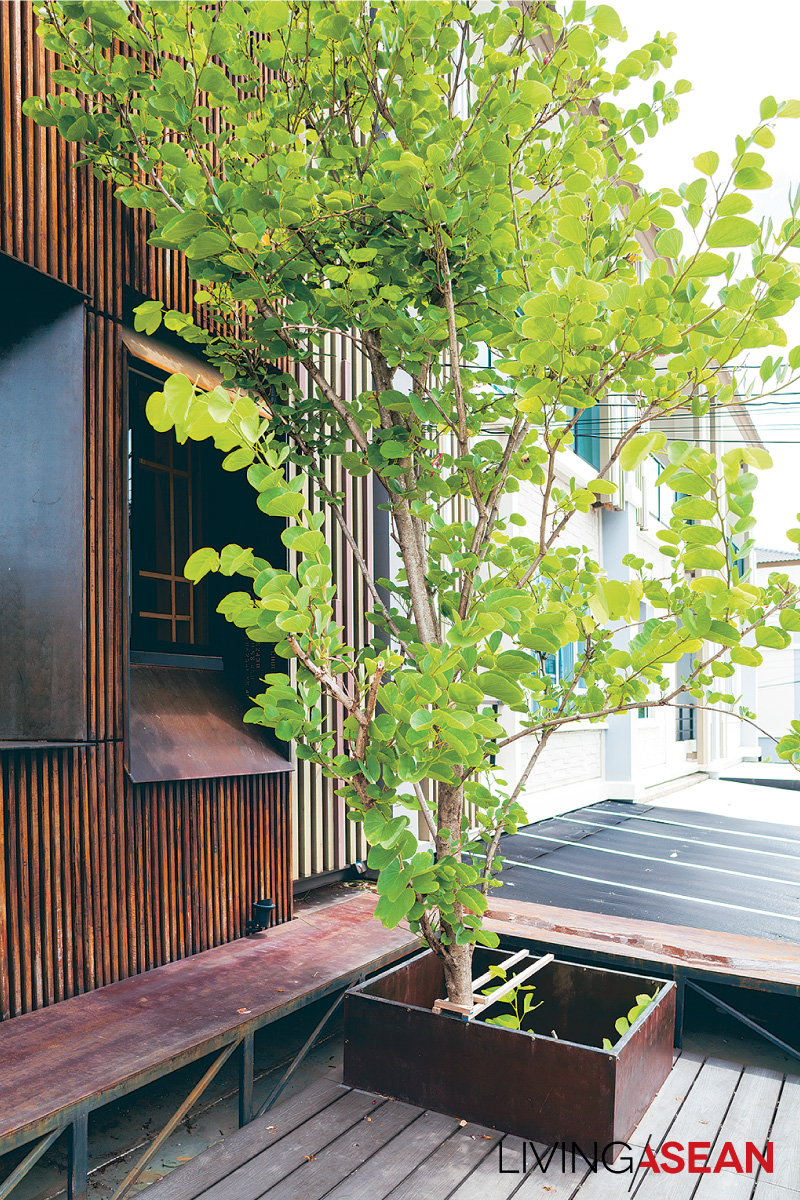 During our conversation Ando, Bhradon's first adopted cat snuggled up as if  to join the group. "I learned a lot from raising cats," he said, "they don't think like people. Sometimes our human knowledge drowns out our instincts. But a cat! It wants to sit, lie wherever, just does what it wants. This allows single things to have more than one function: TV cabinet or sitting place? Or, for us, a storage spot. Think outside the box."
We urban-dwellers all long for nature. Bhradon answered this with a garden area in the rear of the house: "I think gardens nourish the psyche, so I put a little green in the house, along with a small guppy pond, and it's a perfect spirit-refresher.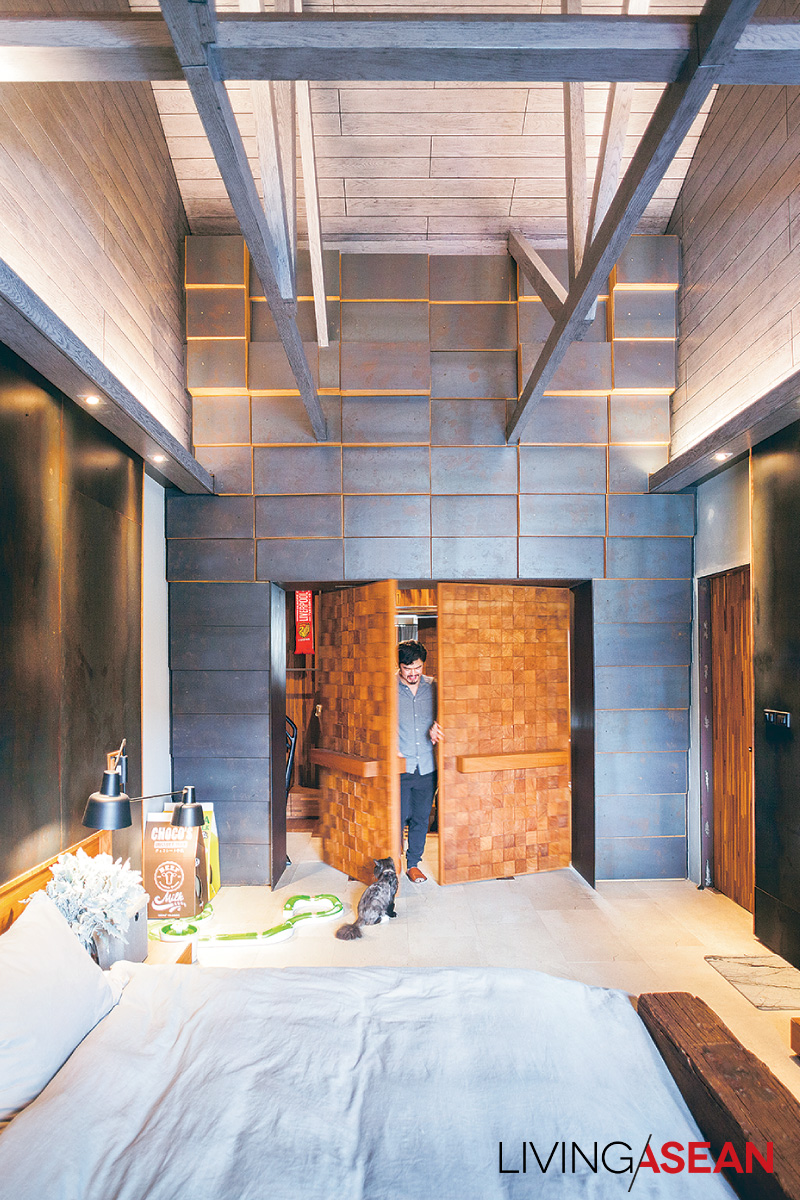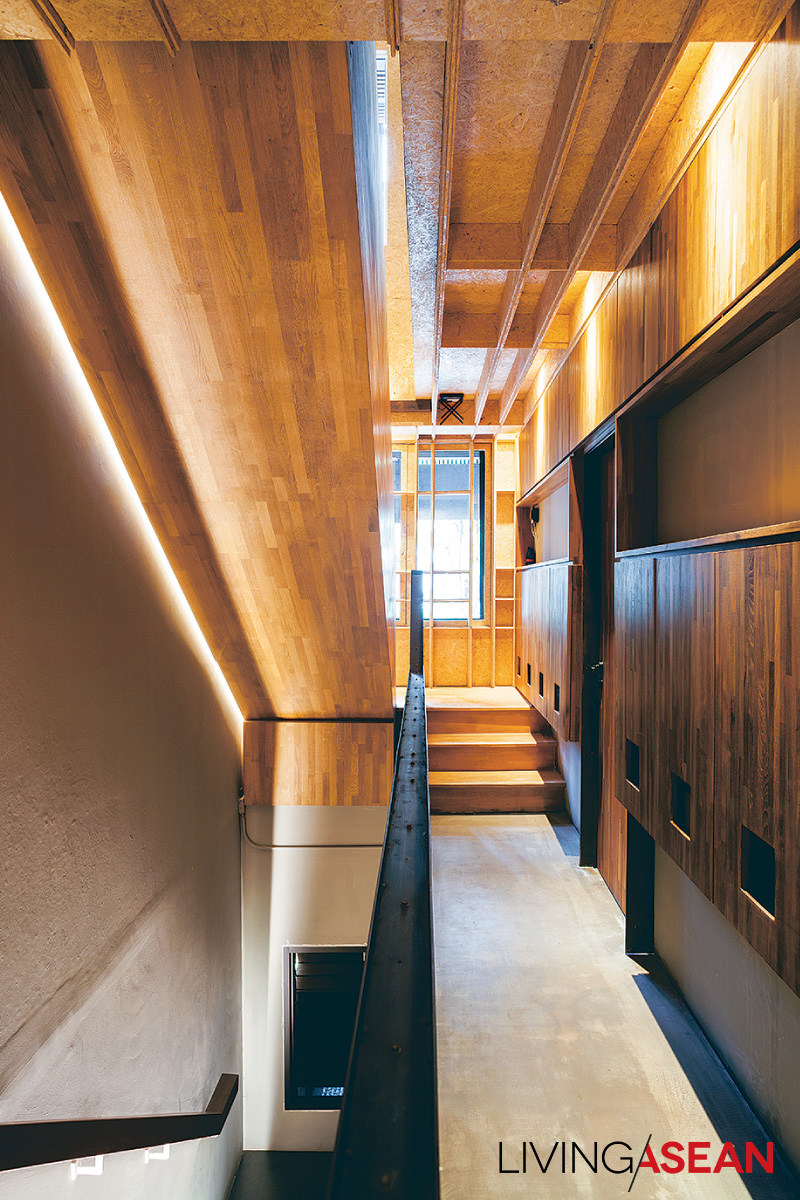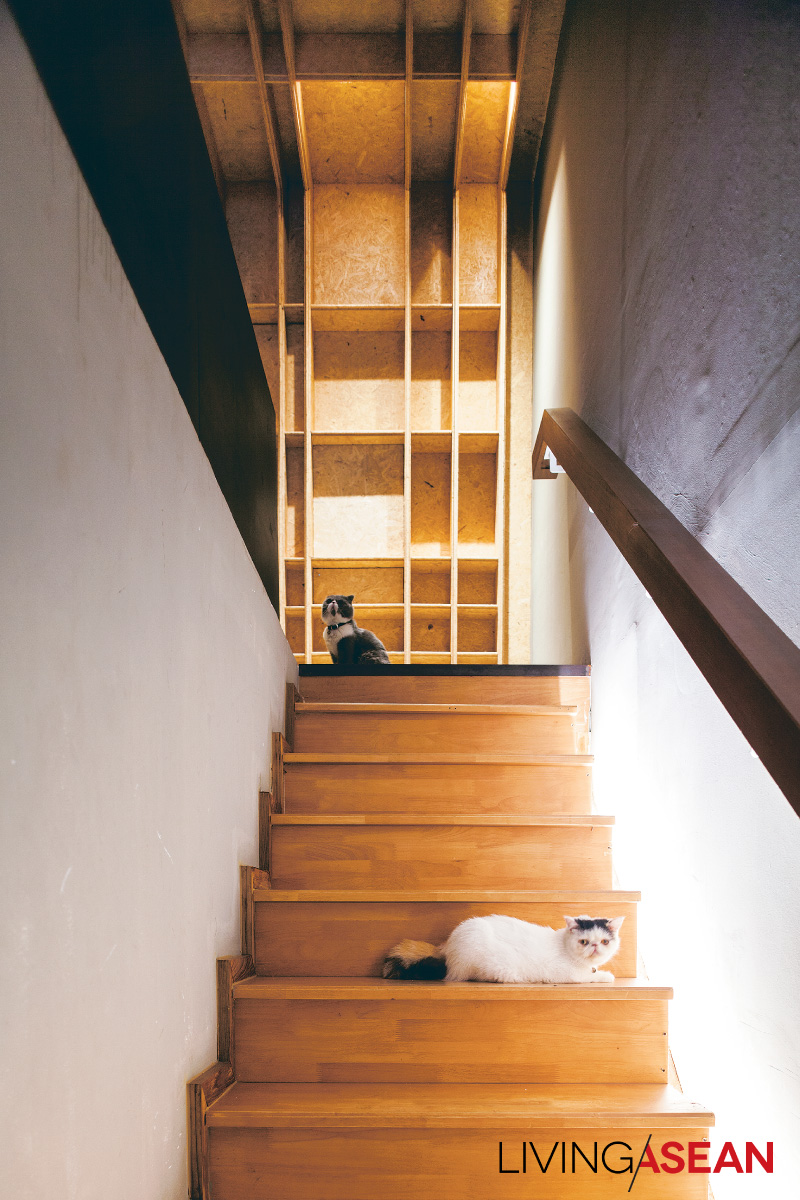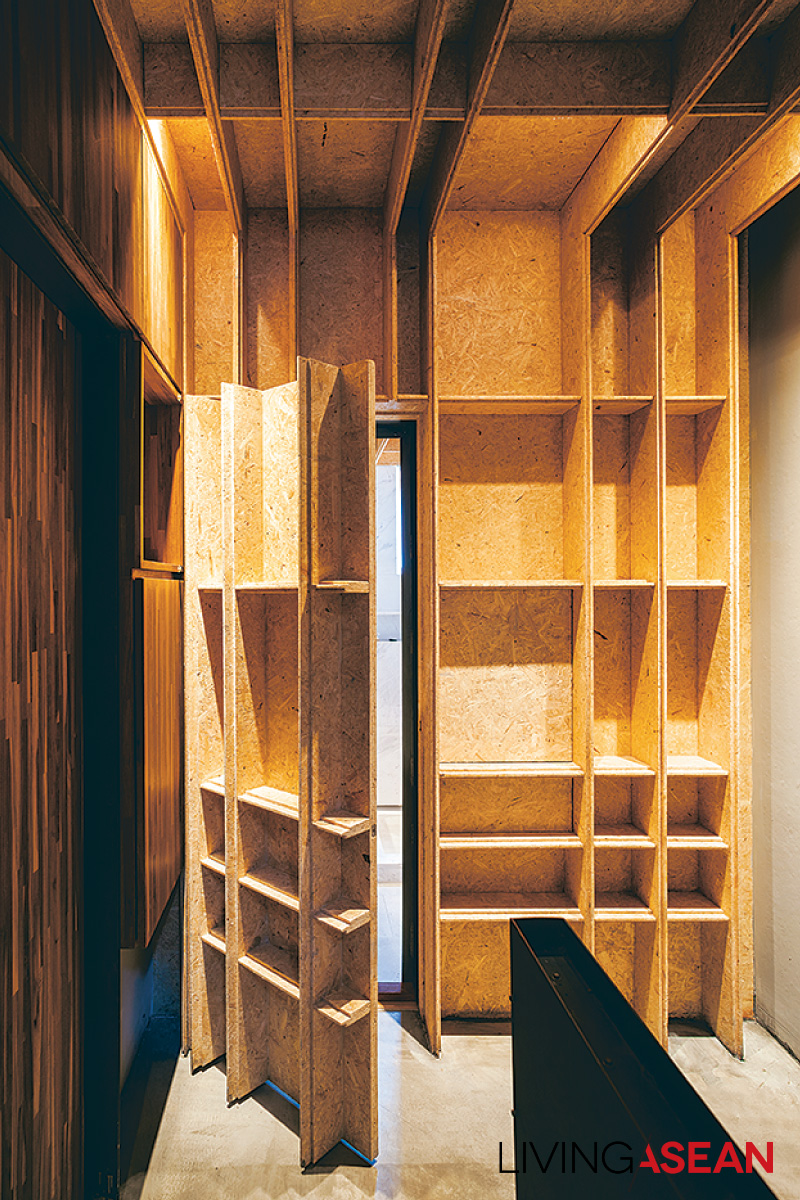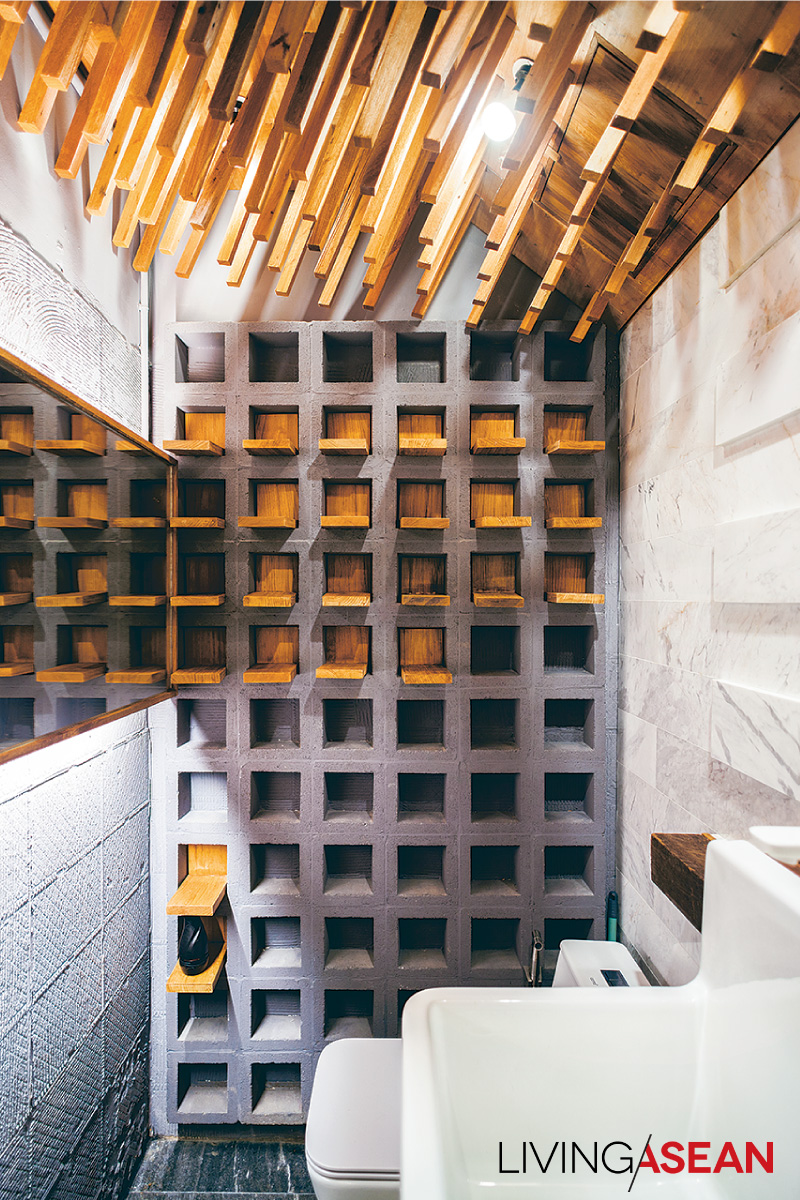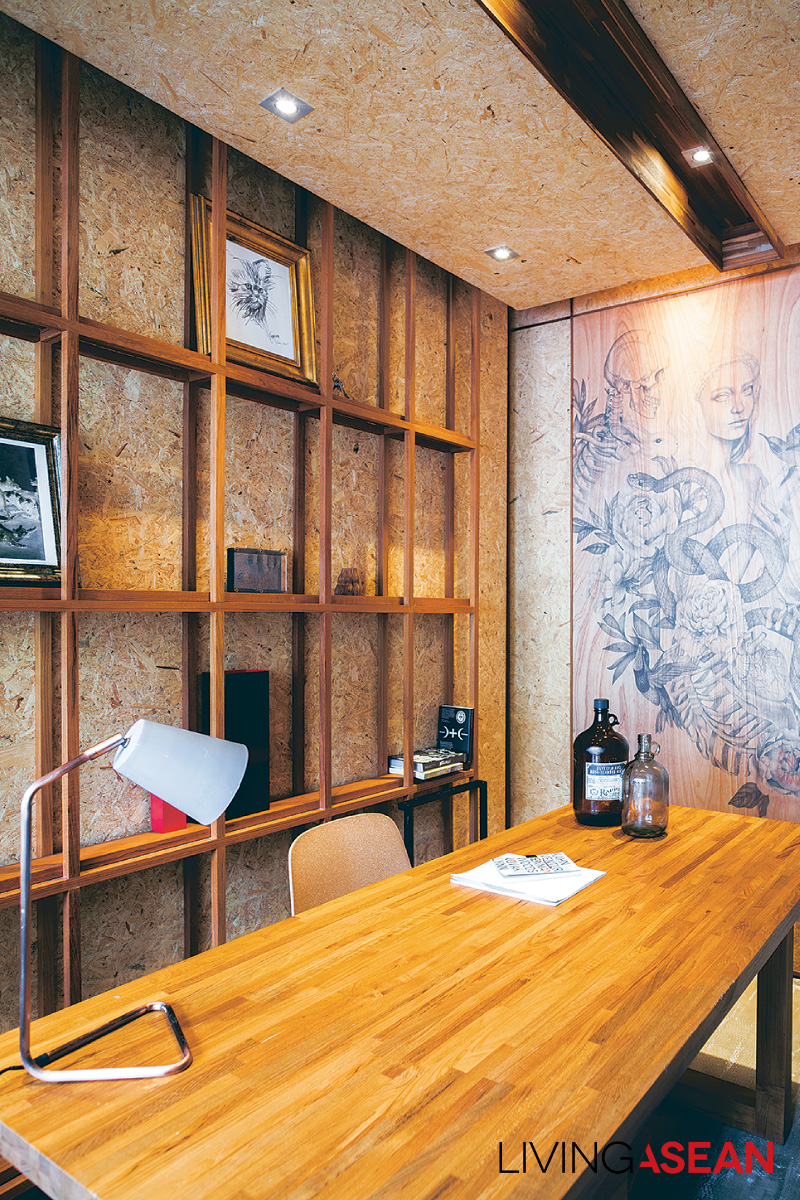 "I like the 'wabi-sabi' way of design; the beauty of imperfection, of real life. Real life involves rust; it involves injuries. Can't eliminate these, right? Recently my cat Kuma died, and I miss her every day. But through the sorrow of loss we see the beauty of living. Being natural is to be incomplete, and we have to live with the things that happen." As Bhradon's speaking voice gradually softened, an unspoken conversation brought into focus the future of the house, the man, and the cats, and whatever might lie ahead for them.