We've told you already about "6 cafés with cool designs for us to stop in after a visit to BAB 2018," right? Well, now we'd like to take you on a tour of BAB's urban zone, with four more primo cafés we've picked out. Besides an attractive drink menu, as with ones we gave you before, each has a uniquely cool atmosphere, and they definitely aren't far from exhibits at Bangkok Art Biennale (BAB) 2018 international festival of contemporary art . . . so come on, don't be a stuck-in-the-mud, let's go check 'em out!!
/// THAILAND ///
Story: Taliw /// Photo: Sroisuwan.T, Wara Suttiwan and Taliw
Hungry Me & Thirsty You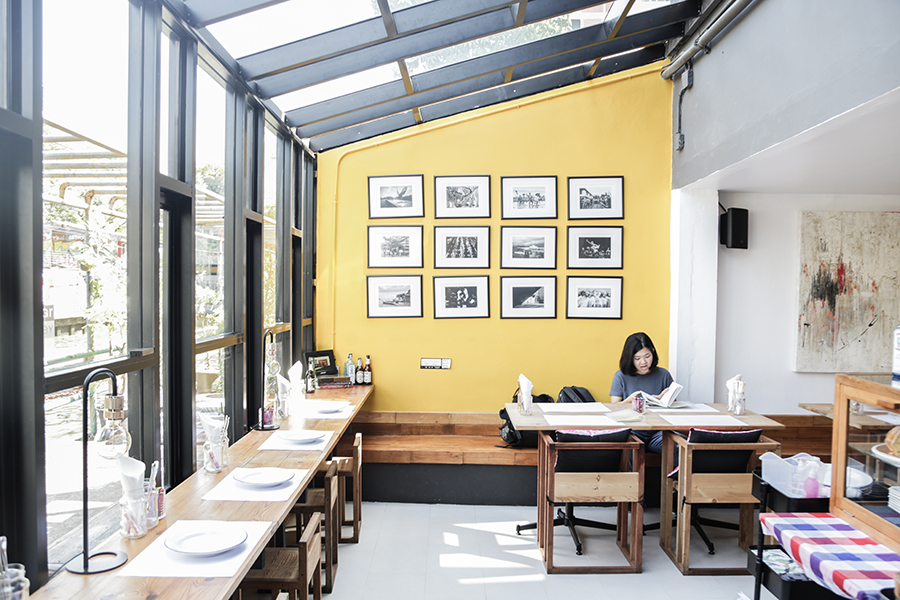 The Hungry Me & Thirsty You café, on the bank of Khlong Saen Saep, stands out for its yellow color tones and chic atmosphere. It's a bit of a secret, hidden away in the Yelo House creative space. But it's just a short 350-meter walk from there to the Bangkok Art and Culture Centre (BACC), a major BAB 2018 exhibition location.
Yelo House is a warehouse converted into a multipurpose space right on Khlong Saen Saep, with this "secret" café inside. Besides a great drink and snack menu to refresh your body with, there's also real food to be had.
Hungry Me & Thirsty You stands out for its cool half-glass-house design looking out on Khlong Saen Saep and some colorful graffiti for scenery. At midday the sun shines in to give the yellow-toned café a warm look. As evening stretches into darkness, Hungry Me & Thirsty You morphs into a hangout where we can socialize with the gang.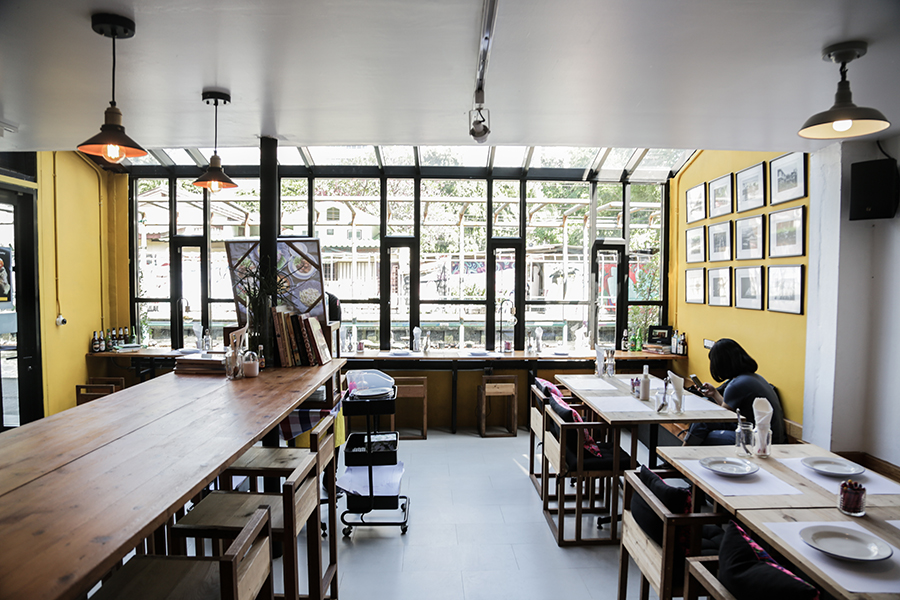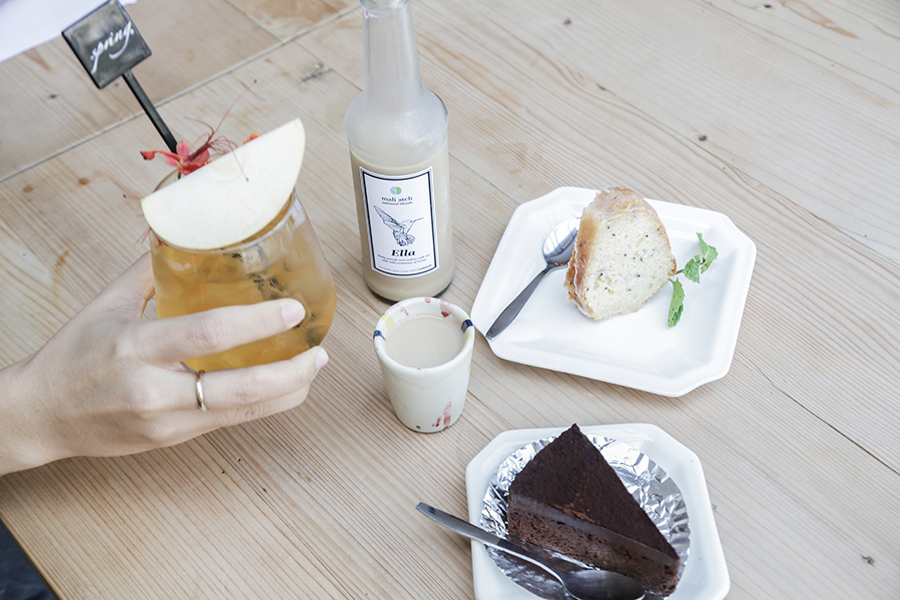 Besides its unique identity, another good point is that there are art fairs and various activities here, which can be a lot of fun depending on what Yelo House has going on when you visit. In any case, enjoy snacks and food to your heart's content, and then . . . hop over to the BACC for another hit of BAB 2018!
Our suggestion today is a sweet snack and a light drink to relax from the heat. Start with the refreshing Apple Ginger drink (120 baht), apple juice blended with ginger for a sweet mellow taste tending just a bit toward sour. For those who like milk, we recommend ELLA (120 baht), a dark tea with honey and milk served in bottle form. It's chilled already, so no need to add ice to muck up the taste.
Now to bakery items: we recommend the Chocolate Memories Cake (200 baht), with a soft frosting on top and a rich chocolate taste along with a succulent texture. Eaten with the Apple Ginger drink it becomes perfection itself. Or you could try the Lemon Poppy Butter Cake (150 baht), a lightly moist butter cake, sweet-tasting with a hidden sour. At first blush it may look ordinary, but the taste is extraordinary, and we're betting you won't stop at one piece.
Address: Soi Kasemsan 1, Rama 1 Road (BTS National Stadium, Exit 1)
• Business hours: 11:00 a.m. – 8:00 p.m., closed Mondays (kitchen opens 11:30)
• FB: www.facebook.com/yelohouse/
Samples of art on display at the Bangkok Art Biennale International Contemporary Art Festival 2018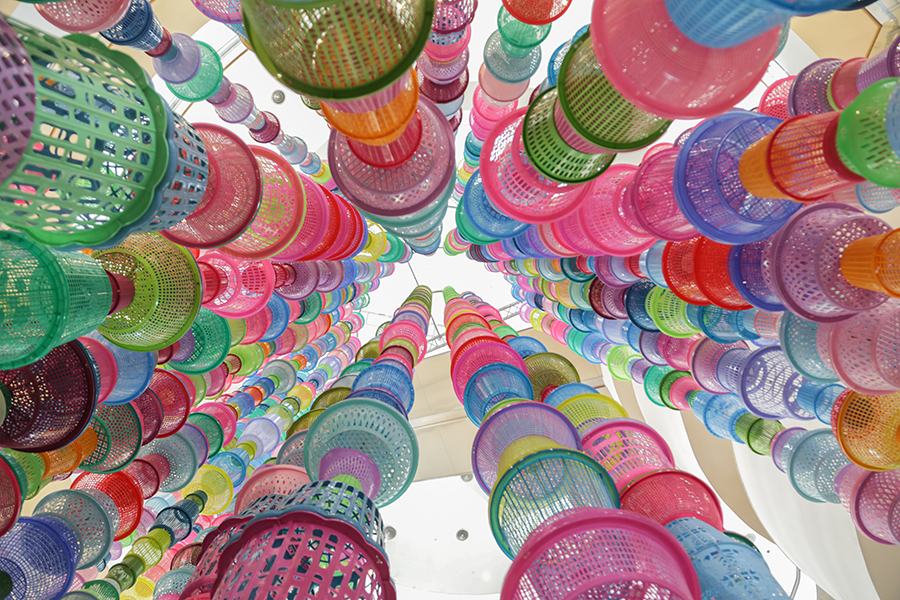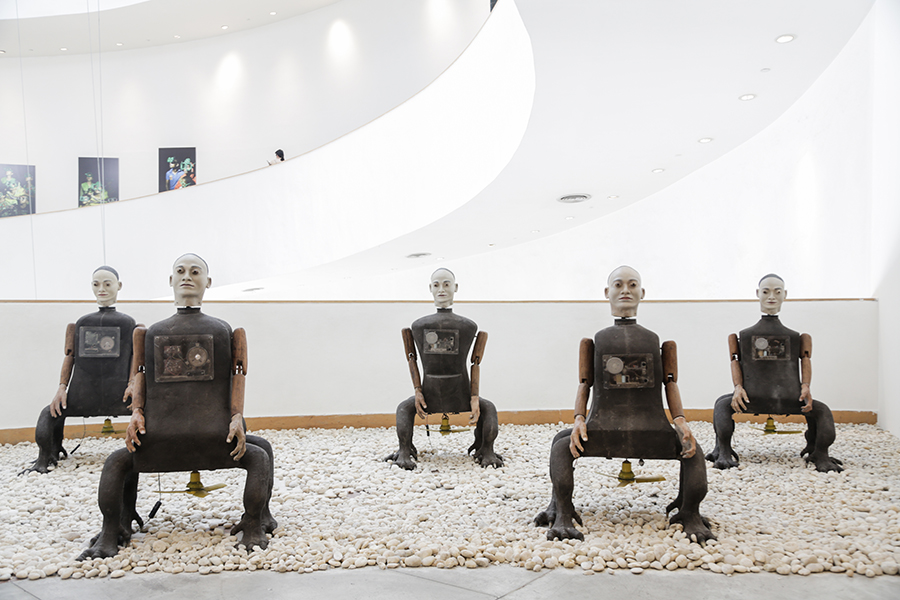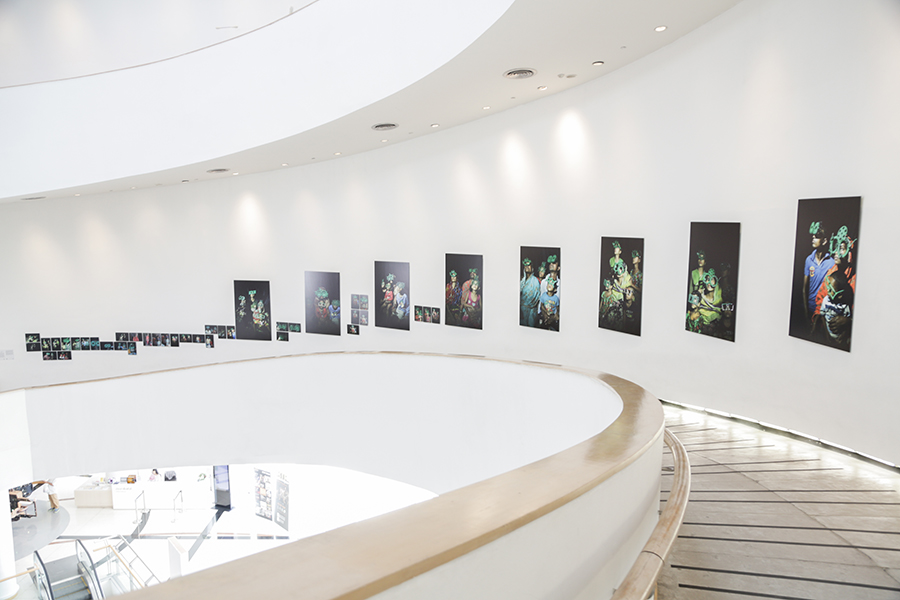 Heekcaa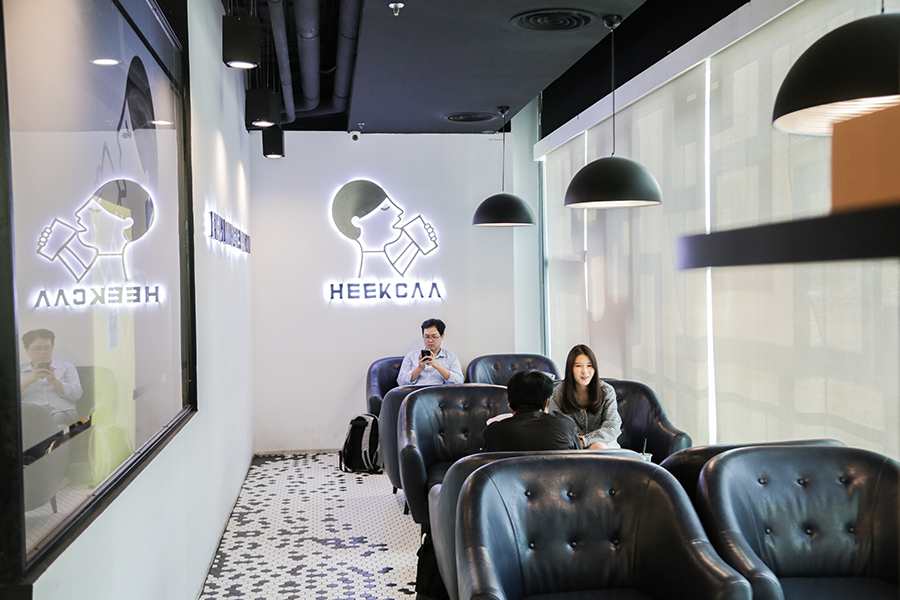 Heekcaa is a hot spot that tea lovers absolutely should know about. It's located on the 2nd floor of Siam Discovery, midway between two BAB 2018 locations, Bangkok Art and Culture Centre and Siam Paragon. Actually, walk just 750 meters further on and you can enjoy the BAB exhibits at Central World, too.
For this second shop, we recommend you try an original recipe from China that Siam Discovery and café Heekcaa have found hits the spot for many tea lovers, the signature drink of this café, "cheese tea."
This drink is both a best-seller and the signature Heekcaa offering, under the name Heekcaa Cheese (90 baht).  It has the charming taste of oolong, but is topped with soft cream cheese for a rich taste with a nice salty sweetness. Green tea powder is sprinkled on top for an added subtlety. We recommend when drinking it to raise the glass at a 45-degree angle, for a blended flavor of oolong and cream cheese.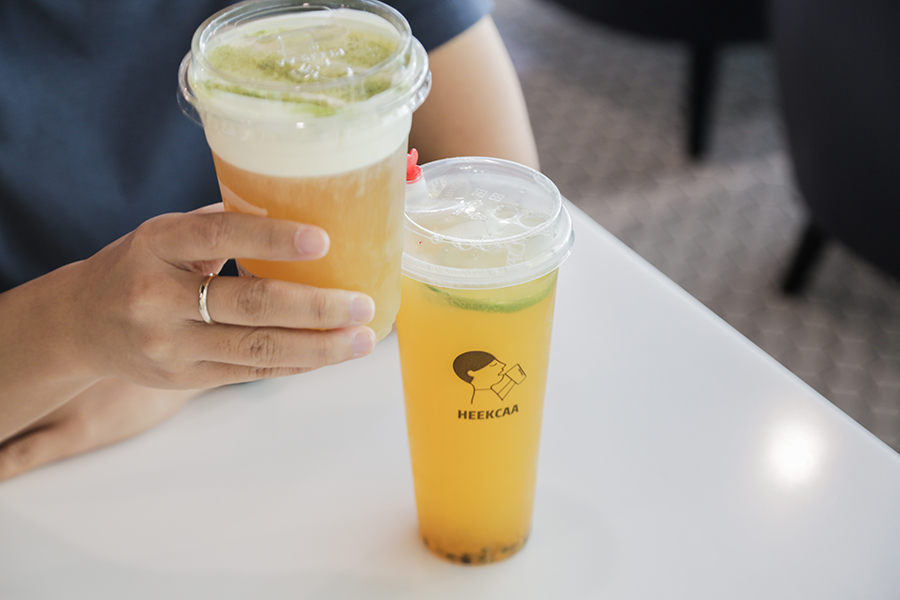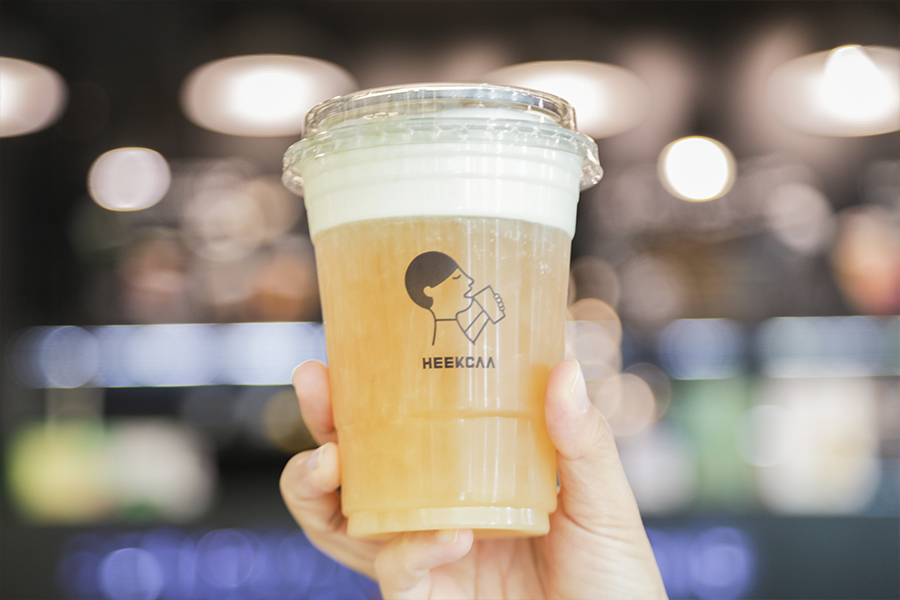 If you aren't a cream cheese fan, Heekcaa has plenty of other dishes to choose from, for instance the fruit juice Full Cup Passion Fruit (99 baht), a jasmine tea blended with the unique sweet-sour taste of passion fruit, a refreshing drink that's definitely not boring!
Besides blended teas of premium freshness, another Heekcaa highlight is its simple but elegant atmosphere, subtly relaxing in color tones of grey-white in a well apportioned space, perfect for sitting and chatting with friends or simply chilling.
Examples of works on exhibit at the Bangkok Art Biennale 2018 international festival of contemporary art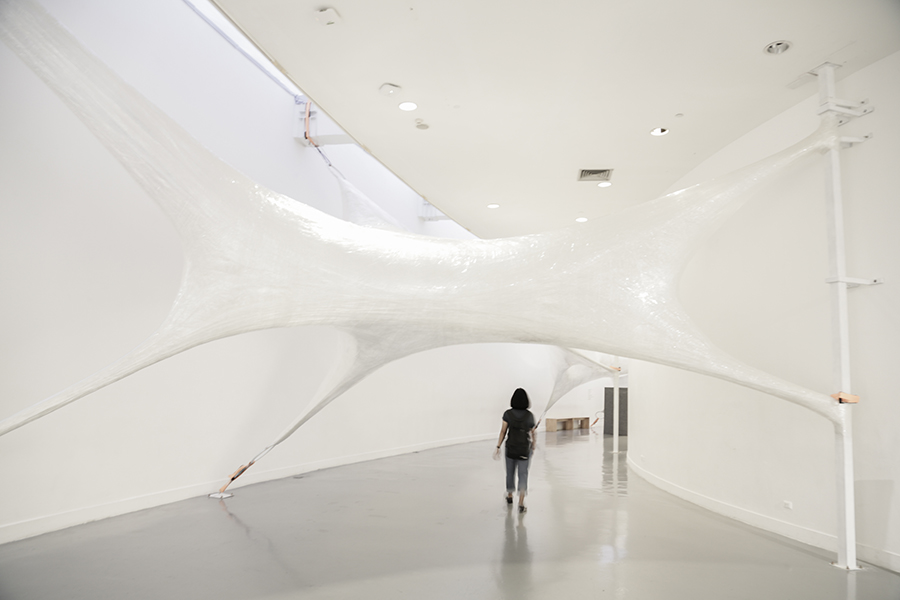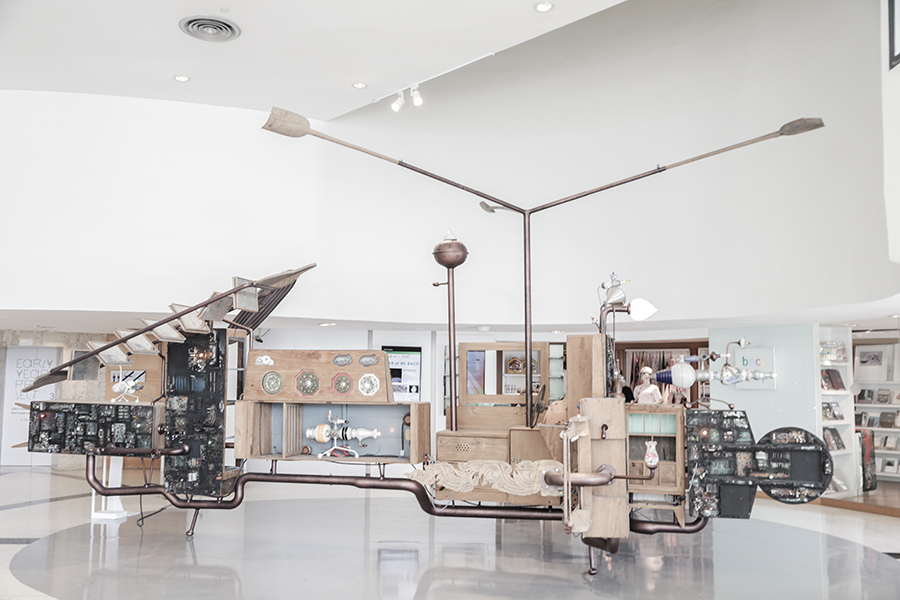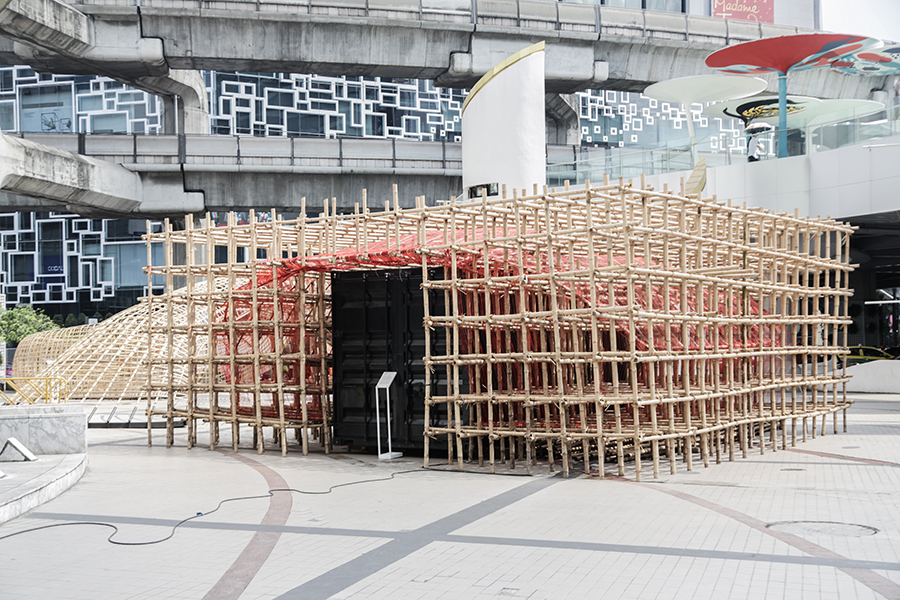 House of Eden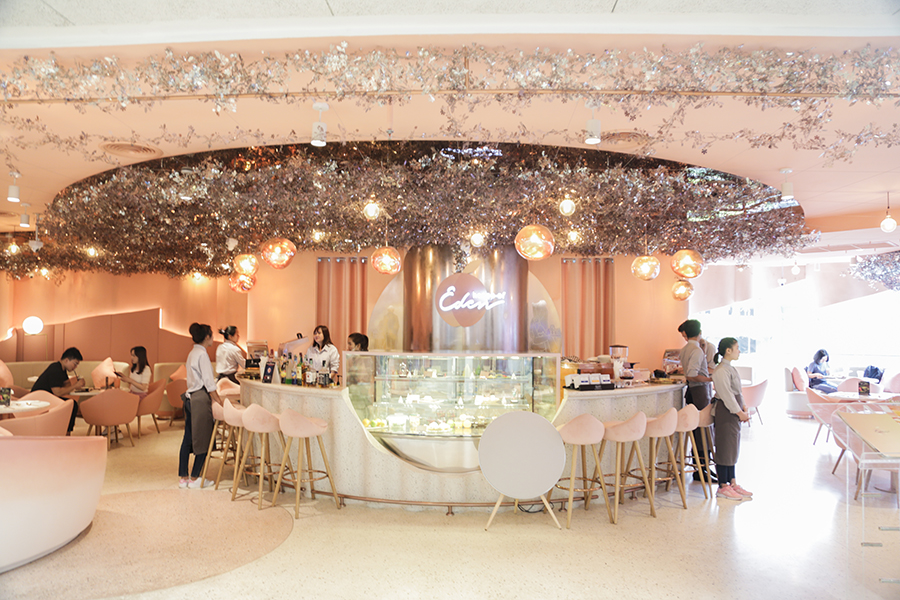 At the House of Eden café you'll have no trouble pleasing the palate. Snacks or main dishes, you'll experience perfectly delicious flavors in newly created dishes, especially the Thai fusion food. This half-café, half-restaurant is on the 2nd floor of Siam Discovery, an easy walk to or from BAB 2018 expositions, whether at Bangkok Art and Culture Centre, Siam Paragon, or Central World.
This is the second branch of the café, with the first in Groove at Central World This new outlet is remarkable for its rose-gold color, built around the unusual concept of a "Tree of God."
What catches the eye here is the décor: the color selection gives it a cute, sweet ambience, and at same time there is the transformative Tree of God theme that gives a heavenly feeling to dining here. Furniture designed in the same color scheme and style adds to this artifice.
There is a really wide variety of food and drink choices here. You can eat light, or eat heavy, really filling up on Thai fusion, whose distinct flavors make it the favorite of many. With that in mind, here are some meal suggestions for hungry folks.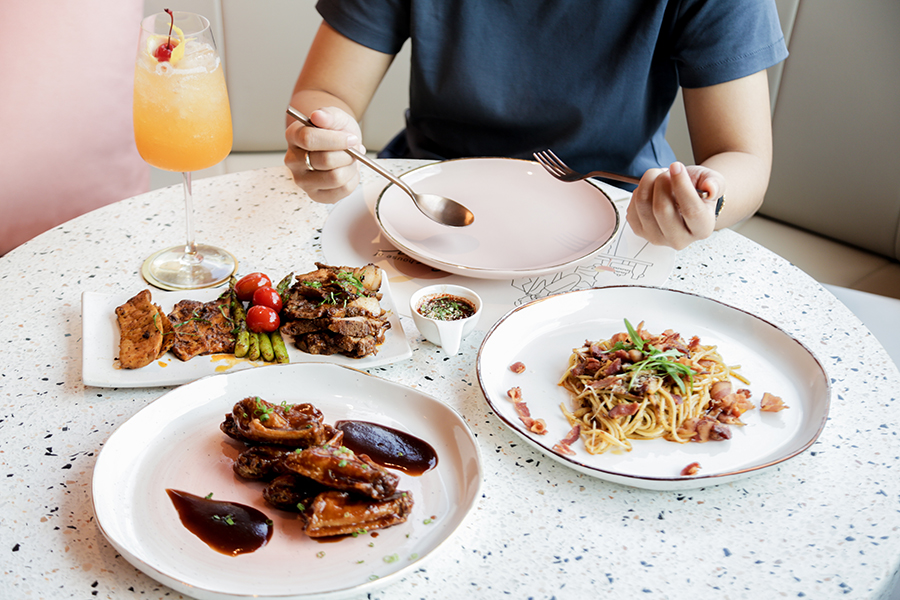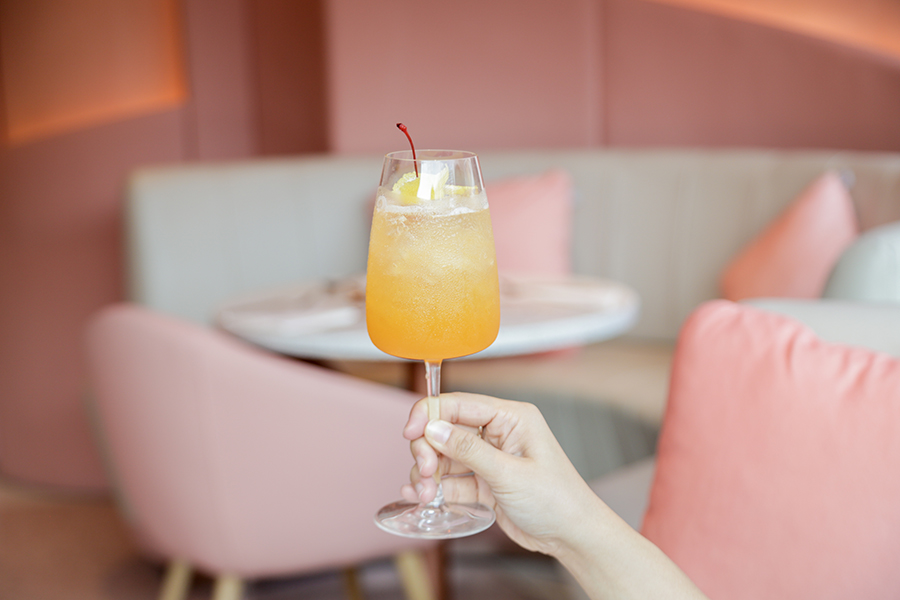 Start with a Chicken Wings Eden Sauce (260 baht) appetizer. This is fried chicken enhanced with the café's own special sauce for a mellow, playful taste. Moving towards the main course, we suggest Spaghetti Bacon Garlic (270 baht), with its hot, peppery Thai-style flavor with dried chilis and garlic, a perfect match for the soft noodles and crispy bacon. And don't forget to order Grilled Kurobuta with Mala Sauce (370 baht), which really adds flavor to the meal, especially the delicacy of grilled-to-perfection  Kuroba pork with Mahala sauce, chili-hot and served with grilled vegetables to go along with the heat.
Besides main dishes, House of Eden has lots of fruit drinks, tea, and sweets to try out. There's Passion Sunrise (220 baht), a "mocktail" with a pleasant combination of sweet and sour, for an appropriate contrast with the spicy hot of a main dish. Enjoy it with a light dessert such as Panna Cotta: softness topped with fresh fruit.
Examples of art works on display at the Bangkok Art Biennale 2018 international festival of contemporary art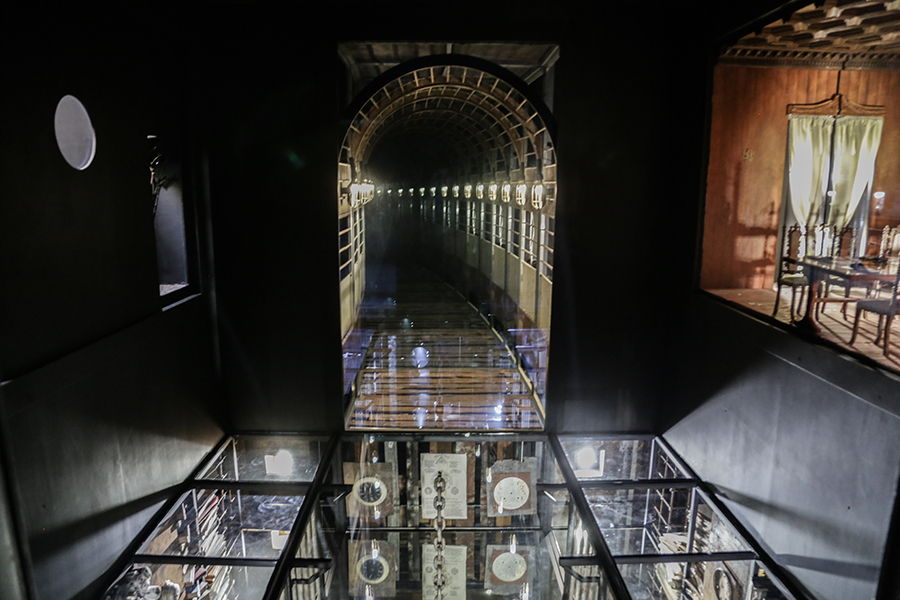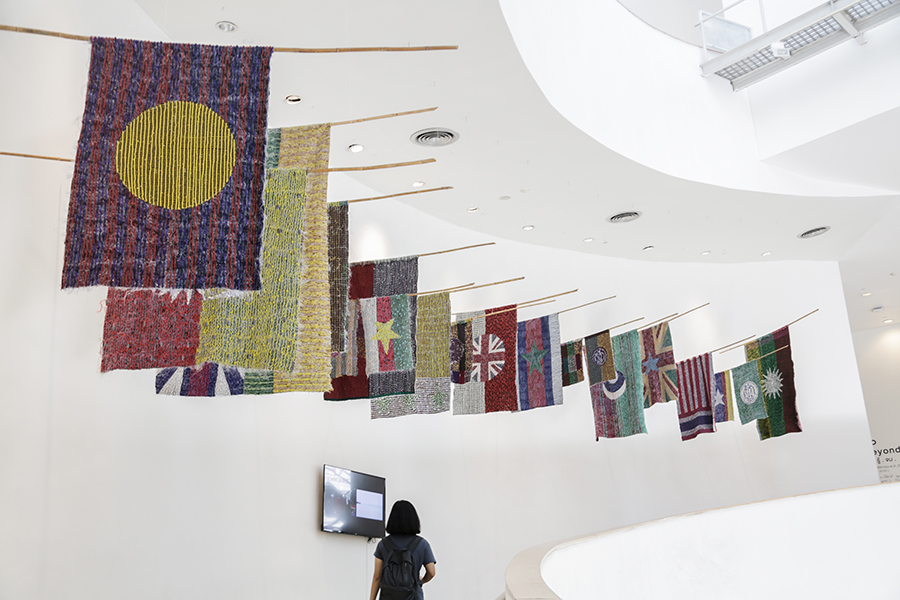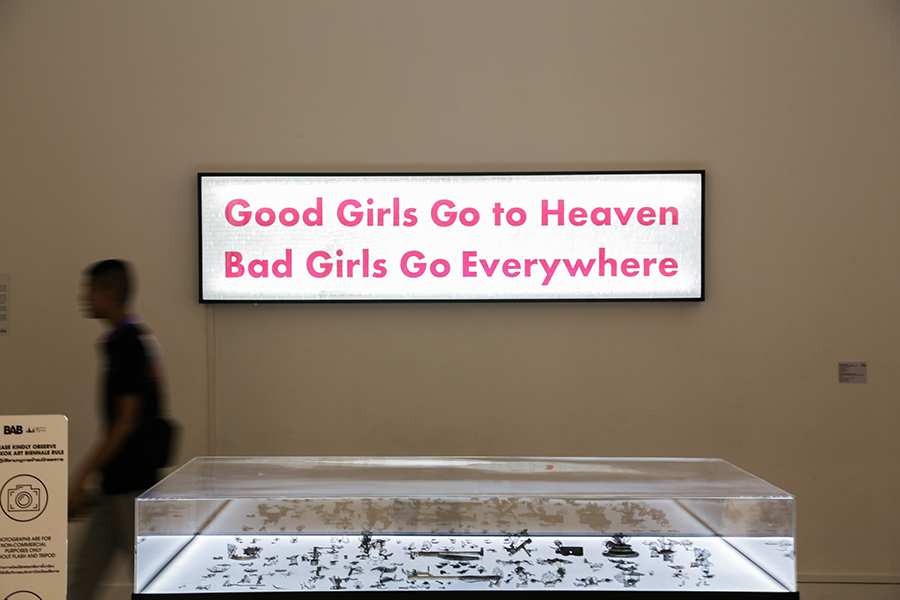 Boyy & Son Café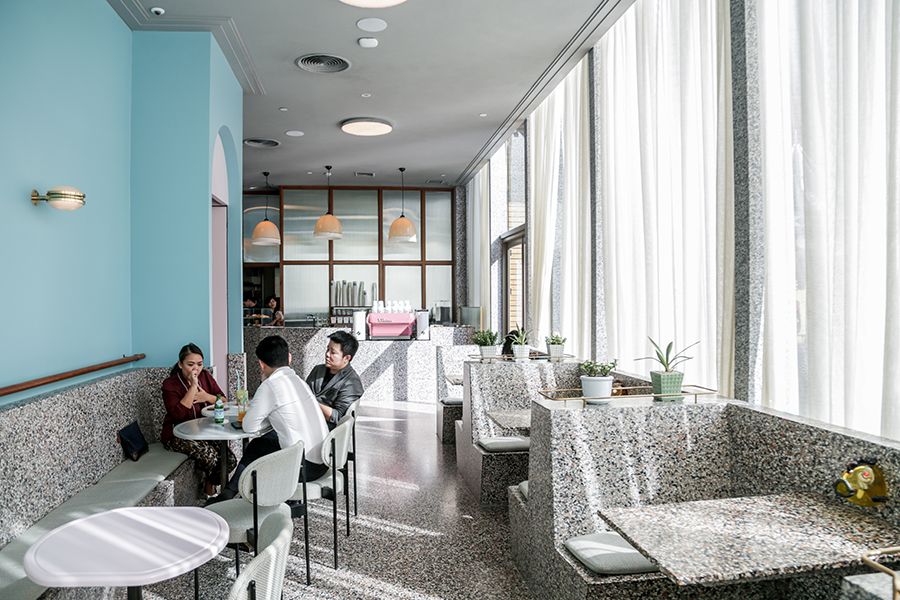 Boyy & Son is the last café we'll bring you to visit today. It provides a comfy atmosphere in the Chidlom-Ploenchit district, and it's only 700-meter walk from there to yet another BAB 2018 art exhibit location, Central Embassy.
A super-cool café that grew out of a fashion brand, it connects to Flagship Store, so the décor has a "minimal luxury" style stressing simplicity and warmth, while at the same time luxury is revealed in its selection of materials.
The décor here is simple. The furniture is based around benches constructed of gorgeous terrazzo-style polished stone. There's a feeling of openness, with on one side glass walls letting in natural light for an atmosphere of comfort and warmth, and on the other a supremely beautiful ocean aquarium, an impressive feature that is softened with green pastels.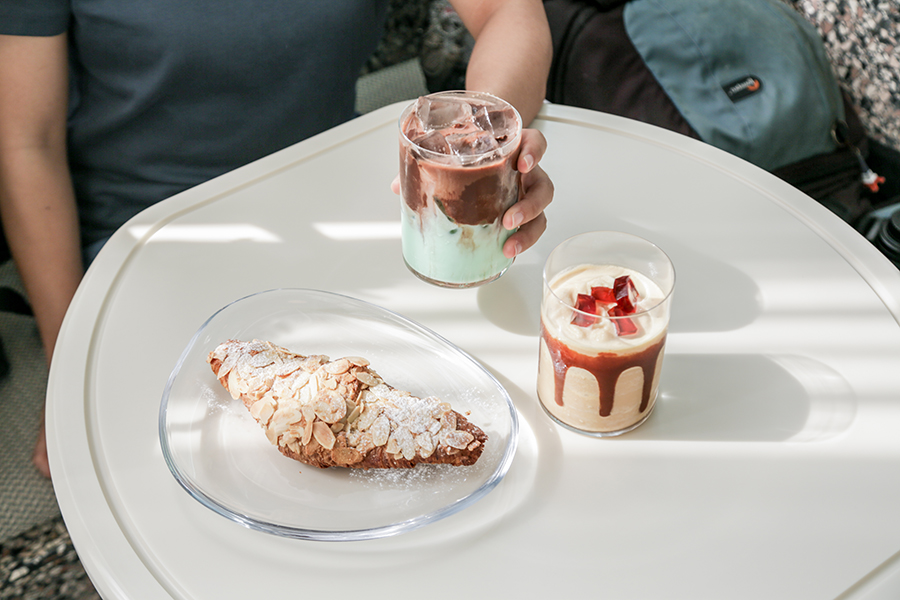 Drink and dessert menus here are unique, staring with the their signature Iced Boyy & Son Caramel (120 baht), notable for its homemade caramel sauce, flavorful with special fresh ingredients such as sea salt. This drink is delightfully rich, as a thick jelly adds texture. Continuing on, for chocolate lovers there's the Iced Dark Chocolate Mint (140 baht), a dark chocolate from Valrhona Chocolate, a French brand known for some of the most delicious chocolates in the world. This is served with a blend of mint syrup for its characteristic fragrance and flavor.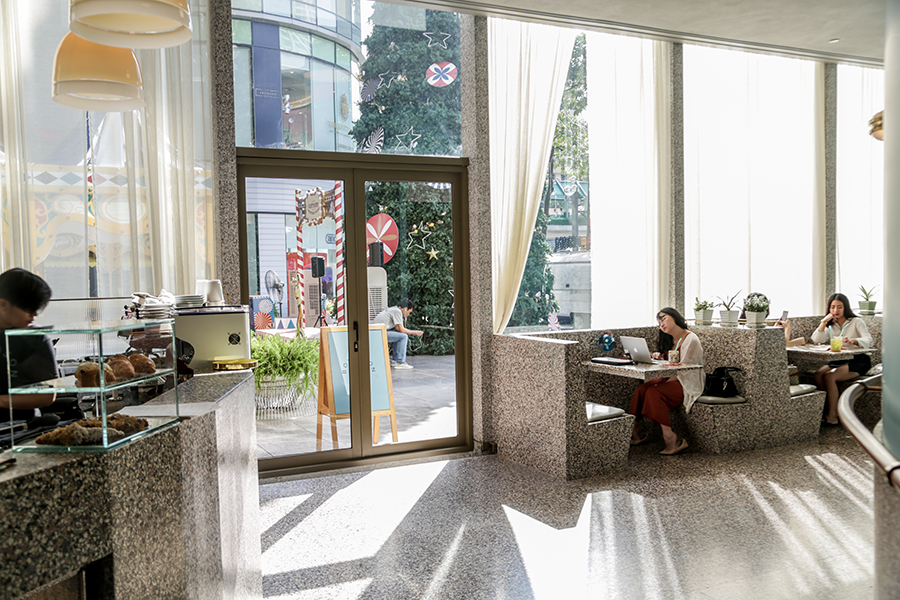 Finally, we recommend a new product, freshly baked, the Almond Croissant (130 baht). This is warmed before serving: crispy on the outside, soft and luscious on the inside, and chock full of almonds. This dish makes for some fun eating, and goes perfectly with either of the two drinks above.
Address: Floor G, Gaysorn Village (Gaysorn Tower)
Hours: open every day, 9:00 a.m. – 8:00 p.m.
Examples of art works on display at the Bangkok Art Biennale 2018 international festival of contemporary art