It's said that waterways are the wellsprings of civilization, and that does appear to be true. Looking back many thousands of years to the earliest prototypes of human civilization it seems they all had close relationships with and originated along water sources. Civilizations in the Nile Delta, the Huang He basin, along the Indus River, the Tigris-Euphrates, and in Thailand itself, humanity's ways of life began with connections to waterways used for consumption, travel, and agricultural use.
The international festival of contemporary art Bangkok Art Biennale (BAB) 2018 echoes this historic heritage of civilization by exhibiting the works of artists both Thai and foreign along one of Asia's ancient and majestic waterways. Come along today as we take you to see art on the Chao Phraya riverside, and, by the way, take a few breaks to scarf down some truly delicious food.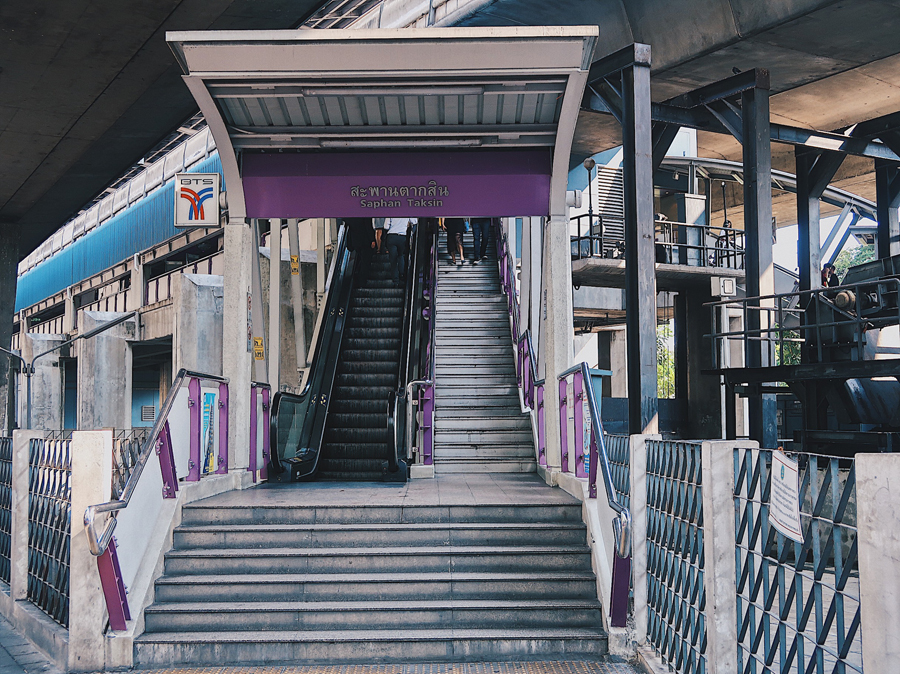 Saphan Taksin SkyTrain Station
Our starting point today is the Saphan Taksin BTS Skytrain station, itself an important landmark. Foreigners are familiar with it for its location in the heart of Charoen Krung district and its access to the Chao Phraya Express Boat and cross-river ferries, for travel to major points such as Asiatique the Riverfront, ICONSIAM, Wat Arun, Maharaj Pier, and many others.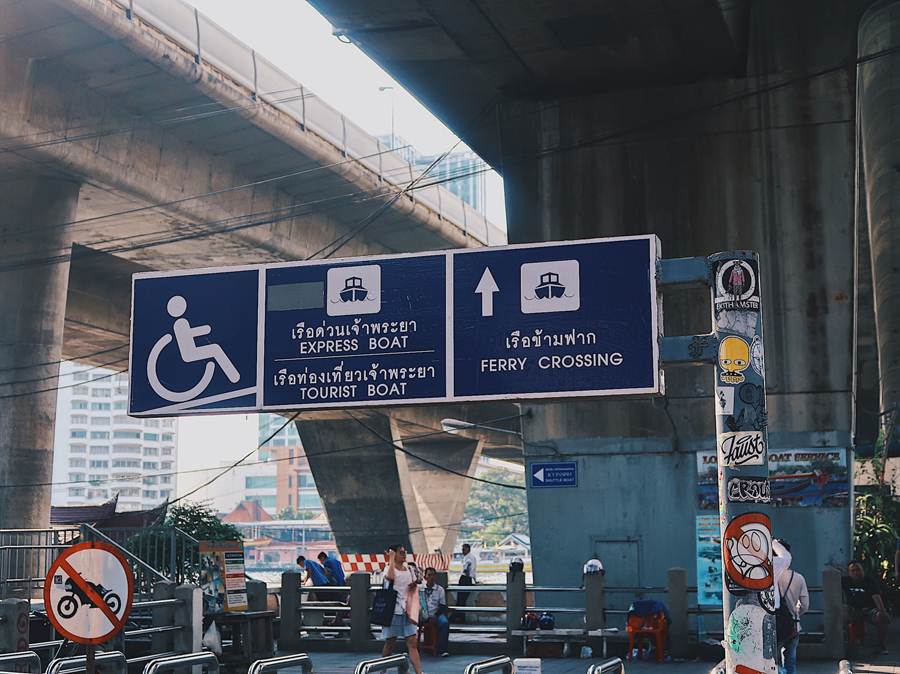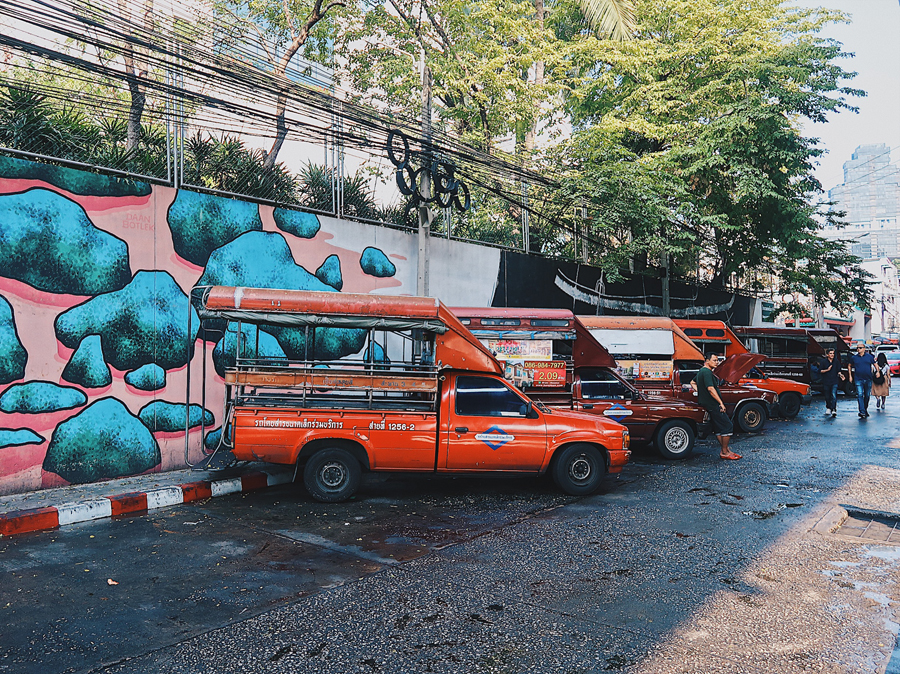 For a taste treat in the Charoen Krung area, we'll first take you to "Thip Hoi Thot Phukhao Fai," a superb fried shellfish shop in Soi Charoen Krung 50 known for the freshness of ingredients coming direct from the sea each day. We recommend the Hoi Thap Hoi ("Shellfish on Shellfish") for 90 baht, featuring deep fried mussels spread on top of a layer of oysters for a crispy-outside, soft-inside taste, with oysters that are delightfully fresh and juicy.
Thip Hoi Thot Phukhao Fai (Shop is in the front of the tiny 1 Khuha Building, tucked away in Soi Charoenkrung 50)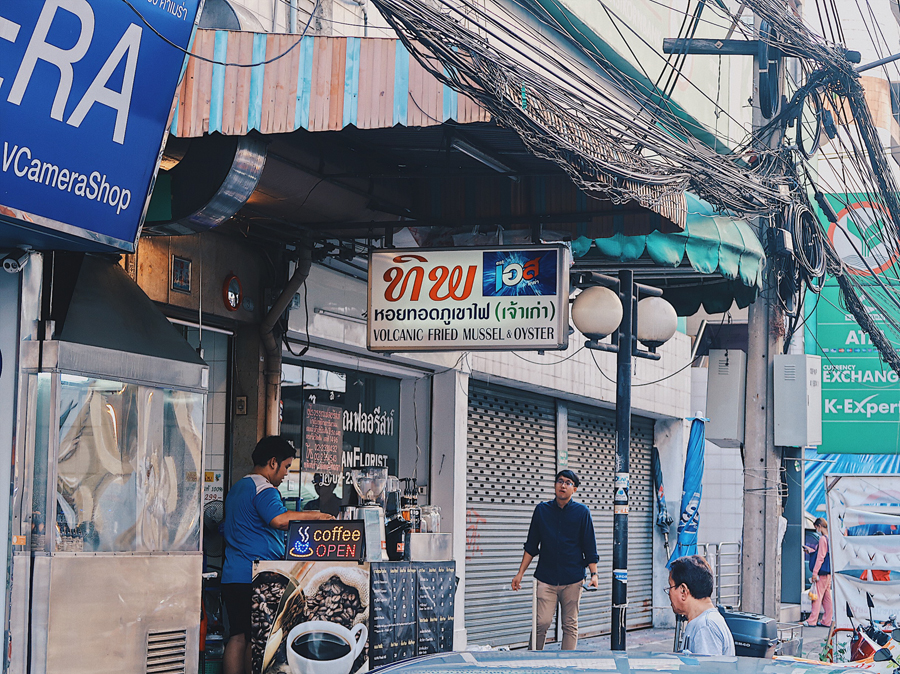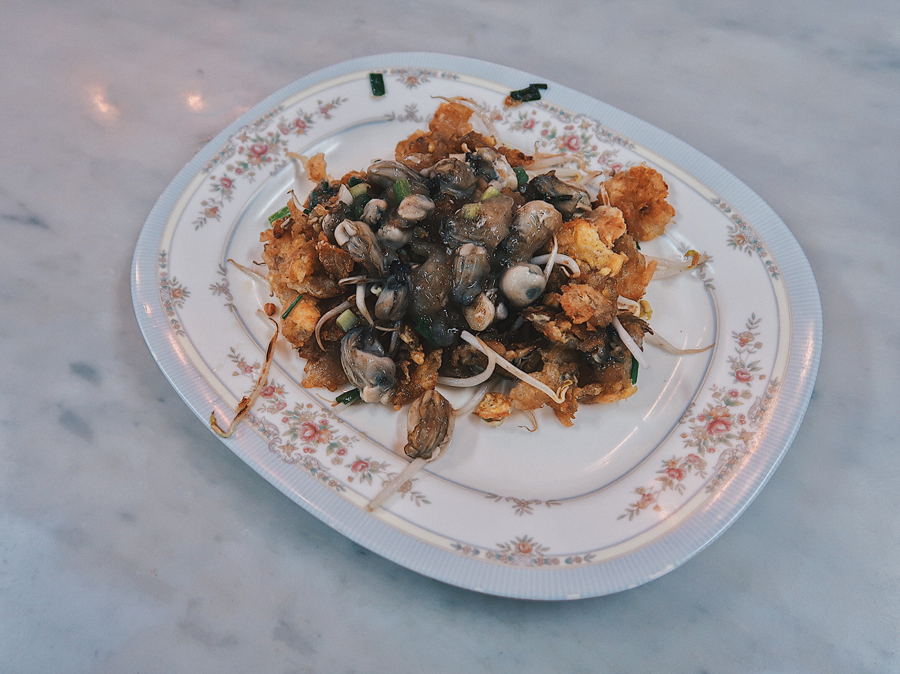 Thip Hoi Thot Phukhao Fai Restaurant
Open Monday – Saturday 11:00 a.m. – 8:00 p.m.
Tel: 0-2233-1116
Full from our Thip Hoi Thot Phukhao Fai meal, leaving the shop we see Robinson's Department Store, a Bang Rak landmark since 1992 and an early indicator of the commercial boom this area was about to undergo.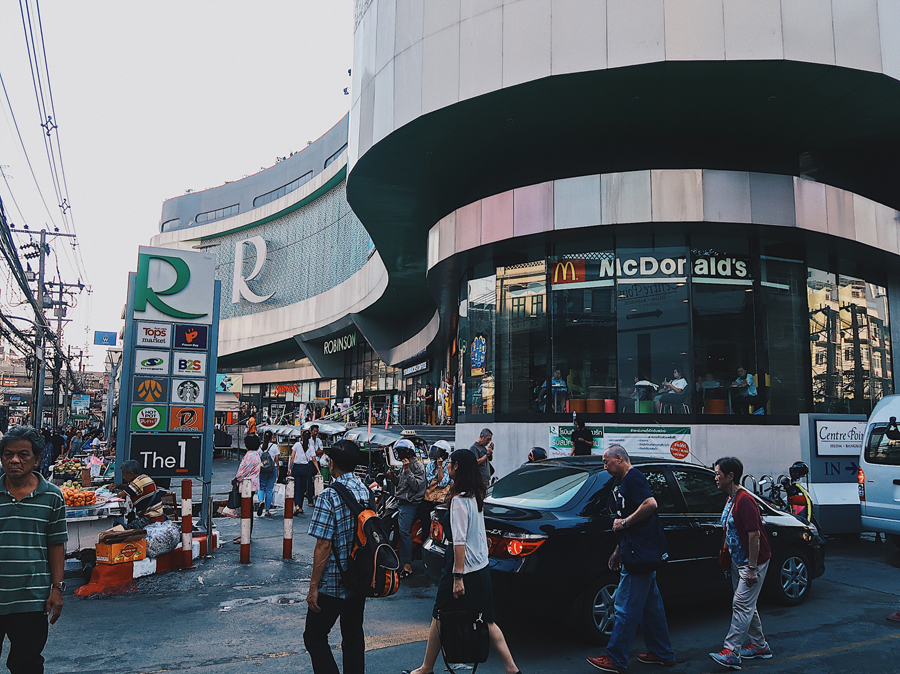 Robinson Department Store, Bang Rak Branch
Just past Robinson we glance across the street to see another of this area's great restaurants, "Prajak Roast Duck."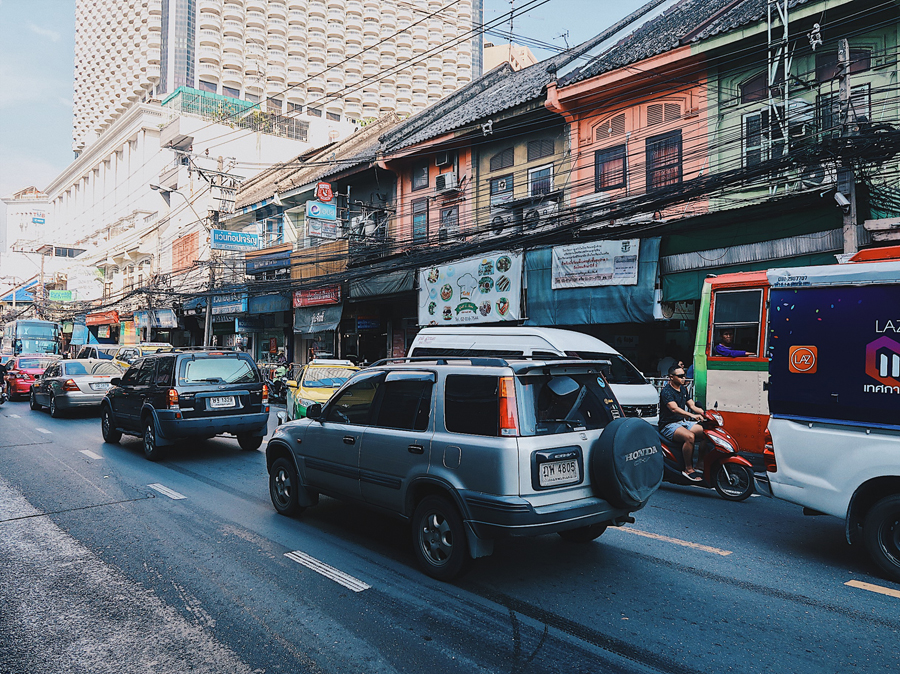 Prajak Roast Duck (directly across from Robinson's)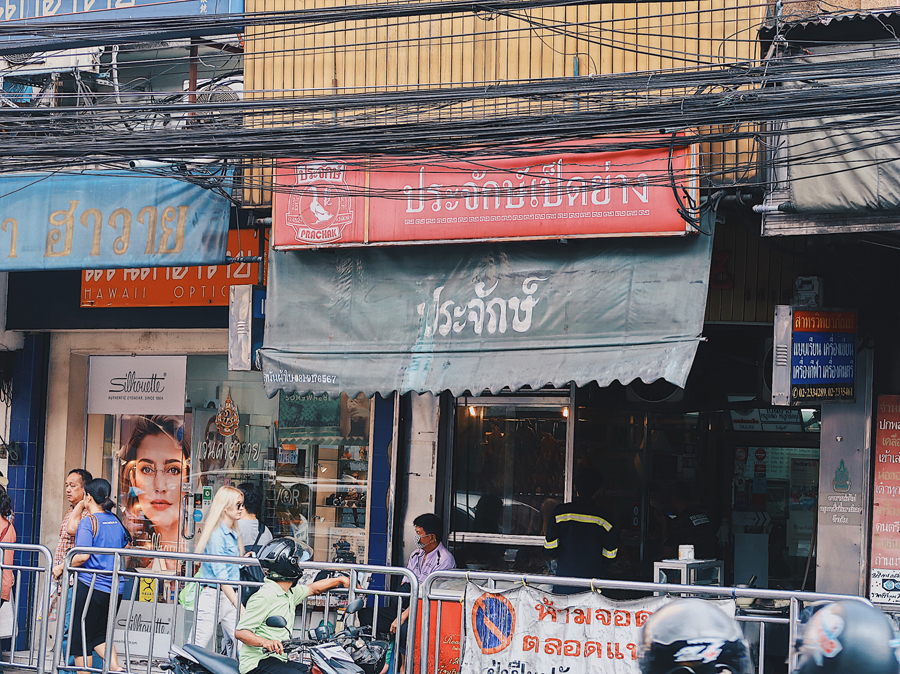 Prajak Roast Duck has a long history in Bang Rak, and is famous for its roast duck, tender, skin crispy to perfection, and delicious. Today we're ordering kiaow mee kung pet ("mee noodles with dumplings, shrimp, and duck") and kiaow kung chin toh ("prawn dumplings") with crispy-skin roast duck on top, for an intensely savory taste without needing to add any seasoning at all.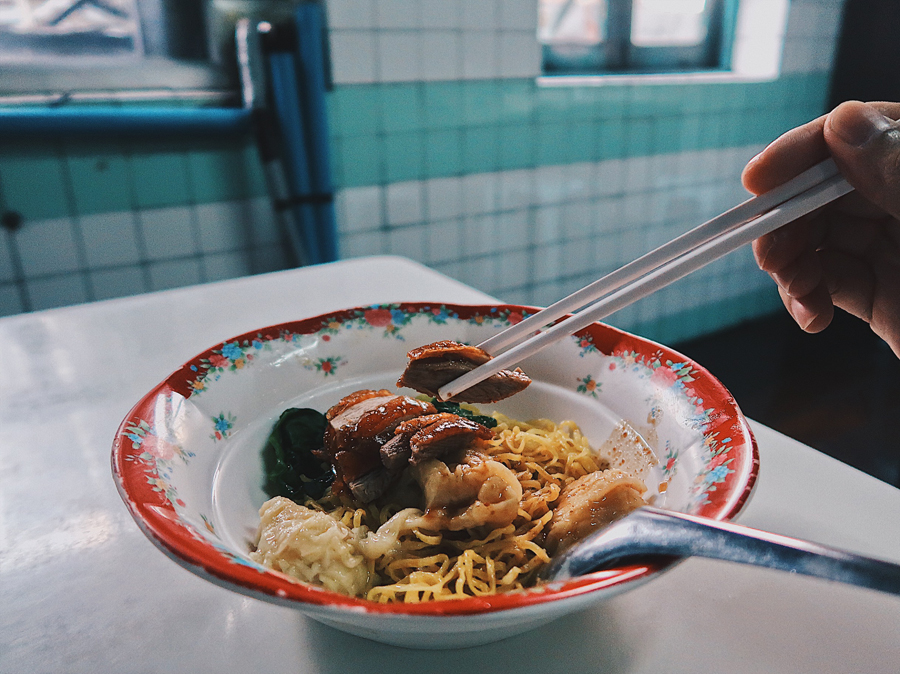 Prajak Roast Duck Shop
Open: daily, 8:00 a.m. – 8:30 p.m.
Tel: 0-2234-3755
. . . continuing our walk along Charoen Krung Road, at Soi 40 we reach a major Bangkok Art Biennale 2018 location, with Festival exhibits at three venues: the East Asiatic Building, the Mandarin Oriental Hotel, and the OP Place Shopping Plaza.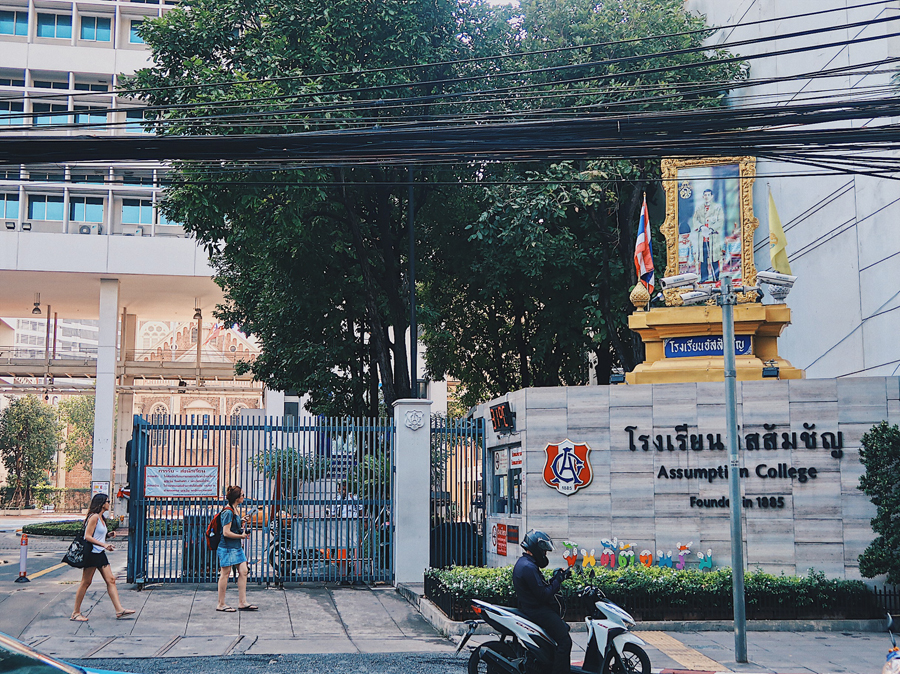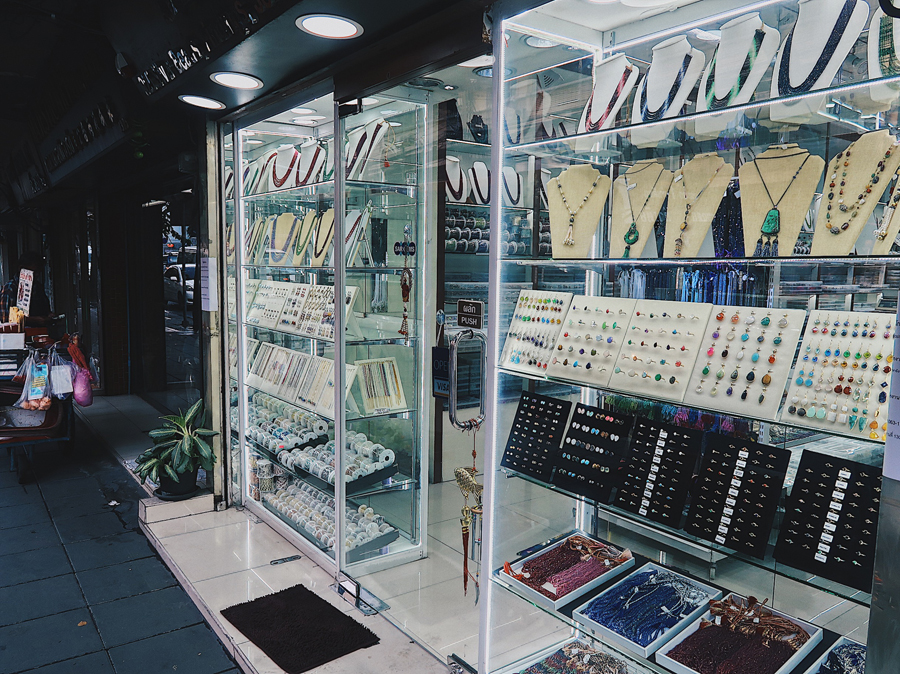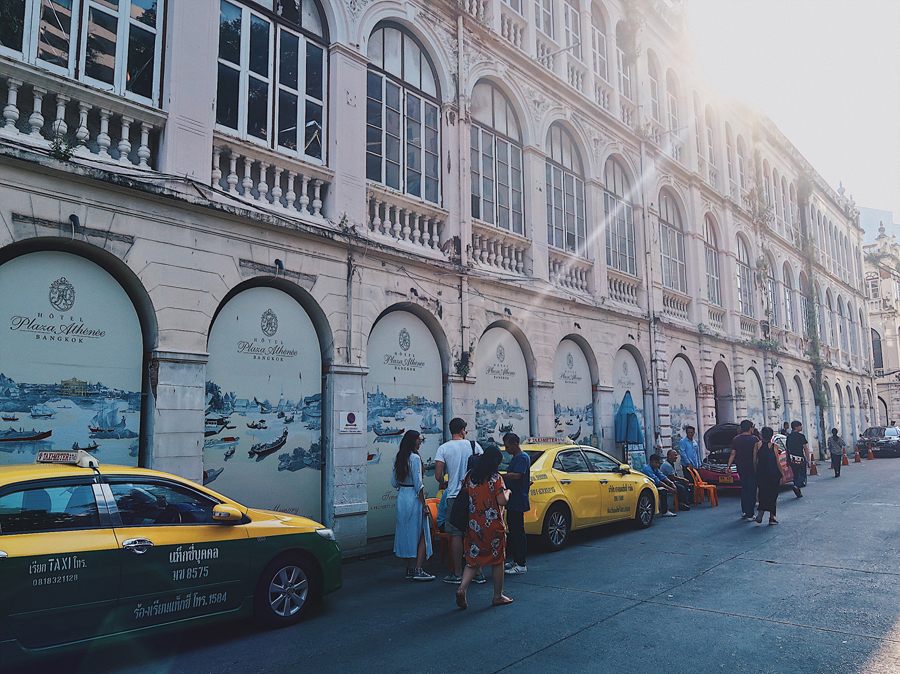 Going up the 2nd floor of East Asiatic Building we find an exciting group of works, including Diluvium, an installation art piece which transforms the room in a uniquely disturbing way, by Korean female artist Lee Bul. Then there is Nothing Is Less Comparable 2018 by Sara Favriau, a sculptress from France skilled in creating art works from wood. Moving on, we see Pyramid Shape Sculpture, an extremely unusual and striking sculpture by Andrew Stahl, and Performing Textiles, which poses questions about various social issues, especially women's rights, with artist Kawita Vatanajyankur using her body as a tool for "women's work at home."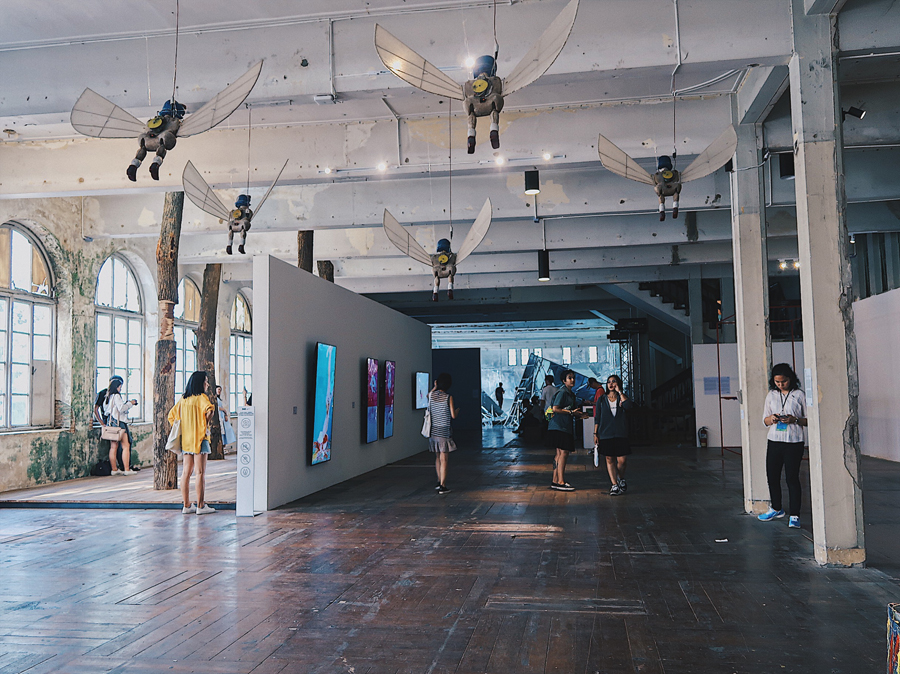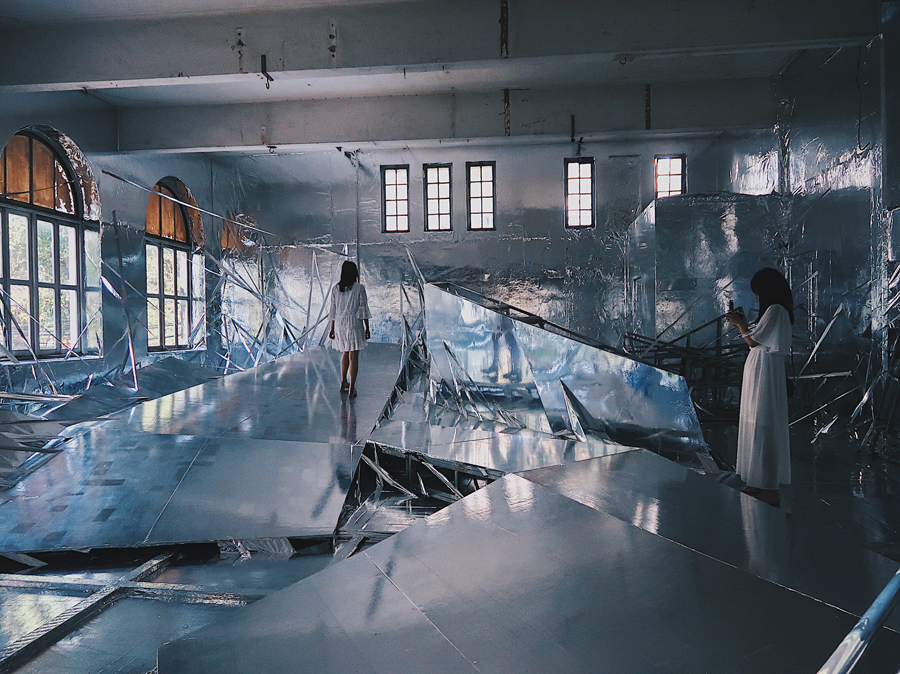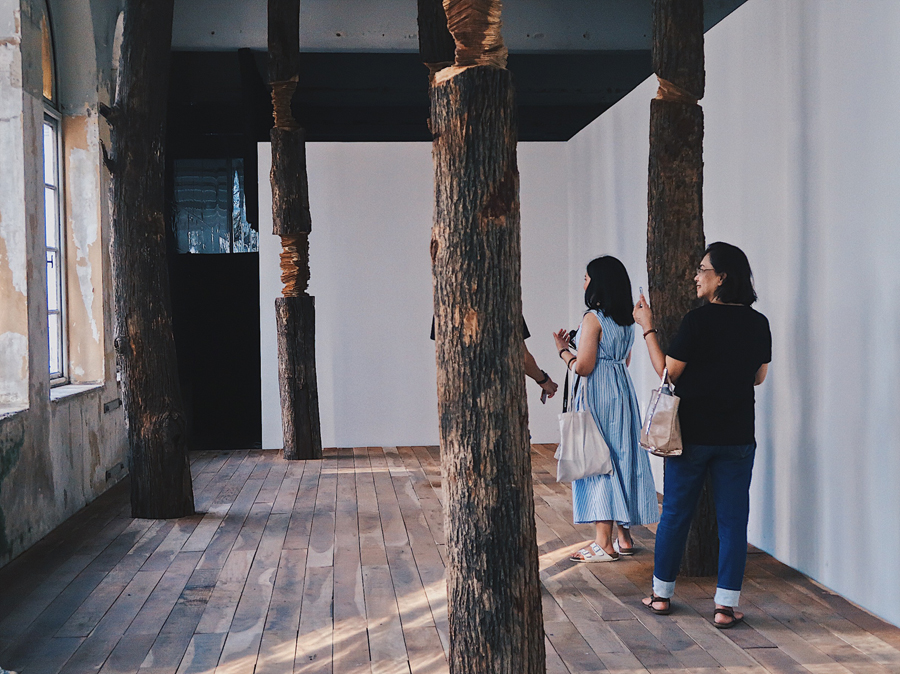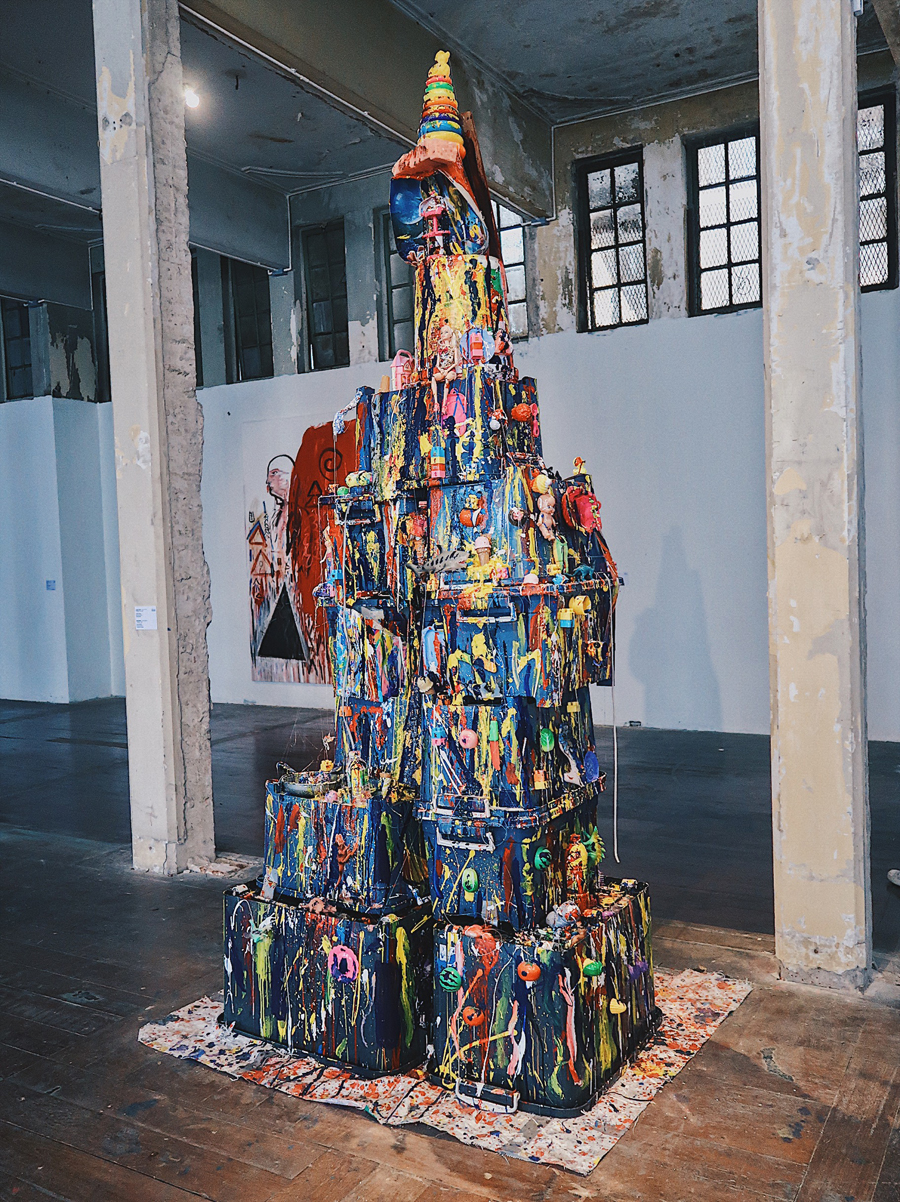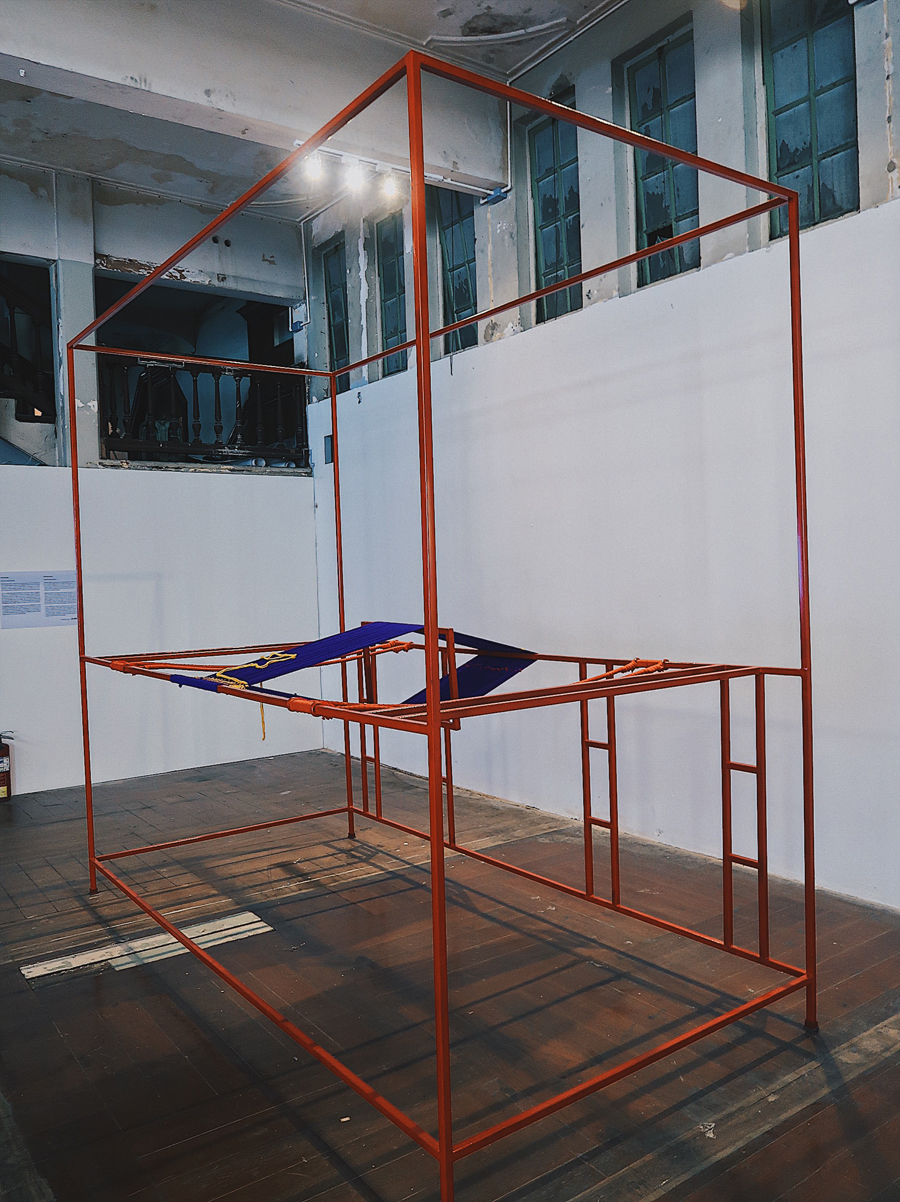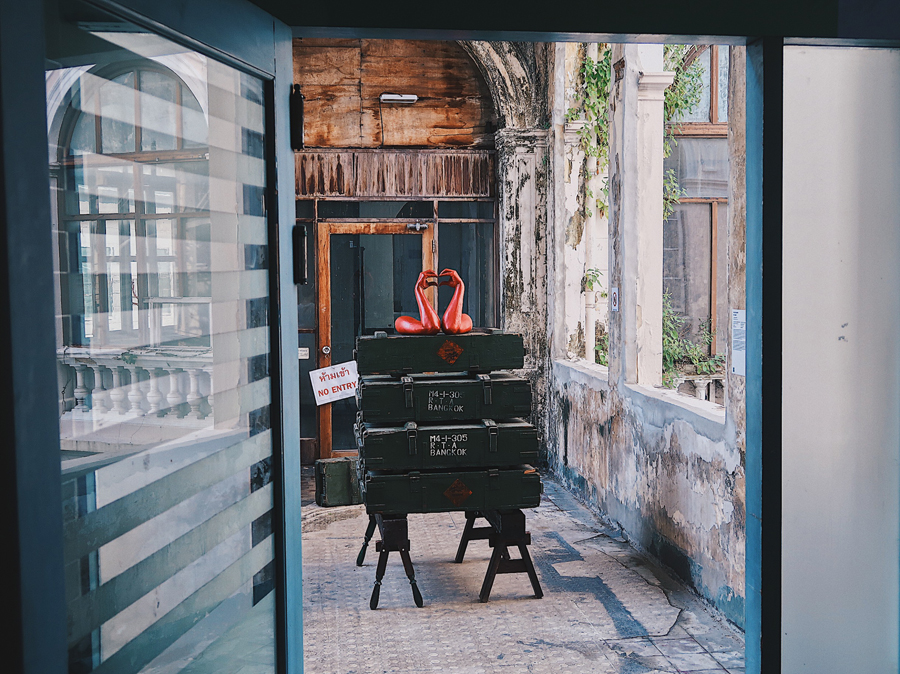 Leaving the East Asiatic Building we encounter Lost Dog, a more than 3.8-meter-tall sculpture by Aurèle Ricard, towering in front of the Mandarin Oriental.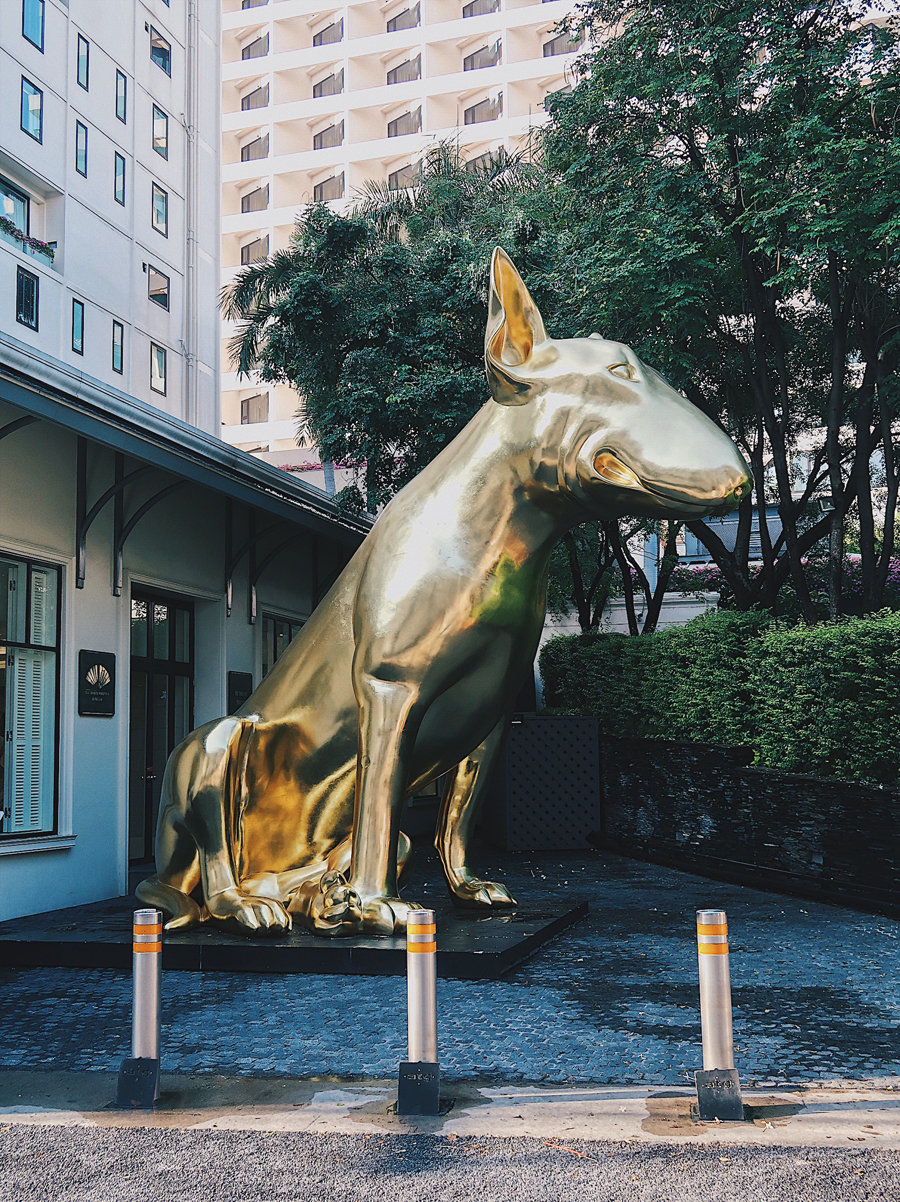 Turning left into the OP Shopping Plaza right next door, there is more great art on exhibit, beginning with Jrai Dew: a radicle room, a mixed-media presentation by Art Labor, a Vietnamese group of artists. Next is Listen to the voice my Land Papua, a painting on canvas by Moelyono. And there is QUALITY: quality, by Latthapon Korkiatarkul, which urges us to think and pose questions about our lives and surroundings.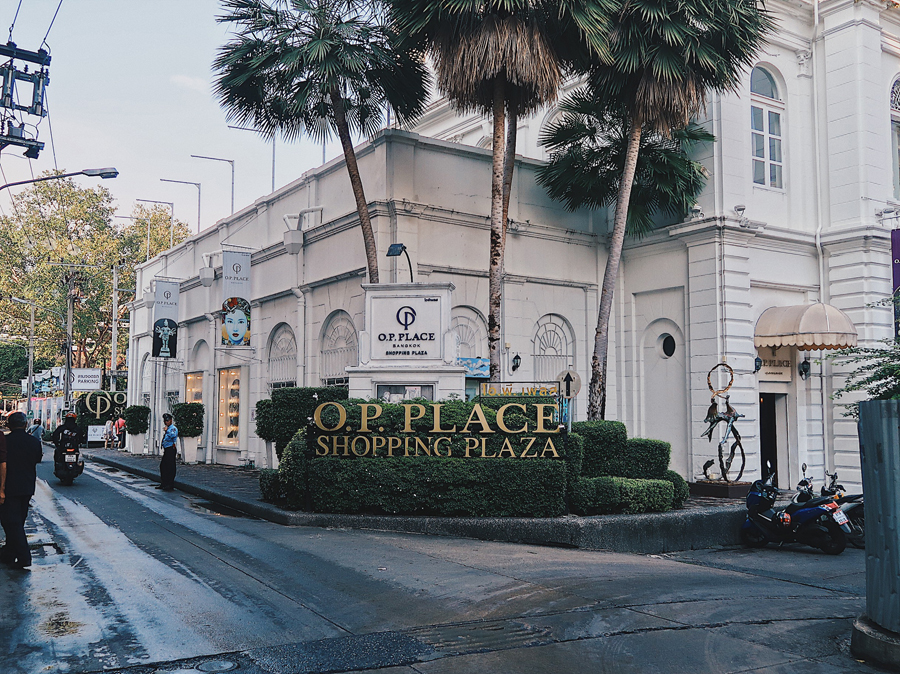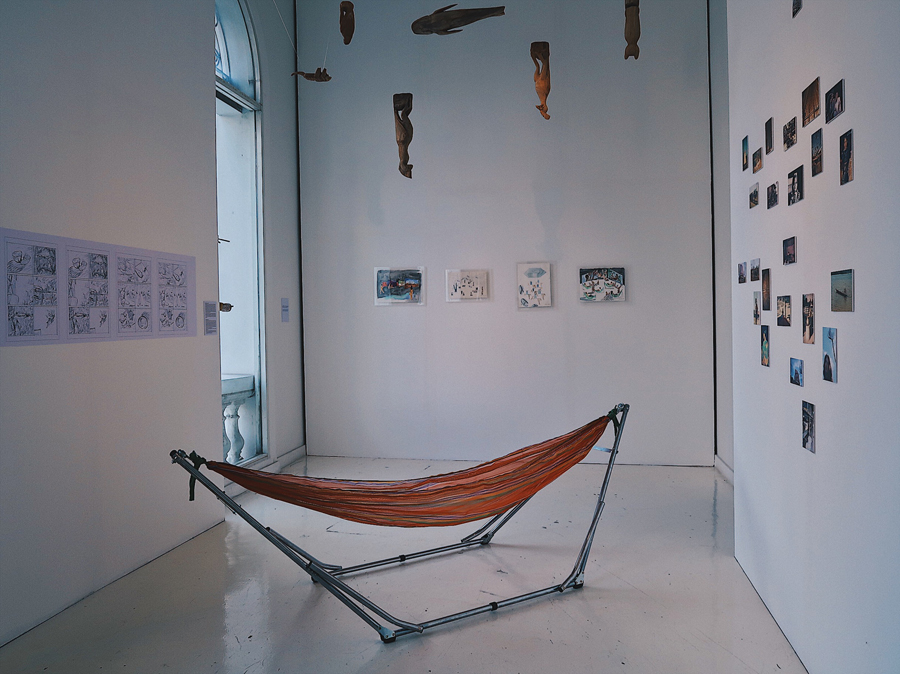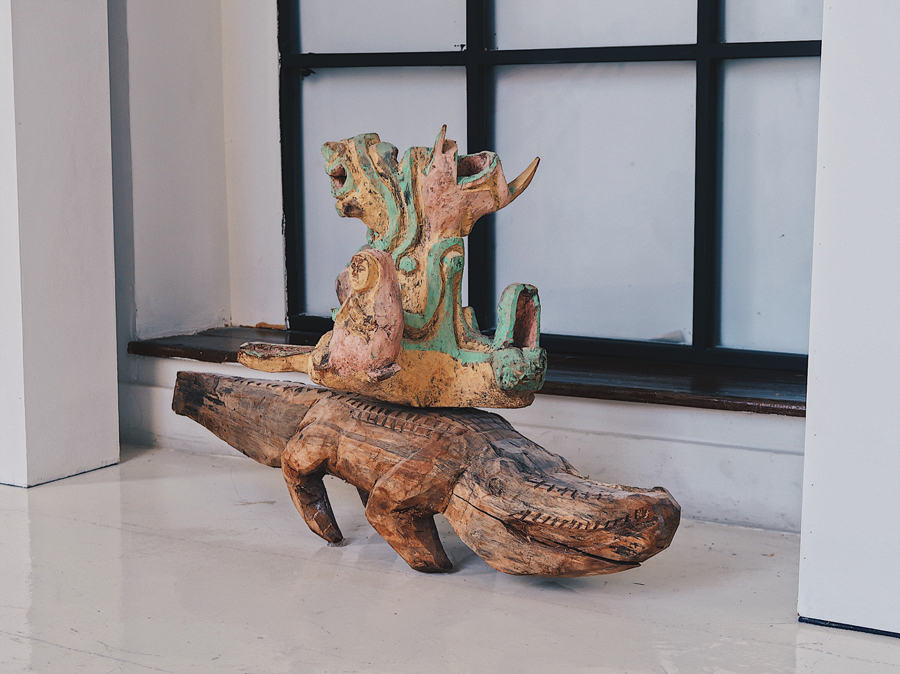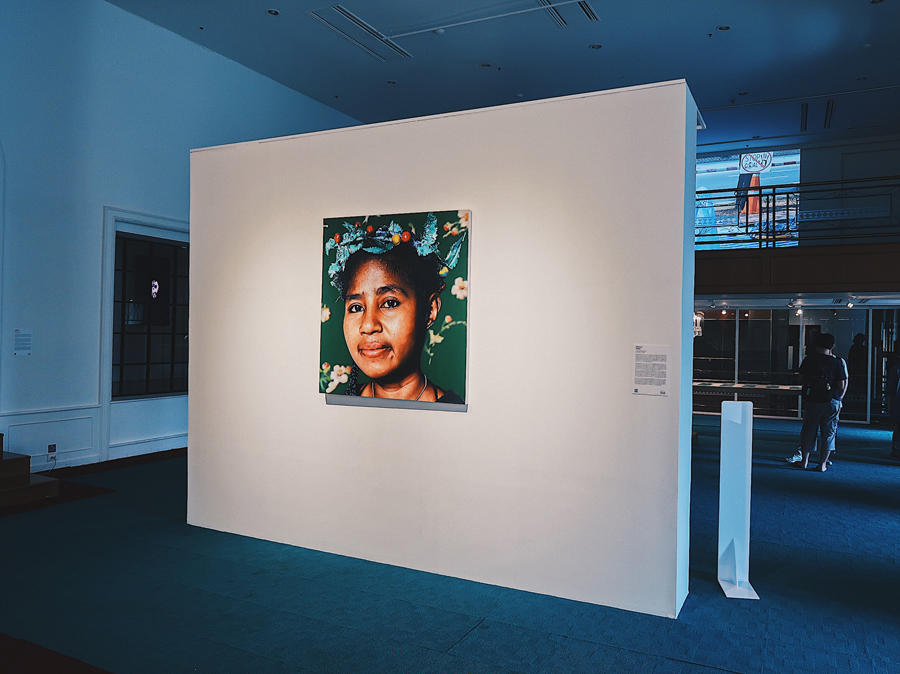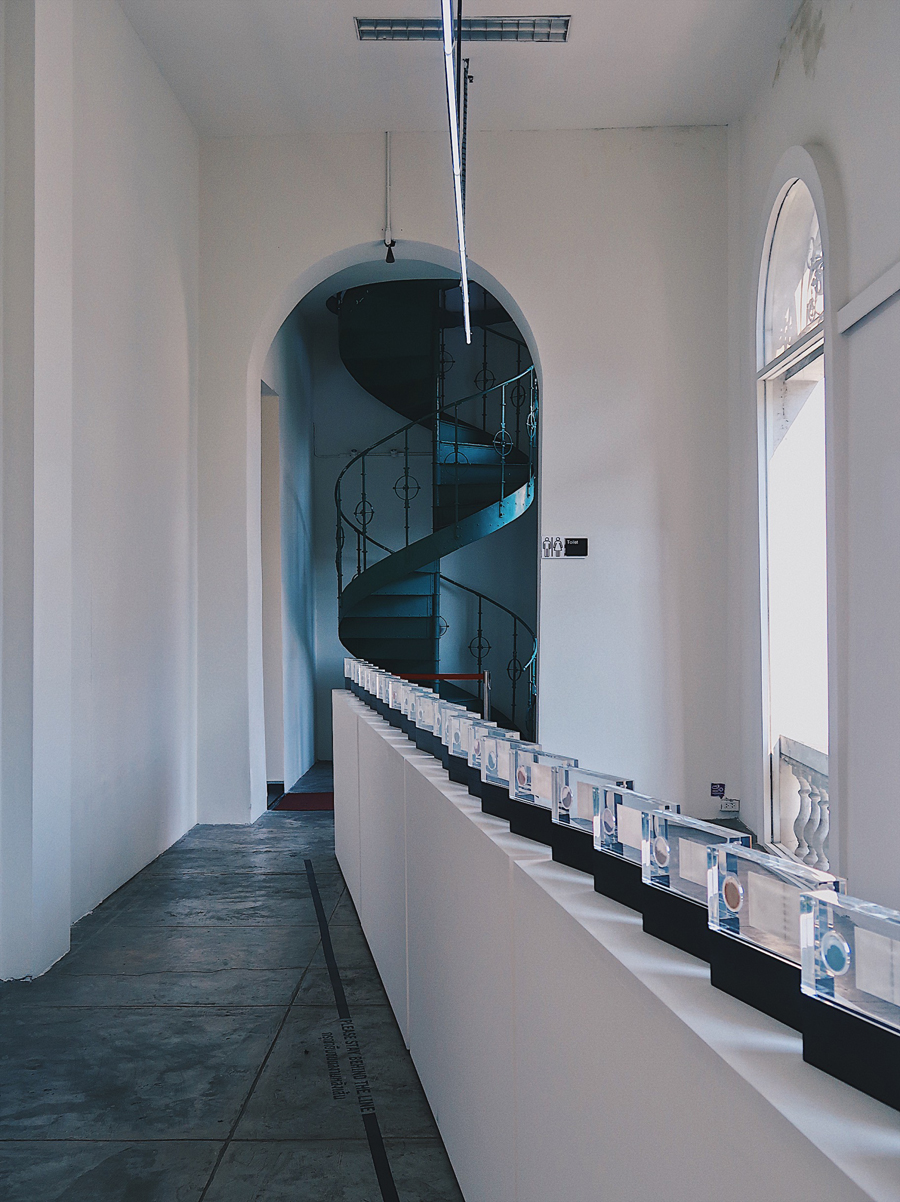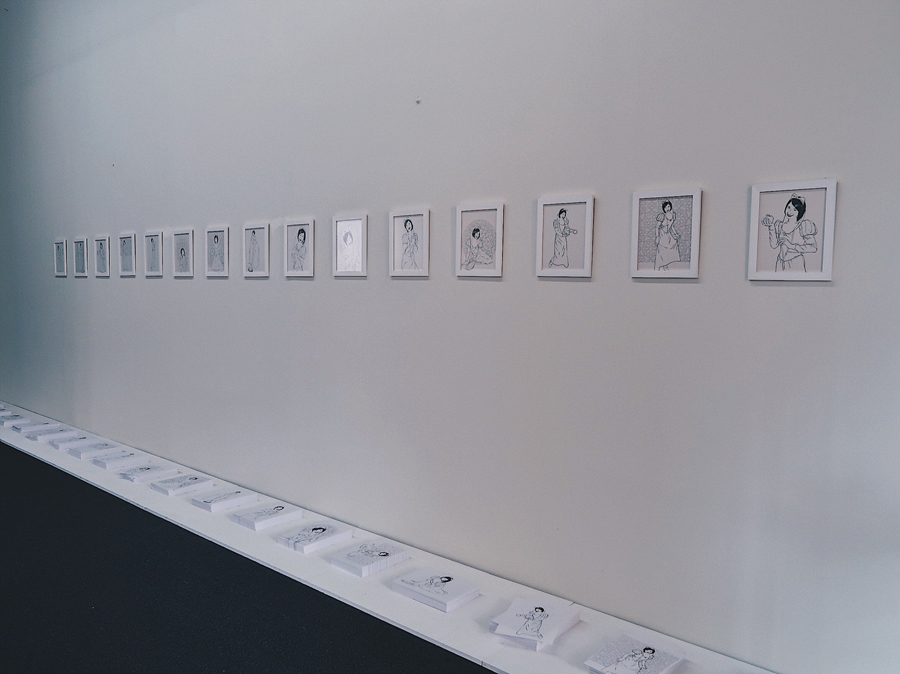 OK! We've seen quite a bit of art! Let's go pamper ourselves a little with a visit to the organic café "Farm to Table." This tiny place is hidden away near the Pak Khlong flower market, with a warm and familiar atmosphere suitable for a good sit-down chill. Let's order lod chong + ice cream (75 baht), a mix of soft, smooth organic ice cream with the signature sweetness of lod chong dessert noodles.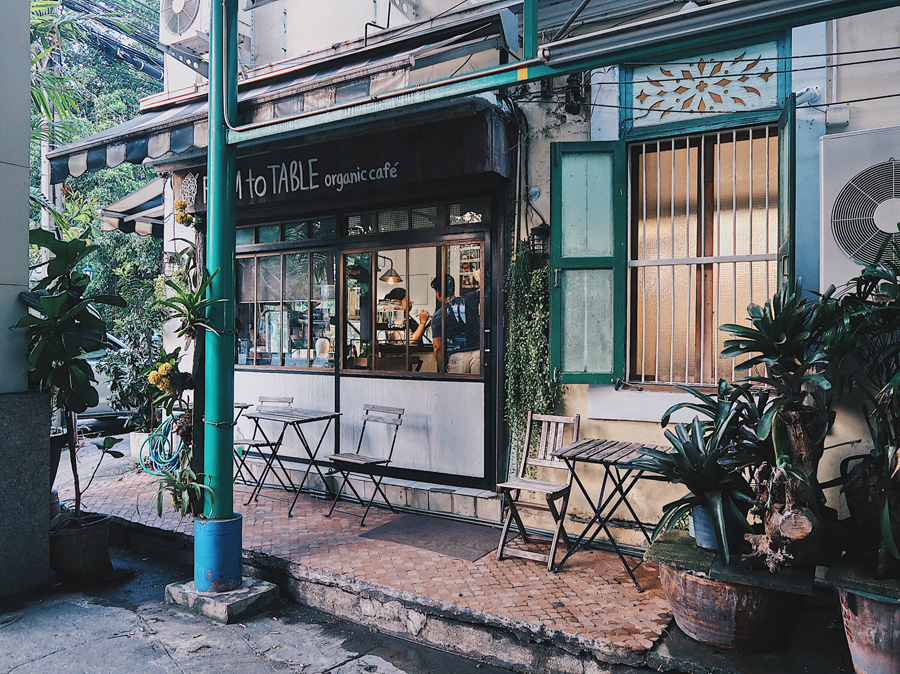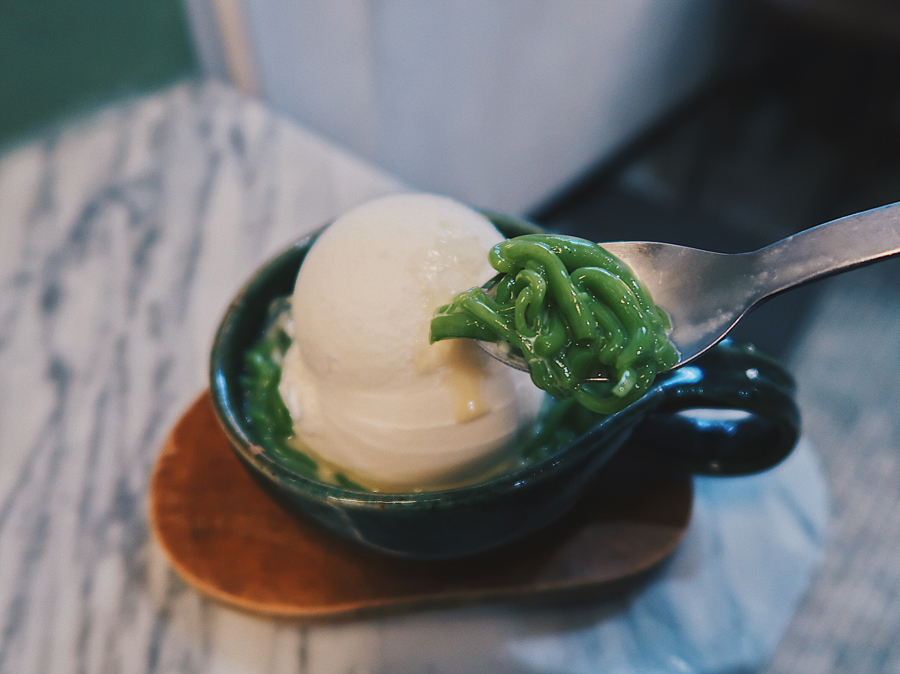 Shop: Farm to Table organic café
Open: every day, 10:00 a.m. – 8:00 p.m.
Tel: 0-2115-2625
Feeling fat and sassy after a restful stop, we exit the shop to head out again on our art odyssey. There are two more BAB 2018 exhibition locations right nearby: Wat Phra Chetuphon Vimolmangklararm Rajwaramahaviharn, or Wat Pho, and Wat Arun Ratchawararam.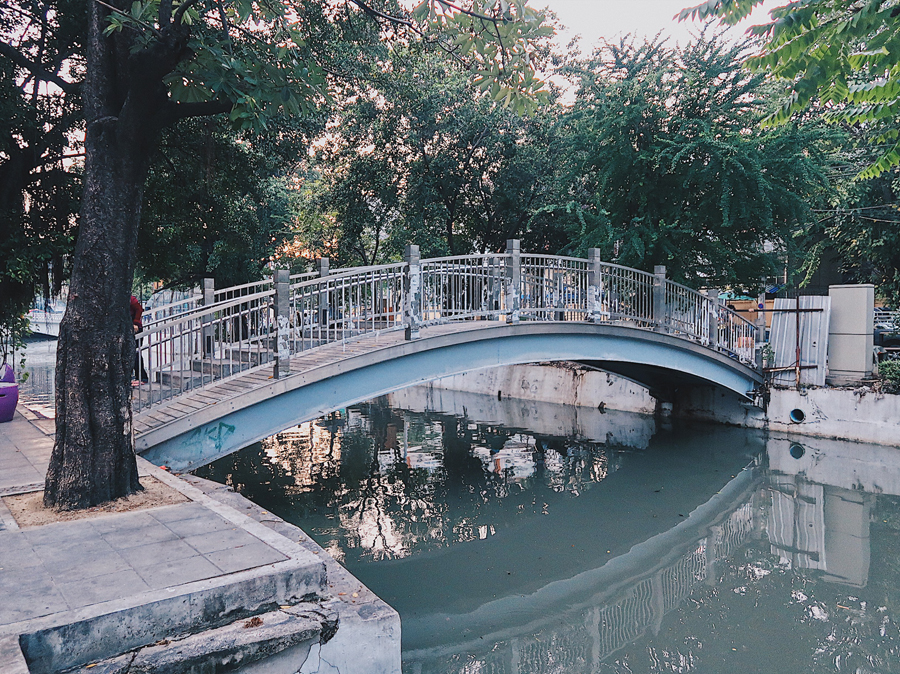 In the Wat Pho grounds six important art works are on display, including Paths of Faith, by Jitsing Somboon – a collection of white robes, backs embroidered with the word "faith" in Thai, Chinese, and English – and Zuo You He Che, by Huang Yong Ping, which uses sculptures of fantastic animals to depict stories based in Chinese culture.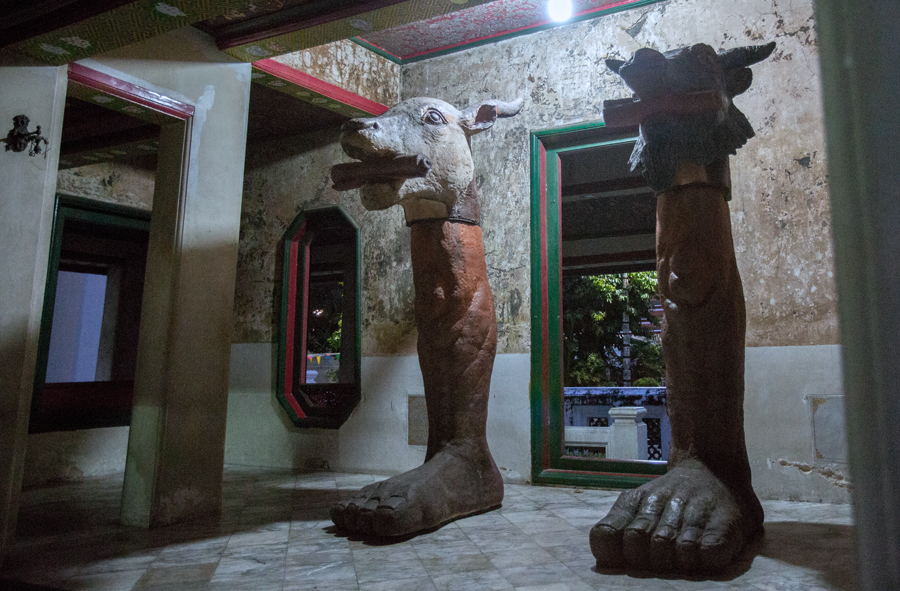 If you get tired looking at the Wat Pho exhibitions, you can walk across Maharaj Road and into a tiny alley on the Chao Phraya riverside. There you'll find another super-cool café hidden away, the Blue Whale Café.
The Blue Whale Café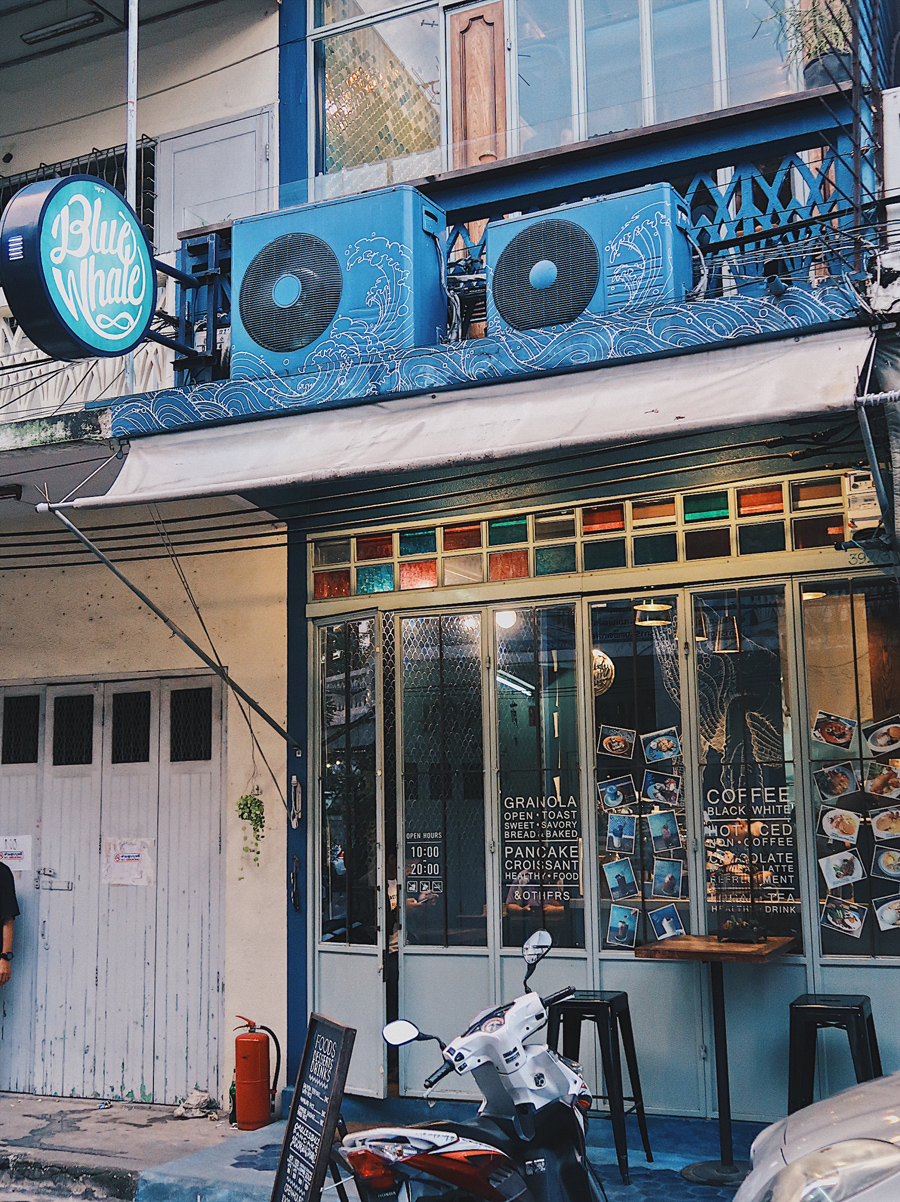 The Blue Whale Café is a tiny Maharaj Road district coffeehouse set in the soi opposite Wat Pho. What makes it special is the ambiance, a sky blue décor  matching the name. We order the signature dish, "nom anchan ("butterfly-pea milk) for 120 baht, colorful, eye-catching, photogenic! Check in there and have a taste: milk, butterfly pea, mixed, for an incredible new taste.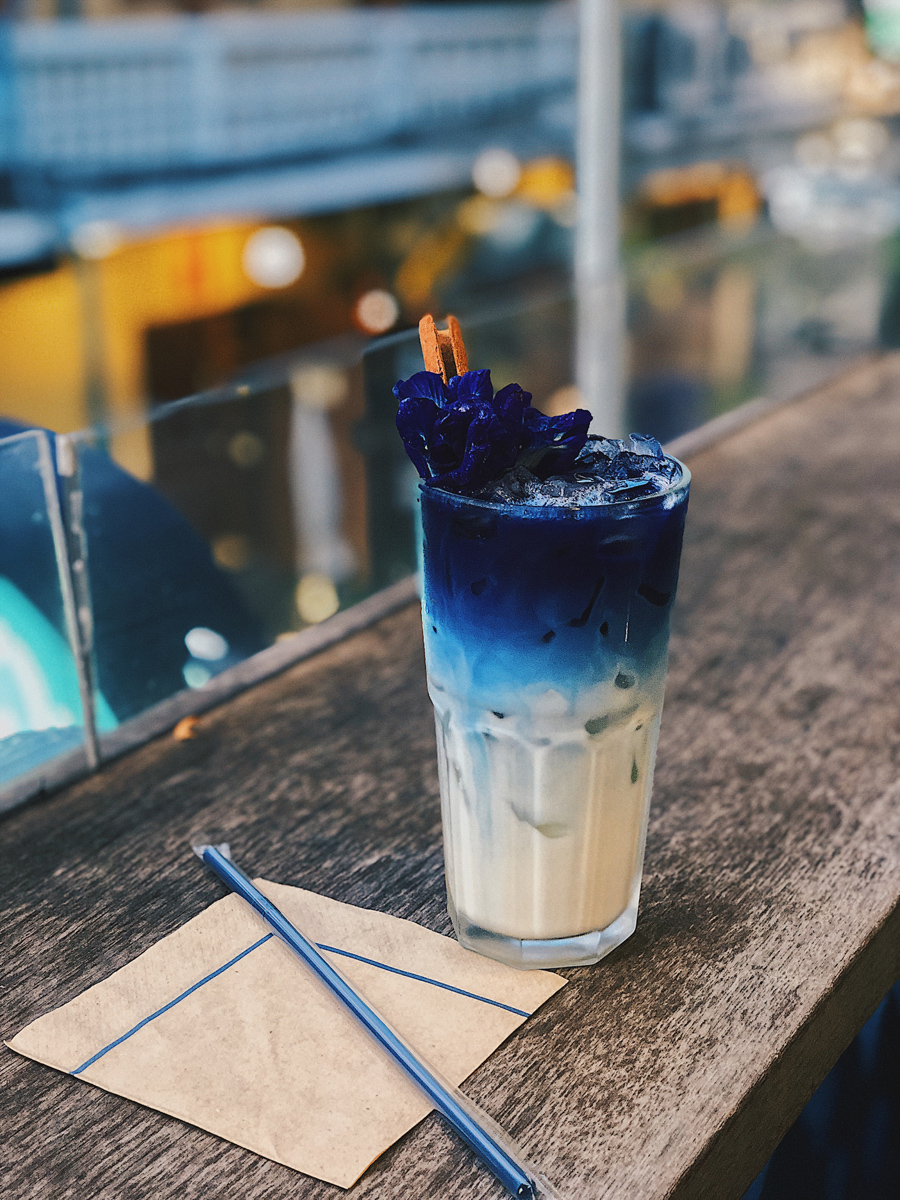 Shop: Blue Whale Café
Open: every day, 10:00 a.m. – 8:00 p.m.
Tel: 08-1641-4514
Once you've filled yourself up with this treat, let's check out one more place. Right near Phra Athit Pier is "Khun Daeng's Kui Jap Yuan," is one of the area's best-known spots for Thais and foreigners alike, and should be experienced at least once. We suggest the Kui Jap Juan (45 baht), which Khun Daeng is justly known for: soft, viscous noodles in a mellow soup that needs practically no additional seasoning.
Khun Daeng's Kui Jap Yuan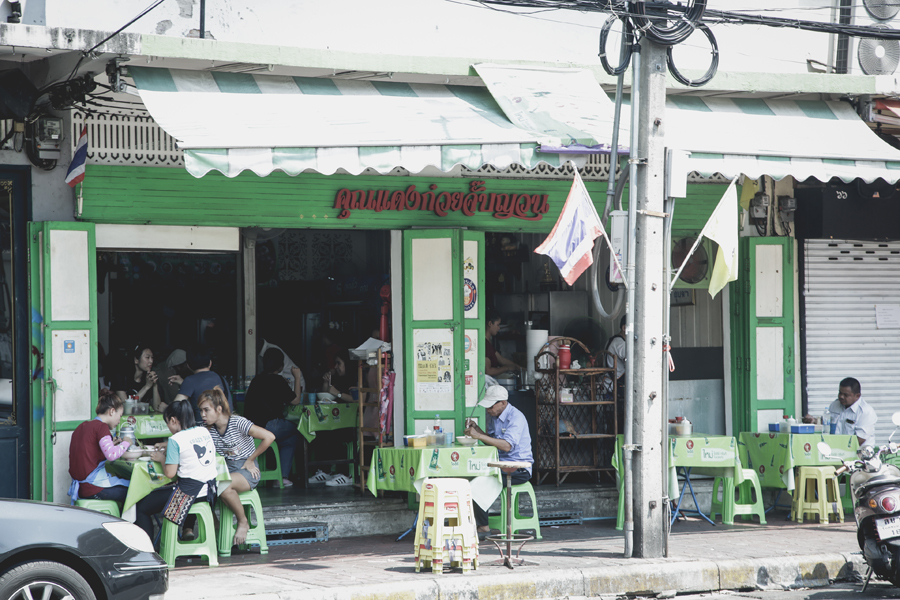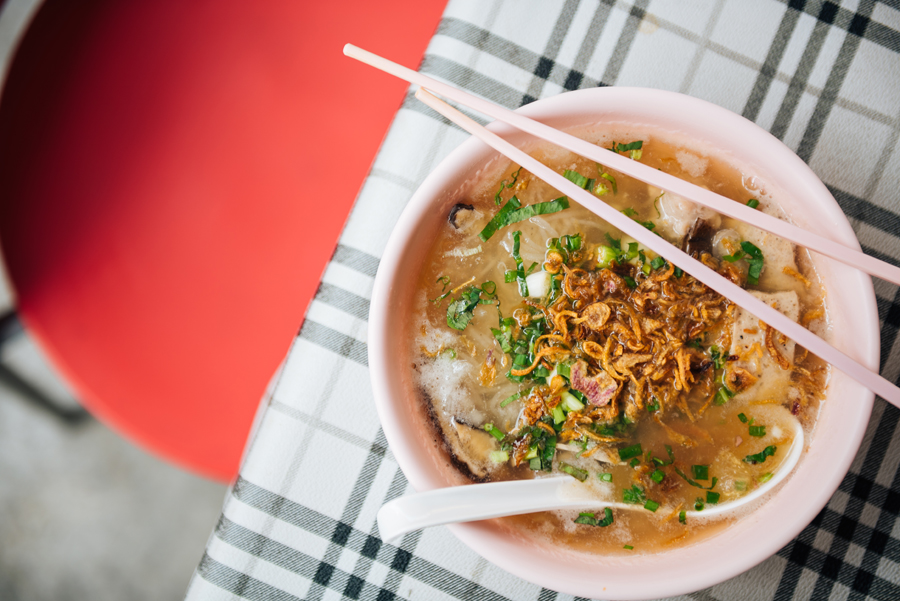 Shop: Khun Daeng's Kui Jap Yuan
Open: every day, 11:00 a.m. – 9:00 p.m.
Tel: 0-2282-0568
. . . Full of delicious kui jap but still not sated with all this art? Then hop on a boat, cross to the other riverbank and see more at the Wat Arun Ratchawararam Ratchawaramahawihan and Wat Prayoonwongsawat Worawihan BAB expositions.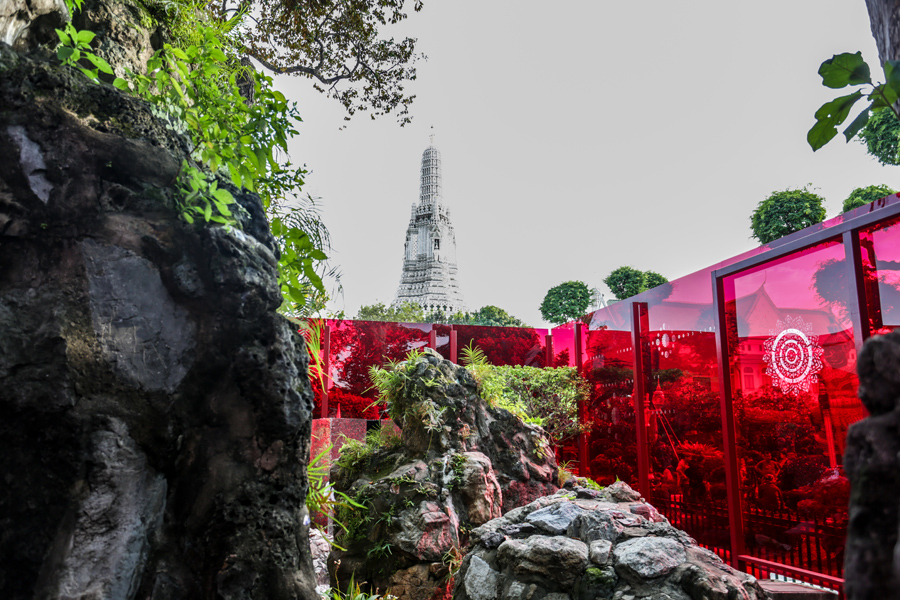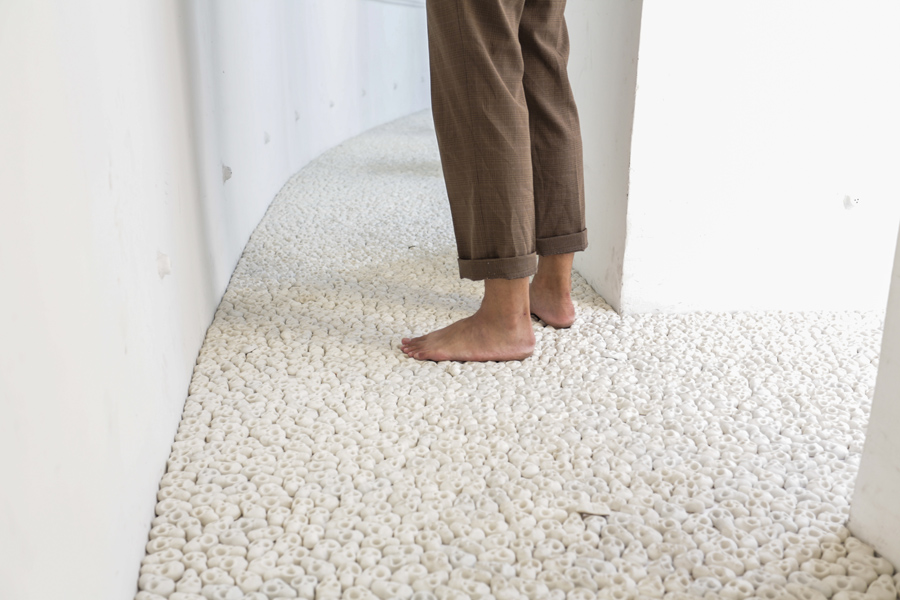 So, have you experienced a full menu of awesome art works and fabulous eats along the Chao Phraya riverside? Well, remember: Bangkok Art Biennale 2018's "Beyond Bliss" is held until February 3, 2019, at a full 20 venues, not just here, but all over the city of Bangkok!