Let's check out the coffee and tea scene along the Chao Phraya "riverside zone" for the final weekend of the Bangkok Art Biennale 2018 Bangkok art festival. Come connect with us at 3 more shops in the Phra Nakhon district for some not-to-be-missed café-hopping.
/// THAILAND ///
Story: Taliw /// Photography: Sroisuwan.T and Wara Suttiwan
Ha Tien Café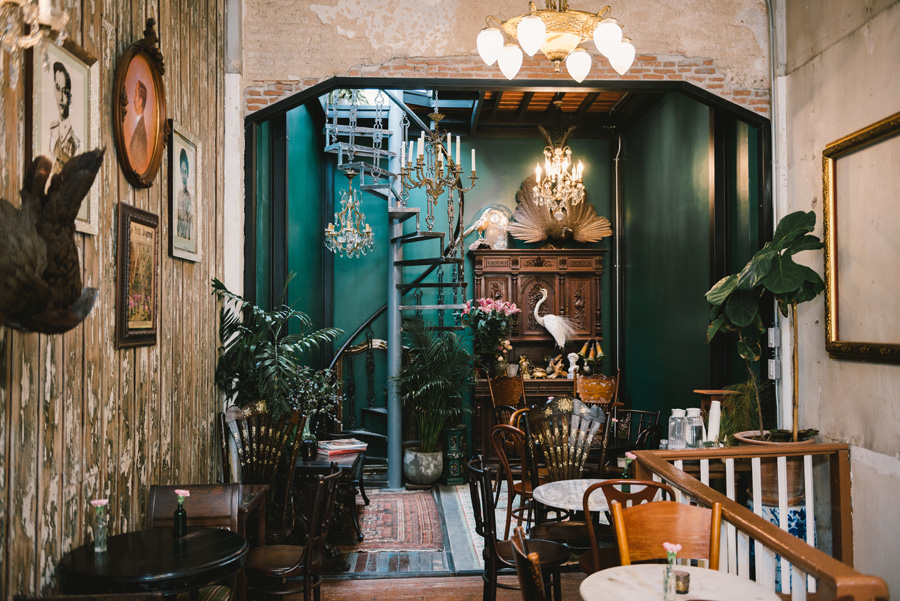 Ha Tien Café is in Soi Pratu Nokyung, just off Maharaj Road, convenient to BAB 2018 exhibits at Wat Pho and just a ferry ride from more art on display across the river at Wat Arun.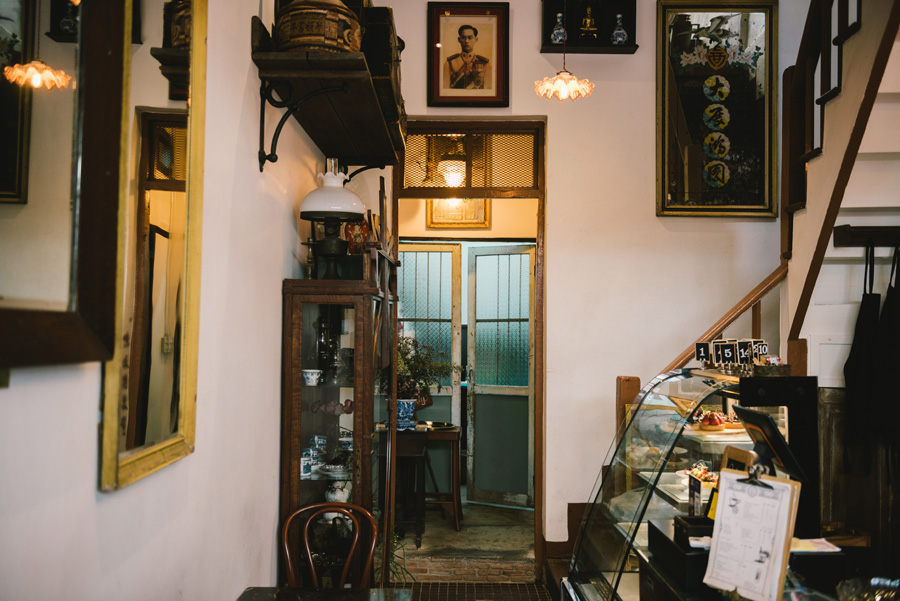 Old-style coffee at the Tha Tien pier, surrounded by old antiques collected over 10 years in this café converted from a house that is itself an antique: what could be cooler? Customers sit and sip, enjoying the ambience with their favorite drinks and snacking on homemade sweets. There are three floors, each with a different style. Drinks are mostly coffee-based, but include added herbs and flowers that give the tastes here a unique identity. Try the Rose Latte coffee, with rose hips, or Ma-Toom Coffee, with a syrup from quince simmered to an intense rich flavor. Specially selected coffee beans give the drink an extra mellowness that brings out the flavor of the quince. The homemade cake is a perfect match for whatever choice you make.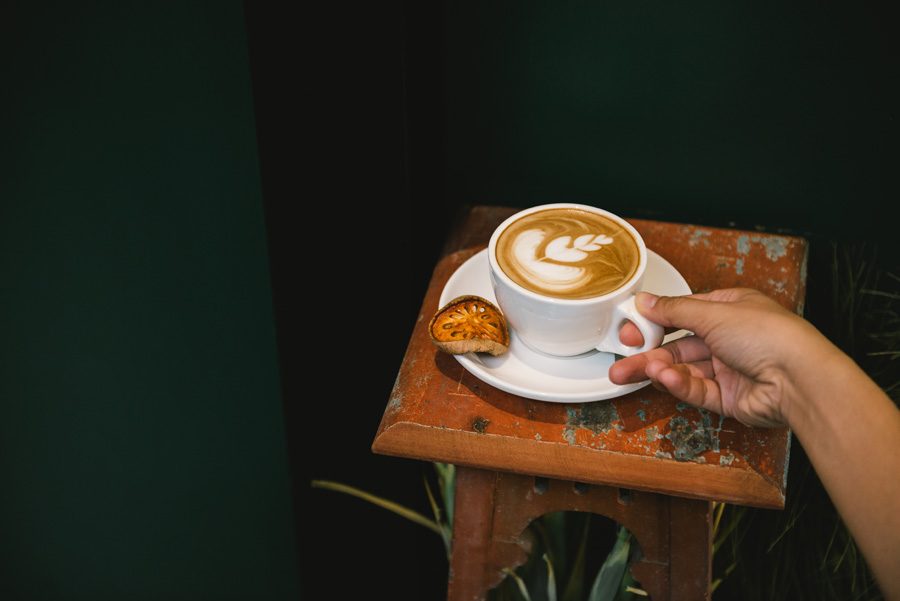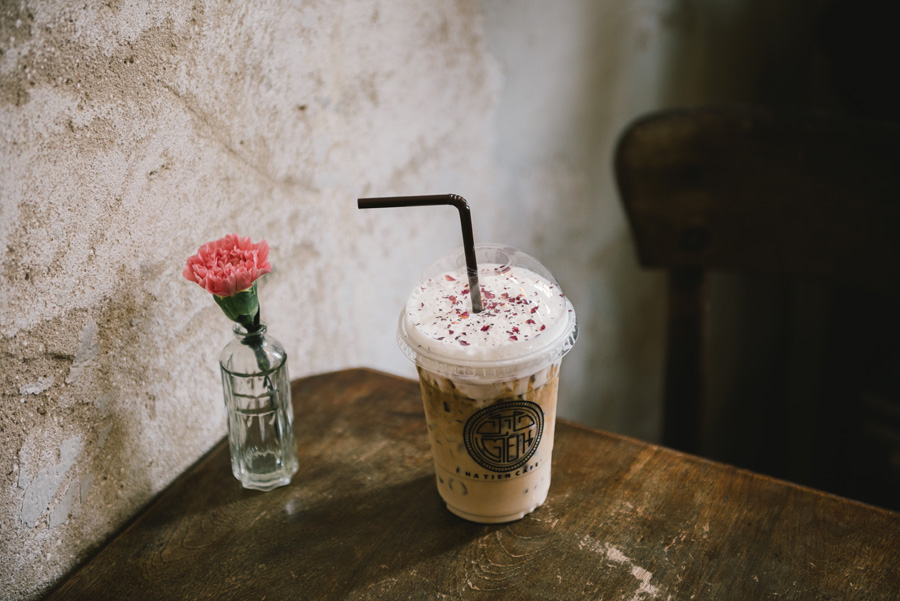 Address: Soi Pratu Nokyung
• Hours: Tuesday – Friday, 10:00 a.m. – 8:00 p.m. and Saturday – Sunday 9:00 a.m. – 8:00 p.m.
A Pink Rabbit + Bob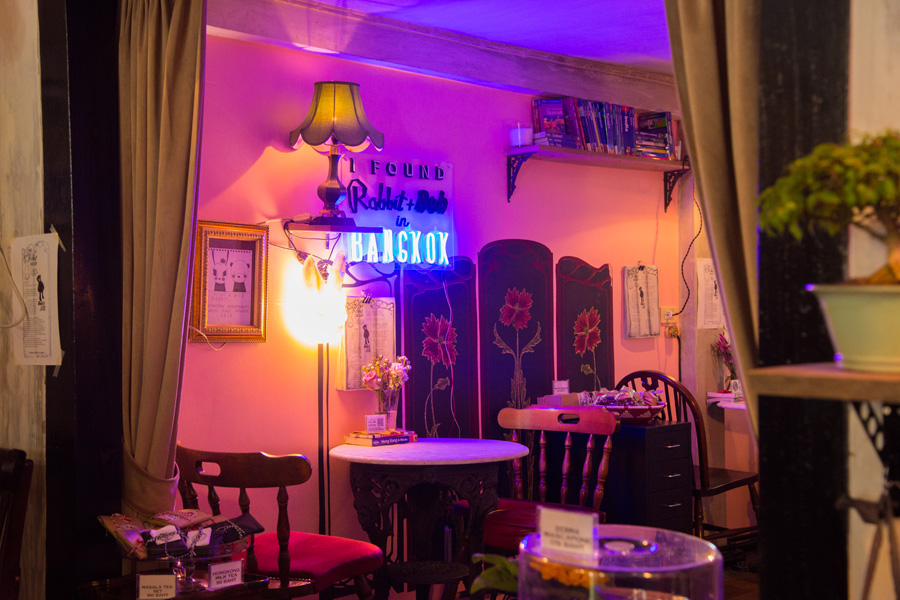 The Tha Tien district also offers a diminutive café named A Pink Rabbit + Bob that's well known for its vintage style. The atmosphere begins with the building, a great example of the old community architecture here, and is reinforced by the vintage furniture and brash pink neon signs in the evening that seem perfect for the context. Some great delicacies are served here, not limited to drinks and pastries, but including a great food menu. This café is under the same management as the well-known "It's Happened to be a Closet" in another part of town, so guaranteed, this is a satisfying place to eat.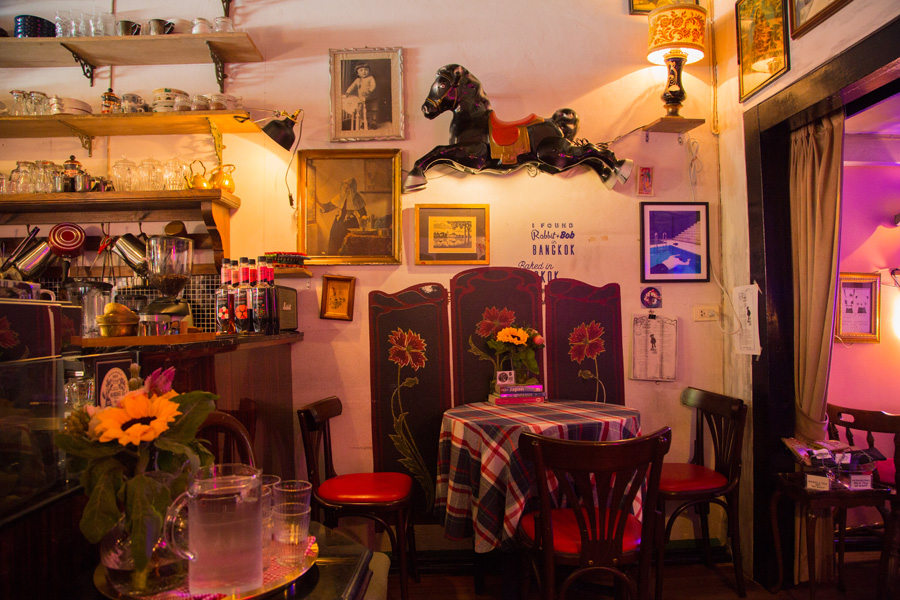 A dish you really ought to try is the Custard Salted Choc, or "Lon Tan Cake." This dish is noted for its flavorful palm sugar filling, cut with caramel and chocolate, and the cake is topped with a meringue and soft chocolate. There is also the chocolate-topped Zebra Mascapone, another signature dish of the shop. You can cut those chocolate oils with a Chinese Plum Frappé or the Iced Coconut Latte Cube, espresso and milk formed into an icy shape and served with cool coconut milk, pretty incredible!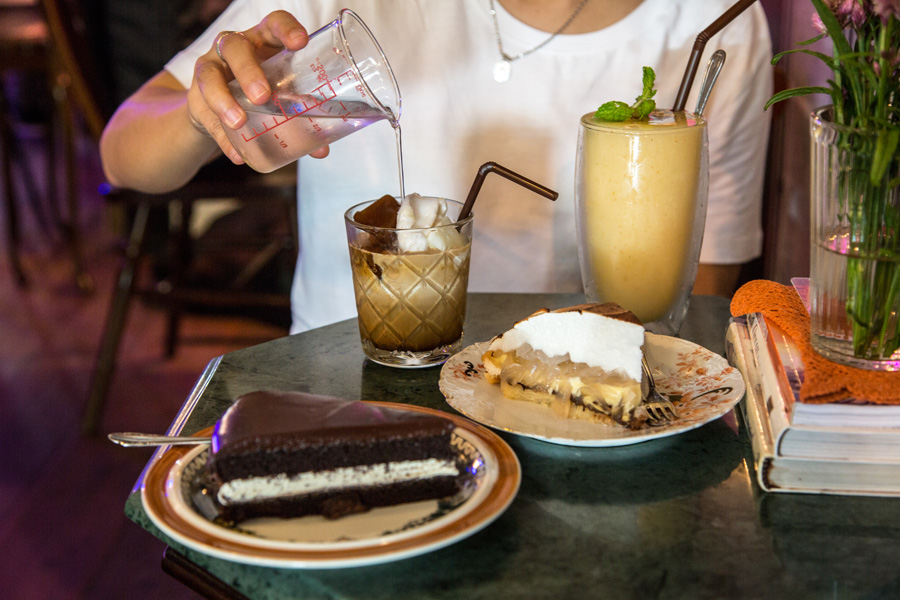 Address: Maharaj Street, across from Wat Pho
• Time: Open every day, 8:00 a.m. – 8:00 p.m.
Arelomdee Cafe @Khao San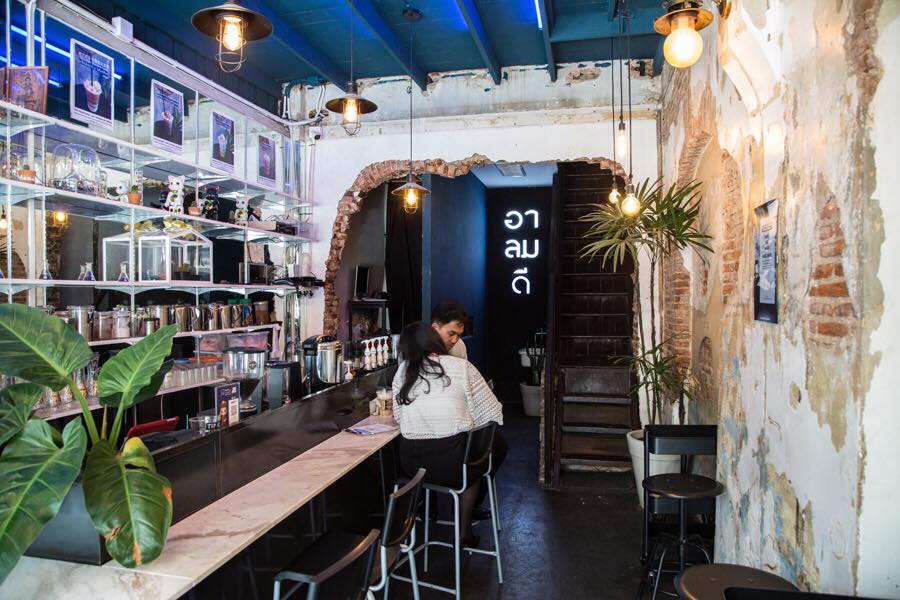 This café is perfect if you're traveling by car from Tha Tien to the Bank of Thailand Learning Center to catch the BAB 2018 exhibits there. The route takes you along Khao San Road and the Arelomdee Café, with the Learning Center just 1.3 kilometers away.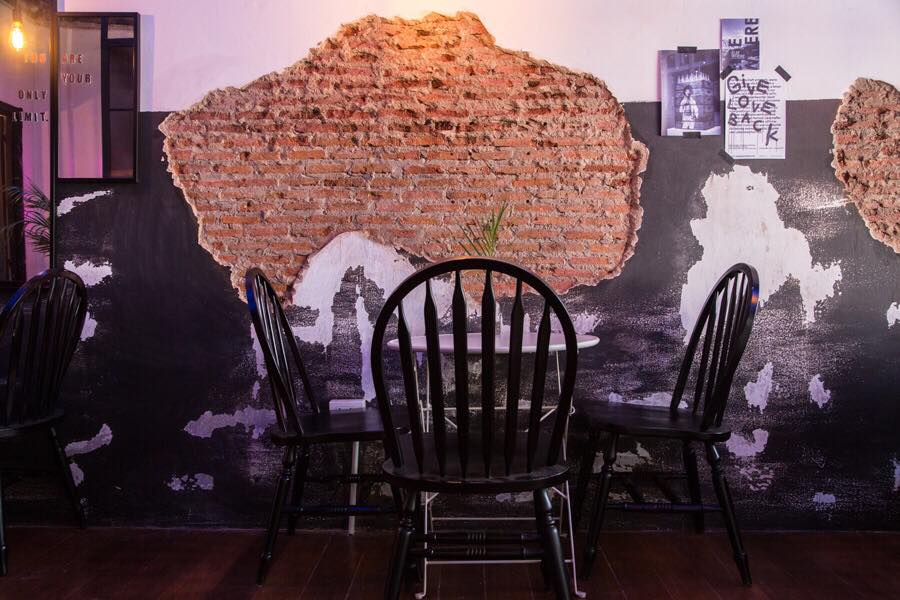 The cafe maintains a chic atmosphere, easy-going, with a rustic style that understates how chic it actually is. The ancient look of the walls fits perfectly with the neon lights. There are 2 floors, each with a different look. The first floor has the feel of a typical Khao San hangout, while the upstairs is really comfy and set up for relaxation. What to drink? you do not want to miss the Black Cocoa x Hokkaido and Melon Sprite. Hungry? Try the Yam Mu Yaw Kiao Krop, a salad with just the right chili-hot that won't make you feel too full, great for a snack and some good chill time.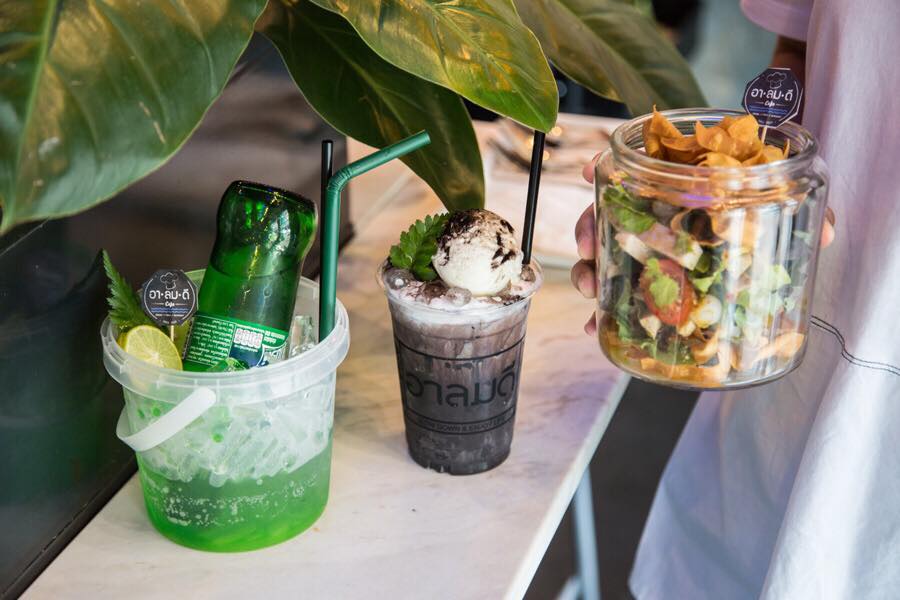 Address: Tanao Street, across from a famous Banglampoo Bakery Shop
Hours: Open every day, 11:00 a.m. – 11:00 p.m.
Examples of art on exhibit at the Bangkok Art Biennale 2018 festival of international contemporary art, Phra Nakhon District and nearby areas
Dragon Boat by Huang Yong Ping
Venue: BOT Learning Center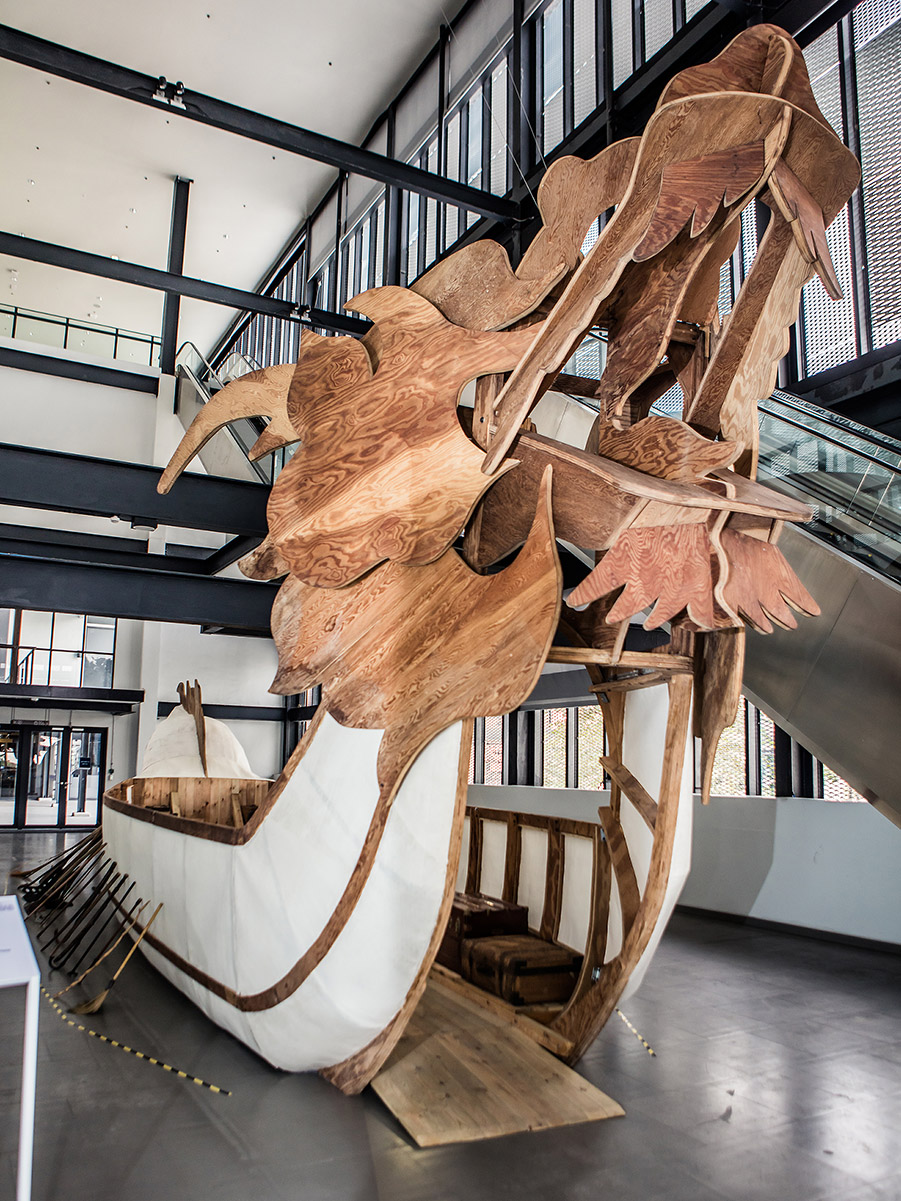 Dragon Boat is an installation created by Chinese avant-garde artist Huang Yong Ping, founder of the Xiamen Dada art movement. Standing 4.2 meters tall, the sculptural work that measures 16 by 4.2 meters depicts a journey by the people who migrated from China's Fuxian region to settle in Thailand more than a century ago. Huang is passionate about the art of storytelling. Huang is originally from Xiamen, a port city in China's southeast. He now lives and works in France. One of his masterpieces, Dragon Boat, is currently on show at the Bank of Thailand Learning Center.
Memory House by Alex Face, Souled Out Studios (SOS)
Venue: BOT Learning Center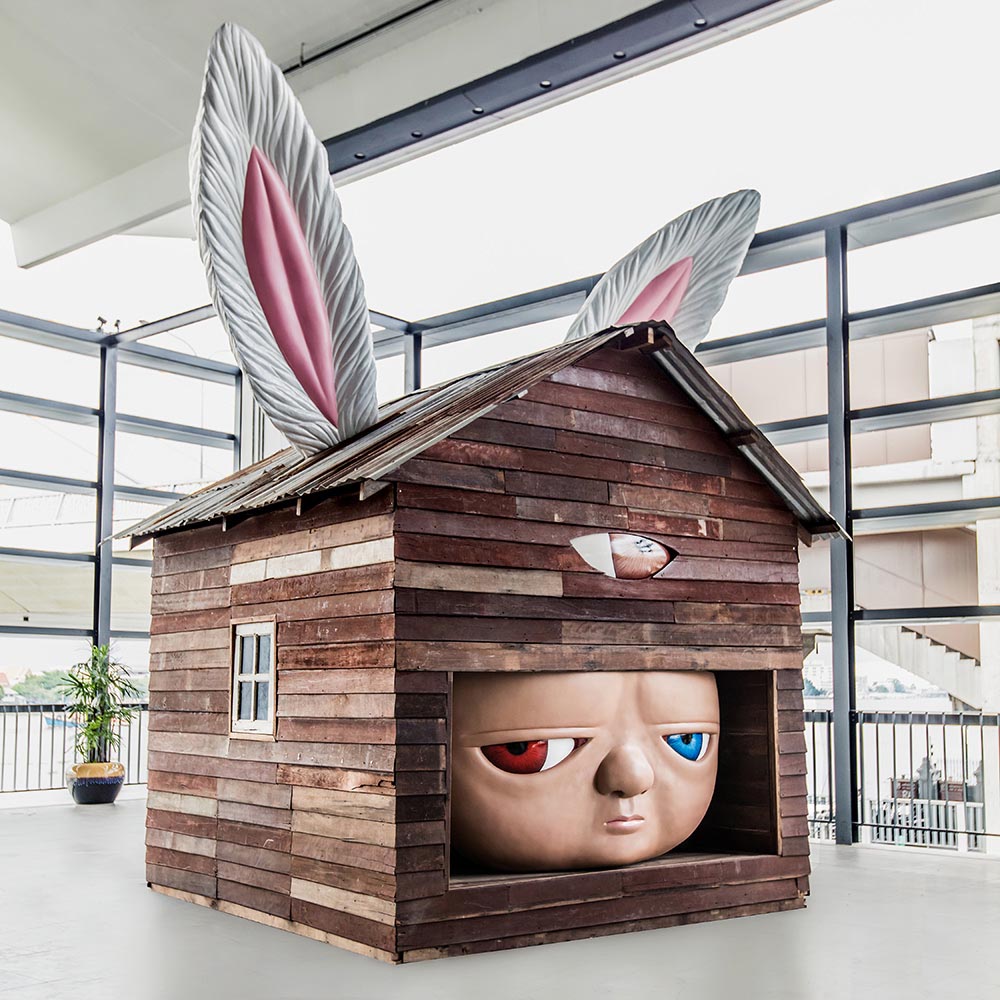 Thailand's well-known graffiti artist Alex Face is a member of the street art troupe SOS, which is short for "Souled Out Studios". The group includes, among other things, visual artists, videographers, and ceramic sculptors who explore questions about the end of life. Alex participates in the Bangkok Art Biennale 2018 by presenting little Mardi, a three-eyed baby character with an aged face filled with disillusions. The sculptural installation shows the baby's eyes opened wide in shock and rabbit ears crashing through the roof. Is he trying to call attention to a worrisome problem that's happening to the Chao Phraya River? It's left to your interpretation.
Paths of Faith by Jitsing Somboon
Venue: Wat Phra Chetupon or Wat Pho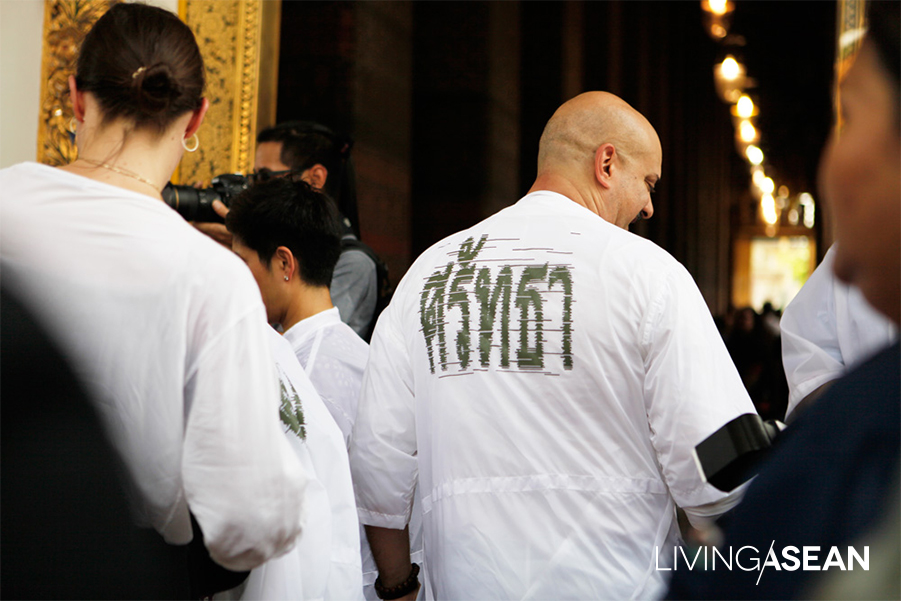 Formerly chief designer at the Thai clothing brand "Playhound", Jitsing Somboon is passionate about marrying art with fashion design. "Paths of Faith", his entry into the Bangkok Art Biennale 2018, is a collection of white overcoats with "Faith" in Thai, English, and Chinese embroidered on their back. The items are given for people to wear over other clothing as they enter an area dedicated to a religious purpose at the Temple of the Reclining Buddha. The clothing item is part of a live installation art that's happening with the accompaniment of sacred music and the sounds of coins hitting the inside wall of the donation bowl.
Sediments of Migration by Pannapan Yodmanee
Venue: Khao Mo at Wat Phra Chetupon or Wat Pho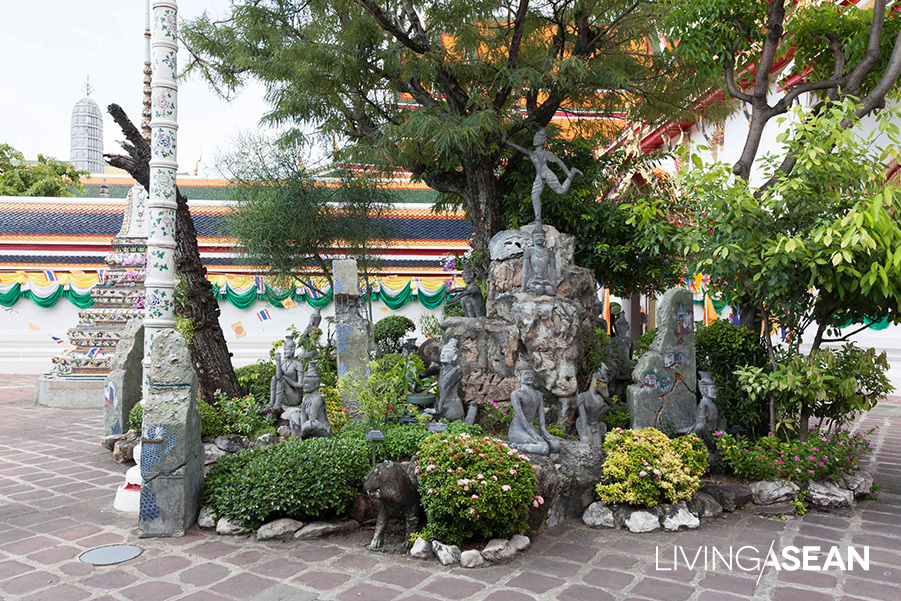 "Sediment of Migration" is a transportable installation by Pannapan Yodmanee, one of the few Thai artists to ever win the 11th Benesse Prize. The sculptural composition that's her entry into the Bangkok Art Biennale 2018 consists of six miniature mountains, hermit figures in yoga poses, and ballast stones taken from ancient cargo ships. Inspired by the mural paintings found throughout the temple, the exhibition is a chronicle of historical accounts of migration, trade, and religious travels between China and the Kingdom of Siam of olden days.
From the World Inside / Across the Universe by Sanitas Pradittasnee
Venue: Khao Mo at Wat Arun or the Temple of Dawn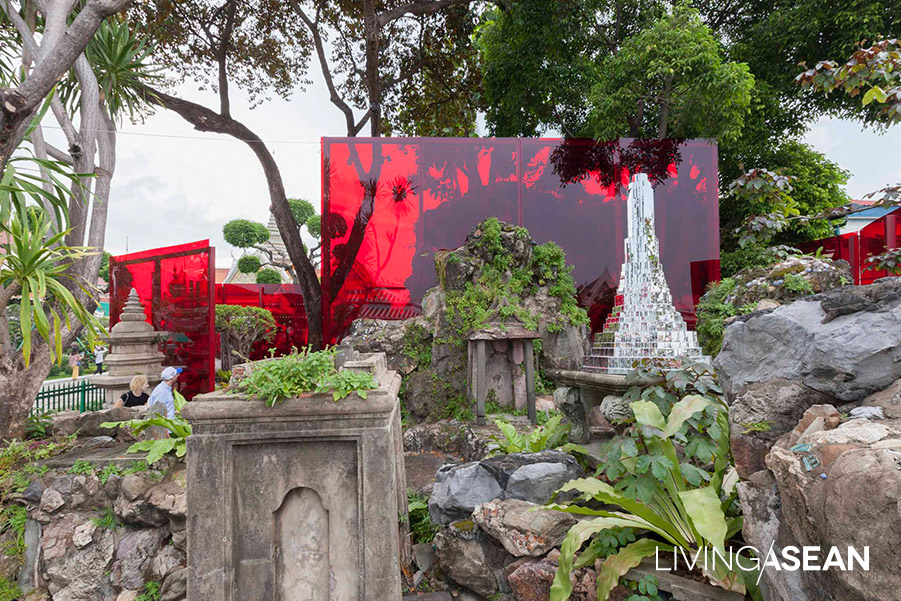 "From the World Inside / Across the Universe" is a site specific installation entered into the Bangkok Art Biennale 2018 by Sanitas Pradittasnee. The artist got her inspiration from miniature mountain landscapes that she saw at Wat Arun or the Temple of Dawn. Her new work comes in handy as an invitation to search the mind to understand the inner self, so as to become knowledgeably aware of the goings-on in the world outside. It sends a message that's in line with "Loka-witu", one of nine rules in Buddhism. The installation consists of acrylic panels painted a bright shade of red that changes hue as time passes, a reminder that things change, people change, feelings change.
Giant Twins by Komkrit Tepthian
Venue: In Front of Khao Mo, Wat Arun or the Temple of Dawn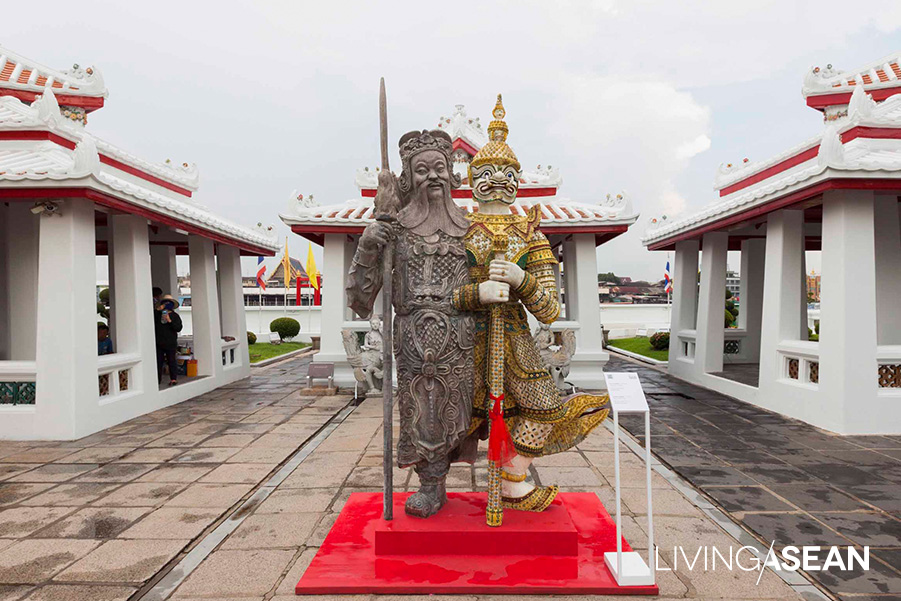 Thai contemporary artist Komkrit Tepthian is well known for creating beautiful works using Lego blocks. His past works included the reconstruction of Buddha statutes that had been decapitated and the heads smuggled out of the country and sold as ornaments on the black market. His entry into the 2018 Bangkok Art Biennale is "Giant Twins", an installation featuring conjoined twin brothers — a Chinese warrior stone sculpture and the likeness of the iconic Giant of Wat Arun in full regalia.
You may also like…