Bangkok Art Biennale 2018 is an event that will for the first time transform metropolitan Bangkok into a world-class art destination. People coming from every corner of the globe to see the incredible art on display creates a need for world-class accommodations, so we've put together some suggestions. These are places with standout designs that will not only put you in the mood for each BAB visit, but facilitate convenient and comfortable travel for you and your friends to and from all the many venues.
/// Thailand ///
Story: Taliw /// Photography: Wara Suttiwan

Amdaeng Hotel
Beside the Chao Phraya in the Khlong San neighborhood stands the remarkable Amdaeng Hotel, eye-catching for its vermilion color and charming architecture.
The hotel's name came from the name "Amdaeng Li," the name on a deed for the property from the time of Siam's King Rama V. "Amdaeng" is a lofty honorific for 'lady," for a concept that extends to the hotel's design as well as its name: a beautiful, glamorous lady.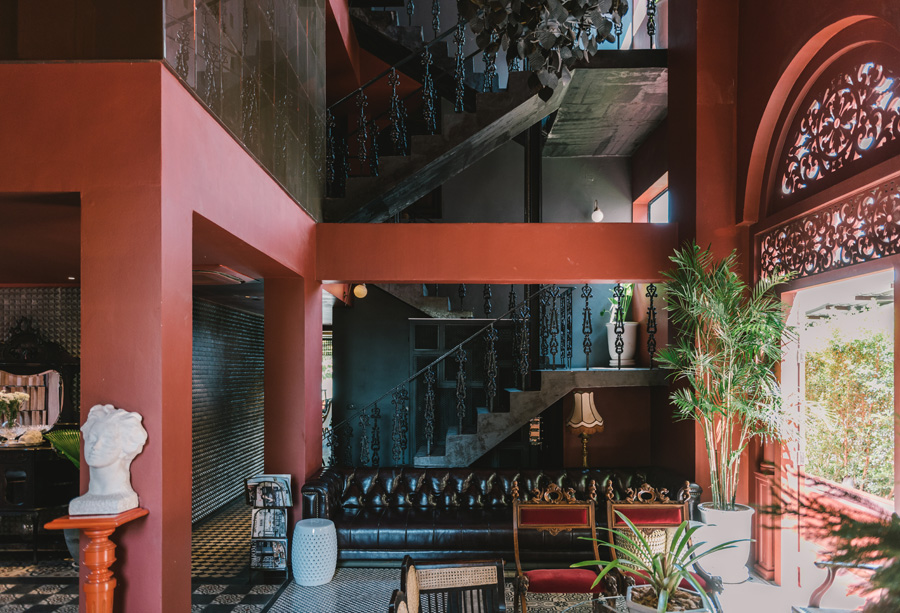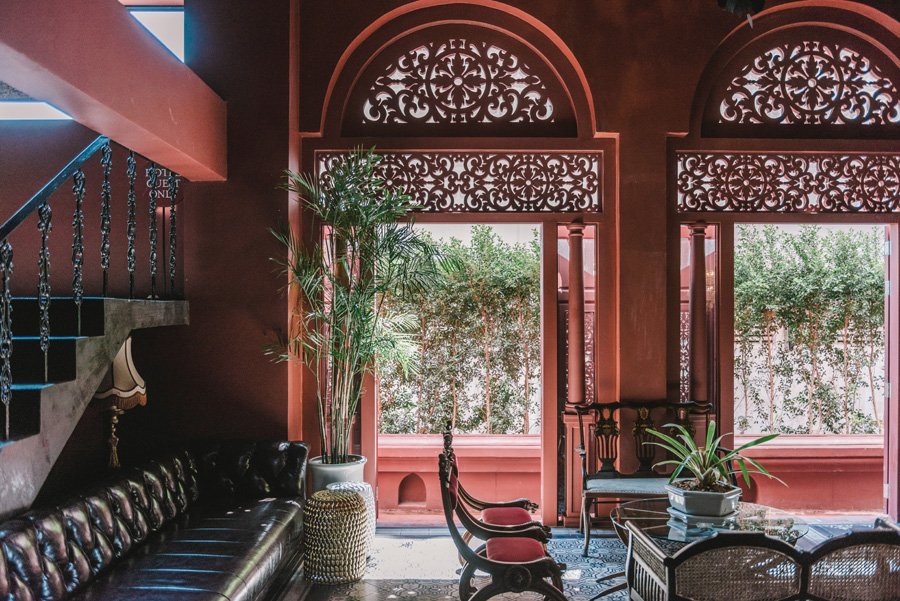 The Amdaeng Hotel has 10 rooms, with the style of each designed to reinforce the sense that this is, as they say, "the most romantic hotel in Bangkok." It includes the NYE Café Restaurant, where we can partake of delicious cuisine and drink in the delightful Chao Phraya riverside ambience. The café interior is darker and relies less on the color red than inside the hotel proper. Here there's also a roof deck where we can sit back, relax, and enjoy the evening atmosphere.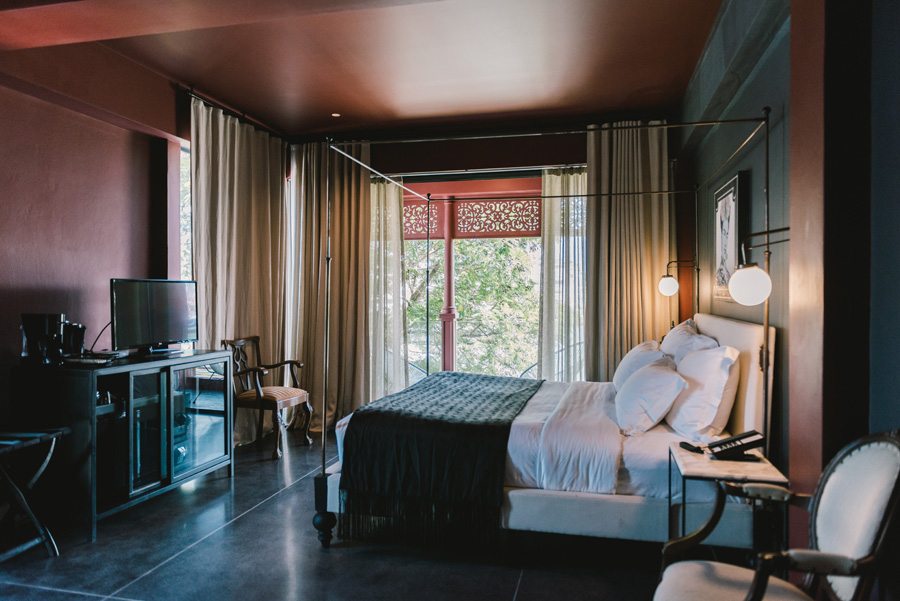 Traveling to BAB:
The Amdaeng Hotel is convenient to BAB exhibition sites from the nearby Lhong 1919 pier, which offers ferry service to the Si Phraya Pier on the opposite side. From there visitors can hop on the Chao Phraya Express Boat and speed off to see world-class art works of their choice.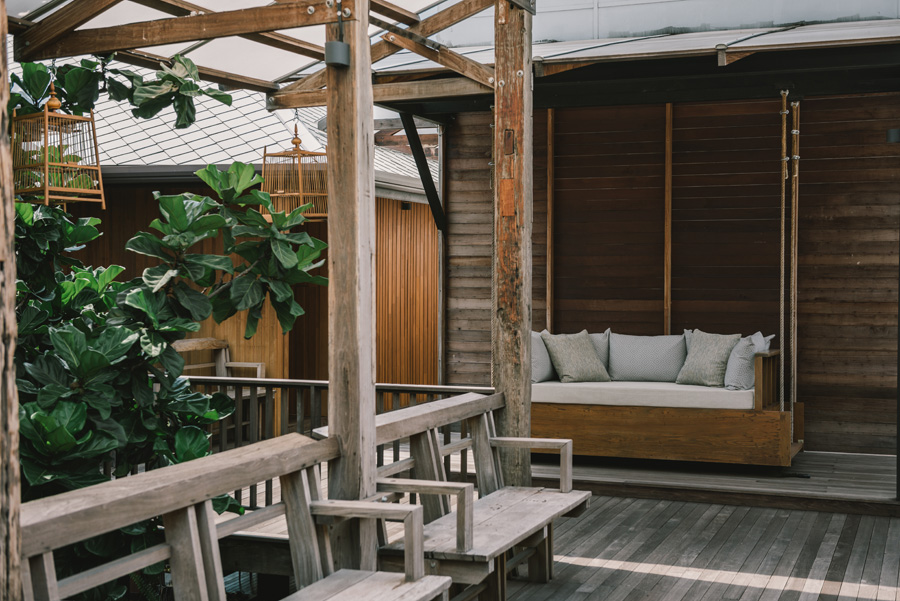 Chann Bangkok Noi
The name "Chann" comes from the Thai word for the porch deck of a traditional house, and wood is the hotel's primary construction material, harking back to the houses of an earlier Thailand and filling the hotel with a contemporary version of that easy Thai charm to match its motto: "Simply at Ease."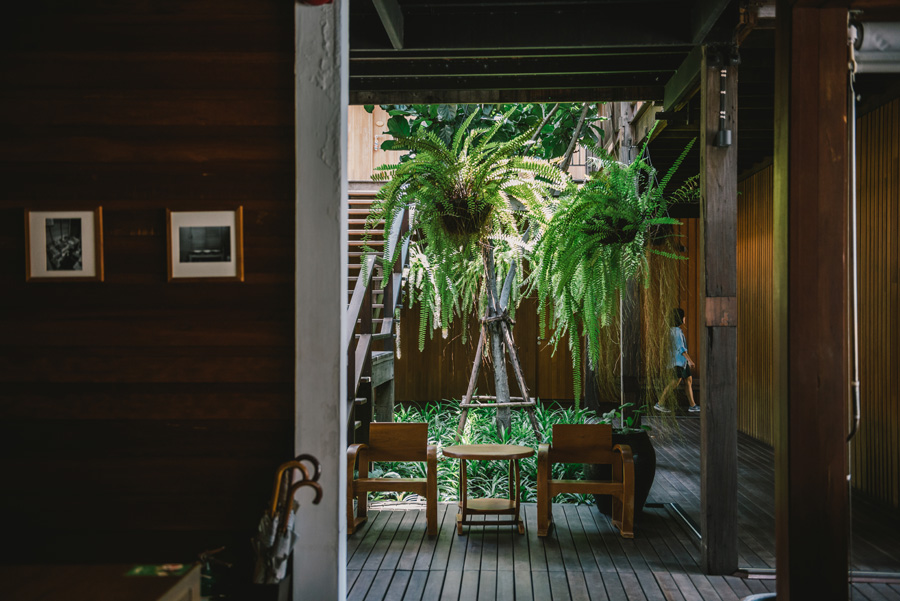 The lower floor of the two-storey Chann Bangkok Noi reflects an essential element of the traditional Thai home: the tai thun lower space which is home to a variety of activities and opens onto the Chao Phraya riverside atmosphere. The floor above is designed as four separate houses with an interconnecting porch deck.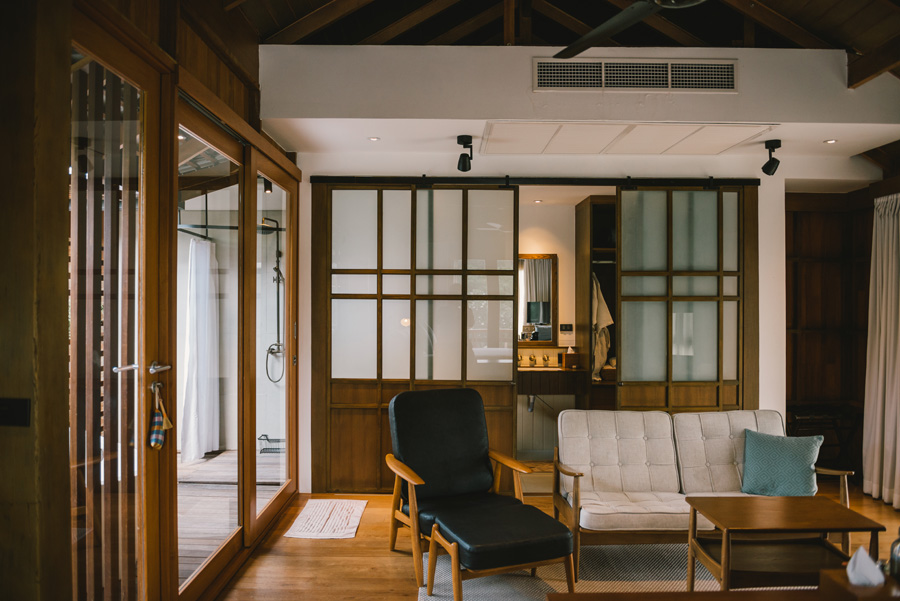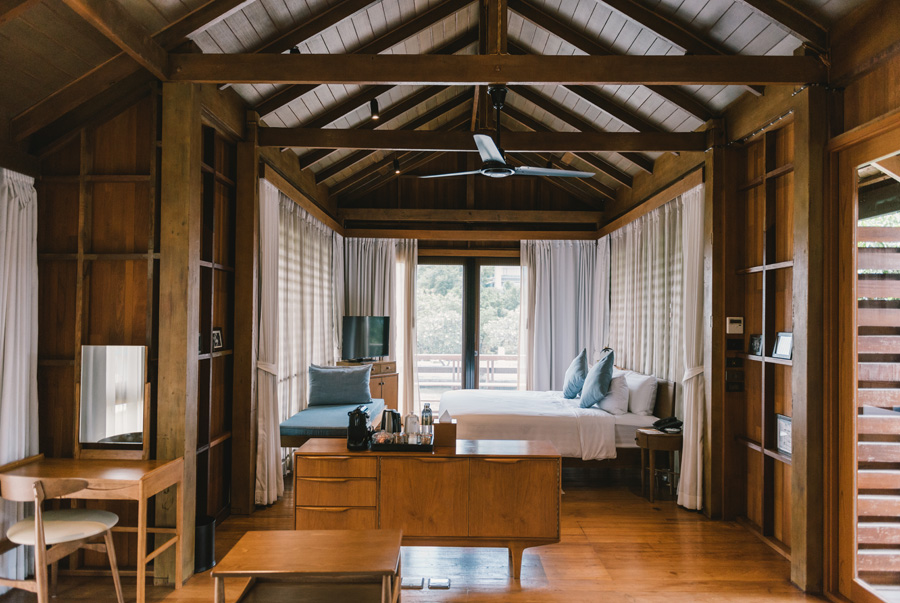 But what will capture your heart here is the sense of peace along the riverside, the river seen through the natural light shining freely into open areas and the green of garden plants, bringing the feeling of being out in the countryside. The guest rooms retain that relaxed atmosphere, with high gabled roofs that make them feel open and airy, reminiscent of the simple charms of old Thailand.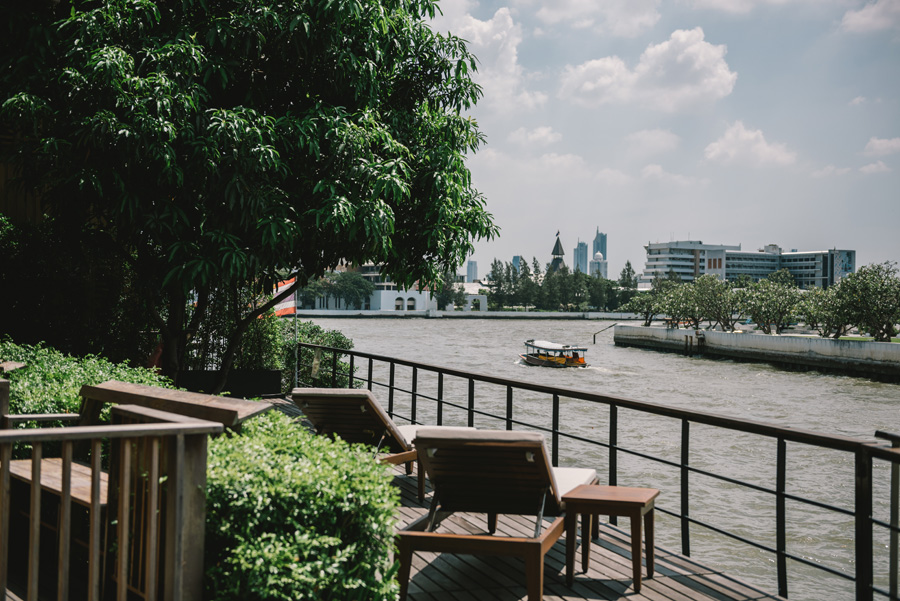 Traveling to BAB:
It's easy to get from Chann Bangkok Noi to the BAB Chao Phraya "Riverside Zone":  the Tha Rot Fai Pier, one of the main stops for the Chao Phraya Express Boat, is right next door. The hotel also has its own private pier where you can hire a longtail boat to take you wherever you want for as long as you want.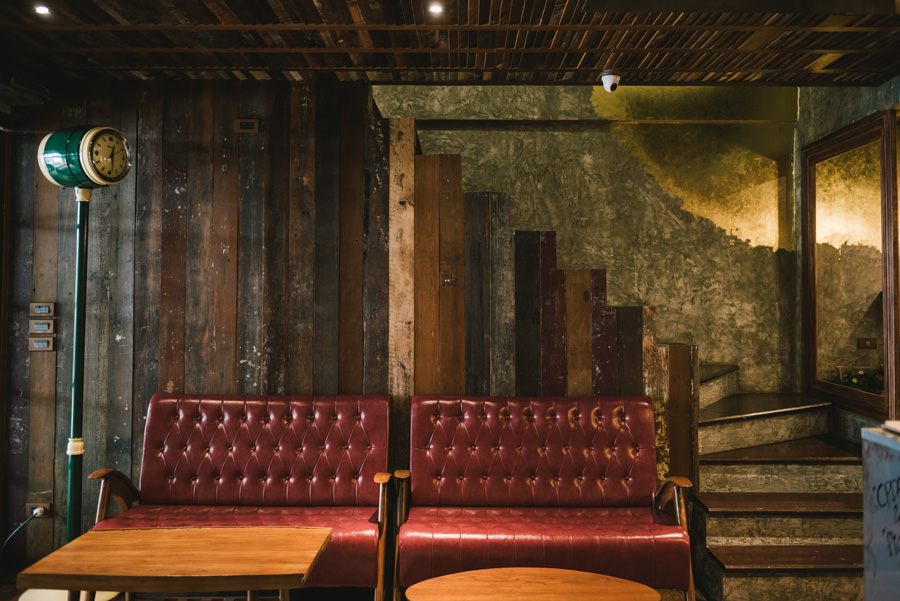 Siam Plug In Boutique Hostel
"Plug in here and get acquainted with Thainess" is this hostel's defining concept. Its aim is to bring  "Thainess" to foreigners and for Thais to experience their identity in a contemporary format, as it is set in an old commercial building in the Charoen Nakhon area that was renovated in a Thai/Industrial Loft style, featuring walls of bare cement and brick for a perfect blend of Thai flavor and modern stylishness.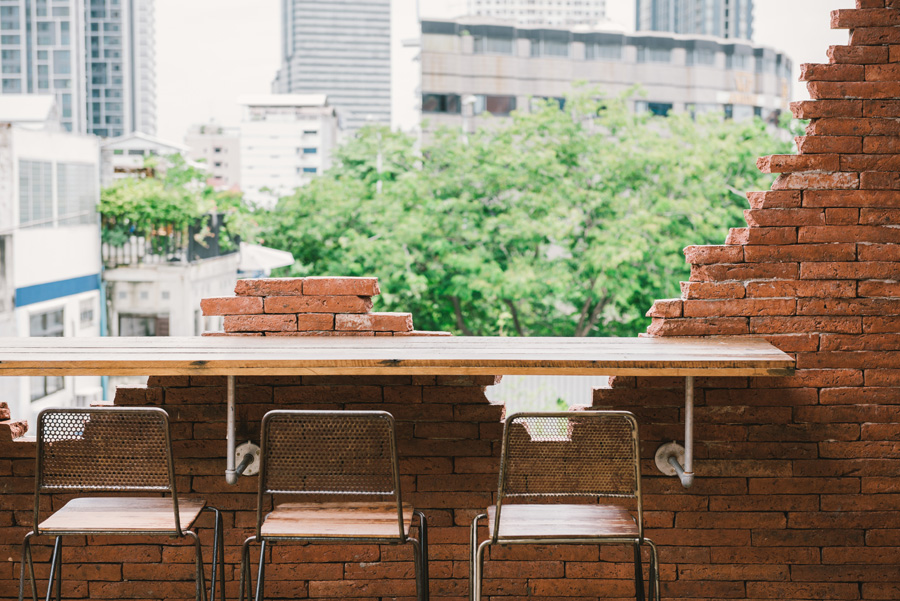 The half-reception, half-café area is between one wall of show brick and another of wood, and features vintage furniture, for a combined sense of being in a house and sitting relaxed on a porch. Further in is a concrete wall decorated with gilded patterns and a staircase of bare concrete leading up to the second floor.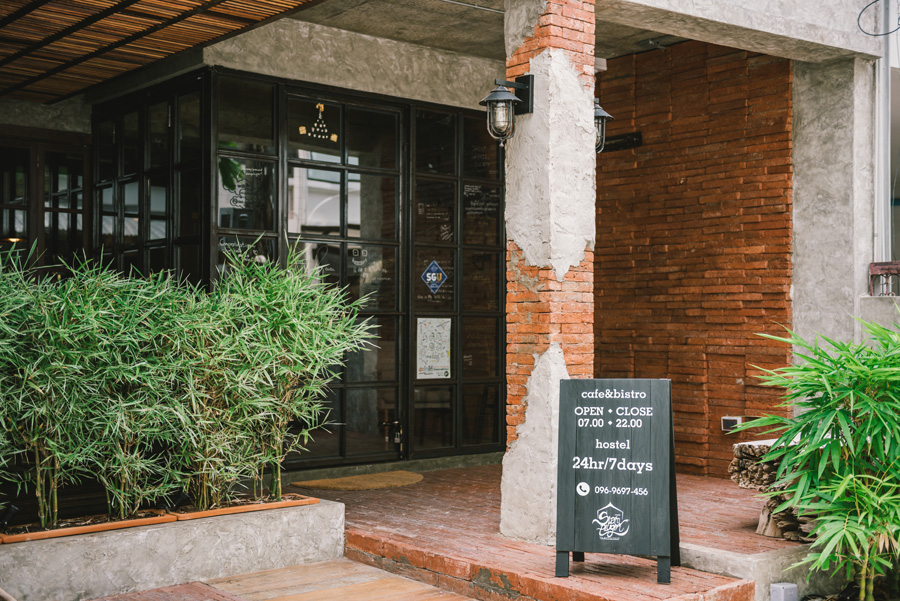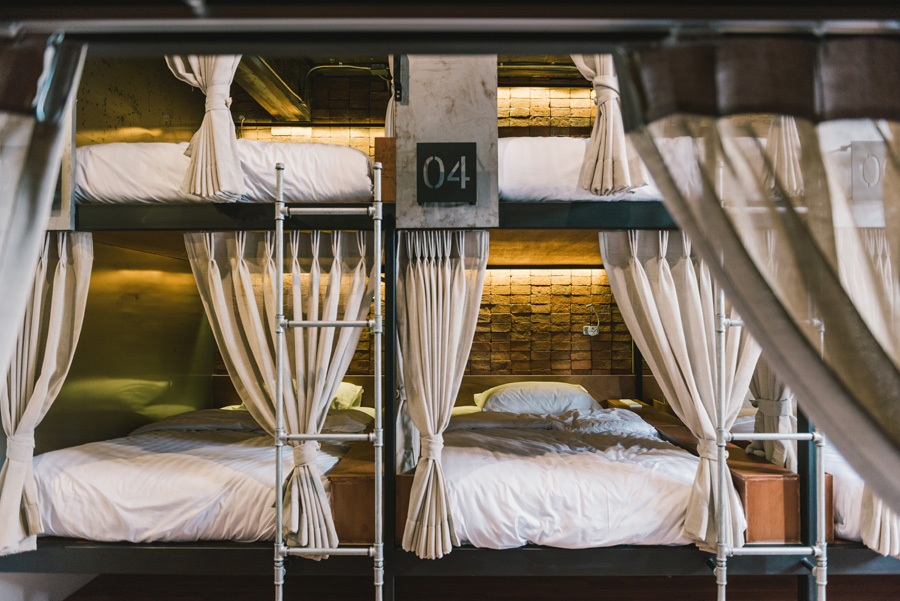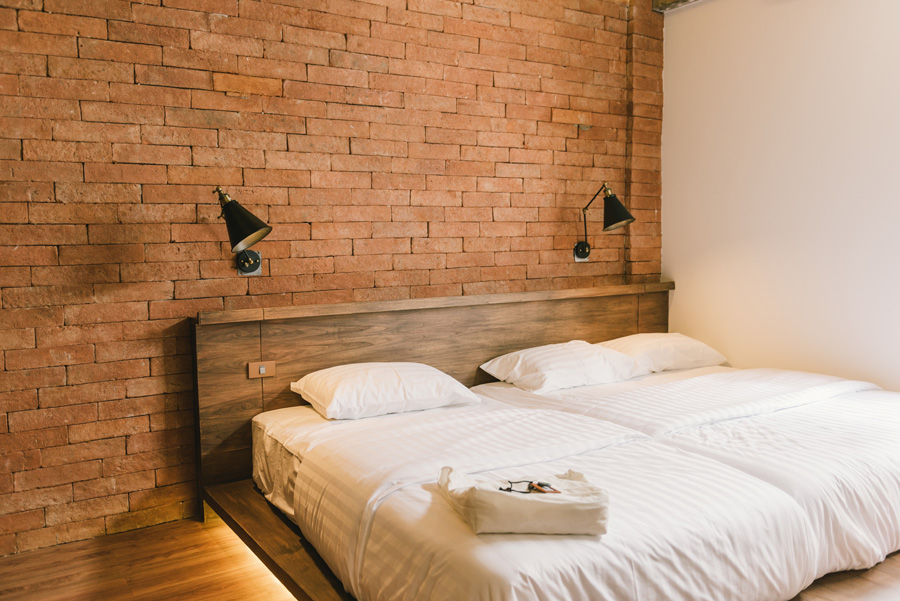 The rooms at Siam Plug In follow that Thai/industrial style, with a brighter décor suggesting an atmosphere of comfort. Rooms are named after Chao Phraya piers, a cute touch. Here the walls are a gallery of photographs to tease the touristic imagination. And whoever would like to sit and chill in the Thonburi evening can relax at the Sky Lounge, whose uneven brick walls were inspired by ancient temple and palace ruins.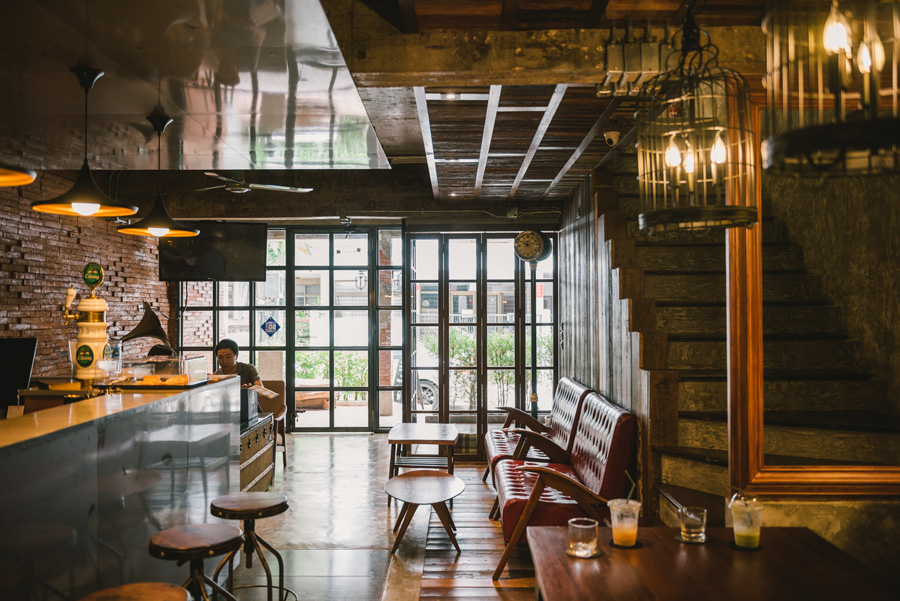 Traveling to BAB:
From Siam Plug In it's easy to get not only to BAB exhibitions in the Chao Phraya Riverside Zone, but also to all the ones in the Urban Zone. The hostel is near the Thonburi SkyTrain station, so for riverside sites, get off at Taksin Station and transfer to the Chao Phraya Express Boat. For urban art displays, simply continue on the SkyTrain to your chosen destination.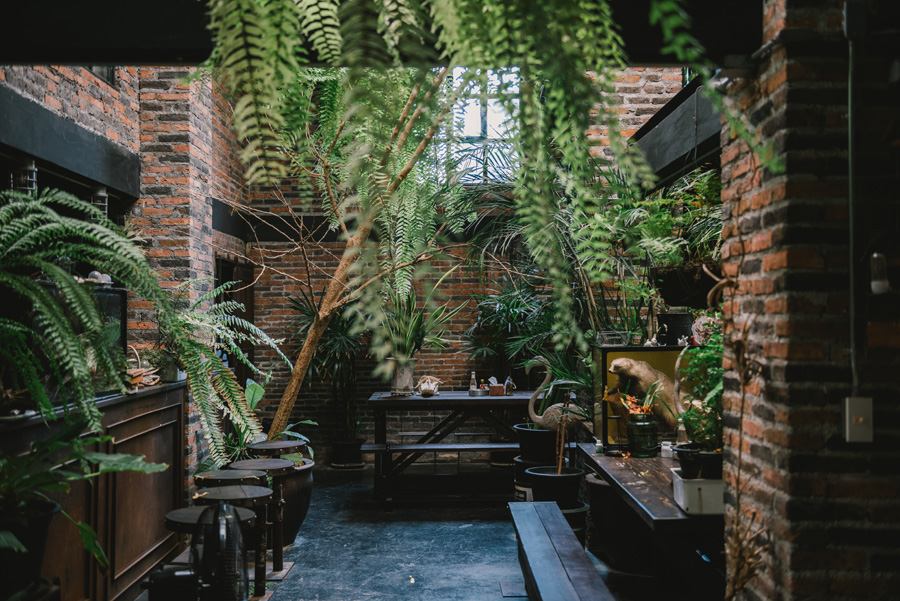 J No. 14
The 50-year-old J building was renovated as a chic hotel with an "industrial/vintage" atmosphere, exposing the building frame to convey a fashionable sense of rawness. The hotel owner put his own hand to the design, which gently masks a classic European style –suggested by tasteful collectible items found everywhere – that give J No. 14 a remarkable and unique identity.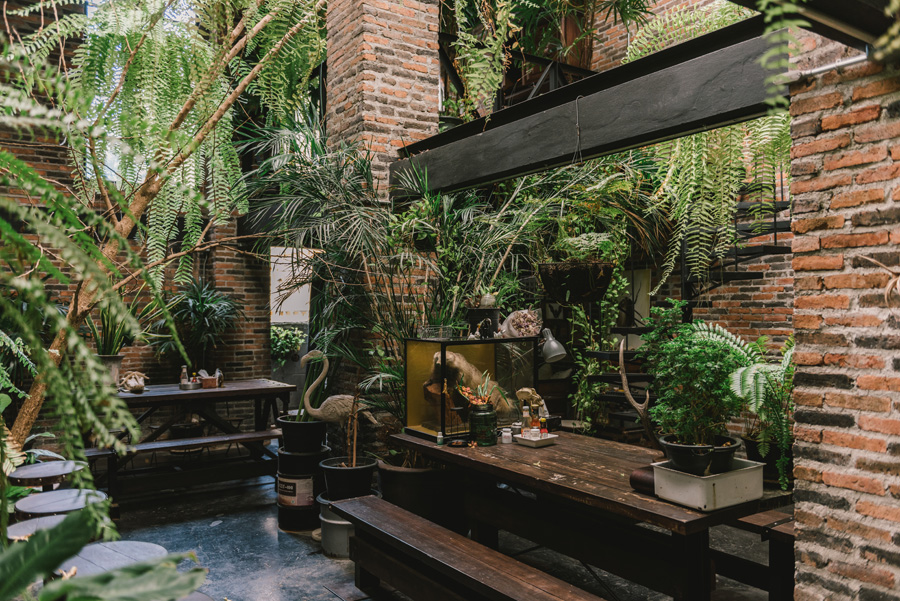 While the industrial vintage design and décor is based in the roughness of its building materials, the hotel feels light and airy. A skylight brings in natural light to brighten the ornamental plants placed throughout the hotel. The many guest rooms retain the style and are furnished with vintage pieces, many of them true antiques. This hotel has an irresistible charm, and we can't help but give it high marks.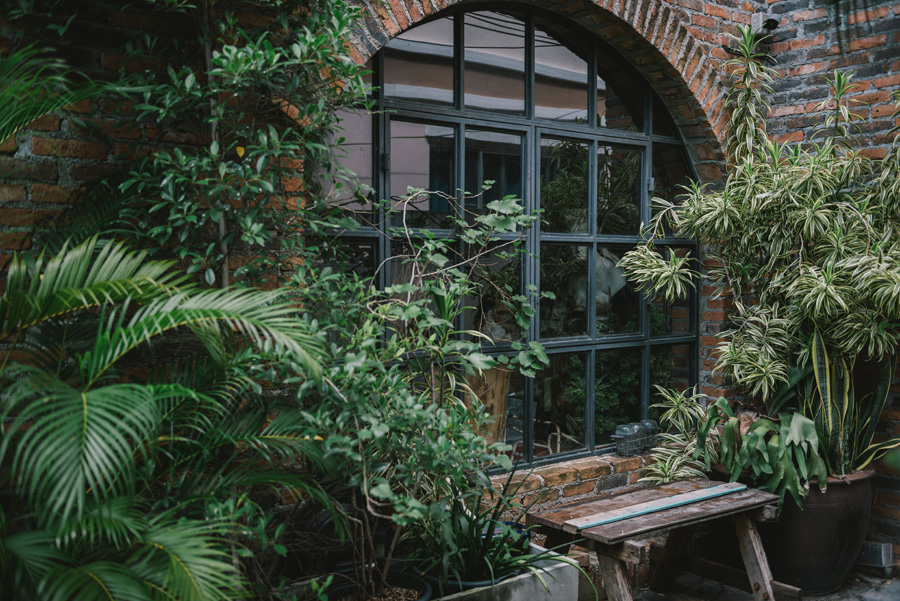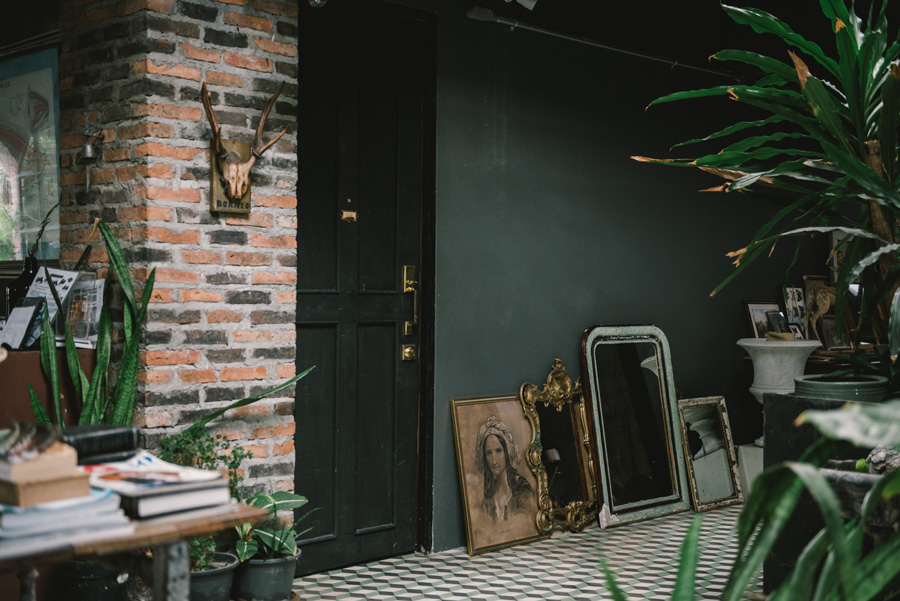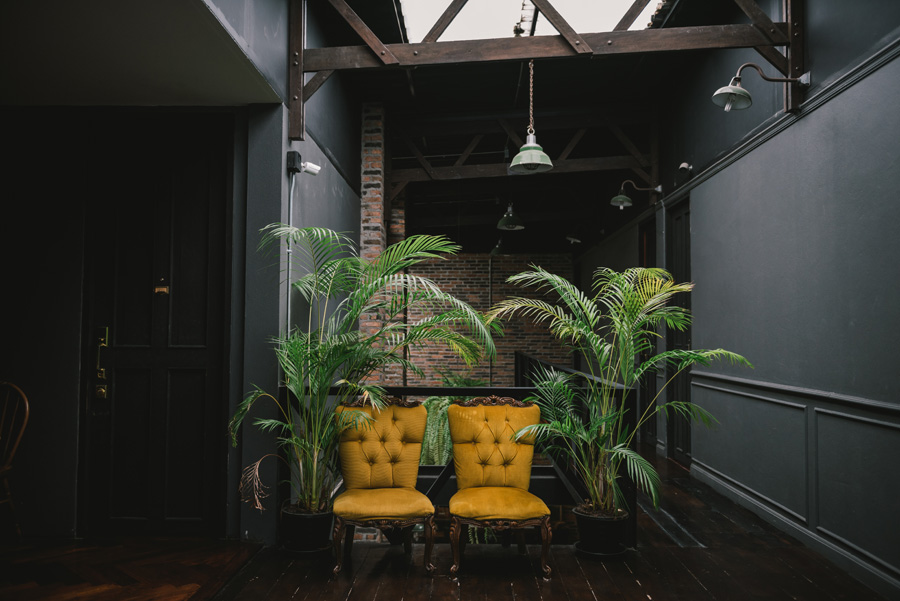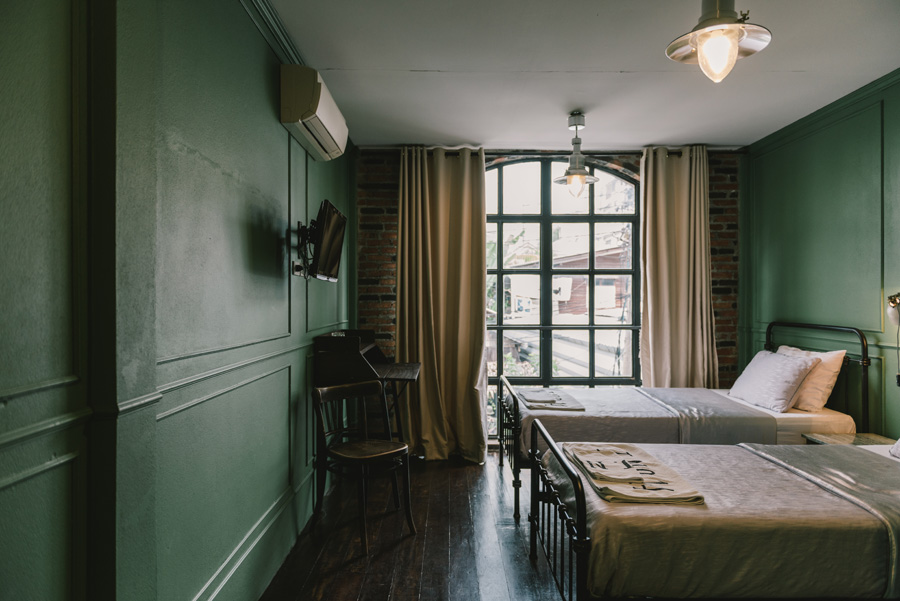 Traveling to BAB:
From J No. 14 it's not far to the Pepsi Pier, where you can take a boat across river to Saphan Taksin, a perfect starting point for visits along the art festival's Chao Phraya Riverside Zone.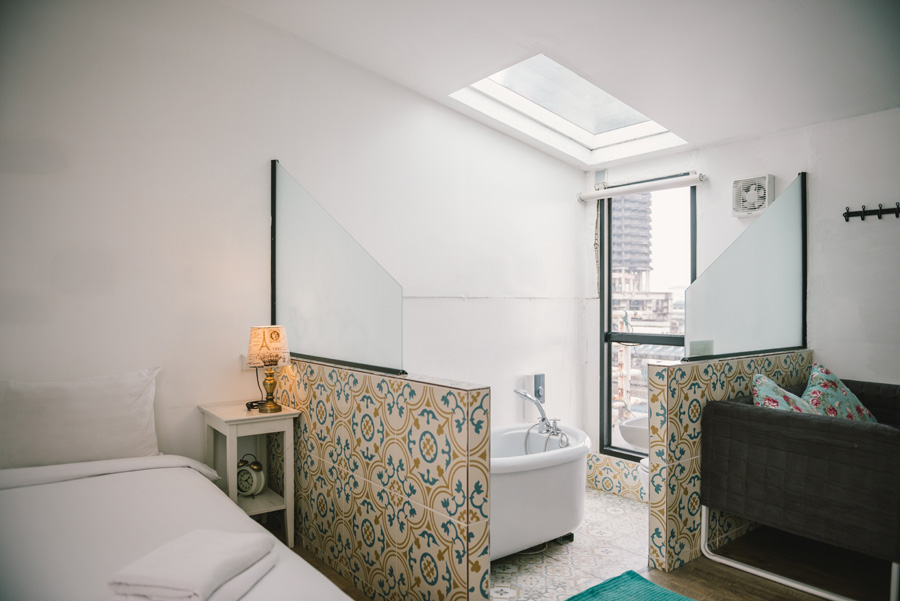 Glur Bangkok Hostel
Though Glur is not large, it has important advantages. Travel is convenient and comfortable because of proximity to the Saphan Taksin pier and SkyTrain station. The warm familial atmosphere here is a major plus. A stay here feels like sleeping over  at a friend's home. After all, "Glur," means "friend" in Thai!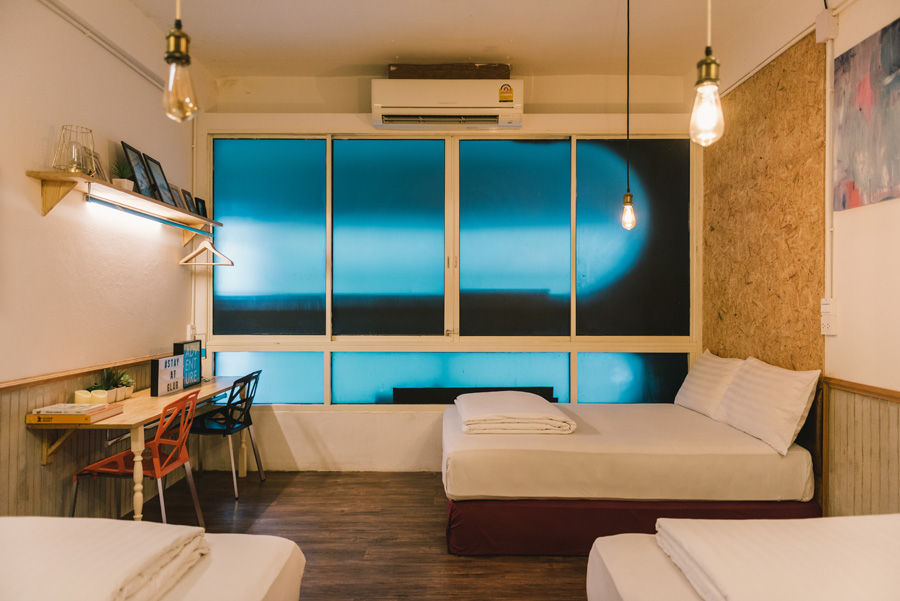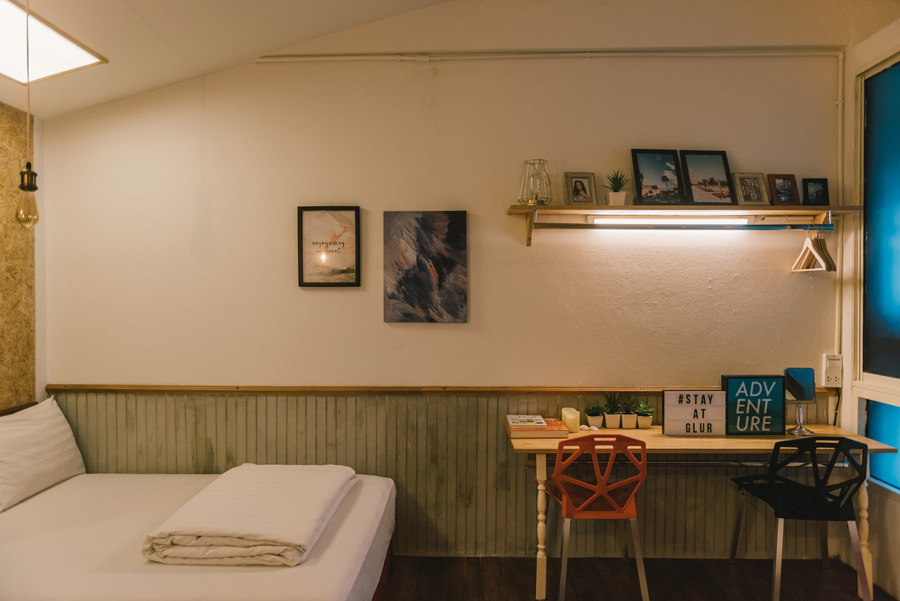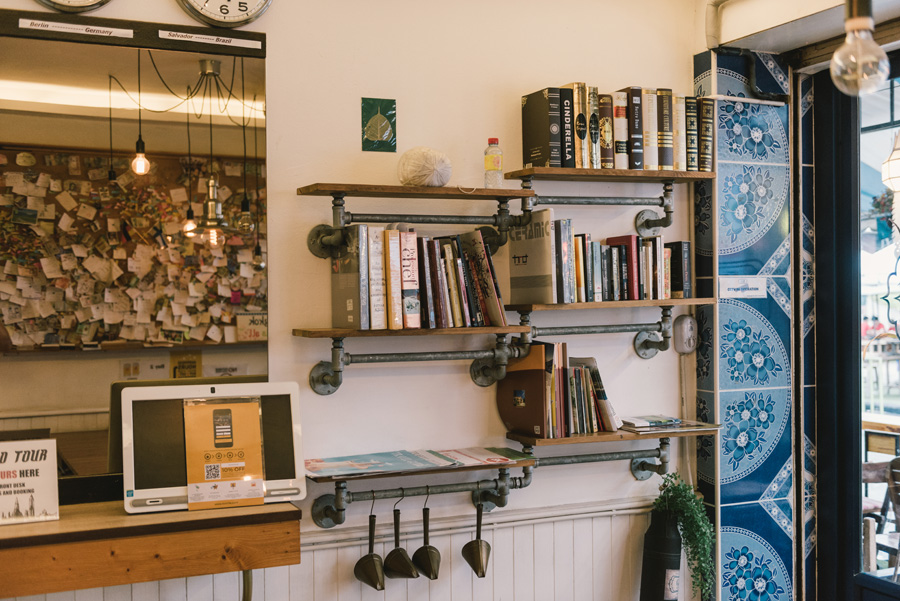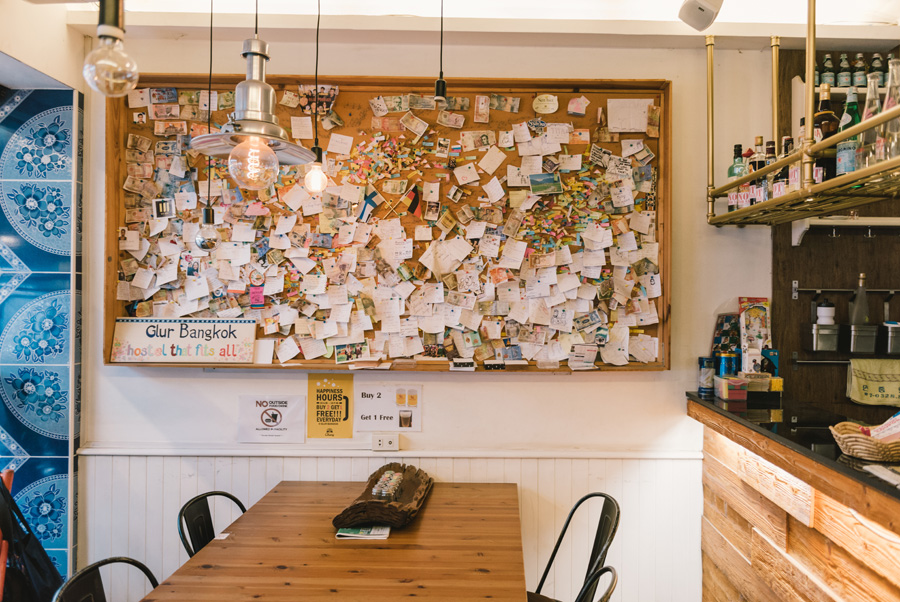 The front side of the hostel is a travelers' café open for service 24 hours, which noticeable for its atmosphere reinforced by intense navy blues. Upstairs are rooms of many sizes, but Glur is primarily designed for the "backpacker" traveler.
Guest rooms primarily stress functionality, and décor is simple. The dorm-style common sleeping spaces are great for coming with a group of  friends and keeping it economical. However, more privacy is also available here, from 2-person to family-size rooms.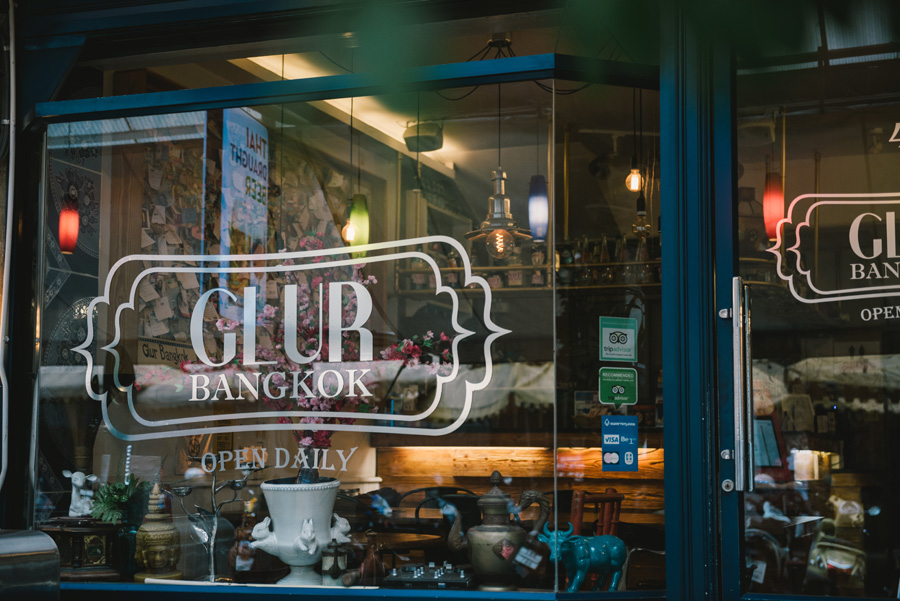 Traveling to BAB:
As already mentioned, Glur Bangkok has significant advantages in location, at Saphan Taksin with both the Skytrain station and the pier where the Chao Phraya Express Boat stops just 150 meters from the hotel. This makes for very easy travel to either Urban or Riverside BAB festival zones.
These are just a few selections we came up with for you art lovers to think about when making plans for visiting Bangkok Art Biennale 2018, which is – don't forget! – between 19 October 2018 and 3 February 2019, at 20 different metropolitan Bangkok landmarks.