/ Bangkok, Thailand /
/ Story: Patsiri Chotpongsun / English version: Bob Pitakwong /

/ Photographs: Sitthisak Namkham /
This impressive small contemporary breeze block house is the place where a married couple live with their seven dogs. House on stilt design paired with a breeze block wall allows plenty of air and natural light into the room. Pleasant and healthy, it's a paradise for avid dog lovers and their fluffy companions.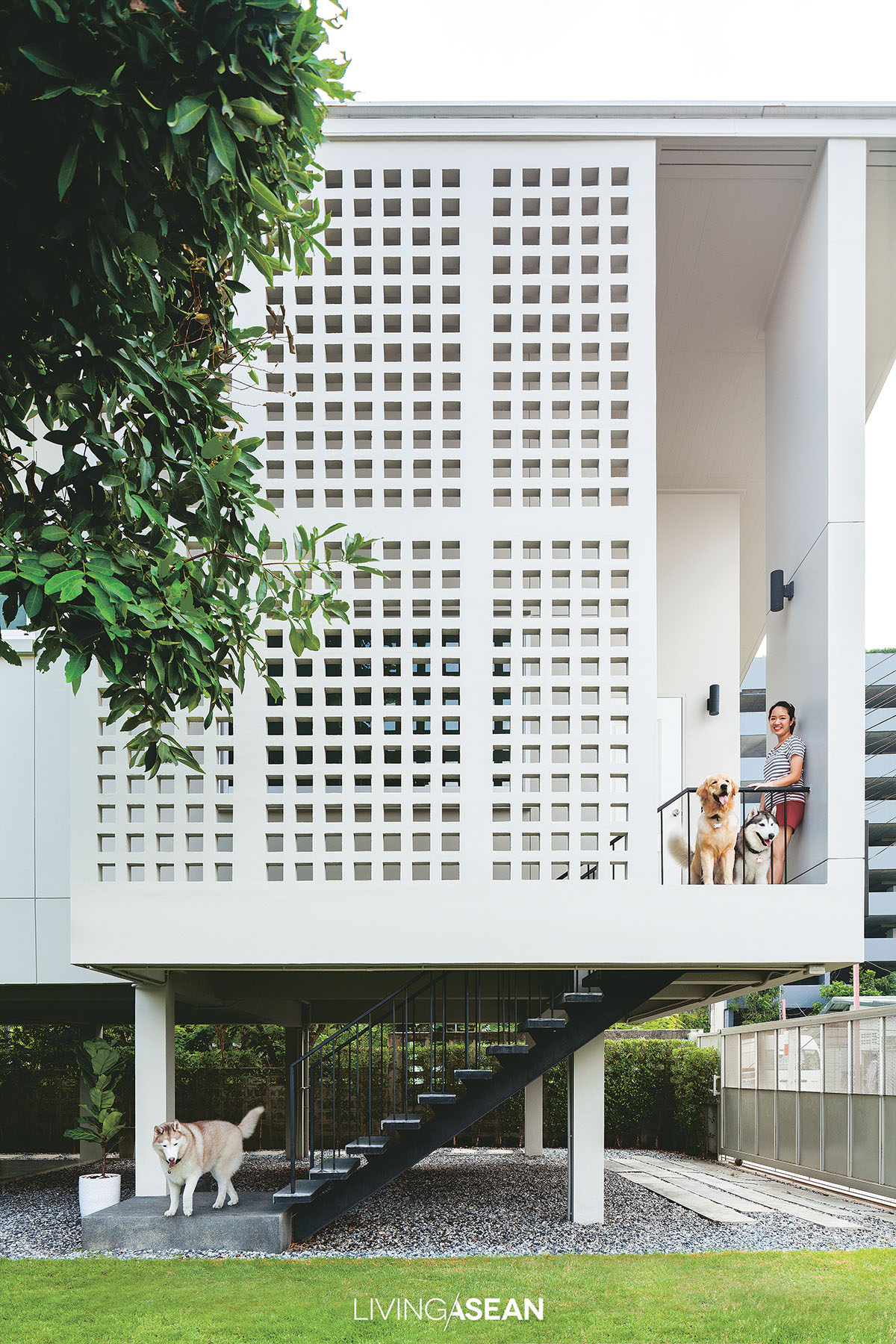 The sheer loveliness of man's best friends was reason enough for a married couple, Roung Jobby Wuttinawin and Whan Paktranon, to build a home ideally suited for their needs.
The problem was Whan had allergies. To avoid going about it in the wrong way, they left the planning in the good hands of architect Unnop Wongwaipananij of REUN Home Design.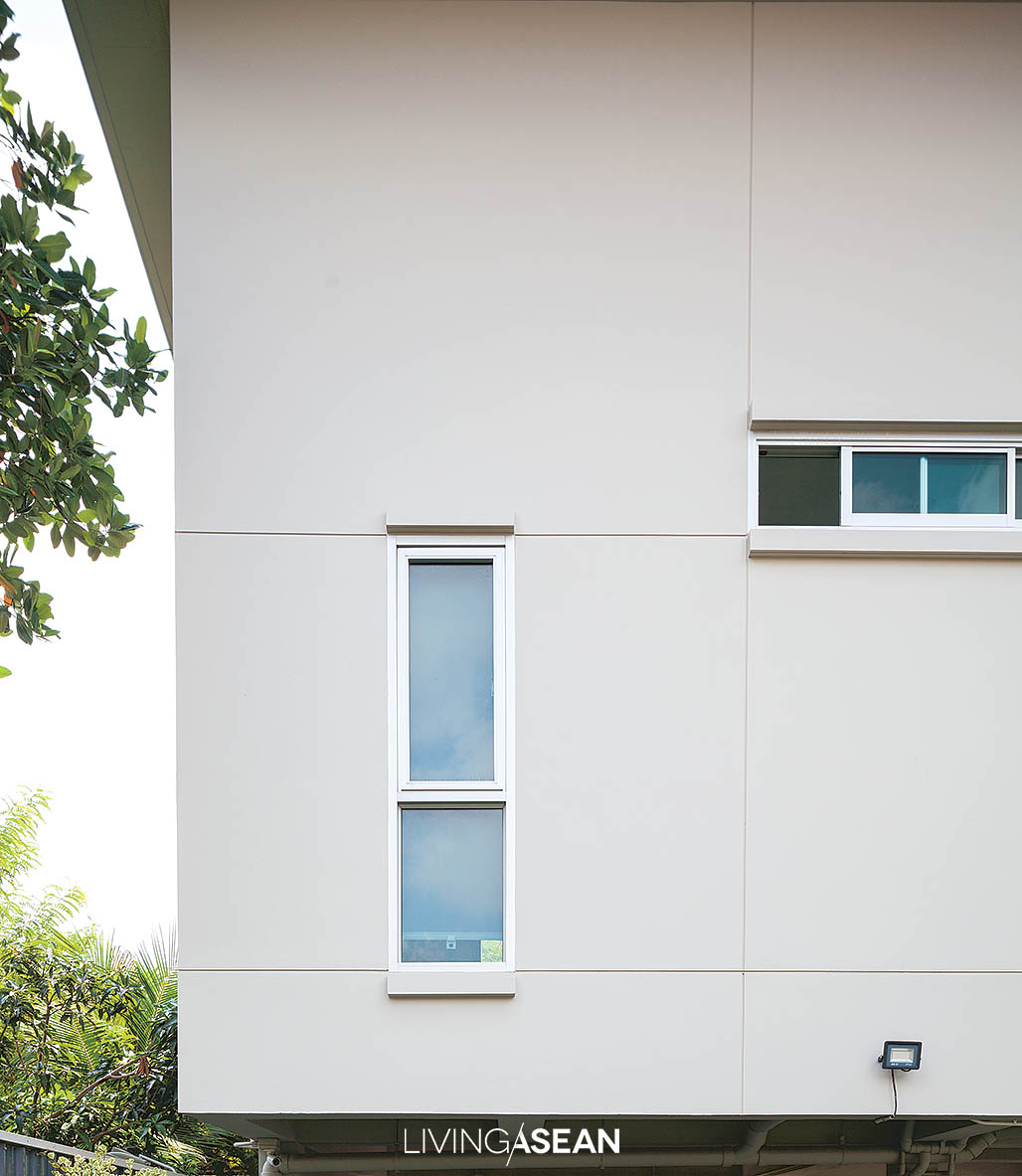 The result is a modern, geometric-shaped stilt breeze block house with a shed roof that's well ventilated, easy to keep clean and easy to update.
The side of the house facing west is protected by a continuous vertical breeze block structure, plus a full-grown tree to keep the home in shade for much of the day.
The under-floor space has a carport and laundry area with plenty of room for doggie nooks. In essence, it's a small place with all the comforts of a full-functioning home where humans and dogs live in harmony.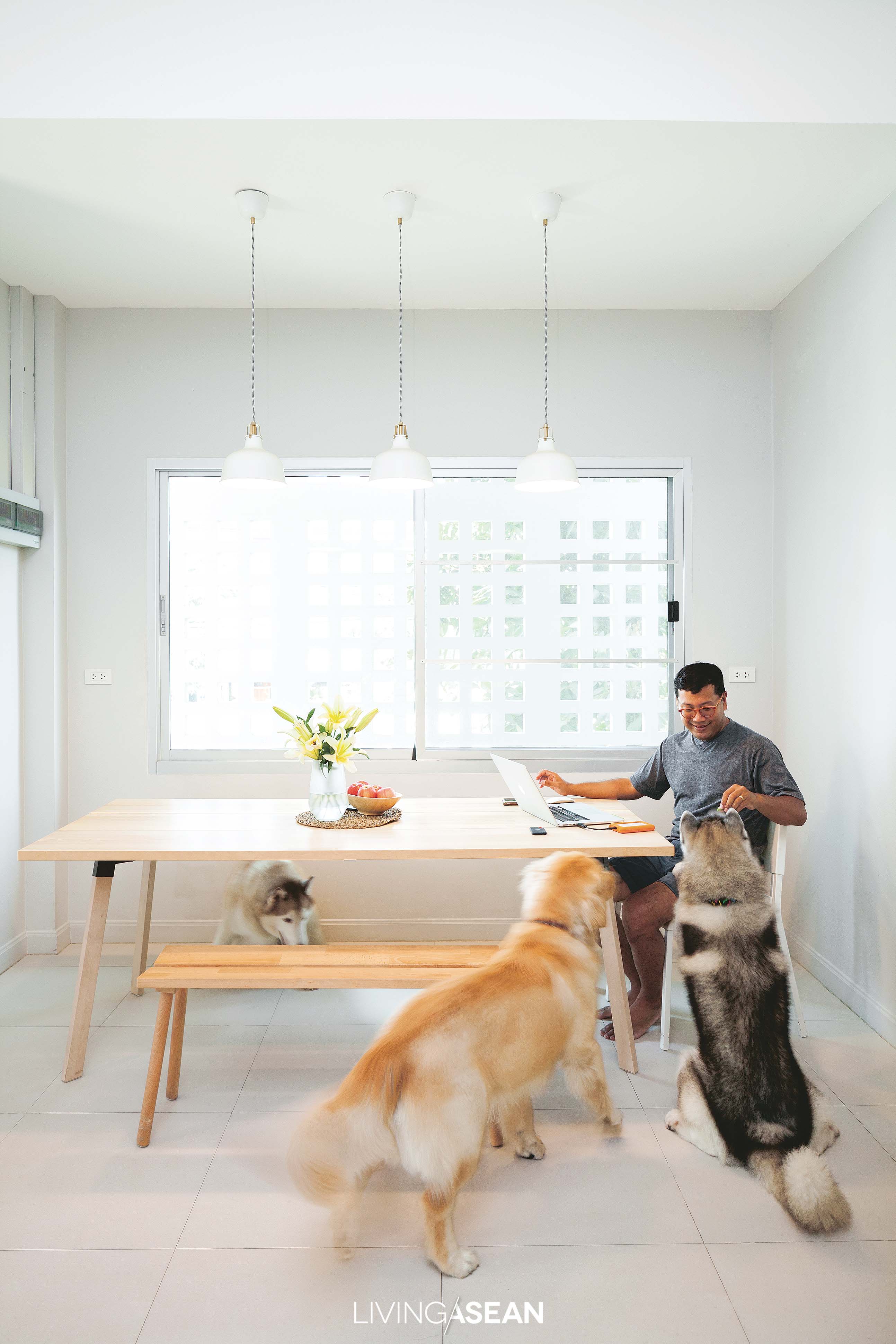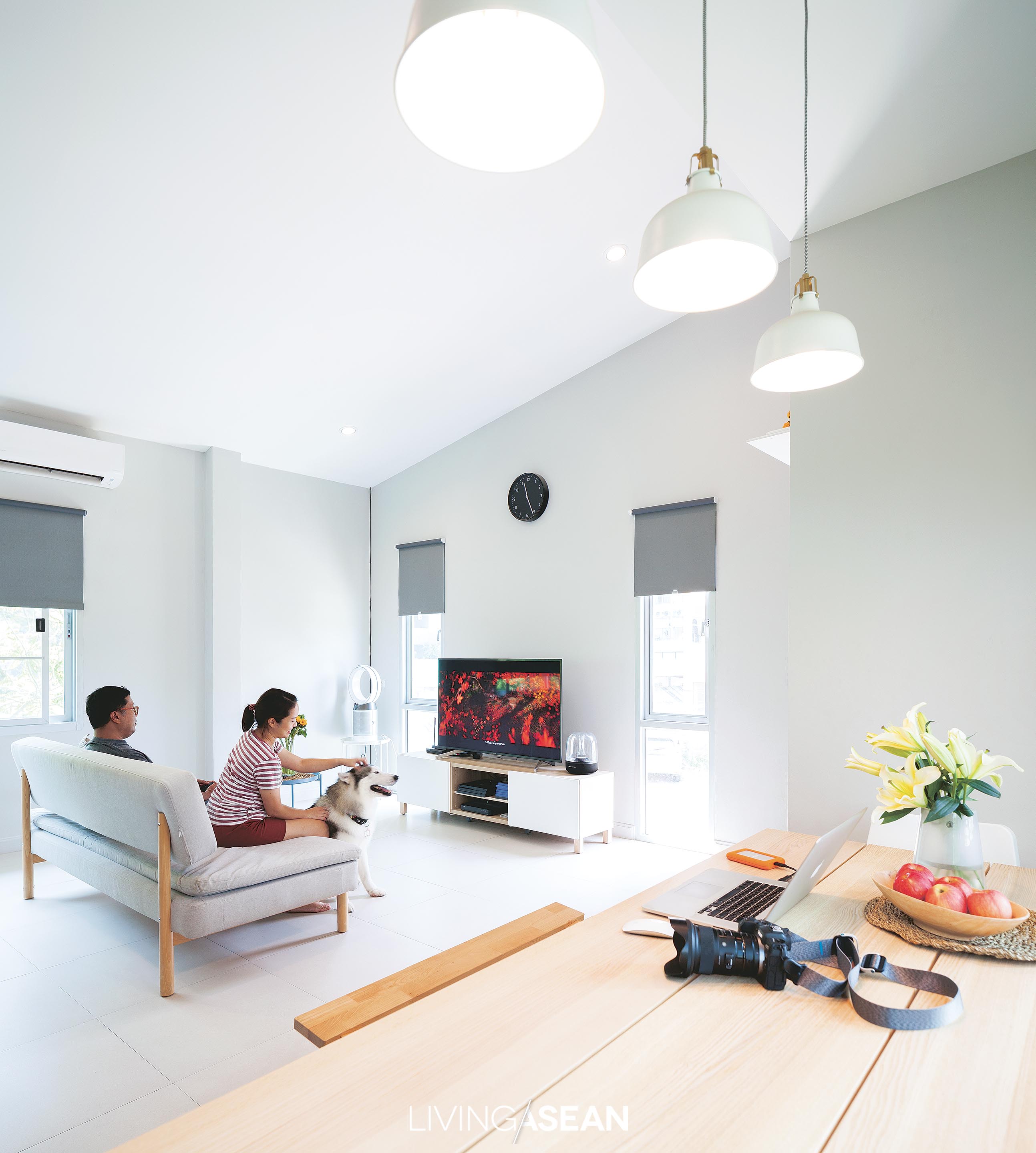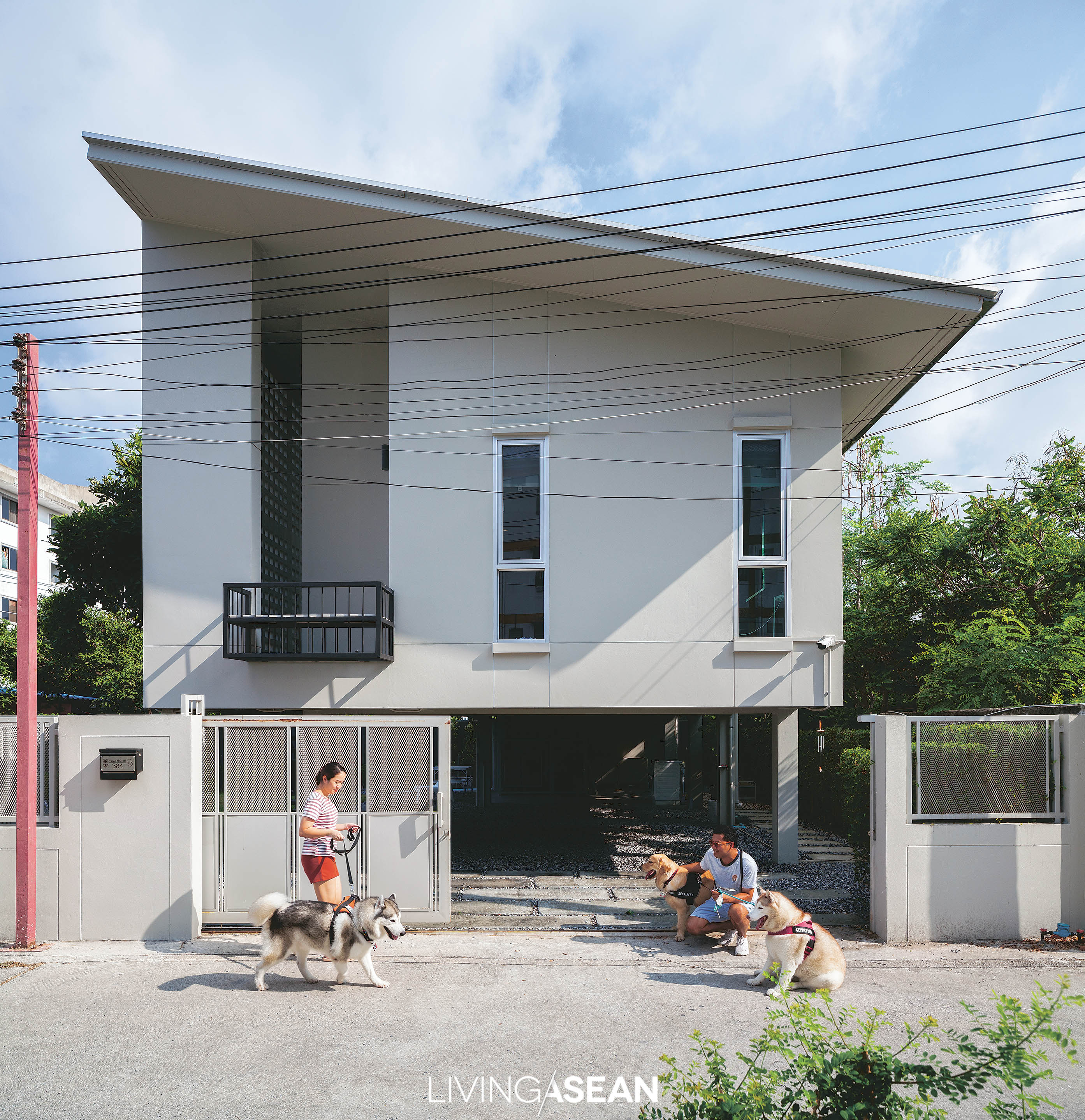 A dog's dream breeze block house

"This house is built for the dogs. We just share a living space like a big family," said Jobby with a laugh.
Sharing his story with us, Jobby said: "Originally I lived with Mom to the rear of the property. Other siblings also resided in the neighborhood. After I got married, I received this plot of land, about one rai, from Mom. We wanted a home that could accommodate all seven dogs we had at the time. Later, when three of them died, we adopted three new dogs after they had been injured. Who knows, we may have more in future.".
The couple sought advice from Unnop, their architect friend who also took an avid interest in dogs.
And the rest was history. Their new breeze block house is a salubrious place, one that's bright, happy and easy to keep clean.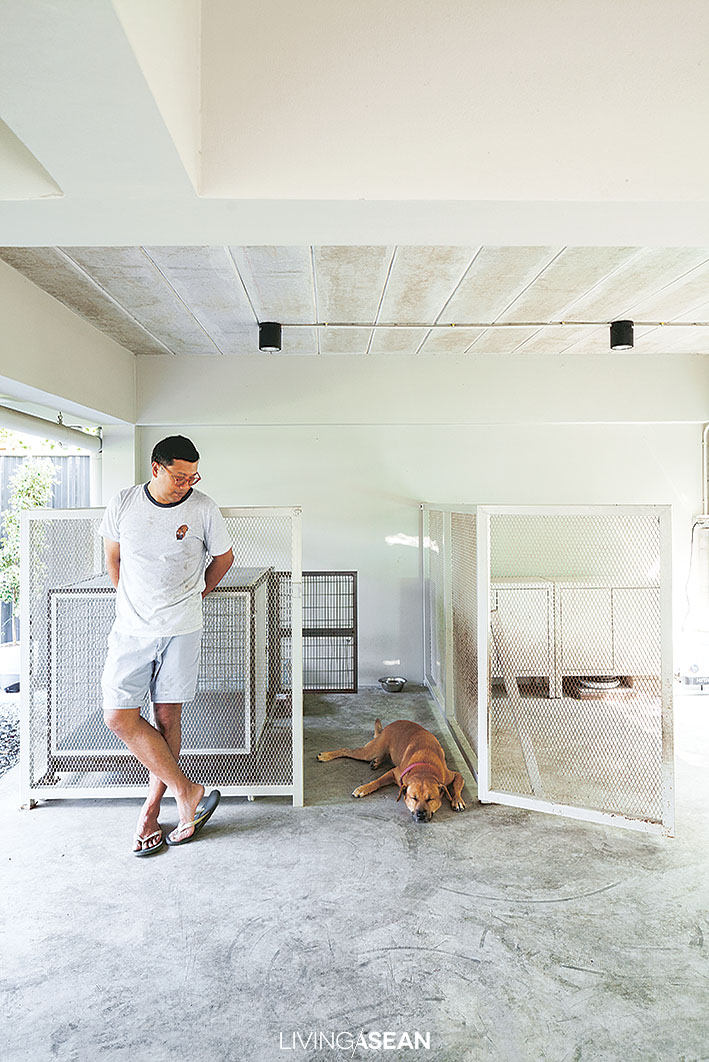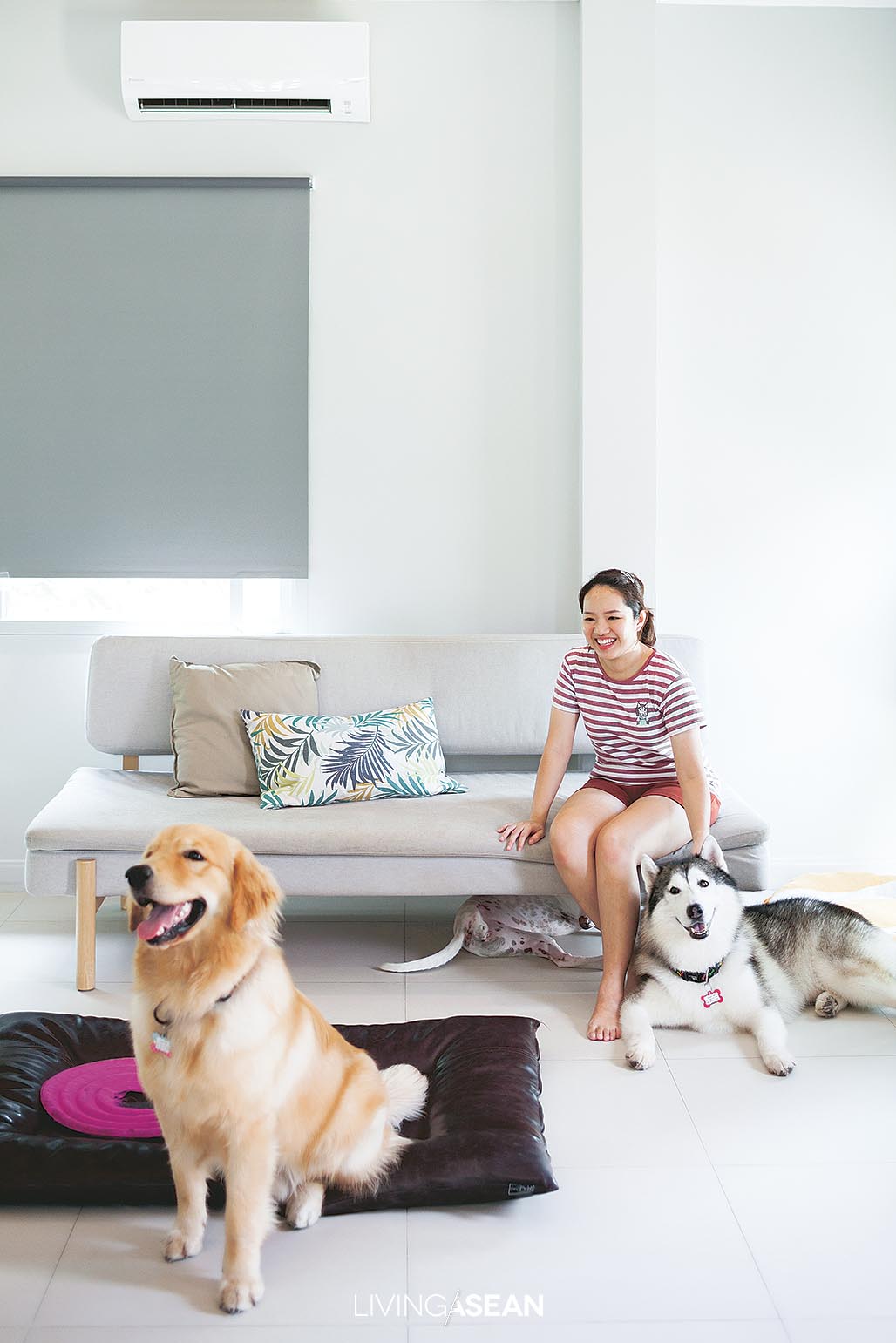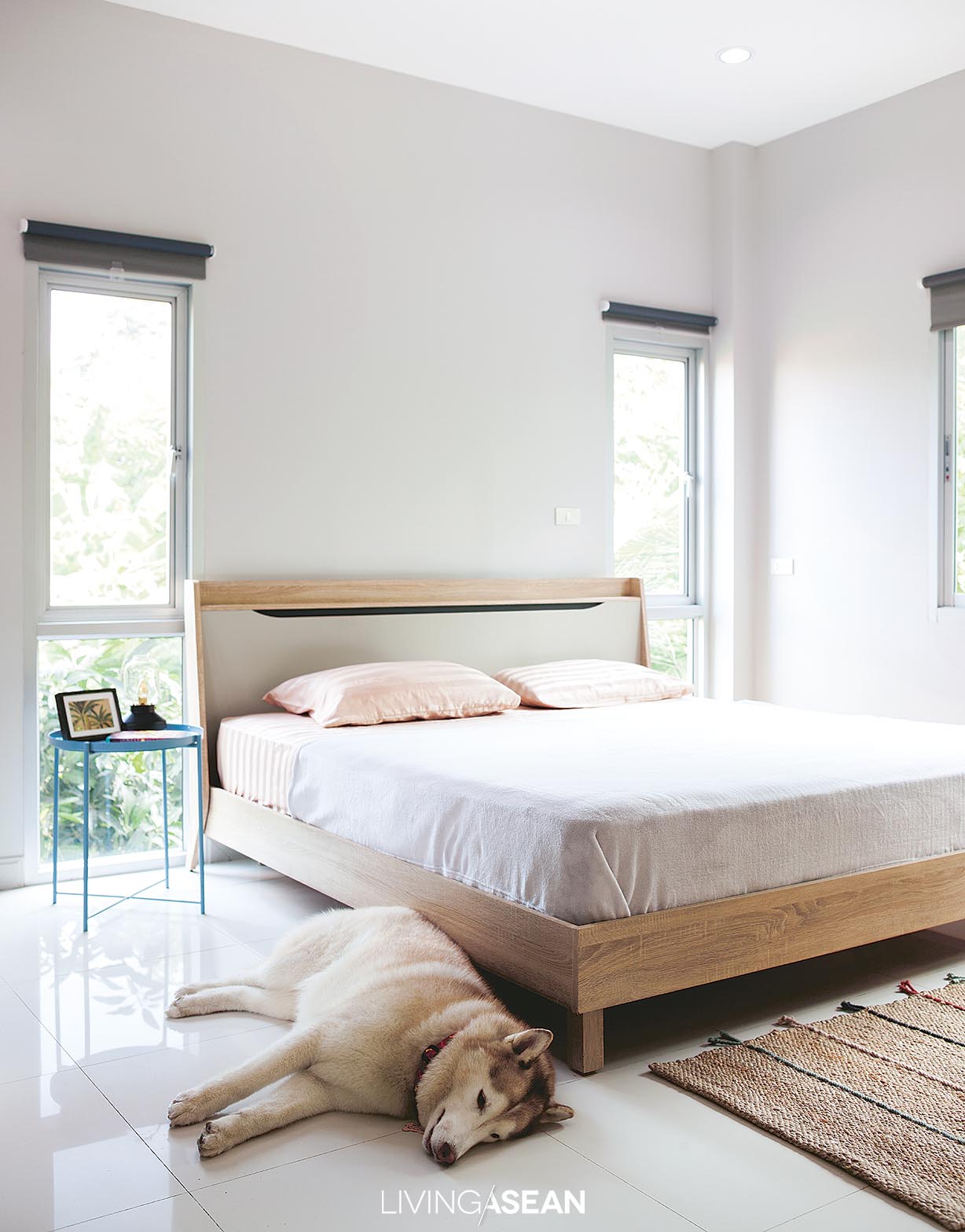 A happy state of mind in geometric design
The geometric house design that the couple requests is simple yet attractively modern thanks to its shed roof style.
Stilt house design offers ample under-floor spaces for a carport, laundry area and plenty of room just for dogs.
The floor is a flat slap that's formed of concrete making it easy for future updates. It lies surrounded by lush green lawns and stable pea gravel paths that are ideal for dog runs.
Whan said that she discovered the benefits of breeze block construction while reading BaanLaeSuan magazines. Square concrete blocks with air vents are a perfect match for geometric house design.
"In fact, I want to do more home decorating, but 'Photo' (her golden retriever) is only 9 months old and very active. So the open floor plan is the best solution at least for the time being. Living room furniture understandably comes down to the bare essentials.
"There's a couch that floats in the middle of the room surrounded by dogs, while a computer desk for Jobby is placed against a wall. The dogs sleep in the same room at night."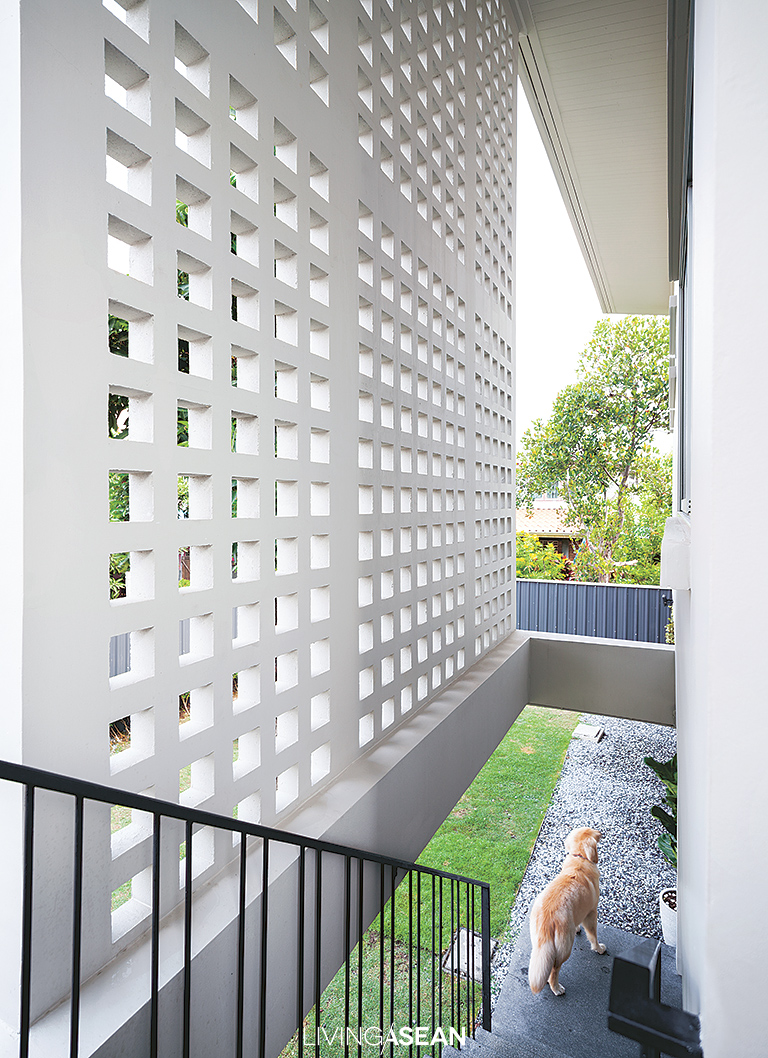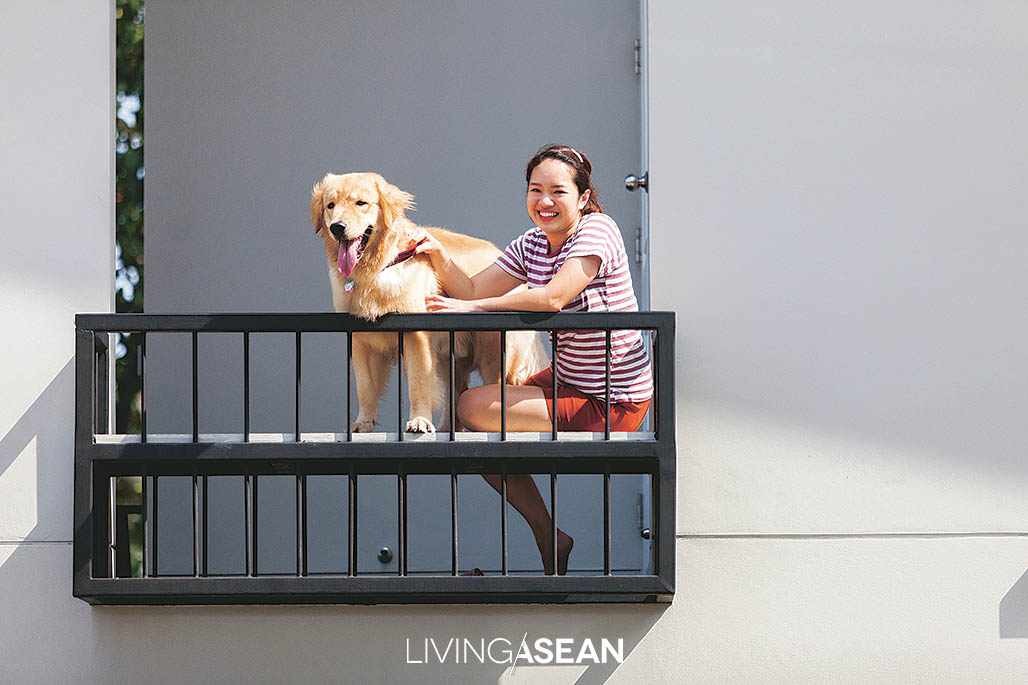 A design based on human needs and dog behavior
The blueprint of this breeze block house is not only about humans sharing a living space with their canine companions. It's also about creating functions suitable for their physical and mental health.
Every little thing counts. The top half of the main gate is made of perforated metal sheets that allow dogs to see outside. The deck bench seat and stairs have steel railing that protects against slip and fall accidents. The floors are non-carpeted to reduce dust and allergens in the home.
As a precaution, rough floor tiles are used instead. Curtains are made of washable material that's easy to keep clean. Meantime, window sills are set lower with safety grazing to allow dogs to look outside.
In developing his design concept, the architect said: "Because the house faces due south, the front façade sees the most hours of sunlight during the day. So we put the building in the east side of the land with the bedroom at the rear to avoid heat buildup inside and for better privacy..
"To cool down the interior living spaces, the bathroom is placed along the side to provide a buffer against the harsh afternoon sun. This in turn keeps the bathroom dry and protects against humidity damage.
"For practical reasons, an air brick wall is chosen to allow southwesterly winds to enter and circulate inside. Nearby, an additional layer of protection is provided by a full-grown rose apple tree."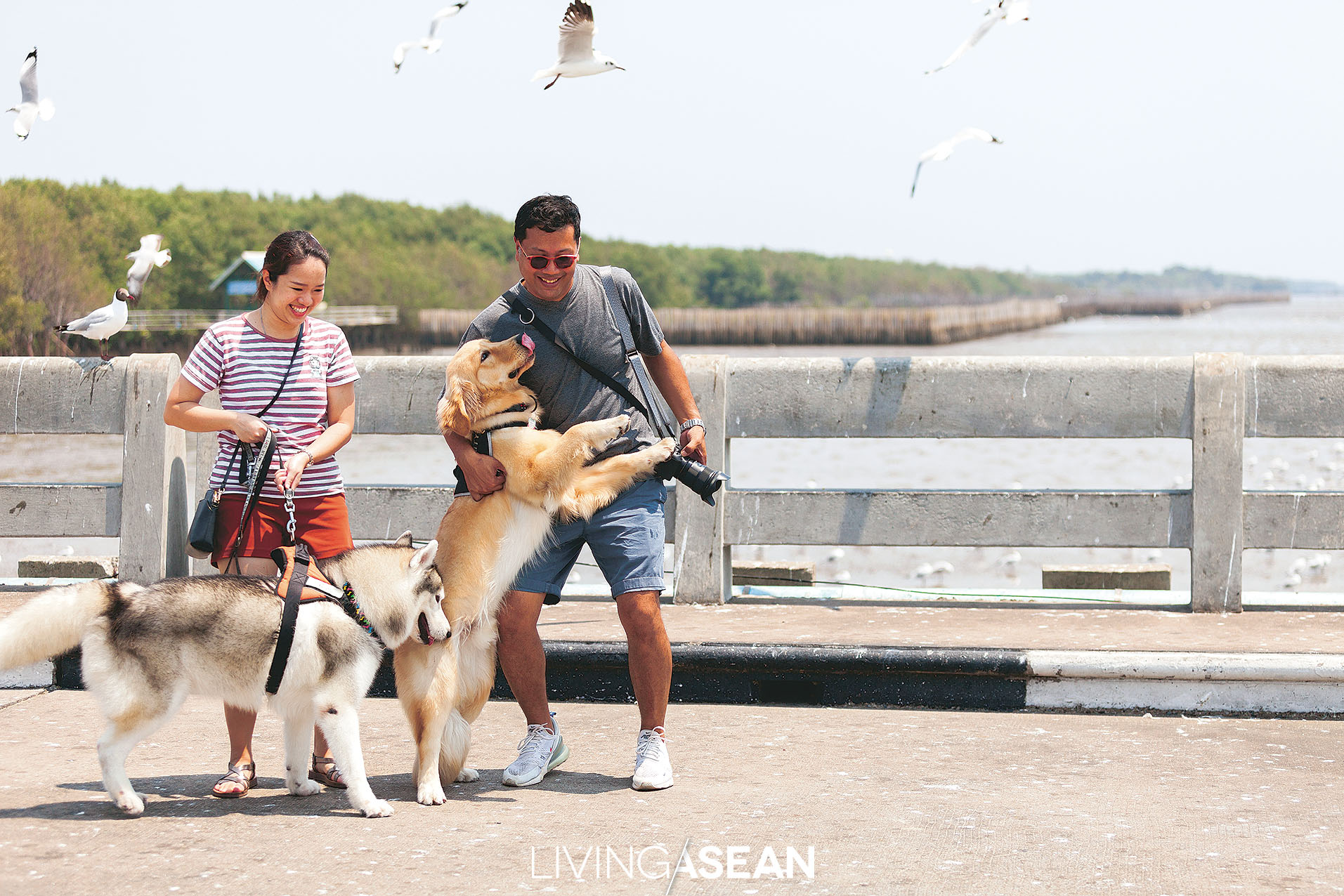 Asked what it's like to live here, the couple said: "Overjoyed! We've made the most effective use of indoor and outdoor spaces, especially the main living room. The late afternoon is usually spent with the dogs in the under-floor room where fresh air is plentiful.
"Sometimes we take them out for a walk, go swimming or make a bird watching trip to Bang Pu, which is only 10 kilometers away. The seven dogs make living here a pleasure. Each one of them has its special doggie nook.
"We know they are happy to be here, too."
---
Owner: Roung Jobby Wuttinawin and Whan Paktranon
Architect: REUN Home Design
---