Modern tropical is one of decorating styles that have become popular across the country. It's a style that takes into account the warm and humid climate characteristic of the Region. This is abundantly clear in the way tropical décor materials sourced directly from the locality are being put to good use in so many ways. They include wood that promotes relaxing and peaceful feelings, floating furniture crafted of natural materials, home décor accessories, and fabrics for furniture upholstery, throw pillows, and curtains in striking colors and textures. Their simple yet elegant appearances bespeak a cool, contemporary style that's classic in its own special way, a style that's quite capable of answering many decorating needs.
Polyester fabrics look their best not only in home furnishings and decorative accessories, but also in business establishments from hotels to retail shops, where not seriousness but a friendly, relaxing and pleasant manner is everything and everlasting. For that, there are polyester fabrics to suit every decorating need. Here are some of the qualities worth considering.
TYPES OF FABRIC
The Modern tropical style is well suited to the warm and humid climate typical of the Region's highlands and seaside environments. Polyester fabrics come in handy as the material of choice for their ability to resist exposure to a range of weather conditions, from moisture to bacterial and fungal contamination. These unfavorable conditions can have negative effects on consumers. To avoid problems, polyester fabrics are recommended because they are made of plastic fibers that do not absorb moisture. Unlike natural fibers, polyester does not accumulate humidity, which reduces the chance of bacterial and fungal contamination in fabrics.
MOOD AND TONE
The tropical decorating style evokes the image of bright sunlight and cool temperatures that accompany every rainfall. That sounds like a first good impression that most people have. To create interior design that will ring the bell, materials that provide a decorative and textured surface are of great significance. That's not all. Materials for furniture upholstery and curtains in complementing colors and design are important, too. Together, they combine to make the interior living space feel warm and welcoming. There are plenty of ways to match colors. Whether it's visual harmony or outstanding visual contrast, the choice is yours.
FABRIC PROPERTIES
Humidity in the air is among factors contributing to fungal and bacterial growth. Hence, it makes perfect sense to go for polyester when it comes to interior decorating. Polyester is great for curtains, furniture upholstery, blankets and throw pillows. It's undergone testing to prove its worth. Thanks to its many outstanding attributes, polyester has remained a popular material of choice in a variety of applications. Its benefits are not limited to just interior décor or furniture. Some polyester fabrics are capable of serving multiple purposes. For information about polyester usage, consult the product catalog and label that comes with the fabrics.
Polyester Material of Choice for Modern Tropical Décor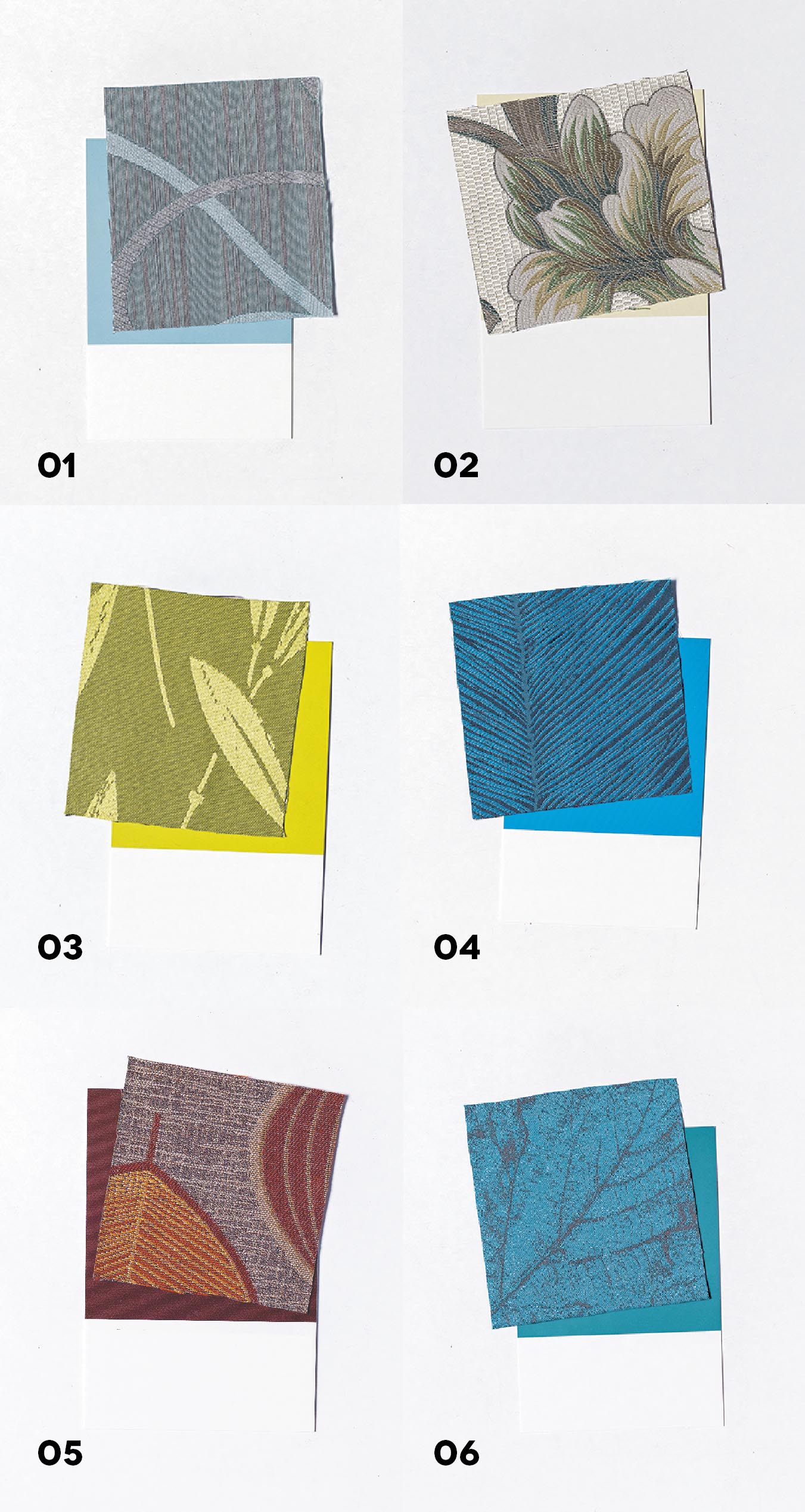 01 Design No. 9554/05: width 110″ (280 cm)
02 Design No. 8072/03: width 54″ (137 cm)
03 Design No. 3151/07: width 60″ (150 cm)
04 Design No. 10056/103: width 55″ (140 cm)
05 Design No. 10051/105: width 55″ (140 cm)
06 Design No. DANE/104: width 54″ (137 cm)
Note: 100% polyester fabrics are material of choice for curtains, throw pillows, and furniture upholstery.
Information and fabrics courtesy of: HOMEWORK FABRICS
Contact information:
No. 9 Yaek 9 Soi Petchakasem 112, Khwaeng Nong Khang Phloo, Nong Khaem District, Bangkok 10160, Thailand
Tel: +662-119-7888
Fax: +662-810-8091
Email: marketing@goldhousedecor.com
Facebook: www.facebook.com/homework.th
www.goldhousedecor.com