Bangkok Art Biennale 2018, (BAB) is an art fair which will transform Bangkok into a city for art lovers. Famous artists from many corners of the world have brought their works here to be shown at 20 landmark sites.
/// THAILAND ///
Story: Favforward.com /// Photography: Rithirong Chanthongsuk, Methee Samantong, Anupong Chaisukkasem, Singhanart Nakpongphun, Soopakorn Srisakul, Media Hub, Courtesy of the Artist
The show spreads over two zones: 1) the Chao Phraya riverside and 2) the heart of the city. Shows in the urban zone are easily accessible by public transport such as BTS or MRT. The Chao Phraya riverside zone is also easy to get to, but for comfortable travel, easy on the physical body and with no worry about getting lost, we've prepared a guide – including parking suggestions – for getting around to see that great art down by the riverside.

BTS Saphan Taksin, your starting point
BTS Saphan Taksin Station is the perfect connecting point between urban and riverside zones, so if going by BTS or other public transport you'll want to make this your destination for catching the Chao Phraya Express Boat. Arriving on BTS, take Exit 2 and it's a quick walk to the pier where the Chao Phraya Express Boats, which you'll recognize by their orange flags, dock. Fare is 15 baht per person.
Going by private car? There's a parking lot close by the BTS Saphan Taksin, next to Wat Yannawa at the end of Charoen Krung Soi 52, a very convenient walk to the Express Boat. From 6 a.m. to 5 p.m. the charge is 60 baht per day; every hour after 5 p.m. costs an additional 10 baht.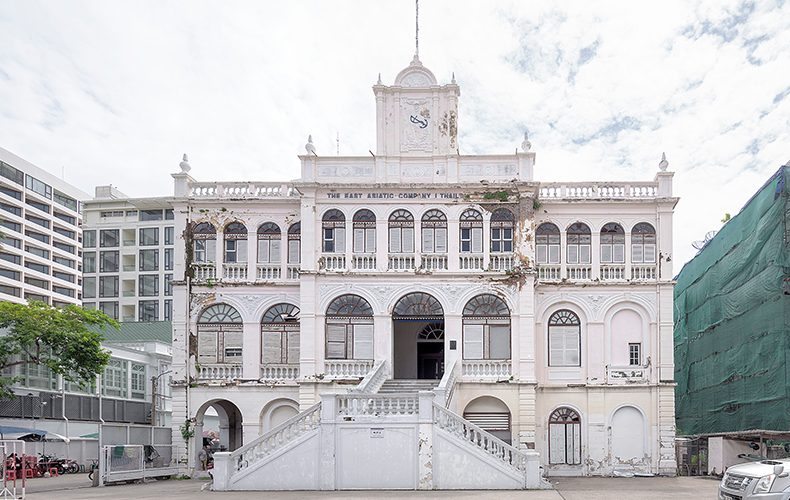 The East Asia Building
We recommend taking the Chao Phraya Express Boat from Taksin Station and getting off at Oriental Pier (Tha Oriental). Just a short walk from there brings you to the beautiful Renaissance Revival architecture of that venerable old building.
It's less convenient to drive your car here, as the East Asia Building has no parking lot. Leaving the car at the Soi Charoenkrung 52 lot and going by boat is a much better idea.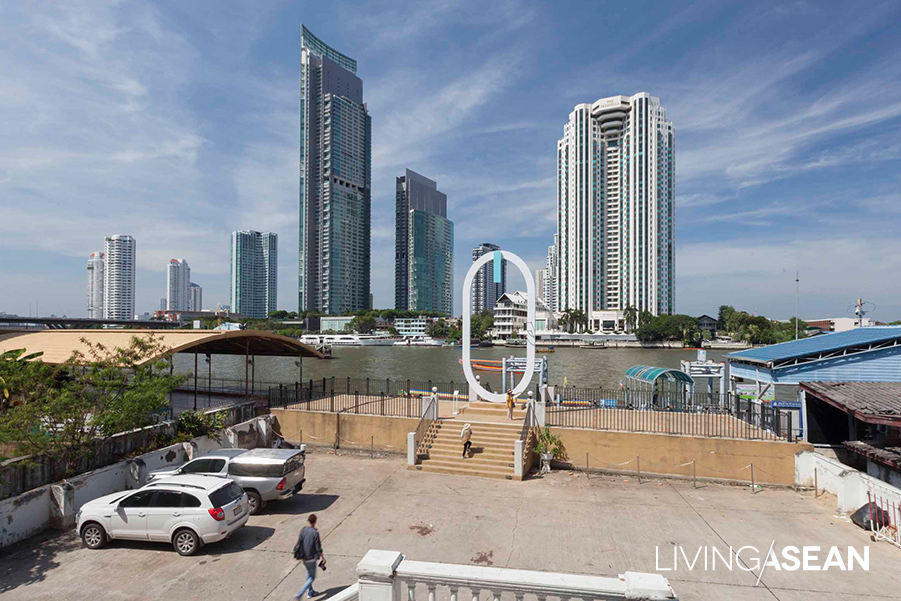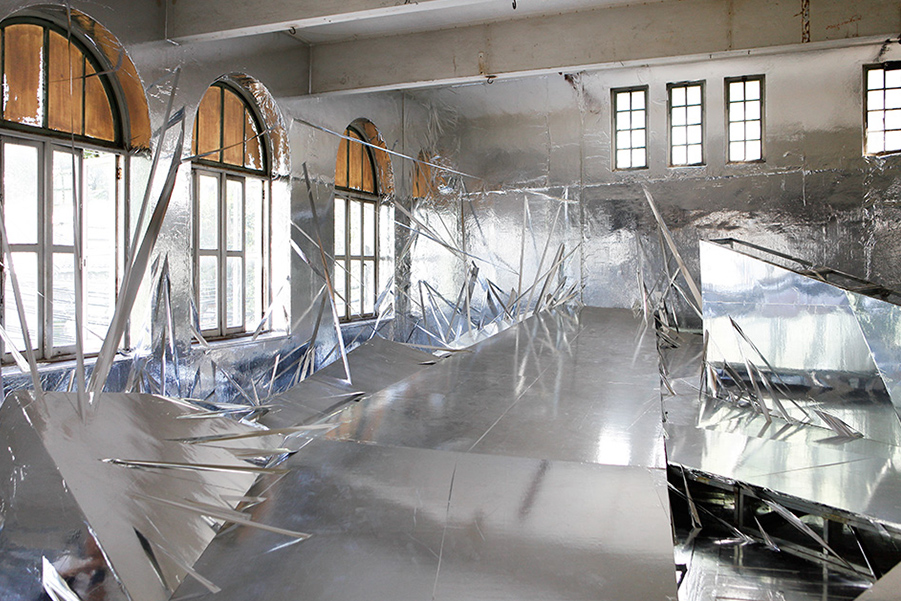 Mandarin Oriental Hotel
This is quite close to the first destination, so if your plan is to admire the fantastic art work at the East Asia Building, you should stop by the Oriental as well.
Taking the Chao Phraya Express Boat, get off at the Oriental Pier just as for the East Asia Building. The Mandarin Oriental also has its own boats that can be hired for pickup and drop-off.
Parking? The Oriental's parking garage is free for guests only, so those using it for convenient access to the art show have to pay the Hotel's standard service charge. Remember, it has limited space, and so might be full.
O.P Place
An old trade center and a fixture in the Phra Nakhon locality since 1908, O.P Place is one more BAB art venue that's accessible by Chao Phraya Express Boat  and the Oriental Pier. You'll find it by walking just 270 meters from Tha Oriental, and, of course, it's convenient to the BAB exhibitions at the Mandarin Oriental and the East Asia building.
O.P. Place has a parking lot which is free for three hours with a parking ticket stamped by one of the shops, services, or restaurants in the trade center. Without a stamp it is 200 baht per hour.
The Peninsula Bangkok
With the Express Boat, again you get off at the Oriental Pier. This time, since the Peninsula Hotel is on the opposite bank, you should take the free boat service between the Mandarin Oriental and the Peninsula.
For those of our readers who must take your own cars, the Peninsula Hotel provides free parking for art lovers. Simply tell the parking official that you've come for the BAB art fair, and there's no charge. We're keeping this a bit on the Q.T., because the BAB fair lasts a full 4 months and we anticipate that this special service may change before long.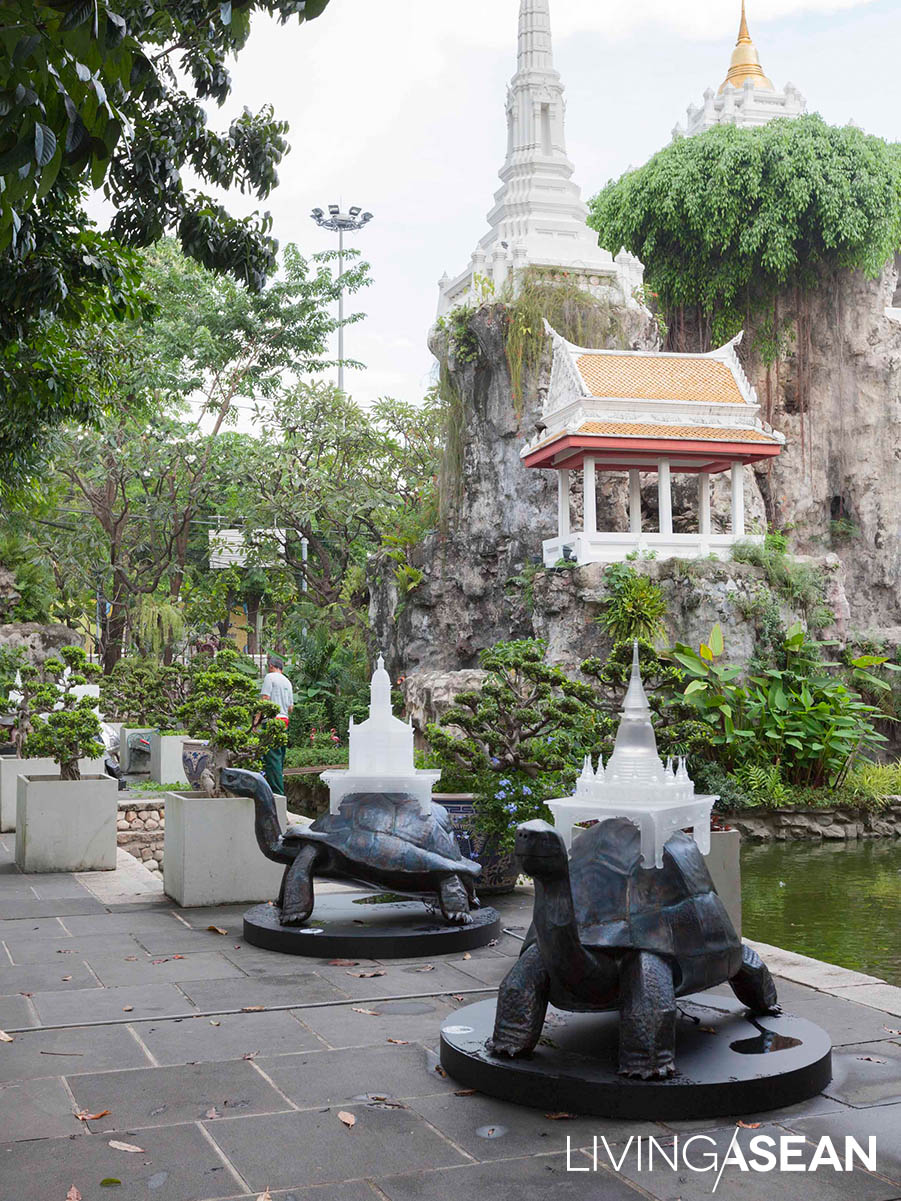 Wat Prayurawongsawas Warawihan
This is one of the three temple locations chosen for BAB art exhibitions: take the Express Boat to the Memorial Bridge/Saphan Phut Pier and it's right across the bridge, a short pleasant walk with some great river views.
For the automobile-bound, Wat Prayurawongsawas Warawihan has its own parking lot, free for pilgrims and worshippers. Others need to pay 20 baht per hour, but we have no information for our readers on parking there specifically for Bangkok Art Biennale viewing.
Very close by, on the Chao Phraya riverside, there is also the Municipal Sanitation Officials' parking lot, or on Thesakit Soi 1, where there's free public parking but it's rather limited, so a bit chancy. Cars may also be left at Wat Kallayanamitr Woramahawiharan (Wat Kanlayanamit): to get to BAB from there you'll have to walk through the Kudeejeen District.
Another choice would be to drop the car at the Pak Klong Market parking lot behind Yodpiman River Walk. There's an automatic system here which can hold as many as 360 cars. Service charge for 4 hours is 40 baht, and it's open 24 hours. From there you'll have to cut through to the Chao Phraya and cross Memorial Bridge to reach Wat Prayurawongsawas Warawihan. It's a bit of a hike, but definitely a secure and easy place to leave your car.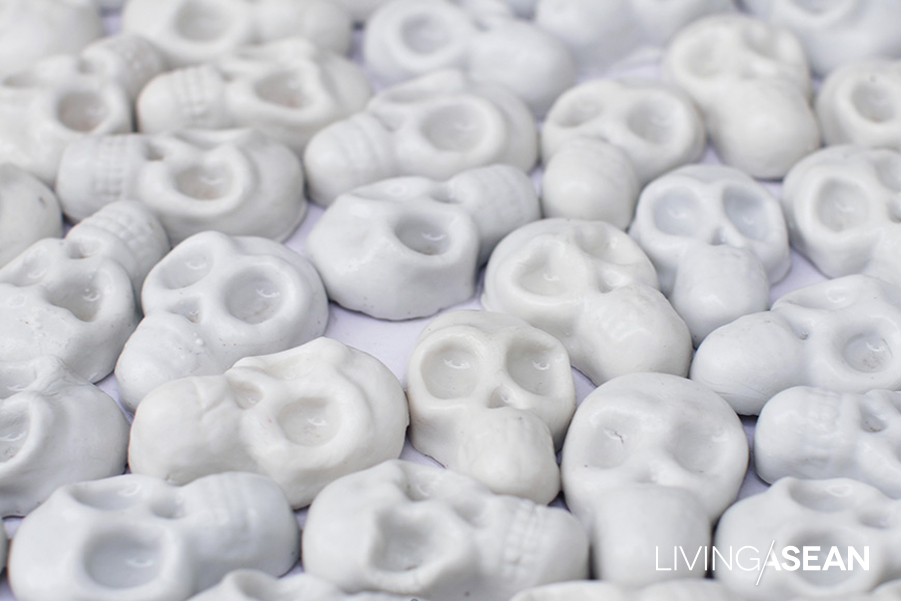 Phra Chetupon Vimol Mongkolam (Wat Pho)
Coming from Wat Prayurawongsawas Warawihan you'll have to cross back over and catch the Chao Phraya Express Boat at either Memorial Bridge/Saphan Phut or Yodpiman Pier, and go to the Wat Arun/Tha Tian Pier, where there is also a boat crossing to the next destination of Wat Arun.
To go straight to Wat Pho by private car, there's the "Soi by Wat Pho" parking lot at the Chetuphon Street fork, which charges 20 baht per hour, but there's so little space there you won't be able to count on it, so make sure you have a backup plan.
Nearby is also the Tha Maharaj Pier parking lot, but this also has limited space and is always full. There's sometimes also parking at the Navy Club,  if there is no event scheduled there.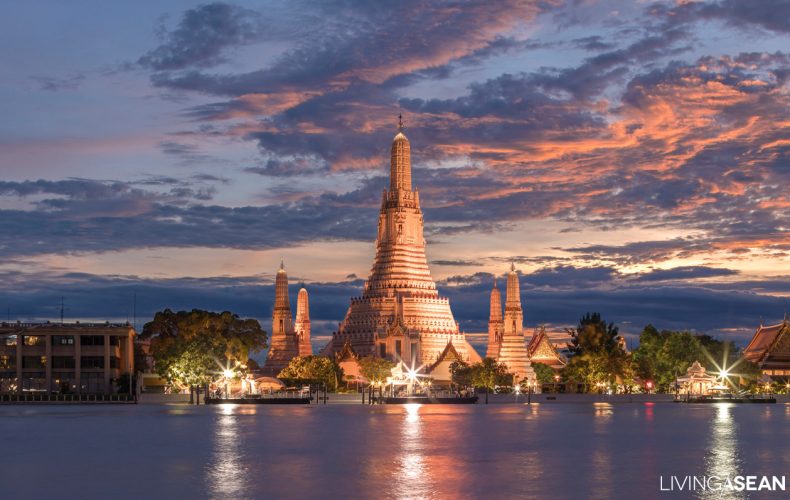 Wat Arun Ratchawararam Ratchawaramahawihan
When you've viewed the art work at Wat Pho to your heart's content, take the boat back across the river to Wat Arun.
Driving in on Arun Amarin Road, it's pretty hard to find parking by Wat Arun. It's common to park on the side of the soi by the Temple (Soi Wang Derm), but we don't recommend it because 1) space is limited, and 2) it's not very safe. Our suggestion is to leave the car elsewhere, e.g. back at the Pak Klong Market, Soi by Wat Pho, or the Navy Club, and just take the Chao Phraya Express Boat and/or a boat that crosses to the other side.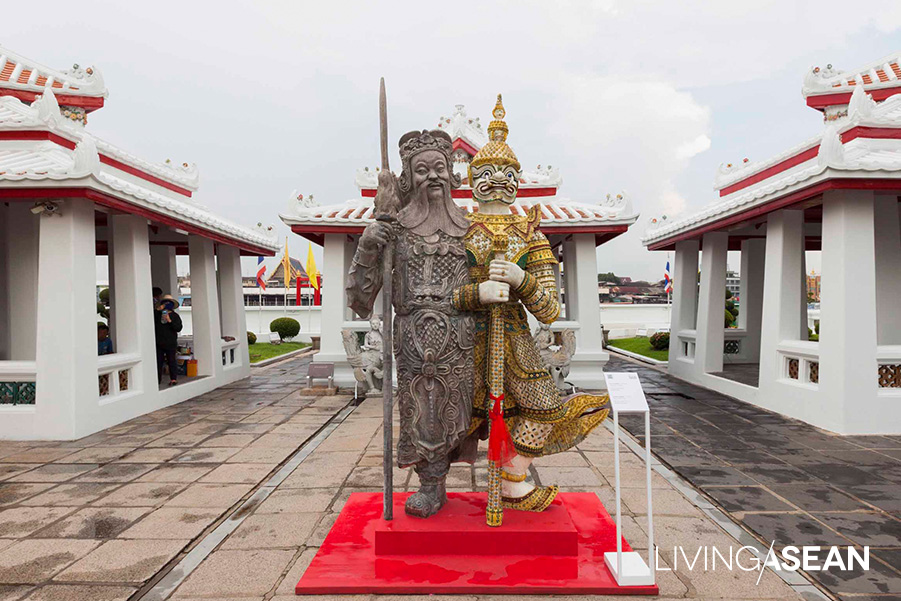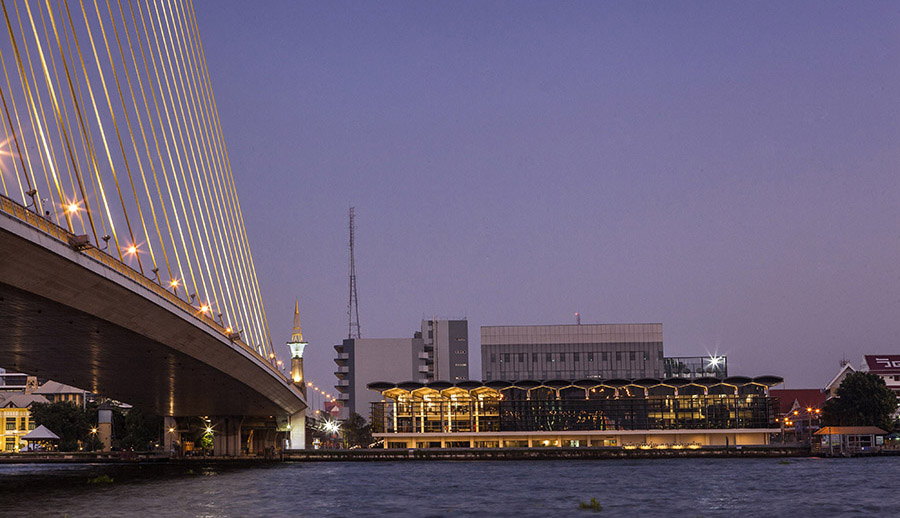 Bank of Thailand Learning Center
Going by Chao Phraya Express Boat, we recommend getting off at Thewet Pier.
If bringing your car here, just use the Bank of Thailand Learning Center parking lot. The Learning Center has free parking for 4 hours with a stamped parking ticket. If you're staying longer, or don't get your ticket stamped, it's 20 baht per hour.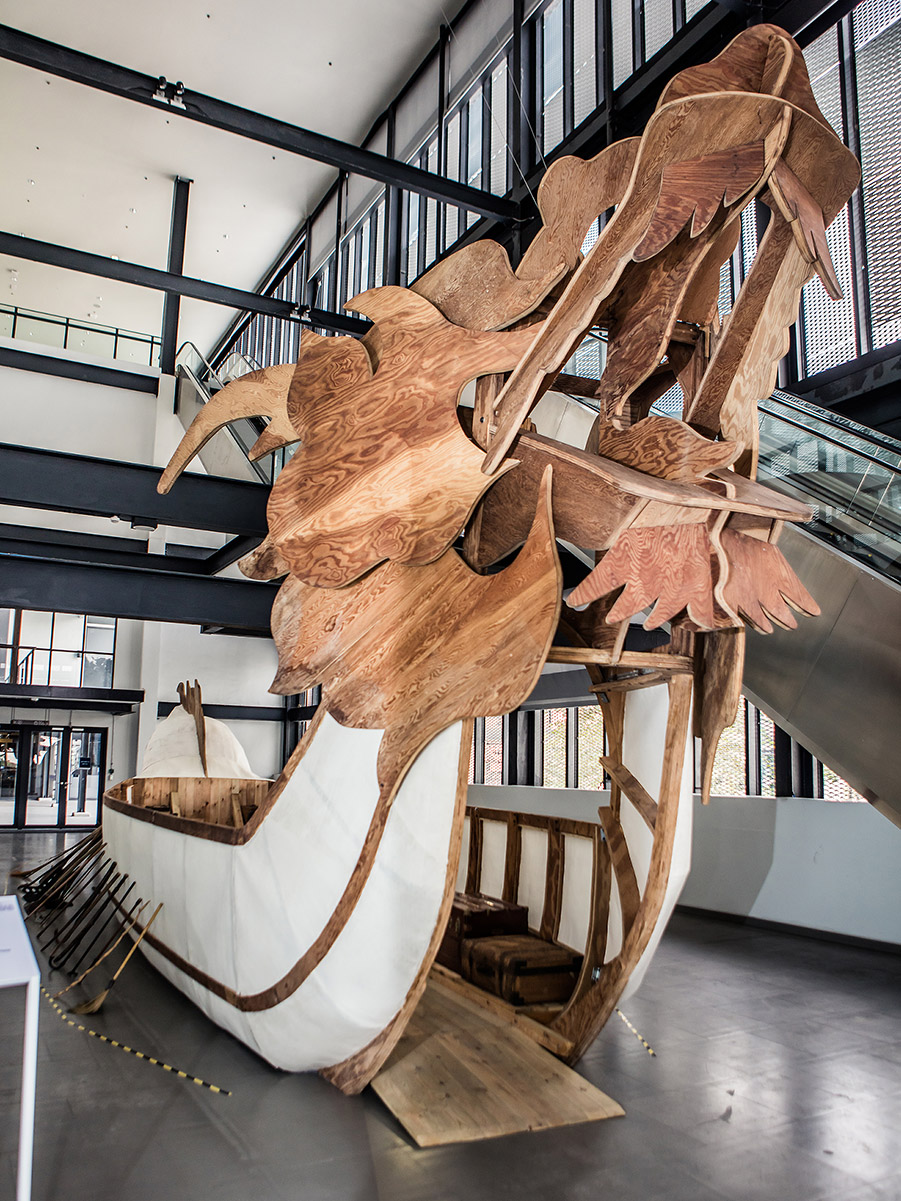 This is just a rough plan for readers interested in visiting the Chao Phraya River Zone exhibitions of Bangkok Art Biennale 2018, an international festival of contemporary art held from October 19, 2018 until February 3, 2019 at 20 important Bangkok locations.
You may also like…