/ Chiang Mai, Thailand/
/ Story: Ektida N. / English version: Bob Pitakwong /

/ Photographs: Rungkit Charoenwat /
Here is a café and roastery with an ear-grabbing name. The Thingamajiggy Coffee Roaster stands in the middle of the rice fields of Chiang Mai's Mae Rim District. A metamorphosis of purpose, it's performing a new function as café with panoramic views of the stunning mountain landscape. The brand may be hard to say, but it certainly holds the attention of listeners while its rustic appearance merges into the farmhouse vernacular symbolic of the Northern Region.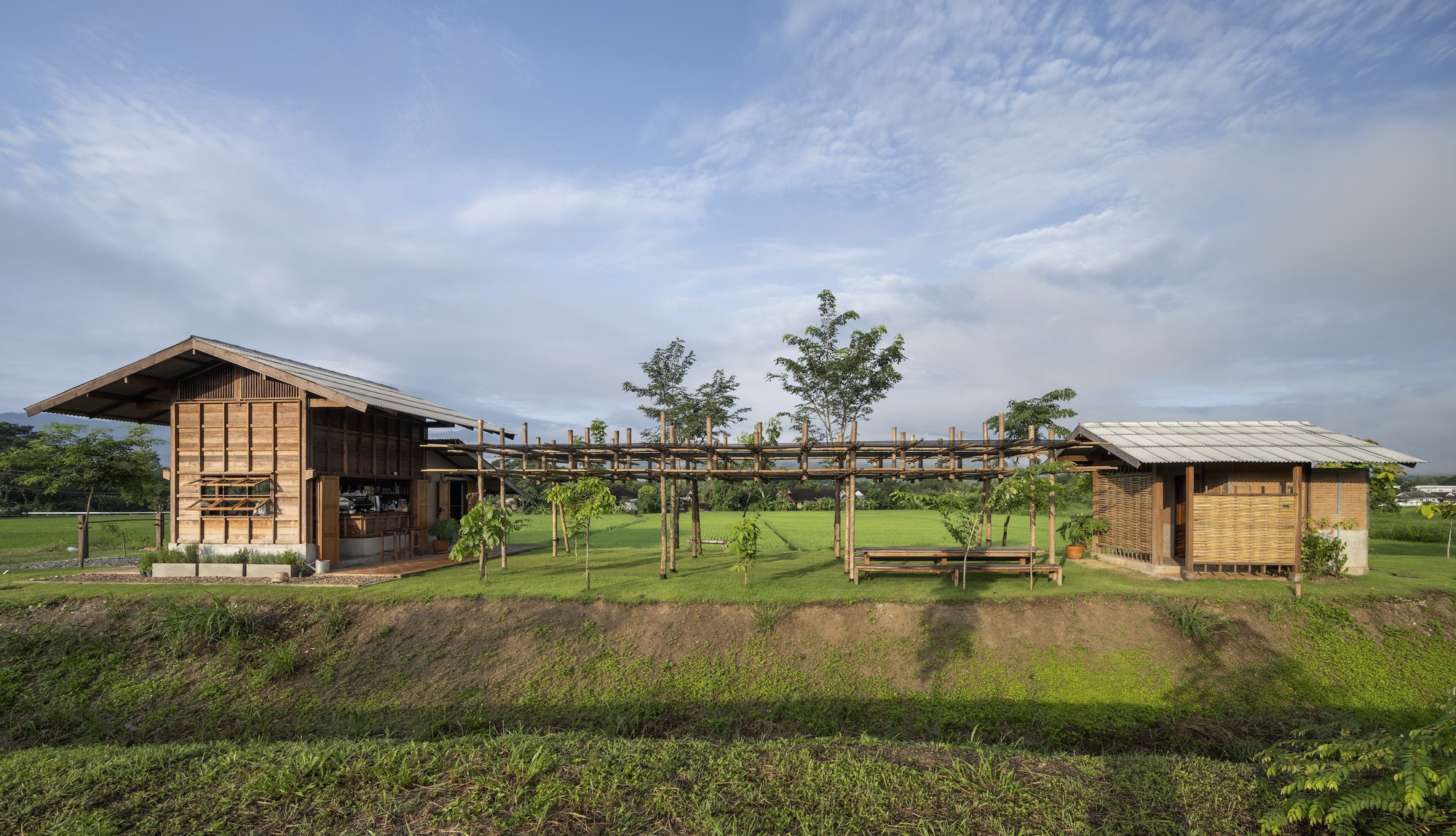 The room of this Chiang Mai café in itself has only 21 square meters of space. At the outset, that was a difficult situation that tested the ability of the design team at Yangnar Studio, a homegrown atelier based in Chiang Mai. But they stepped up to the challenge by creating a functional business space, in which everything on the premises was fused into a single entity.
And the result of all this? A piece of vernacular architecture worth remembering. It's a wholesome destination for coffee lovers that fits right into its surrounding farmlands and the reality of simple life in the countryside.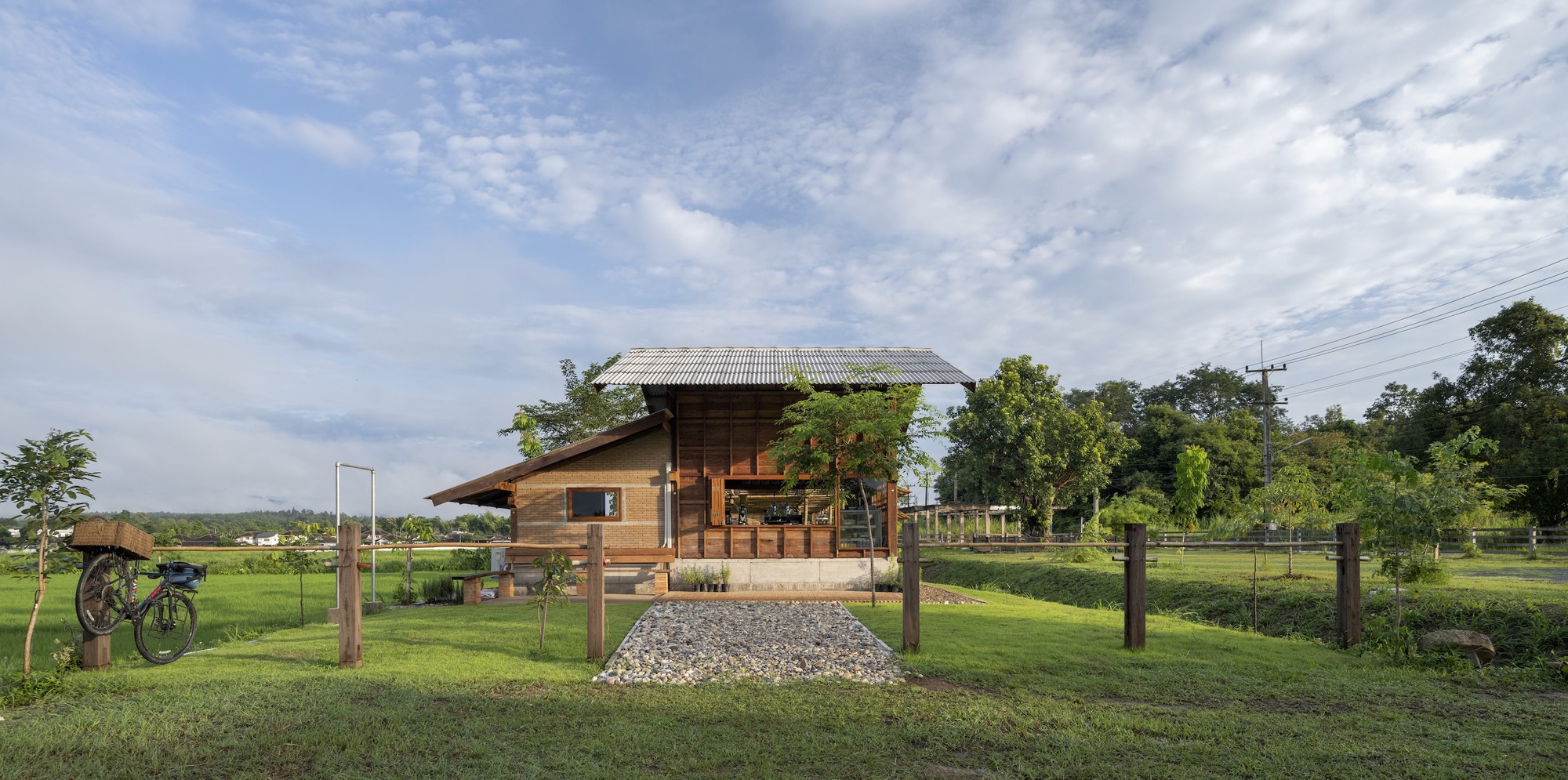 To begin with, the project owner wanted an oasis of calm where customers could sit back and relax as they enjoyed a good cup of coffee with nothing to obscure the view of the landscape. The design team responded with a three-part plan, including a small coffee shop at the front, followed by a cozy sitting area under a bamboo pavilion, and a restroom building at the farthest end.
Here, a 360-degree-view that changes from season to season can be seen all year round. Like a wallpaper from nature, it's a design that seeks to connect more closely with the natural world for lighting and ventilation. Hence, there's no need for air conditioning, which translates into huge savings and contributing in its small way to a sustainable future.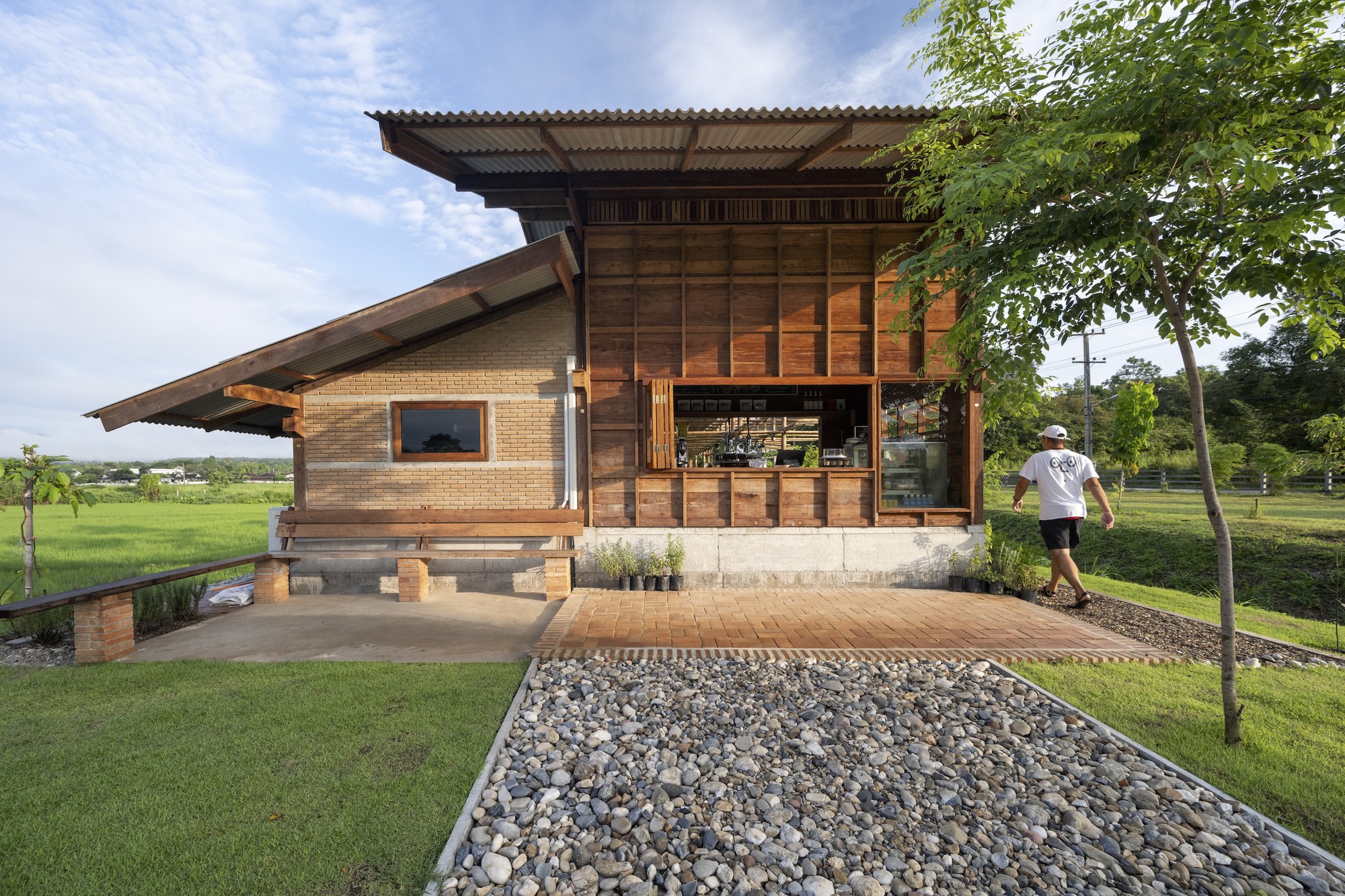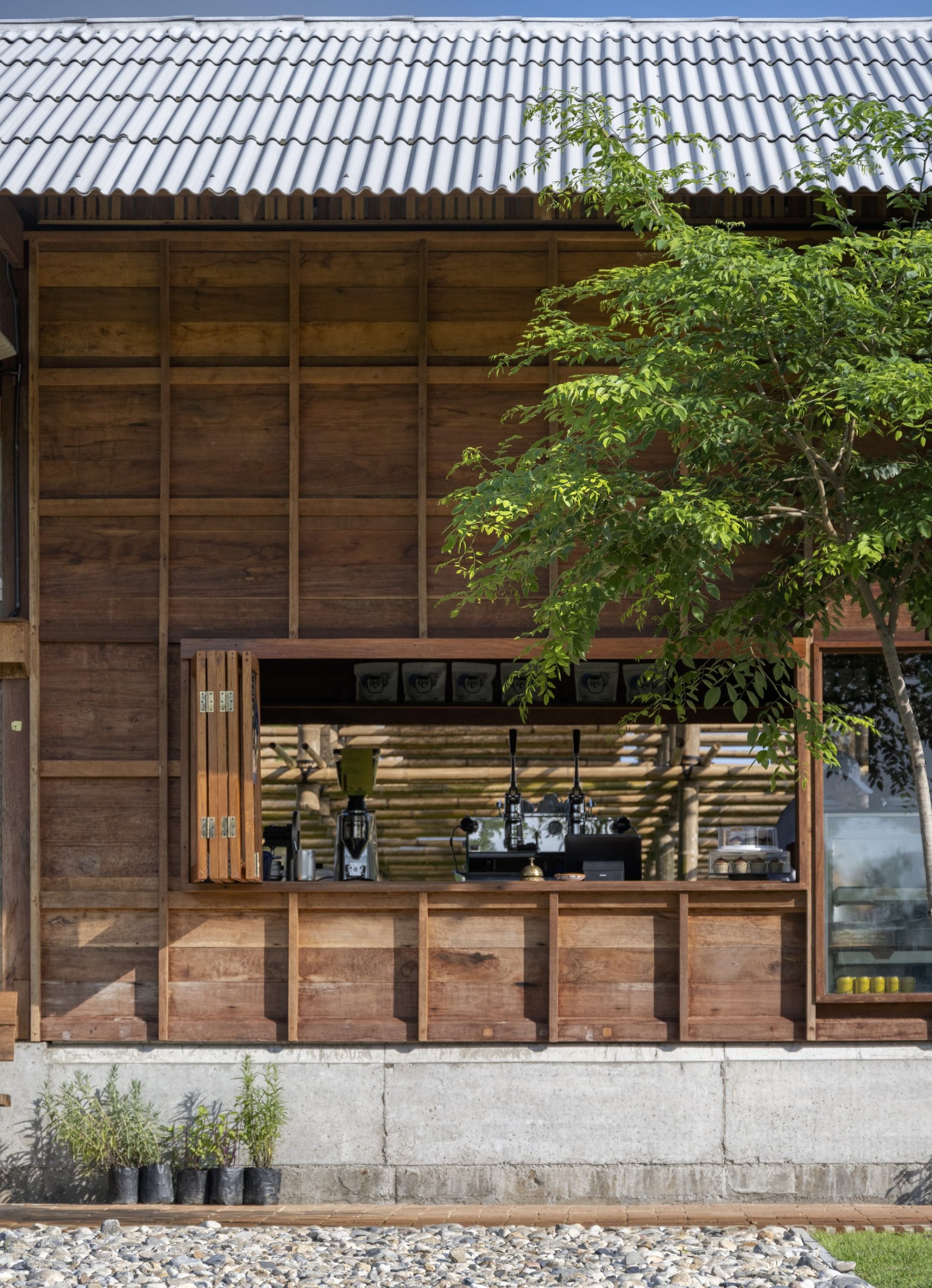 In terms of design, the coffee shop gets its inspiration from old rice granaries commonplace in this part of the country. The interior holds a coffee bar service/ordering area complete with an assortment of bakery goods. Nearby, a west-facing bakery room provides insulation against hot afternoon sun, thereby keeping the bar and customer seating area cool and comfortable.
Plus, double height ceilings add a light and airy atmosphere to the room. From the outside, what looks like a two-story building is in fact a cross ventilation system which relies on wind to blow cool outside air into the room through one side, while warm inside air is forced out through rooftop vents and outlets on the opposite side.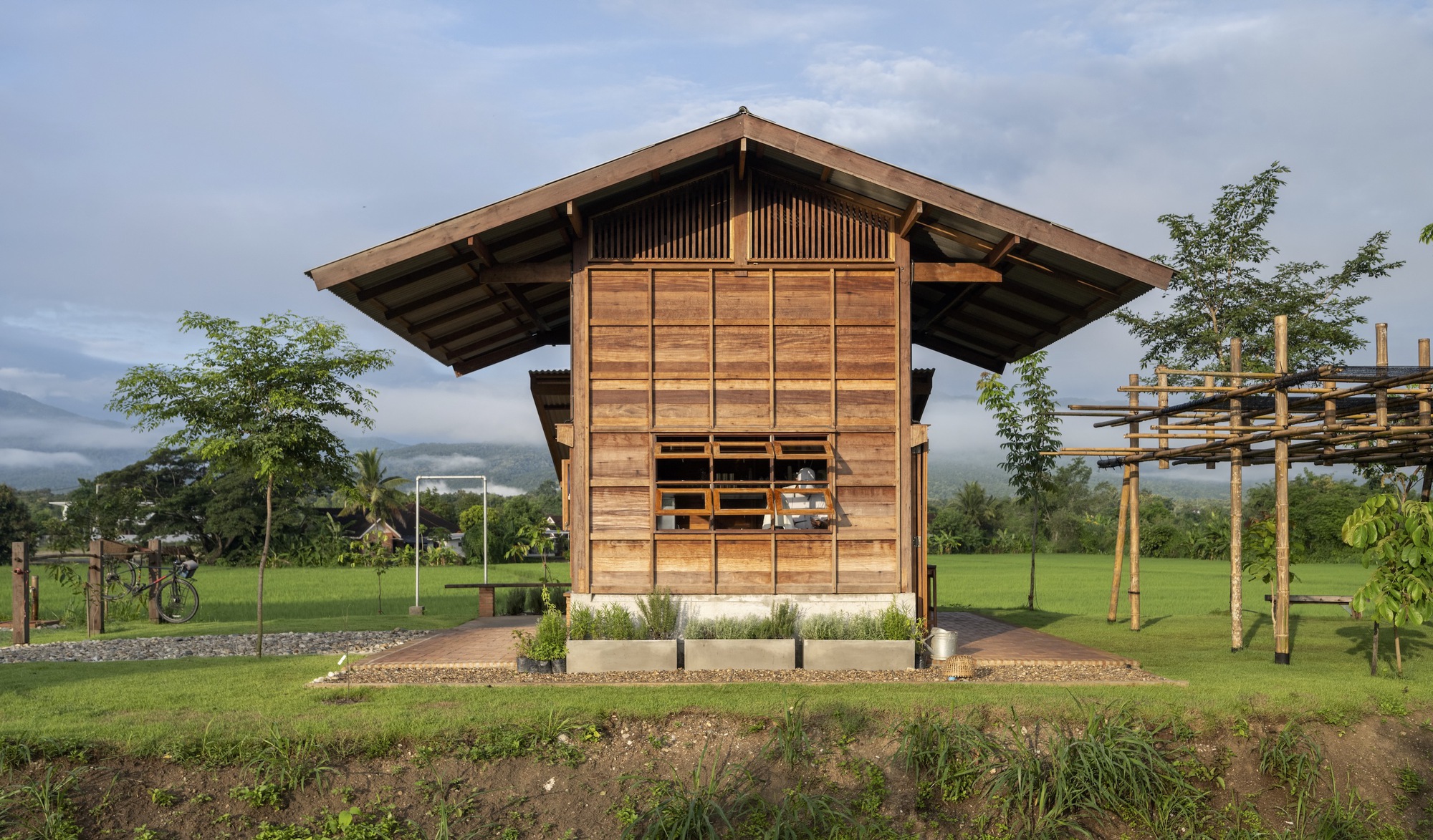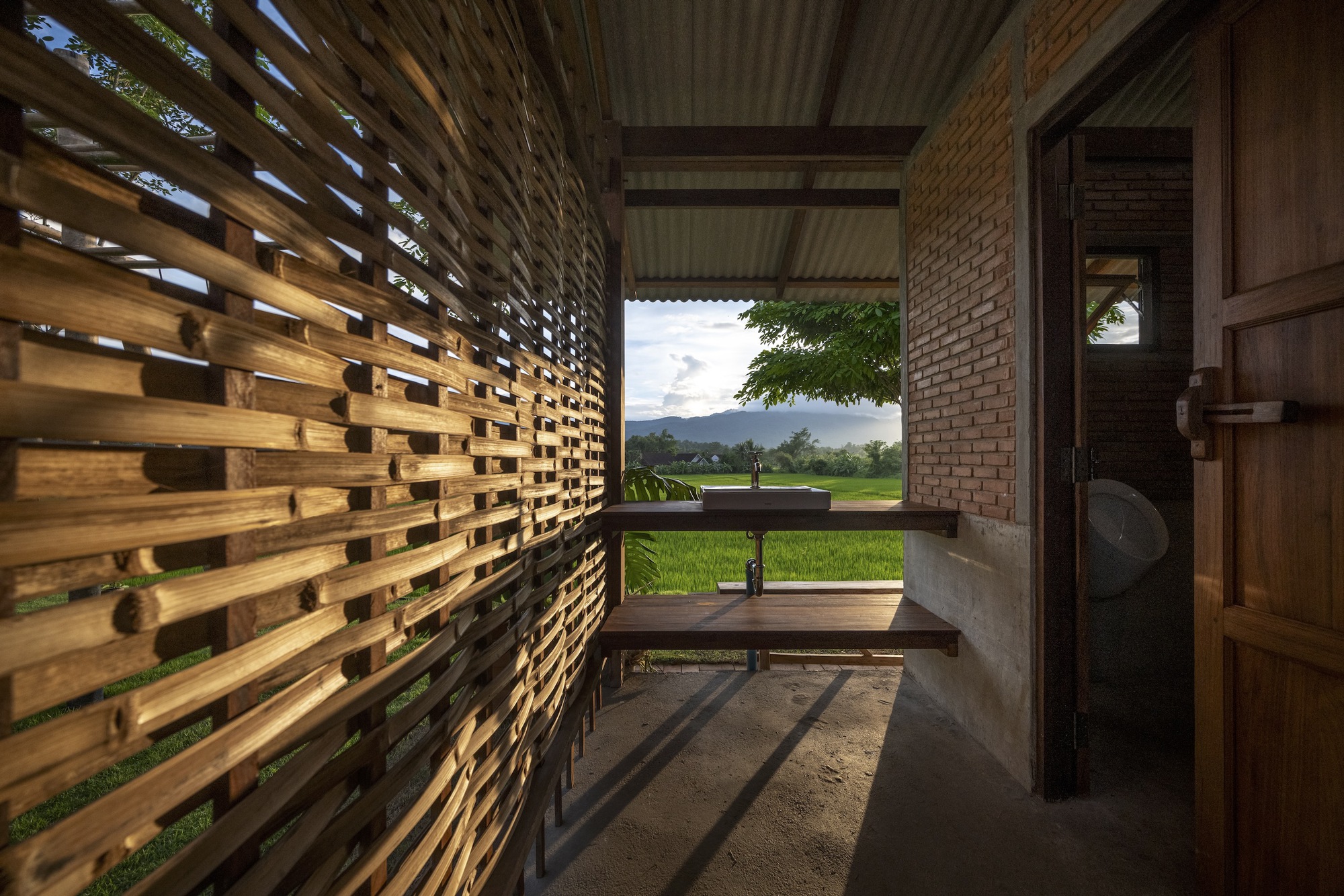 The little café amid the rice fields is built by artisans skilled in traditional carpentry using timber and other natural ingredients readily available in Chiang Mai, except for the load-bearing foundations that are made of poured cement or concrete to protect against soil moisture damage. As is the case with rice granary construction, slat wood wall paneling is installed on the inside while supporting vertical beams or columns are on the outside.
Apart from retaining much of its architectural heritage, the reverse exterior walls add visual interest that merges with a massive gable roof designed for sun and rain protection. In the fewest possible words, it's a picture of modern countryside ideas blending together beautifully into one cohesive whole.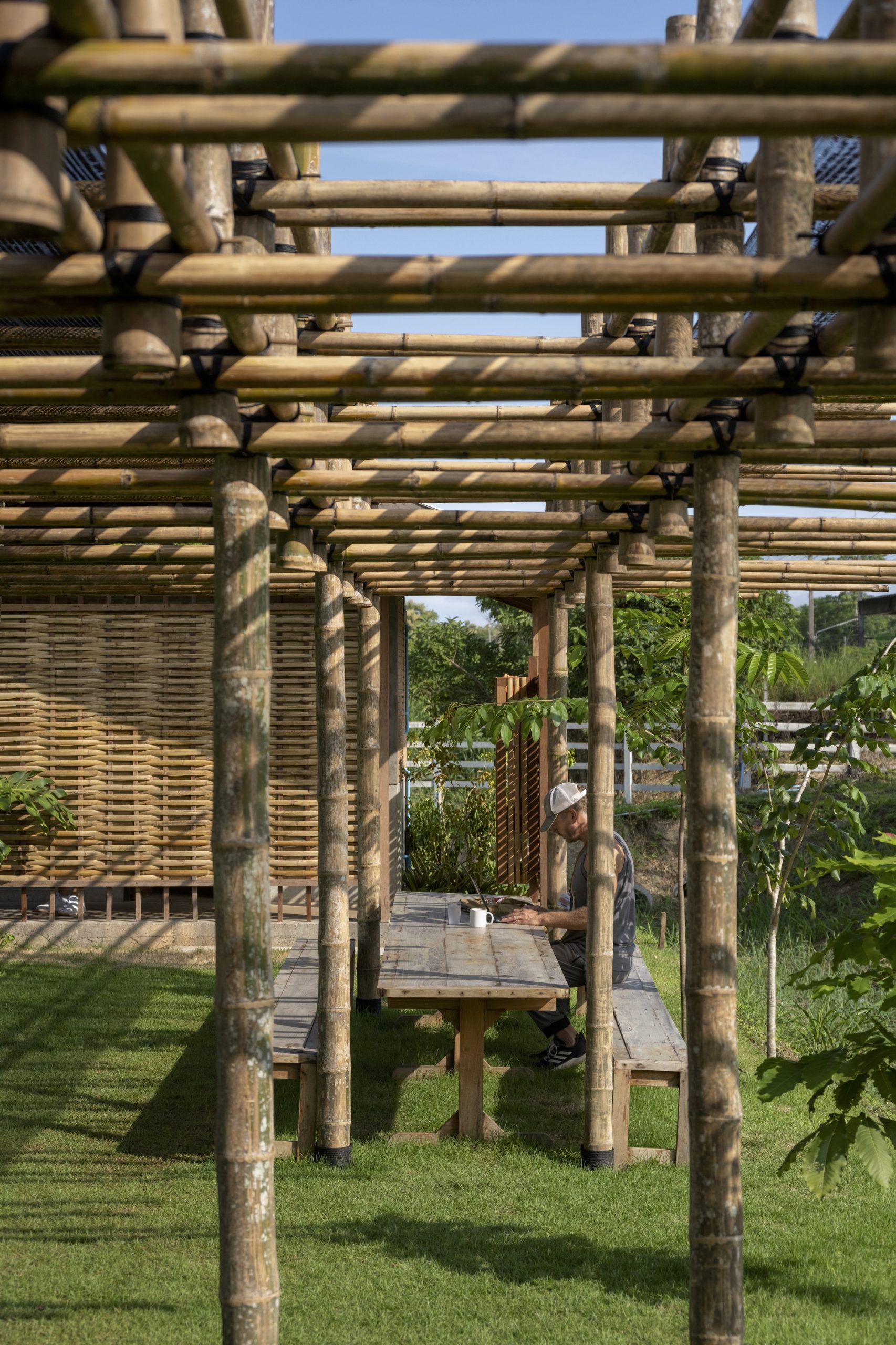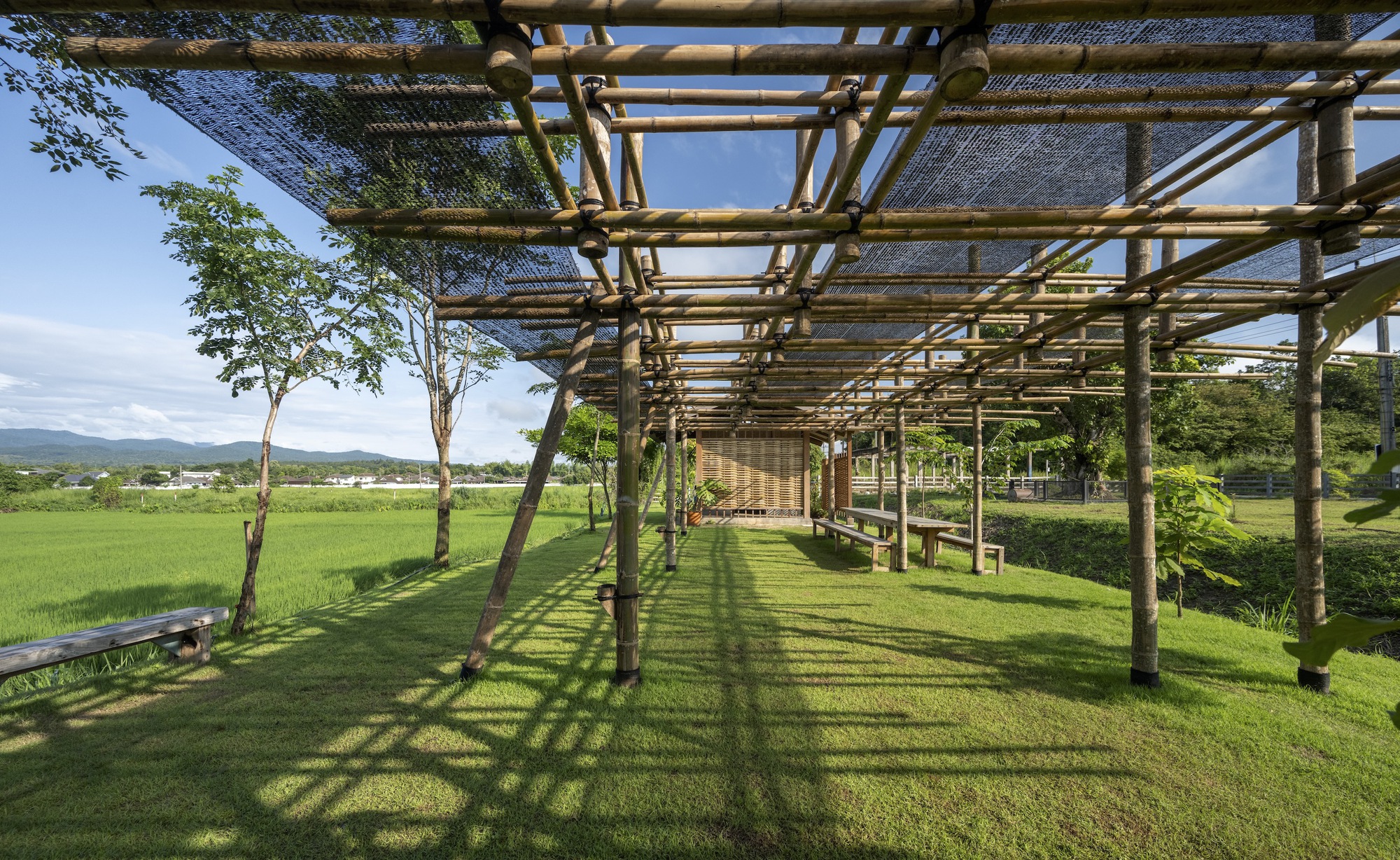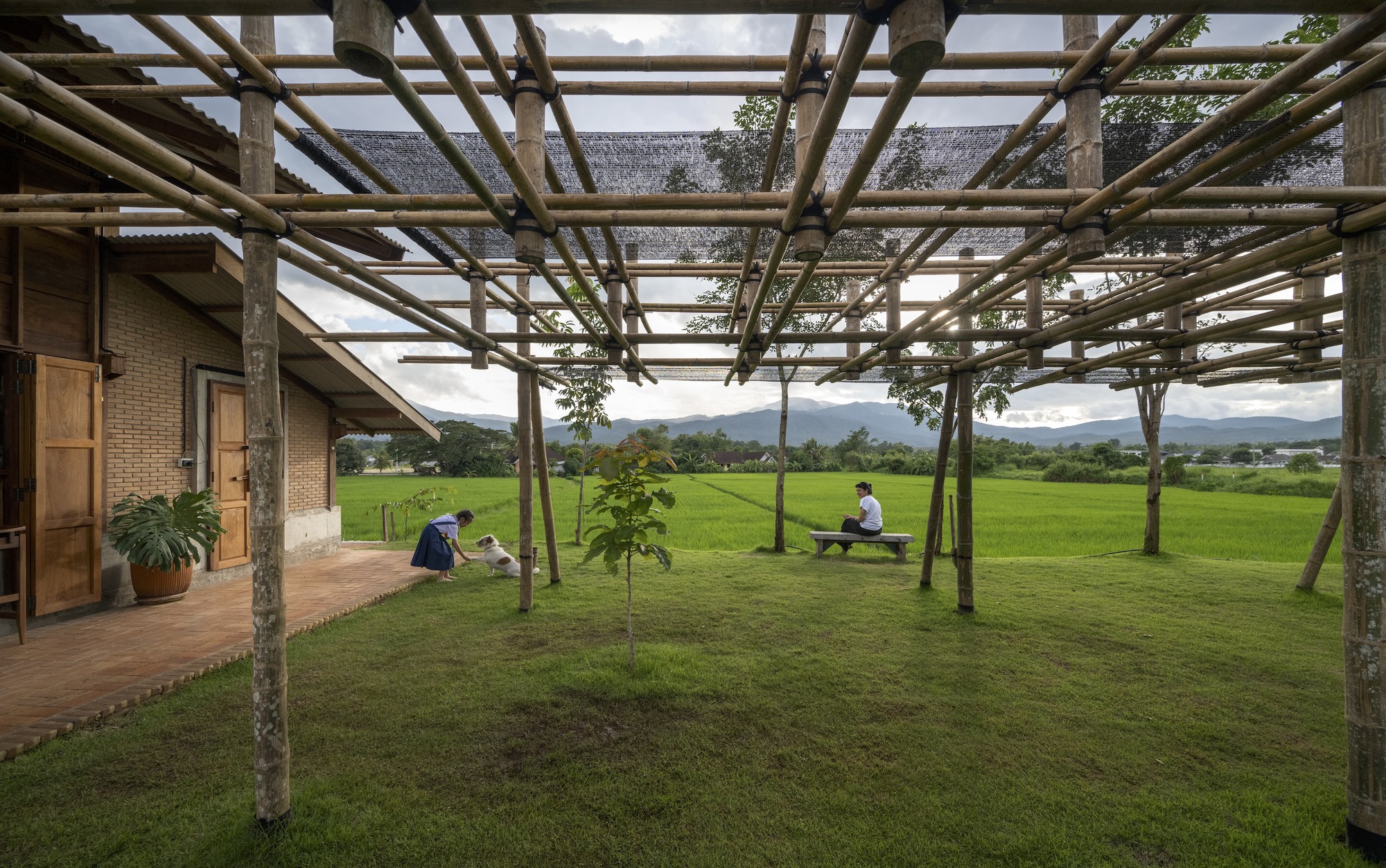 To make customers feel comfortable, this Chiang Mai café amid the rice fields has patio and outdoor furniture that can be set up anywhere under the bamboo pavilion canopy. It's a relaxation room that conveys a great deal about the humble origins of mankind and their responsibility towards nature.
To reduce the chance of exposure to harmful substances, the bamboo shades and blinds are not chemically treated to extend their longevity of life cycle. It's a design based on the belief that everything changes and everything will be replaced when the time comes.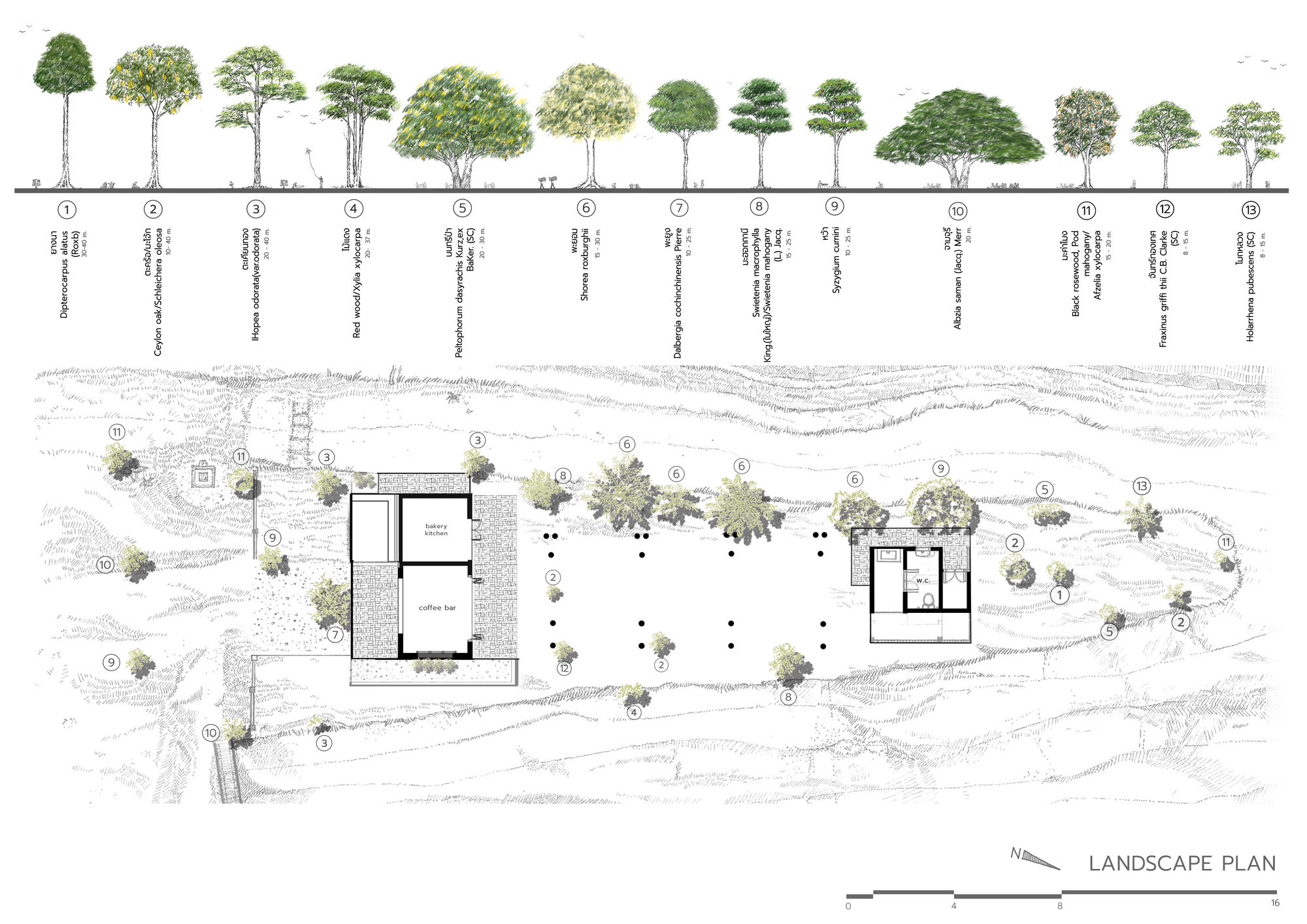 The same applies to the method of construction that's simple and straightforward. Take for example the bamboo pole footings that are wrapped in plastic bags for protection against humidity damage. Or the overhead black mesh rolls that create diffuse light and protect against the sun's harmful UV rays. They, too, get changed from time to time to ensure customer comfort and satisfaction.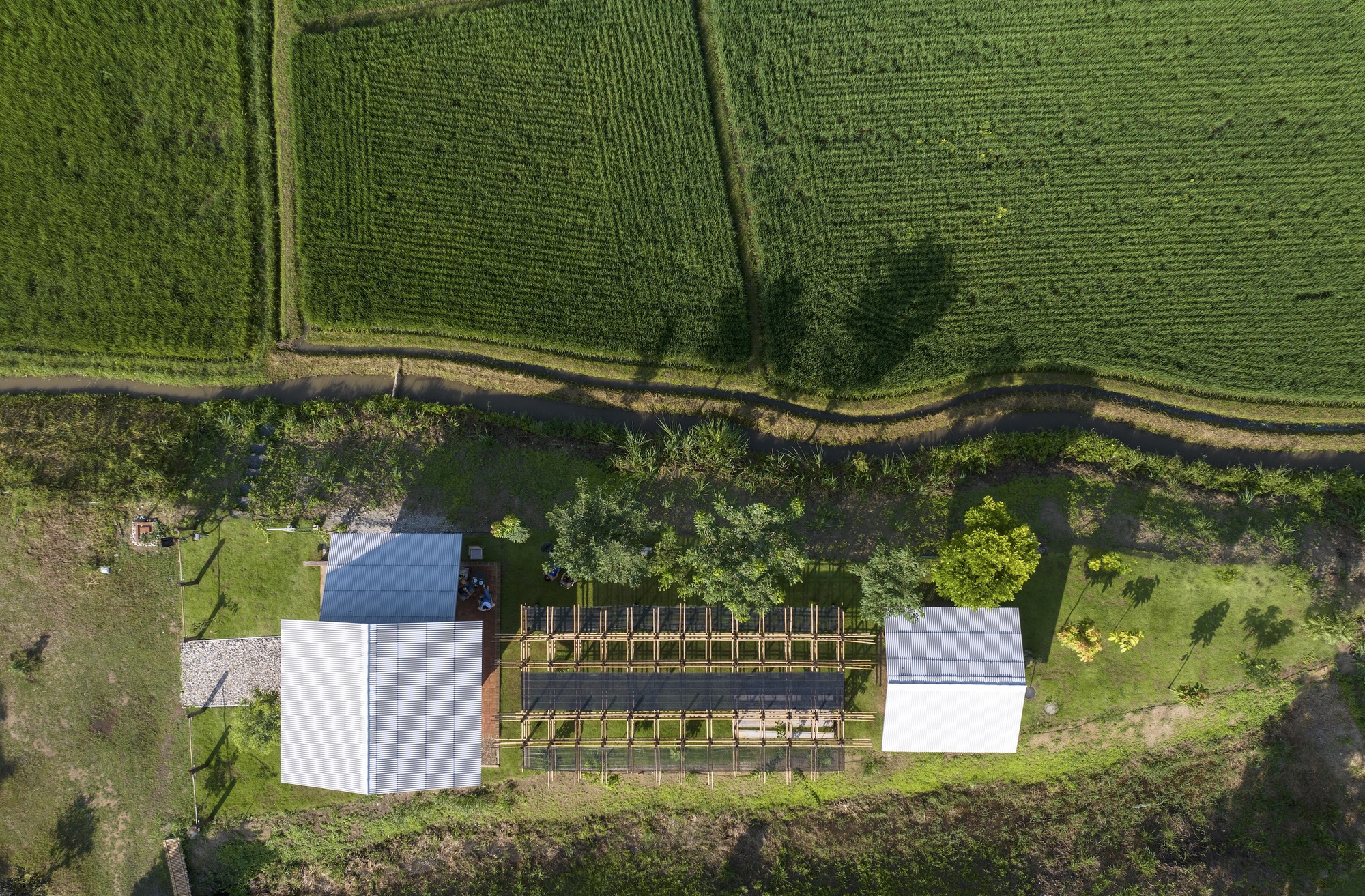 ---
Architect: Yangnar Studio (www.facebook.com/Yangnarstudio)
Lead Architects: Dechophon Rattanasatchatham, Apiwat Chainarin
Construction Supervisors: Rungroj Tansukanun, Metee Moonmuang
Builder Team: Yangnar studio builder team, Yaiwood
---
You may also like…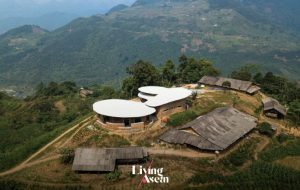 Lung Vai School: A Rammed Earth Schoolhouse Trio amid Mountains and Rice Terraces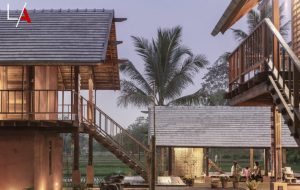 Ahsa Farmstay: Relaxing Country Lifestyle