From time to time, it's good to leave a hectic lifestyle behind. Escape to the countryside and enjoy life in the slow lane. Priceless! There's nothing like staying close to nature and being surrounded by mountains and lush paddy fields. Do something you've never done before. You can be a part of a local community by getting involved in farm activities.
/// THAILAND ///
Story: Samutcha Virapornd, BRL /// Photography: Soopakorn Srisakul // Design: Creative Crews // Structural Engineer: WOR Consultant // Mechanical Engineer: EXM Consultant // Handicrafts: Bundanjai
Collect freshly laid eggs from the chicken coop, pick mushrooms from the nursery, and get vegetables straight from the garden. Even cook your own meals using seasonal ingredients from the community. Or treat yourself to a chicken coop sauna amidst rice fields, a spa idea you never imagine. There are plenty of reasons a farmstay is the perfect experience as you learn to live in a natural environment. Ahsa Farmstay is offering tourists a chance to stay overnight on a working farm. It's a place to be happy and have fun as you interact with people in the community and learn about their heritage and culture of farming.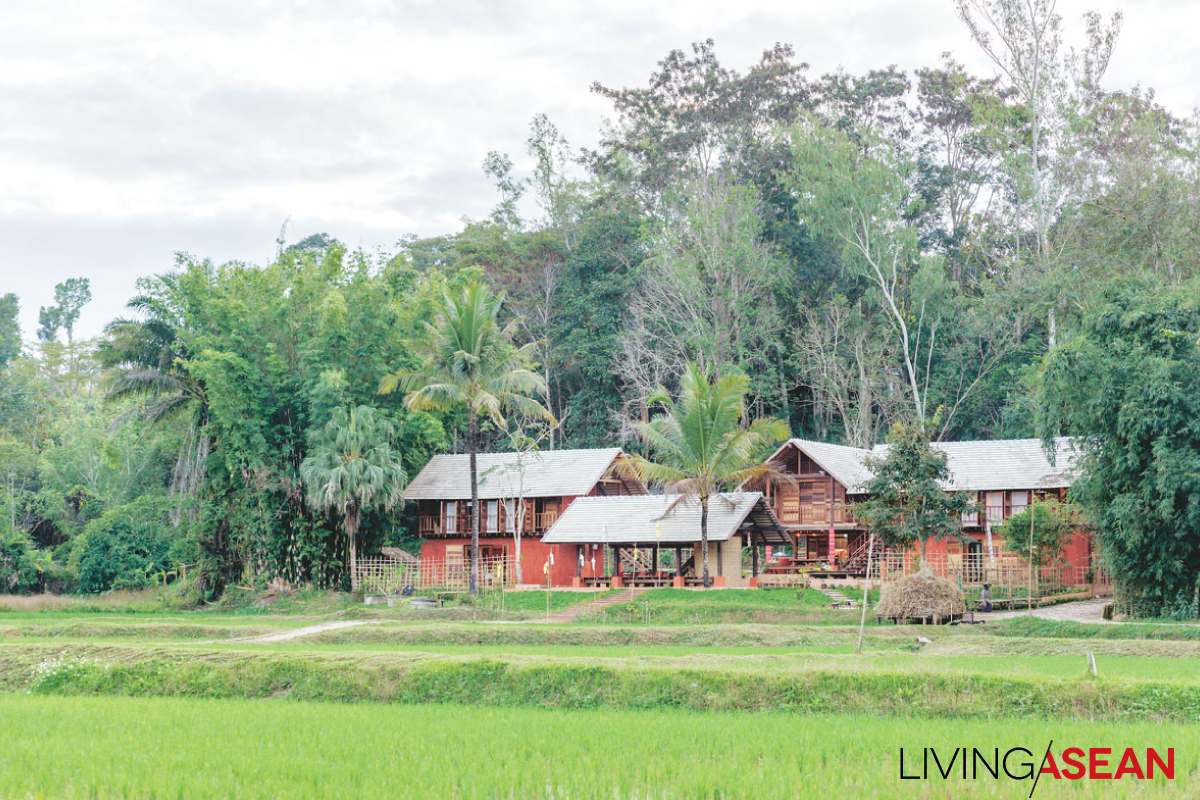 From Mueang Chiang Rai, head north towards Doi Mae Salong. About half way there, you come into Mae Chan District. Ahsa Farmstay is located on 85 Rai (33.6 acres) of land surrounded by views of the rolling terrain, fertile grounds and lush plains. The luxuriant vegetation encompassing the farm house makes the atmosphere calm and relaxing. The property owners have spared no effort in making sure visitors are happy physically and mentally as they gain an understanding of local culture and the beauty of traditional Lanna architecture.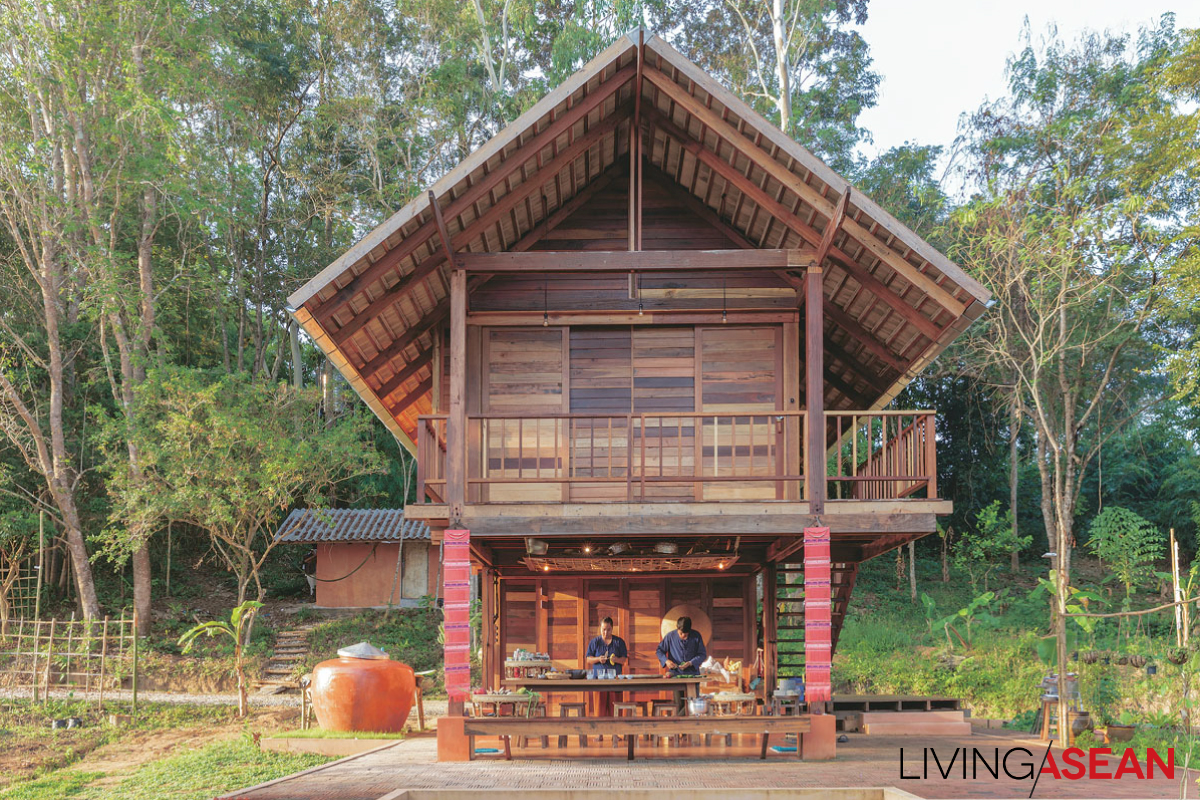 Ahsa Farmstay is the work of Creative Crews, an architectural design firm passionate about traditional Lanna architecture. By looking at the northern heritage from a different perspective, they are able to create a home that's modern in style and functions. This is achieved by reducing design detail and embracing the traditional principles of form and layout. The result is a home that combines privacy, comfort and convenience. Ahsa Farmstay consists of four buildings. The property owners' home sits at the center of the rectangular floor plan flanked by two-story buildings that provide guest accommodations on the left and right wings. There are four guest rooms in all. A pavilion that's up front by the entrance provides a place to unwind and relax, and room for activities.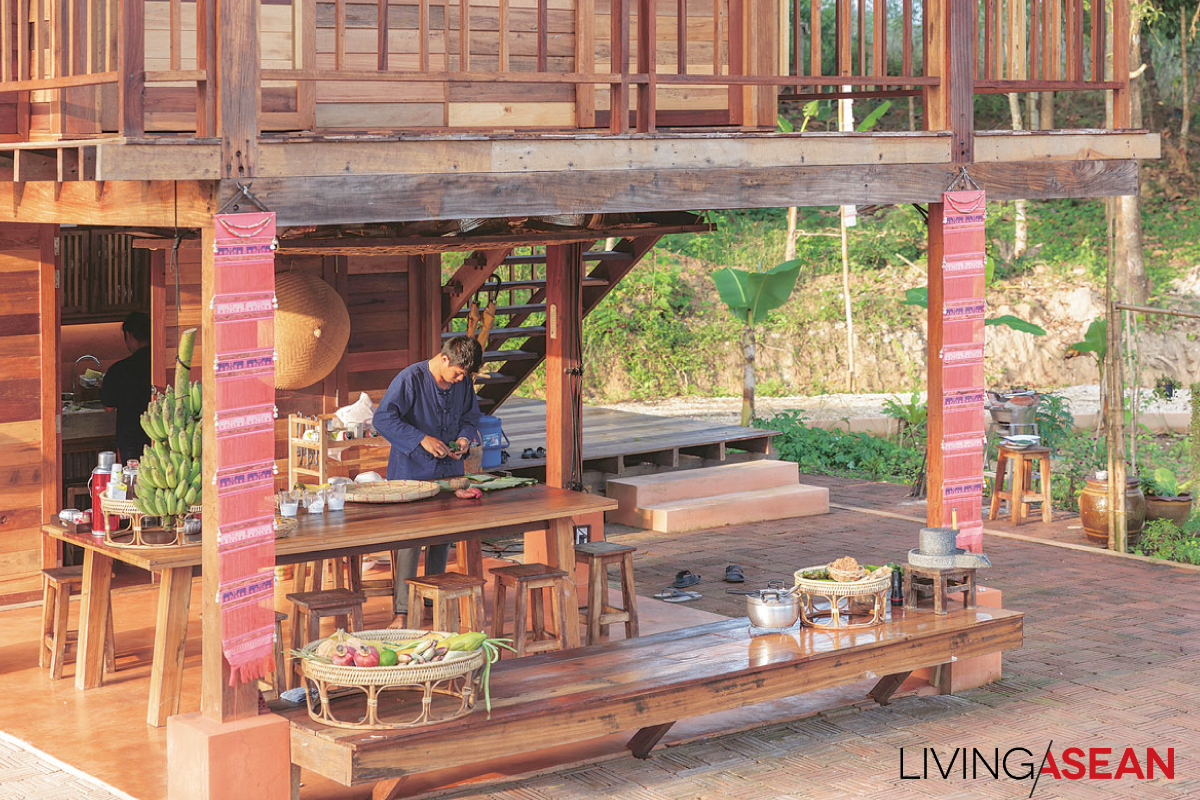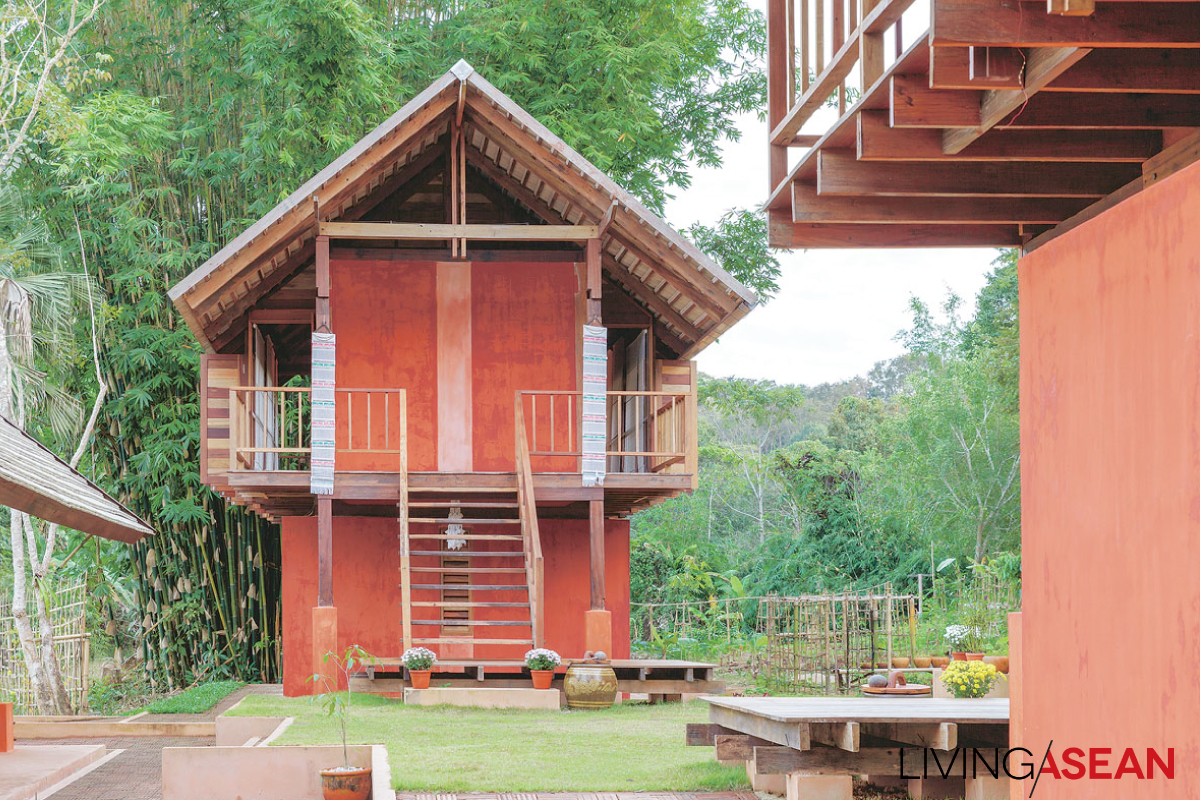 Khun Im, who oversees Ahsa Farmstay, says the design concept is inspired by a desire to be a part of the local community. This is the first phase of an on-going experiment. The farm owners are a family that reside in this community. By living on the property, they are on hand to take care of their guests at all times. Determined to preserve their way of life, they prefer not to travel some distance to work in the city. And that's what gives rise to the farmstay project.
"We have good relationships with the community and hire local carpenters to build. They are rare these days, but we find some in the neighborhood. For quality assurance, they work under our supervision. The project is built almost entirely of wood recycled from old houses. Our architects take the time to do it right. They go through each and every piece and handpick only the ones that meet specified construction standards," he said.
An architect on the team added, "Reclaimed wood is the main building material because it can be sourced directly from the community. It comes in handy since some villagers are willing to sell it as reusable material. In the end, it's about finding new use for old wood and adapting it to serve new purposes. Once the villagers see that we can do it well, they adopt the idea and technique to better suit their construction needs. In the end, it adds up to the continuation of cultural heritage and preservation of traditional Lanna architecture by passing on the skill and knowledge to young people in the community."
Besides old wood, the team is able to put other recyclable materials to good use. They include concrete roof shingles that are rare nowadays. They are made the old-fashioned way using the pedal powered pottery wheel. Also known as the kick wheel, it's an ancient manufacturing technique that has been passed on in the local community. To prevent leaks, the roof is covered by two layers of shingles. The weathered concrete look is beautiful. That's not all. Ahsa Farmstay is also decorated with items of handicraft and furniture sourced directly from the community.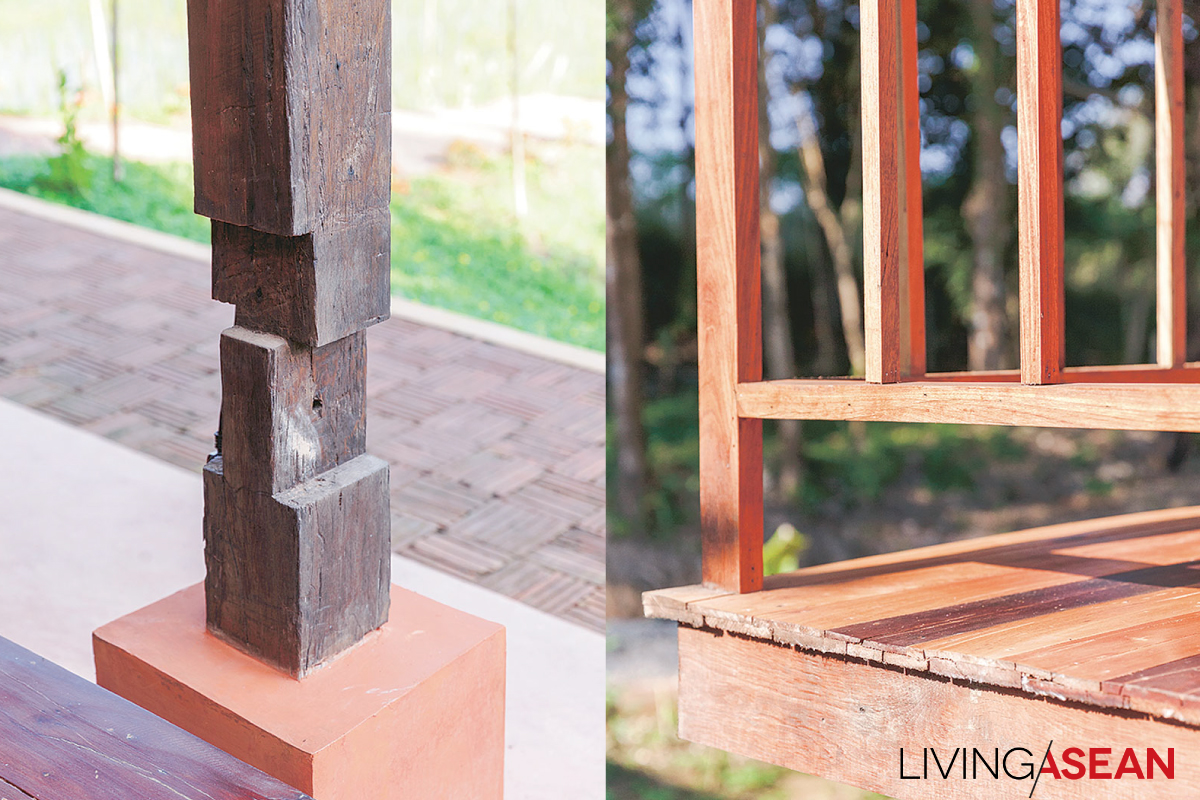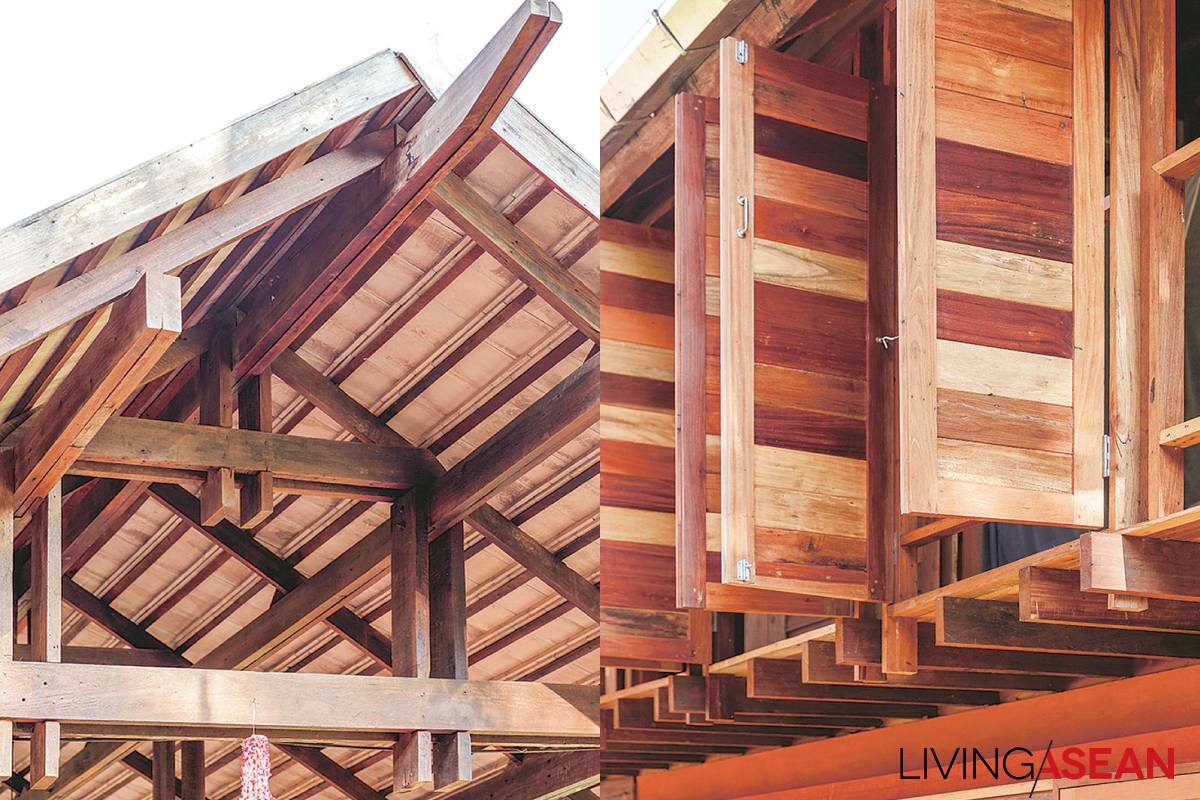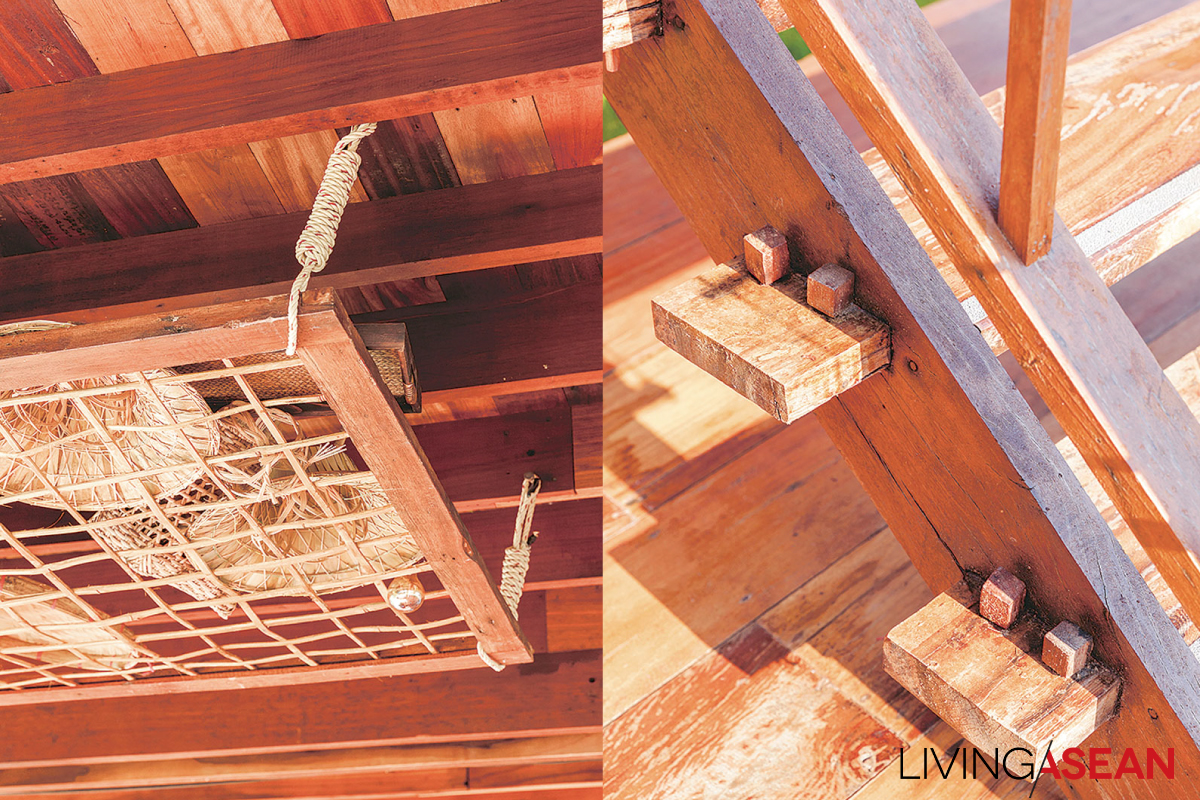 All things considered, the atmosphere is warm and inviting. It gives other families in the neighborhood some idea of how they can offer a form of hospitality and lodging where guests can stay overnight at the home of locals and learn about their culture. It's an opportunity to play host, cook food and share their lifestyle and culture. Like so, Ahsa Farmstay is planning on providing more guest rooms as demand for cultural tourism increases. And it works both ways. New lodgings will be built by local carpenters, which in turn generates supplemental incomes for the local community. In the big picture, it amounts to promoting a kind of tourism intended to support the conservation of cultural heritage, skill and knowledge in the community.
The designer wraps it up nicely. "It's important that visitors refrain from causing changes in the community's way of life. More than anything else, the farmstay provides the opportunity of learning something new about rural culture. Visitors are welcome to join in daily activities of locals. Architecture has a role to play for the betterment of society. The homes built by locals not only promote cultural tourism, but also contribute to efforts at sustainable development in the area."
By looking at old Lanna architecture from a new perspective, a design team is able to create a home that's up to date in style and functions. This is achieved by reducing design detail and embracing the traditional principles of form and layout. The result is a home that combines privacy, comfort and convenience.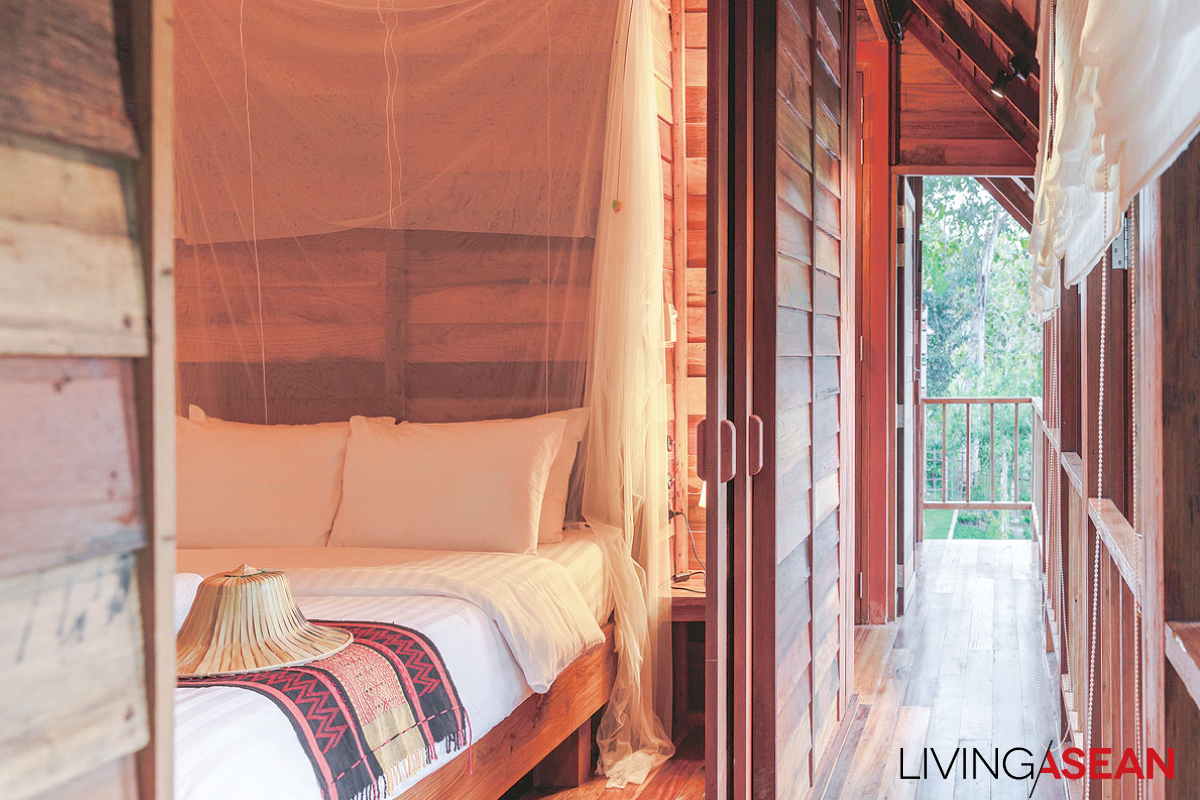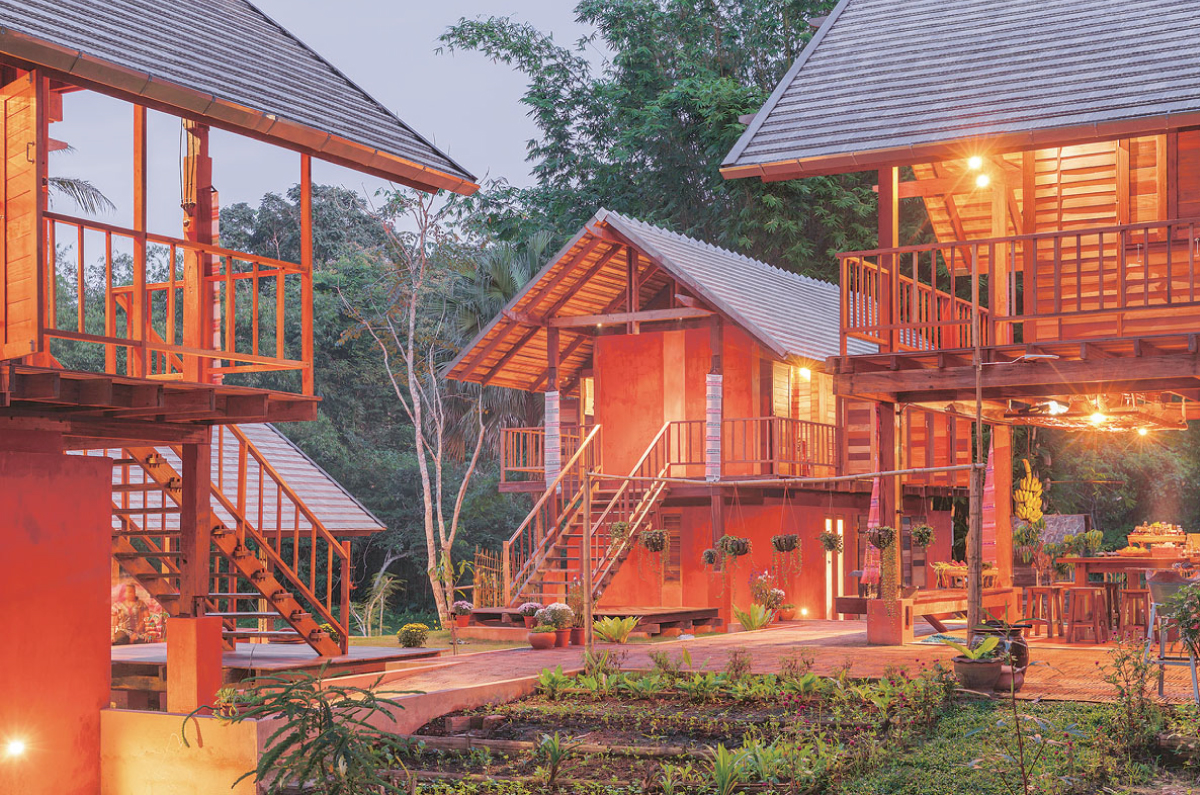 This story is from Modern Vernacular Homes Special Issue: Happiness Matters. (Available here in Thai and English)
Ahsa Farmstay is one of the 13 Special Homes from the Modern Vernacular Homes: Happiness Matters Issue, Thai and English version by the Baan Lae Suan Team. The issue is available now! If you are interested, please contact us. >> www.facebook.com/messages/t/Baanlaesuanbooks

---
Ahsa Farmstay is located on Soi Wat Mae Salong,
Soi 1, Mae Salong Village, Tambon Pa-sang,
Mae Chan District, Chiang Rai Province.
Tel: 09-7248-4674
www.ahsafarmstay.com
www.facebook.com/ahsafarmstay

You may also like