Garden Therapy Ideas from Baan Lae Suan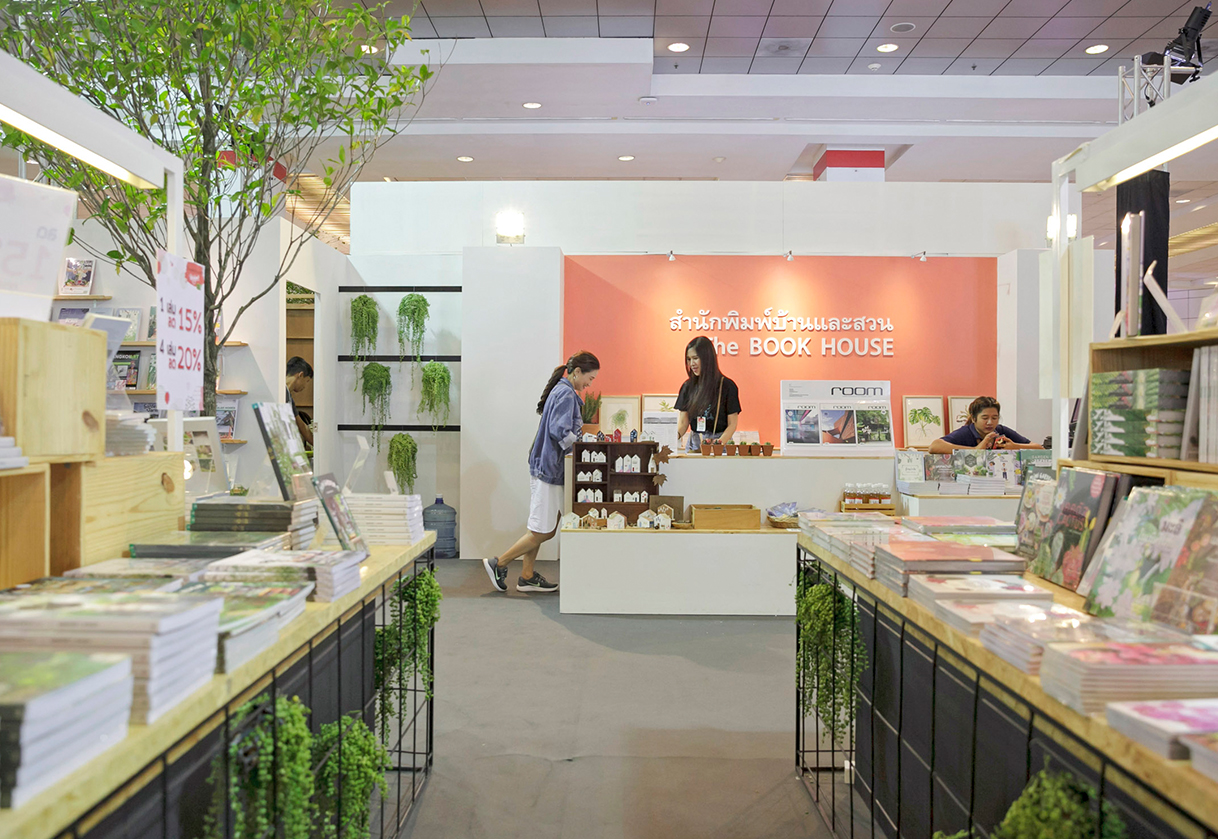 Baan Lae Suan Printing and Publishing invites you to take a tour of the Garden Therapy zone. The show is rich in exhibits about how to grow a garden and turn it into a therapeutic environment that helps you live better through plants. It's aimed at sharing garden-related ideas and advancing the concept that spending time outdoors can reduce stress and promote a sense of well-being. Because stress and fatigue can lead to a whole host of health problems, it's a good idea to supercharge your sense of smell, sound, sight and touch and transform your life. Get your hands dirty and start growing some flowers and scented herbs. There are plenty of garden paver ideas to make the best of your outdoor space and make it safe to walk barefoot. Throw in a small waterfall and let the sound of a gently babbling brook help you relax. Stop by and attend a conversation on waterfall garden design while you're there.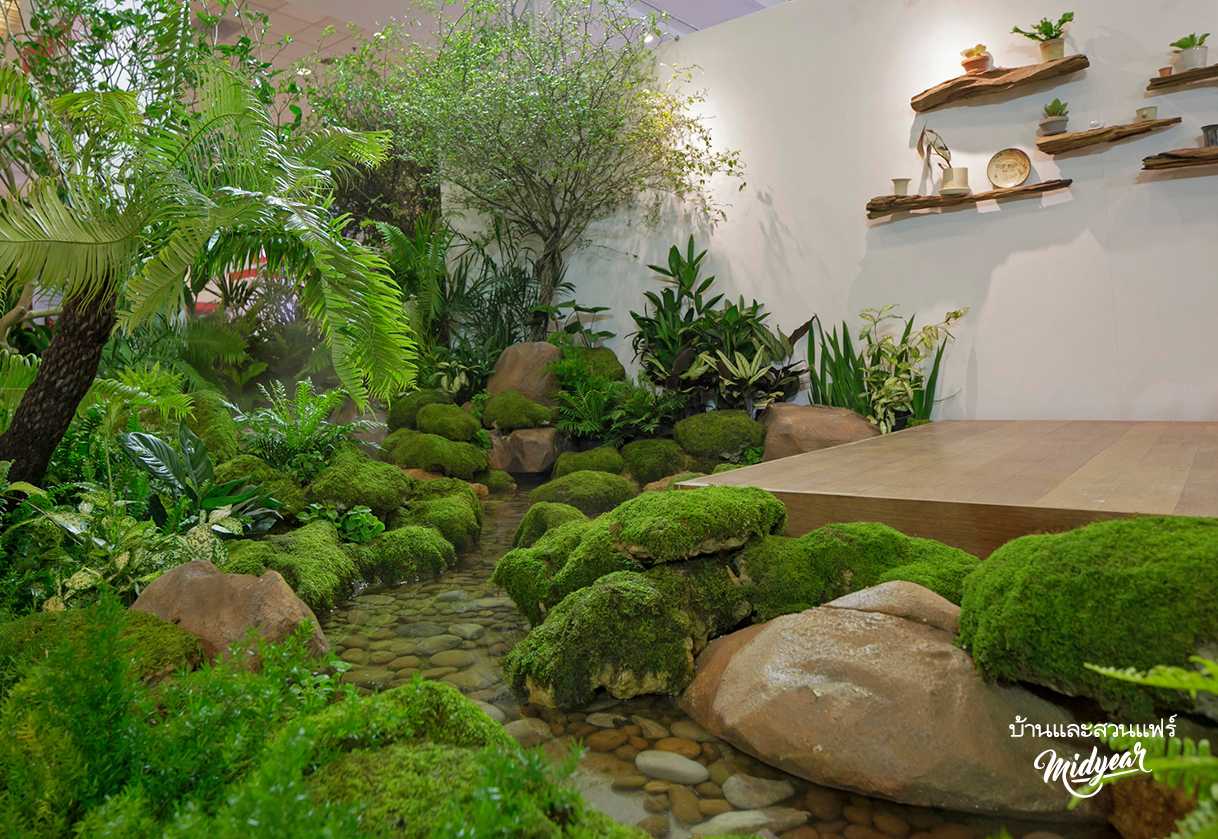 There's also a workshop on cactus and bonsai cultivation and other growing techniques. Enjoy light meals and take home some organic gardening and farming products. Enrich your life. Discover many interesting books from Baan Lae Suan Printing and Publishing before you leave. For information about the show, please visit: www.facebook.com/Baanlaesuanbooks
Relaxing Break at the Food Pavilion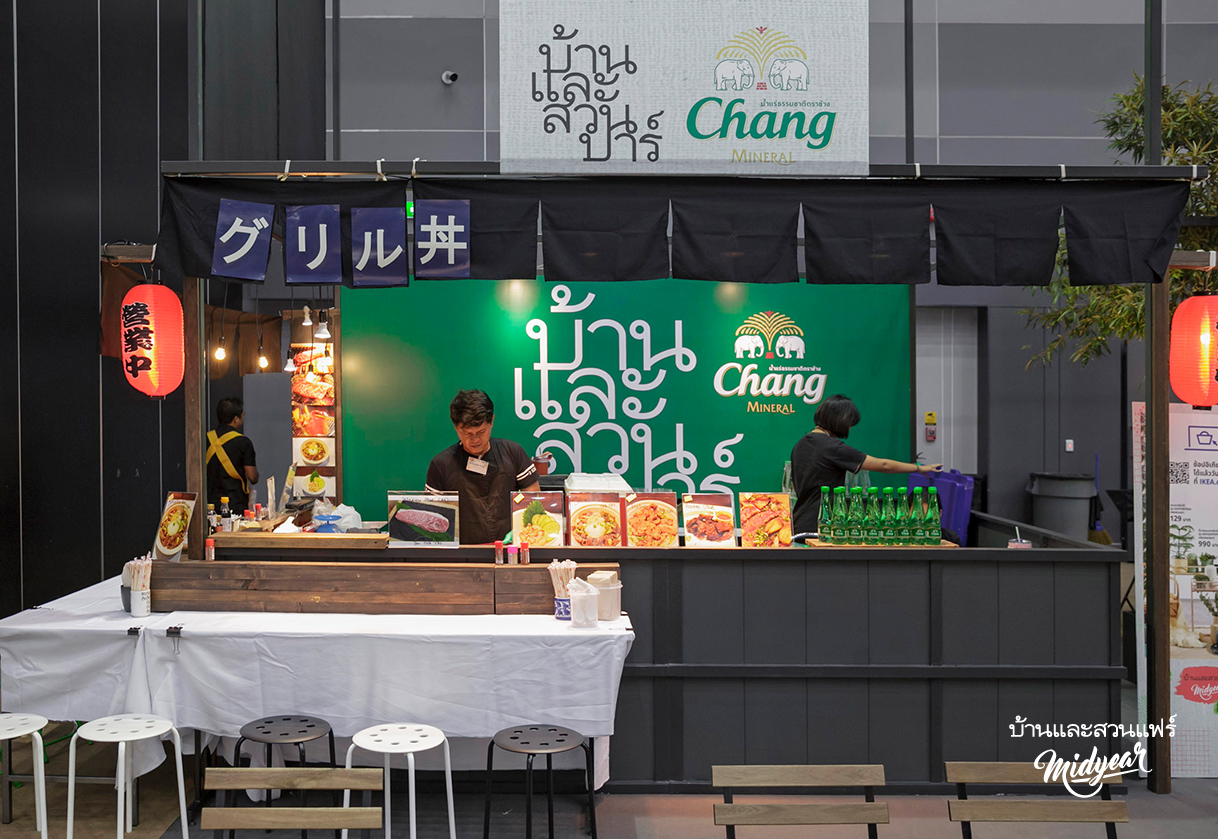 The Food Pavilion is a destination for people meticulous about a healthy lifestyle and the art of making delicious food and drinks. Restaurants that embrace this concept are invited to participate. For the love of good food, their menus are rich in items created for this year's special event.
The floor plan layout offers good views of the trade show. It feels like walking into a happy village with good food and beverages. An art and craft zone with plenty of interesting exhibits is located nearby. There's an atmosphere of Asian community space with an emphasis on food craft techniques to enhance taste and quality.
Thirsty? Stop by Baan Lae Suan Bar to recharge your mind and body with refreshing beverages from the Chang brand and the most sought-after Japanese beef rice bowl by Grill-Don. They make a perfect duo. You will love the sauce on the flavorful beef meal that's served with Japanese-style onsen eggs. The recipe is great either as primary dish or as light meal made for social occasions. You have to try it for yourself at the Midyear Edition of Baan Lae Suan Fair 2019. There's live music to create a positive and uplifting atmosphere as you enjoy good meals with friends and loved ones.
—
Garden Walkway Design
Plenty of garden layout ideas for your yard.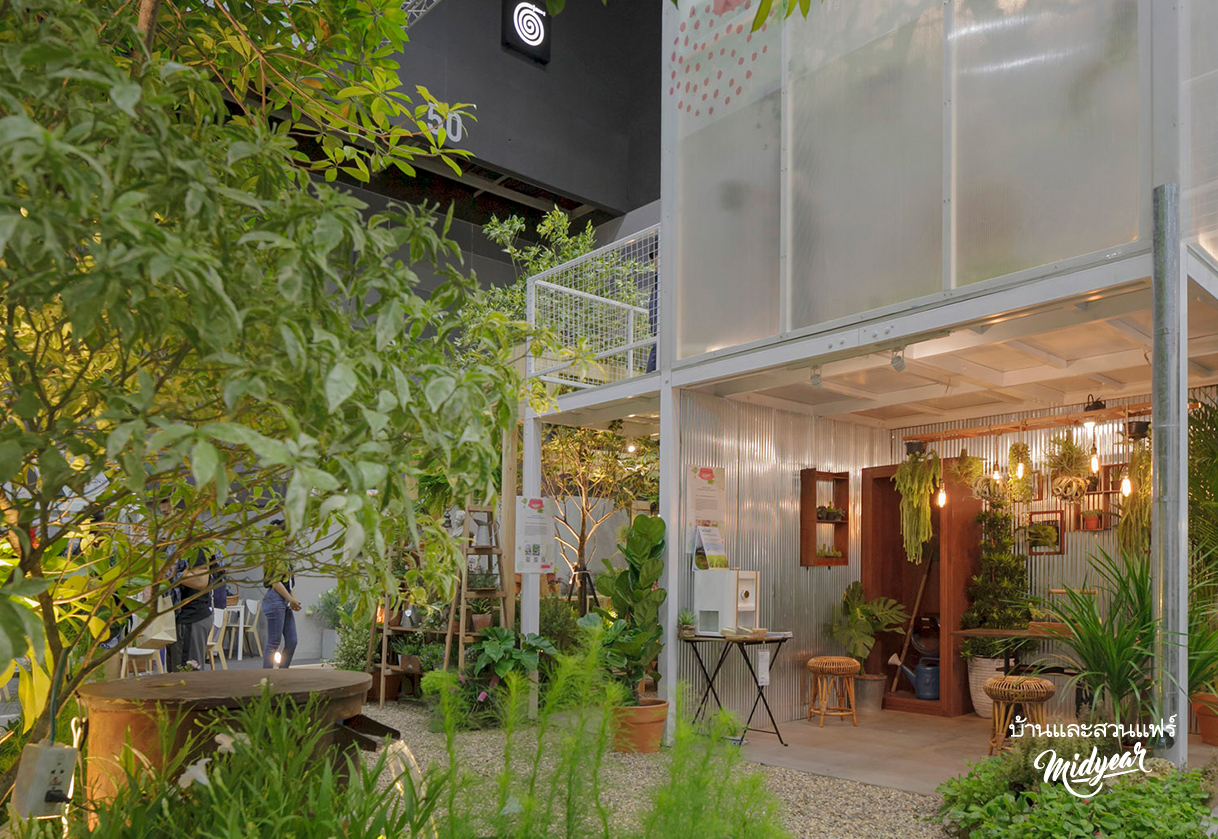 This year's Green House Zone places great emphasis on ideas to create walkways for your yard. Our show garden is rich in exhibits about designs for the front yard and backyard, the side of a building, even the patio or veranda. More than anything else, they aim to inspire you to spend time outdoors and turn your yard into a lush garden for rest and relaxation. Eight garden designs that you can do have been chosen for the Midyear Edition of Baan Lae Suan Fair 2019.
Baan Lae Suan publishes practical guides to various aspects of home and gardening, each designed to answer specific space and lifestyle needs. Its bestsellers include "Pocket Gardens", "Sentimental Gardens", "Handmade Gardens", "Junk Gardens", "Container Gardens", and "DIY Hanging Planters".
IDEA 1: An old story retold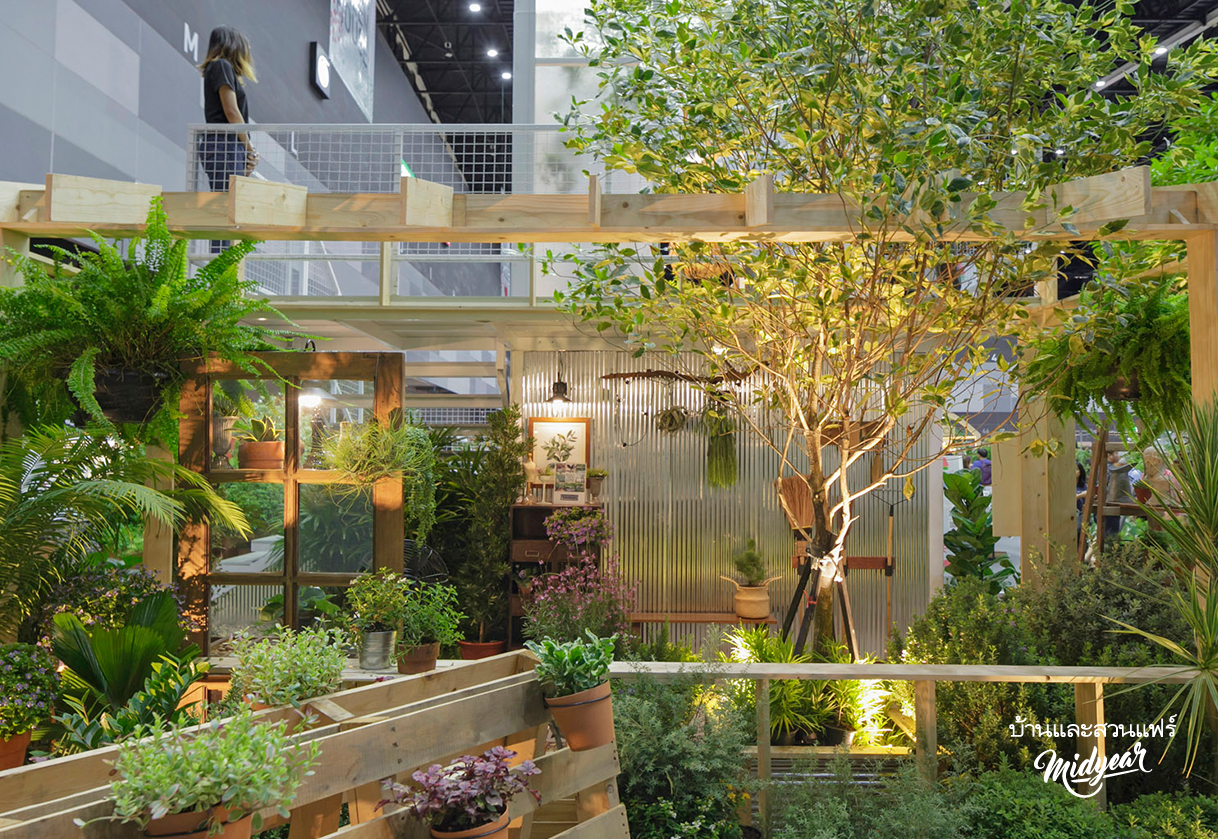 A front-yard garden is very important since it makes a strong first impression and reveals something about your personality. Likewise, the home of an art collector is decorated with garden props that have artistic and sentimental values. They can be anything from antique door panels to ornate armoires to storage shelves and racks used to grow a vertical garden wall. Anything goes. Even an old oil barrel can function as the load-bearing part of a small waterfall. Add the lush greenery and DIY flower arrangements, and you get a mesmerizing curb appeal.
IDEA 2: Garden with cute vintage touches
There are many things you can do to give your outdoor space vintage flair. A lot of old stuff lying around your house is taking up space. With a little imagination, you can turn it into attractive garden décor. The vintage garden is about finding creative ways to repurpose, reuse and recycle old items into something useful. They can be anything from old kettles to pots and pans for cooking, to unused buckets, bowls and plates… you name it. Besides the power of storytelling, they make the garden come alive and help reduce trash.
IDEA 3: Container gardening ideas
Growing plants in containers provides many advantages when space is an issue. Make sure your plants get enough sunlight. To grow a beautiful container garden, choose the right pot or planter for your plants. Take into account the shape, size, color and texture to ensure they fit in a new environment.
IDEA 4: Greenhouse growing
The green thumb workspace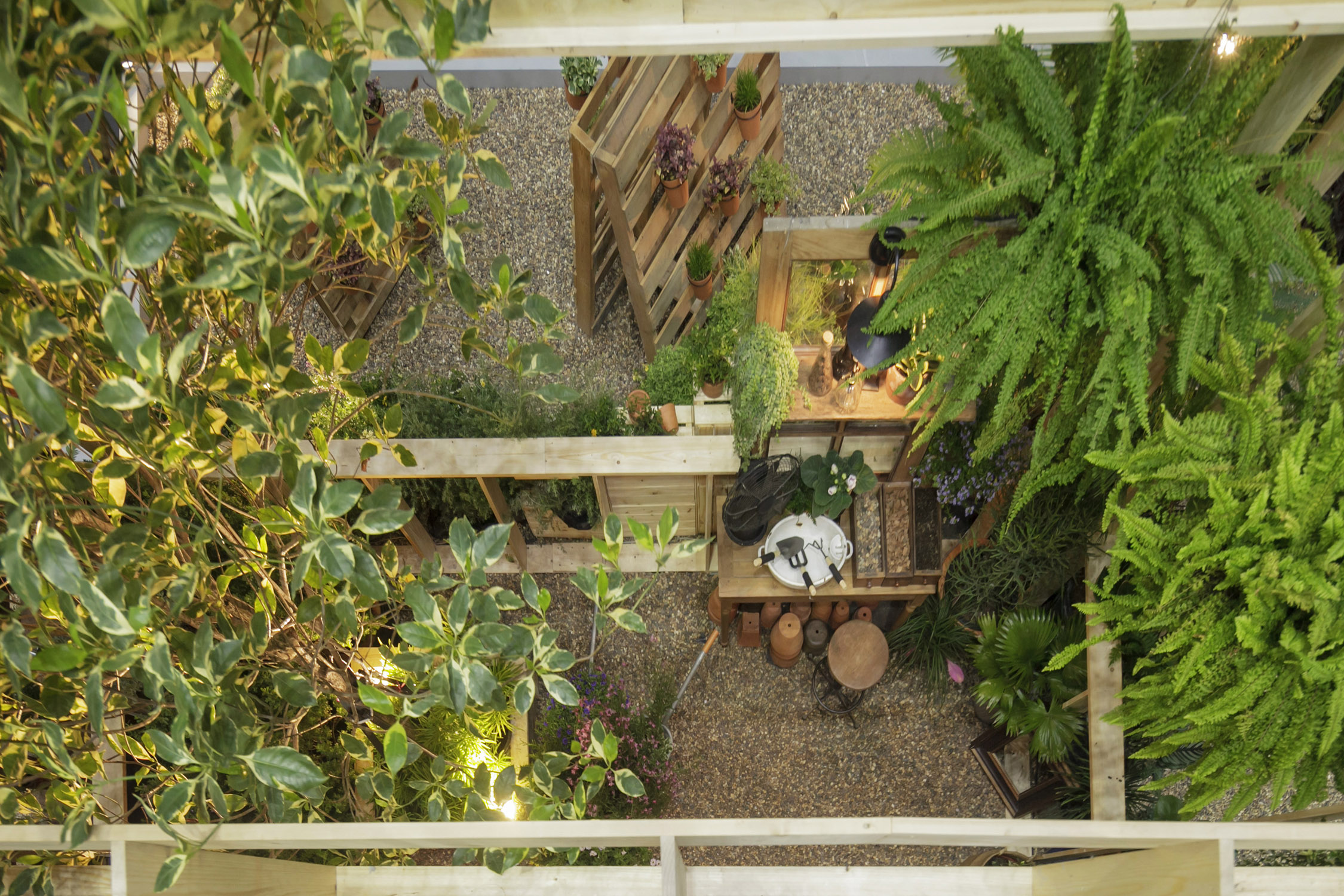 The west side of the house gets the bulk of the sun. To reduce heat gain in the building, plant trees in that direction to keep the house in shade. It's a good idea to put in a greenhouse in the area. Collect leaves from the roof and recycle them along with other organic materials to make compost, which is rich in nutrients. The greenhouse can be divided into dry and wet areas. The former is ideal for garden tool storage. Put in solid garden pavers to prevent slip and fall accidents. Use the wet area as a nursery for young plants. Trees and vegetation in this area help lower surface and air temperatures, resulting in thermal comfort in the interior.
IDEA 5: Reflecting Garden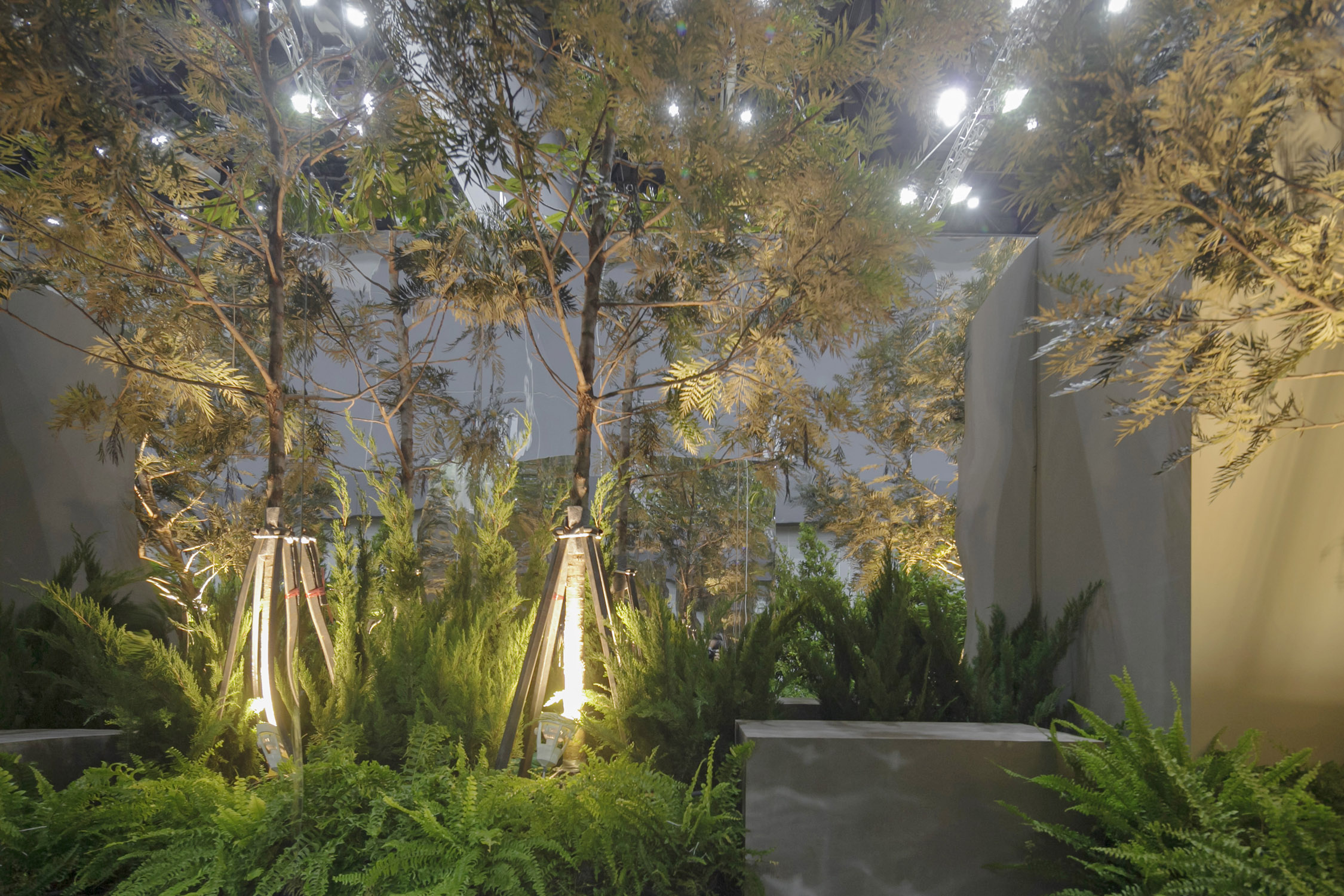 Growing a living-wall garden on the fence helps reduce claustrophobic feelings. It's an easy way to turn your boring old fence into a lush privacy screen. It's a good idea to put in a garden walkway to divert attention away from narrow space and high walls. Install a glass panel or two to increase the sense of space and provide focal points in the garden. By placing two opposing flat mirrors, you get endless reflections. It's amazing how infinity room effects paired with tranquil space can make one feel calm in the comfort of his home.
IDEA 6: Privacy screen – graffiti style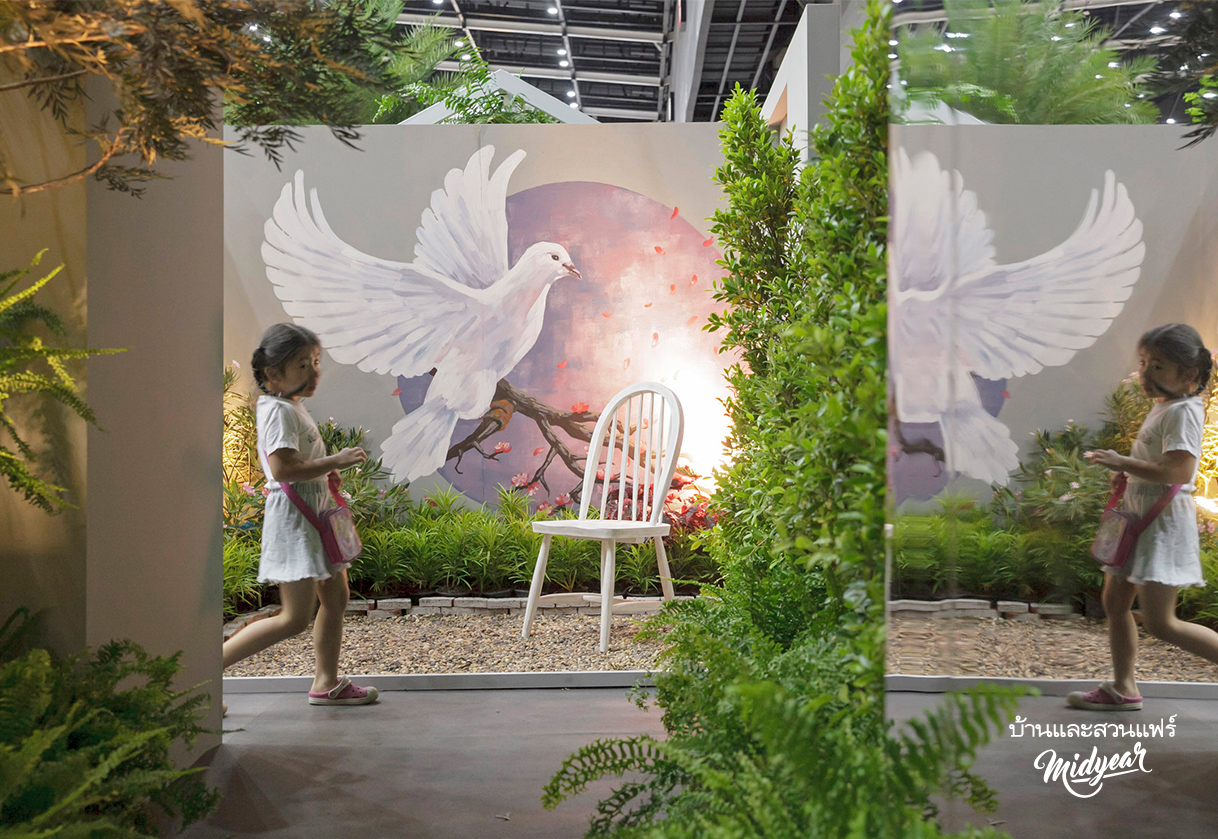 From street art to home art, graffiti now take pride of place in garden design. The drawings scribbled on walls in public places are gradually becoming a familiar sight in private garden ornamentation. Done right, they create an impression that makes small outdoor spaces seem large. More than anything else, every graffito has plenty of stories to tell, which makes it different from other types of garden décor. The graffito shown above is designed to make an outdoor reception room feel warm and inviting.
IDEA 7: Sky garden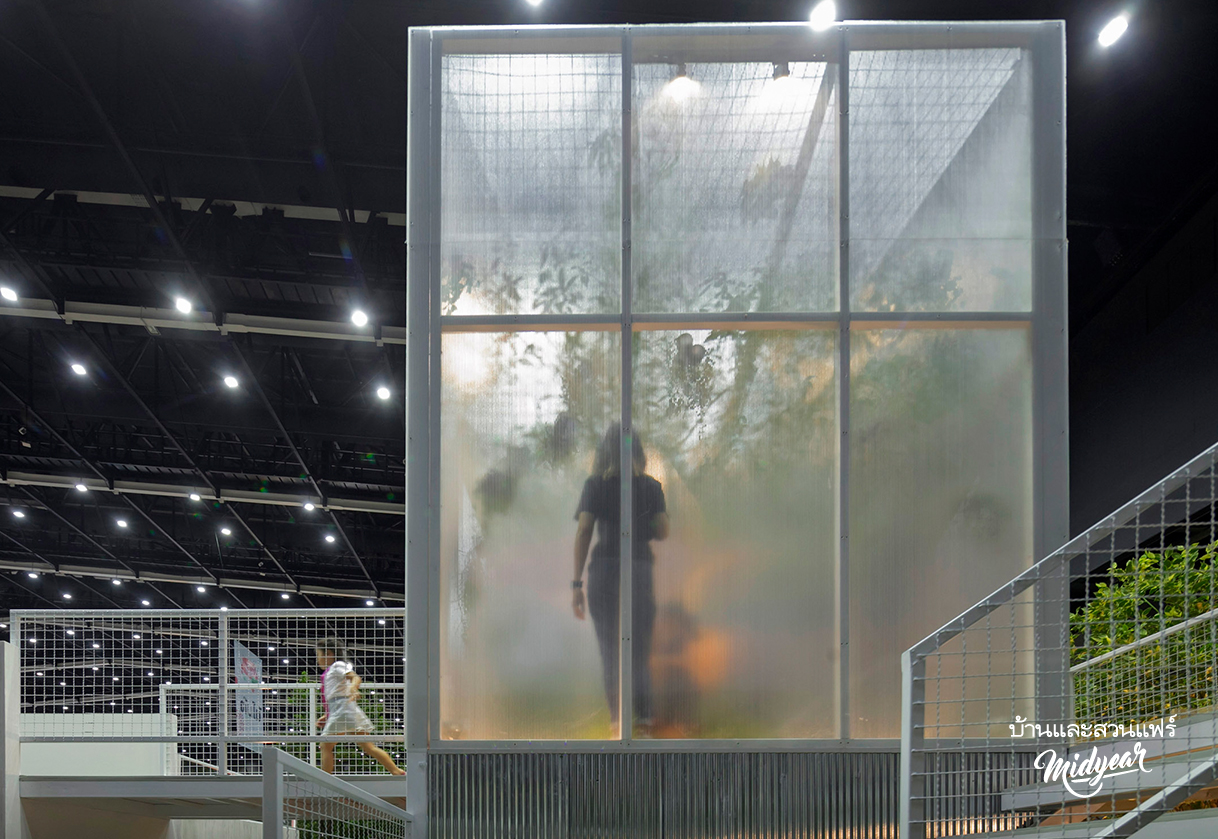 The sky garden is another to add to the list of exhibits at Baan Lae Suan Fair Midyear 2019. It's an important landmark no plant lovers can afford to miss. Created from the imagination, the show envisages a garden with big trees perched atop a tower. It's a language that expresses rich and subtle meanings about the need to ease traffic congestion at ground level. The concept can be applied to fit in the home with small outdoor space by growing plants on a vertical living wall.
IDEA 8: Beautiful courtyard on narrow lot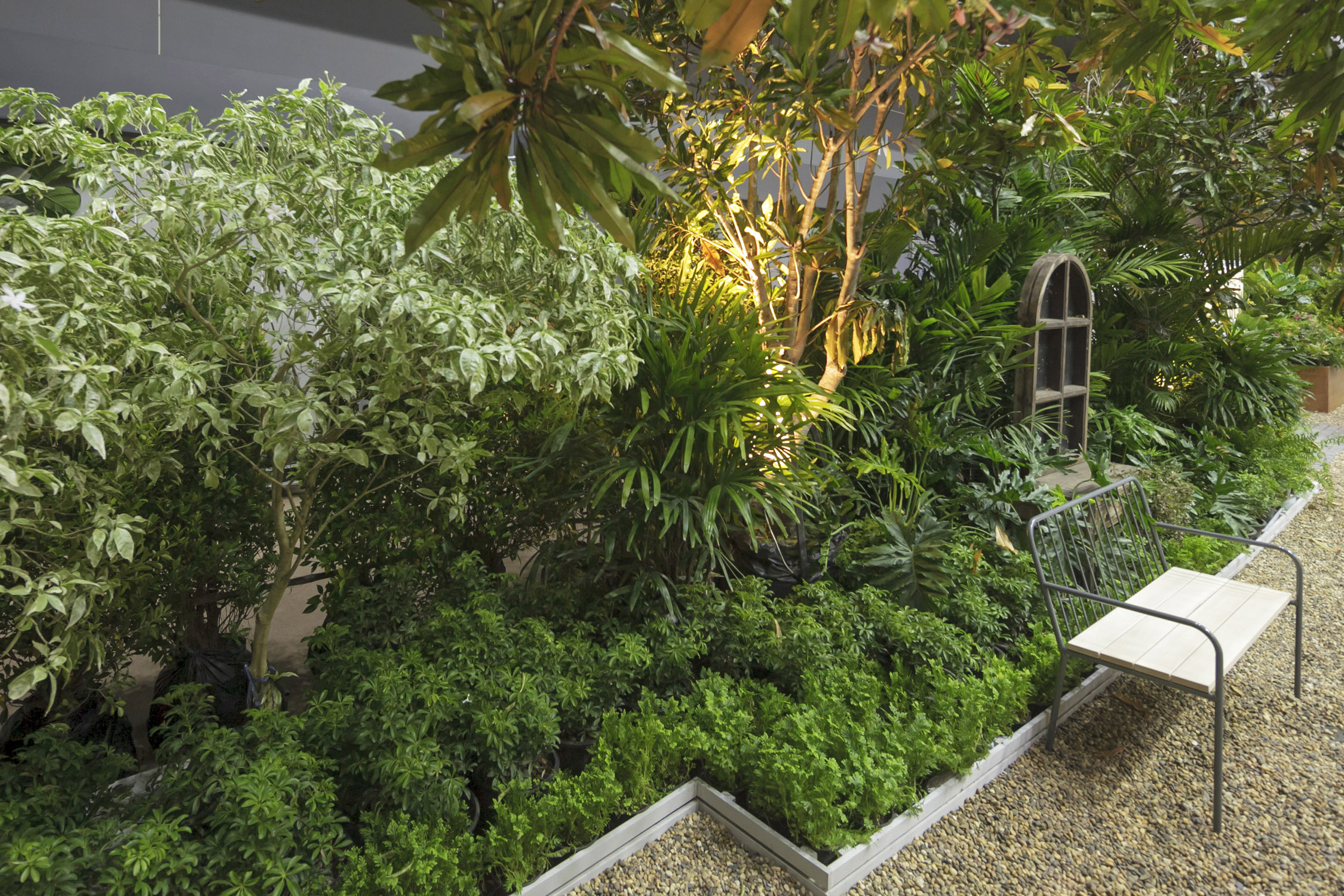 The narrow lot that's the backyard can transform into a relaxing oasis on a budget. There are plenty of backyard makeover ideas you will love. The vertical living wall is one of them. Over time, vines that grow to cover up ugly fencing provide a lush landscape that's easy on the eyes. Put in a clump of shrubs of moderate length, a few herbs and vegetable to make the outdoor space visually pleasing. It's a good idea to add an aquarium in which fish and other water creatures thrive.
The Book House, a division of Baan Lae Suan Printing and Publishing, offers a wealth of best books on home and garden design, plant care tips, and guides to choosing the right growing medium for your plants. While there, remember to stop by at Let's Bite for refreshments and light snack.
Floor Plan
Baan Lae Suan Fair Midyear 2019