Highlights of the Baan Lae Suan Fair Midyear 2019
August 3-11, BITEC Bang Na
The Baan Lae Suan Fair Midyear 2019 is taking place on August 3-11 at Halls 98-104, BITEC Bang Na. Appropriately themed "Hand and Heart", the expo is a hub of home goods, decorating ideas and pastime activity for enjoyment and earning extra incomes. It gives the opportunity for an update on design and experiments with various methods and techniques.
Flashbacks: A glimpse into the Baan Lae Suan Fair Midyear 2018
The Baan Lae Suan Fair Midyear 2019 is an eye-opening experience to all things people love to do in their free time. The highlights of the show include fun activities for furnishings and home décor, Instagram worthy spots, places to chill out, and plenty of interesting exhibitions and retail businesses. Precisely, there's something for everyone. You just have to be there and see for yourself.
Hand and Heart Theme Entrance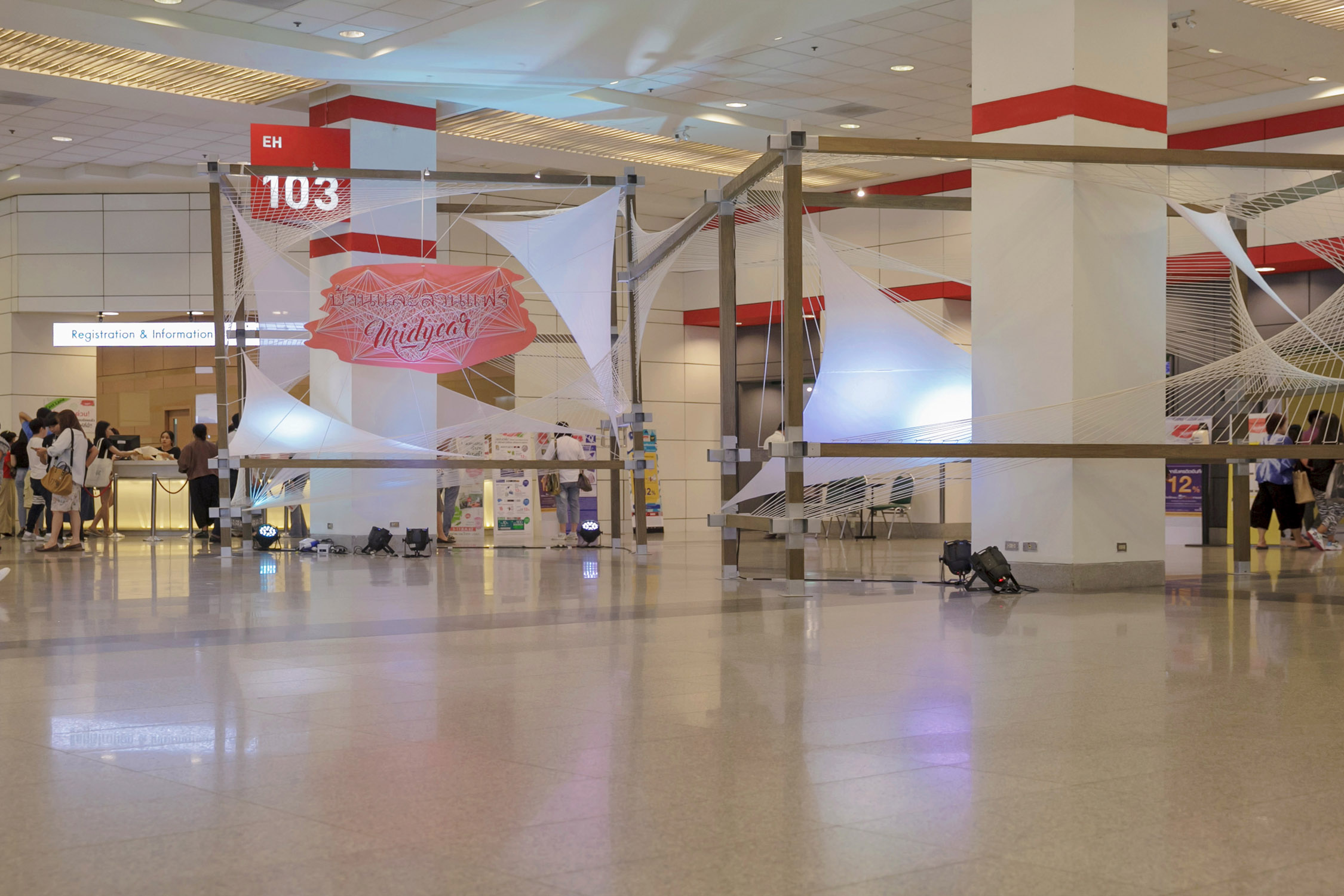 Above is an artist's rendering of the entrance to the midyear home and garden fair. The striking architectural landscape is built of wood posts and beams connected by metal braces and adorned with beautiful rope crafts. The symbolic image expresses ideas and a whole new state of mind about the show's Hand and Heart theme. The opening at the center provides a focal point that leads the viewer's gaze in and around the sign that says "Baan Lae Suan Fair Midyear 2019". Plenty of photography spots! Here are the highlights of the show.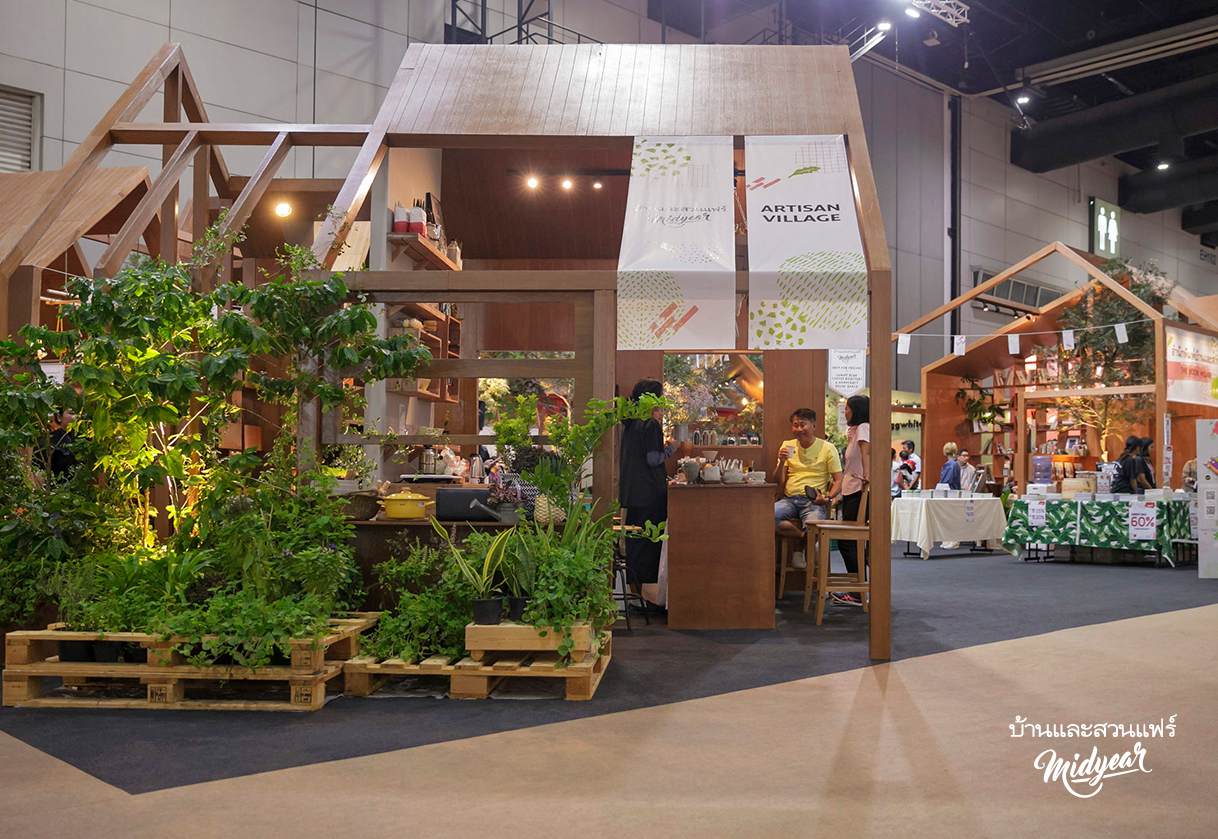 Artisan Village
The Artisan Village is a group of handyman's huts designed for people who love to DIY and make things. It consists of five homes, each catering to the needs of specific crafts. The atmosphere is like visiting a friend's home and seeing how creative people turn their knack for crafting into cool projects and pastime activity. Whether it's art or craft which results in a tangible object, the main idea is about doing what you love.
A home for people who enjoy making food and drinks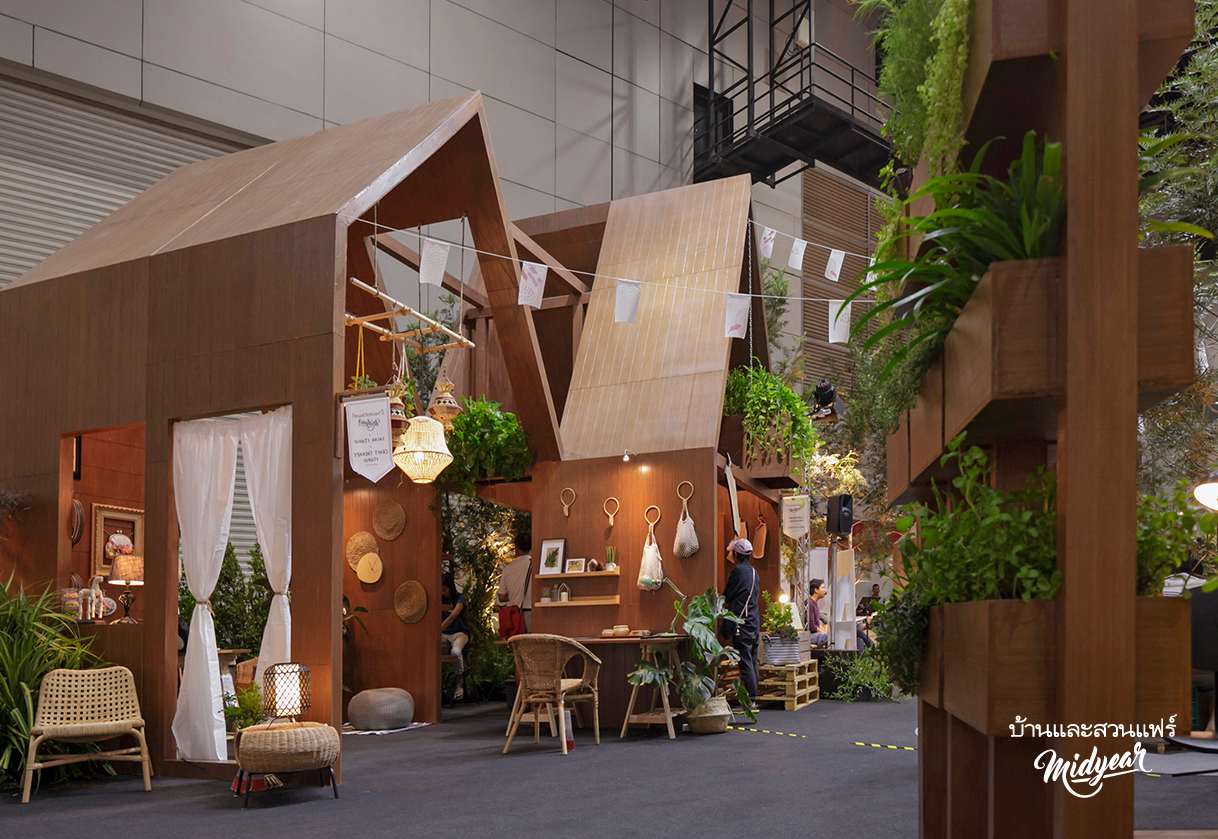 The kitchen is the hub of family life. The skill of preparing food isn't just mixing and heating ingredients. It also involves raw material selection and processing. Here, the aroma of baked goods and a cup of coffee will overwhelm you. Drip for Friends, who's an aficionado in coffee bean roasting and drip coffee making, will do exactly that. Also on hand will be Ninlabon Panin of Sunny Bear Coffee Roasters & Handcraft Bread Baker. They are renowned for their knowledge and skill in every step of bread, cake and pastry making, from yeast preparation to kneading moistened flour into dough and paste for baking. Stop by for a workshop on sourdough making!
A home decorated with embroidery
It's a show about decorating with ribbons and various patterns by สาริศา ไชยเม็ง of Sacha Studio and crocheted items by Craft Therapy Studio. The latter is known for its physical and mental health treatment benefits. Textile crafts are found to increase self-esteem among people with depression and other health problems. Craft is good for home decorating, too.
A home for woodworking and leathercraft enthusiasts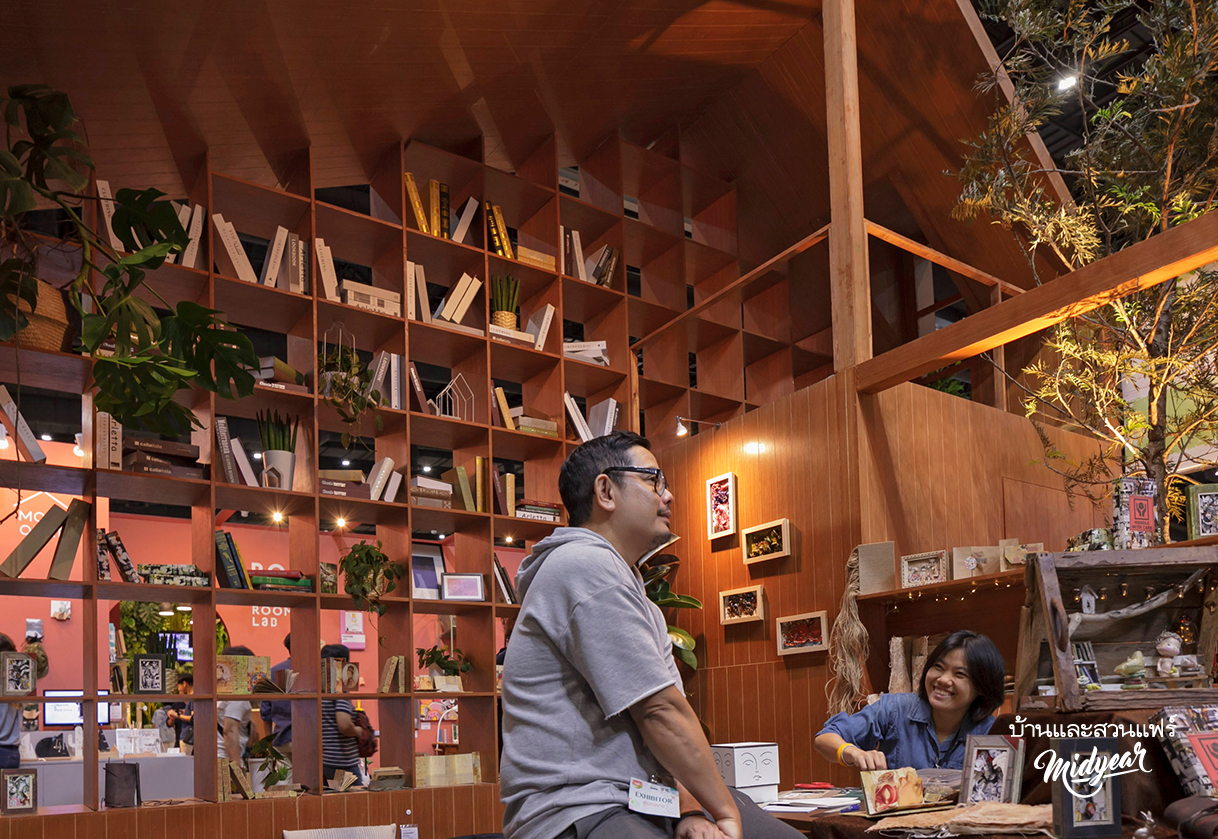 The sounds of a hammer and a chisel fill the air as you walk into a show by Pakpoom Wittayaworakan of Meanwhile Woodwork. Witness leathercraft tools at work at Smith & Sons, which is renowned for its handmade custom footwear. If you're looking for ideas to decorate your home with leathercraft and woodworking, you have come to the right place.
A home for ceramic lovers
We are surrounded by ceramic products in our daily living. But, do you know that the art of making ceramics involves a detailed series of steps and countless experiments? To satisfy your thirst for knowledge, we invited professional ceramicists from Mon Studio to create unique art forms that will surprise you. It's a show serious ceramic lovers shouldn't miss.
House of books, printing and graphic art
It's a show for people who like to read, make art with paper, and try their hand at graphic art printing. For a plethora of interesting ideas, drop in at the Book House, a division of Baan Lae Suan Printing and Publishing. Paper art lovers will have the opportunity of meeting Kittinan Sawasdee of Artist Book Studio, who is well known for drawing and making story books by hand. His paper artwork makes great home décor items. At the same time, the Archivist Studio will be on hand to demonstrate steps in graphic art printing and other techniques that art lovers shouldn't miss.
The Artisan Village also has a common area, where visitors are welcome to attend craft making workshops and exhibitions by experts from each of the five houses listed above.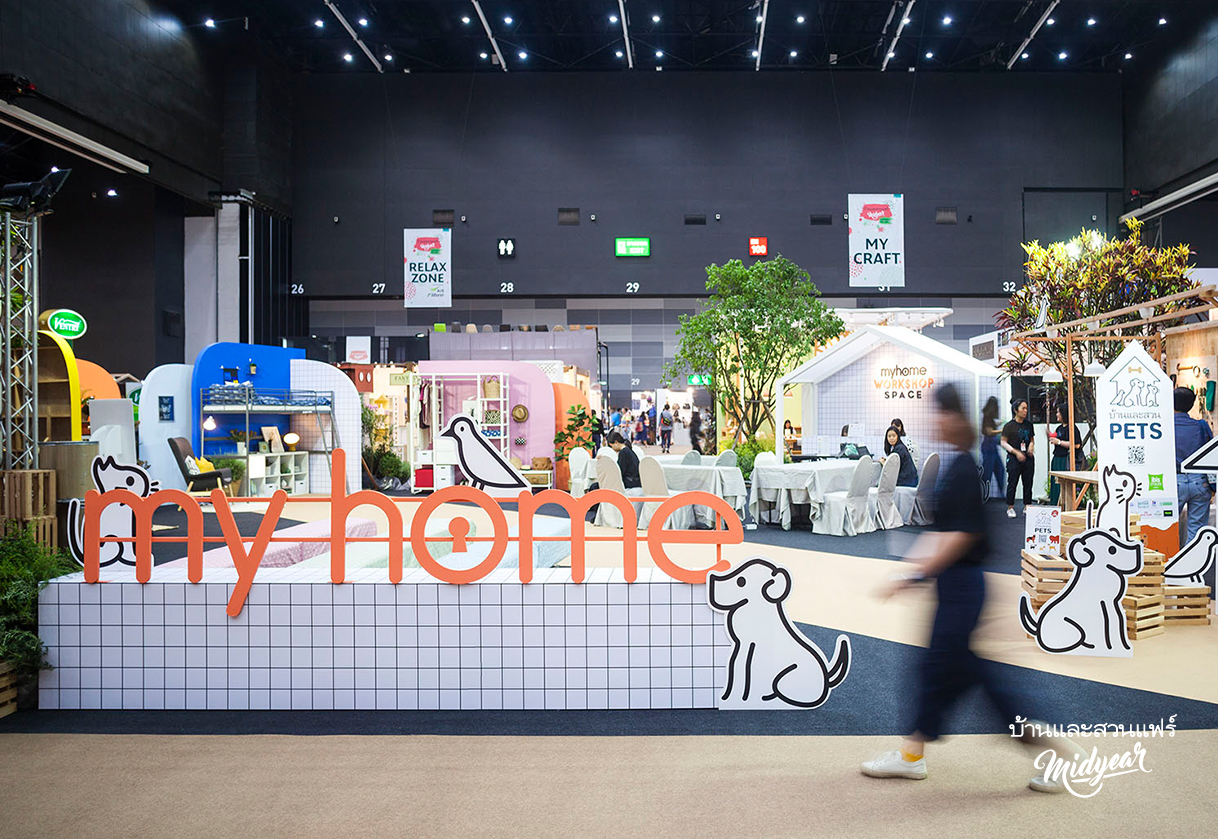 my home
Welcome to "my home" Studio, and see for yourself the maneuvers that go on behind the scenes before a video clip is made ready for broadcast on "home hack" television program. The show presents a wide range of topics ranging from home improvements to arrangement ideas for the home office and bedroom, even the most cluttered space like the wardrobe. It's a good opportunity to meet the capable teams from "my home" magazine and "my home" workshop during the show.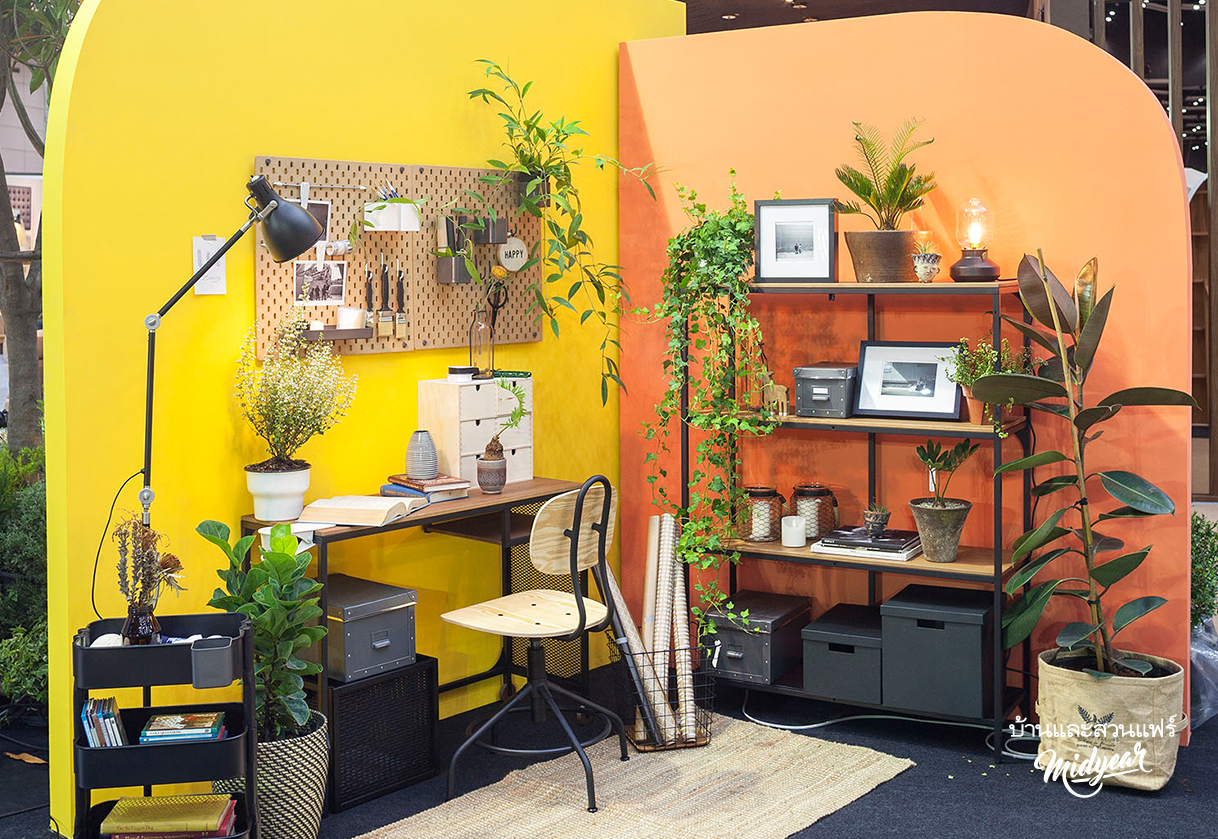 If you bring your well-behaved dogs and cats to the show, stop by at the Baan Lae Suan Pets zone. Receive a free cloth tote bag and pet food when you register at "my home" Booth located inside Hall 100. Have fun taking a selfie at the Baan Lae Suan Pets corner. Post it as your Facebook profile, and enter for a chance to win free accommodation at an iBis hotel, where pets are allowed. Nine prices are given out daily.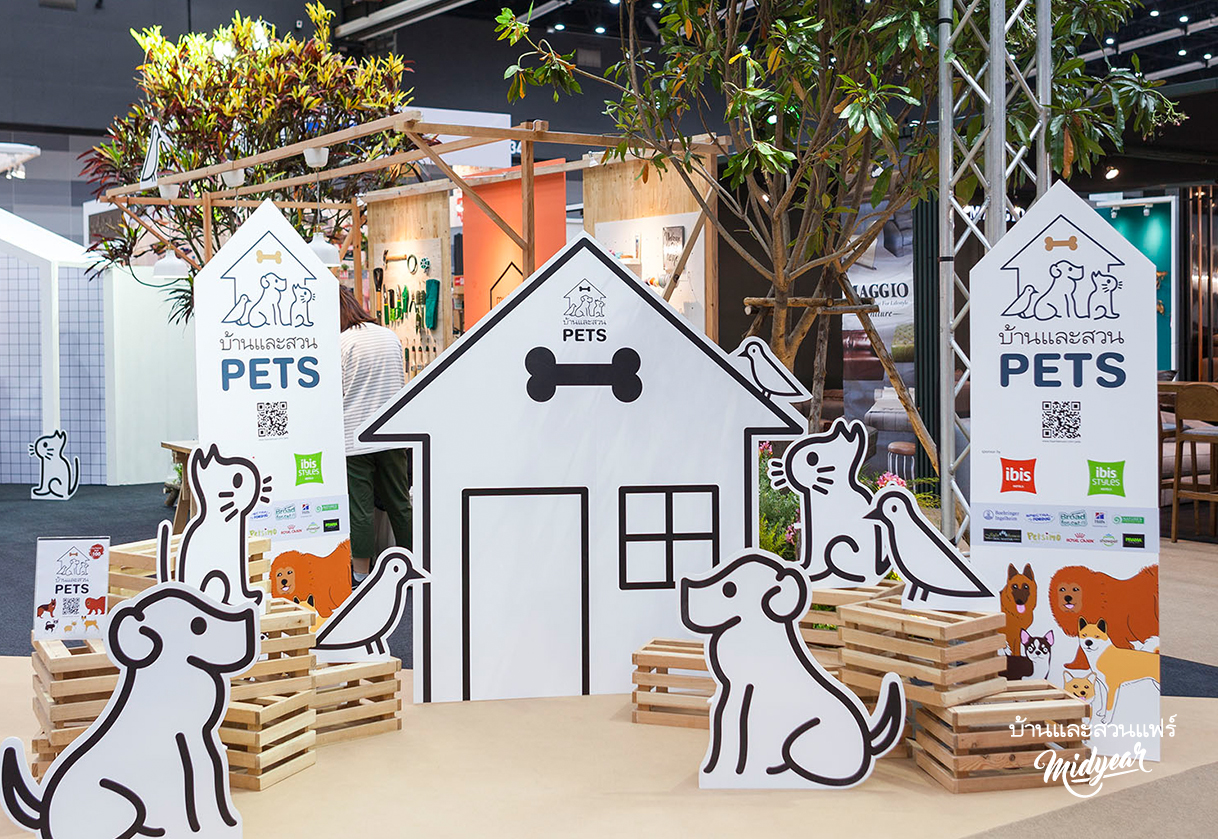 Not only that. On Sunday August 11 between 11 a.m. and 12 noon, Sunthara Sajjavatcharapong of Jojo Dog Master will give a talk on dog training and the art of communicating with your canine friends. Meantime, P. Hall of "my home" magazine and his dog named P. Moo will demonstrate a few handy hacks that every dog owner should know and share experience about obedience training. For your convenience, remember to bring a stroller in which your beloved pets can be pushed along without getting lost.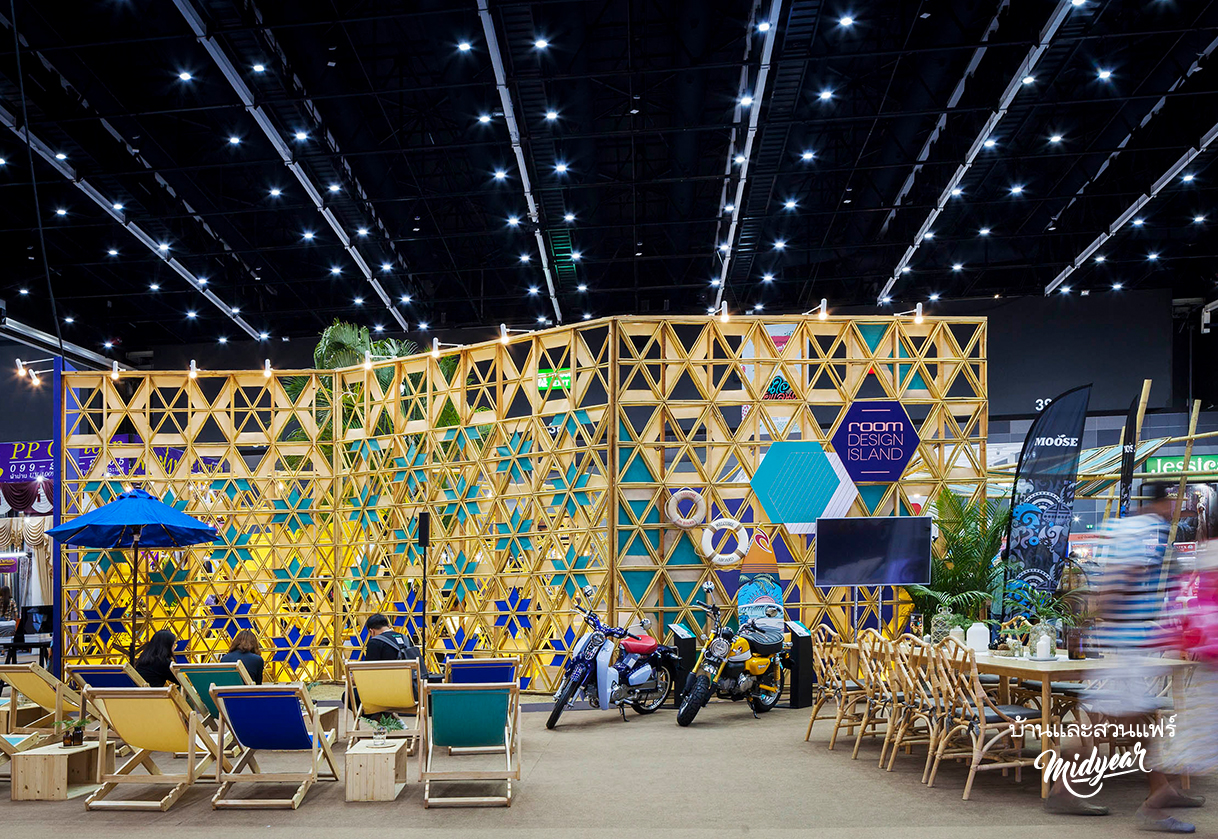 room Showcase
room Design Island
Room magazine is showcasing an imaginary island located at the center of the midyear expo. The striking architectural landscape symbolizes a perfect blend of health and a holiday atmosphere. It's the product of a collaboration between "room" and its allies in the design industry, including Thor Gai Chon Studio, Gold House Décor, as well as Camp Studio, Palini, and Mitr.
room x Thor. Kaichon Bamboo
Inspired by bamboo handicrafts, the modular showcase is built using bamboo and trendy outdoor fabric materials designed for durability. It's the work of "room" magazine in collaboration with Thor. Kaichon Bamboo.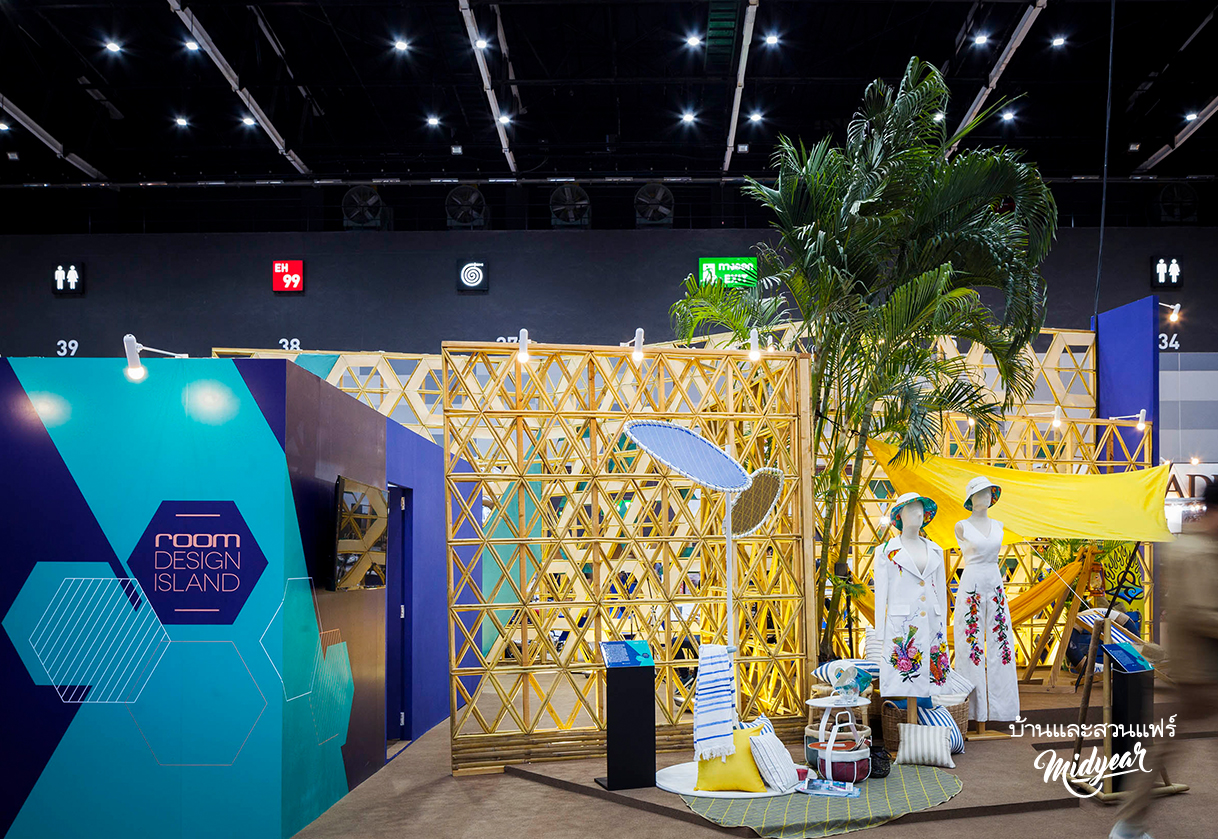 room x Gold House
Three designer groups, namely, Camp Studio, Palini, and Mitr also participate in designing the imaginary summer showcase on the beach. The SOL OUT brand of outdoor fabric used in the construction is provided by Gold House Décor, one of Thailand's leading manufacturers, distributors and exporters of home textile products.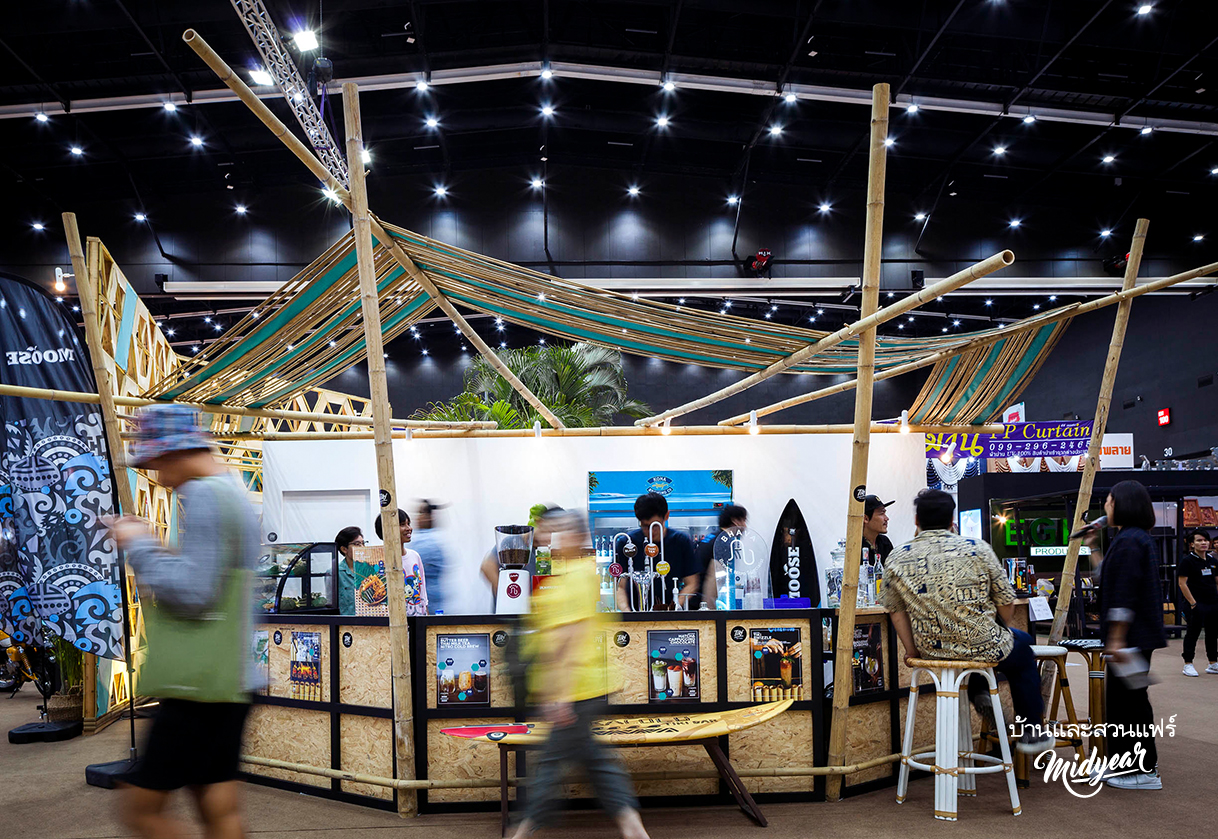 room x Pakalolo
The right amount of coffee is good for you, so they say. Why not stop by at the Hawaiian style pop-up café by Pakalolo? The coffeehouse from Bangkok's Soi Ari neighborhood is offering light meals and drinks during the nine-day expo. It's time to fall in love with its pastry creations and "mocktail" recipes. Some items on the menu are created especially for this year's show.