/ Thailand /
"Its simple Thai style home-on-stilts design allows ample spaces underneath. The second floor features a wood balcony large enough for multiple functions. Long eaves protect exterior walls from the elements. Opaque walls are put in place where the sun's harsh glare is too much to bear. None of the interior living spaces are exposed to direct sunlight, resulting in comfortable living conditions."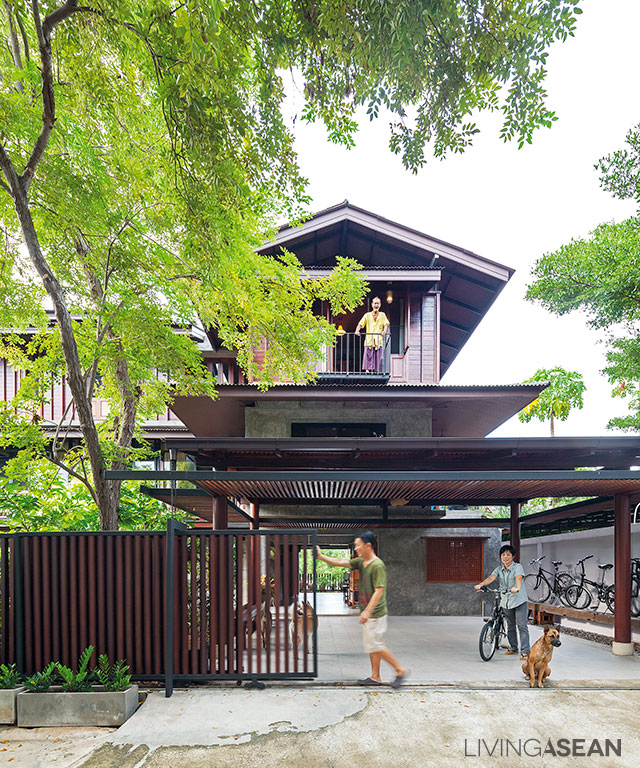 Homes based on simple design are oftentimes the most comfortable to live in. That has a lot to do with finding the right balance between functionality and the house's overall dimensions – or how big it is. Easy living can be achieved without spending a fortune on sophisticated decorative details. There is plenty of evidence in a suburban home that I am about to show you right now.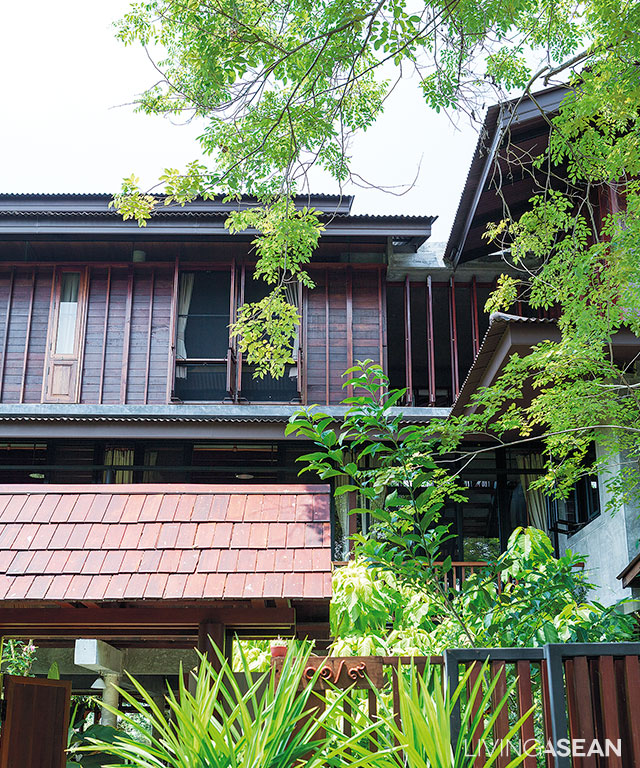 Our crew visited this home in a Rama 2 neighborhood known for its simple lifestyle. We witnessed people go about their business in ways that are distinctive to a riparian community. We also noticed that change was just around the corner. The home's design and build quality represent a confluence of ideas between traditional wisdom and modern technology. Equally interesting is the home's journey through time.
Let's hear it from the owners, Charatsri Sribumrungkiat.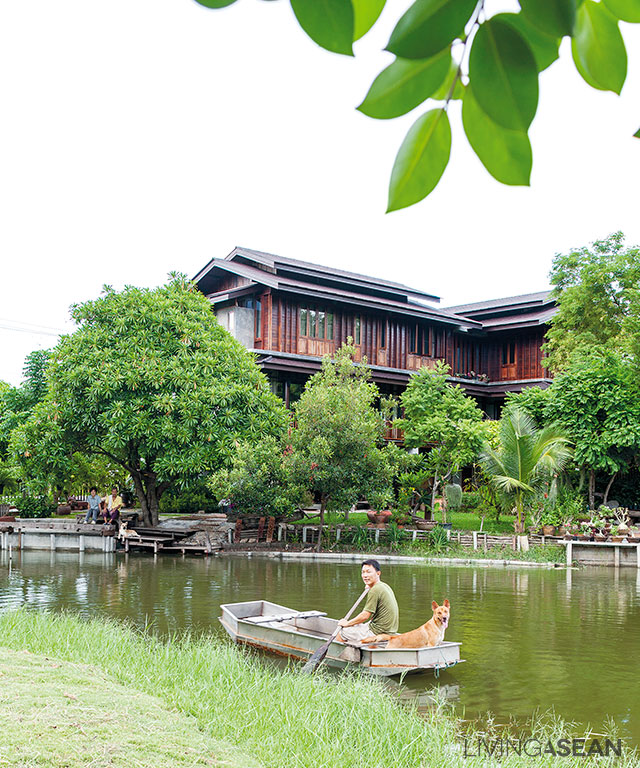 "I acquired this piece of land thanks to assistance from Arsom Silp Institute of the Arts. It was part of an effort to provide affordable housing for the institute's instructors. The program has aided teachers in buying real estate at cost price. This one is known as Baan Bang-gru, which means teacher's home," the owner explained.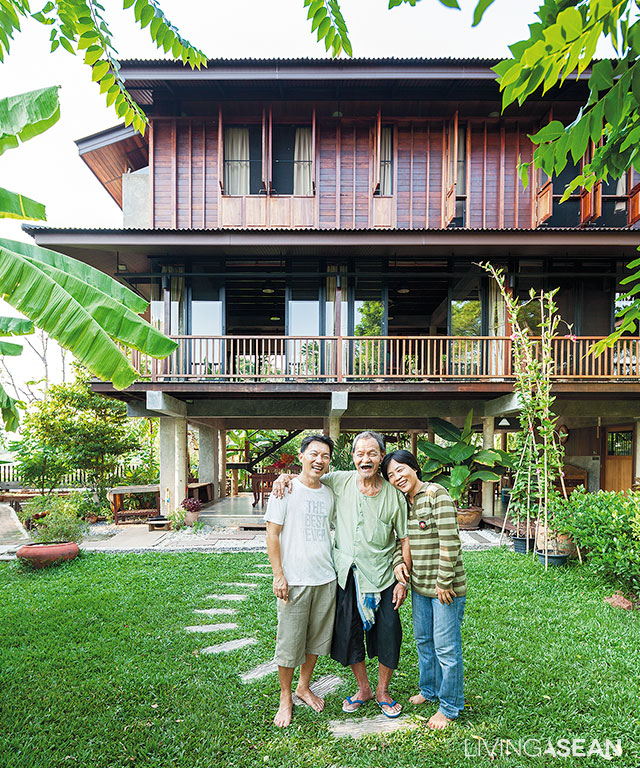 Nanthapong Lertmaneethaweesap, of Arsom Silp Institute of the Arts, designed the three-story home-on-stilts design home.
As he put it:
"In my opinion, this piece of land has great potential. It has good views both of the lake and the canal.
"The front façade sits facing south and the house is oriented along the east-west axis. This enables it to get full benefits of southerly winds. The home fits in well with a typical riparian setting. It's simple house-on-stilts design allows ample spaces underneath. The second floor features a wood balcony large enough for multiple functions.
"Long eaves protect exterior walls from the elements. Opaque walls are put in place where the sun's harsh glare is too much to bear.
"None of the interior living spaces are exposed to direct sunlight, resulting in comfortable living conditions."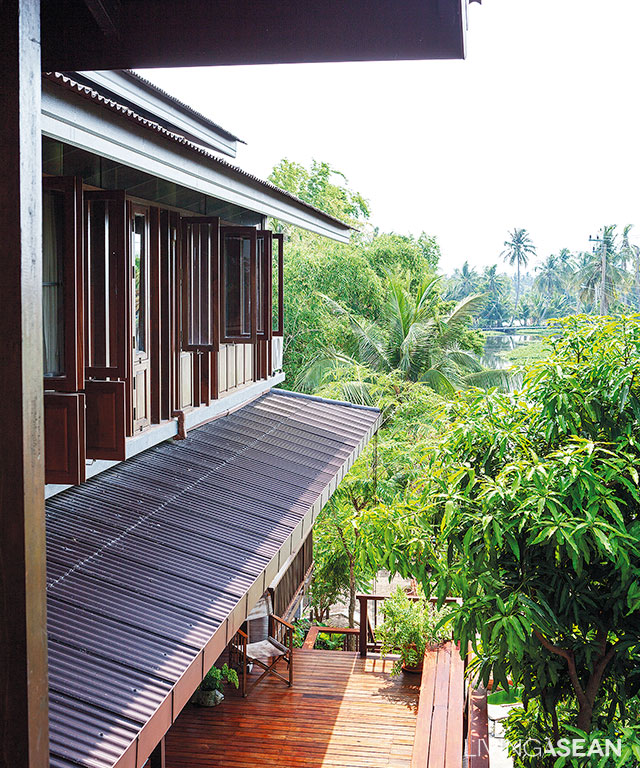 This home-on-stilts design home sat on a 120-square-wah piece of land and was built on a budget some 20 percent less than the average home of the same size. This was possible because as much as 90 percent of lumber supplies came from reclaimed wood and other recyclables. New lumber accounted for only about 10 percent.
His sister was good at finding recyclable ideas and putting them to good use around the house. That not only saved a lot of money, but it also filled the home with cool pieces of furniture.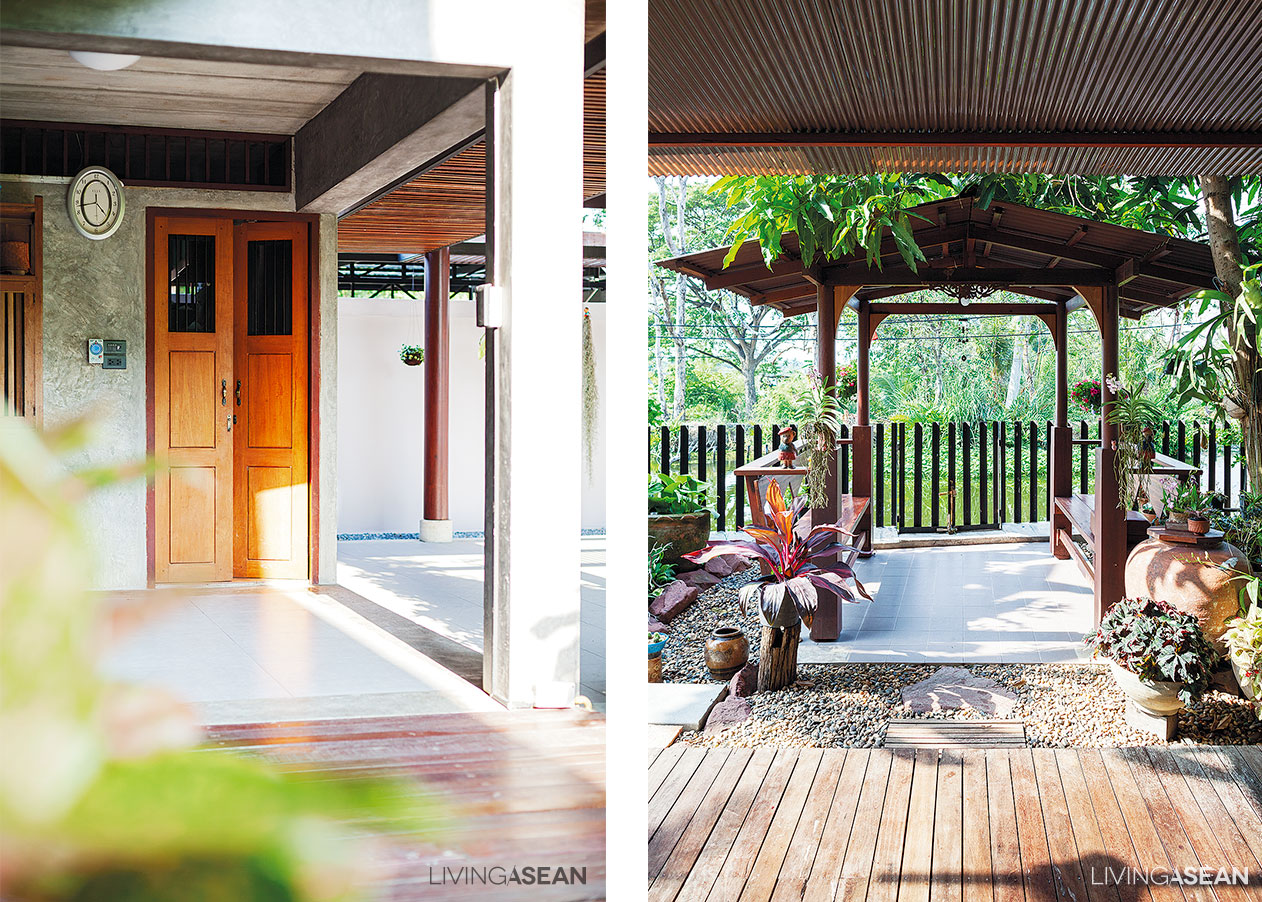 The home-on-stilts design house raised on concrete piles provides ample multi-use spaces underneath. The open ground floor means everything is easily accessible from here, be it the little lake in front of the property or the peaceful waterway behind it. It is the area that is used all day every day for relaxing, dining, watering and pruning plants.
Correct orientation ensures the home receives full benefits from natural ventilation that keeps it cool even during summer months.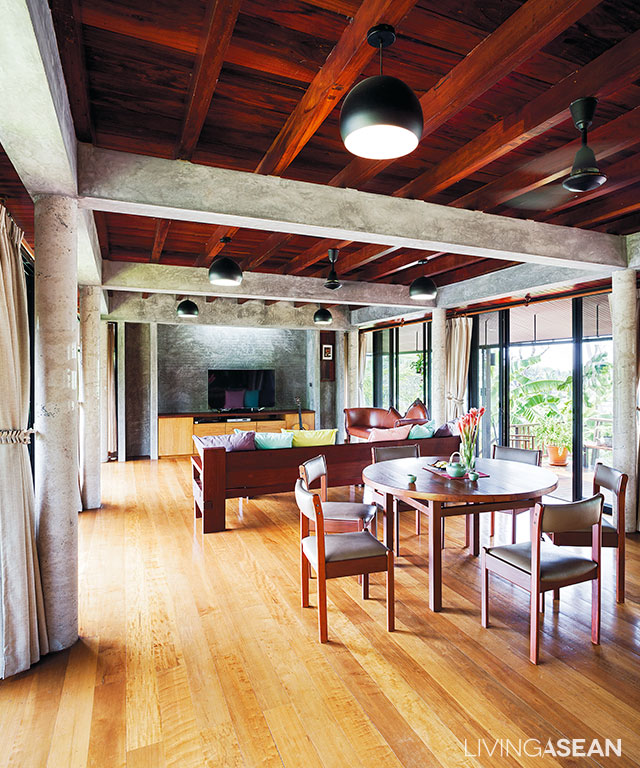 Originally the owners had intended to build a two-story home but later decided to raise it on concrete piling. The makeover resulted in the first floor becoming second, and the old second becoming third.
There are good-sized seating spaces on the second floor along with dining area and kitchen that will be used if there is flooding. The main kitchen is on the ground floor.
The third floor is reserved for three bedrooms and a Buddha room.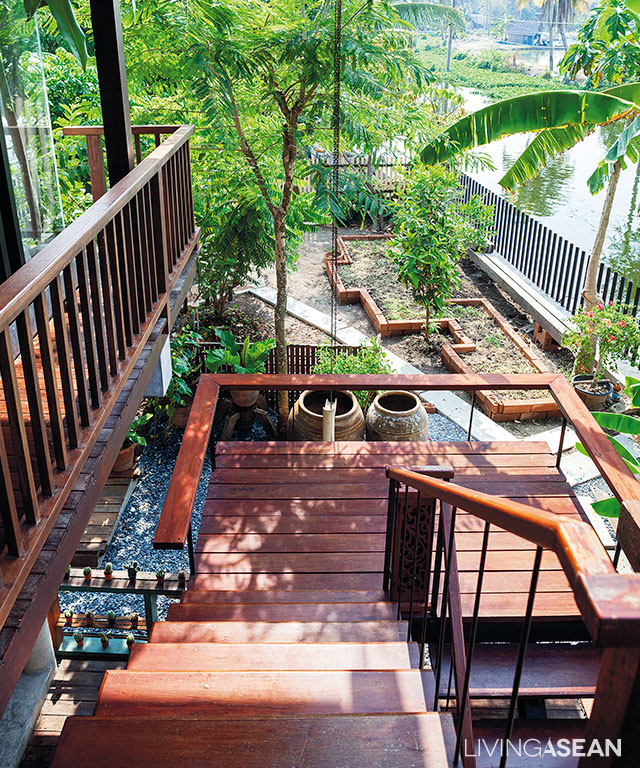 The exterior walls are inspired by rice storage buildings, in which vertical studs are installed on the outside and horizontal wood palettes on the inside. The edge joint technique that has existed for a long time ensures the wall is water impermeable during rains.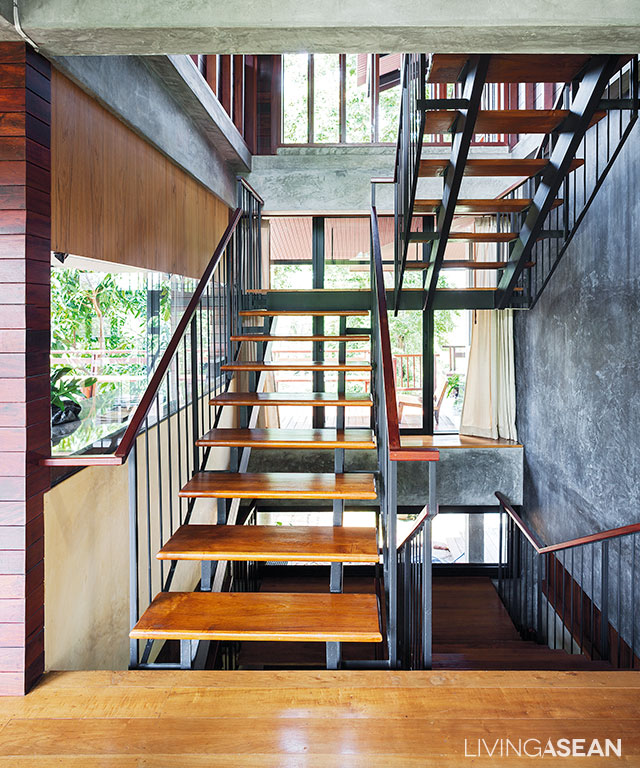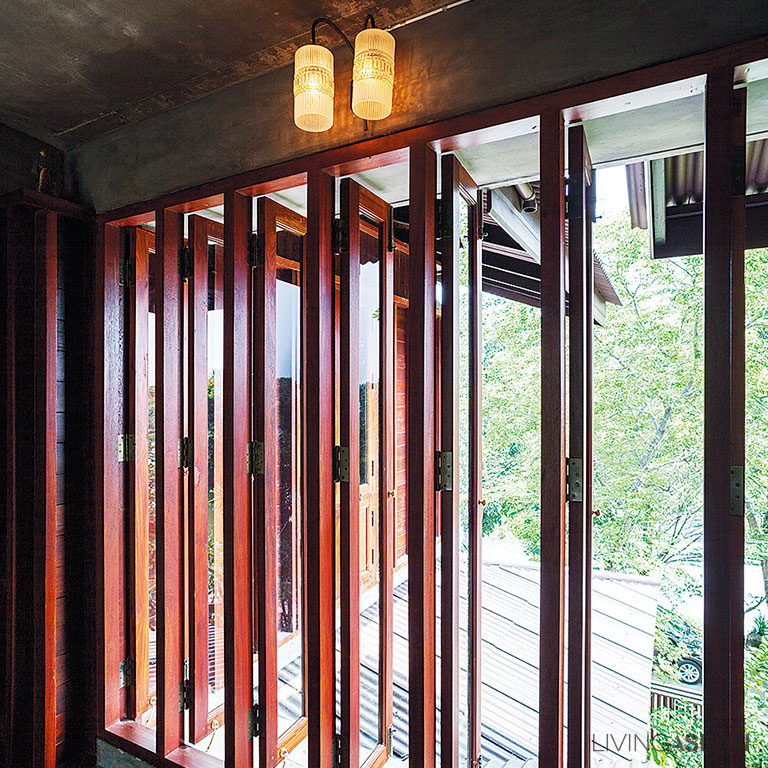 In a nutshell, this has been a home-on-stilts design home designed to fit in well with nature. The interior spaces are uncluttered in keeping with the minimalist style, while the exteriors showcase the architecture and waterfront living that are quintessentially Thai.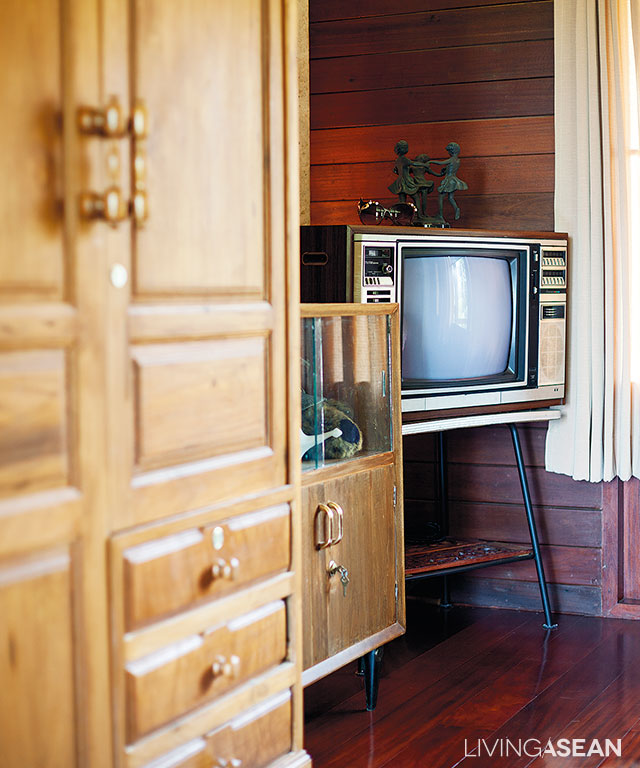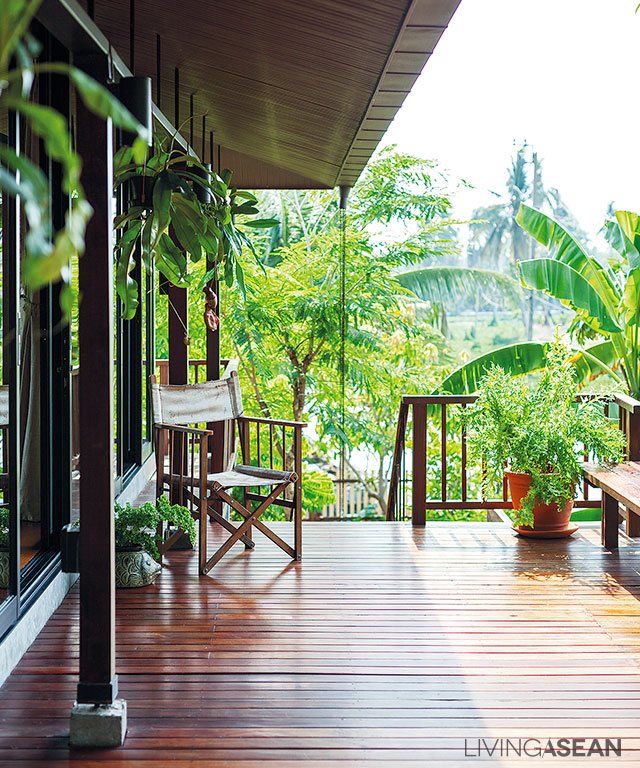 ---
Story: Supachart Boontang
Photo: Sitthisak Namkham
Architect: Arsom Silp Institute of the Arts
---