Like reading works by well-known authors, meeting celebrity guests and hanging out with them can be an enchanting experience. The unthinkable happens. We have the opportunity of an interview with the famous Scandinavian duo whose work, "Zero" 2018, has come to symbolize cordial relations between old Siam and far-away lands in the Nordic Seas. Life is more fun when shared with friends. So, we bring you this pictorial.
/// THAILAND ///
Story and video: Singhanart Nakpongphun /// Photographs: Methee Samantong, Singhanart Nakpongphun 
Michael Elmgreen and his collaborator Ingar Dragset were recently in town to partake in the 20th edition of BAB Talk. Their work, a towering installation crafted of stainless steel, debuted at an exclusive party held in their honor in front of the historic East Asiatic Building. Our Living ASEAN team had great conversations with them and came away very impressed.
Silhouetted against the western skies, "Zero" 2018 resembles the circumference of a swimming pool set vertically by the water's edge. It stands 8.2 meters tall in front of the Renaissance Revival building that's among 20 locations participating in the art festival. The first edition of the Bangkok Art Biennale, known as "Beyond Bliss", began last October 19 and runs until February 3, 2109.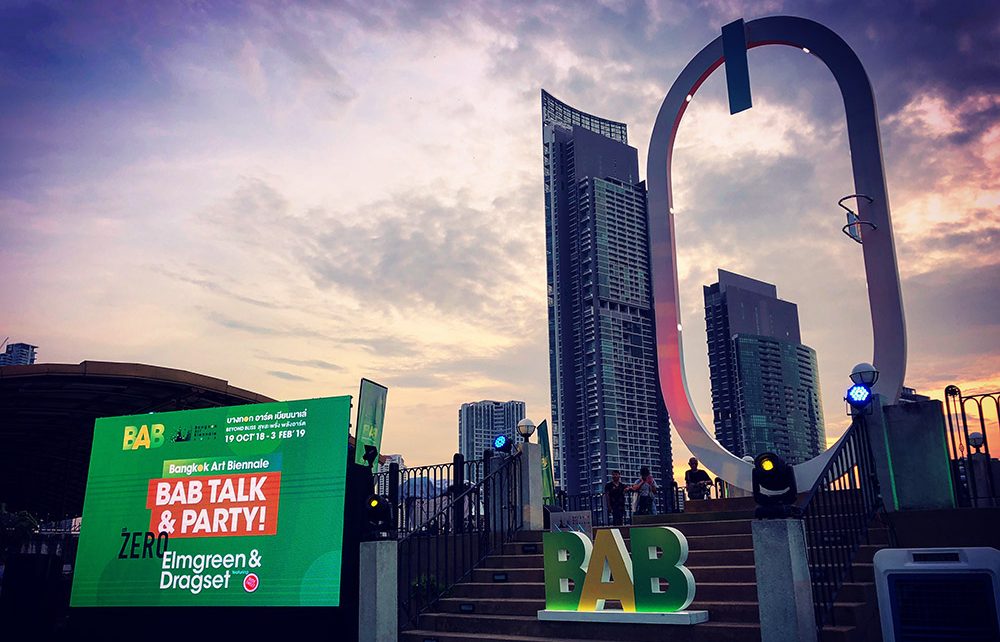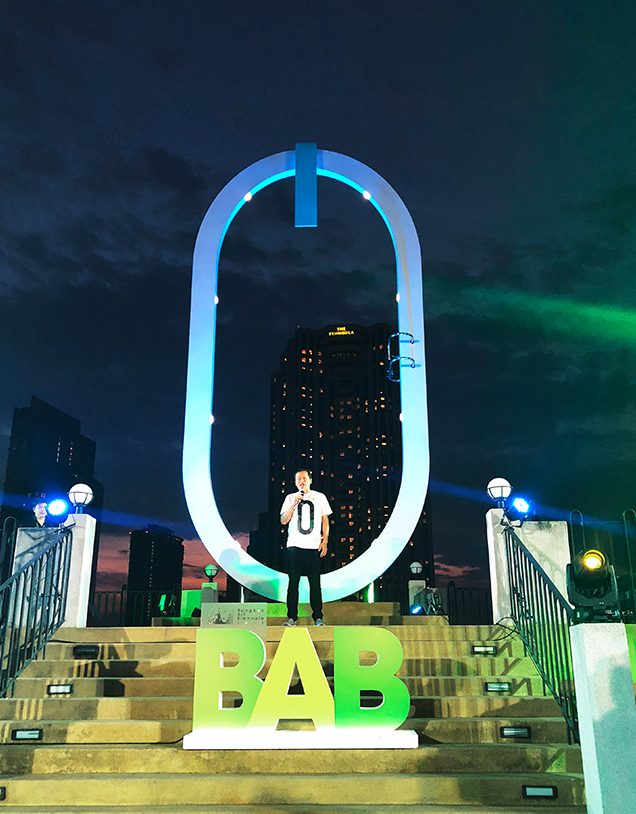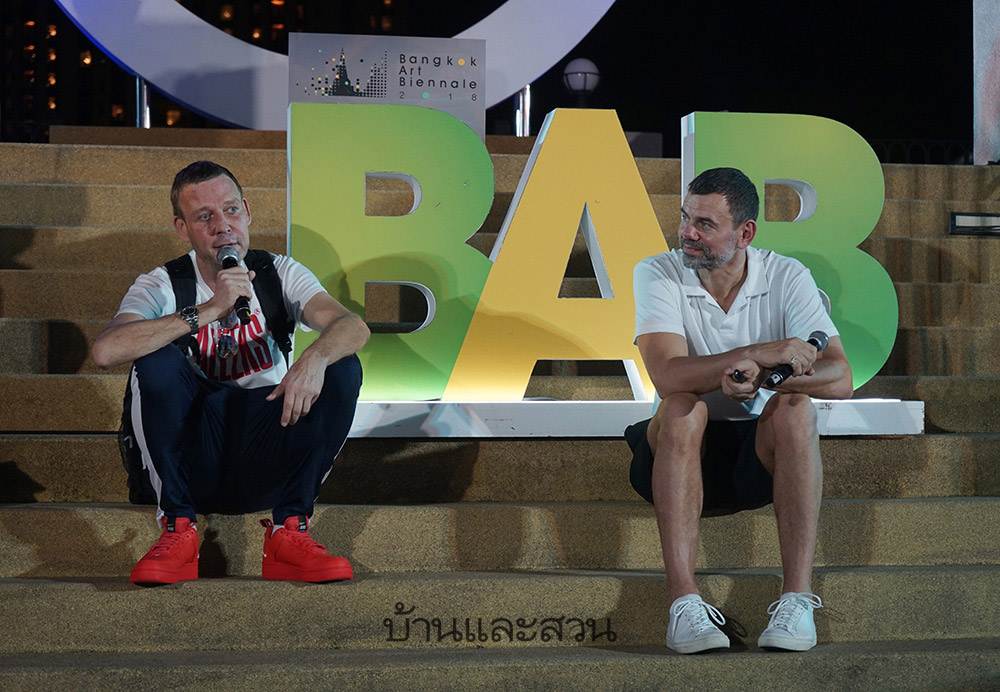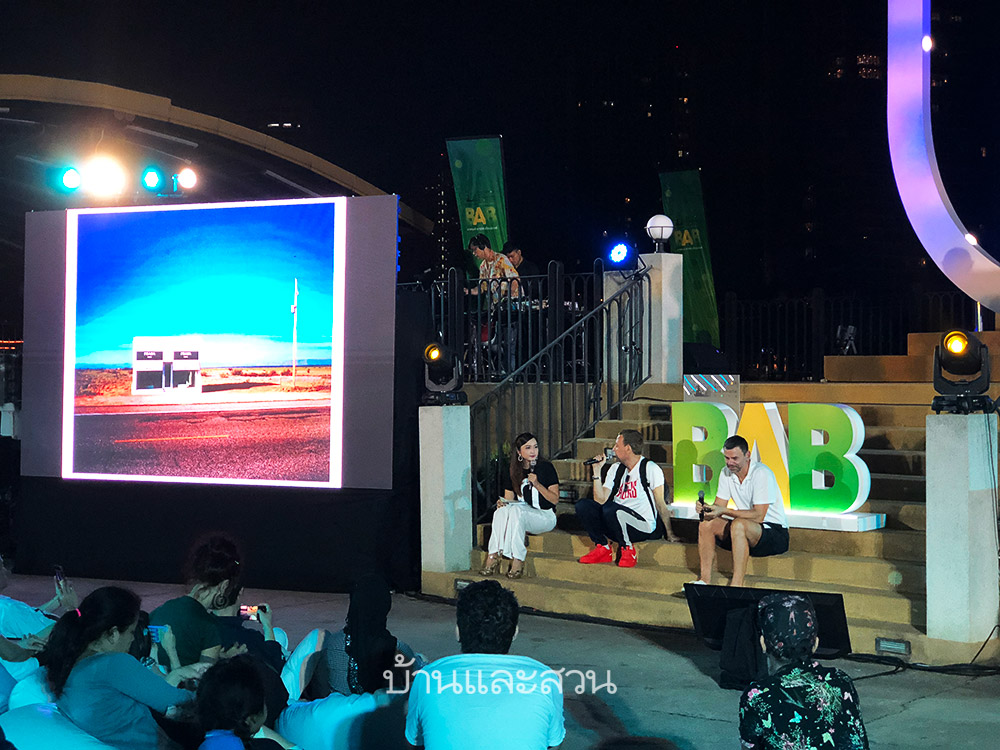 Elmgreen and Dragset are renowned for sharing a strong passion for minimalism in visual arts, architecture and sculptural installations. Over the past several years, their works have been exhibited at major art scenes worldwide, including the art biennales in Venice, Berlin, and Gwangju. Their 2005 site-specific land art project, known as "Prada Marfa", was permanently positioned near a small town in Texas. It was accomplished in collaboration with local organizations and had nothing to do with the Prada fashion brand, except for its permission to use the name.
Art is a journey. The Scandinavian duo said that they ventured out into the art world of without a basic knowledge in drawing and painting. Initially, they made art by cutting pictures, paper and fabric from various different materials and sticking them together to create a combination of things, kind of like a collage. Their works, mainly sculptures, continued to thrive on simplicity in both content, color and form.
Elmgreen and Dragset started working jointly in the mid-1990's. Their commitment to minimalism is manifested in artworks that seek to remove anything deemed unnecessary while conveying thought or feeling through conceptual design. The artist duo achieved fame for their stunning sculptural works that later became known as their "Top Three". Their masterpieces include: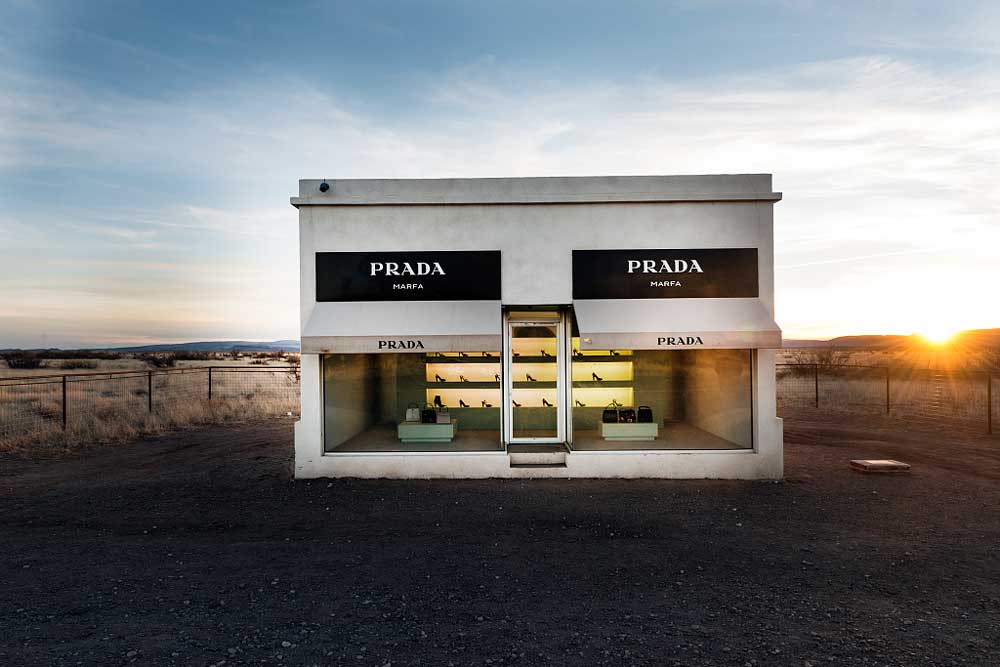 Prada Marfa (2005)
"Prada Marfa" (2005) is a site-specific land art project permanently positioned in a desert landscape of Texas. The work that accents the playful use of the Italian fashion brand name reflects social behaviors in an era of free-market capitalism during the past century. I Photo courtesy of the Lyda Hill Texas Collection of Photographs in the Carol M. Highsmith's America Project, Library of Congress, Prints and Photographs Division.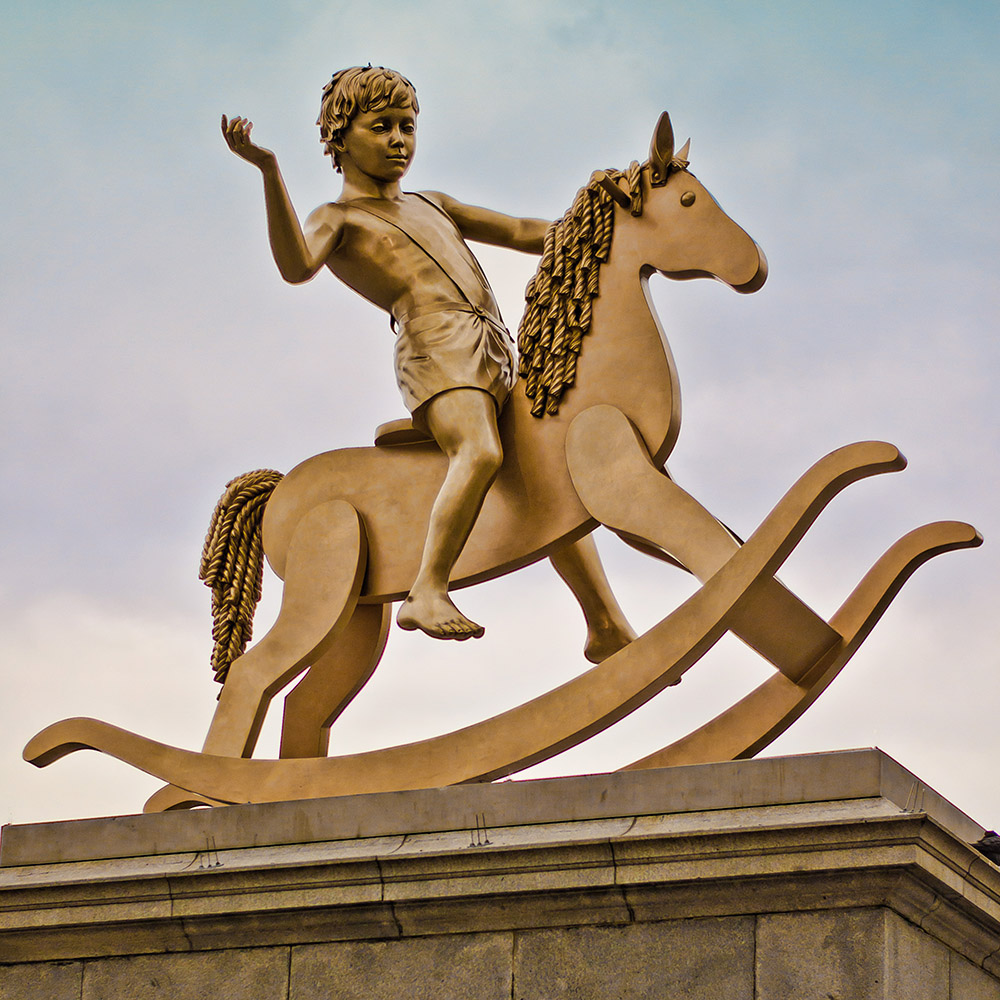 Powerless Structures (2011)
Powerless Structures Fig. 101 debuted at Trafalgar Square, London in 2011. The public square commemorates the Battle of Trafalgar during which the British fleet defied the odds and emerged victorious in 1805. But Elmgreen and Dragset had a different idea. No disrespect intended. Only this time they wanted a more forward-looking artwork, something that called attention to the fact that the children are our future. Their strong message is conveyed via the sculpture of a boy riding on the back of a rocking horse toy. I Photo courtesy to Garry Knight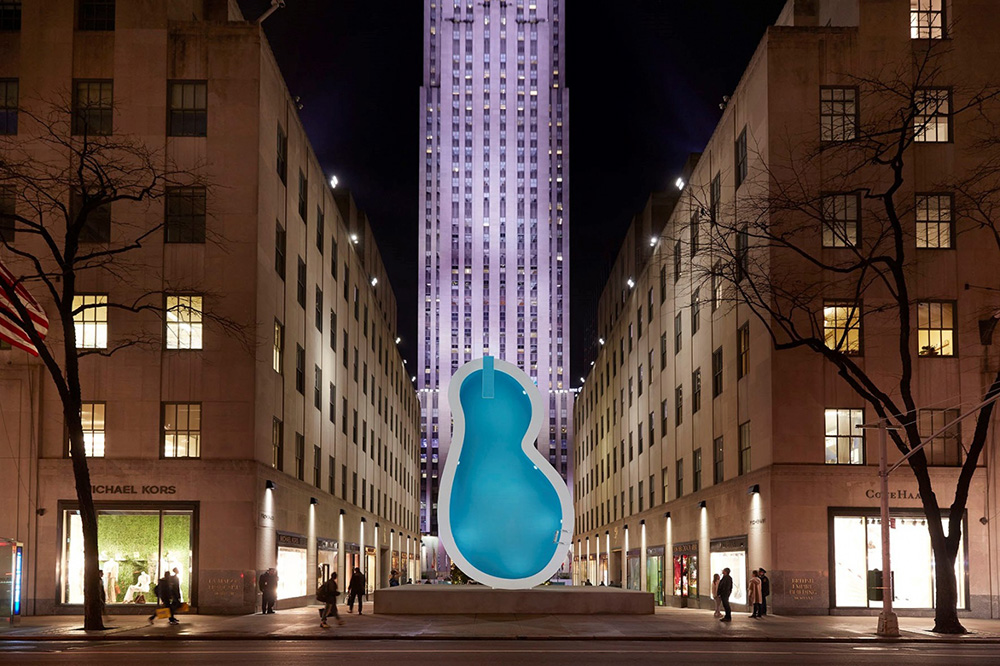 Van Gogh Ear (2016)
Van Gogh Ear (2016) is a sculpture depicting a contemporary free-form swimming pool. Standing 9 meters tall, it was erected in an upright position at the center of Manhattan's Rockefeller Plaza in the heart of New York CBD. The artist duo got their inspiration after having seen swimming pools lying unused at the homes of many well-to-do families in the Big Apple. It pointed out to the fact that wealthy homeowners were suffering in the midst of plenty. It was a stinging satire on life in New York, where people were up to their ears in work and had no time for rest and recreation. As a reminder, the artist duo put a symbolic swimming pool right in the middle of the Central Business District. I Photo courtesy of the artists and the K11 Art Foundation, Galerie Perrotin, Galleria Massimo De Carlo, and Victoria Miro Gallery I Photo: Jason Wyche, Courtesy Public Art Fund, N.Y.
Danish artist Michael Elmgreen and his Norwegian collaborator Ingar Dragset decided to work together when they met in Berlin in 1995. Since then, many creative works of art have earned them a reputation for addressing social and cultural concerns, among them a satirical installation titled "Van Gogh Ear". The sculpture depicting an empty swimming pool debuted in New York in 2016.
Prior to that, they were highly acclaimed for "Prada Marfa" 2005, a sculptural installation permanently positioned near a small desert town in Texas. The minimalist style artwork was accomplished in collaboration with local cultural organizations. It had nothing to do with the Italian fashion brand Prada, except for a permission to use the name and logo by the founder, Miuccia Prada, who was interested in contemporary art. Prada Marfa has won warm approval as an artwork that has wit and expresses rich and subtle meanings. At the crux of the matter, it raised an interesting question about consumer behaviors in a free-market economy and social change that took place over the past century.
Despite a few problems, Prada Marfa has stood the test of time. Thanks to strong support from local and outside organizations, the sculpture stuck in the middle of a Texas desert has transformed into a tourist attraction providing a venue for musical entertainment and outdoor market selling goods and souvenirs. Commercial activities now take place on site, a development Elmgreen himself never expected.
As for "Zero", the Scandinavian duo said they could still recall their first visit to Thailand at the invitation of Prof. Dr. Apinan Poshyananda a few years back. They found that, unlike public parks, most swimming pools that existed were inaccessible to the general public. In a way, it became an inspiration for them to create "Zero" as a means to call attention to a lack of facilities for public benefits. Hence, a new masterpiece was born. Its focal point was the swimming pool circumference set vertically to represent the value zero. The arithmetic symbol also signifies a new beginning as envisaged by the artist duo. It's their hope that one day Bangkok will have enough swimming pools available to its citizens.
Zero also refers to an artist group that adheres to the minimalist school of thought founded in the 1960's in Dusseldorf, northwestern Germany. The art movement at the time was led by Heinz Mack and Otto Piene, who were passionate about the value zero. To them, it symbolized the peace and quiet that was everyone's highest goal. Its subtle meanings have had significant influence on the works of Elmgreen and Dragset until today. Hence, their entry into the Bangkok Art Biennale 2018 was aptly named "Zero" to symbolize an ideal world where every moment can bring a fresh start and new beginnings.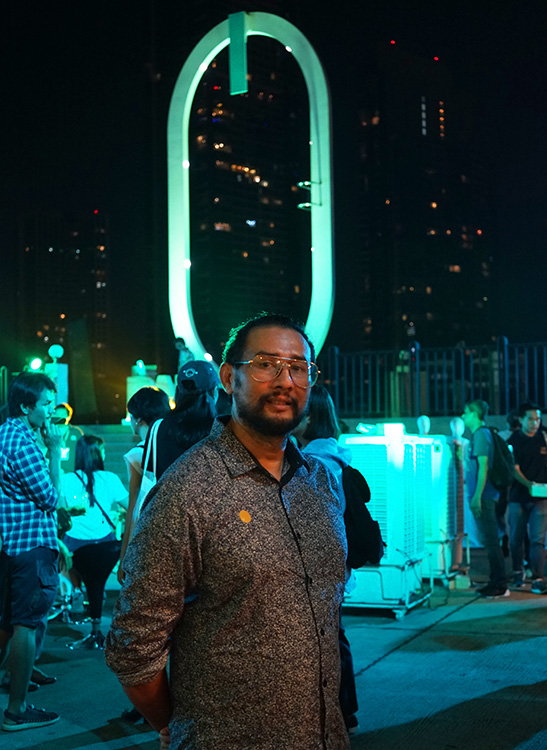 Khata Saengkhae, a household name on the Thai art scene, also joined in the conversation with Elmgreen and Dragset that day. Sharing his opinion on "Zero", he said: "It feels good to see art blend in perfect harmony with the physical environment that exhibits it. The riverside location makes it an ideal venue for the show that seeks to communicate the true meaning of such a great work of art. Meantime, it also raises a few interesting questions. Look across the river, and what do you see? What will become of the land opposite from here? I see buildings mushrooming everywhere. So, where do we go from here?"
"Zero" by Elmgreen and Dragset is just one out of more than 200 works of art on display at 20 locations throughout the city as part of the Bangkok Art Biennale 2018. The Kingdom's inaugural art festival will end on February 3, 2019. There is still time, but you had better hurry. Not quite sure where to start? Here is a checklist of 30 beautiful works of art that you can't miss. For more information, go to  Checklist! 30 Works of Art You Can't Miss at BAB 2018
Before we part company, here are some rare, behind-the-scene shots of the people and collaborations that went into making "Zero" a great work of art. I Photo courtesy of the Bangkok Art Biennale 2018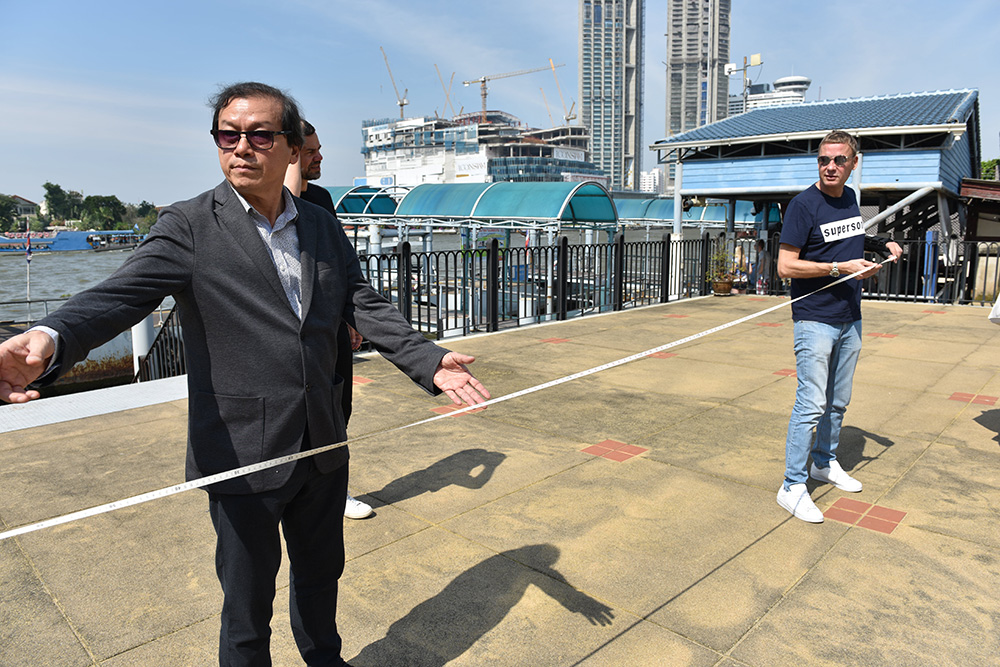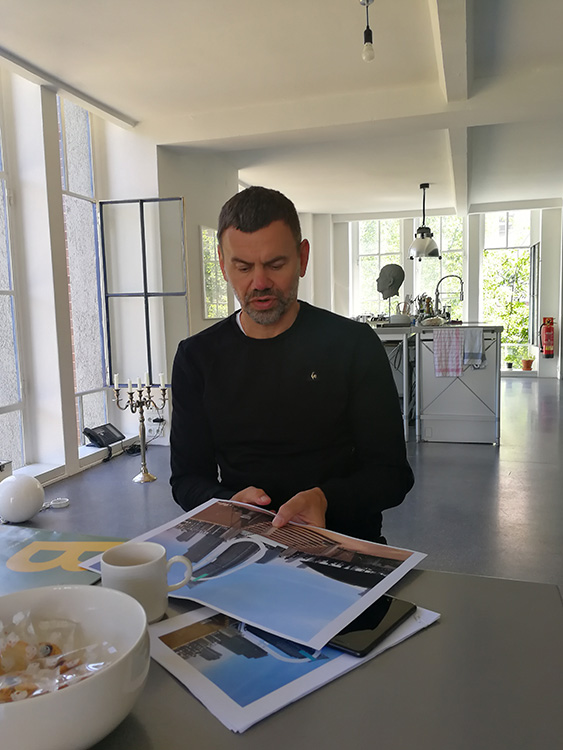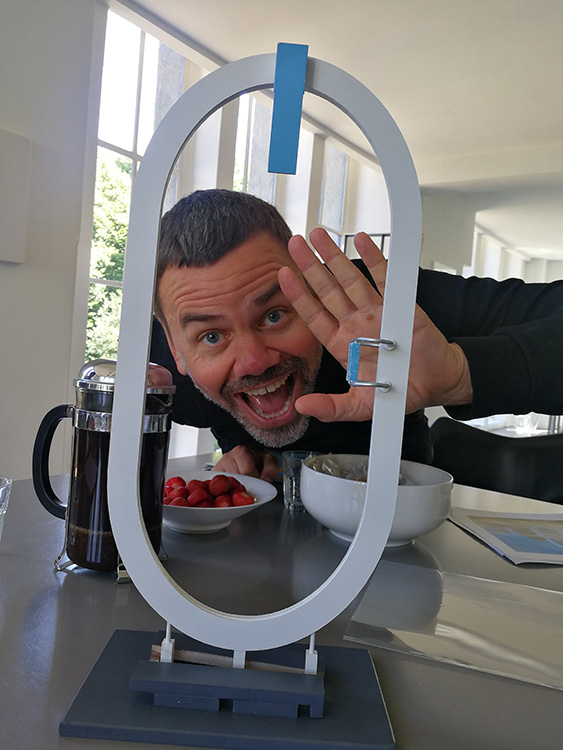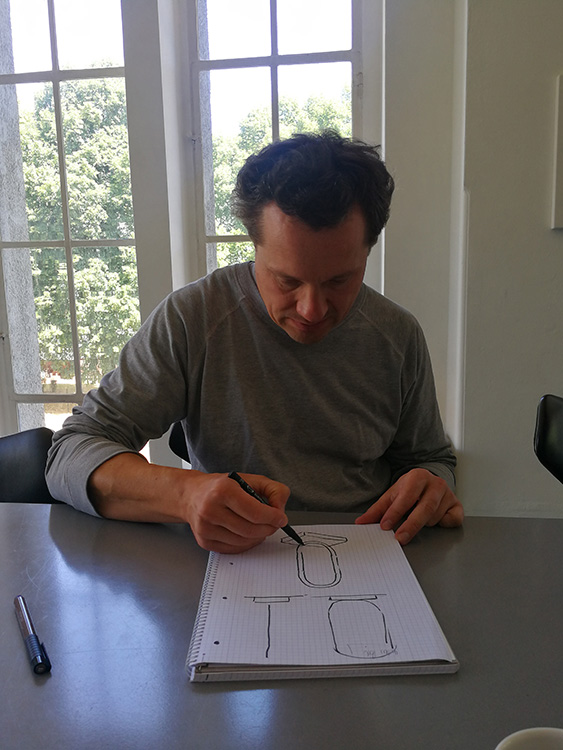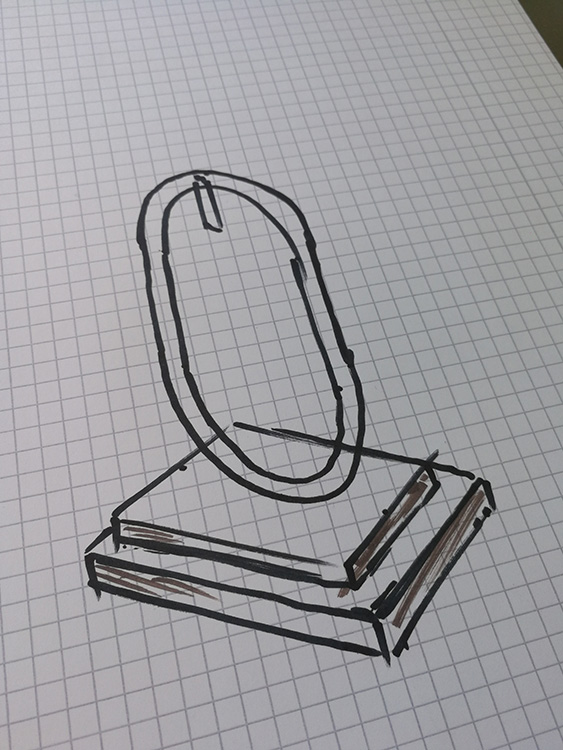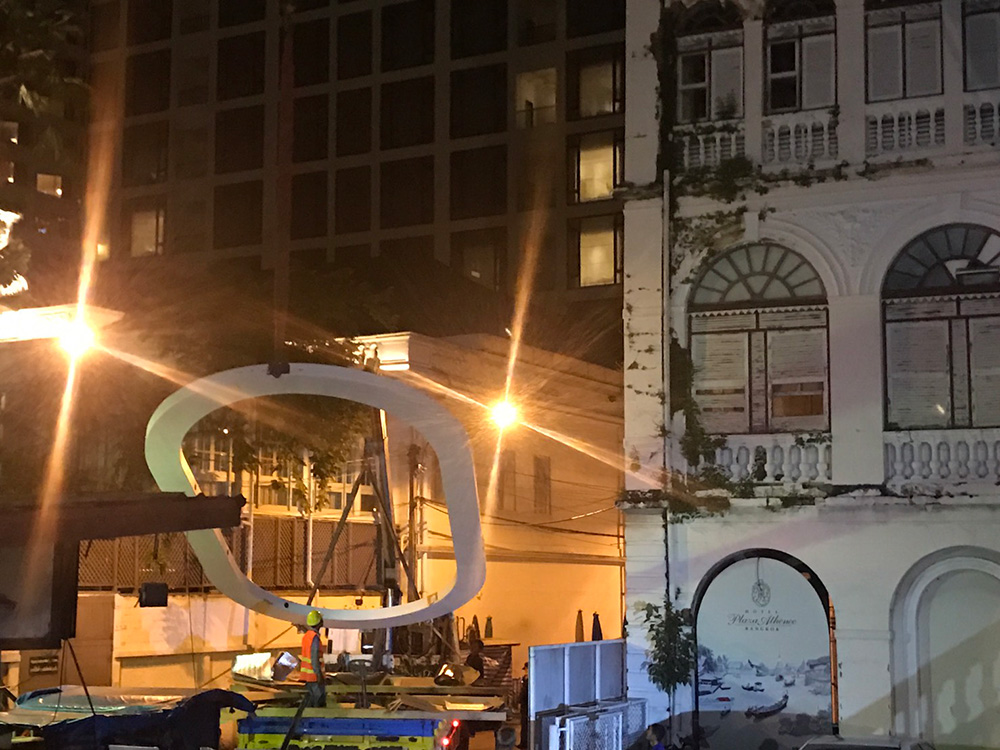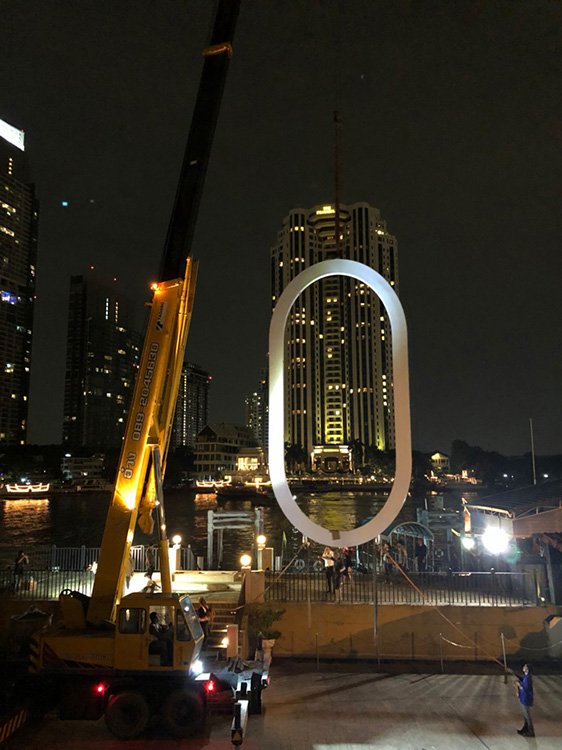 You may also like