Ask anyone in the street a simple question about Thai-ness. "What's the first thing that comes to your mind?" And you may get something like traffic jams for an answer. It will come as no surprise. Everywhere you look, the streets are wedged solid with the traffic gridlock especially during rush hours.
/// Thailand ///
Story: Nawapat Dusdul /// Photography: Rithirong Chanthongsuk, Soopakorn Srisakul, Singhanart Nakpongphun
From a different point of view, you may get something positive for an answer, something like beautiful temples, the marvels of ancient architecture, or the land of colorful taxis. But Thai-ness isn't about people's perceptions of anyone or anything in particular. It's a million memories that constitute a distinctive national identity. Good or bad, the underlying attributes of Thai-ness are hidden in all things we do. They range from little things like the flower garlands used in the worship of the Buddha and dolls in full traditional dance regalia, to spectacular scenery including temples and palaces, national monuments and colorful nightlife. All things considered, the perceptions of the quality of being Thai can differ greatly from one person to the next, and it's open to interpretation. That's where art comes into play as a medium of expression that in a subtle way explains, reframes, and conveys an understanding of what it means to be Thai.
The contemporary art festival "Bangkok Art Biennale 2018" is doing exactly that. 75 artists from Thailand and abroad are exhibiting more than 200 works at some 20 venues throughout the capital city from now until 4 February 2019. For many homegrown artists, it's a golden opportunity to express their ideas, passions, and commitments through various creative arts, ranging from installations and live performances to paintings and sculptures. It's inevitable that their perceptions of the underlying attributes of Thai-ness is hidden in the works of art they put on display. And it's entirely up to you to interpret them. We at LivingASEAN.com are proud to bring you some of the masterpieces created your compatriots.
Something about Thai-ness in home goods, décor and accessories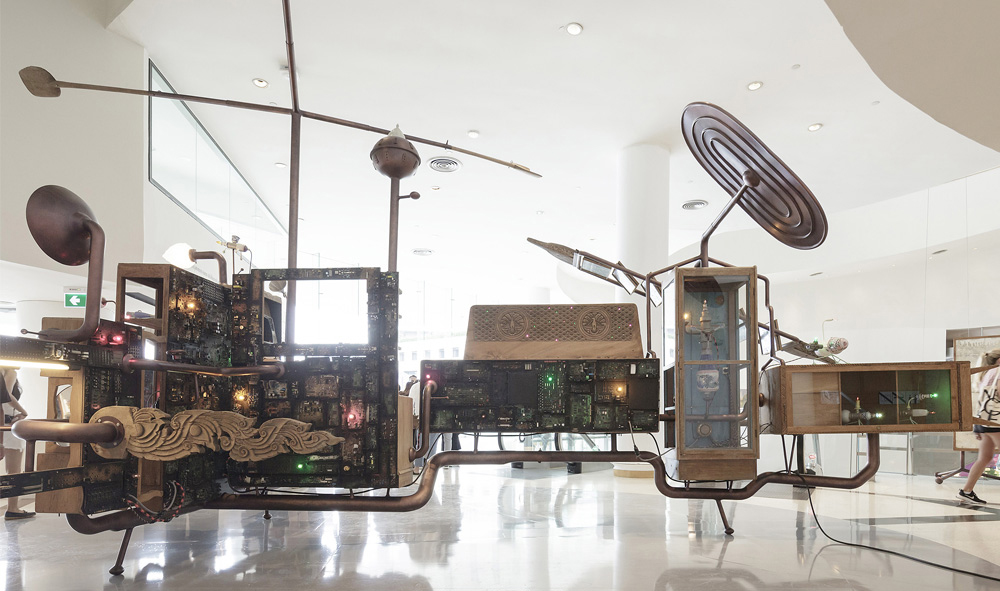 We have grown accustomed to seeing glass-faced armoires crafted of teakwood as part of our childhood experience. Equally familiar are pieces of architecture and a few ceramic vases that look very Thai to us. Over time, these home goods and décor items have changed hands as they get passed on from generation to generation or sold on the local marketplace. Now they can be found at temples. The flowers vases are widely used in the worship of the Buddha and merit making ceremonies across the country. Artist Torlarp Larpjaroensook, an Ayutthaya native, now lives in Chiang Mai. He's no stranger to traditional art and craft, and he knows exactly what to do with them. His latest masterpiece is the representation of a spacecraft that he creates using old armoires, home goods and accessories that he found lying around unused at the home of a relative. He calls his objet trouvé installation "Spiritual Spaceship". We call it the power of imagination.
The installation that measures 485 x 815 x 349 centimeters consists of found objects, among them an old armoire, a few vases, iron and copper implements, a spade, computer screens, electric lamps and fragments of various items. Together, they constitute a spacecraft model that he calls "Spiritual Spaceship 2018". The artist is passionate about spatial relationships and interactions between works of art and exhibition viewers. His works illustrate how even unexciting materials can be modified and eventually come to be appreciated as art. Especially in "Spiritual Spaceship 2018", there's something about being Thai in the obsolete items that the artist uses as a medium of expression. In a nutshell, it's a marriage between old objects and ultramodern architectural design. Who would have thought the final outcome would be a spacecraft with Thai-ness elements on it?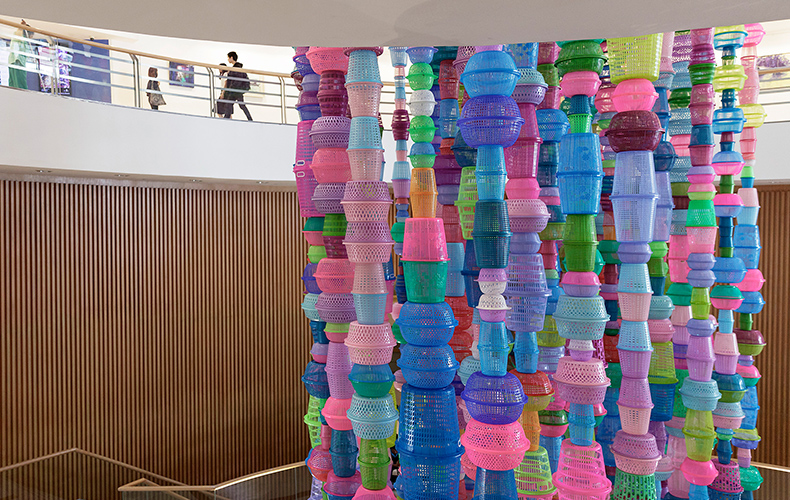 One of the magnets for art lovers, Basket Tower is an installation by Choi Jeong Hwa, a big name in South Korea's contemporary art scene. The soaring sculpture is made of hundreds of brightly colored baskets in various shapes and sizes that Choi single-handedly picked from the marketplace. A versatile artist with many rewards to his name, Choi has authoritative knowledge in effective use of space. His past works include sculptures, installations, fashion and graphic designs. Choi gets most of his inspirations from undistinguished, even recycled materials that he finds in daily living and turns them into amazing works of art. Interestingly, there's something in the colorful Basket Tower that bespeaks Thai-ness. The brilliant color combinations appear to be sending a message about life being fun, which coincides the quality of being Thai. The sculpture that stands as tall as a five-story building is on display at the Bangkok Art and Culture Center.
Something about Thai-ness in Cultural History
A force to be reckoned with in Thailand's mixed media art scene, Pannapan Yodmanee was among a few Thai artists to ever win the 11th Benesse Prize that was part of the Singapore Biennale 2016. For her, the fun part of it was the opportunity to compete with fellow artists from 19 countries from across Asia. Apart from the award money, she had the privilege of exhibiting her works at the Benesse Art Site in Naoshima, dubbed Japan's island of art.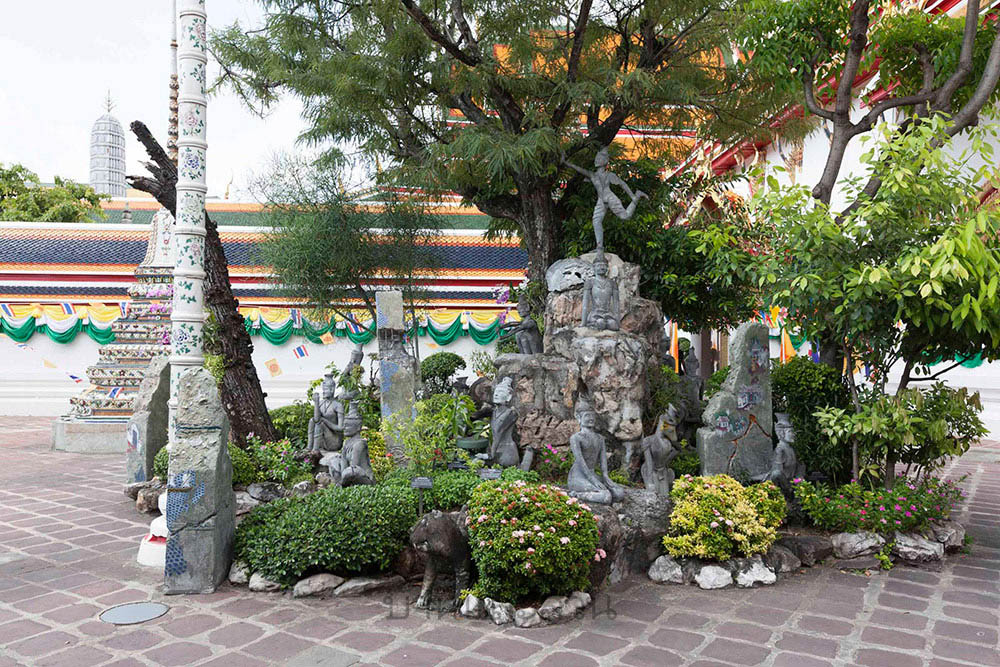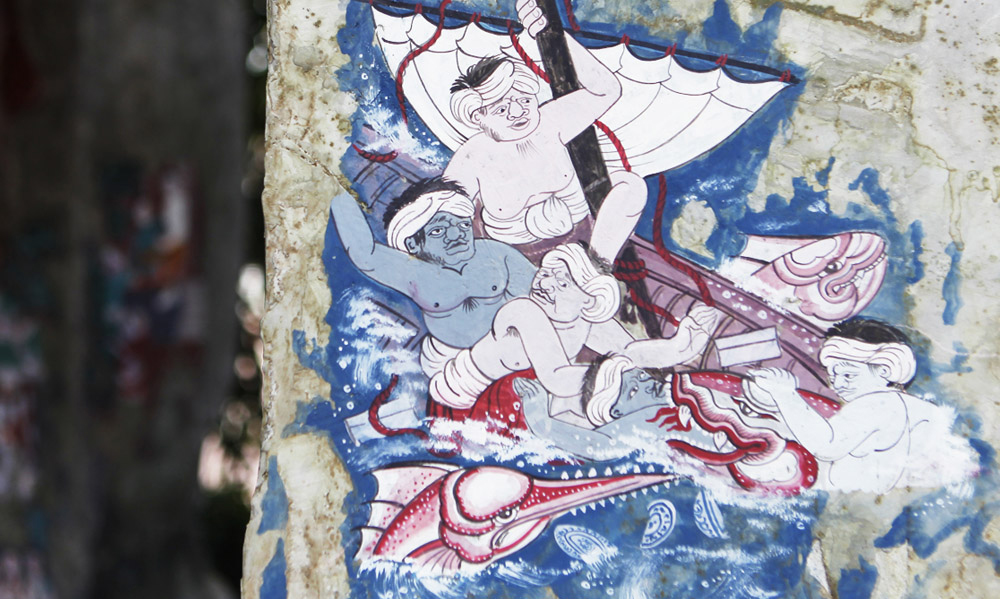 Pannapan's entry into the Bangkok Art Biennale 2018 is a transportable installation titled "Sediments of Migration". The sculptural exhibition consists of six miniature mountains, hermit figures in yoga poses, and a collection of ballast stones used in stabilizing the cargo ships of ancient times. Inspired by mural paintings found throughout the temple ground of Wat Phra Chetupon, it tells stories of the long established trade and cultural relations between the people of old Siam and their Chinese counterparts.
The artist said in an interview, "Through this installation, I want to communicate to the audience cultural harmony and the assimilation that exists between two peoples from entirely different backgrounds. It turns out to be quite a challenge because the miniature mountain landscapes must be kept intact, while media of expression are added to the scene to produce a pleasing visual effect." Pannapan was able to do exactly that. Some exhibition viewers have said it wasn't easy to tell the difference between old and new parts that made up the installation art.
Likewise, it's the dream of the up-and-coming artist Komkrit Tepthian to feature a page of Thai history and religion in the early Ratanakosin Period. His entry into the Bangkok Art Biennale 2018 is a sculptural installation consisting of two three-meter-tall Giant Twins. It features the likeness of a sculptural Chinese warrior and a giant gatekeeper from classical mythology.
On a related topic, Chinese avant-garde artist Huang Yong Ping presents Dragon Boat, a 16-meter-long sculptural installation depicting a journey by the people who migrated from China to settle in Thailand in the past century. Huang is founder of the Xiamen Dada art movement.
Something about Thai-ness and the Environment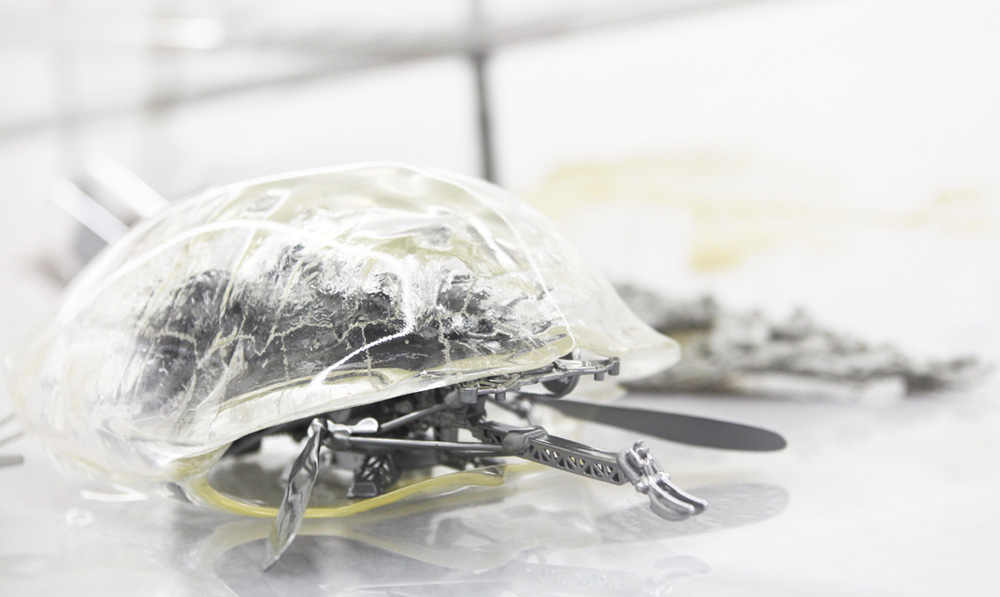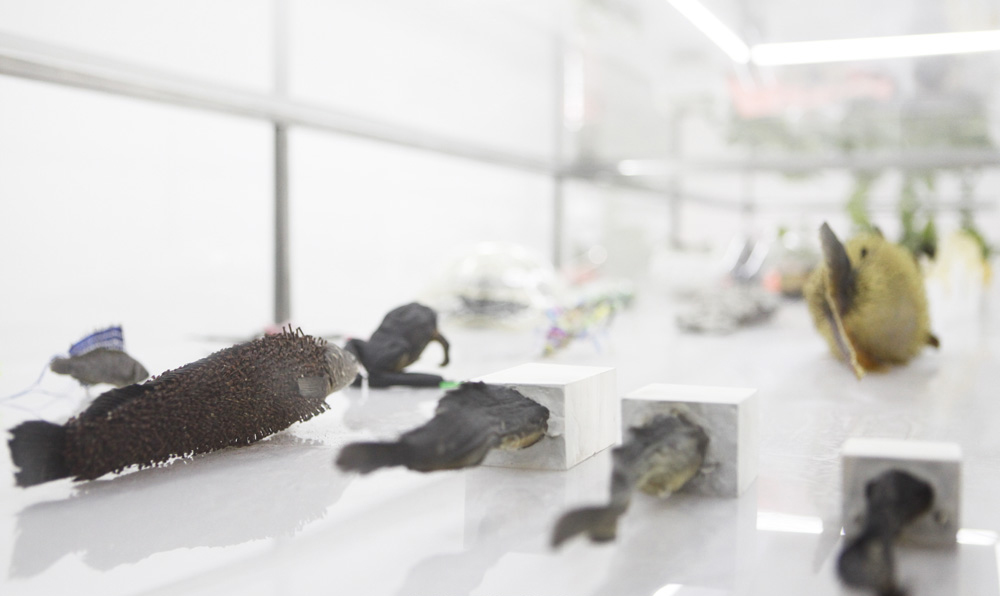 Patipat Chaiwitesh is a new generation artist with a unique way of expressing ideas about events and their impacts on society. He has created works in a number of genres from sculpture to installation to textile art. For the Bangkok Art Biennale 2018, his installation with a futuristic name, "2562++", has excited the curiosity of many viewers. That's exactly the intention. The artist sees his work both as a laboratory and means to promote an awareness of the effects of change in the natural surroundings. The message is being conveyed in the artistic representations of fish, birds, and crustaceans that appear to have undergone transformation as the result of environmental degradation by humans. The artist's work is on display at the East Asiatic Building.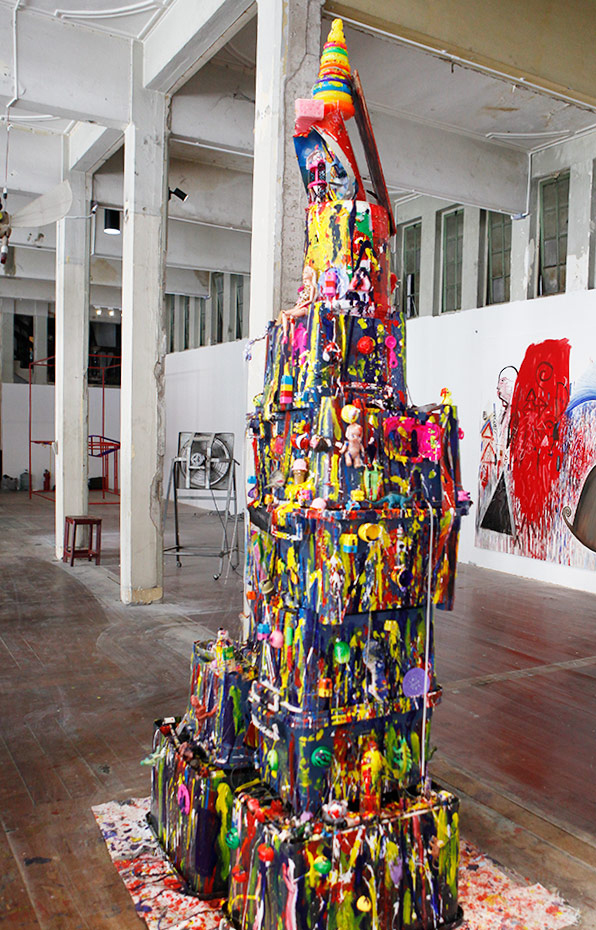 On a related topic, British artist Andrew Stahl presents "Pyramid Shape Sculpture 2018", a two-meter-tall installation crafted of fragments of toys and found objects that he plucked from the Chao Phraya River. His work raises concern over water quality and the health of rivers in Thailand. Professor Stahl is chair of the Painting Department at the UCL Slade School of Fine Arts. His pyramid-shaped sculpture stands covered in multiple layers of warm-color paint spread over the surfaces that he uses to draw attention to hot issues concerning water pollution problems. Stahl has used his painting skill to chronicle a journey through time and unfamiliar places, where culture and language differ greatly from his own. He specifically made reference to the physical environment of Bangkok from an artist's perspective and the enormous energy that made it a vibrant destination.  Stahl said in an interview: "A journey on the Chao Phraya evokes memories of the time when the first Europeans discovered old Siam and came into the company of the people whose life depended on this river. Professor Stahl's work is on view at the East Asiatic Building.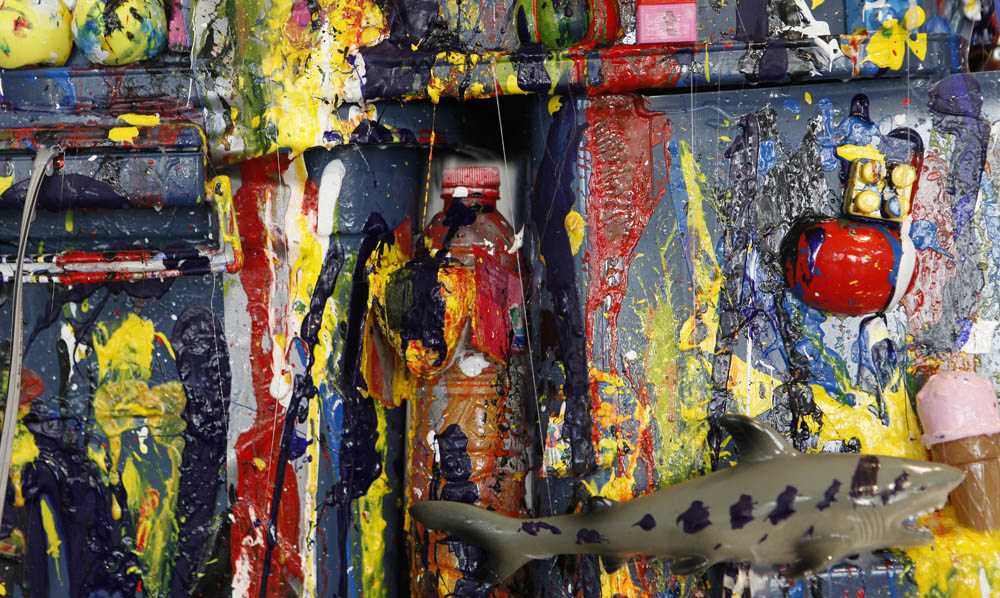 The exhibitions listed above are part of a wider art festival that's going on right now and will run until 3 February 2019. The Bangkok Art Biennale is a major confluence of more than 200 beautiful works by 75 leading artists from 34 countries across the globe. The exhibits are on show at 20 different locations scattered throughout the capital city.