Jutamas Buranajade and Piti Amraranga are designer laureates and founders of the studio "o-d-a", which is short for "Object Design Alliance". They're widely regarded for their original and unique creativeness.
Jutamas, who specializes in product design, is a graduate of Silpakorn University, while Piti did his graphic design degree at the Faculty of Decorative Arts, the same alma mater.
For the design duo, their career is a continuous journey to experience every aspect of art and design. Piti started out as a complete novice in the field of woodworking. But it's the power of interest that's led to more effective learning and eventually culminated in in-depth knowledge in the technique, design and function.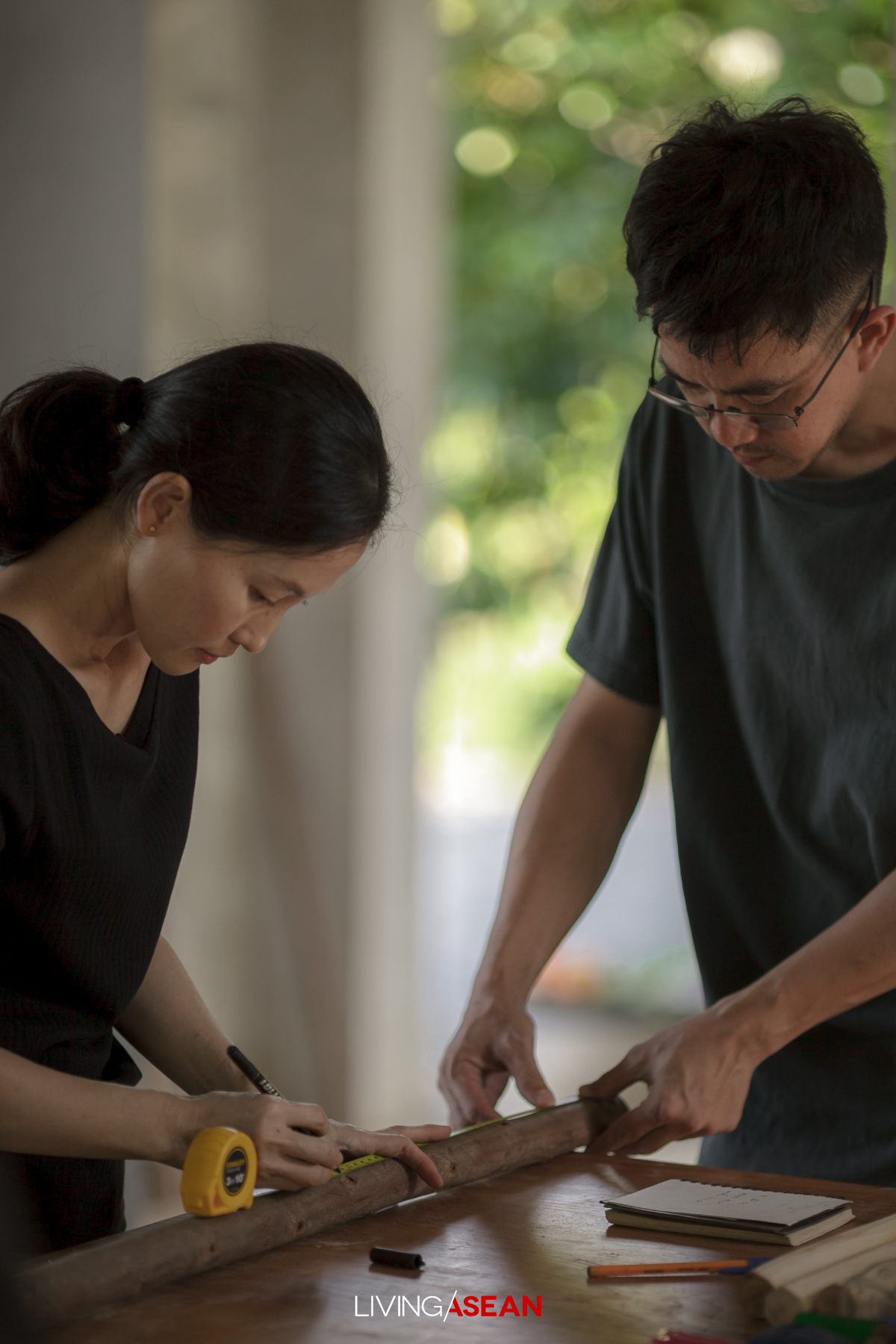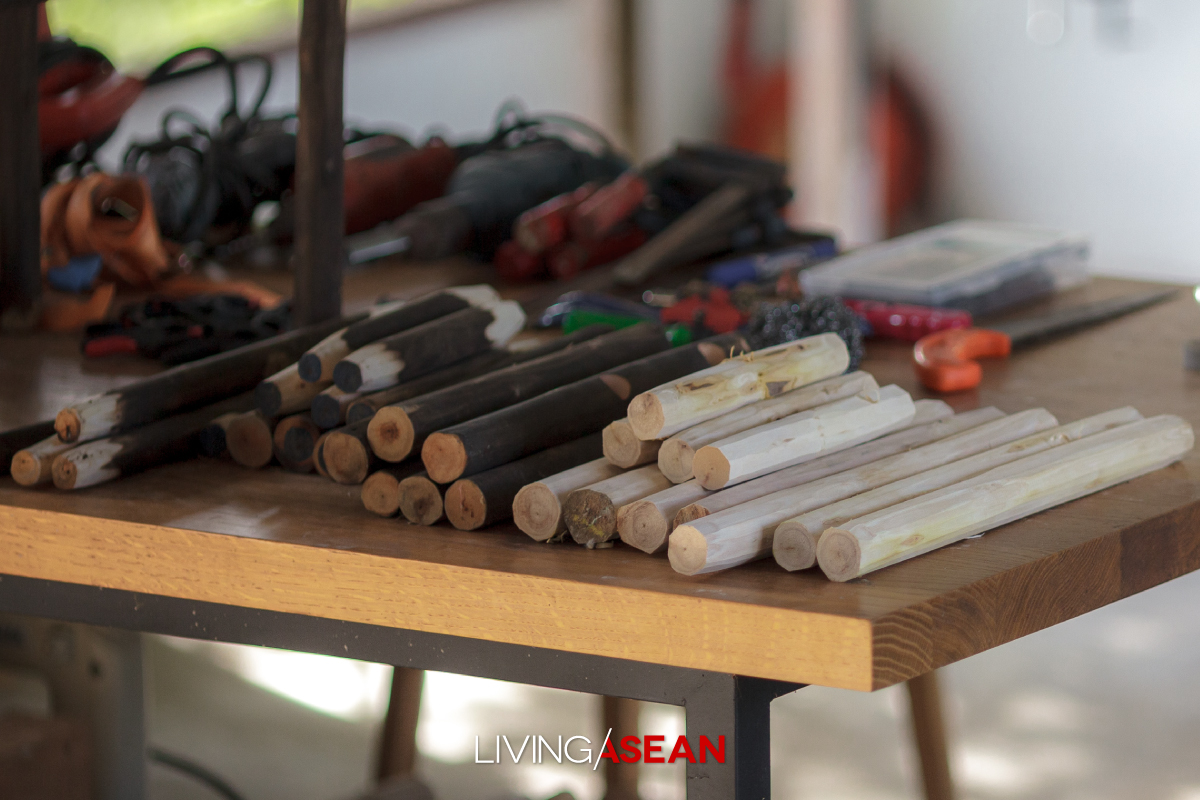 Over the years they've learned the trade from various master craftsmen including Phisanu Numsiriyothin, who clearly had a good influence on them, Their chief asset lies in the use of the imagination and original ideas that keep everything simple yet attractive.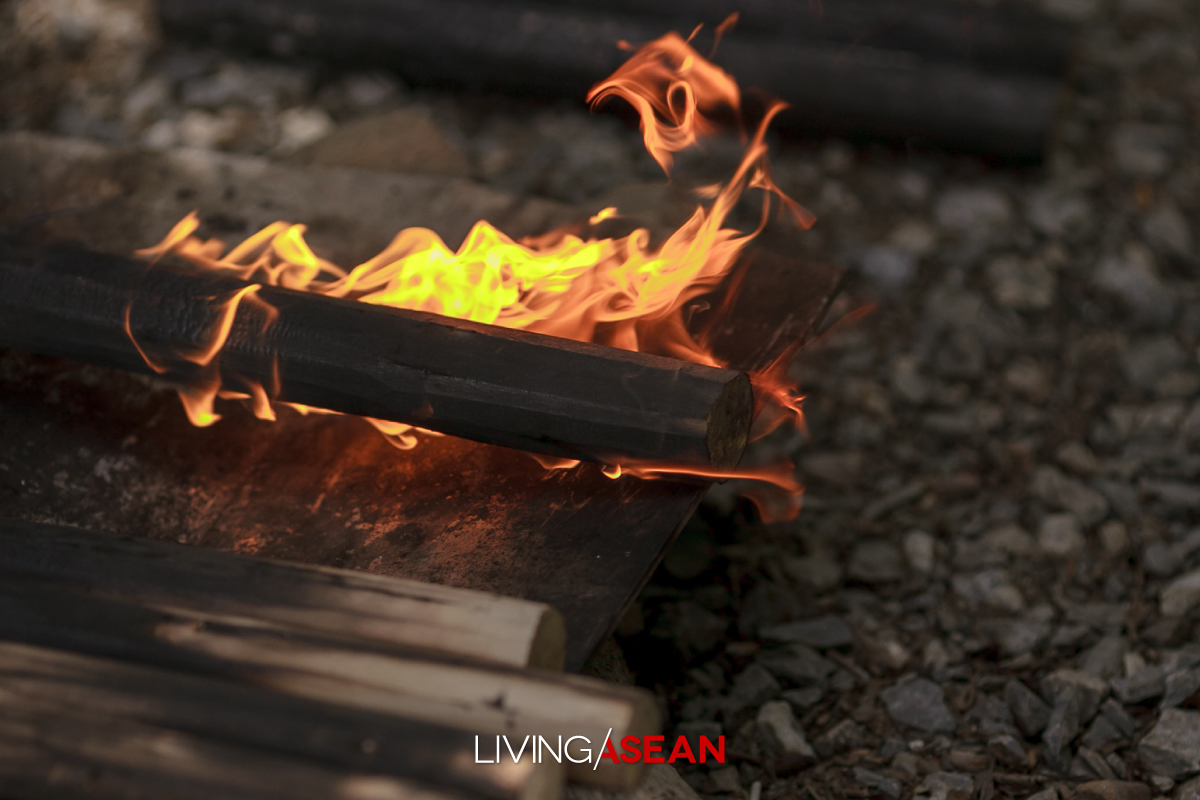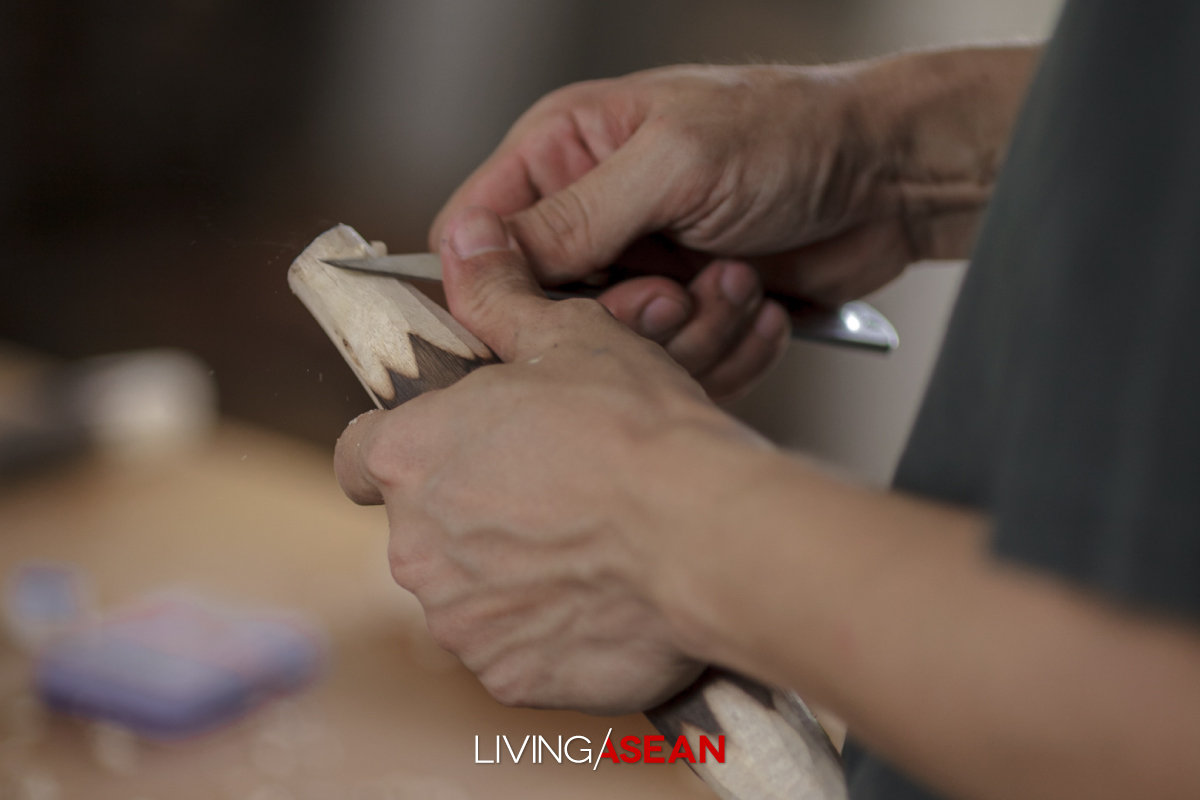 It's a subtle approach to keeping a balance between the processing of raw materials and industrial manufacture without sacrificing quality and uniqueness. Along this line of thinking, Jutamas and Piti proudly present the Rush Chair, a collection of woven rush chairs and stools made from green wood.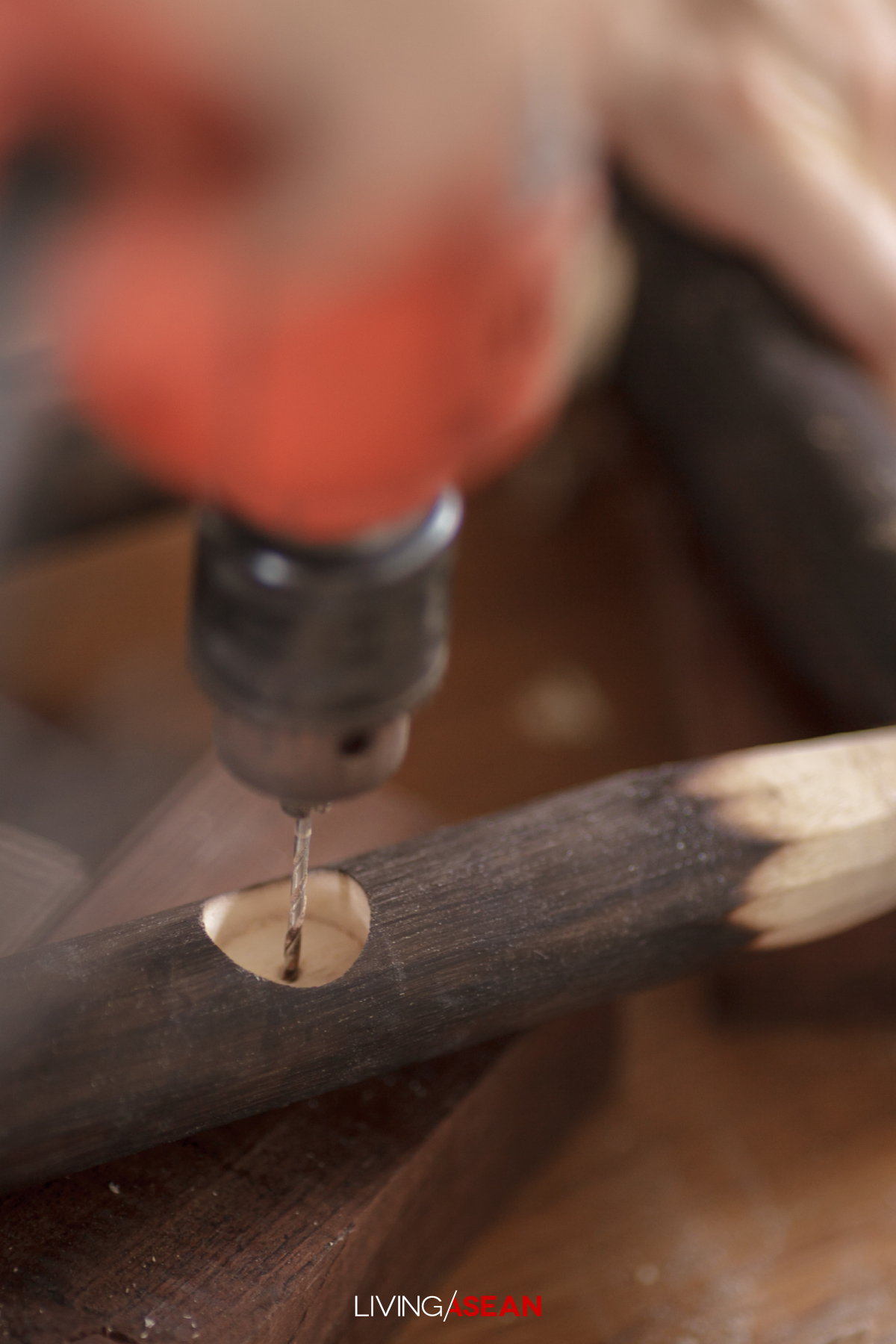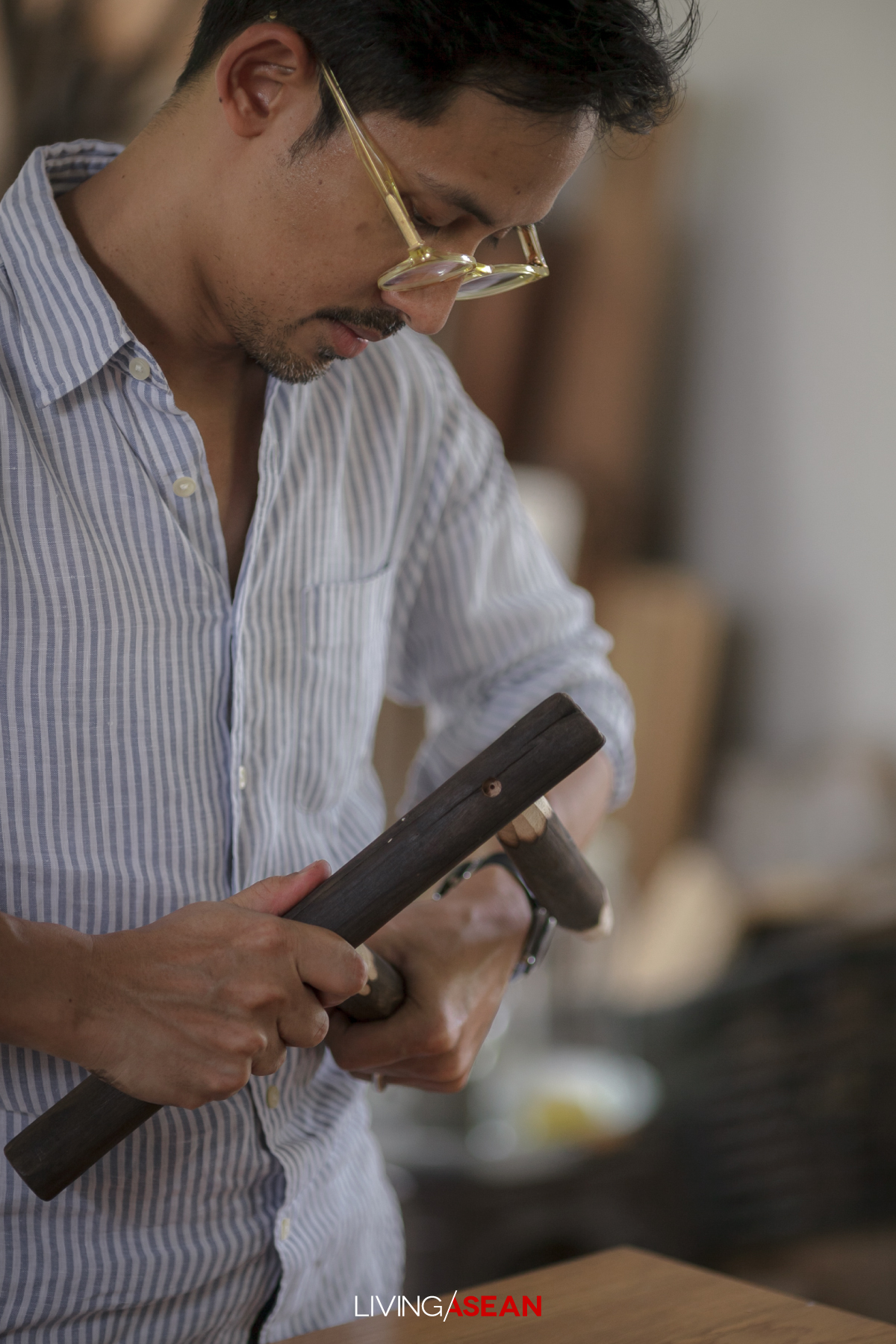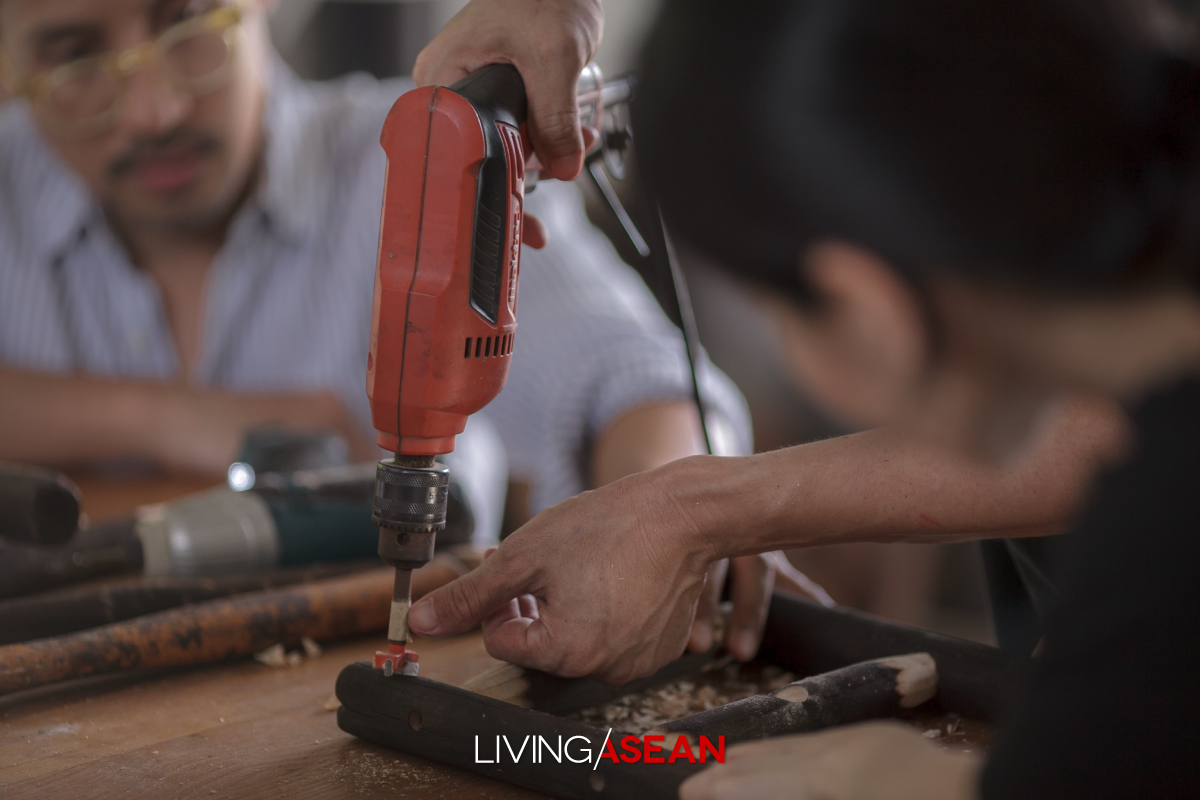 It's a design that speaks for the trees, thereby saving them from harm and destruction. Precisely, if a seat can be made out of wooden sticks, then there's no need to cut down any tree, a win-win situation for both humans and forests.
As Piti put it, "For the most part, designers have a good knowledge of lumber yard timber that's been sawn into planks or partially prepared for construction. But we think it's time to change the way we do things. The making of furniture from wooden sticks presents several challenges that must be overcome, ranging from debarking to reducing moisture content in wood."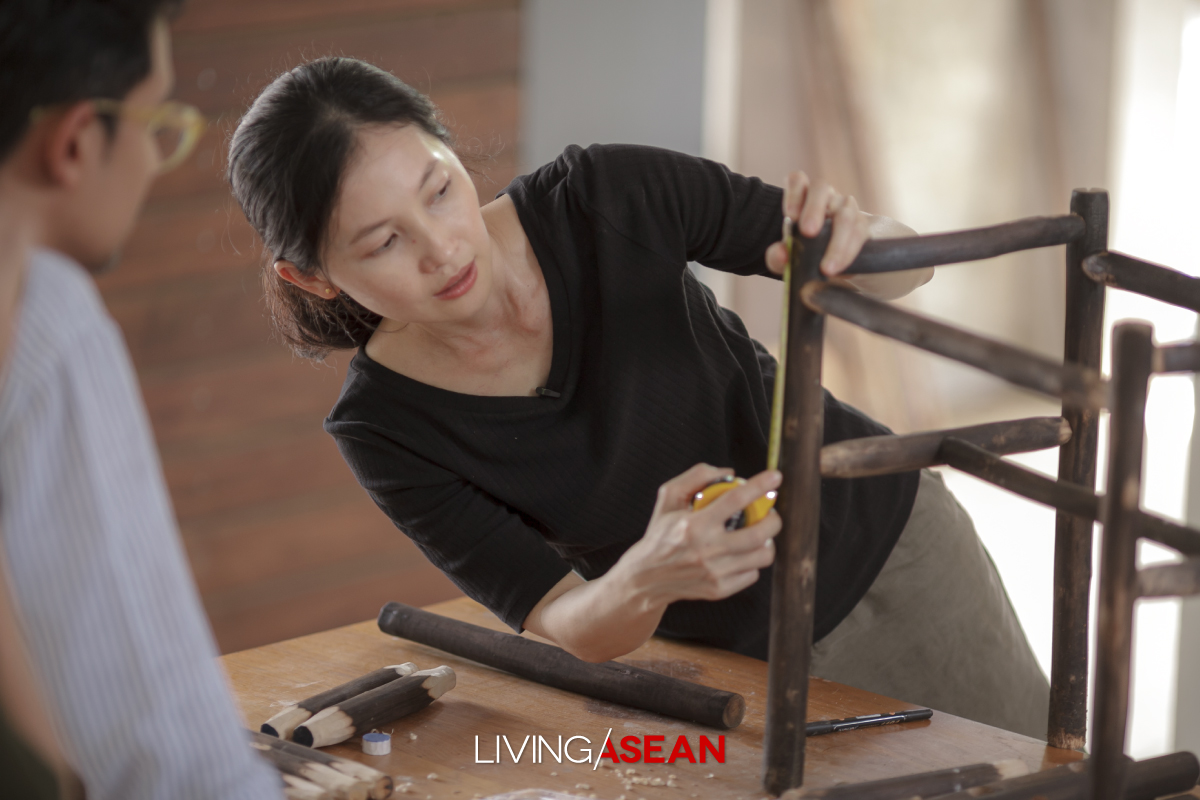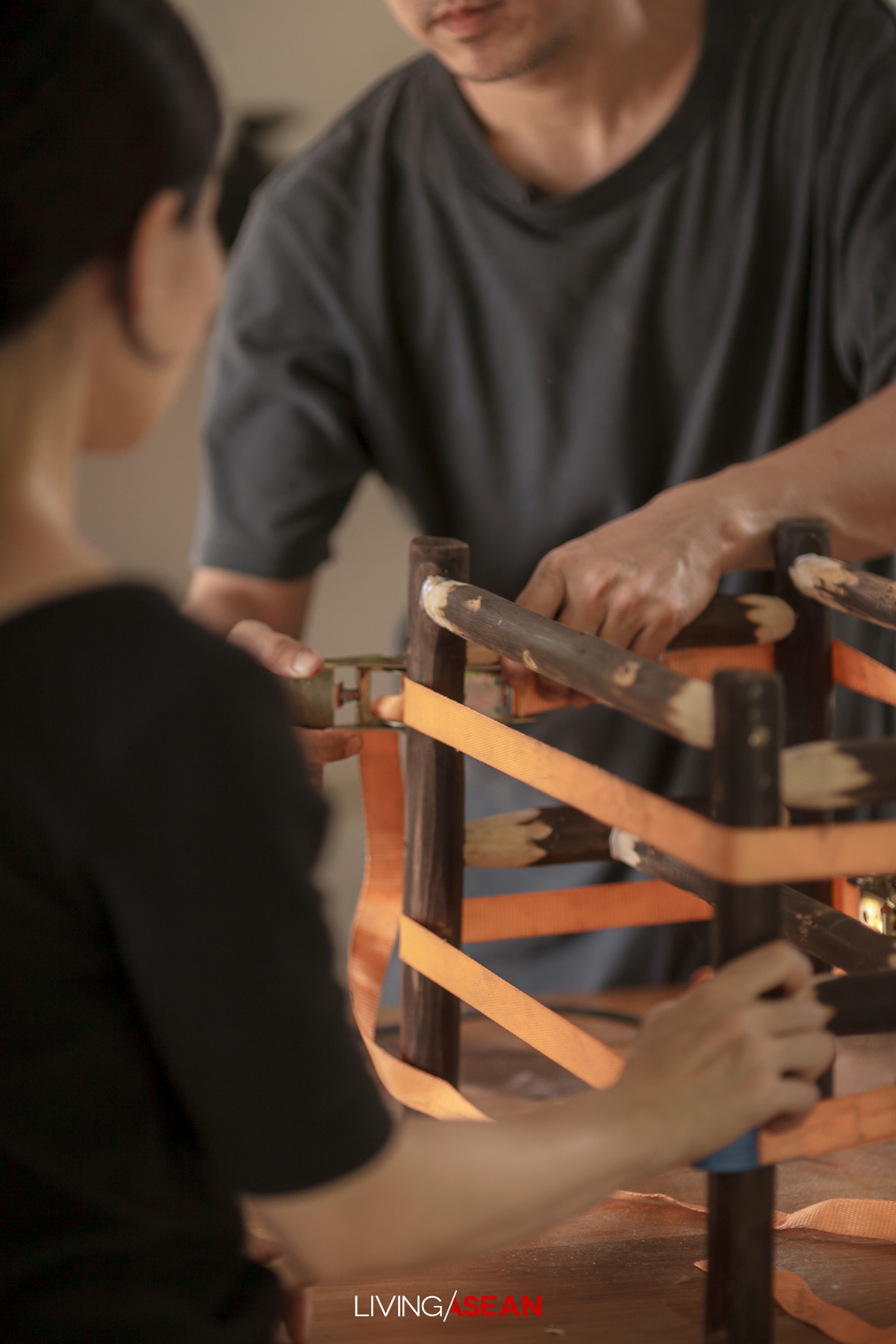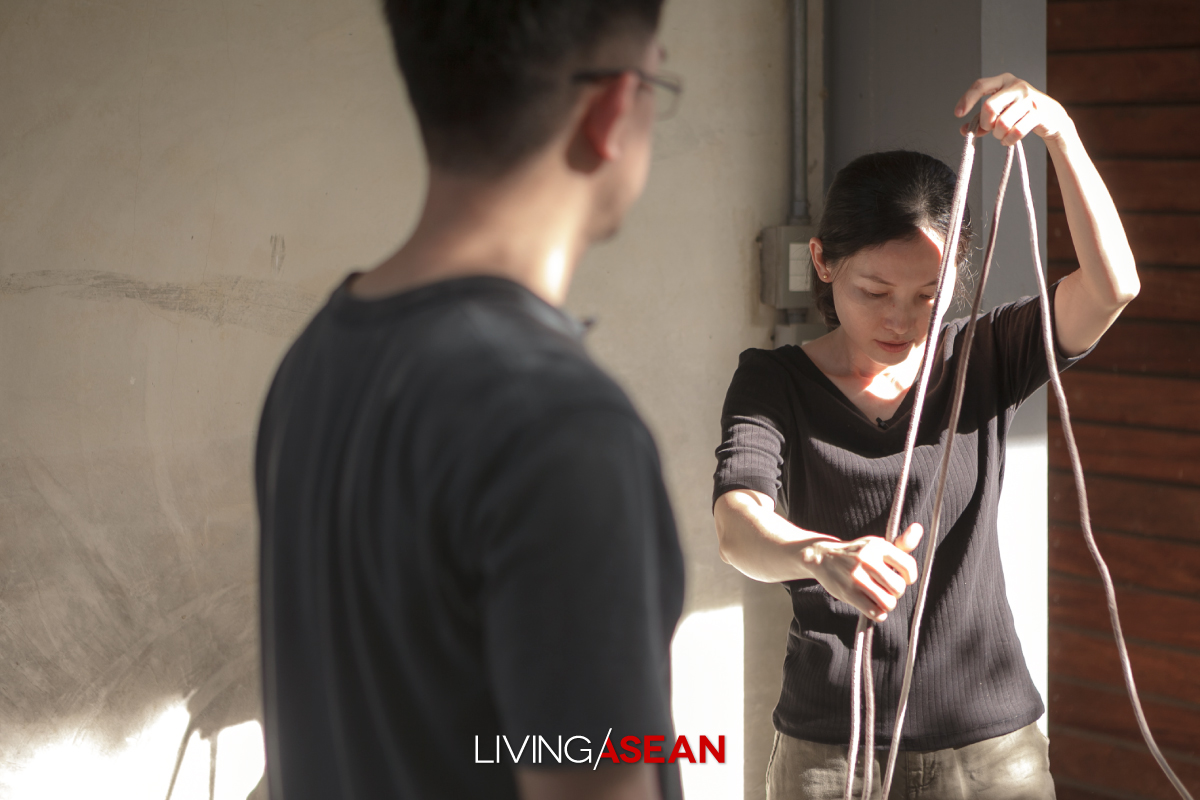 The stick chair with woven seat made of hyacinth fiber from Ayutthaya comes in handy as the prototype of the Rush Chair series. It's become the inspiration for anyone wanting to try their hand at simple furniture making. Plus, it requires only a few hand tools, while the wooden sticks and rush used in seat weaving vary widely from one area to another. Together, they bring the power of storytelling that adds value to local products.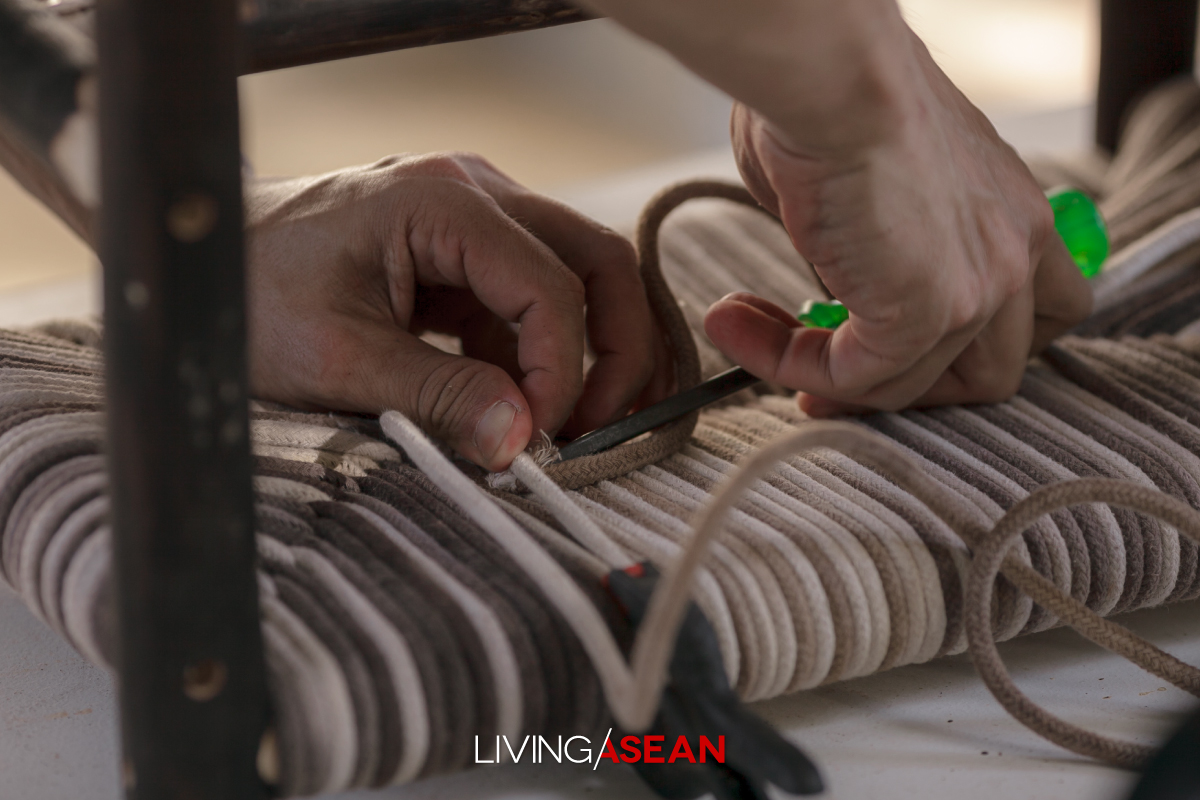 He said, "We view easy yet stylish furniture making with optimism. Anyone can do his or her own DYI furniture project. It's a way to self-reliance and taking care of the surroundings. It's different from commercial furniture, which requires a lot of energy and resources to manufacture. As for Rush Chair, if you make it, you can fix it. One day when it's not repairable, you can discard it without harming the environment because everything about it is biodegradable."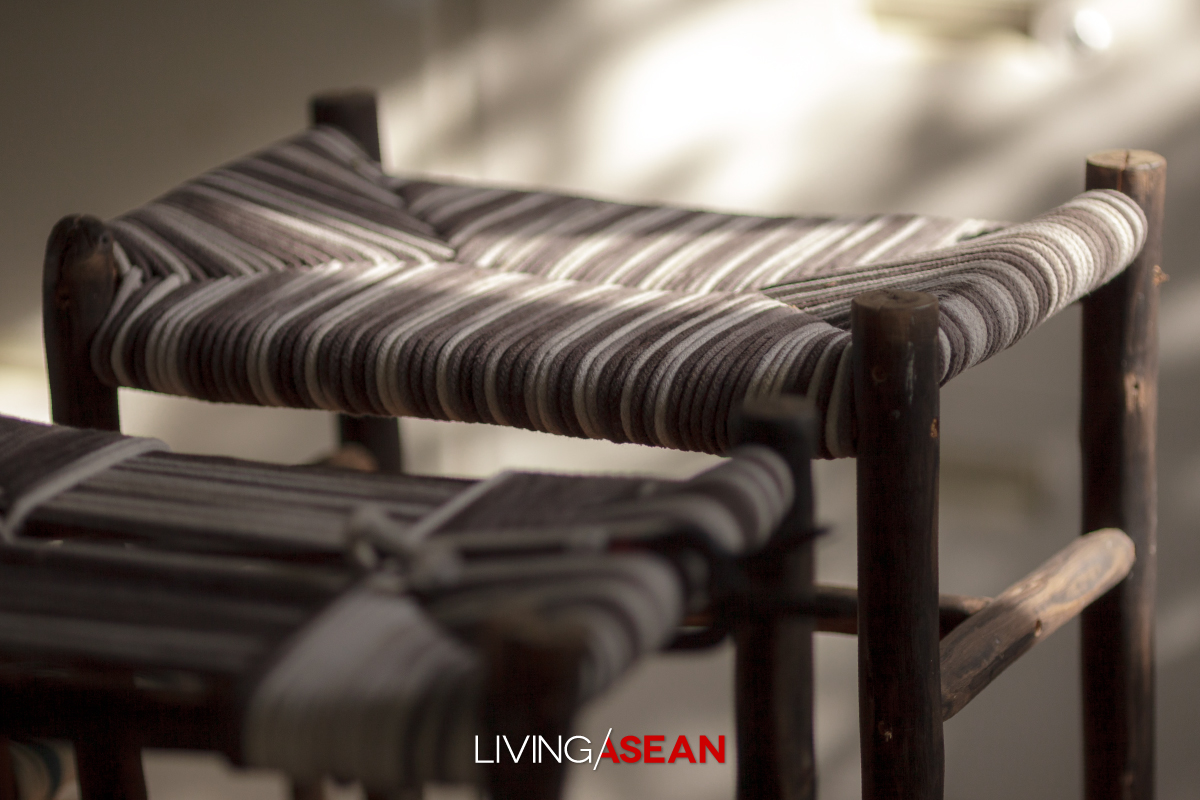 Jutamas Buranajade and Piti Amraranga of the o-d-a studio are among subject matter experts being featured in an online course of study titled "A Passion for Woodworking." It's part of BaanLaeSuan Classroom, a collaboration with CEA, or the Creative Economy Agency (Public Organization). The program is designed for people interested in woodworking and those looking to acquire basic carpentry skills through furniture making using basic tools and community resources, plus plenty of tips for developing a career in creative business. The show is hosted by Jeremiah Pitakwong, Editor of BaanLaeSuan Magazine. Start learning today at LivingASEAN.com.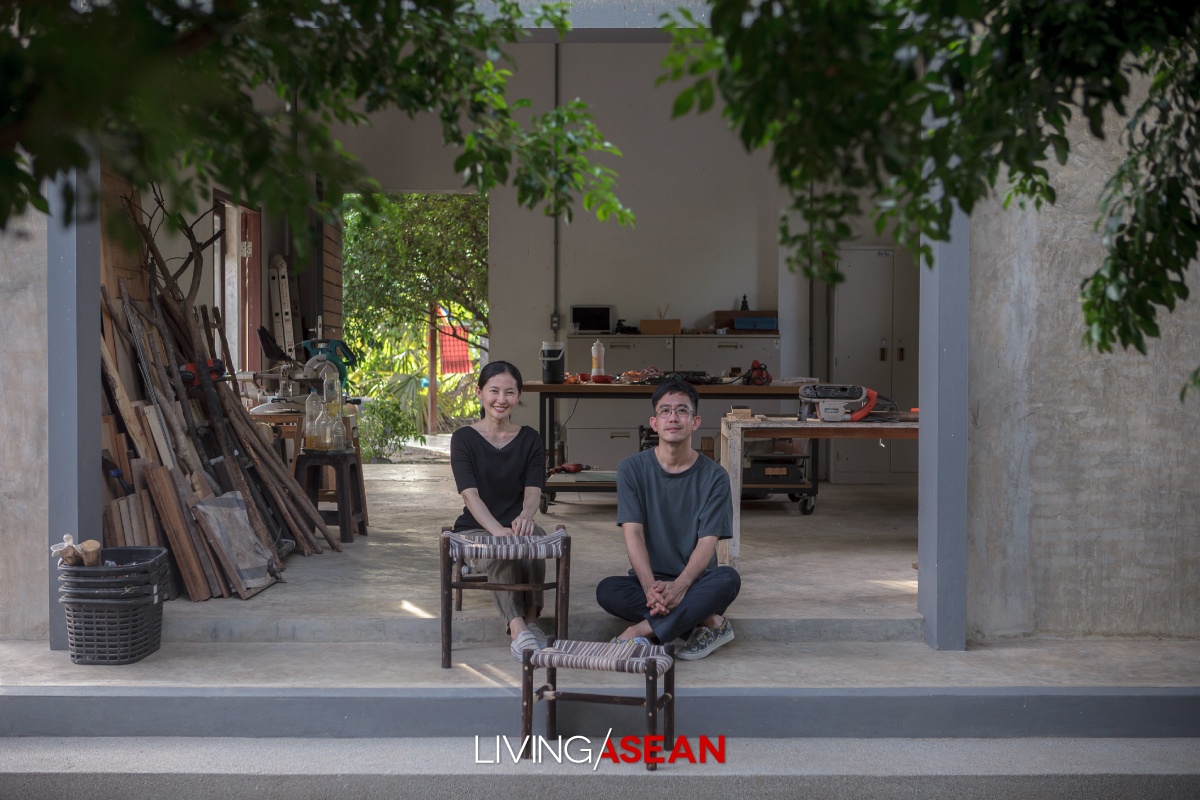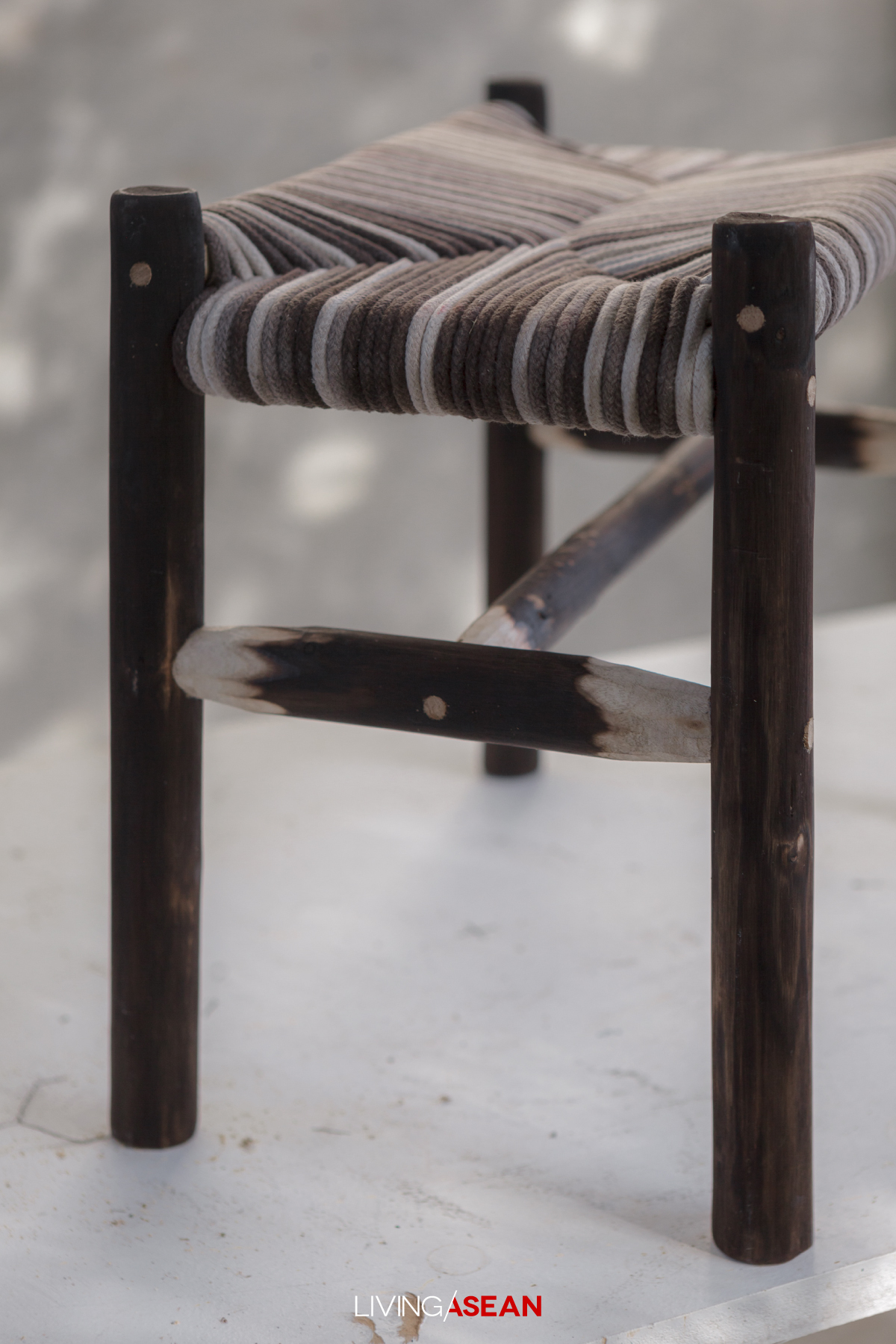 Source:
https://www.baanlaesuan.com/online-program/classroom/215127.html
https://www.baanlaesuan.com/78250/design/design-update/product/rush-chair
https://www.baanlaesuan.com/69289/baanlaesuan-fair/o-d-a