"If you just look and never touch it, the product suffers." Most of us probably know this Thai proverb, but wouldn't think it applied to the art we'll see at the Bangkok Art Biennale 2018 international festival of contemporary art. However, you might be surprised! You really should visit this multi-venue event. Walk around, drink in the atmosphere, and actually reach in to the core of the stories and inspiration the artists have given us with these works.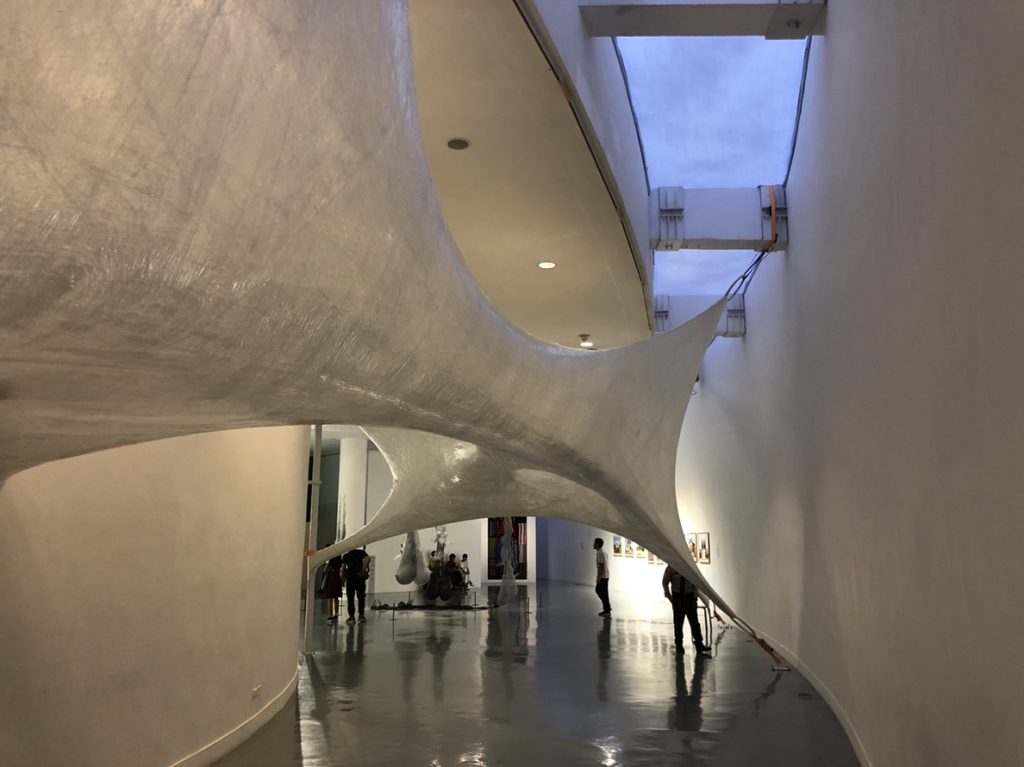 Tape Bangkok 2018
Artist: Numen For Use Design Collective
Location: 7th Floor, Bangkok Art and Culture Centre
Have you ever been afraid of things you couldn't see? If, at the end of the tunnel, there's nothing but emptiness and you don't know what's in front of you, how can you dare go in? And if the tunnel is full of breakable things and you have to walk with the greatest care?
We're taking you to Tape Bangkok 2018, a giant tape sculpture at the Bangkok Art and Culture Centre. Attached from walls to floor, it is not only like a tunnel, but when you walk inside, it feels like a silk cocoon. Experiences of light, sound, touch, and smell give the visitor a sense of being on a journey of self-discovery and rebirth. The creator of this project, Numen For Use Design Collective, is a group of artists and designers made up of Sven Jonke, Christoph Katzler, and Nikola Radeljkovic, whose work often experiments with large spaces and small-scale materials such as adhesive tape, glass, or aluminum.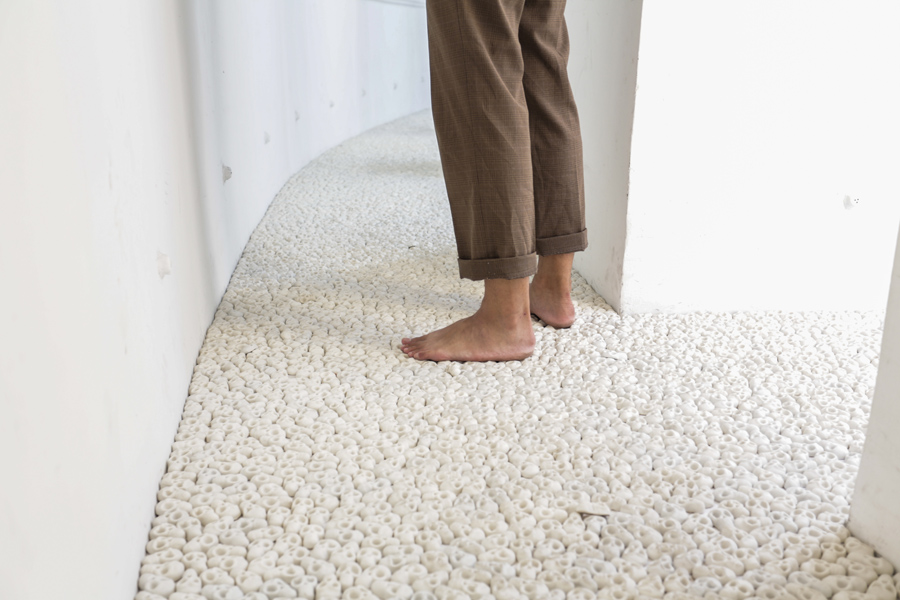 WHAT WILL YOU LEAVE BEHIND?
Artist: Nino Sarabutra
Location: Wat Prayoonwongsawat Worawihan
If today were the last day of your life, what good would you leave behind in this world? Most of us probably don't have our lives completely planned out. If tomorrow were to be the last day of your life, what would you do? We expect that more than 90% of respondents would say they'd spend as much time as possible with loved ones. Would it occur to anyone that perhaps we should instead use every breath remaining to make a better world?
WHAT WILL YOU LEAVE BEHIND? is a scattering of more than 125,000 unglazed white ceramic skulls that pave a walkway around the temple's main chedi. The pieces are of different sizes, transforming the space and giving it a fragility that moves people to step carefully, and with each step there are reminders of death, calling for mindfulness, as the rhythm of the walk encourages controlled breathing, and perhaps also thinking about how each of us can bring some good into the world each day .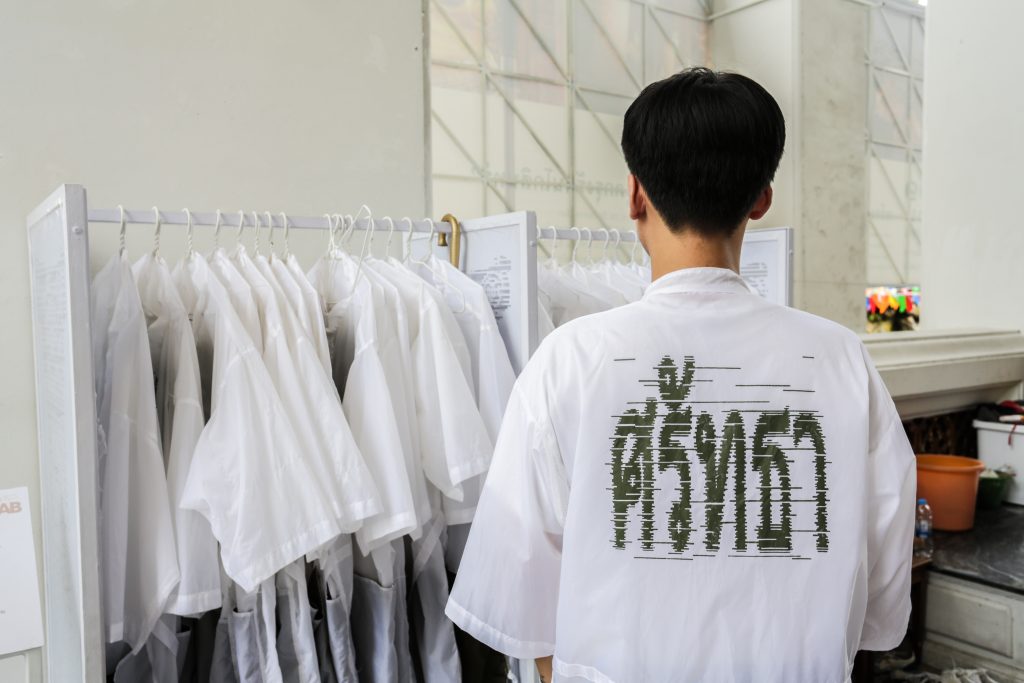 Paths of Faith, 2018
Artist:  Jising Somboon
Location: Wat Phra Chetuphon Vimolmangklararm Rajwaramahaviharn
The name Jitsing has long been well known in fashion circles for the artist's being different and tearing up old rules: in this respect his identity is reflected here in a work that mixes art, spirituality, and fashion design. Besides his fashion design work, Jitsing also does paintings and sculptures.
For Bangkok Art Biennale (BAB) 2018 Jitsing has produced a piece entitled Paths of Faith (2018). This is a collection of white robes with the word "faith" in Thai, English, and Chinese embroidered on the back. There is a pocket sewn into the shirt to hold shoes so that removing them to enter the Reclining Buddha sanctuary they don't have to be left haphazardly outside. The robes are set where visitors can wear them inside as they walk around the giant sleeping Buddha, feeling heavenly while hearing the sound of coins falling into a donation bowl. Paths of Faith (2018) is on exhibit for the full 4 months of the Festival, plenty of time to come take part in this expression of faith.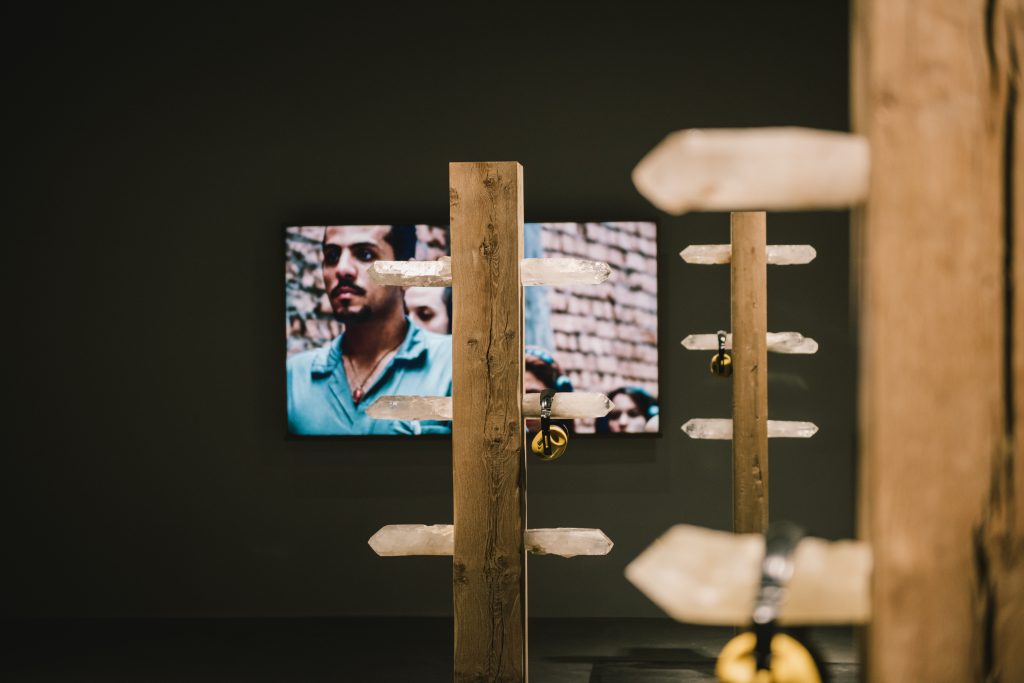 Standing Structures for Human Use (2017)
Artist: Marina Abramović
Location: BAB Box @ One Bangkok
If you don't participate in this art work, you'll never understand how wooden columns can be related to crystals. This is the latest work of Marina Abramović, an artist who at age 72 is at her highest level of influence in the world of live media and conceptual art. This piece focuses on communication through the body. This glowing sculpture here is designed to treat injuries and heal the hearts of those who interact with it. Two people stand, each on a side, and use the crystal for communication through silence. Marina believes that if our hearts are still enough, they can send power to each other. Want to know what this is all about? Come experience it at BAB Box @ One Bangkok.
What makes Marina Abramović's work interesting is the display of intention through performance, playing with the deepest states of the human body and spirit. The works that brought her fame were many, and one of the most interesting ones is Rhythm 10 (1973).
Marina Abramović's fascinating performance art, revealing intention through an interplay of the human body and spirit, is at the core of the works that made her famous, one of which is Rhythm 10 (1973).
Rhythm 10, her first solo performance, features knife play. Spreading her hand wide, she slams the points of the knives rapidly in each in-between space, all the time recording the sounds. Using 20 knives, changing after each round, she then plays the recording and repeats the process in synch with the recorded rhythm. Spooky, no?
Marina says she's neither crazy nor has a death wish. Even if many of her works appear life-threatening, she is simply testing the extent of the body's powers: it isn't so much the body, but more the mind that enables us to go beyond our limitations. For her, performing before an audience merely means pushing her own limits to be able to do things normally impossible.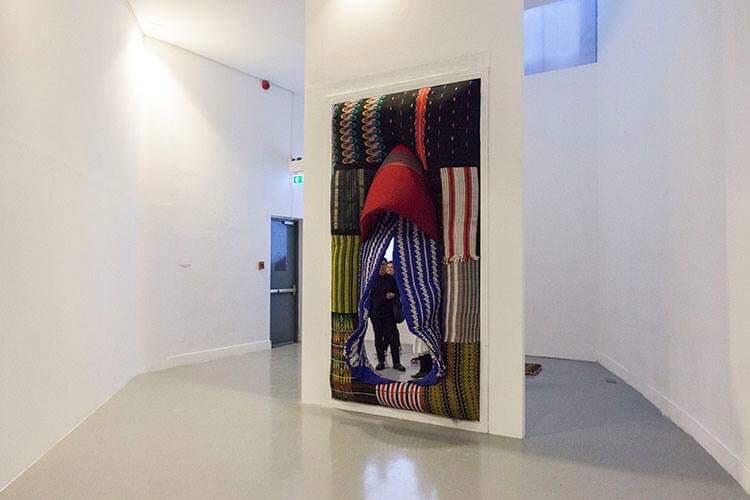 The Check Point 2018
Artist: Nge Lay
Location: 7th Floor, Bangkok Art and Culture Centre
Installation art often gives you something to stand staring at before passing by. You won't understand it if you look only at its surface. The Check Point is an arrangement of multicolored, multipatterned fabrics into a beautiful work of art, but is much more than that. It communicates about both spiritual and physical women's issues that reach all humanity, including saints, knights, philosophers, and sinners, as one and all, we are born through a mother's vagina. Nge Lay poses the question of why for many reasons arising from society or belief systems there is a pervasive view of women as representing weakness and lesser ability. Yes, nowadays issues of equal rights are more at the forefront, but this piece harks back to the traditional. The artist uses numerous pieces of longyi, a fabric popular among 8 Myanmar ethnicities for skirts, to sew into a vagina-like shape. To really get inside this piece doesn't mean simply daring to go through a cloth birth canal, but being inside and summoning a belief in the symbolism as if it were indeed true. Nge Lay says, "Creating this piece I felt both satisfied and dissatisfied, proud and sad at the same time, at being a woman. I want visitors to walk through this door and experience it as not a dirty or depressing thing, but as the value that comes with being at once mother, nature, and the land itself.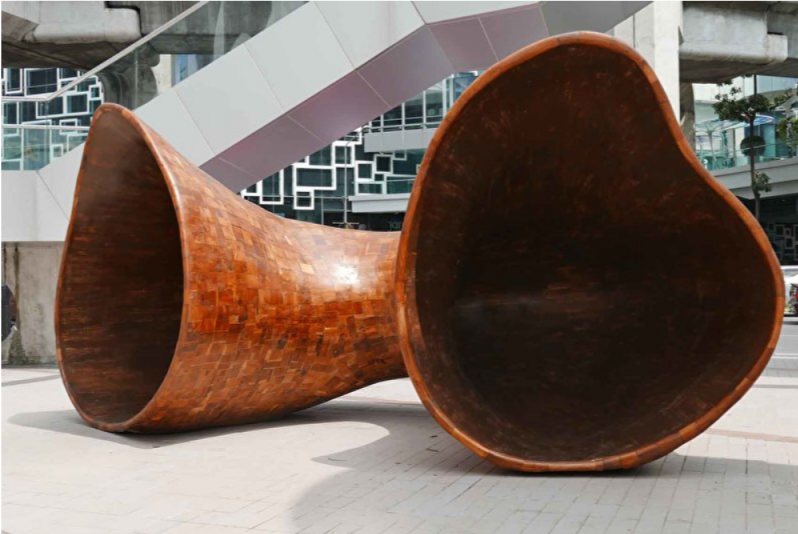 Shelter 2018
Artist: Marc Schmitz
Location: Bangkok Art and Culture Centre
Shelter in public places enables escape from the outer confusion to a place of peace: This sculpture. Shelter, is created specifically for Bangkok, in particular for artists. The empty space provides an experience normally unavailable in urban life. Shelter lets us get away from decay, confusion, and spiritual gloom to look up at the sky and stop hurting each other for a moment. This Shelter is set in the middle of Bangkok, in front of the Bangkok Art and Culture Centre, in a location busy with people and crowded with cars. To experience this work of art is to feel peace and solitude as you are cut off from surrounding people. Walking out, creative ideas come quickly.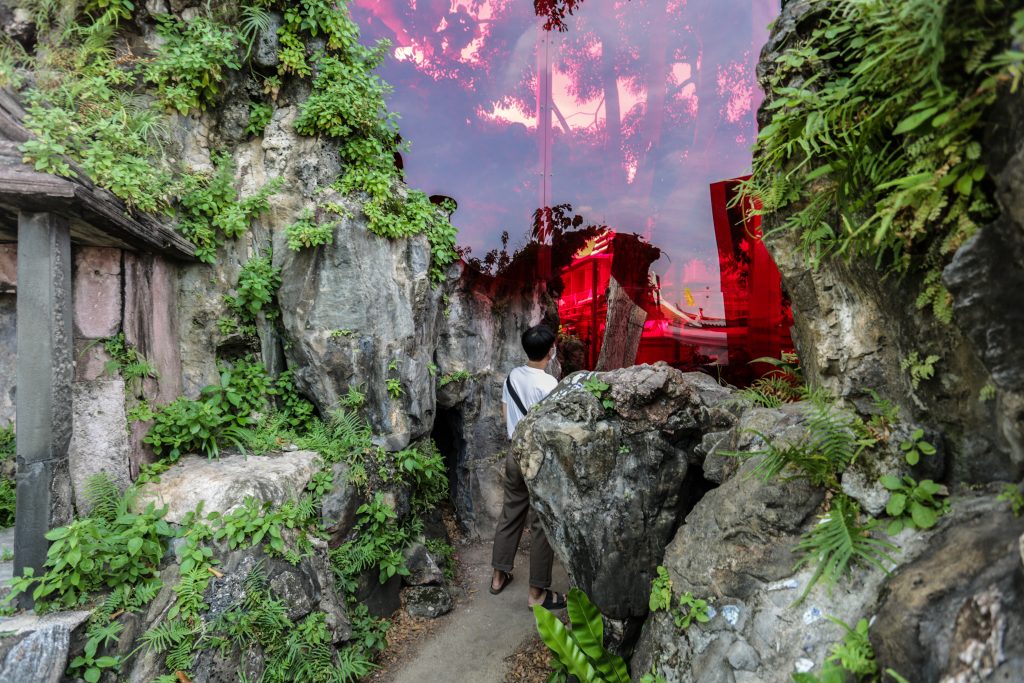 Across the Universe and Beyond
Artist: Sanitas Pradittasnee
Location: Wat Arun Ratchawaramahawihan
Here we take a lost and forgotten mountain path on a return to life, as the design of space and light brings visitors to look inward and contemplate their own being as they walk into the space and experience an instant of persistence, impermanence, and emptiness. This installation piece impels us to think about human identity: are we only particles in a vast universe?
Besides these art works we've just invited you to see at Bangkok Art Biennale 2018, you can visit many never-before-seen works at many more locations all over urban Bangkok and along the Chao Phraya riverside. The Festival runs from October 19, 2018 until February 3, 2019 at 20 landmark locations all over the City.