Sometimes changing our perspective crystallizes our vision so that what we're looking at appears entirely new and different. This definitely applies to certain exhibits at Bangkok Art Biennale 2018 international festival of contemporary art: there are quite a few you might want to visit, experience, and drink in not just during the day, but much later, at night. Here we've collected some of those you might want to spend some quality evening time with, and we'd like to pass on these suggestions to the people of Living ASEAN.
Let's start in the heart of Bangkok with the Siam District, which could be considered the trade center of the nation. There at night you can see art works from the Bangkok Art Biennale 2018 international festival of contemporary art at either Central World shopping mall or the real estate development One Bangkok. These locations are neither terribly close to each other nor very far apart.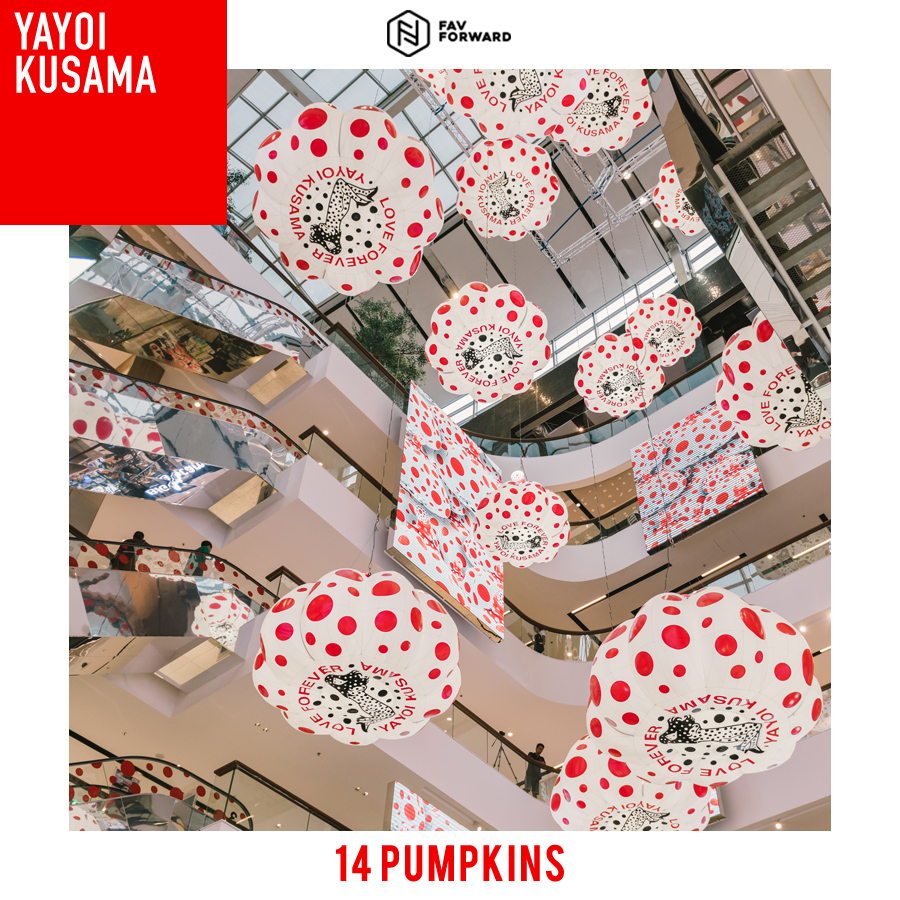 Name: 14 Pumpkins
Artist/Nationality: Yayoi Kusama (Japan)
On display at: Central World
In any discussion of outstanding contemporary artists it would be surprising if the name Yayoi Kusama were not mentioned. She is considered the "mother of polka dot art," creating paintings, sculptures, installation art, and movies based on innovative arrangements of those quirky round spots.
Bangkok Art Biennale 2018 features numerous of her latest works, including 14 Pumpkins, giant polka dot pumpkin . . . sculptures, is that what they are? In any case, they are on display at Central World and have created an exciting transformation of the mall interior with a truly spectacular piece of pop art.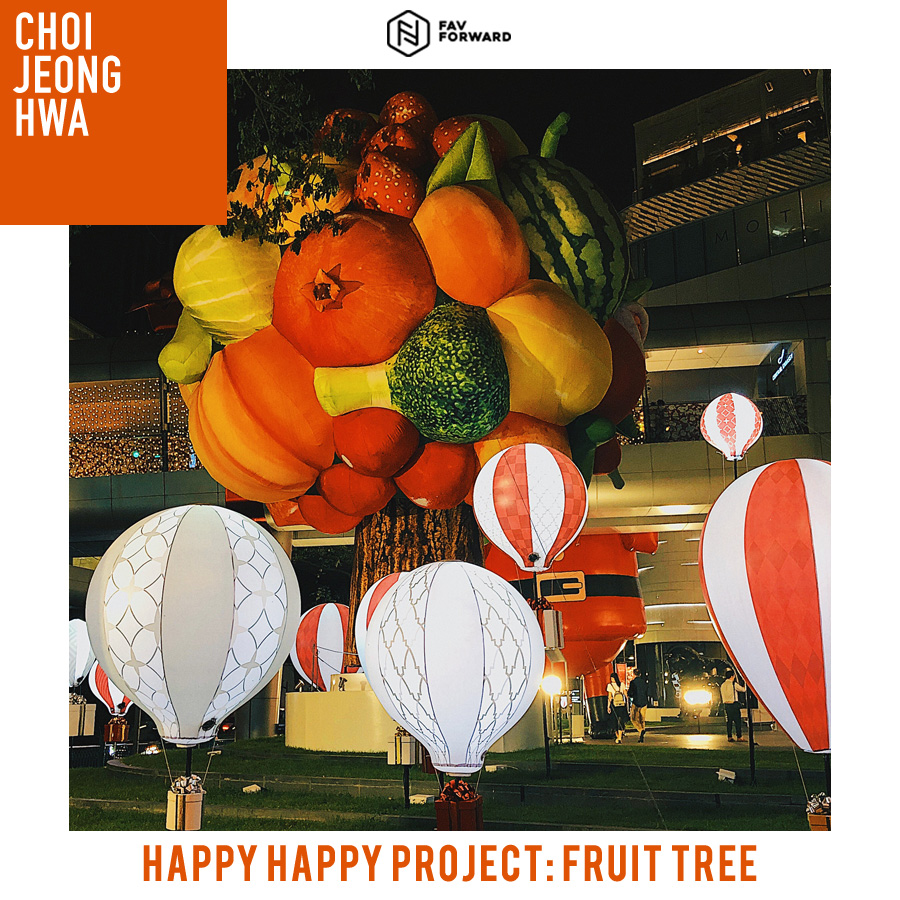 Name: Happy Happy Project: Fruit Tree
Artist/Nationality: Choi Jeong Hwa (South Korea)
On display at: Central Embassy
Happy Happy Project: Fruit Tree is a fantastic work by Choi Jeong Hwa, a leading contemporary artist from Korea. All his creations are inspired by materials encountered in daily life that are recycled and arranged to tell their stories in fascinating ways.
The Happy Happy Project is a good representation of Choi's approach. These pieces explore the world of happiness, which is actually a very transitory and contradictory realm within each of us, and the project is made up of art works created as large inflatables, such as Fruit Tree, a giant plant that can't help but bring a smile to anyone who so much as gives it a brief glance.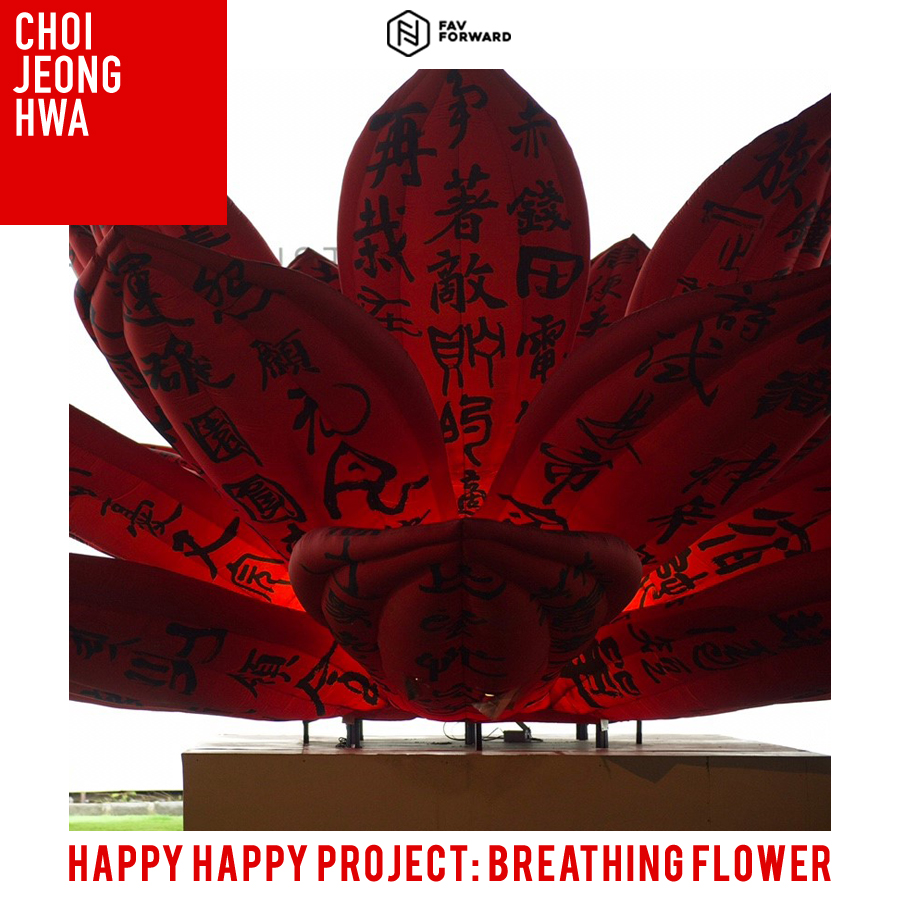 Name: Happy Happy Project: Breathing Flower
Artist/Nationality: Choi Jeong Hwa (South Korea)
On display at: One Bangkok
Happy Happy Project: Breathing Flower is one of this project's most interesting works. Somehow, viewers just can't escape feeling a rush of happiness as they pass this giant inflated flower which moves on its own.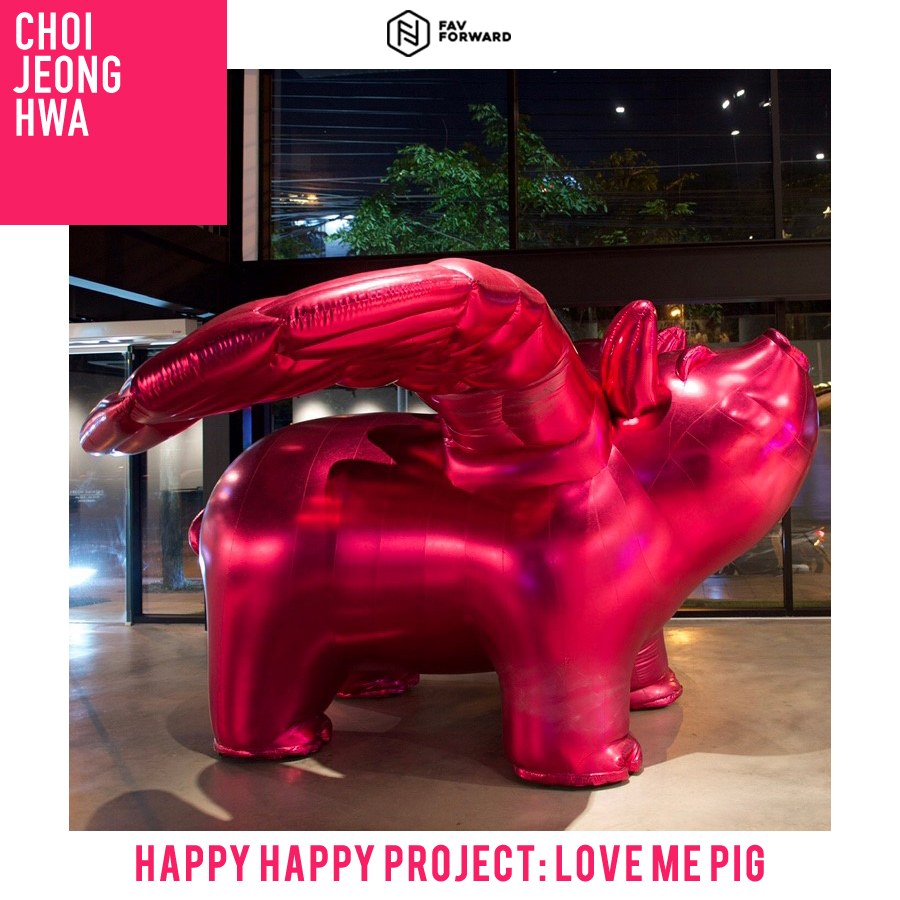 Name: Happy Happy Project: Love Me Pig
Artist/Nationality: Choi Jeong Hwa (South Korea)
On display at: One Bangkok
Love Me Pig is another work from Happy Happy Project that calls forth smiles from visitors. How could it not? An inflatable pig with giant wings! And so brightly colored, dominating its space in the One Bangkok hall as it waits for viewers to come admire it.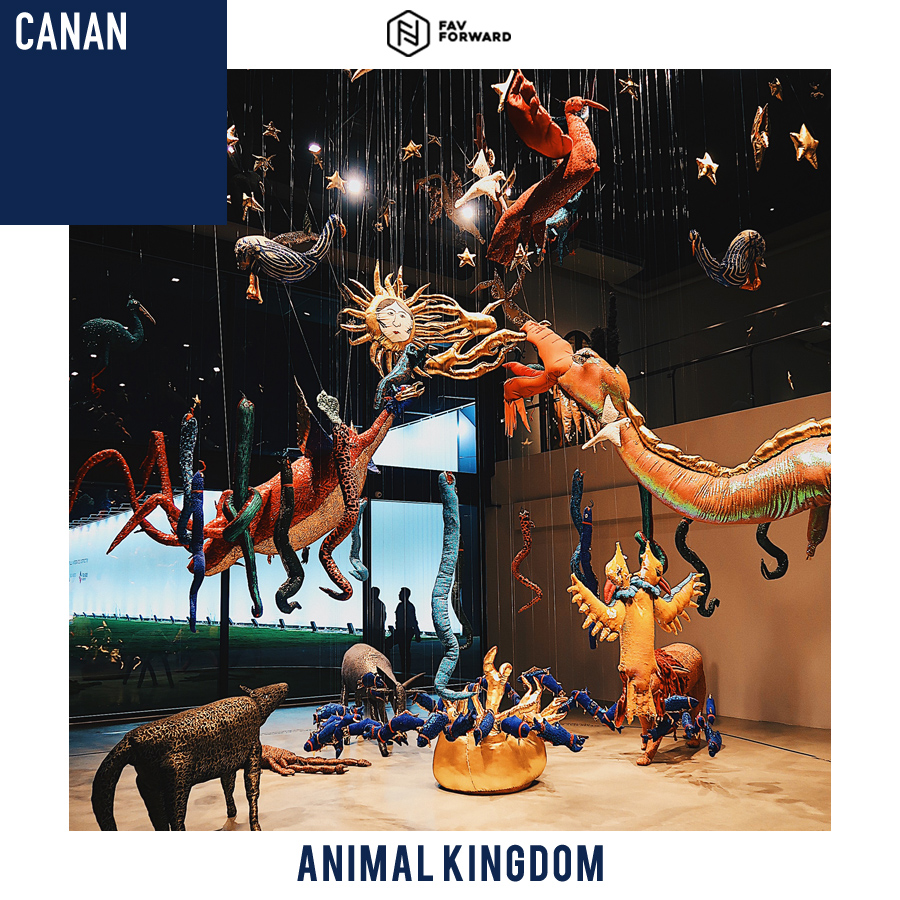 Name: Animal Kingdom
Artist/Nationality: Canan (Turkey)
On display at: One Bangkok
The artist Canan calls herself an activist for women's rights. She believes in the power of social activism and uses the female body to communicate her work in mixed media, handicrafts, painting, video, and installation art.
Her latest, Animal Kingdom, is installation art based in Arab and Persian cosmological concepts, made from a blend of materials such as sequins, fabric, fibers, and interwoven string. It suggests a scene in the land of heaven, which is full of all kinds of mythological animals such as the phoenix, dragons, snakes, and demons (djinni), and reflects the artist's personal sense of supernatural creatures.
Charoen Krung is another area which, despite its economic growth, still retains much of its historical identity and culture. This preservation is clearly visible in houses and other buildings you'll find here, which makes this district a favorite of artists and art lovers.
Bangkok Art Biennale 2018 exhibitions you can see at night in this district are at the Mandarin Oriental Hotel and the East Asia Building.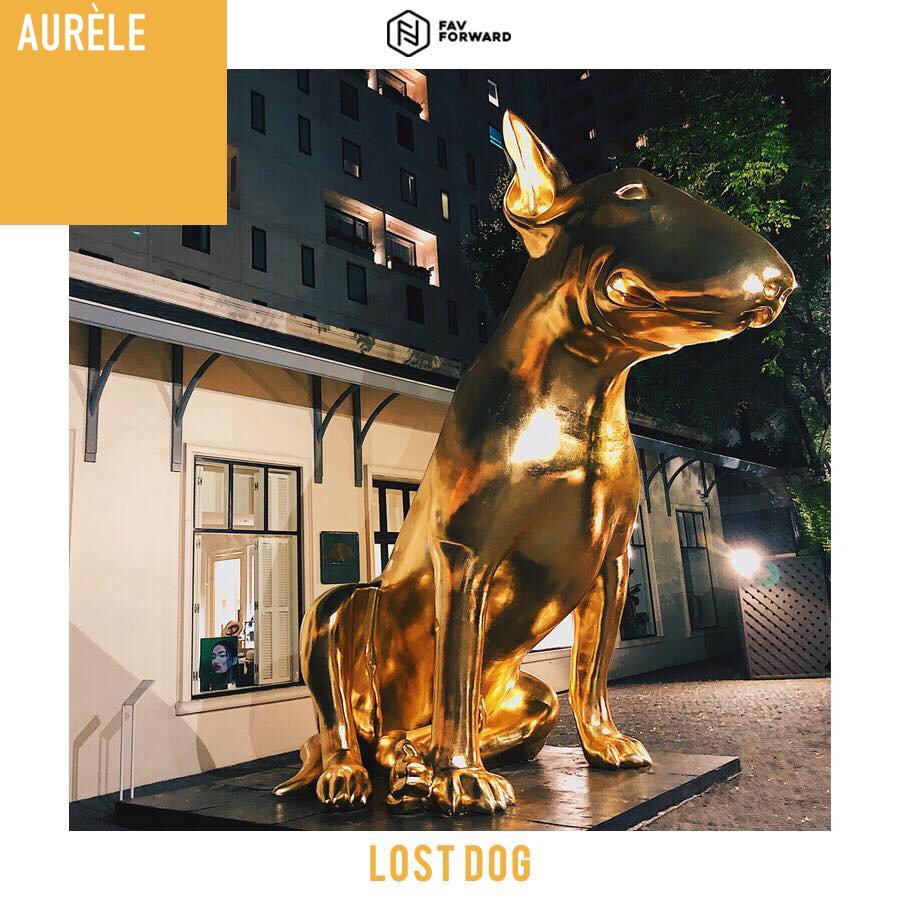 Name: Lost Dog
Artist/Nationality: Aurèle (France)
On display at: Mandarin Oriental
This is a sculpture by famous French artist Aurèle Ricard, who uses art to reflect on environmental problems that humans worldwide have brought on themselves. One of his recent major pieces is Lost Dog CO2, a huge dog made of pollution-reducing plants, designed to encourage awareness of increasingly occurring negative environmental effects produced by humanity's own skills.
His very latest is Lost Dog, a more than 5.9-meter-tall sculpture standing tall by the Mandarin Oriental Hotel, one of the treasures of Bangkok Art Biennale 2018. Here Aurèle suggests an animal seeking a path leading to happiness in the midst of a world made confused by humanity's all-too-clever accomplishments.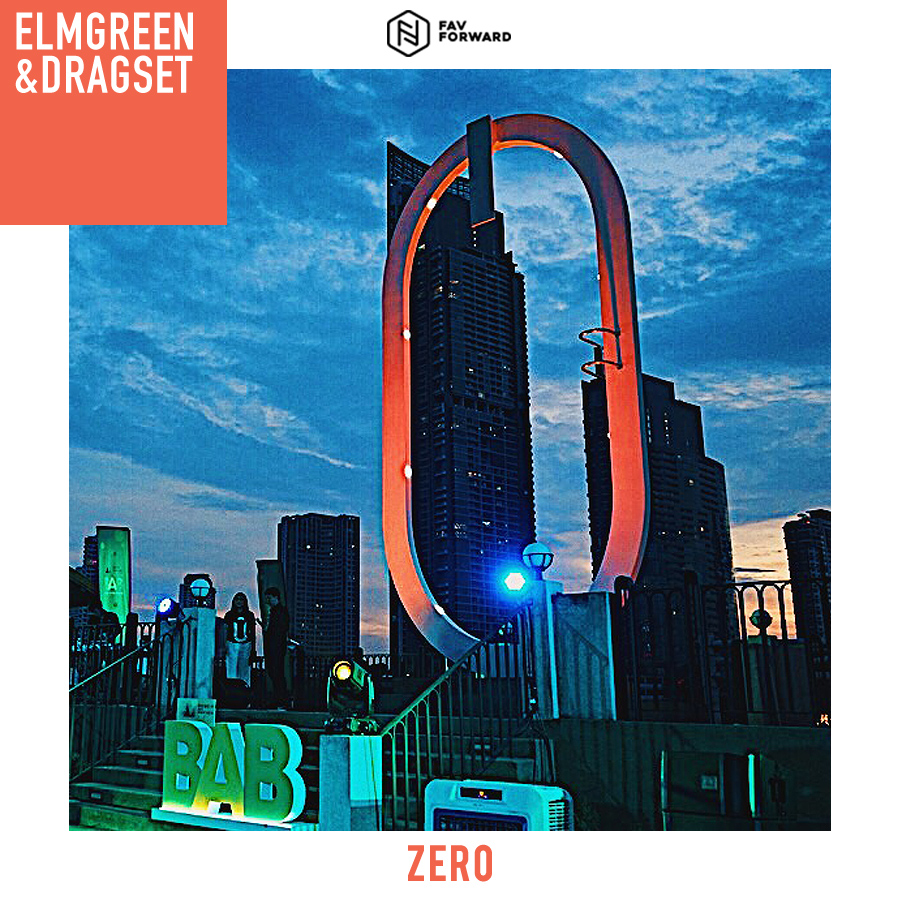 Name: Zero
Artist/Nationality: Elmgreen & Dragset (Germany)
On display at: The East Asiatic Building
Zero is a thought-provoking sculpture by Michael Elmgreen and Ingar Dragset, a pair of artists known for their installation art techniques who have exhibited at festivals all over the world, including at the Venice, Berlin, and Gwangju Biennale exhibitions.
For their latest showing, at Bangkok Art Biennale 2018, the pair have a select space on the riverfront of the East Asiatic Building where you'll find Zero, a stainless steel "swimming pool" outline 8 meters high. Its form resembles a zero and symbolizes a connection between Bangkok's large waterway, the Chao Phraya River, and the artists' homeland on the Nordic Sea.
Besides the spots we've mentioned, there are quite a few Bangkok Art Biennale 2018 exhibitions that have been placed in temples, as, for instance . . .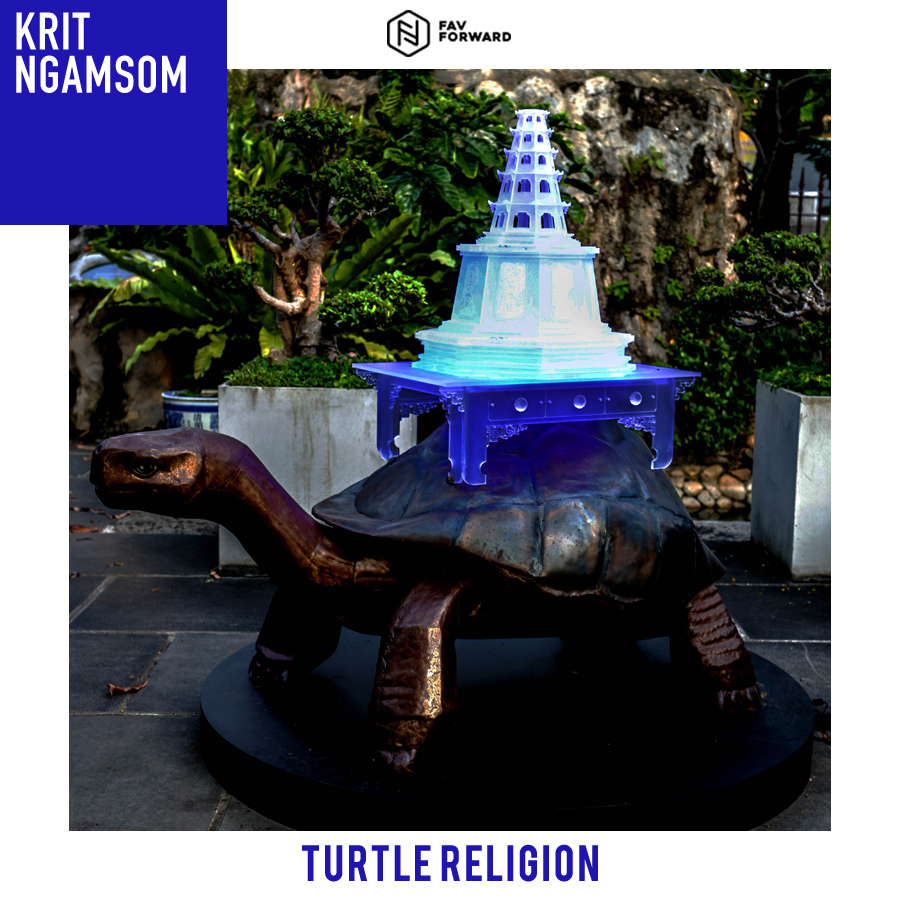 Name: Turtle Religion
Artist/Nationality: Krit Ngamsom (Thailand)
On display at: Wat Prayunwongsawat Worawihan
Turtle Religion is a mixed media sculpture by Krit Ngamsom, which may have sprung from childhood memories brought back by the artist with new twists and interpretations to pique interest in the ordinary world.
Turtle Religion is found at Khao Mo in Wat Prayunwongsawat Worawihan where a moat home to an abundance of turtles and catfish is echoed above by these steel turtles, each of which holds something different on its back, suggesting a unity in religious faiths and cultures which are mixed and blended into a single substance here.
Name: What Will You Leave Behind?
Artist/Nationality: Nino Suwannee Sarabutra (Thailand)
On display at: Wat Prayunwongsawat Worawihan
"If today were your last day of life, what good would you leave in this world?" is the question posed by What Will You Leave Behind? This installation art is designed specifically for this place by Nino Suwannee. It consists of more than 100,000 tiny ceramic skull bones spread down on the walkway surrounding the temple's main chedi. The concept is to make visitors experience it with the soles of their feet, giving them sudden insight into the fragility of life.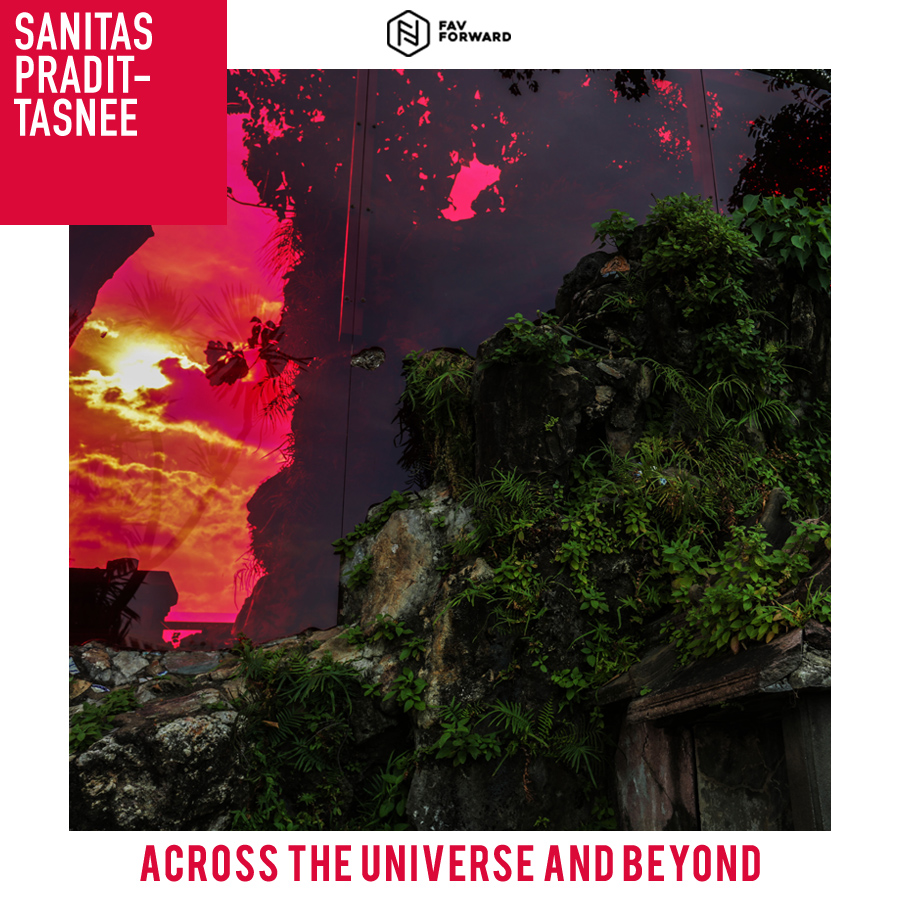 Name of work: Across the Universe and Beyond
Artist/Nationality: Sanitas Pradittasnee (Thailand)
On display at: Wat Arun Ratchawaramahawihan
Across the Universe and Beyond brings back to life a principle which has been lost and forgotten, with a design of space and light urging the viewer stepping into the space to stand in contemplation of himself, as in a moment of persistence, impermanence, and emptiness, this art piece carries a reminder for us to be aware of being mere particles in a vast universe.