A large crowd of art lovers queued up to get into Siam Pavalai, the Royal Grand Theater at Siam Paragon. Like everyone else, I had my ticket to the event ready for inspection. I could sense the atmosphere was filled with enthusiasm and energy. People were excited about the prospect of a vis-à-vis with Marina Abramovic, the icon of live performance art and living legend. Dubbed one of the most influential personalities to date, the 72-year-old Serbian artist and writer apparently was doing extremely well.
/// THAILAND ///
Story : Singhanart Nakpongphun /// Photography: Anupong Chaisukkasem
Inside, the sound of Clair de Lune by Claude Debussy brought the Royal Grand Theater to life.  As the beautiful piano music played, a slide show evoked the images of museumgoers taking it in turns to sit across the table from Marina Abramovic and look her in the eye. The artist was still and silent for the duration of the marathon live performance. The show brought a series of flashbacks of "Marina Abramovic: The Artist is Present", her solo exhibition hosted by the Museum of Modern Art (MoMA), New York back in 2010.
Taking a quick look around, I saw people both local and foreign gradually being ushered to their seats while dimming lights signaled that something was about to happen. Clair de Lune, French for moonlight, seemed quieter now setting the scene for the show.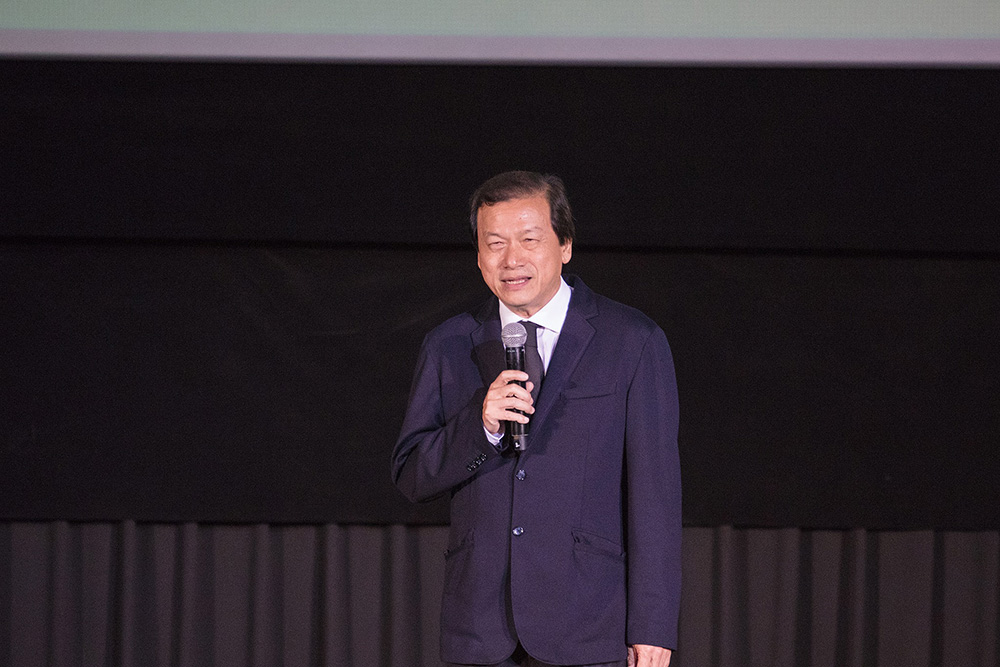 Lights were back on as Prof. Dr. Apinan Poshyananda, Chair and Artistic Director of the Bangkok Art Biennale 2018, appeared on stage to deliver a speech making the opening of the show. He said the event coincided with one of the most important public holidays on Thailand's calendar.
October 23, known as King Chulalongkorn Day, is observed nationwide in loving memories of the fifth monarch of the House of Chakri, who passed in 1910. The day also remembers his first official visit to Europe that took place 121 years ago. It was with mixed emotions knowing the journey also took him to Venice, Italy back in the day. Nowadays the "City of Canals" is home to one of the most celebrated art destinations in the world. La Biennale di Venezia, or the Venice Biennale, was founded in 1895 and have since become the model for other shows worldwide.
Out in the streets, it was raining heavily, but inside the Royal Grand Theater was filled to capacity to the point extra seats had to be provided to accommodate larger-than-expected crowds of art lovers. The Kingdom's inaugural art festival, known as the Bangkok Art Biennale 2018, began on 19 October and would run until 3 February 2019. The period saw more than 200 masterpieces by 75 renowned artists both local and international being on display at 20 landmark destinations throughout the city.
No stranger to Thailand's artists circle, Abramovic was a visiting lecturer at Chulalongkorn University back in 2000 and since then has become fascinated with Thai culture. She was among the first world famous artists to accept the invitation to partake in the Bangkok Art Biennale 2018. Abramovic began her art career in the early 1970's in Belgrade, in what was then Yugoslavia. Active for nearly 50 years, she won the Golden Lion Award for Best Artist at the 1997 Venice Biennale for her video installation titled "Balkan Baroque".
The 2018 art festival in Bangkok offered the opportunity of experiencing the amazing works of Marina Abramovic, which included "Standing Structures for Human Use", a live installation exhibit that looked into the power of silent communication and invited viewer participation. The other show, known as "Method", was an experimental piece about the state of being present in time and space. It was presented by a team of artists from the Marina Abramovic Institute (MIA), which focused on durational works.
"Standing Structures for Human Use" is a collection of five wood poles in the upright position and adorned with crystals, each one unique in its own special way. Intended for viewers to practice meditation, the live installation is happening daily at BAB Box @ One Bangkok on Rama V Road now until February 3, 2109.
The artist said that a lot of work had gone into the making of the exhibit. There was a time she traveled as far away as Brazil to search out crystals that would be the most suitable for a show, in which she wanted viewers to participate. She could still recall many long hours sleeping on a bench inside a remote Brazilian mine. She searched among the rocks looking for clear minerals believed to have healing powers. The rest of the time was spent searching out new ideas for future art making. In retrospect, the long, arduous travel into the woods has had far-reaching effects on her art. It was a spiritual journey that went beyond traveling to work.
The fun started here. The moment Marina Abramovic entered the stage, she asked people in the audience to close their eyes and breathe in and out normally in sync with the rhythm she was giving. After 12 times, she told everyone to slowly open their eyes. Like a wow moment, it felt like the beginning of a new day, one that culminated in a rendezvous with a celebrity artist.
"Welcome to the present," said the artist. A succinct opening remark directed the audience attention to something like we've got far better things to do than dwell in the past. Neither would we think about the future still to come. Marina Abramovic proceeded to outline three activities she wanted to talk about in that evening conversation. As she spoke, eight young performers who had undergone training with MAI appeared on stage. Like a scene of walking meditation, they lined up one after another behind her and began treading very slowly without making a sound. And it went on for the duration of her talk.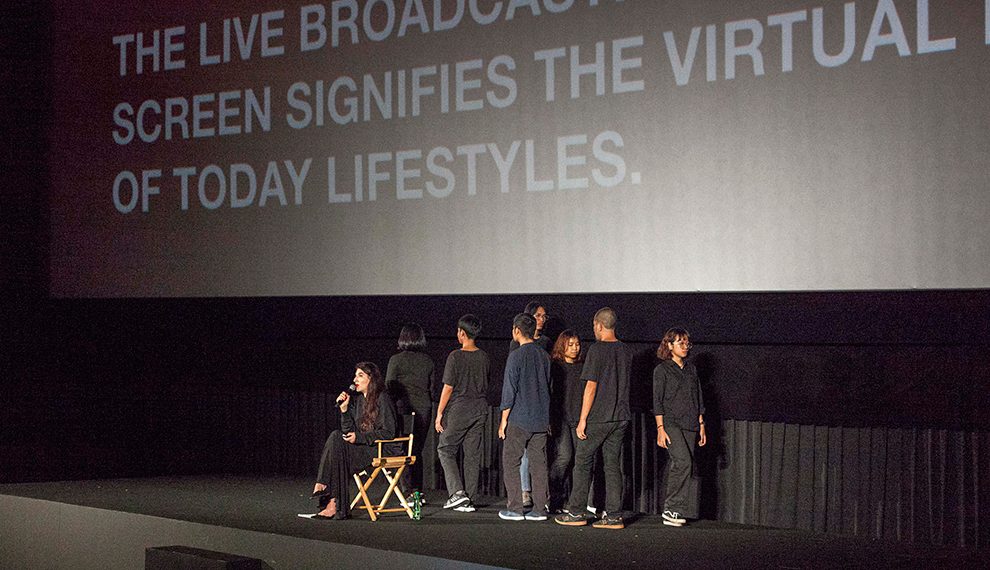 Abramovic said the eight performers had successfully completed training at an MAI workshop aimed at getting their minds ready for show. Like a long, arduous journey, they gave live performances eight hours daily and the exhibit continued for three weeks at the Bangkok Art and Culture Center (BAAC). It began on 19 October and ended on 11 November as part of the Bangkok Art Biennale 2018. From a wide field of hundreds of applicants, Abramovic handpicked only eight, among them Thai performance artist Thavisak Moolasawat.
The crux of the matter was a workshop on performance and material art, which the artist referred to as "Cleaning the House". During training, participants went through different phases of intense activity. Some exercises involved the practice of walking very slowly that could go on for several hours. The focus was on breathing, motion, stillness and concentration of the mind, a method developed over several decades to prepare a select group of performers for long durational art exhibits.
Performance art is an exhibit presented to an audience within a fine art context. It can be performed live or shown via media. Abramovi said durational performances required a lot of physical and mental strengths and willpower to succeed. She said performance art, which could be art of any discipline, was different from acting or playing parts in stage or other productions, where actors and actresses assumed a different persona or put on a disguise. Quite the contrary, performance art was about living life and being who you were and what you stood for. A durational art performer was not performing a fictional role in any stage or screen production. The Cleaning the House workshop is about resetting the body, the fresh-and-blood living being, and preparing the mind to face the challenges in life.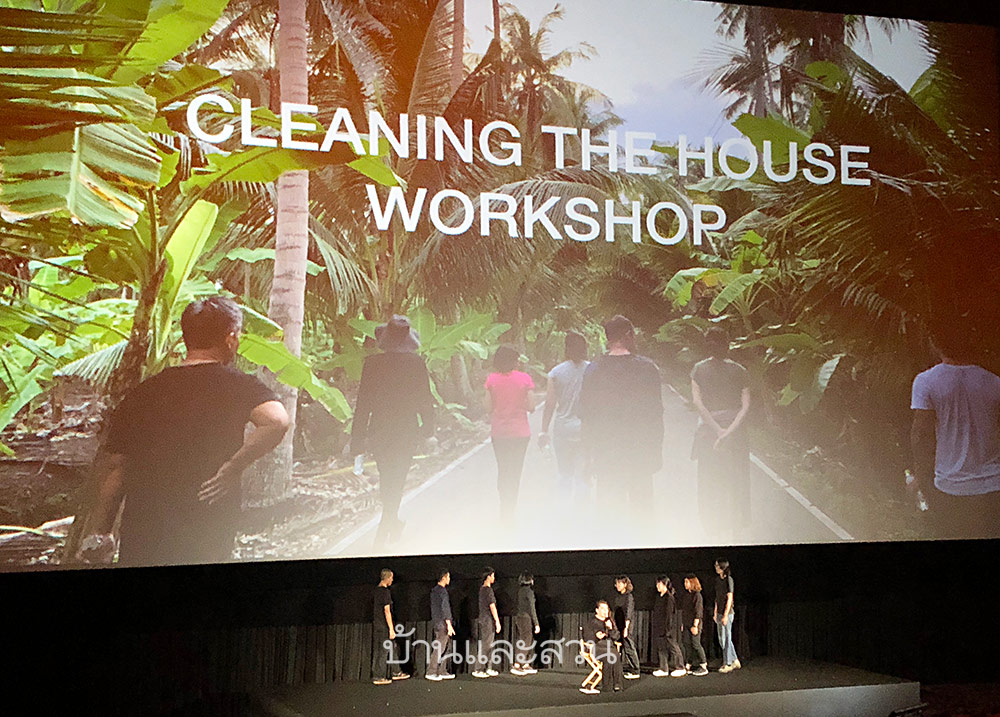 The slow walking exercise soon changed to stillness where performers paired up and looked each other in the face. It was soundless, motionless and without response of any kind. They tried not to blink, because any shutting and opening of the eyes could result in losing a focus on the matter at hand. The show was modelled on a previous performance by Abramovic titled "The Artist is Present", which was hosted by the Museum of Modern Art (MoMA), New York in 2010.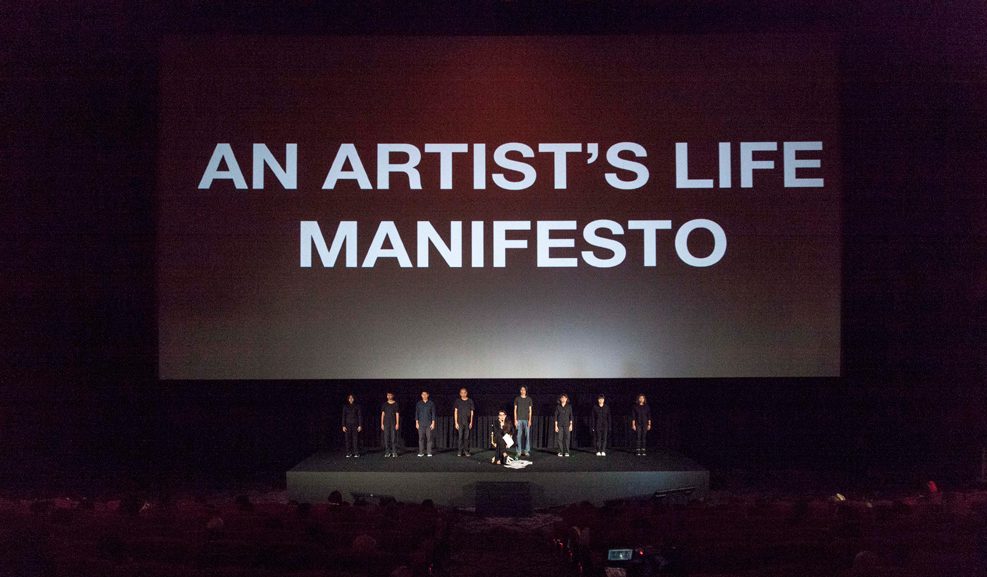 Then came the moment of Abramovic's work of a lifetime. A public declaration of her life and works appeared on the screen behind her. The artist said the formal announcement and listing of works she has performed from the past to the present has meant a lot to her. The same applied to any career, whether it be singer, songwriter, or authors and whatnots. Her life manifesto just went to show who she was and what she believed in.
After asking the performers to change from looking each other in the face to standing still with their eyes closed, Abramovic began reading her life manifesto clearly and slowly one item at a time. Some items were repeated many times over, especially ones that said an artist shouldn't behave like a star, and that depression had no benefit for anyone pursuing an art career.
There was a big round of applause when she said: "Never should an artist fall in love with another artist." She was speaking from life experience, subtly alluding to a romantic relationship with Uwe Laysiepen, also known as Ulay, her German partner and artistic collaborator. It was one of the most meaningful aspects of life and sources of deep fulfilment and companionship that had strong influence on her art during the 1980's.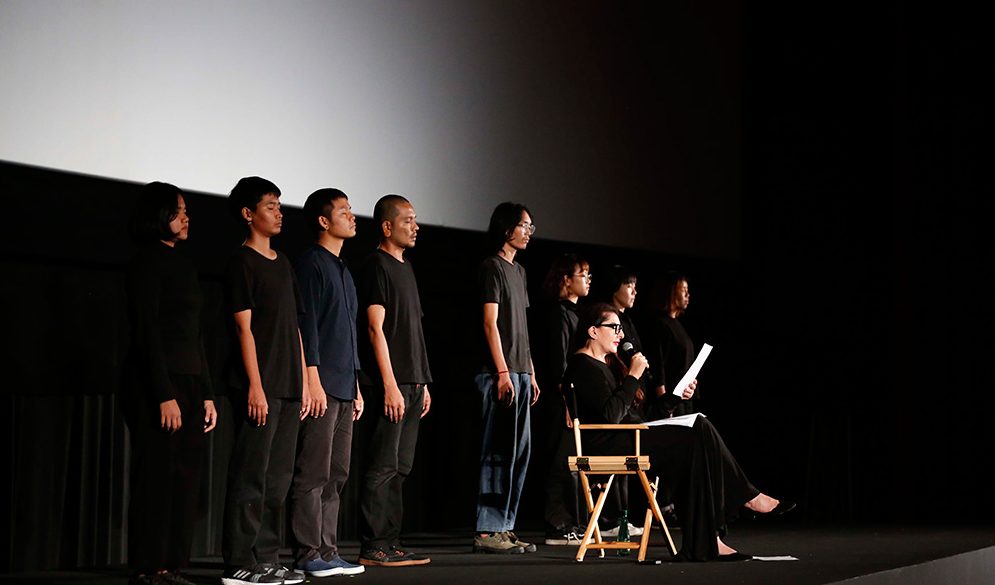 The meeting concluded with a Q&A session, in which the artist invited people to ask about anything. Sure enough, there were a lot of questions from members of the audience, both local and international. One of them harked back to a witty remark Abramovic had made earlier in the show, which said: "Never should an artist fall in love with another artist?"
To which, she answered from experience that apparently artists tended to have a lot in common. Their spirits and natural instinctive states of mind tended to be too similar. It was especially good from the get-go. Two artists could be ideally suited to each other, but rarely did it translate into living life together happily ever after. Exceptions were few and far in between. This writer thought the same applied to relationships in other professions, too. Don't you think? Click this link to share your thoughts with us.
Without a doubt, Abramovic has been held in high esteem the world over. The long spiritual journey to respect and admiration must have taught her something. This writer finally got around to asking her what was it that had the most influence on her art.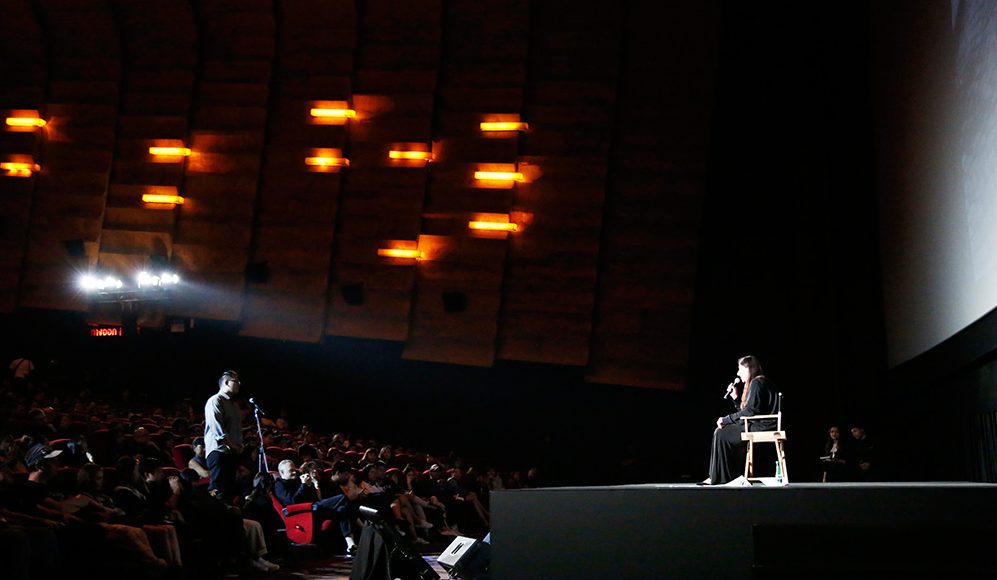 Abramovic answered: "It was Rhythm 0." She was referring to a solo live performance she staged at age 23. She could still recall it was one of the most challenging performances in her lifetime as artist. It was a test of the limits of the relationship between performer and audience. Between the artist and members of the audience, there were 72 objects that she put on the table. People were allowed to use any one of them in any way they chose, among them a rose, a feather, honey, scissors, a knife, even a pistol loaded with one bullet. The performance last six hours, during which her body sustained several injuries that brought out the dark side of human nature. Needless to say she felt really violated. Since then, Abramovic has spent more than four decades researching and developing spiritual and material art as tools to promote the positive traits of humankind.
The inaugural art festival saw the icon of live performances work non-stop for more than three weeks in Thailand, the longest visit she has ever made to a country she has grown fondest of.
The Bangkok Art Biennale 2018 began on 19 October and runs until 3 February 2019. There are 20 locations city-wide that play host to more than 200 masterpieces from all disciplines. In all, 75 artists from 34 countries across the globe are taking part in a joint effort to turn Bangkok into one of the world's most sought-after art destinations.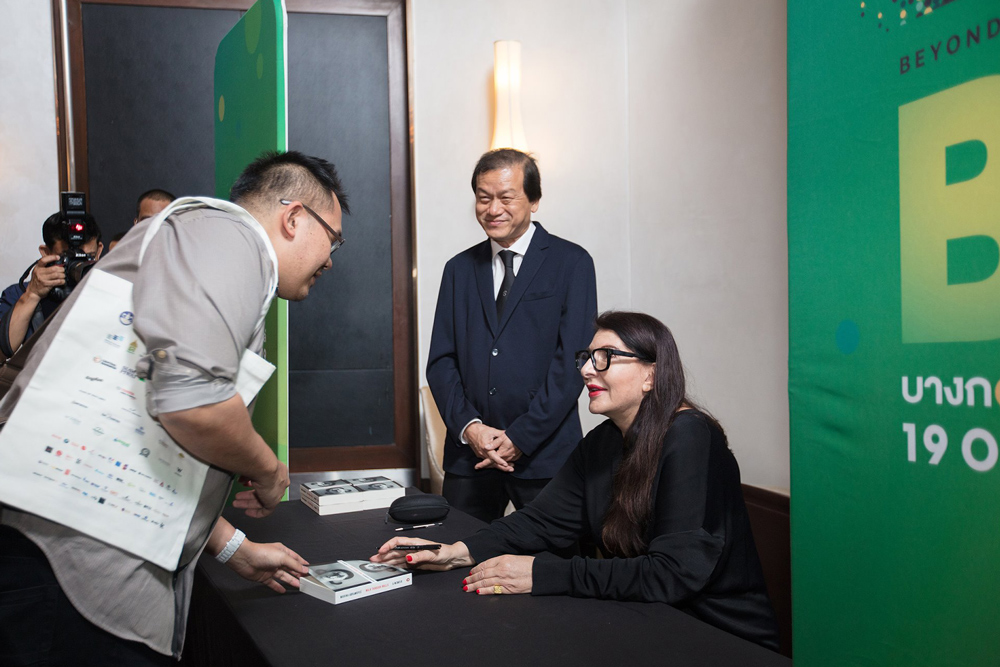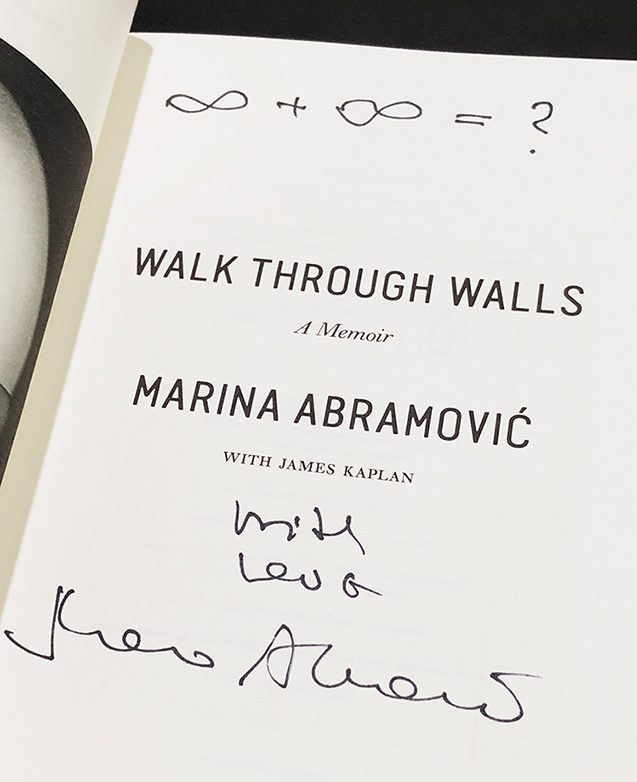 This writer told Marina Abramovic that he wanted more than just an autograph. He would really appreciate an inspiration, especially to do something creative. And the artist scribbled something resembling two mathematical expressions being equal. This writer then asked her what she meant by it. With a smile, she answered in a clever and amusing way: "Infinity plus infinity, then on one knows the answer." Aha! I've got it.