/ Ho Chi Minh City, Vietnam /
/ Story: Phattaraphon / English version: Bob Pitakwong /

/ Photographs: Hiroyuki Oki /
The design studio of VTN Architects (Vo Trong Nghia Architects) sits comfortably ensconced in a plant-covered six-story building in Ho Chi Minh City. The 1,300-square-meter office block is adorned with balconies containing lush green gardens that combine to create a vibrant building shell. It's a design based on an understanding of the challenges facing big cities and the importance of environmental conservation.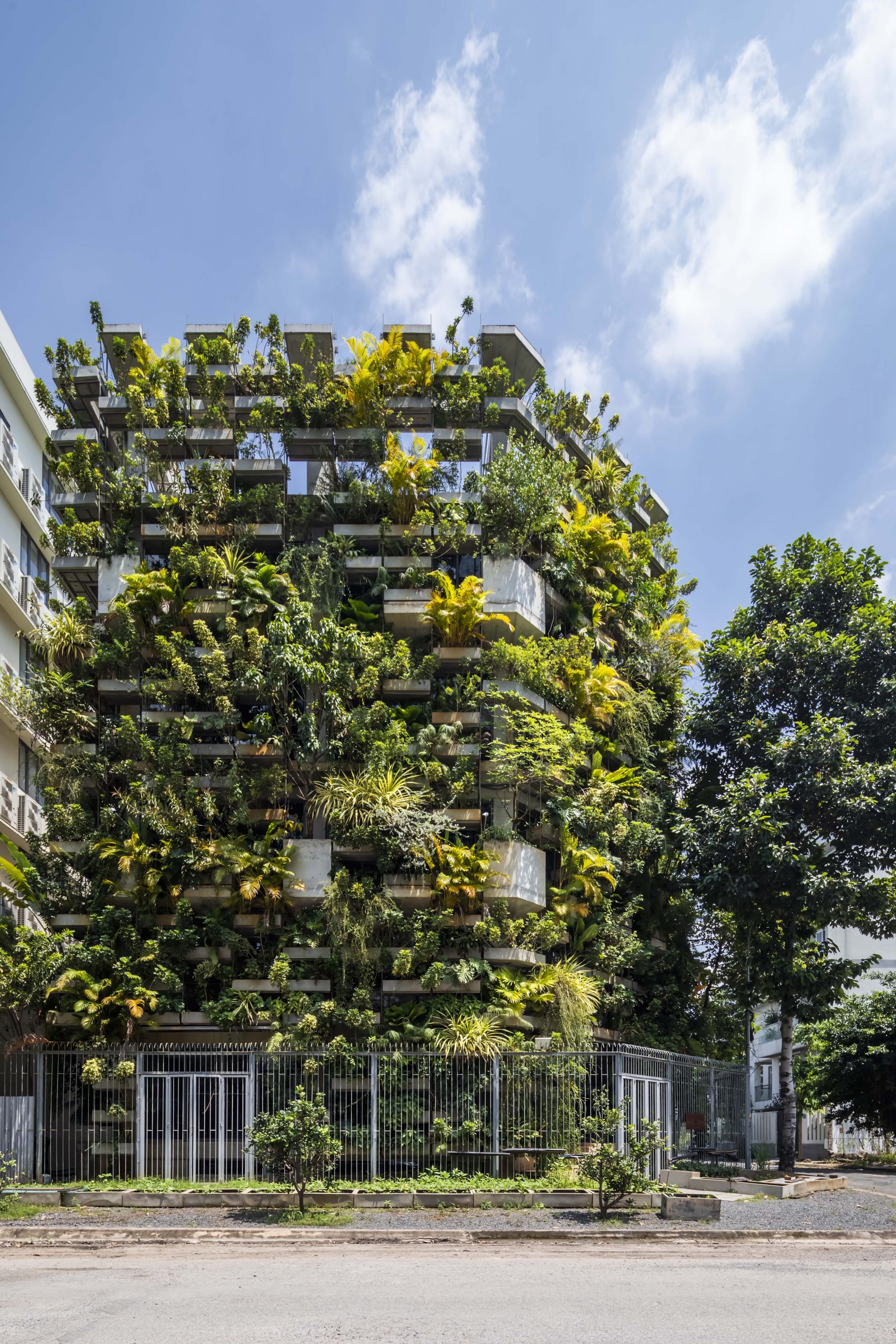 Far and wide a lack of recreation areas and green spaces, coupled with rapidly worsening air pollution, is causing serious health problems for people in urban areas. It's for this reason that living trees and shrubs are integrated into the ' building's external envelope.
The result is a green office block that brings fresh air to the design. Here, easy-care trees cool the air, provide shade, and filter out dangerous, fine particulate matter. It transforms ideas into solutions as Vietnam, a developing country, joins a global network of advanced manufacturing hubs.
Precisely, it's a design rooted in good environmental management practice that aims to minimize human impacts on surrounding ecosystems – a fact that's easy to overlook when planning a building. Also known as the Urban Farming Office, it communicates a message that failure to do so will have unpredictable and often undesirable consequences.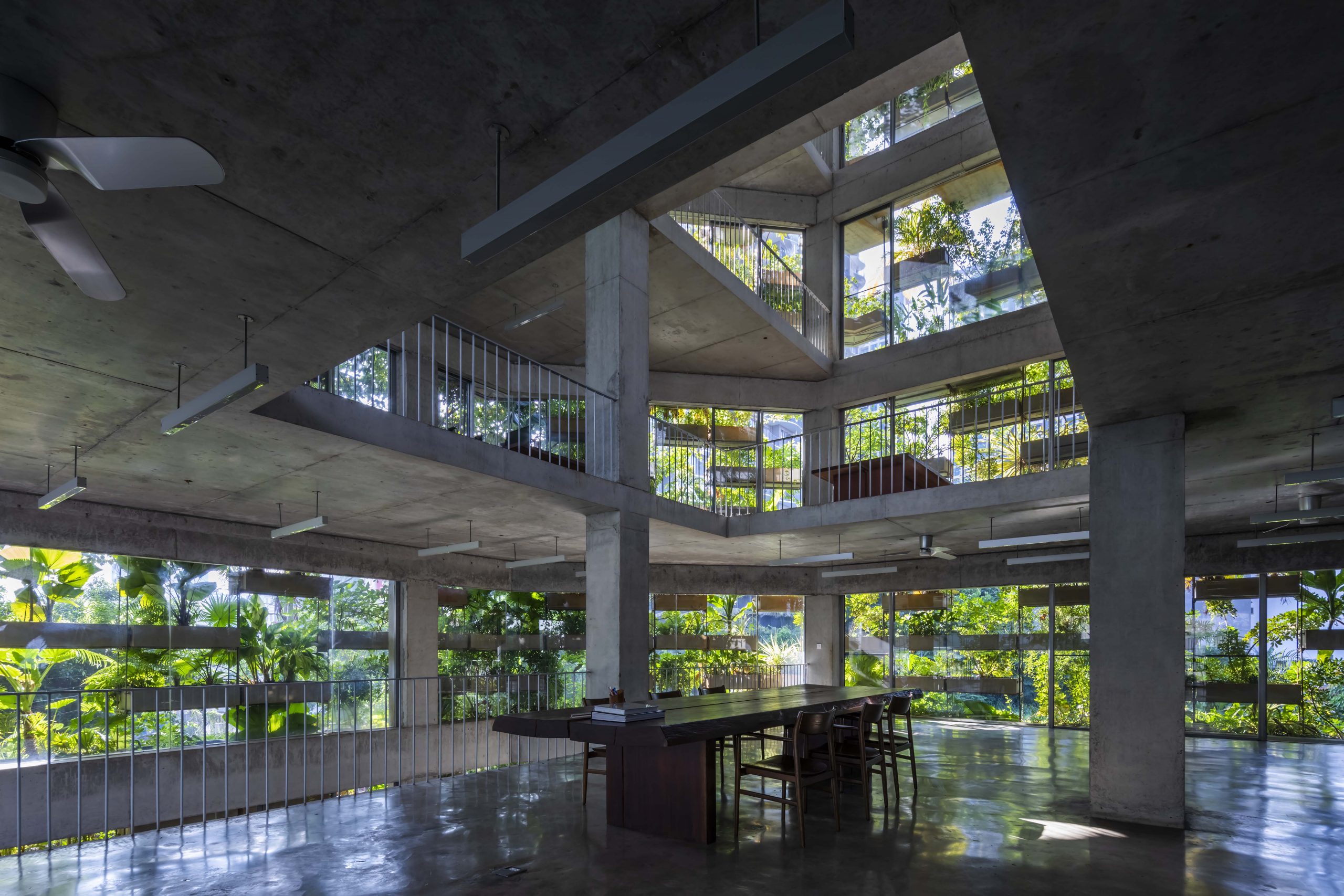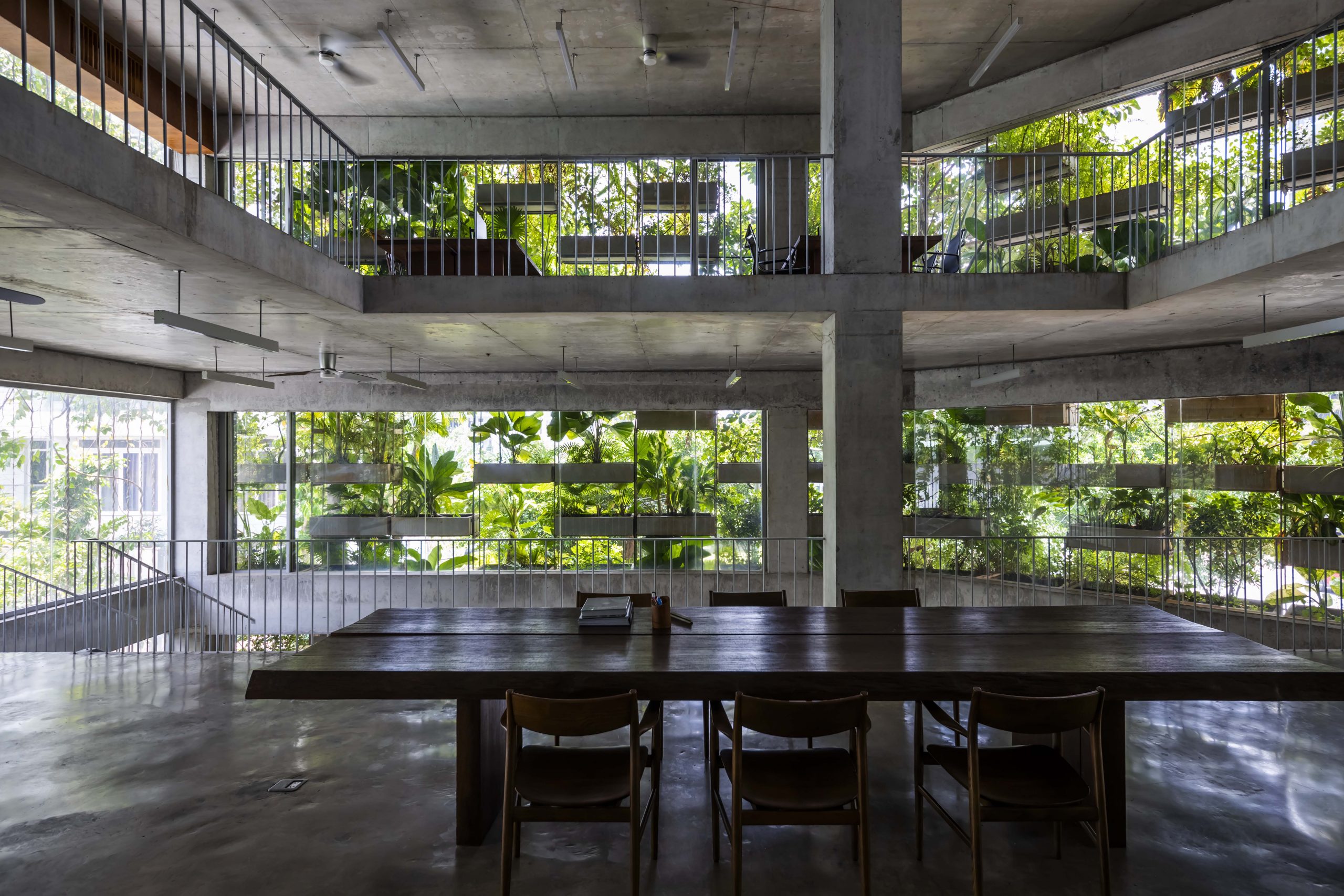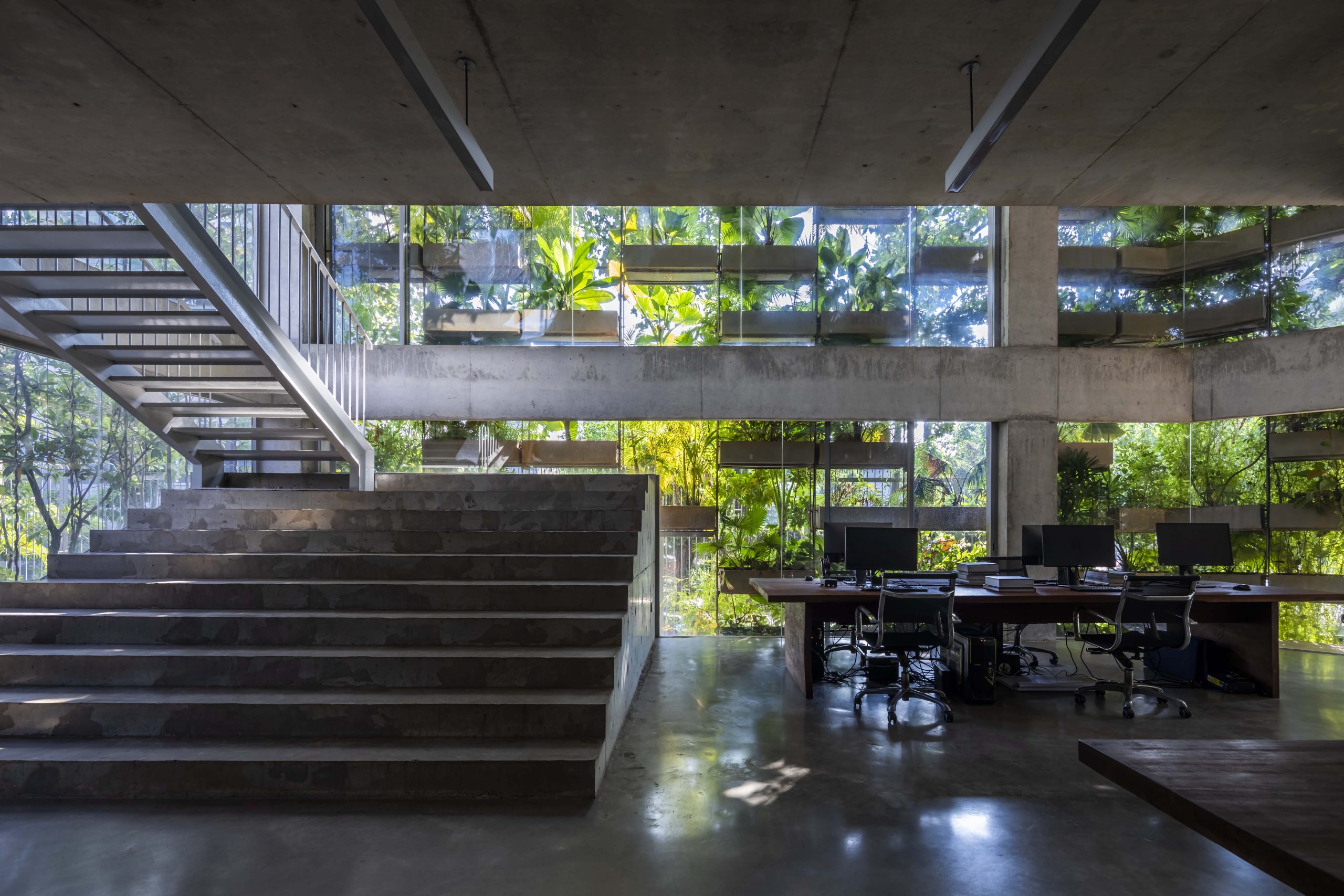 The Urban Farming Office isn't just home to a design studio. It's also a perfect example of innovative companies driven by a desire to go green in the workplace.
Plus, it gives back healthy lush foliage and a breath of fresh air to the city. That's not all though. It draws attention to many possibilities of vertical gardening – techniques to grow more in less space.
From the outside looking in, the building façade looks like a botanical laboratory lined with decorative concrete containers where trees and plants grow. They are mostly easy-to-care-for native plants that thrive in local ecosystems. Where appropriate, seasonal vegetables, herbs and spices are grown organically to meet family needs. It's a way to live a more sustainable lifestyle.
And it's safe, eco-friendly, and even energy efficient.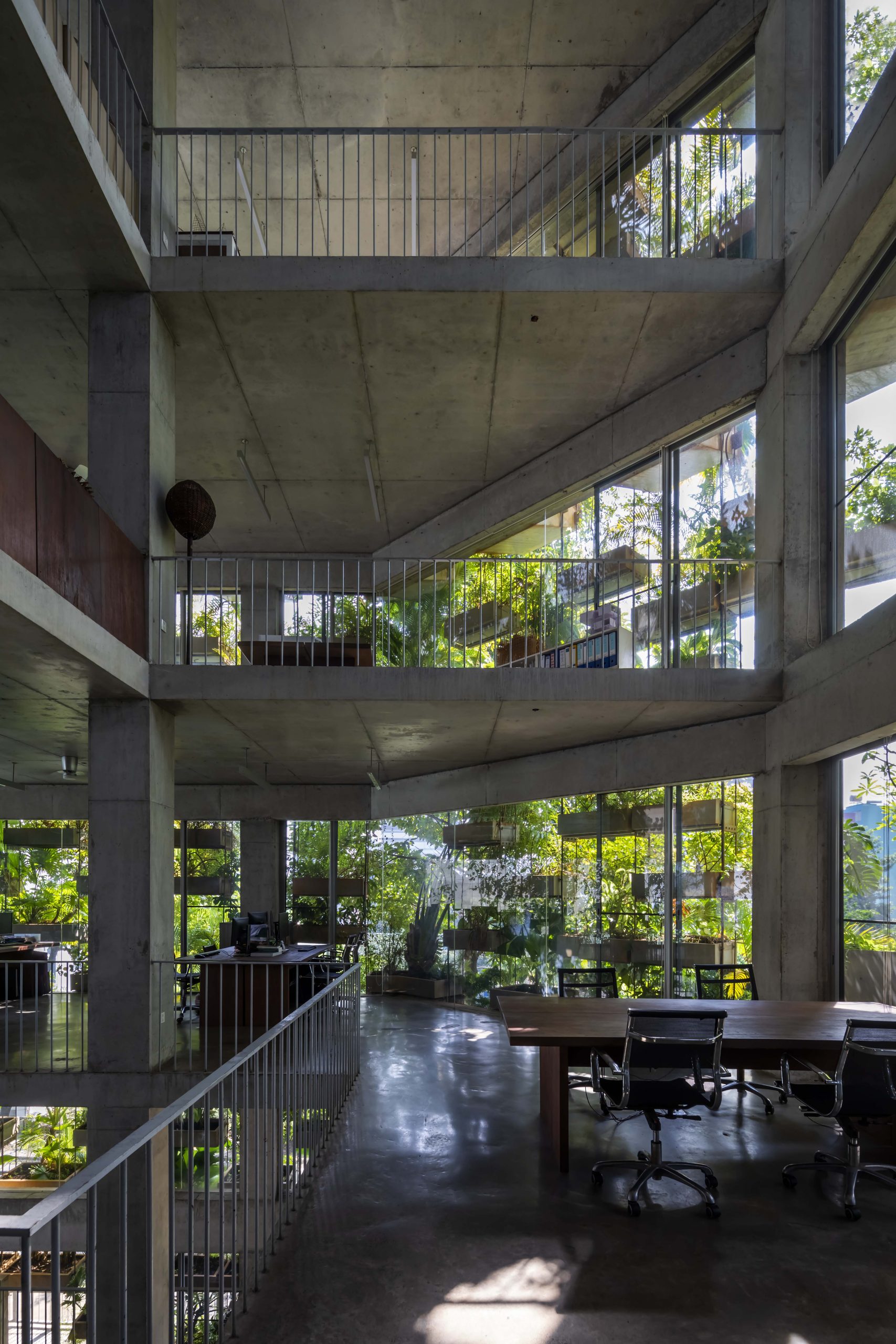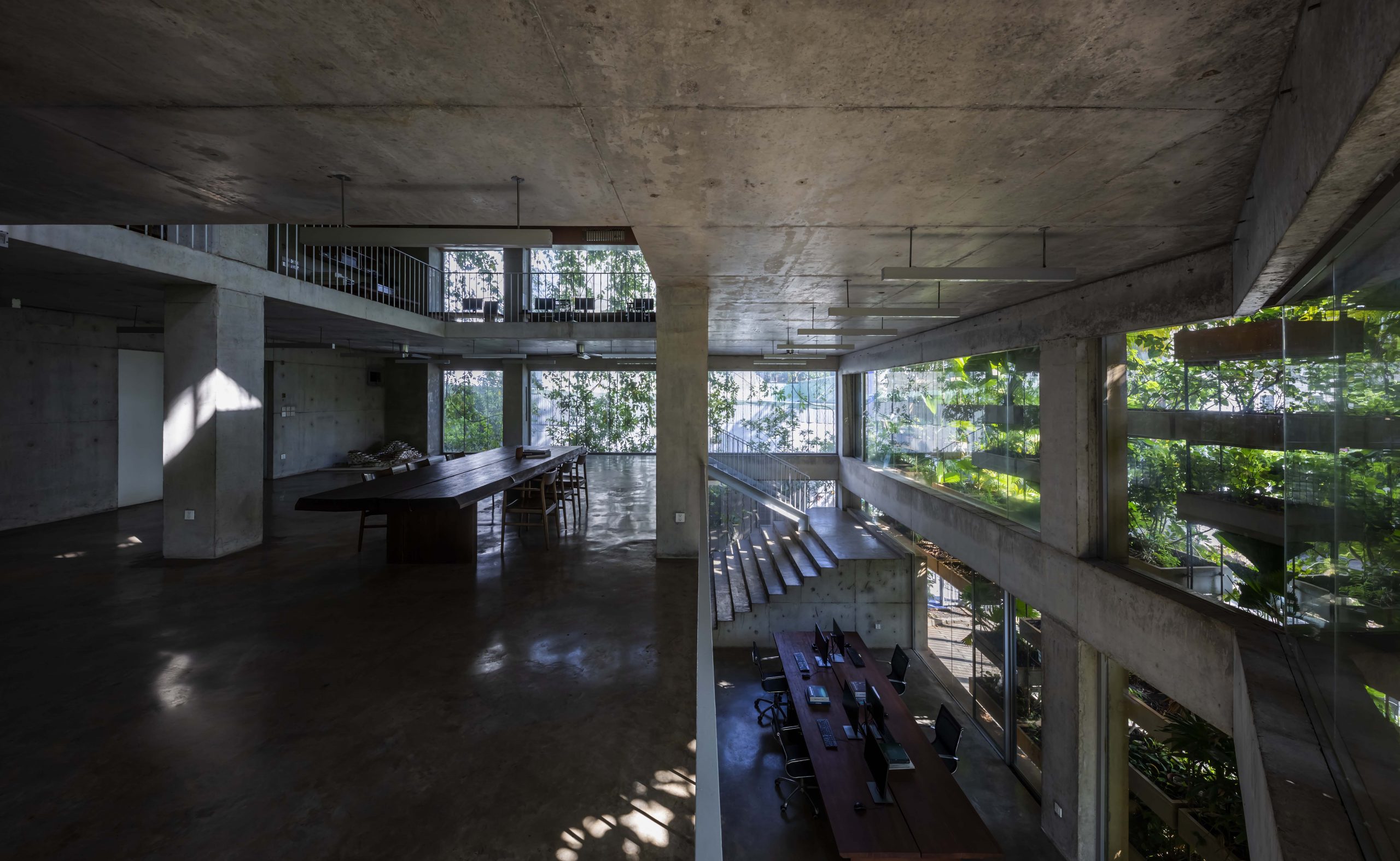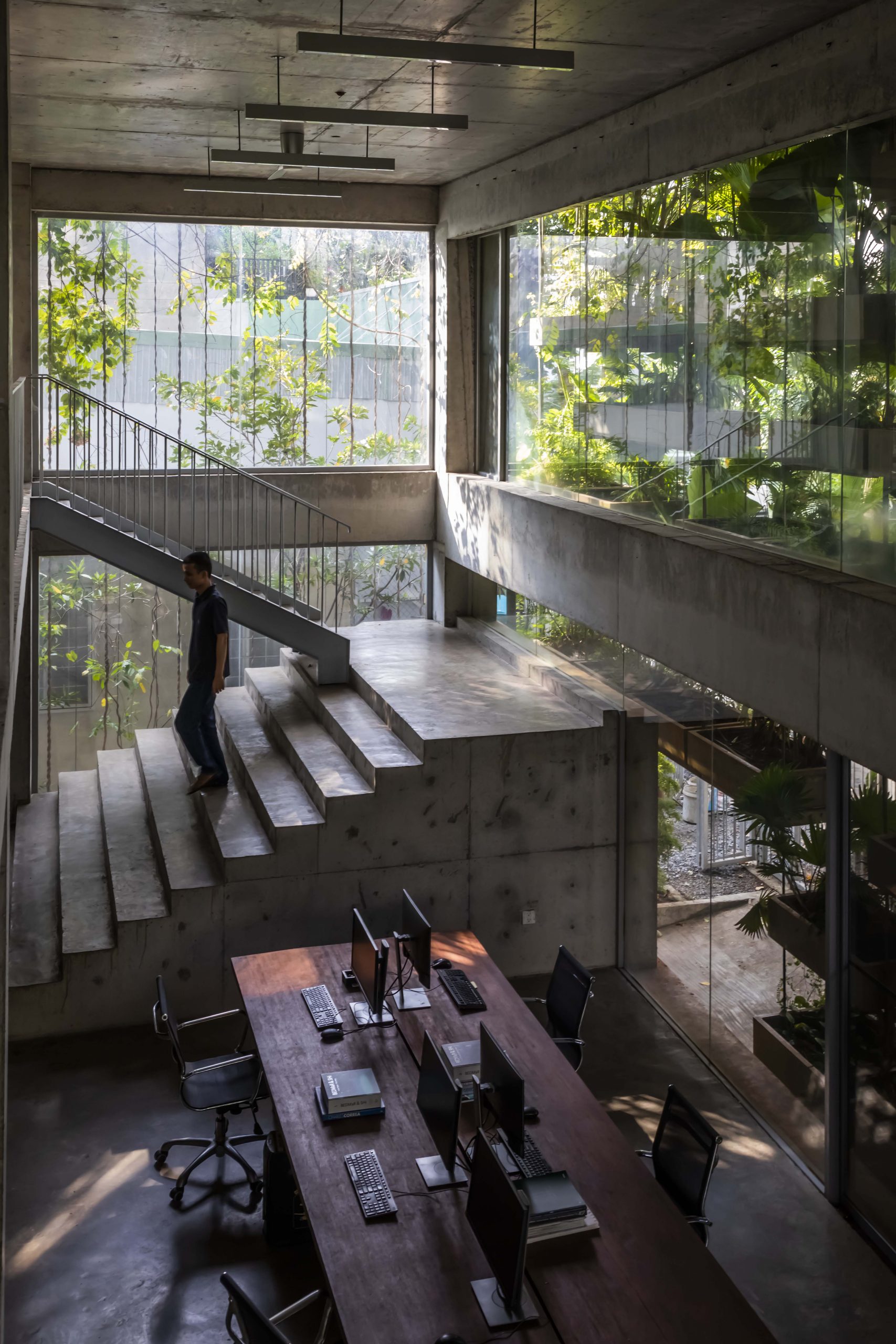 From a distance, thriving vegetation turns the bland building shell into a lushly planted living façade. Overall it's a straightforward concrete construction with outdoor platforms attached to the side of the building.
These balconies are filled with modular concrete planters designed to be moved easily depending on the height and growth of trees. This ensures that each particular species gets sufficient amounts of sun to grow.
Combine biodiversity in the balcony and rooftop gardening with the surrounding landscape, and you get an expansive urban forest that amounts to 190 percent of the total project area. As the architect puts it, this translates into 1.1 tons of vegetation including native edible plants, vegetables, herbs and fruit trees carefully chosen as being the best and most suitable.
Also, it's organic farming and the quality of being diverse that give the office building a cheerful and positive personality.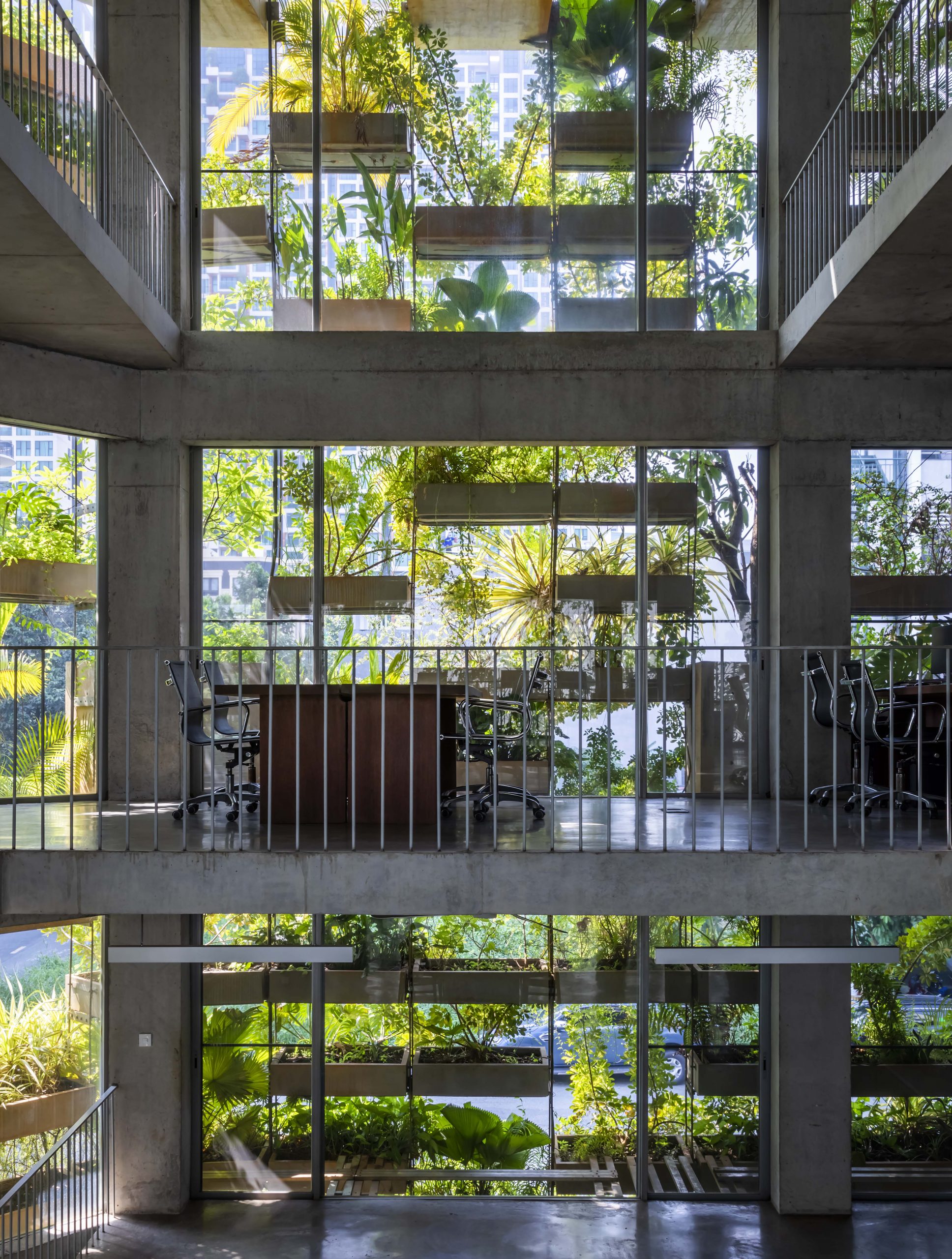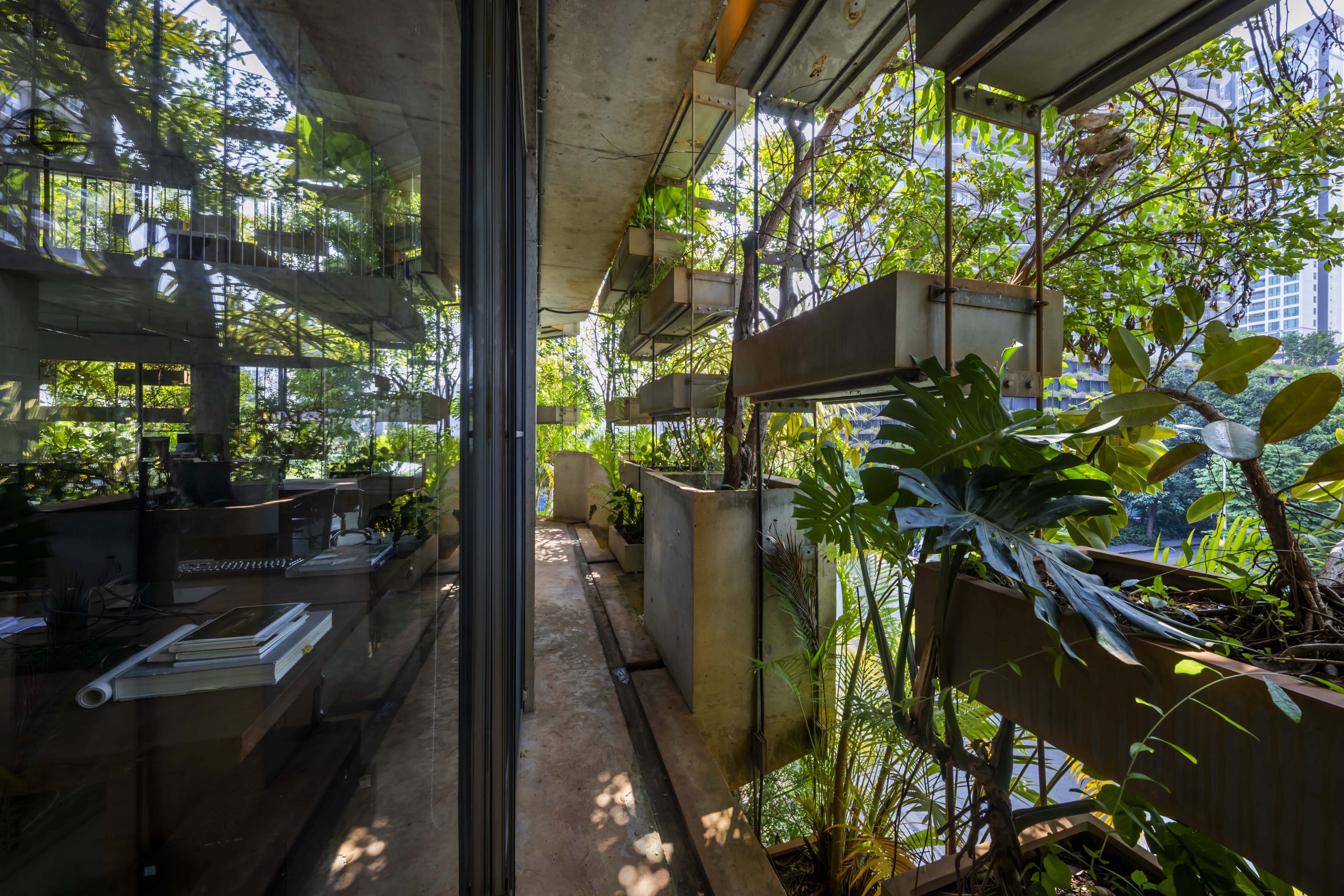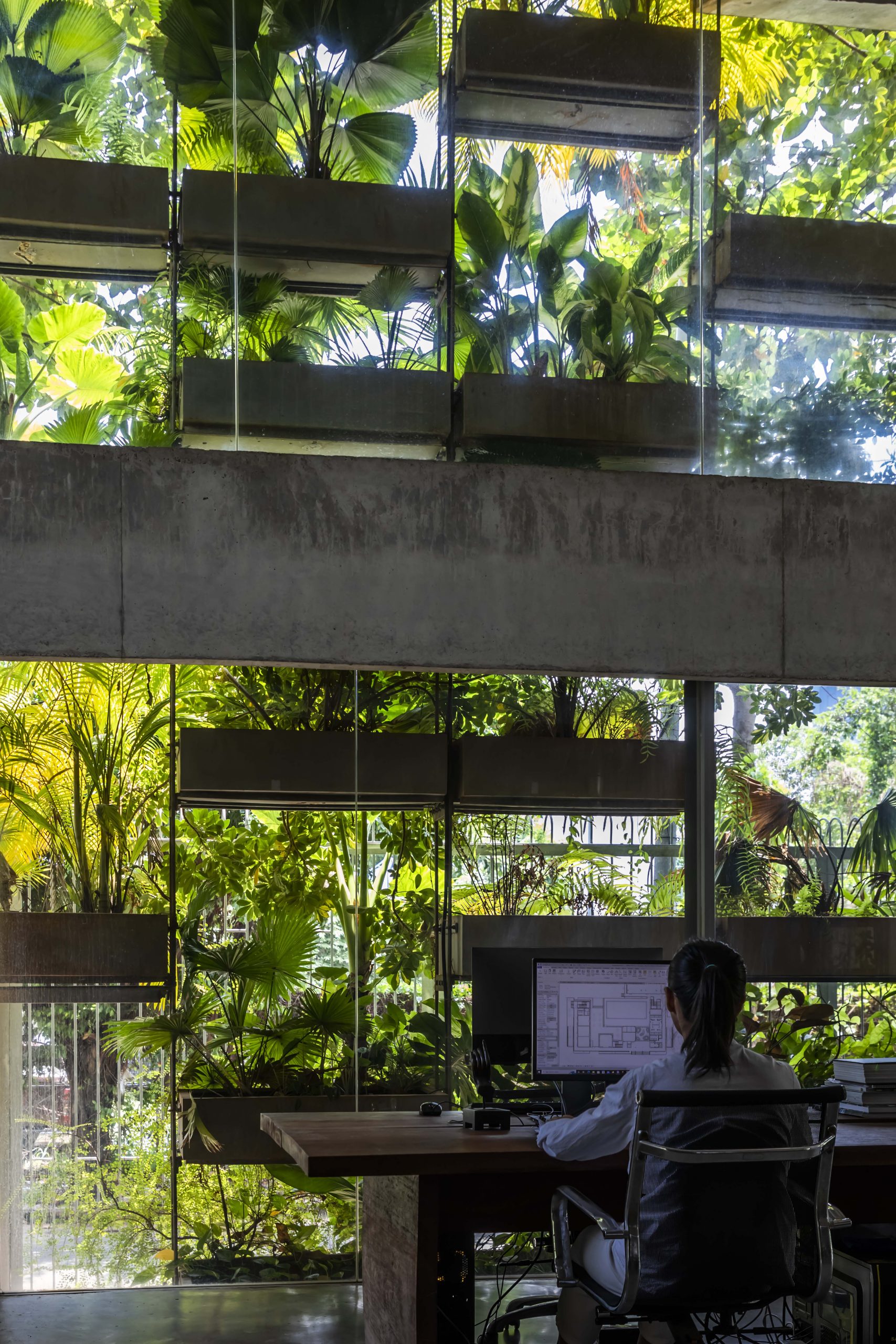 Walk past the front façade, and you come before an inviting first impression. The window, doorframe and exterior wall are glazed entirely with glass to protect interior rooms from the elements.
On the outside, lush green vegetation doubles as a building envelope that filters out harsh sunlight while allowing plenty of fresh, outdoor air to pass into the interior workspaces. Plant watering is done using rainwater stored in catch basins strategically placed around the building.
The irrigation method that sprays water droplets overhead with sprinklers also keeps the ambient temperature cool, thereby saving money on air conditioning costs.
On every level, the open floor plan boasts clean lines that make the interior workspace look more spacious and well-ventilated all day long. All told, it's the ingenious double wall design that makes living a whole lot easier and less stressful.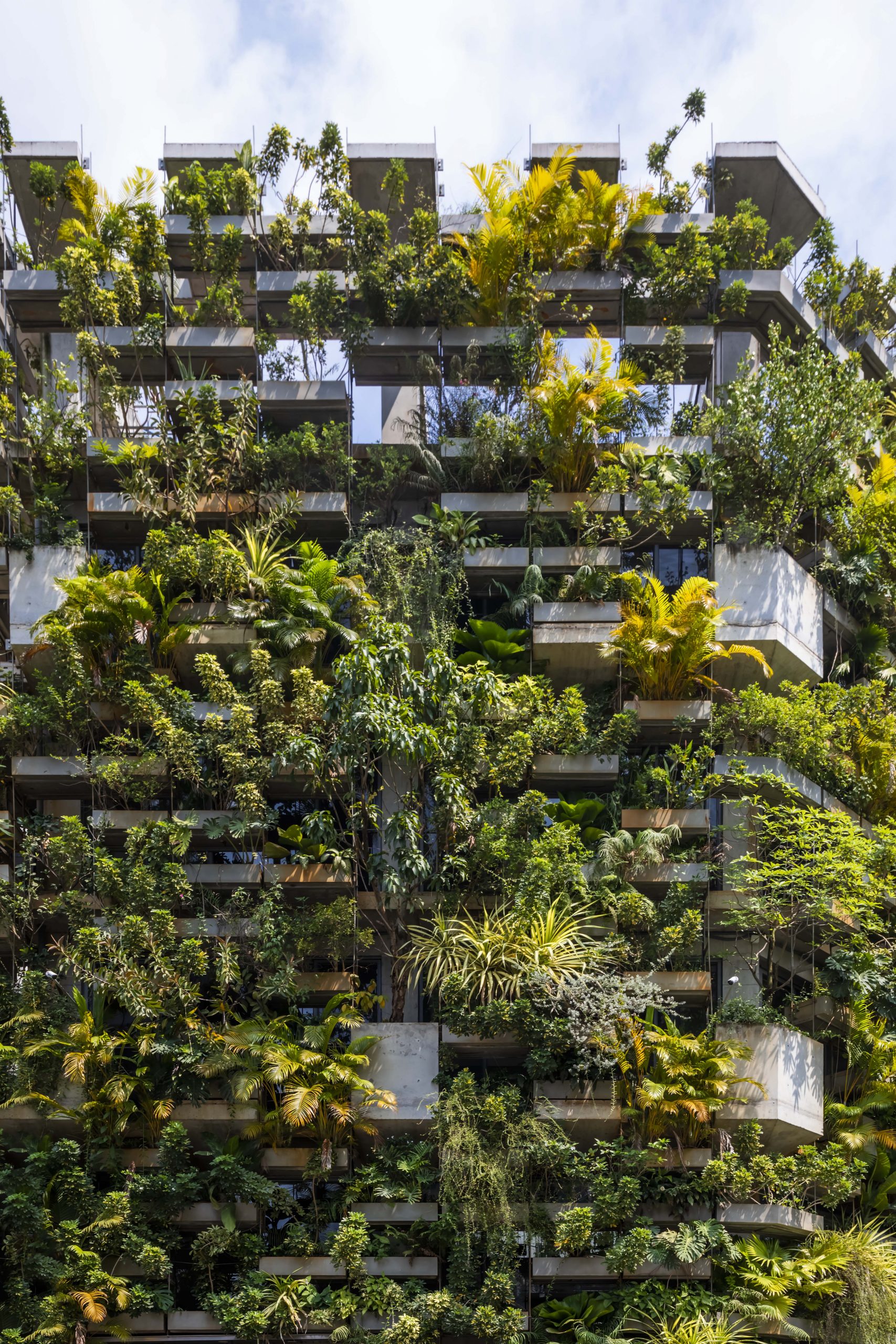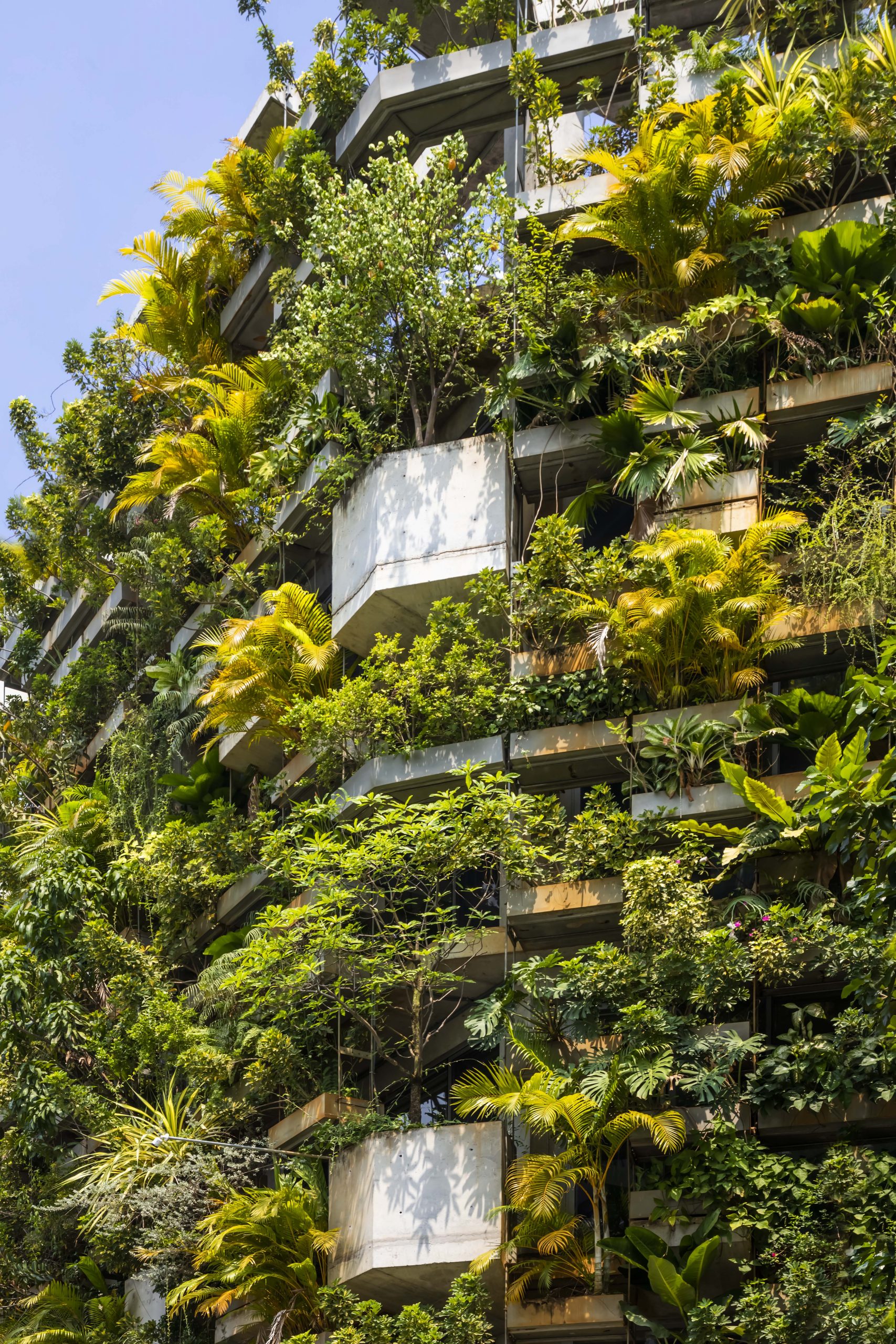 To give a brief summary, green architecture isn't the only feature that makes this office building stand out from the rest. Rather, it's also the image of organizational culture that speaks volumes for the determination of the architects who live and work here.
VTN Architects have demonstrated that humans and the environment can coexist symbiotically. This is achievable by letting nature permeate and be a crucial part of the city and any office design. It's the way forward in creating a more equitable, sustainable future.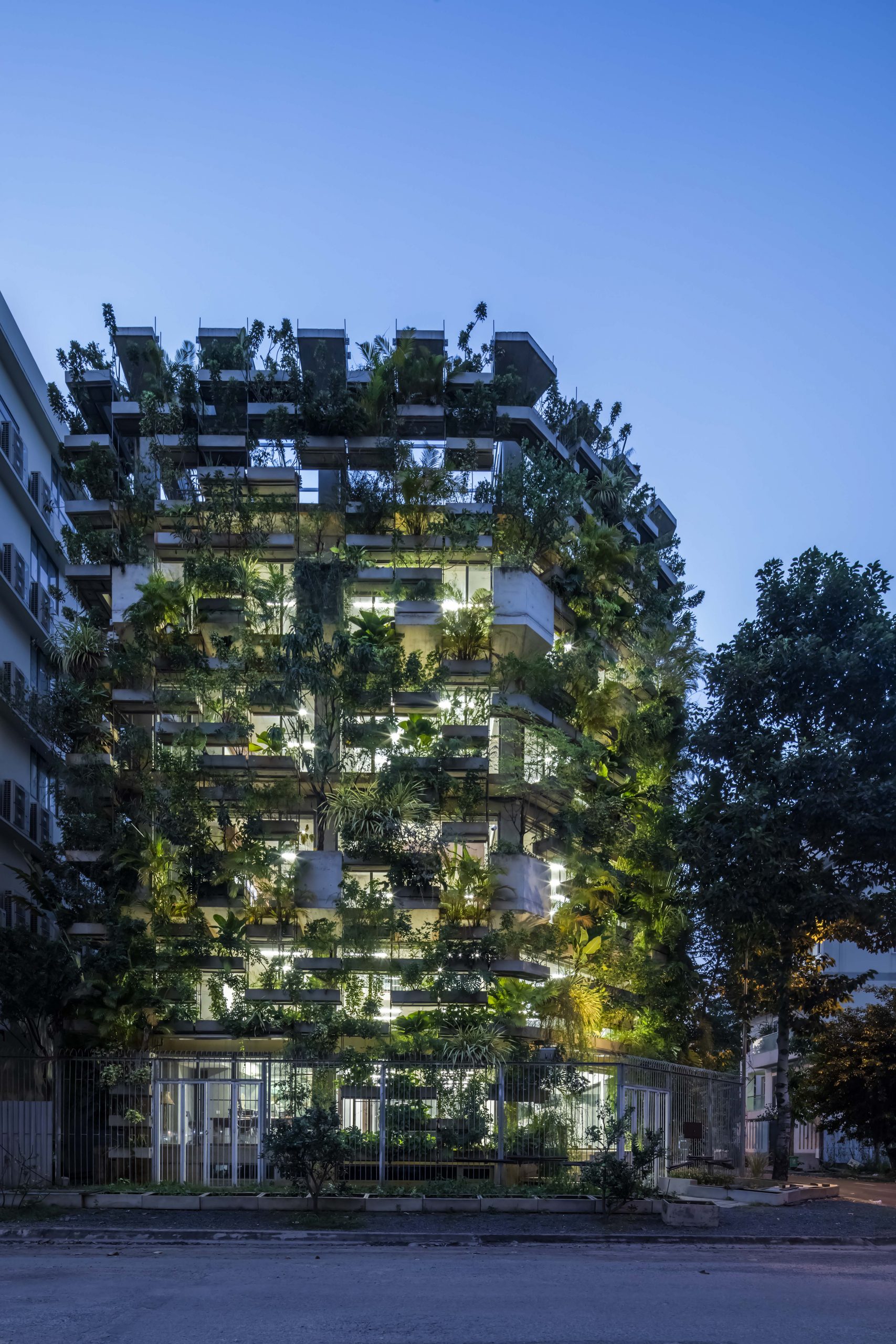 ---
Owner/Architect: VTN Architects (Vo Trong Nghia Architects)
---