CHIANG MAI / From every aspect an alluring collection of raintree furniture is adding an exciting dimension to the craft landscape of Chiang Mai. Made by the homegrown brand Moonler, every piece tells stories of a pristine natural forest and the superb carpentry indigenous to northern Thailand. Plus, it features stylishness and originality that answers modern lifestyle needs.
Founded in 2008, the Moonler brand originated as a nice little collab between Phuwanat Damrongporn, a civil engineer; and Sarawut Sakthamcharoen, an artist. Together they built a small workshop at Baan Thawai, Chiang Mai, where a rich variety of wood furniture was made from the raintree. The pair of them developed a competitive edge by distinguishing their products from others in the market in both quality and appearance.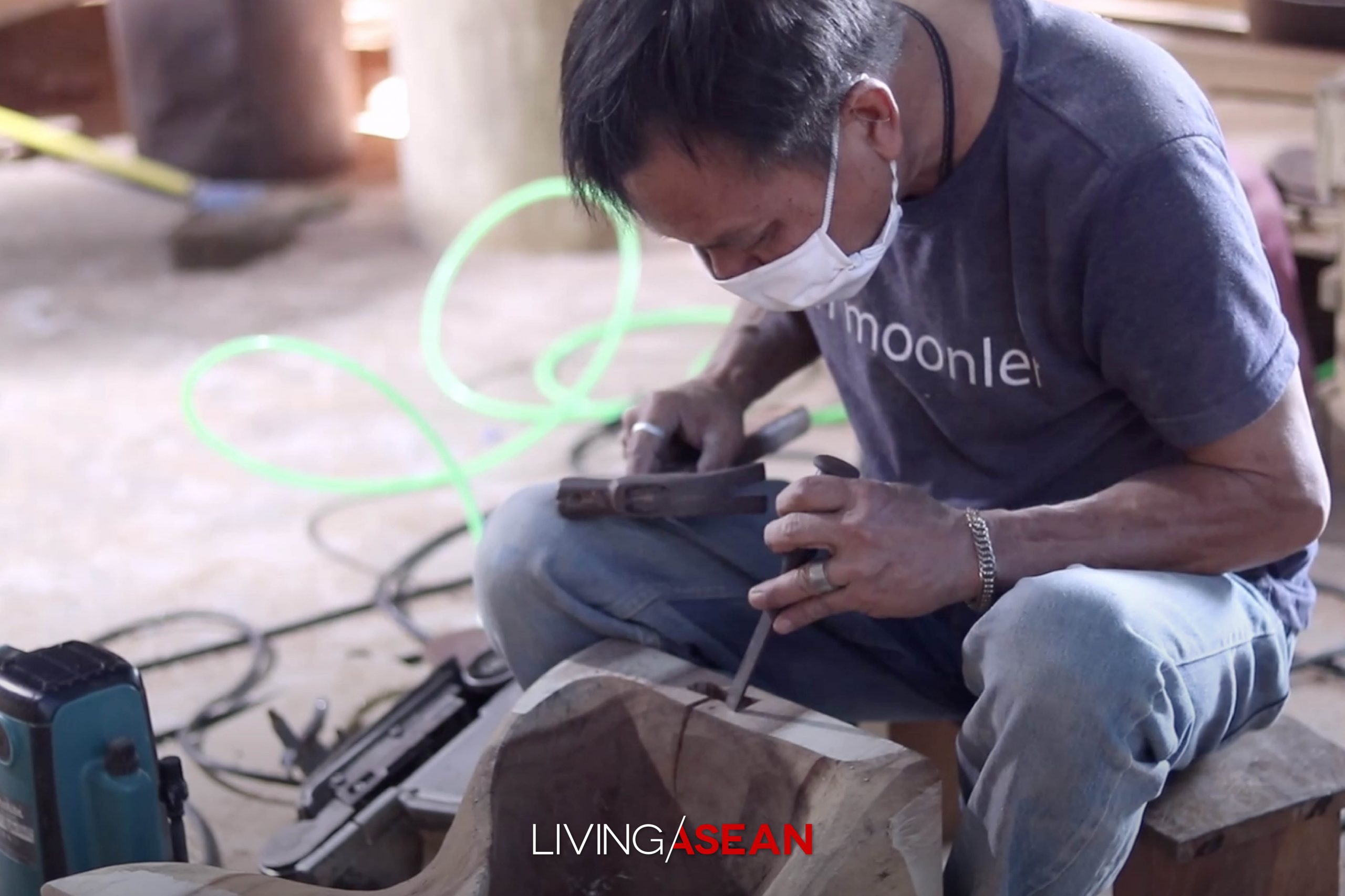 Now, just over a decade on, the small workshop has transformed into a furniture company that ranks among large manufacturers in Chiang Mai's Doi Saket area. Moonler increases market share through innovation and grows its business by exporting to the global marketplace. Its success is built on experience and networking with distinguished designers both local and international.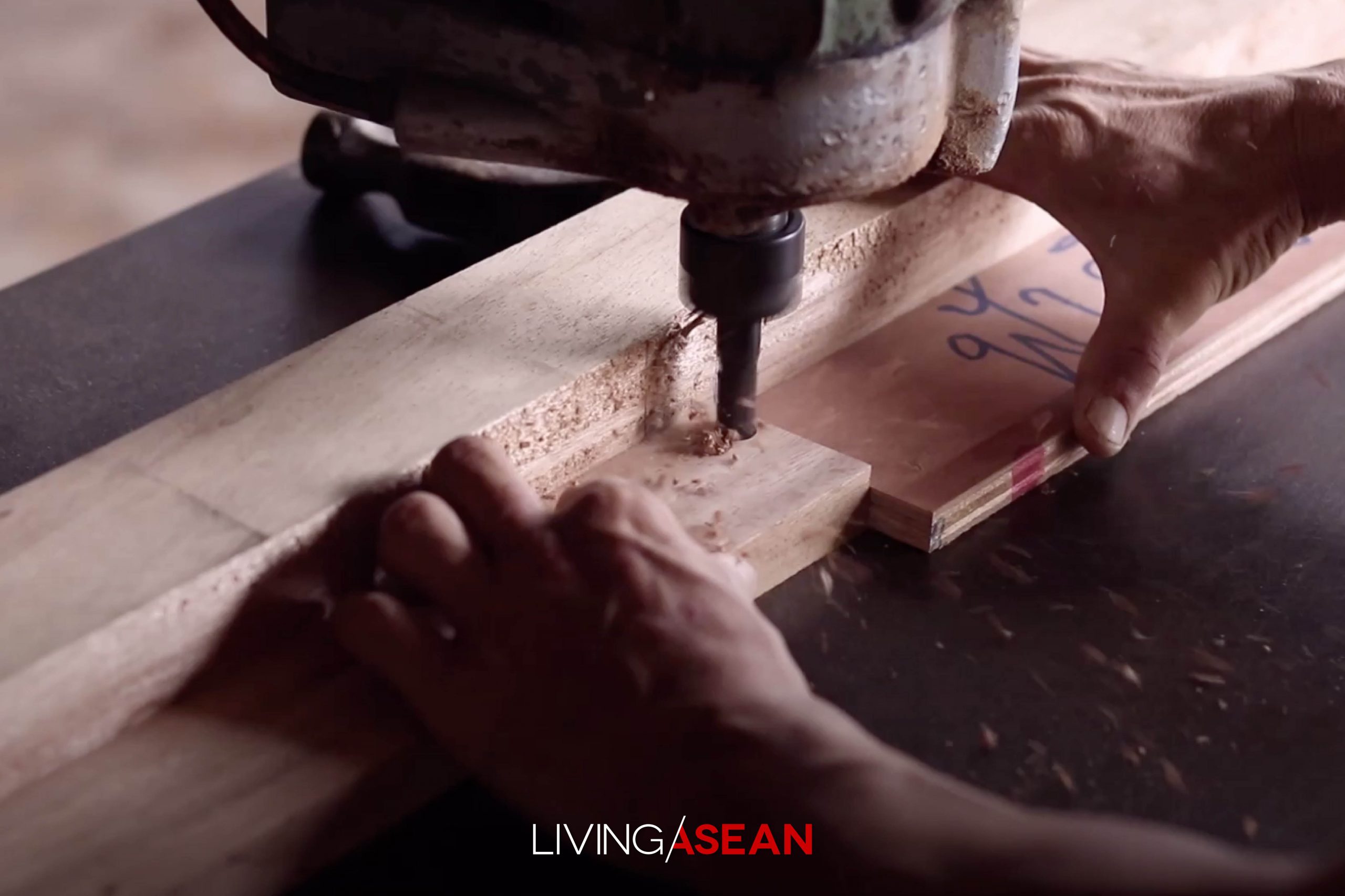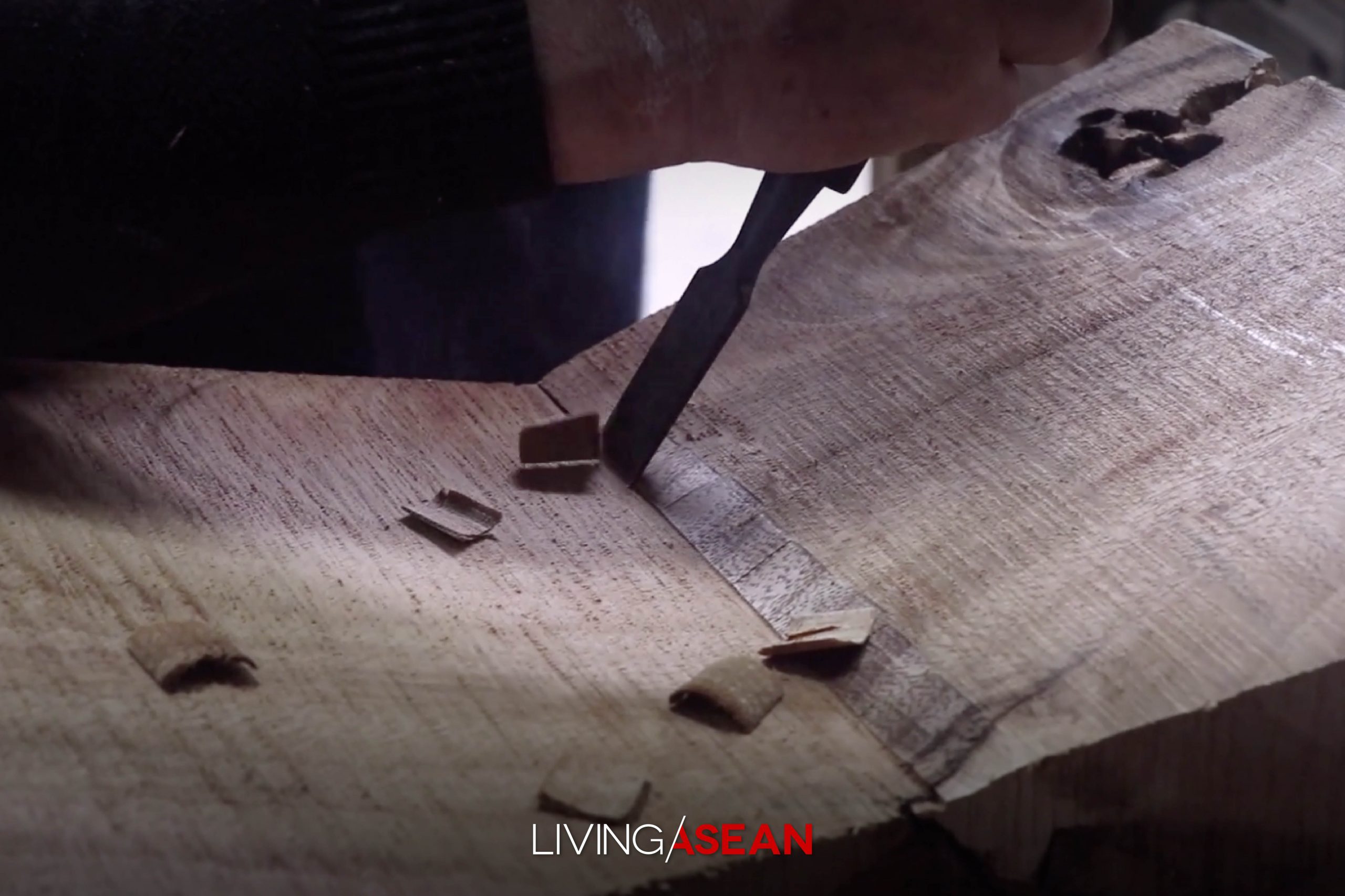 Just three years ago Ratthee Phaisanchotsiri, who won acclaim for many creative achievements, joined the company as design director. He first came into contact with Moonler through a state-sponsored cooperation initiative between business and designers. Working jointly, they succeeded in creating a collection of 10 pieces of furniture and home accessories, a move being hailed as the rebranding of Moonler's present day production trend. Essentially, it's about adding a new dimension to the handicraft tradition of Chiang Mai.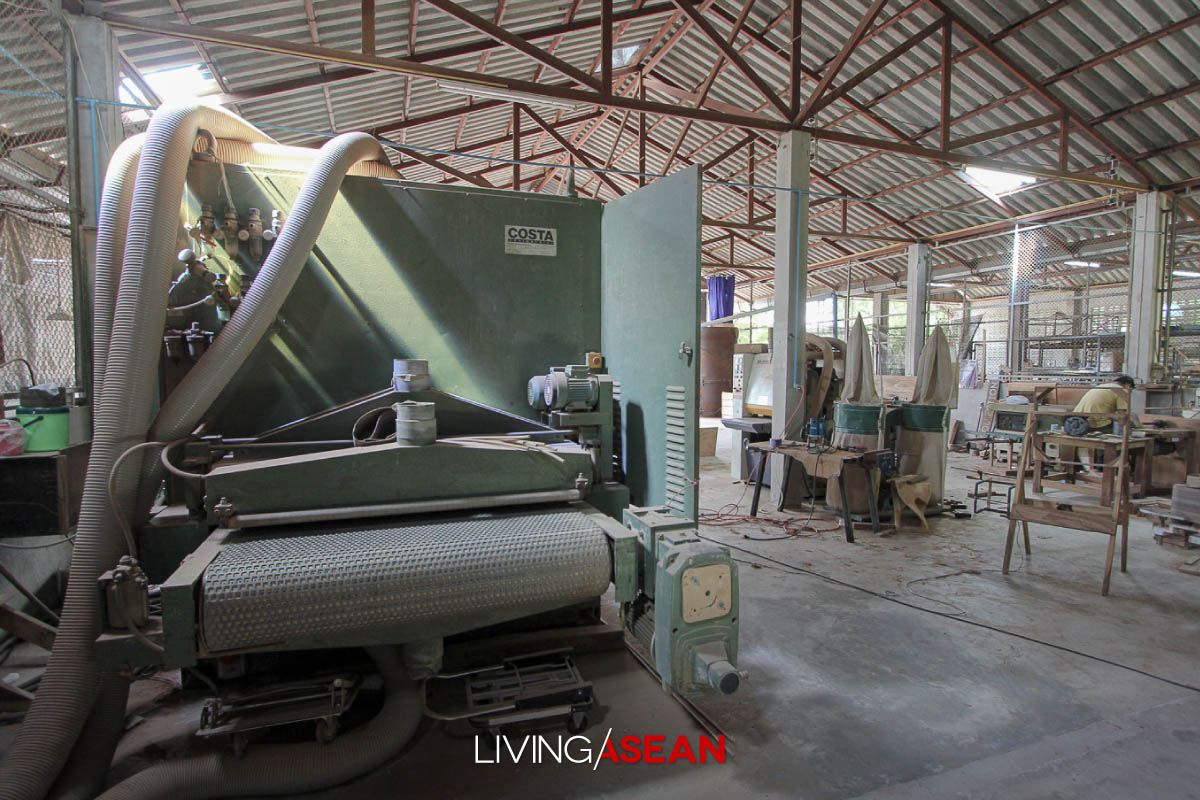 Moonler's material of choice is wood from the raintree (Albizia saman) that's admired for its beautiful colors and ornamental timber similar to that of the walnut. It's strong yet bendable, which makes it ideal for furniture making. It can be used as a substitute for teakwood that has become increasingly rare nowadays. Plus, it's easy to find the right width for a project, as opposed to planks from the lumber yard, which are only available in standard sizes. Given that, raintree timber offers a competitive advantage that gives the artist and designer the power of imagination to explore new possibilityies like never before.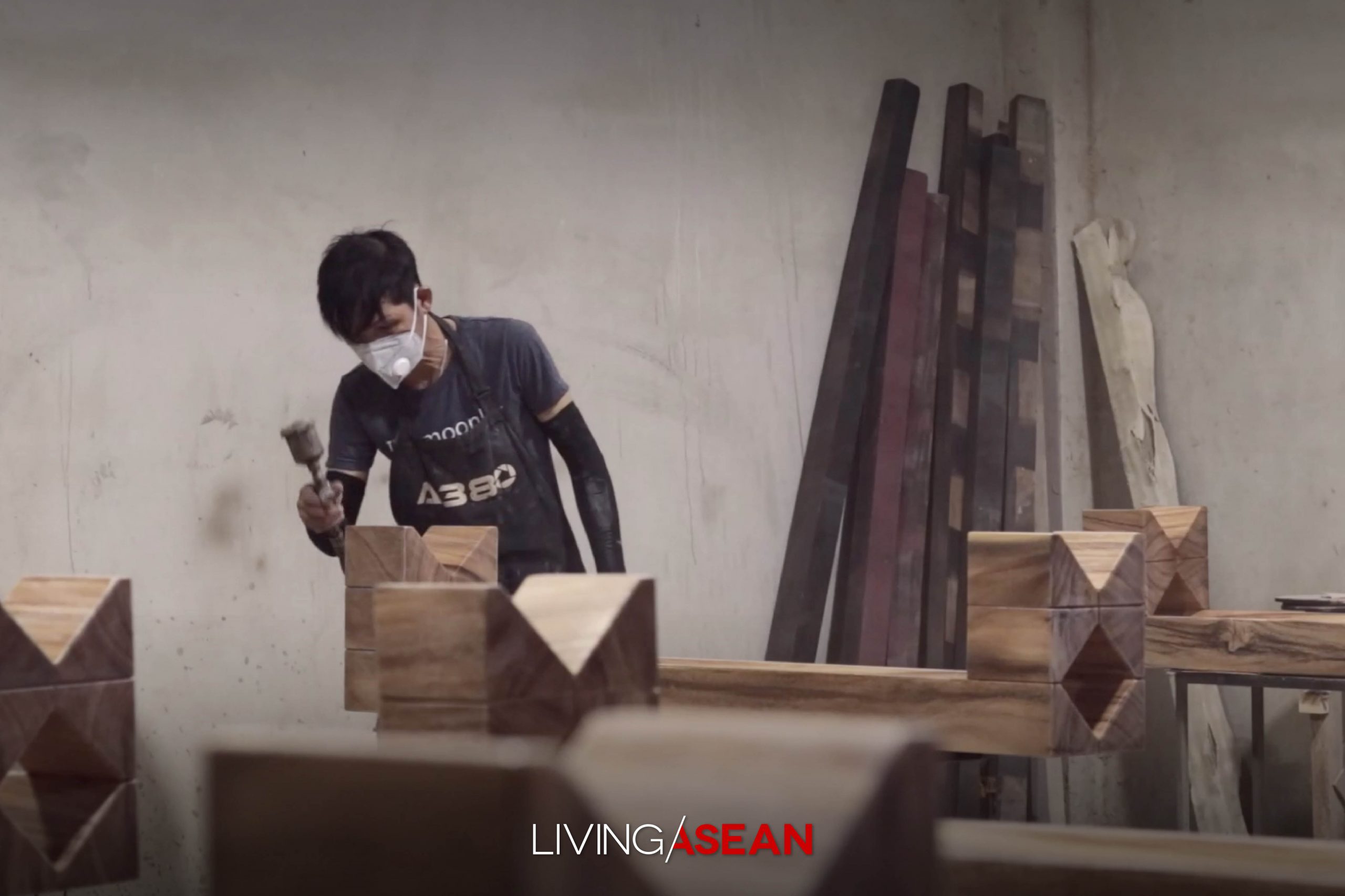 Moonler is networking with a new generation of designers in a bid to create products that bespeak contemporary Thainess. This can lead to new meaning being expressed through the visible shape, familiar culture, and the creative works of highly skilled craftsmen. At the end of the day, it's the aura of specialness in the product that satisfies consumer expectations.
Besides the main manufacturing facility in Chiang Mai, Moonler also has a showroom in Phuket and is planning to open another one in Bangkok soon. Find out more about Moonler products and what's the latest collection at: www.moonler.com.
Here's a glimpse into the latest in Moonler products.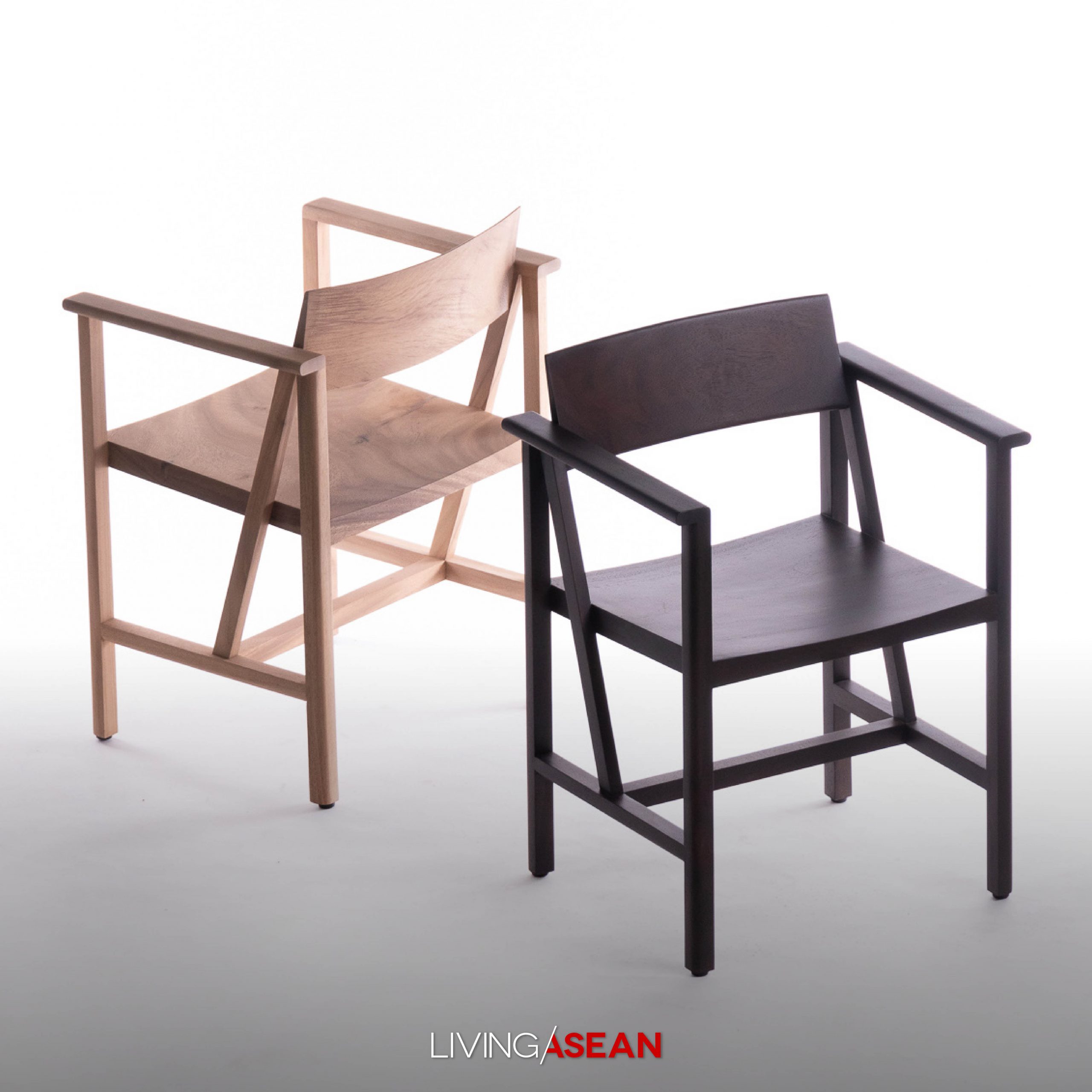 PHAKA by Ratthee
An ideal relationship in shape, size and proportion, PHAKA is a wooden chair that's easy on the eyes and convenient to use. It mirrors the rebranding of Moonler products that make the most effective use of clean and simple design. From the seat to the backrest, every part of it is put together seamlessly with no apparent gab between one piece and the next. Plus, it's access to
quality wood products that give Moonler its competitive advantage.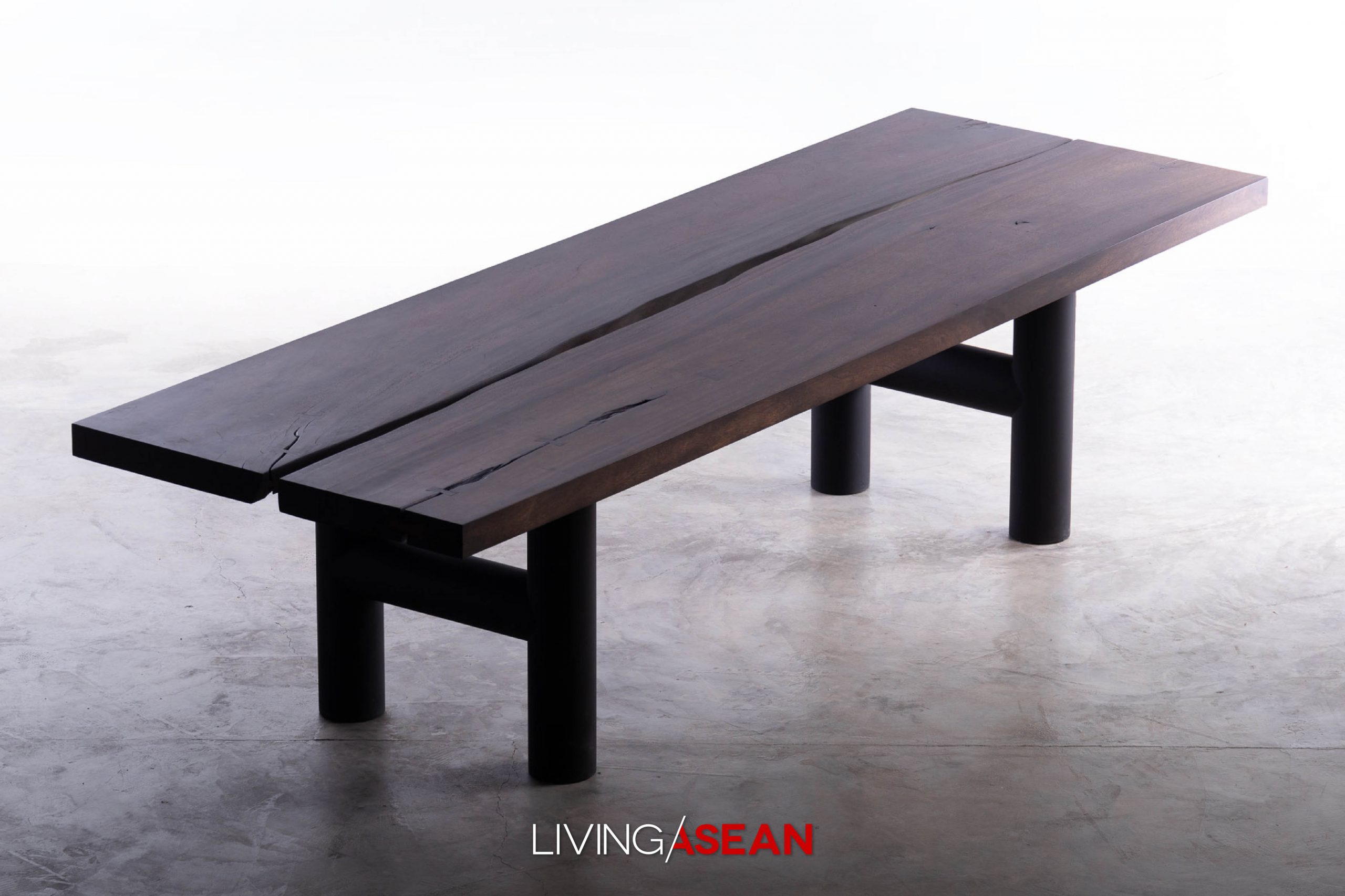 PANNA by Ratthee
It's a table and workbench in one. Like a huge crack on the cliff face, the tabletop is made by joining two flat pieces of timber. By design, the uneven outer parts of the tree trunk are placed against each other to create a gap in the middle that's used for the installation of electric wiring. PANNA is knock down furniture that's easy to assemble.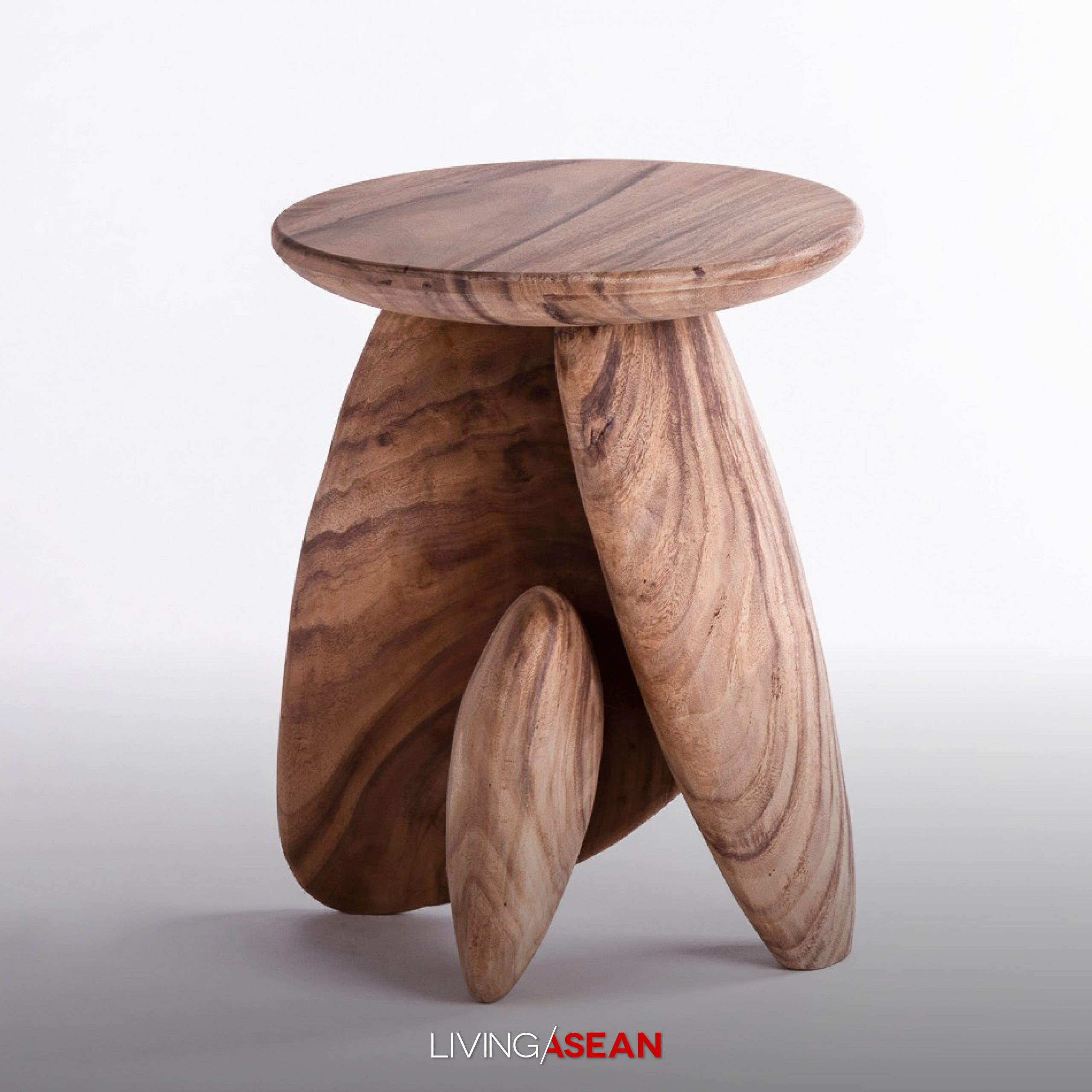 PEBBLE by Atelier2+
PEBBLE is a wood stool that rests on three legs machined to resemble a natural rock formation. What appears to be work done without method or conscious decision is, in fact, a testament to the power of imagination of a master craftsman. The result is a work of outstanding artistry.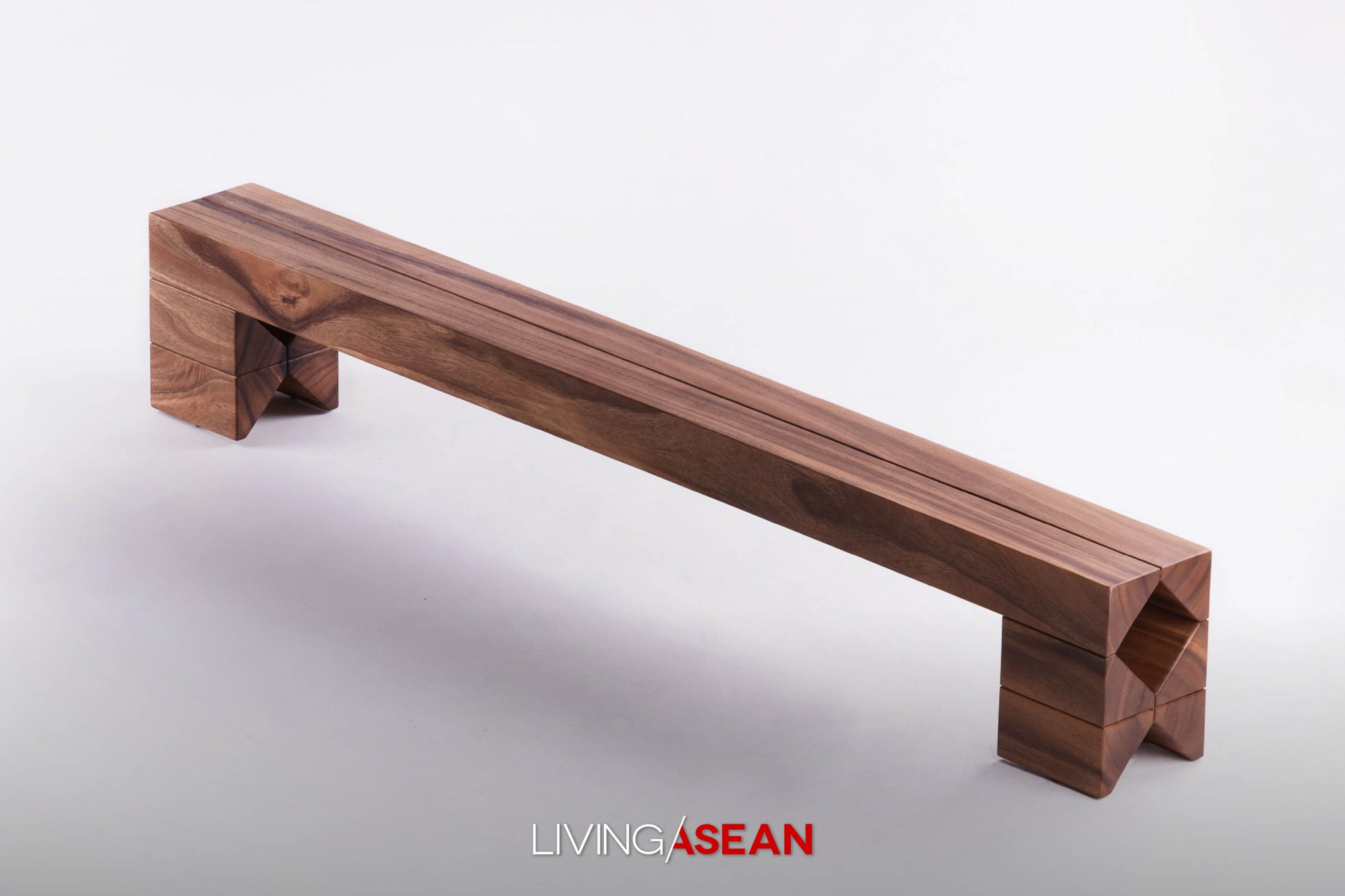 SALMON by o-d-a
It's a bench seat made by cutting the entire length of a log into parts. Two pieces are joined lengthwise to make a long seat, while another 8 pieces make the legs. The work gets its inspiration from clean, simple design and the beauty of symmetry. Aptly named SALMON, it's a robust precision system that combines beautiful wood grain with superb craftsmanship. It's comparable to the work of a sushi chef who uses a razer-sharp knife to cut raw fish and rolls of cooked rice.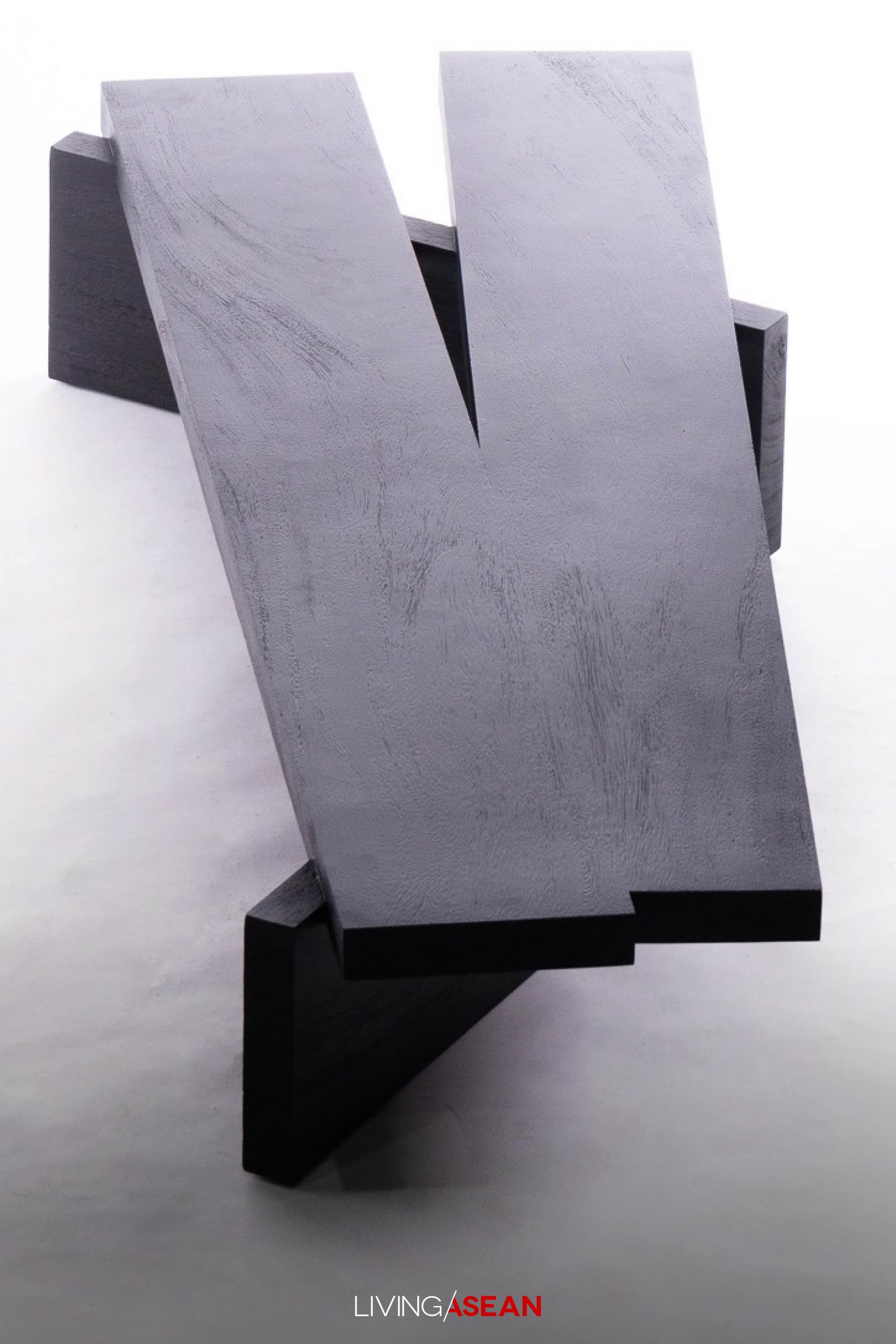 MESA by Ratthee
MESA is a center table inspired by functional sculpture, in this case a three-dimensional abstract form that doubles as a piece of furniture. The asymmetrical relationship between the members that join together adds an exciting new dimension to the work and conveys a message that nothing in nature is perfect. It's a flexible form that's easily modified to respond to different circumstances.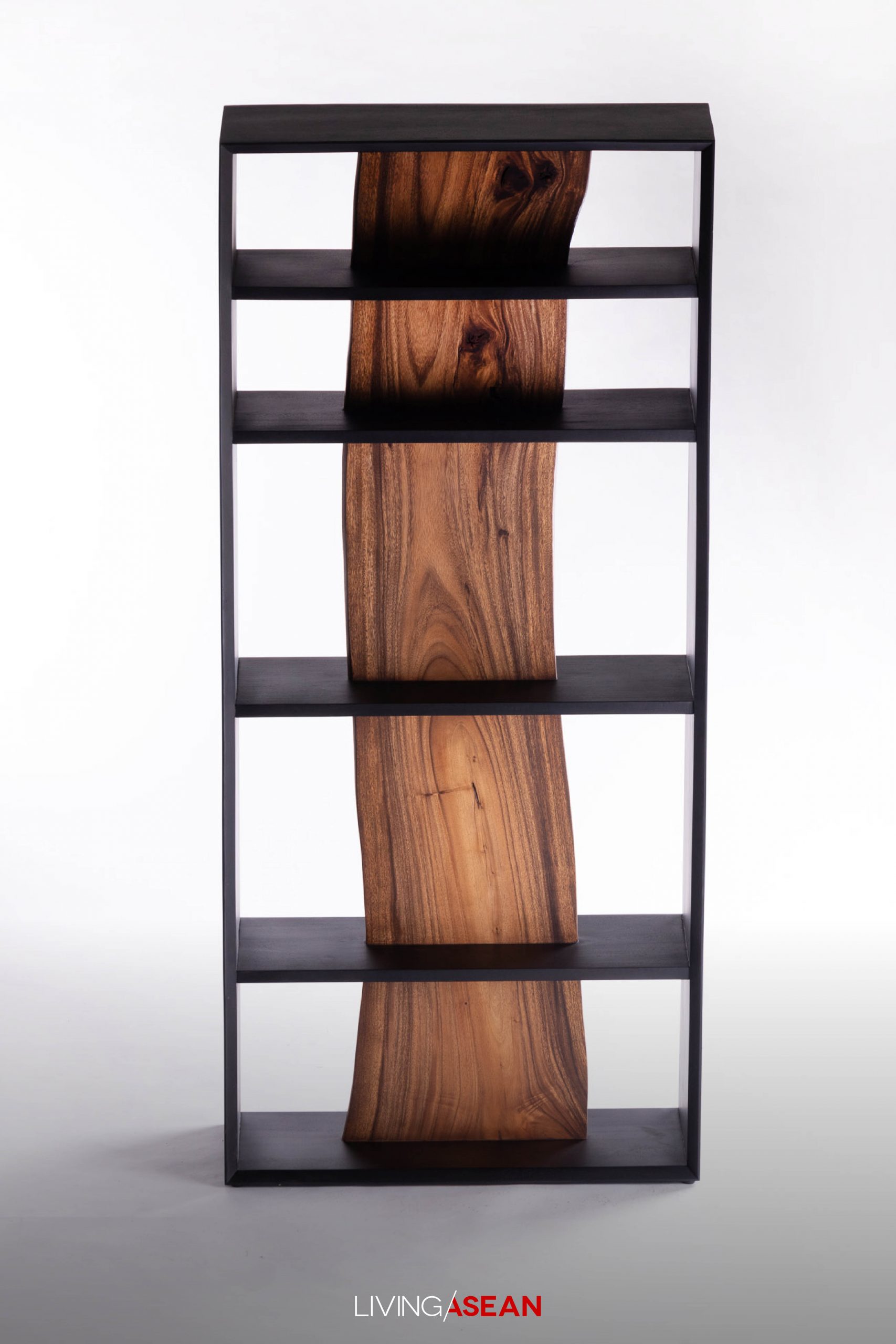 DARAKORN by Ratthee
The first piece created by Ratthee Phaisanchotsiri for Moonler is a freestanding shelving unit designed to showase the beauty of natural wood. The rigid structure enclosing the storage space acts like a picture frame giving special importance to the large wood slap that appears to move away from the vertical axis line.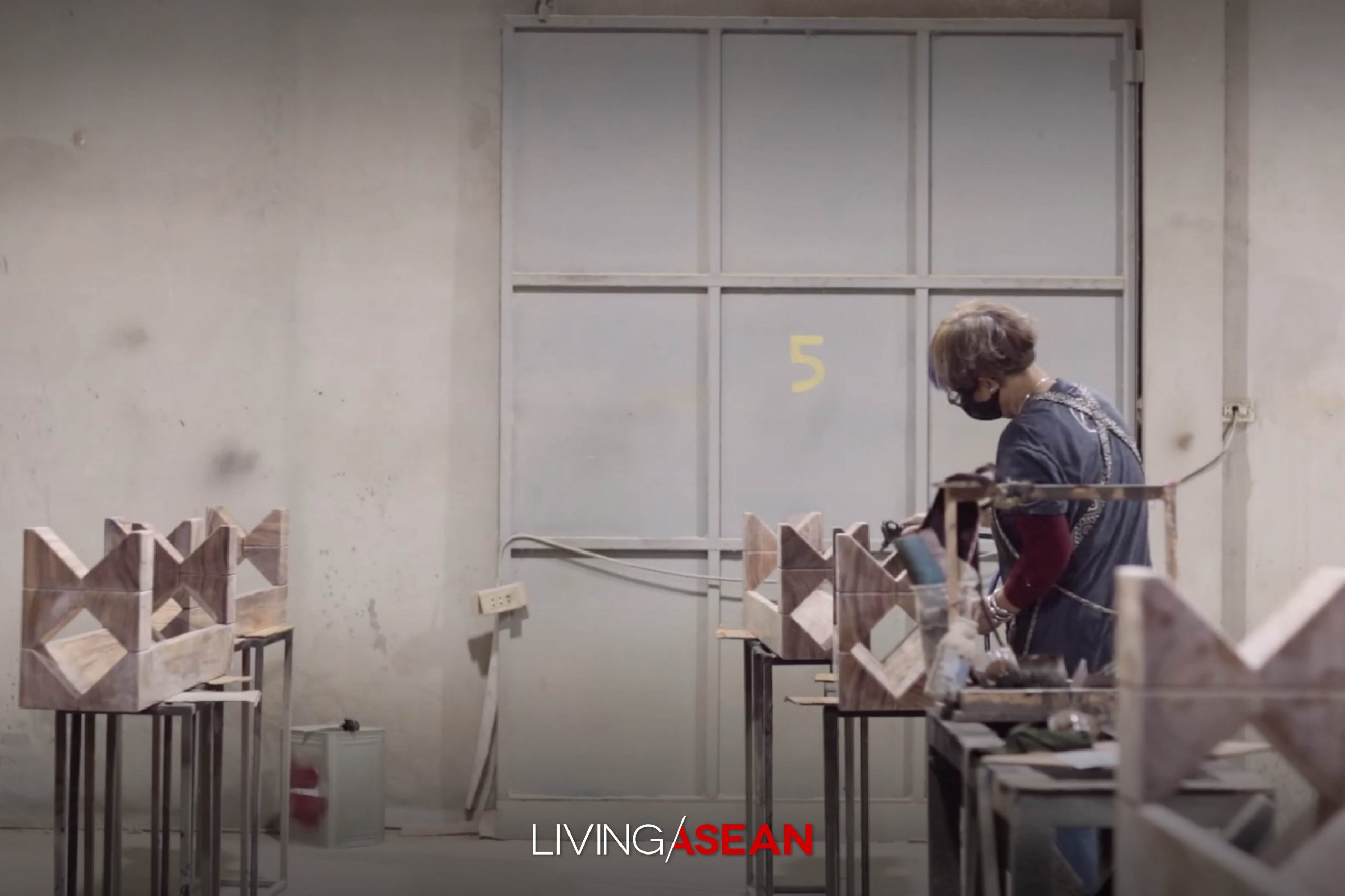 Company founders: Phuwanat Damrongporn, and Sarawut Sakthamcharoen
Design Director: Ratthee Phaisanchotsiri
Point of contact:
Chiang Mai Factory & Showroom
51 Moo 1, Sumranrath Doi Saket, Mueang Chiang Mai, Thailand 50220
Phuket Showroom
Bypass Biz Town, 156/65 Ratsada, Mueang Phuket, Thailand 83000
email: contact@moonler.com

Story: MNSD
Photographs courtesy of Moonler