/ Bangkok, Thailand /
/ Story: Ath Prapunwattana / Photograph: Rithirong Chanthongsuk /

This 7-storey concrete house, blanketed with a refreshing green façade, has angles everywhere, with one especially remarkable section dominated by slanting red posts and beams.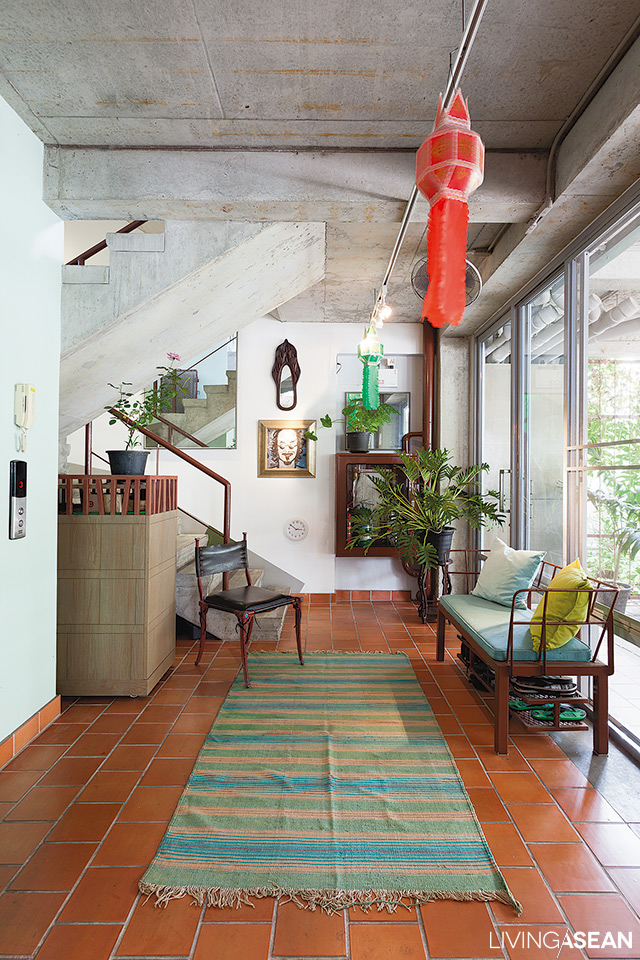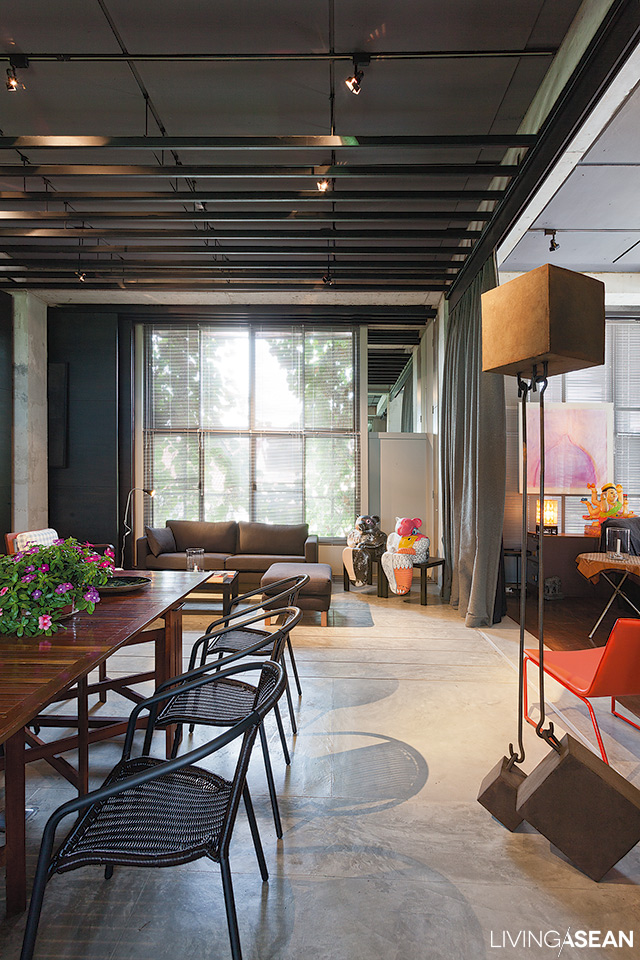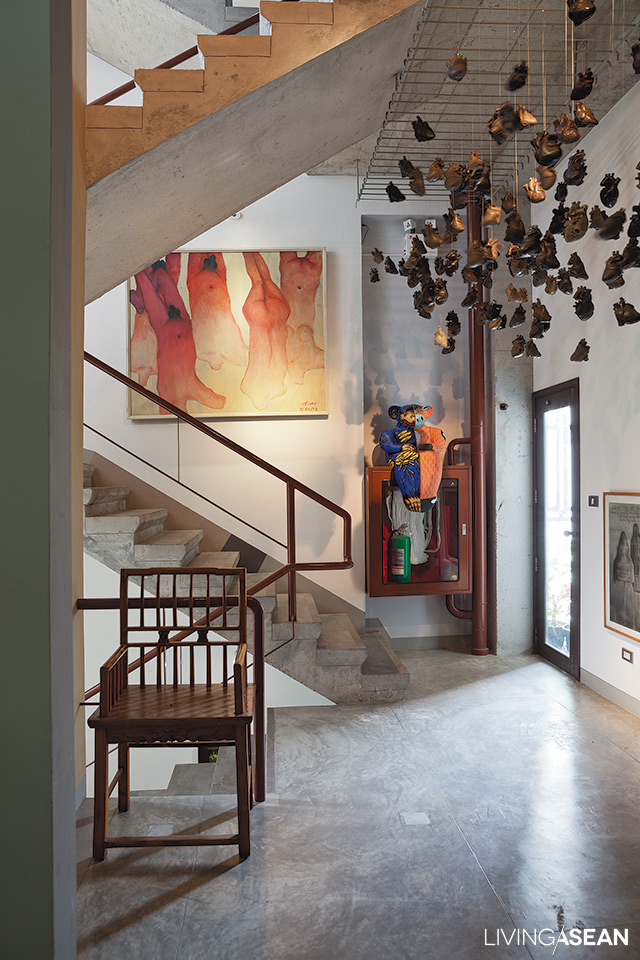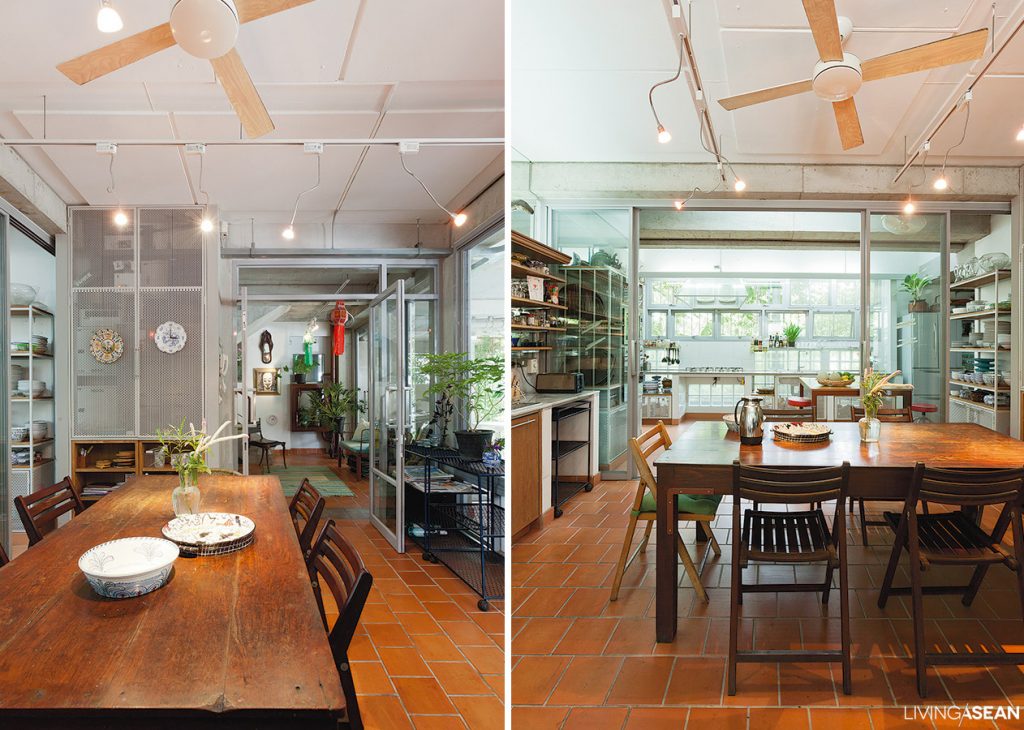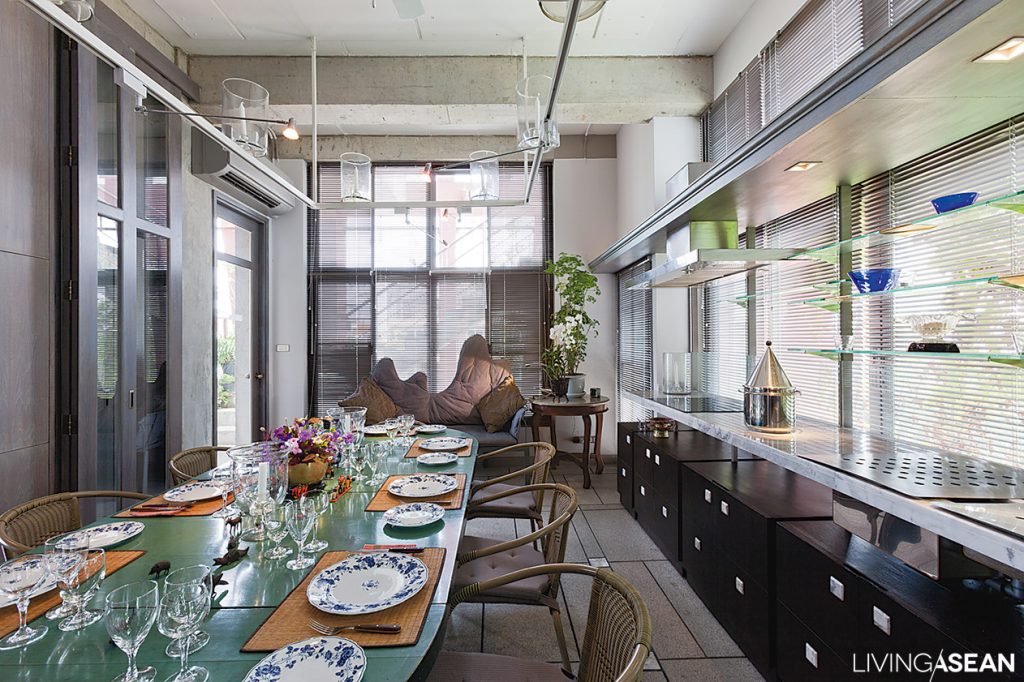 Chatrawichai Phromthattawethi, interior decorator and owner of the company "Pro Space," lived in a two-storey building for 15 years before finding it too small and building a new place on a nearby property. On that limited space he built upwards rather than out, in fact seven storeys up.
"Designing, we weren't thinking primarily about style, but utility. The space was narrow, so we built tall.
"Then with a 4-storey townhouse next door we figured an ordinary building would seem too cramped, so we made the building structure visible: posts, beams and deep spaces into open walls creating dimensions of light and shade, adding panache with one section of oddly slanting posts painted red, set off with flowers here and there."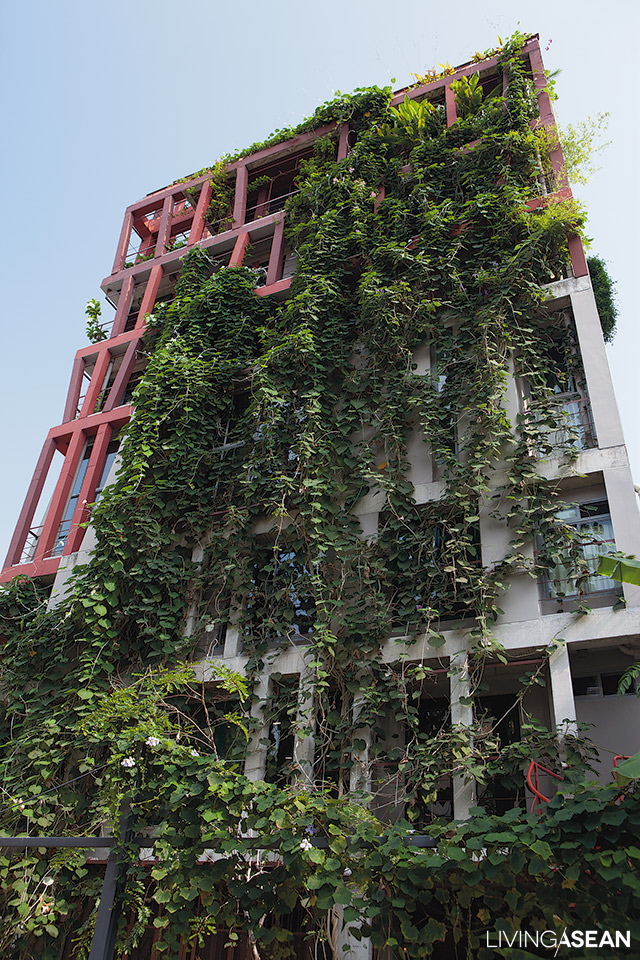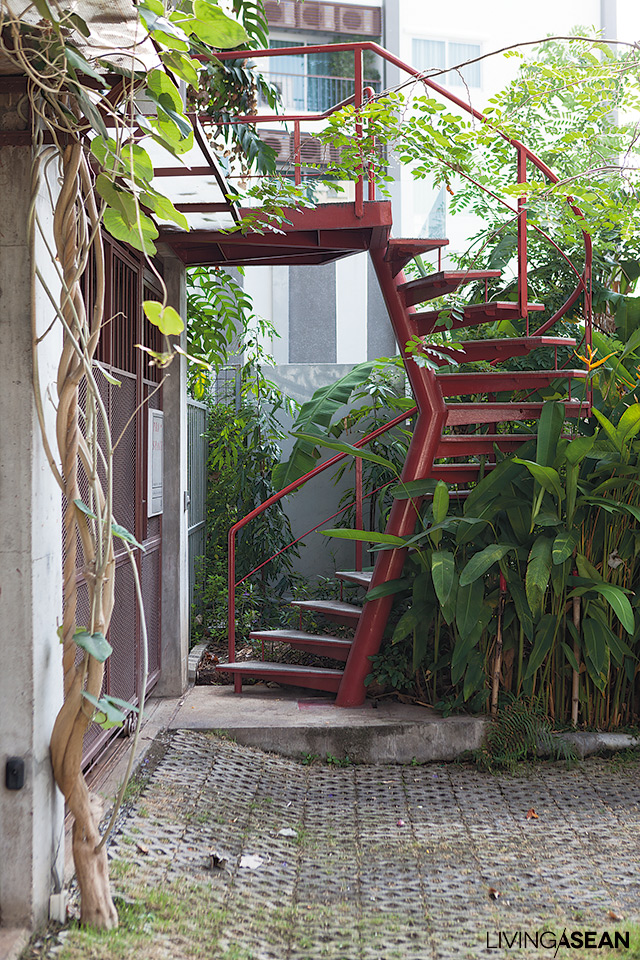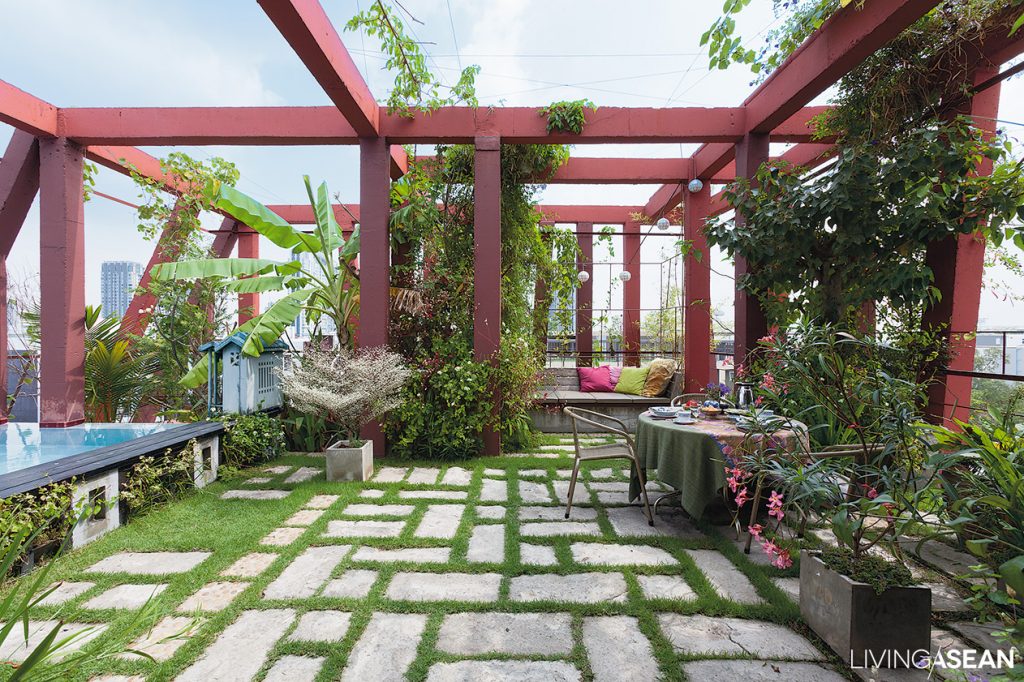 Even closed in next to a small street, Chatrawichai's design still provides nearly 1,000 square meters of usable space.
"Depending on use, each floor has a different height.
"The ground floor, with garage and kitchen, is moderately tall. The second floor is an office, and the third holds the butler & maid's room, all normal height. We use the fourth floor for entertaining, so it's spacious, with a higher ceiling than the others.
"The fifth floor has a guest bedroom and storage space, the sixth is my bedroom, and the seventh floor holds a living room and dining room set at different levels according to usage; the living room has a higher ceiling. On the roof is a deck, swimming pool, and garden."
Chatrawichai agrees that this is an unusual design for him, with its red exterior posts at odd angles and interior ceilings displaying working utility systems, plus use of unusual materials such as metallic structural highlights in certain spots, creating a much different residential feeling than before and incidentally requiring a lot of detailed work during construction.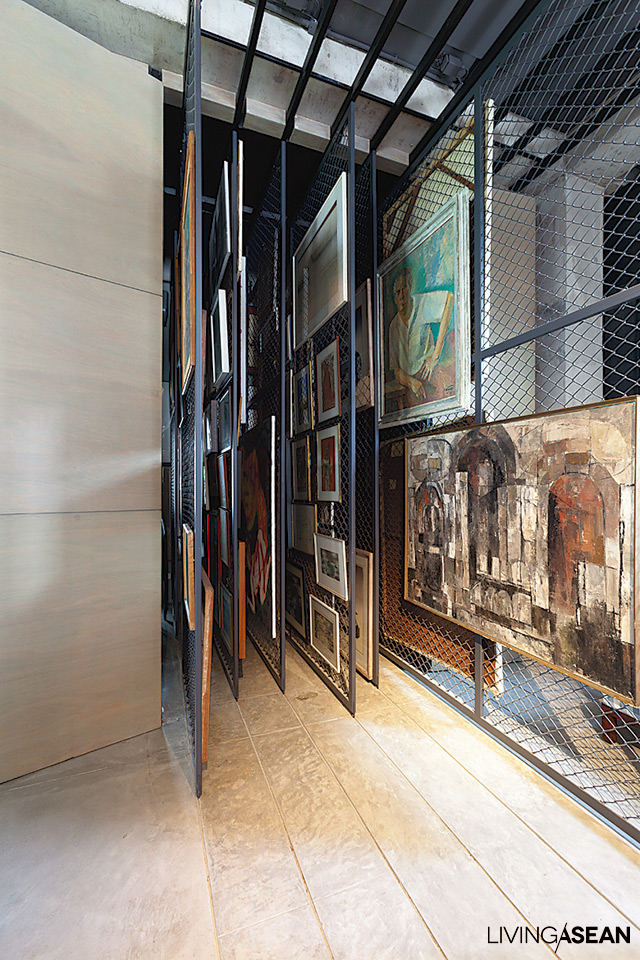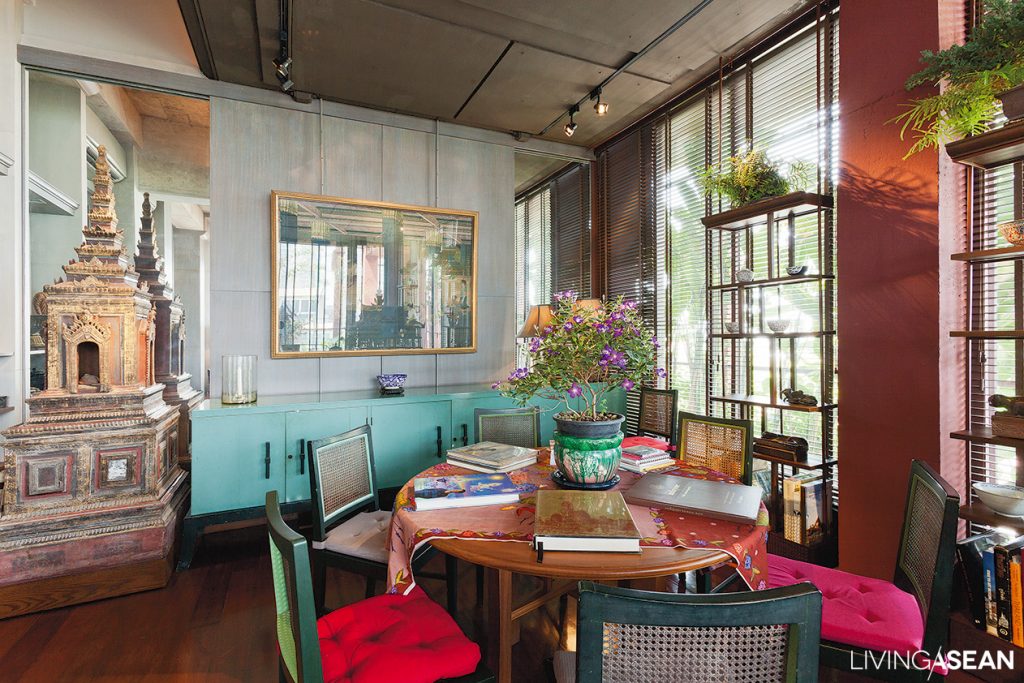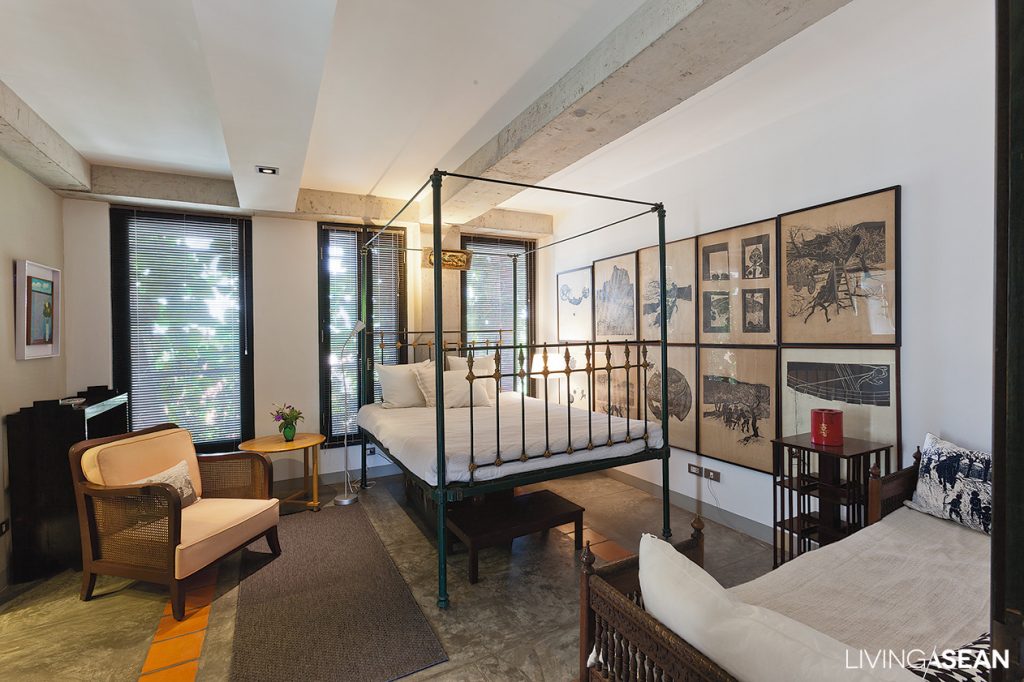 For the interior, furniture and décor mostly come from the old house, a mix of many styles – modern, classic, and antique – matched with exceptional taste because the colors were chosen in advance, primarily framed in a context of gray and black.
Colorful ornaments such as cloth or bright pictures hung on the wall add vitality.
"Coming from a two-storey house, at first living here took some getting used to. It was a tall building with the green façade, but definitely no condo; how to live in such a place? In the end, though, we found it wasn't all that different," Chatrawichai adds.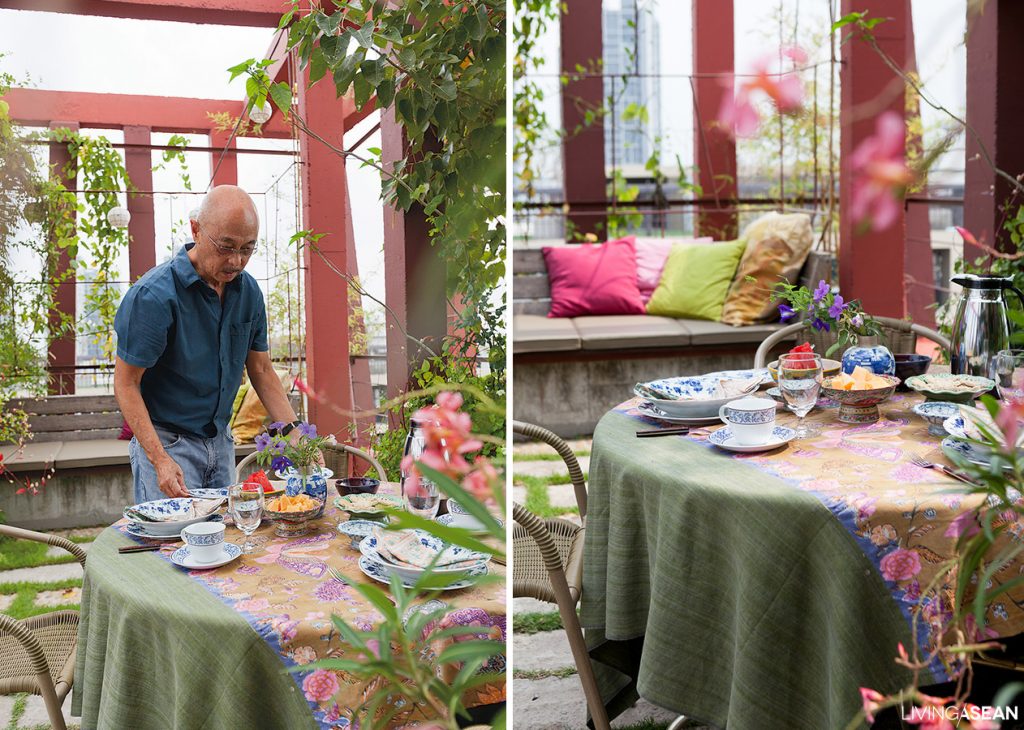 ---
Design: Pro Space Co.,Ltd. by Chatvichai Phromthattadhevi

---
You may also like…