/ Bangkok, Thailand /
/ Story: Patsiri / English version: Bob Pitakwong /

/ Photographs: Soopakorn Srisakul / Styling: Worawat /
Here's a warm wood house that's an embodiment of superb craftsmanship in the indoors and cool refreshing greenery outdoors. Precisely, it is  the simple design with the deliberate use of texture and clean lines that gives it a sense of youthful exuberance — a minimalist home that blends perfectly with nature.
This slideshow requires JavaScript.
Khagee Ketjumpol, the homeowner, said he bought this house about ten years ago having been attracted to an orange jasmine tree (Murraya paniculata) gracing the front yard. After that, he decided to restore it to a good state of repair that was more up to date in style.
It was a home makeover project designed for better living conditions of everyone in the family. A professional builder with more than 30 years of experience, Khagee knew exactly what he wanted to do and how.
The result was a complete renovation that struck the right balance between comfort and a distinctive appearance with the great greenery outdoors.
This slideshow requires JavaScript.
The remodeled house plan offers three stories of living spaces with an abundance of natural light canopied by overhanging trees.
The homeowner couple live on the top floor that's decorated penthouse style, while their daughter occupies the second. The ground floor consists of common areas designed to encourage social interaction and spaces for a range of activities, including home to three pet dogs.
Outside, a Siamese rosewood tree (Dalbergia cochinchinensis) standing three stories tall among the greenery outdoors adds a peaceful detail to the front yard.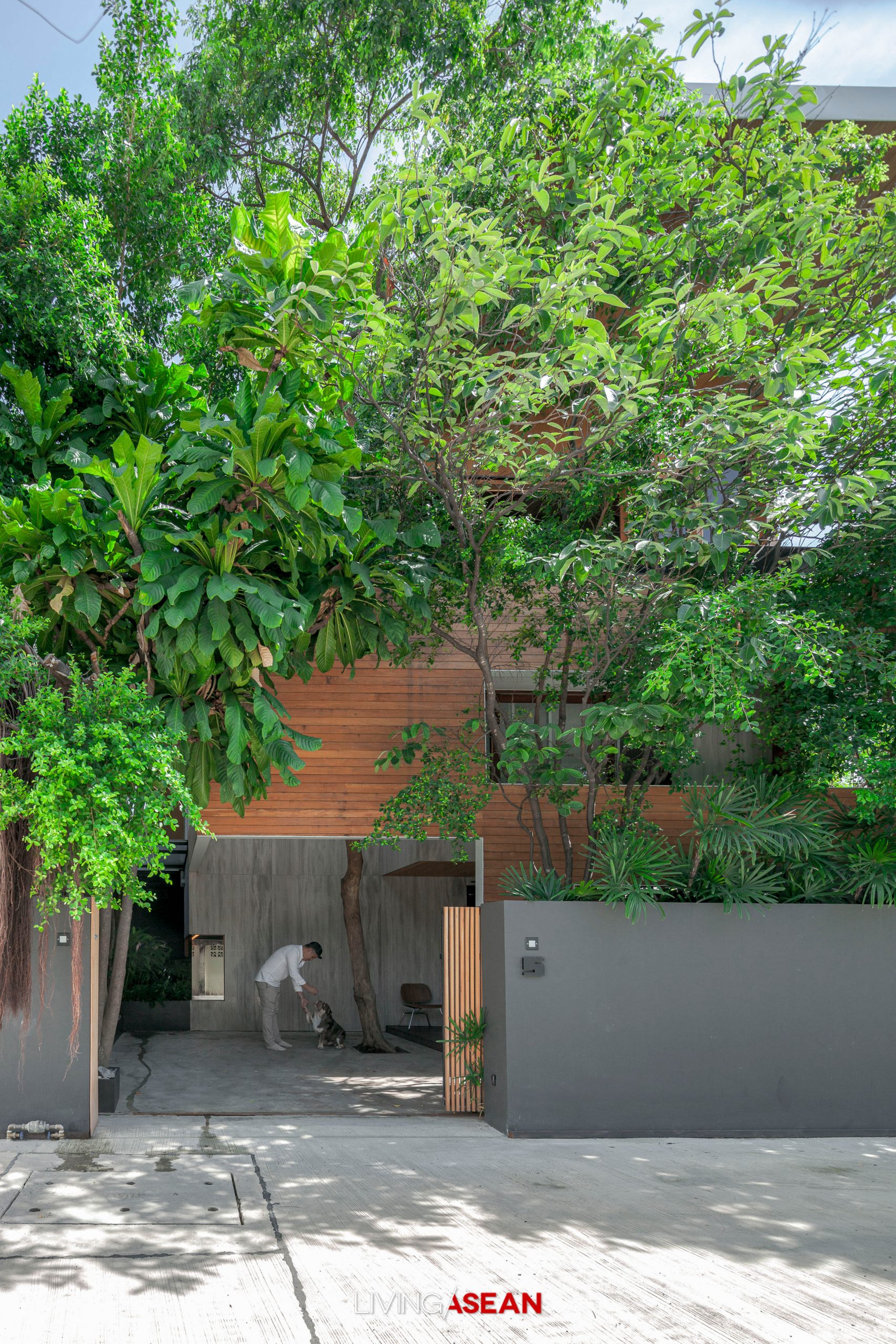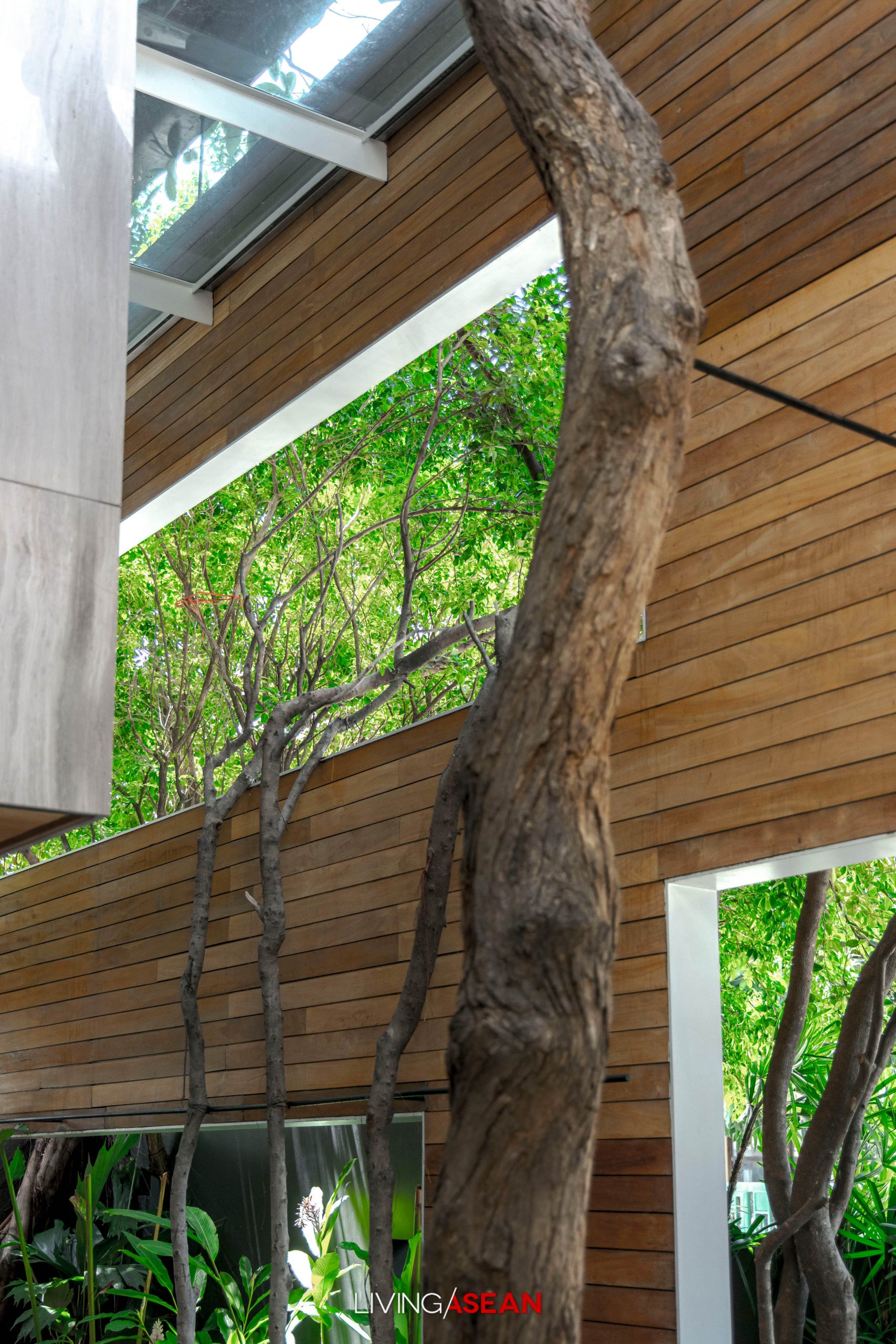 To establish the ideal room temperature for comfortable living, tall-growing trees are preserved and integrated into the house plan and landscape design.
Where appropriate, parts of the ground floor are left unfilled and overhead windows are created to allow the upper branching of trees to thrive.
The result is a spacious, well-lit, and well-ventilated home built around shade trees that provide sun protection all year long.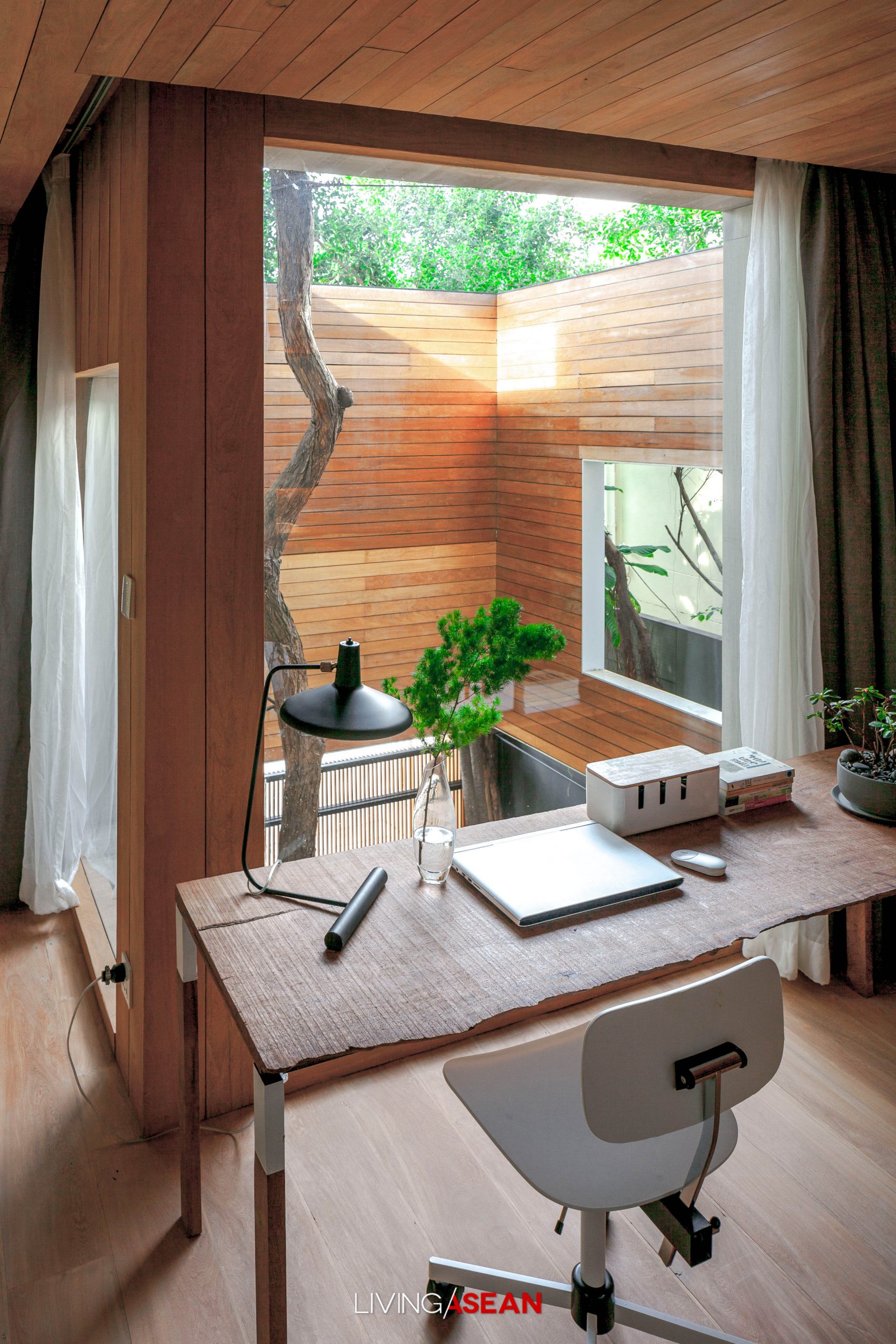 As Khagee puts it:
"I like plants for they offer shelter from direct sunlight, increase oxygen, and filter dust that poses a serious threat to environmental quality, plus they help keep the house cool. In line with the minimalist style, open floor plans create a living space that's pleasant to look at and easy to keep clean."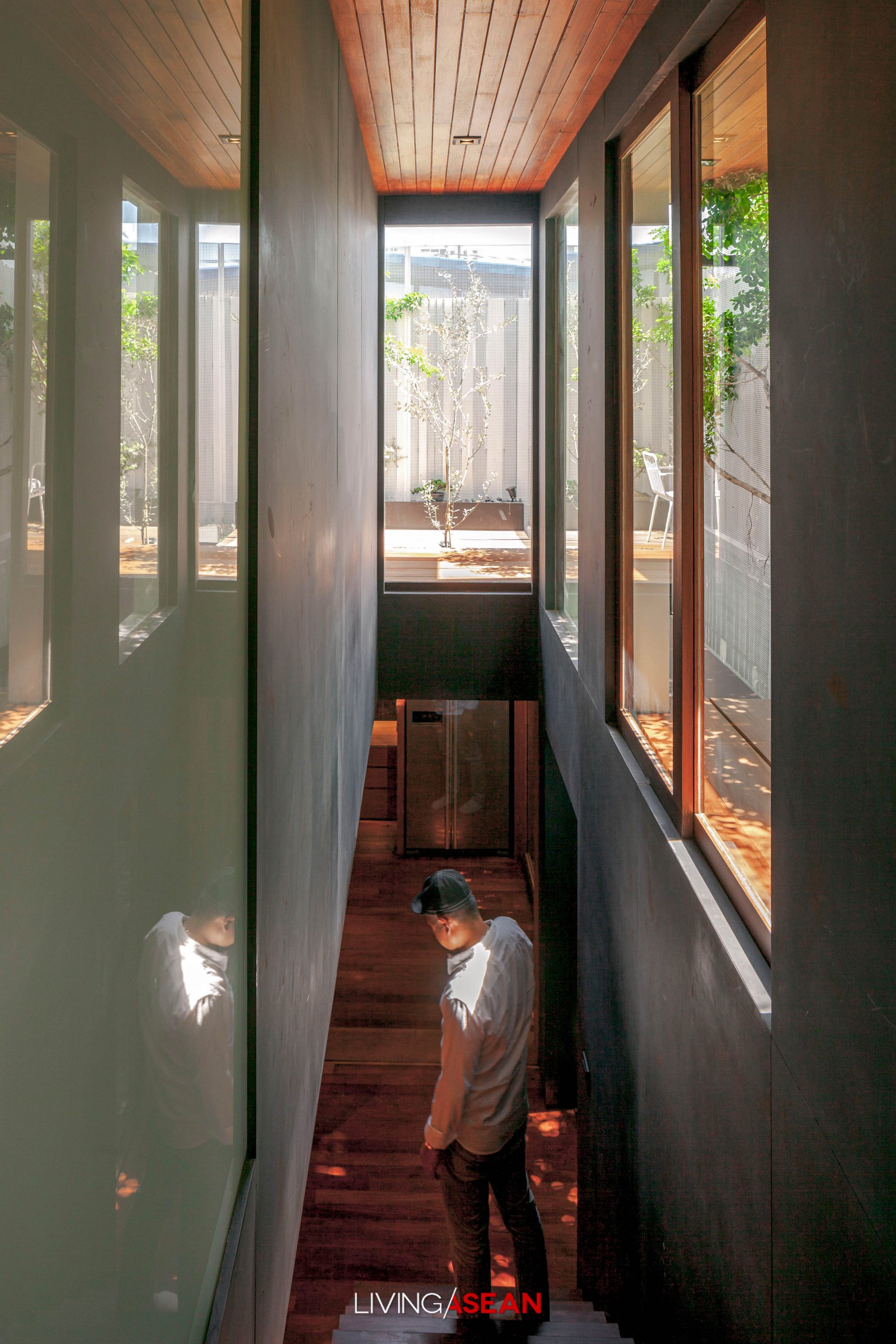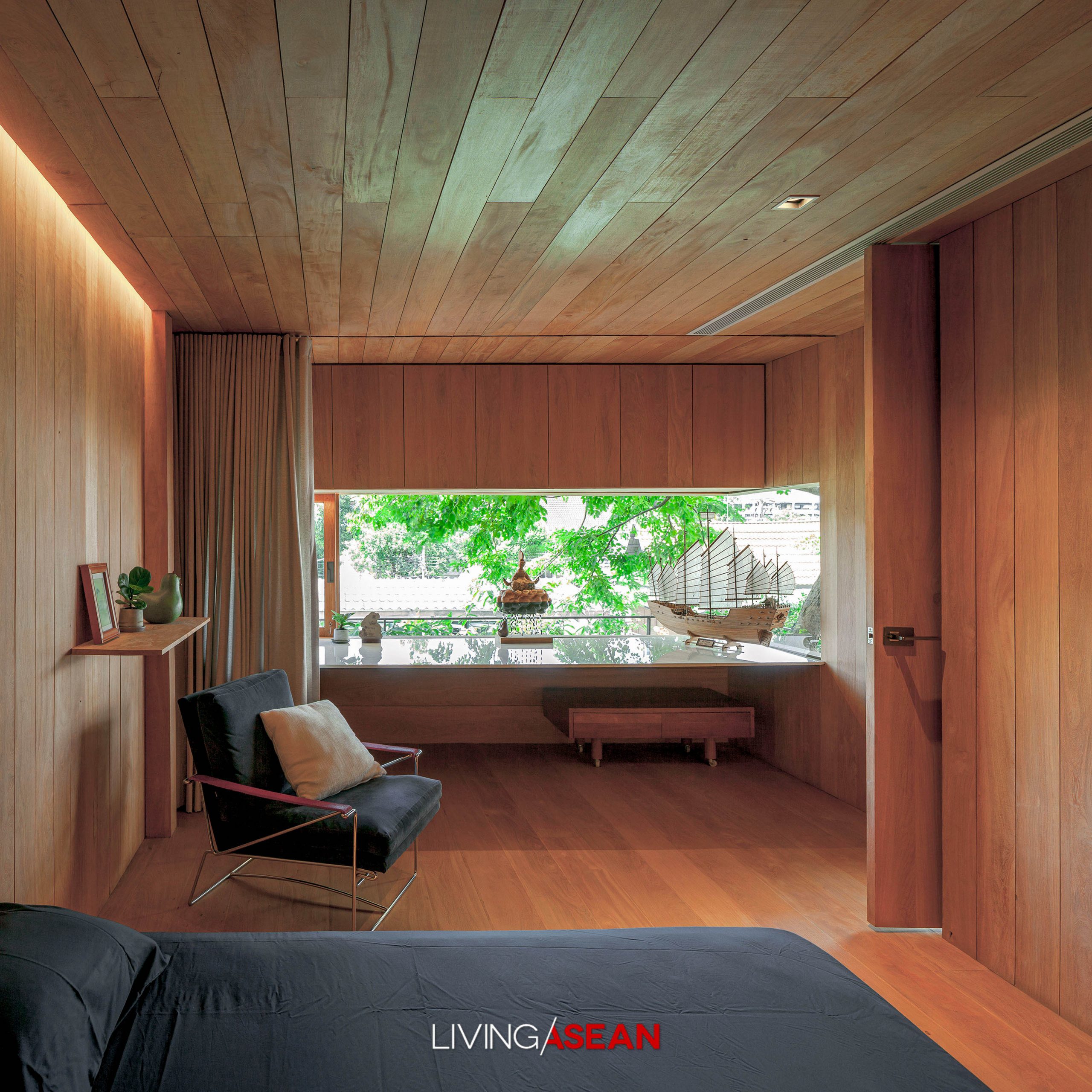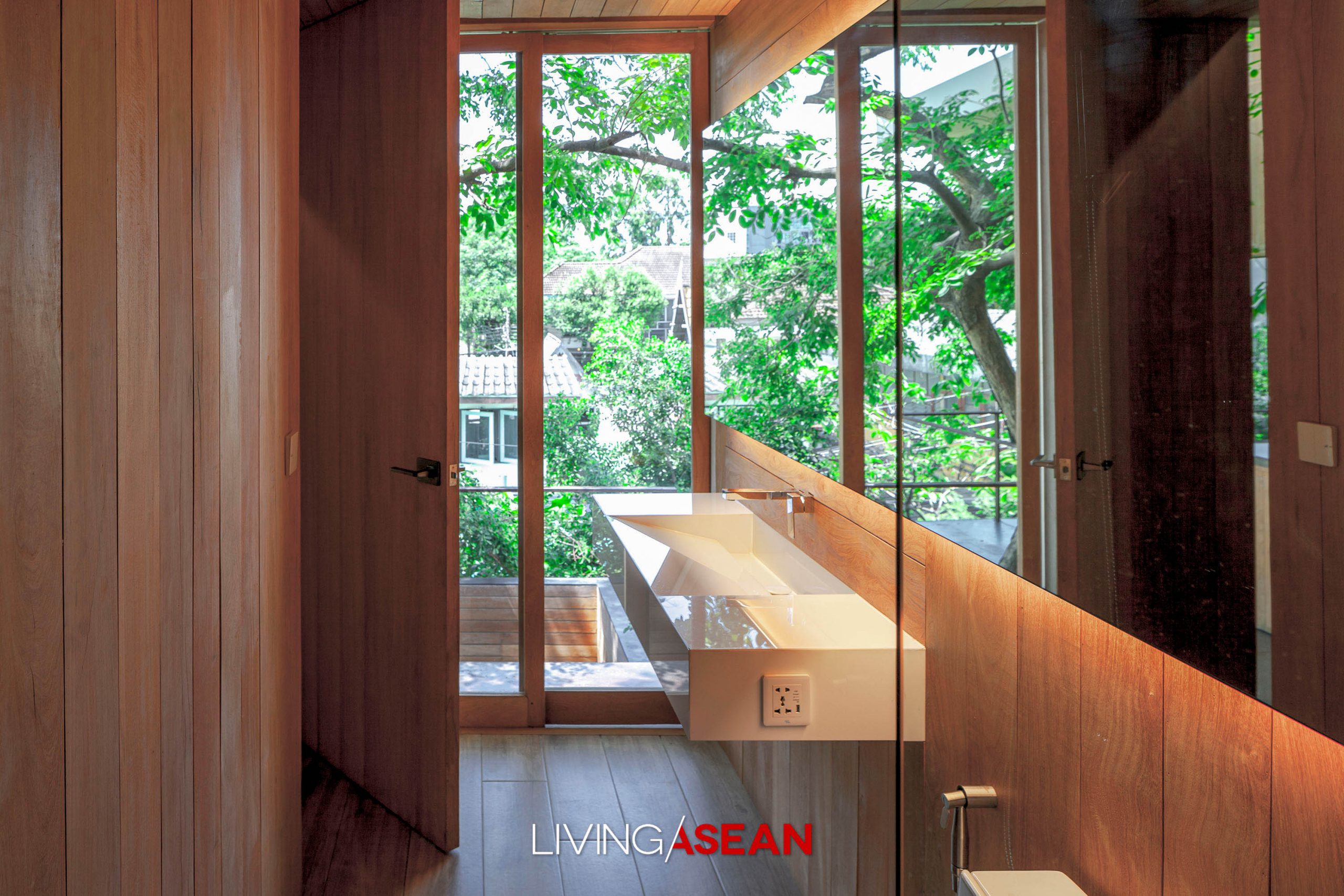 The family's love of nature and everything about wood is clearly seen in home interior design. Much of it is made of reclaimed timber that once served a different function.
Here, Khagee was able to recycle used items from his collection to fit new needs as floor panels, wall coverings, even ceiling planks.
Where possible, steel framing and glass panels are also used.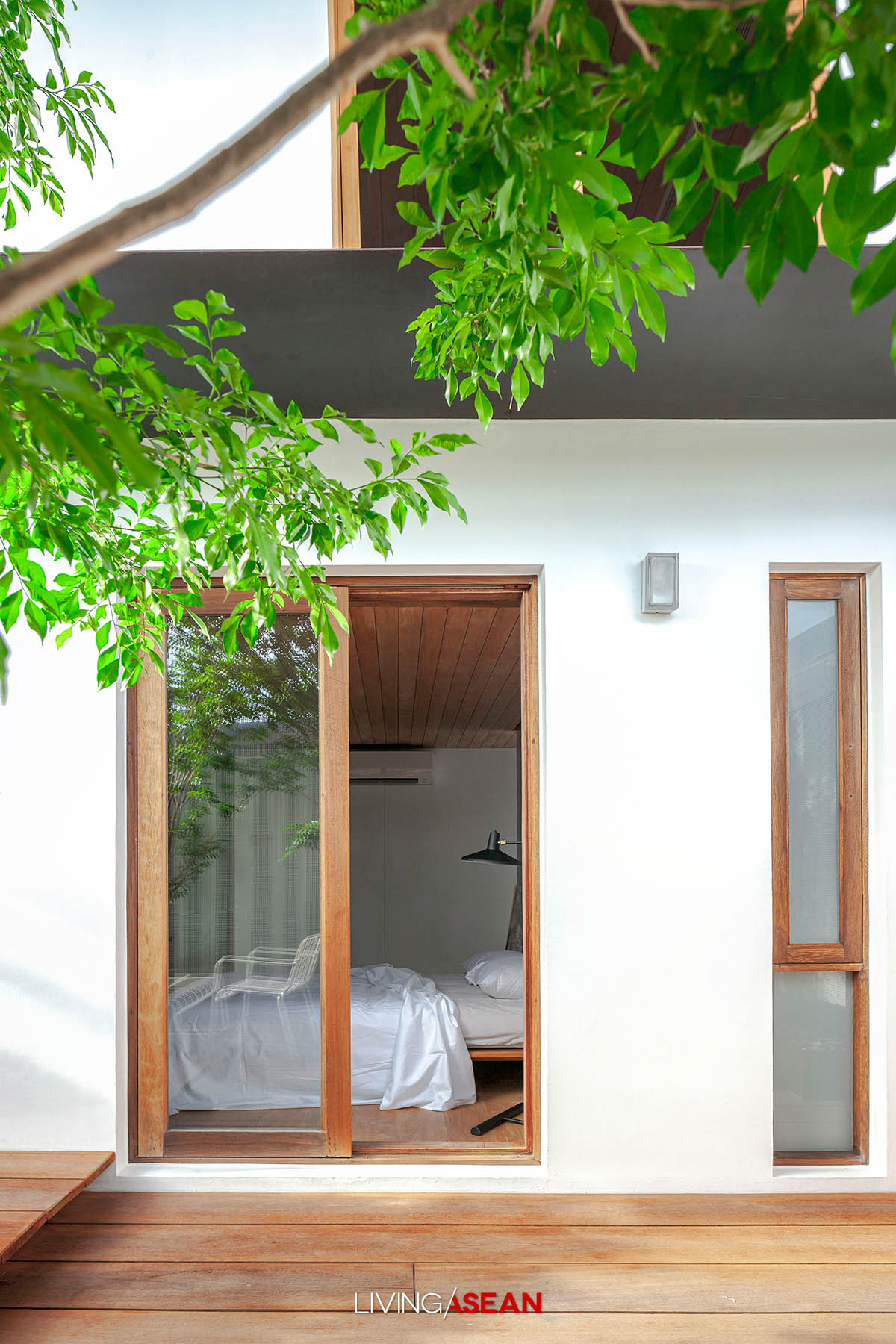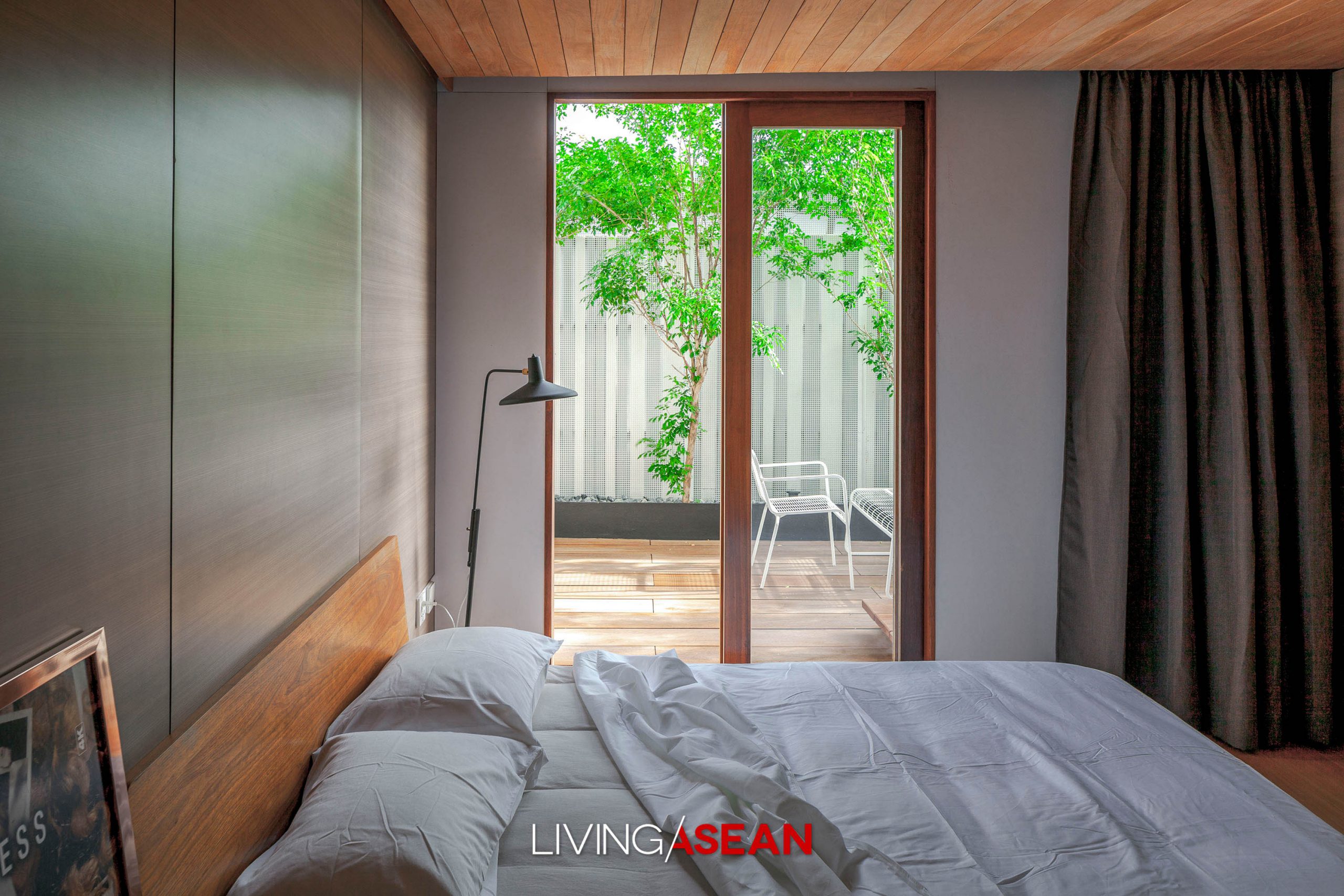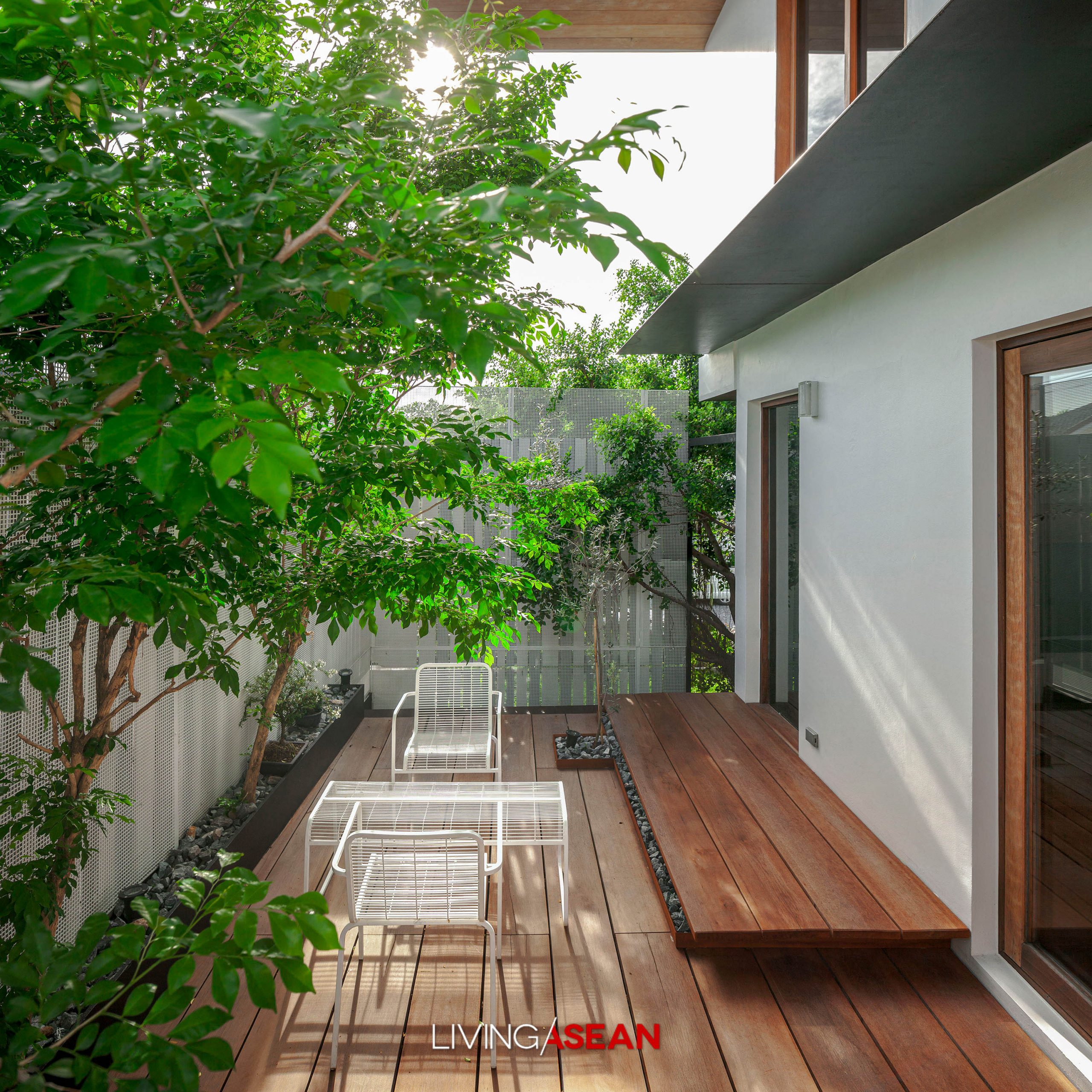 "I like the touch of wood. Throughout my career as builder, I have collected many used building materials and reclaimed wood.
"Much of it that went into renovating this home was more than 30 years old and imported from Laos. To me, house building is an investment, much like buying land or gold.
"This way, we've come to appreciate the value of wood. It's the natural vibes of wood that bring positive energy into our home," said Khagee.
This slideshow requires JavaScript.
A few pieces of house furniture are used on an as-needed basis true to the idea of minimalism.
For a spacious interior, even large pieces like the bed and the sofa are made of steel framing that gives them a lightweight look. Because of this, they appear to hover just above the floor.
The light and airy atmosphere is further enhanced by recessed lighting, a nice little collab between the homeowner and a team of architects from the Unknown Surface Studio.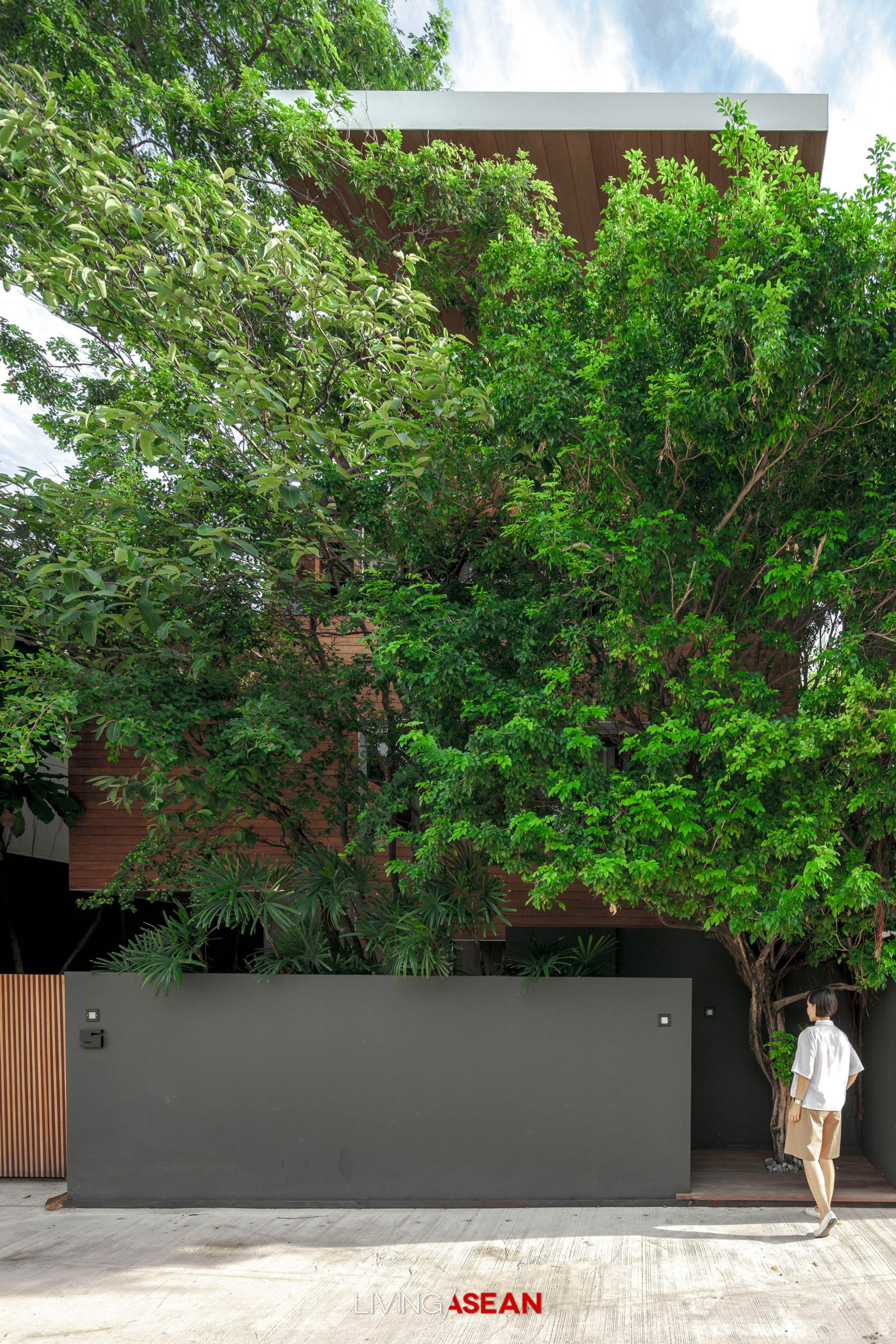 After many years of building houses for other people, the time is ripe for Khagee to make one for himself and his family.
Not only is it a dream come true, but it's also a beautiful wooden home ensconced by greenery outdoors.
It's no surprise that he aptly calls it "Little Paradise", a home made for the happiness of his loved ones.
---
Owner/Architect: Khagee Ketjumpol
Lighting design: Unknown Surface Studio
---