/ Phatthalung, Thailand /
/ Story: Ajchara Jeen., Trairat Songpao / English version: Bob Pitakwong /

/ Photographs:  Tanakitt Khum-on /

 The tree-filled beauty of the great outdoors makes for a relaxing place to live, which is why so many want this. Among these is the Norateedilok family, who made the dream a reality with this single-story compact house in a verdant forest of rubber trees.
Architect/Owner Nat (Rakchai Norateedilok) built this house for his mother, who wanted to be near her grandparents in Phatthalung. Here is a place near the rubber orchards she loves which she can call home, and where she can socialize with friends of her generation.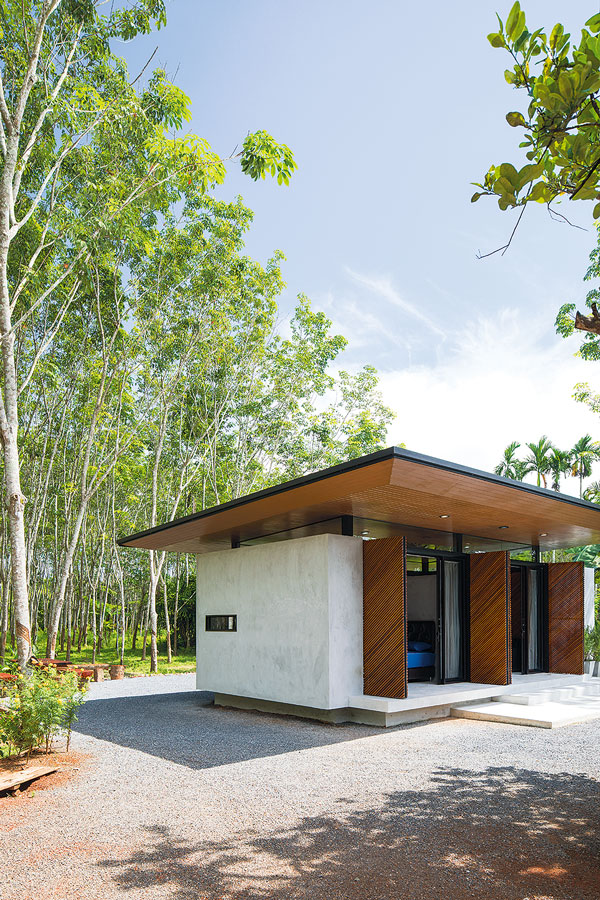 "There used to be a rice storehouse here," said Nat.
"The rubber orchard was planted later, and the trees had grown big and beautiful, so we decided to build the house here.
"Also, the front area is near the original main house kitchen, so there was no need to build a new kitchen. Stucco walls and a slanted black steel roof give it a smooth, simple look. The house's 43 square meters hold a bedroom, bathroom, and living room.
"This  compact house is on a 'footing-style' foundation. I put free-standing, unattached posts in the earth before adding floor beams and posts; this helps create good airflow.
"I pretty much left the interior planning to Mom's preferences, so the design is for simplicity and ease of use."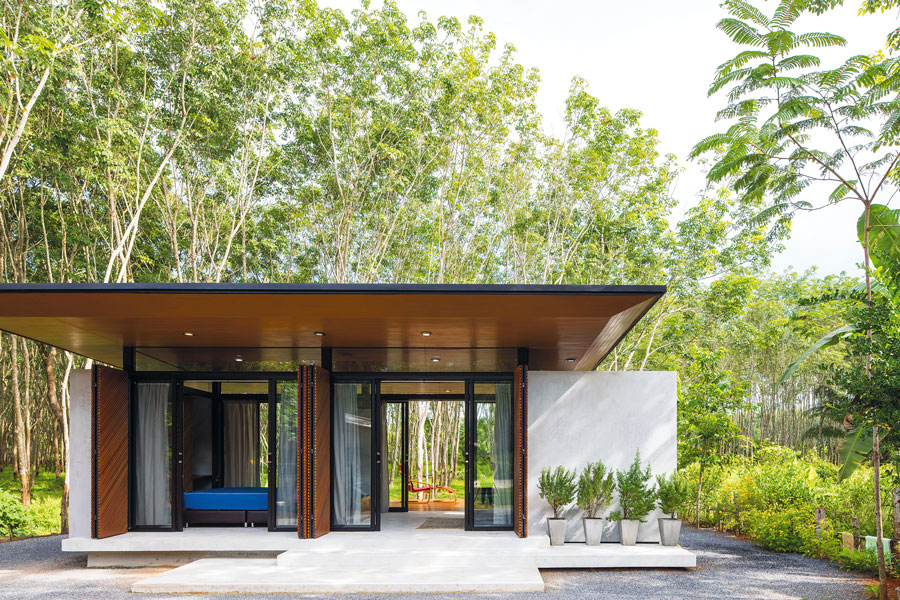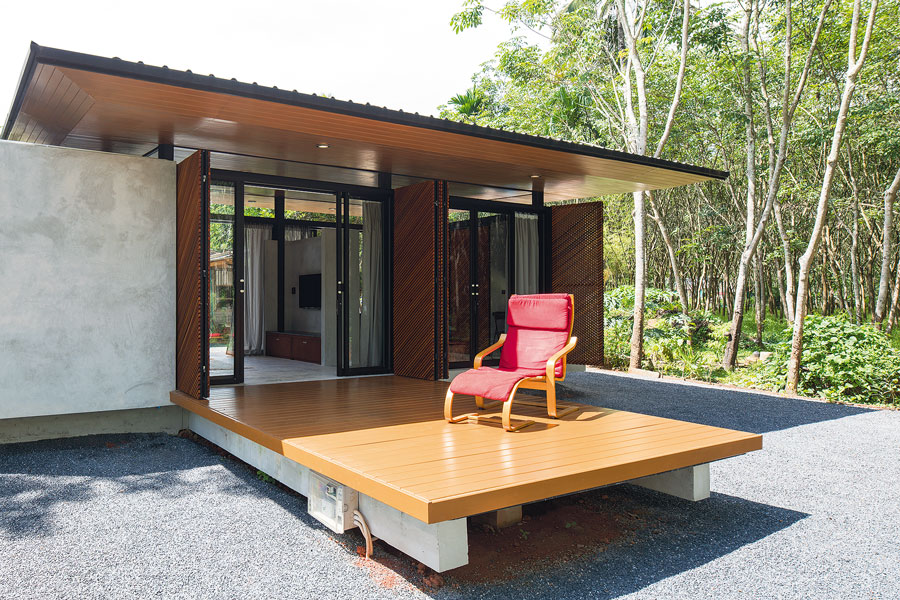 The location, in a rubber plantation, made choice of construction materials an important consideration.
Nat primarily used concrete and real wood to give the house a look to match the surrounding environment. Synthetic wood was used where necessary, which also helped with the budget.
Construction was done by local builders in only 4-5 months, so Nat was able to supervise the work himself and ensure the budget did not exceed 700,000 baht.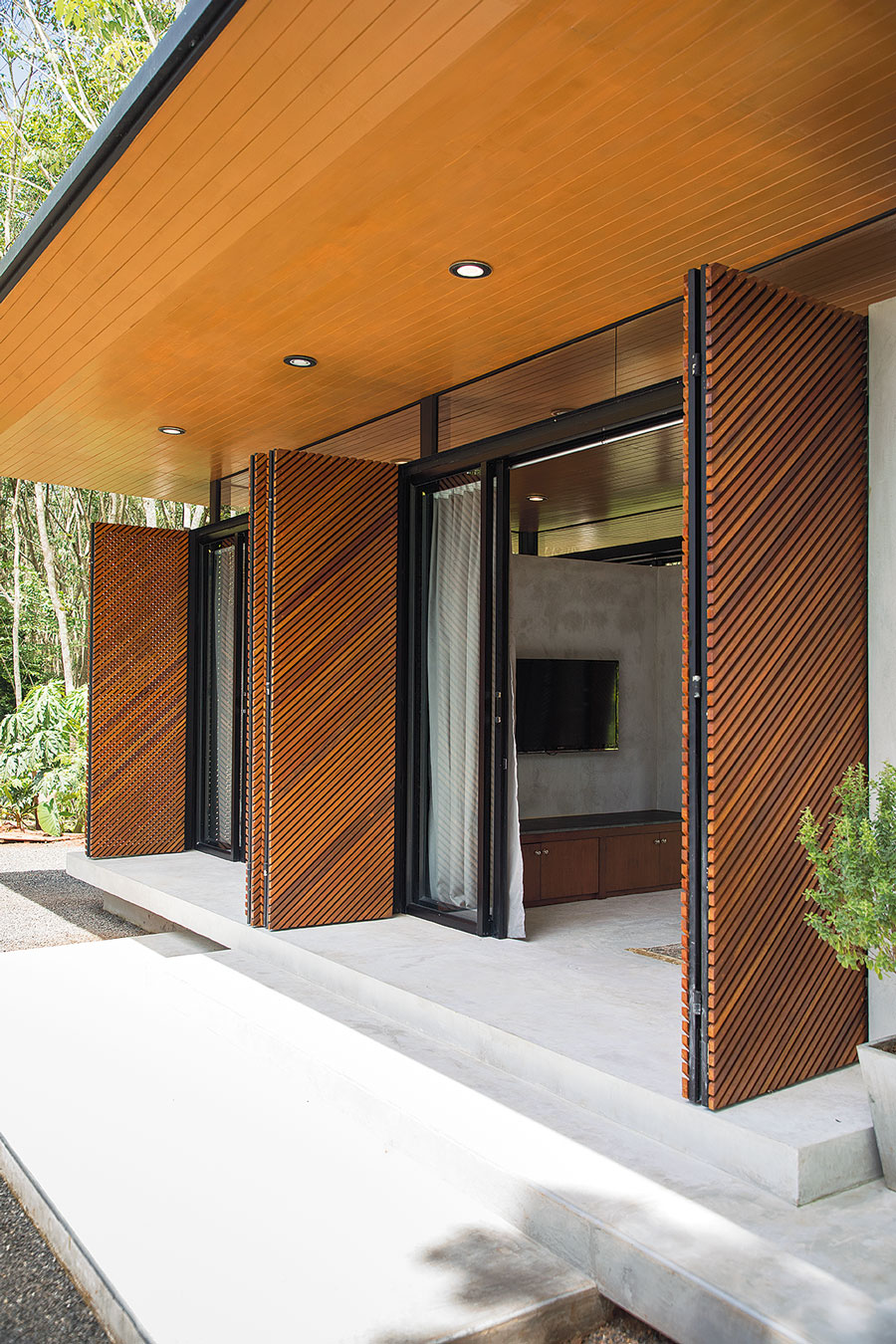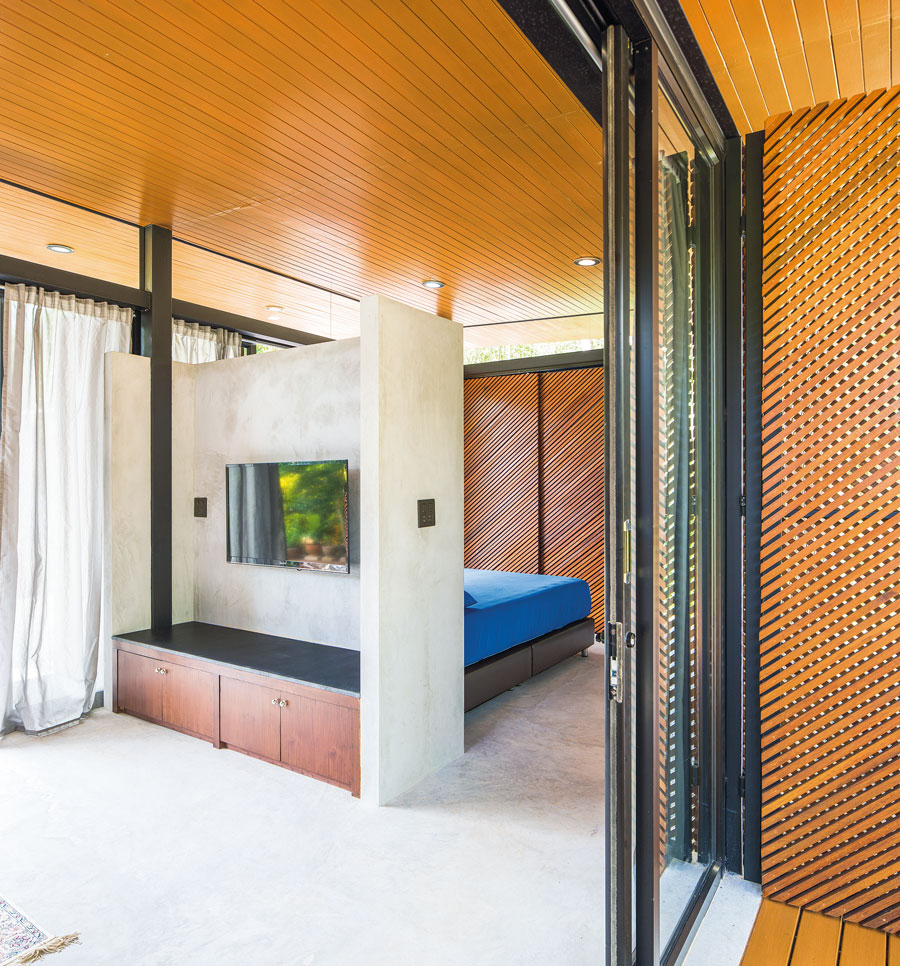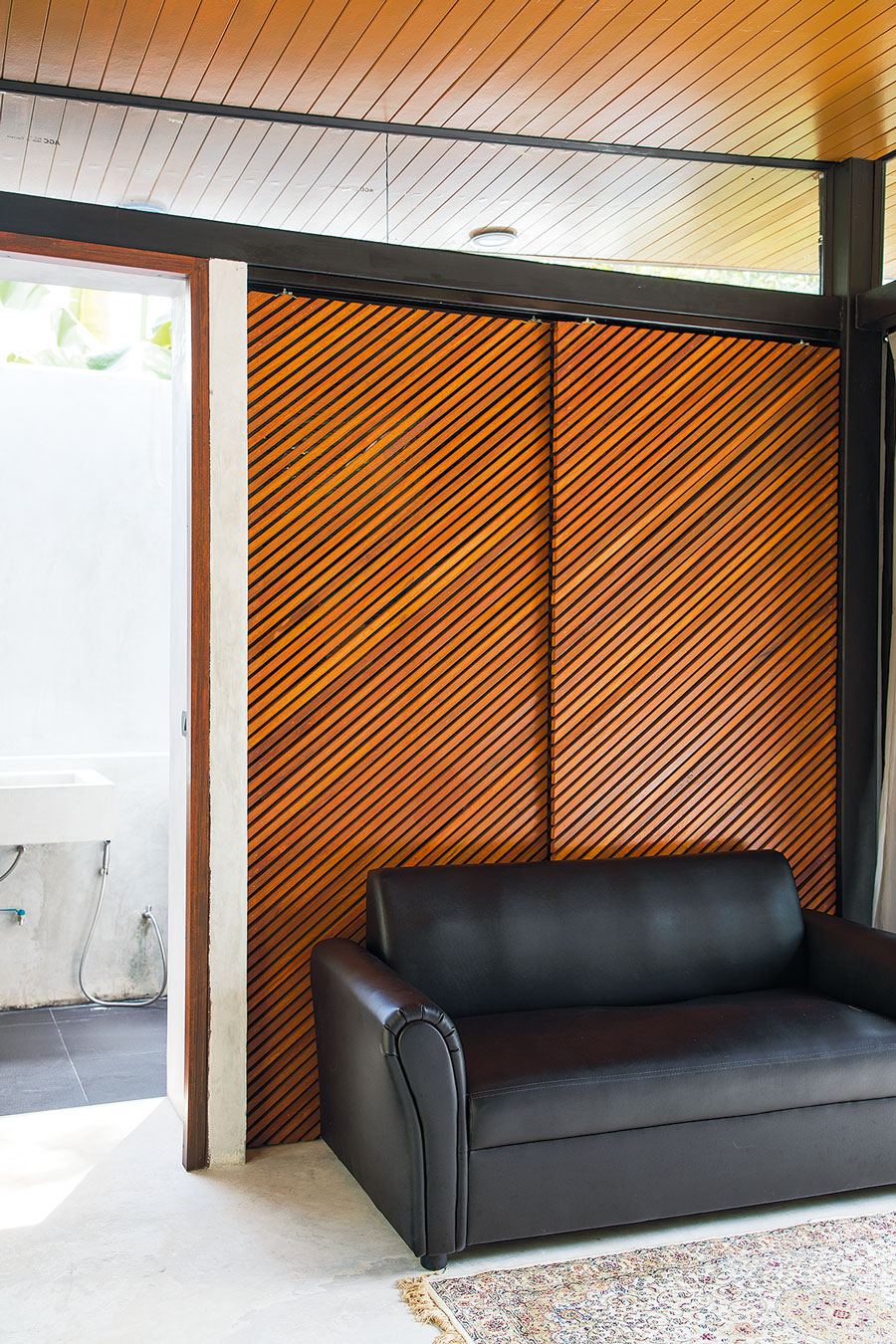 Nat's mother was in charge of the interior décor. In selecting furniture she kept the number of pieces to a minimum, just what was necessary to be able to relax in a clean, orderly place and feel close to nature.
The resulting house is wonderfully livable and comfortable.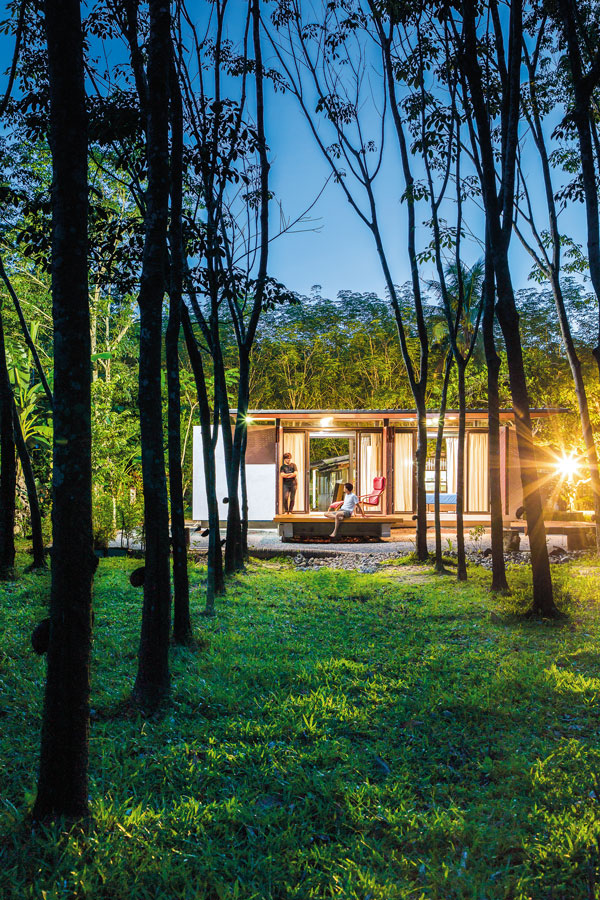 ---
Owner/Architect: Rakchai Norateedilok
---
You may also like…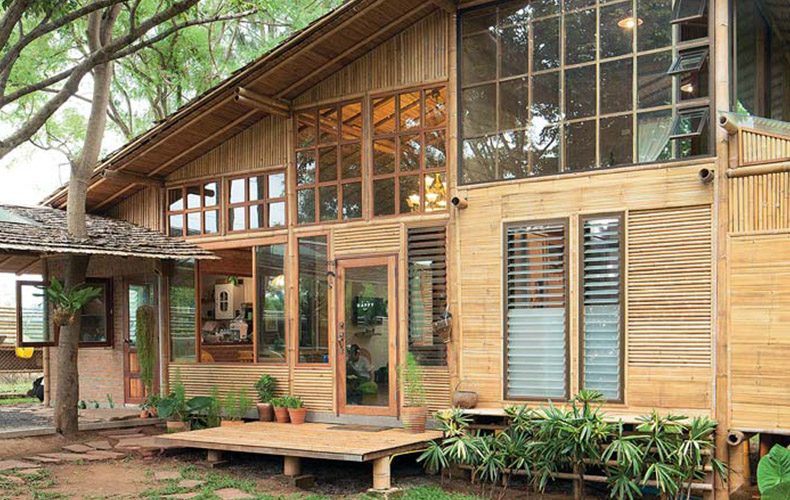 A BAMBOO HOUSE EMBRACED BY NATURE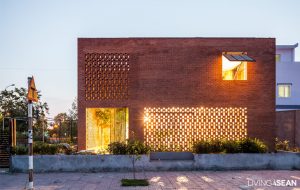 BRICK HOUSE FOR A TROPICAL CLIMATE