Out of the edge of a sun hemp field rises what looks to be a traditional huean isaan (Northeastern Thai house). But this home, set in a shady, woodsy atmosphere, fragrant with the aromas of a Thai house and the fun-filled rhythms of Thai family ways, is fully adapted to contemporary ways of life.
/// THAILAND ///
Story: Wuthikorn Suthiapa /// Photography: Soopakorn Srisakul /// Style: Wanas Thira /// Design: Arsomsilp Community and Environmental Architects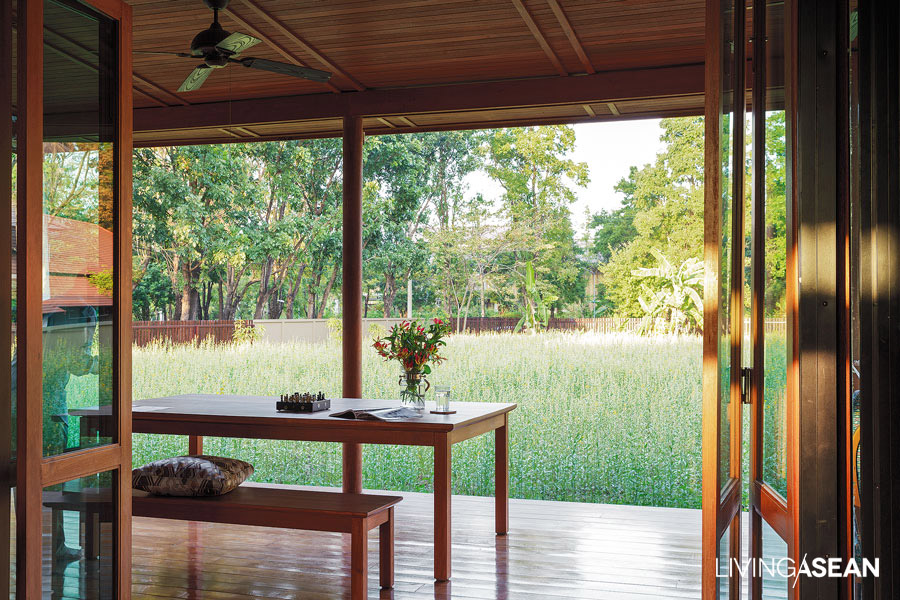 After Sakda and Orapin Sreesangkom had lived 20 years in a condo, they designed this eco-friendly house to find an adaptation of Thai family life that could suit the modern age, and to build environmental awareness in themselves and their children.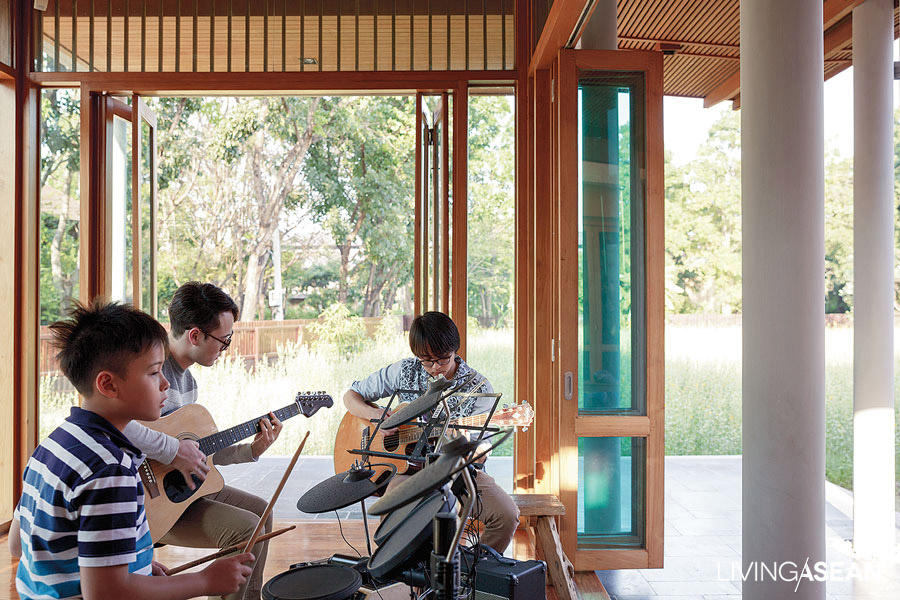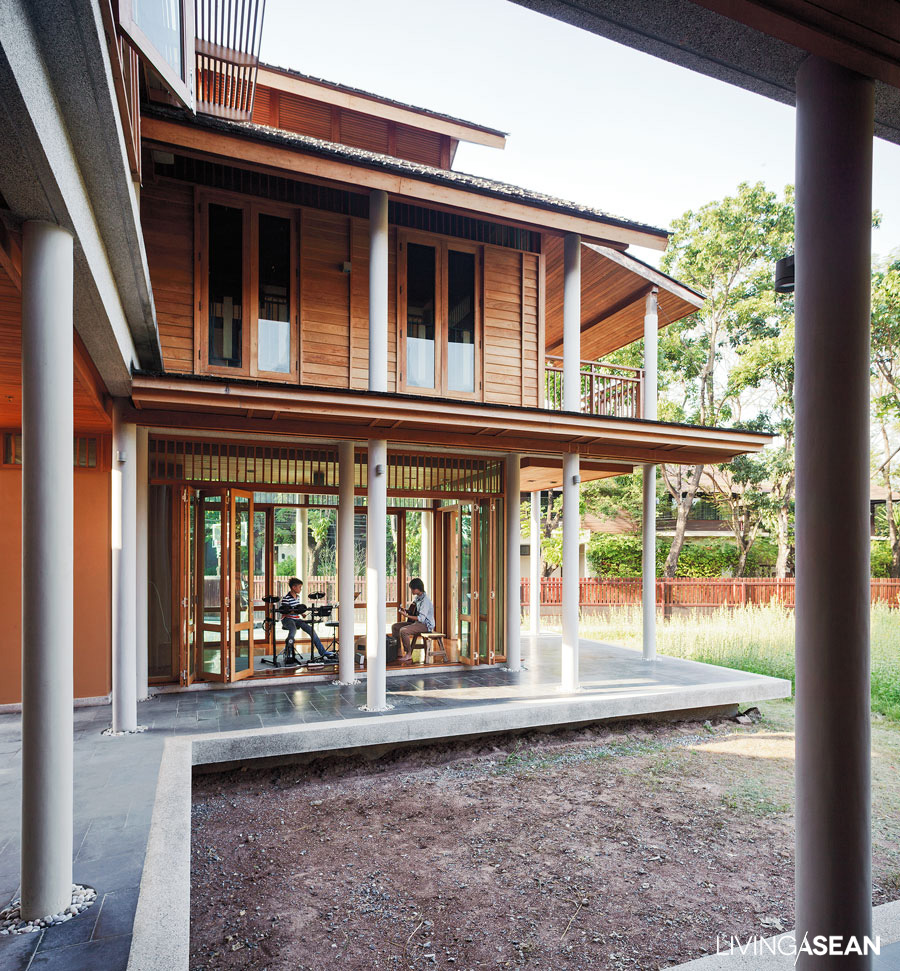 The ground floor design echoes the traditional tai thun lower space found beneath Thai houses. A porch reaches outwards to fill the usual roles: entertaining guests, socializing. Up close you'll see it's more like 3 houses connected by one deck, each one with wide eaves blocking sun and rain, but with a twist: the underside insulation is "rammed earth," La Terre's innovative cooling solution that rapidly absorbs and diffuses heat and is made from organic, renewable materials. Sakda and designers Arsomsilp Community and Environmental Architects shared the same vision.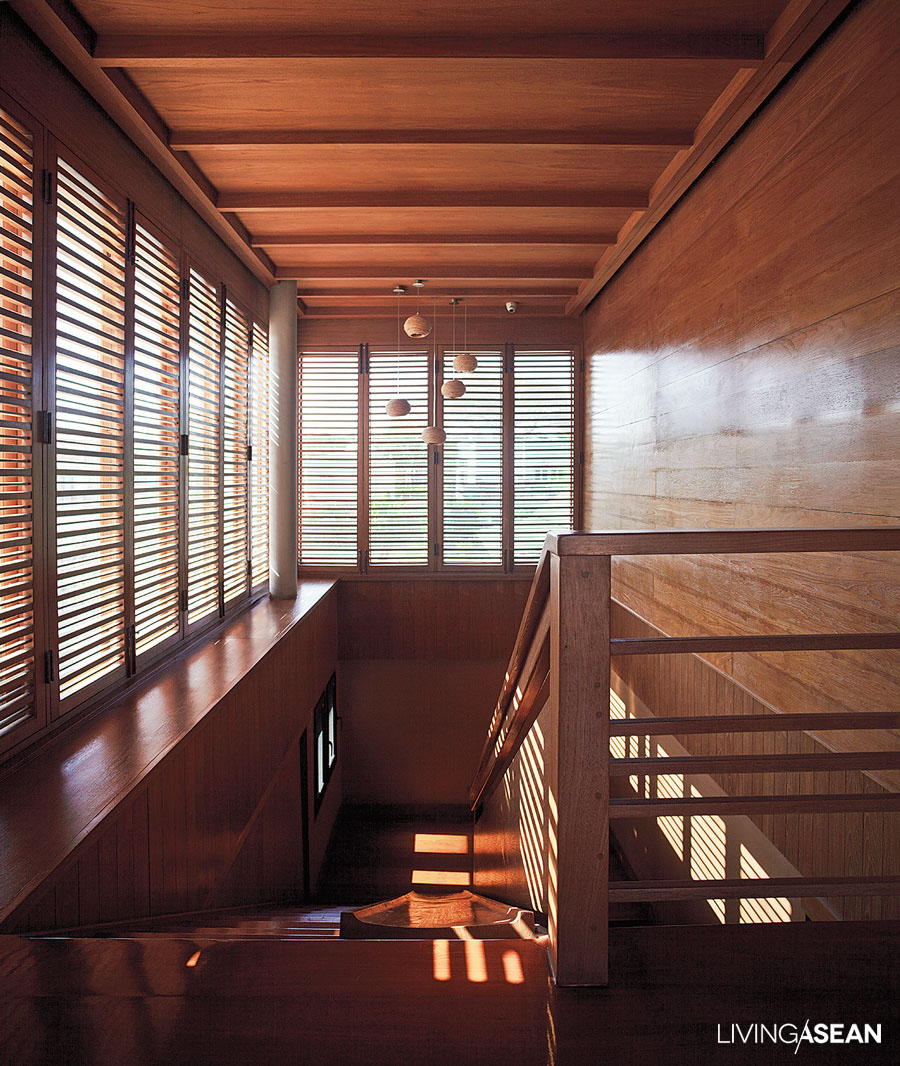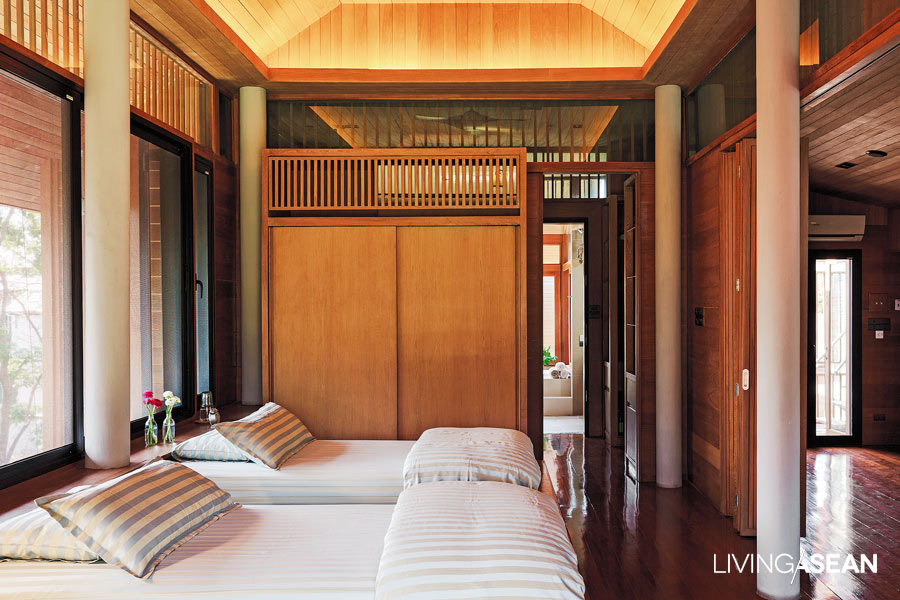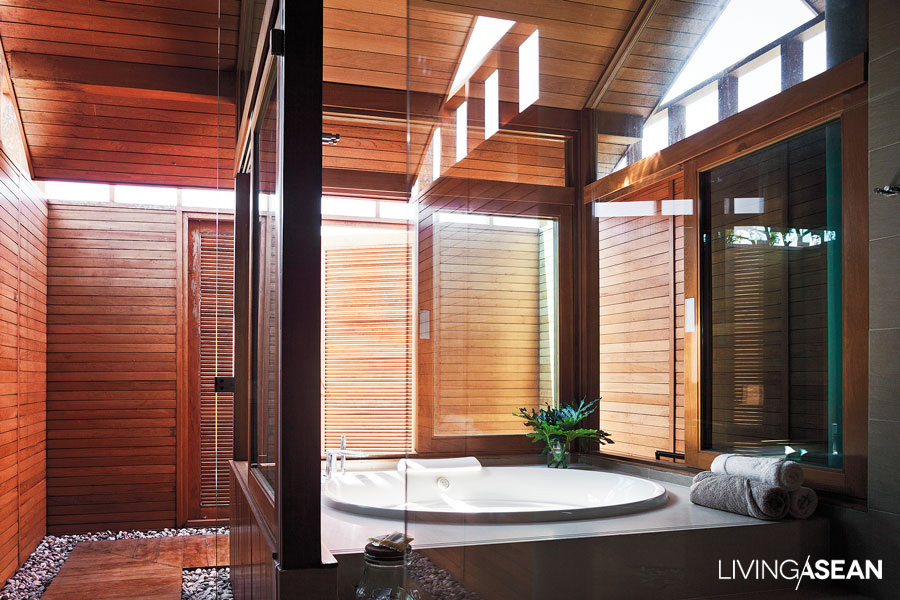 The huean isaan takes over in spirit, though, with its outward image evoking a cultural memory reflected in the playfulness of the three boys, Chris, Gav, and Guy, bringing cheer to every corner of the house: playing in the attic, sliding down polished planks beside the stairway, and everyone's favorite: the sky deck, accessible from anywhere in the house.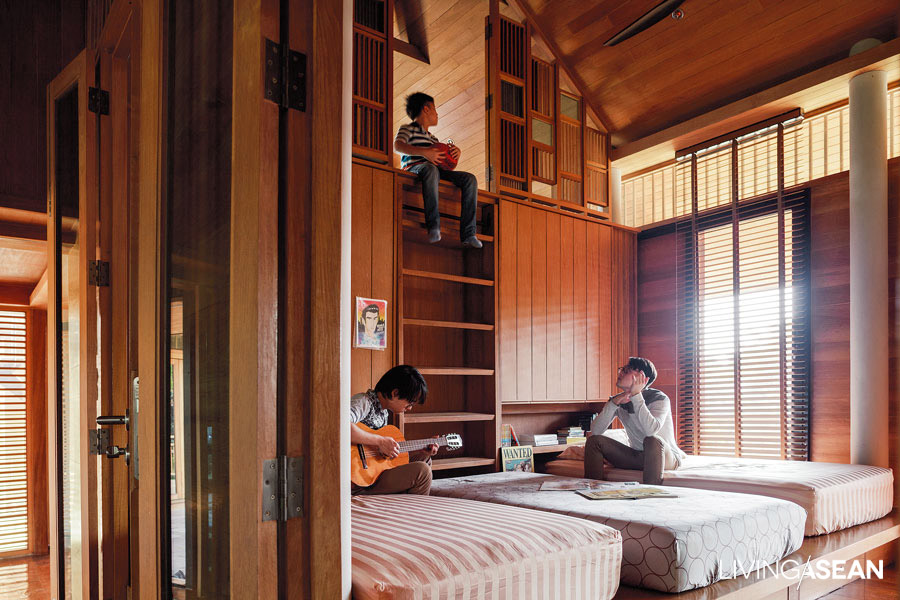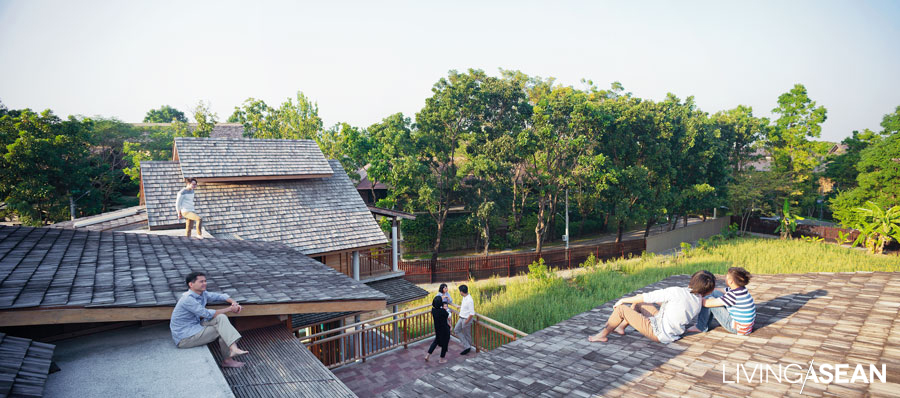 The heart of the home is the living room: it's spacious, with bar counter, dining area, and sofas for relaxing, sized 7 X 11 meters, and with no support pillars blocking the view within. It was designed to mirror the look and function of the tai thun, a space that brings everyone together to do whatever they like to do best, as individuals or a group.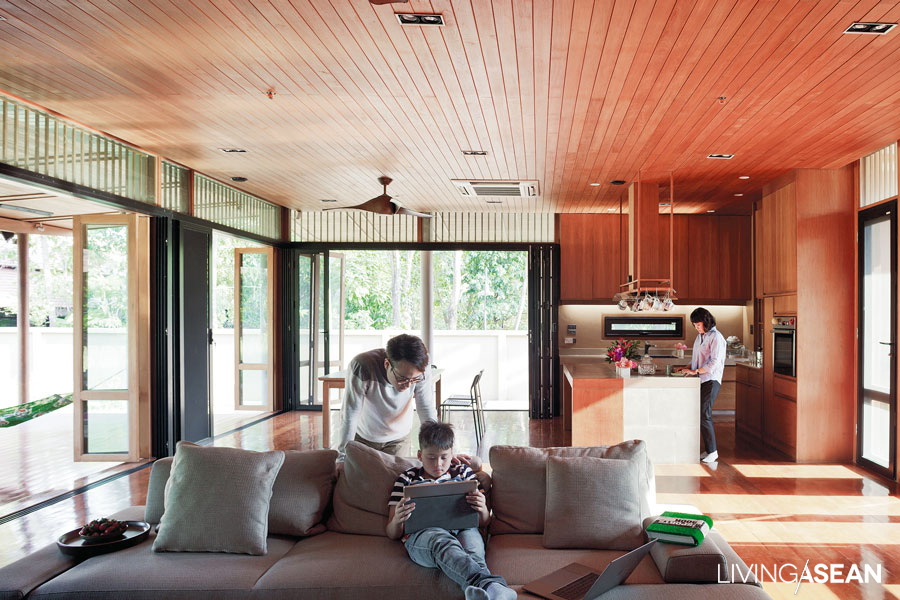 The building foundation supports a raised deck all around the house. This keeps slithering things and garden creepy-crawlies from coming into the house, at the same time creating good ventilation below. The extra area for sitting, stretching the legs, or walking out into the garden is one more bonus.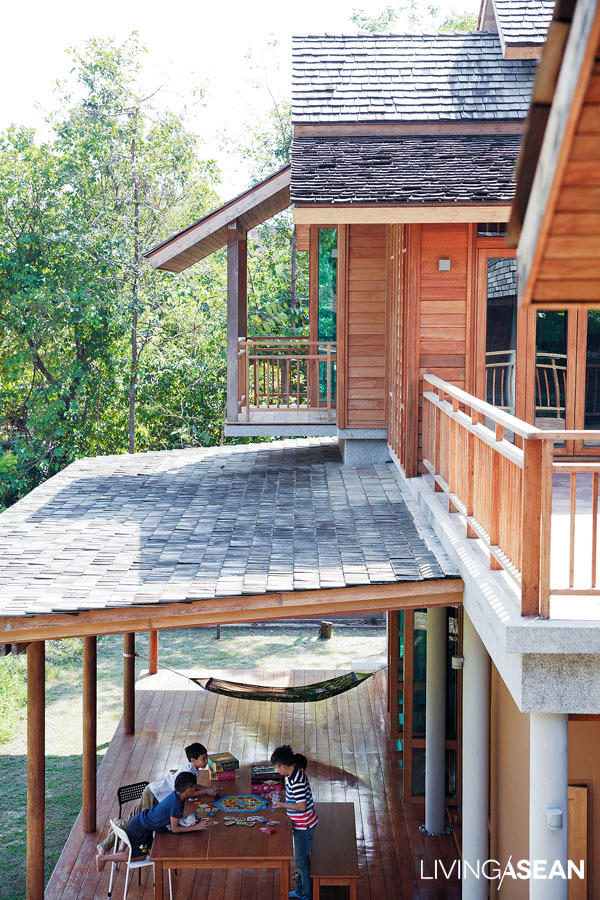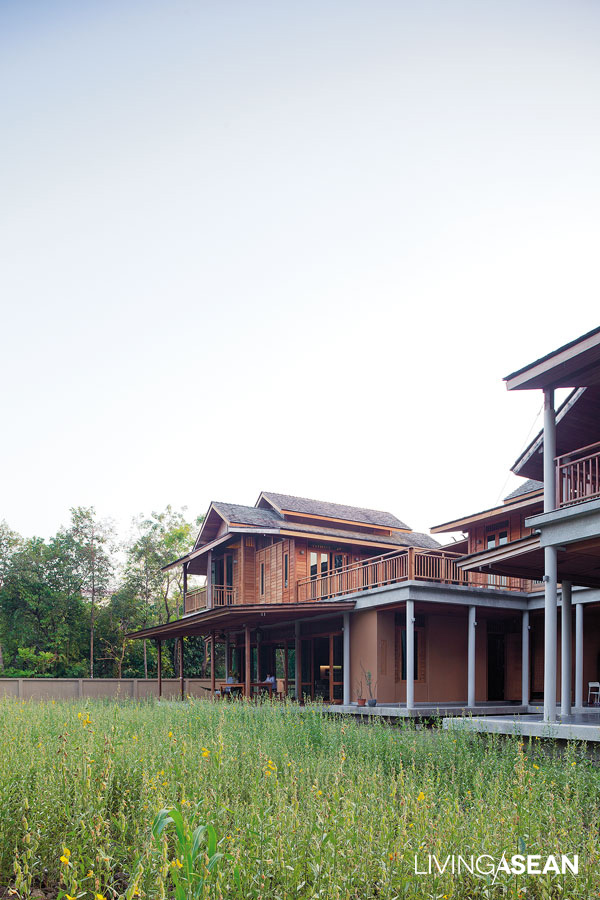 Sakda's deep attachment to the traditional huean isaan it what brought this all about. That, and the family's courage in leaving the convenience of condo life behind them to design, build and live in a completely different way, growing their own garden, and creating a new home that could be passed down to the next generations.