Here are some smart storage ideas to give your home unique character and make a shining statement about your style.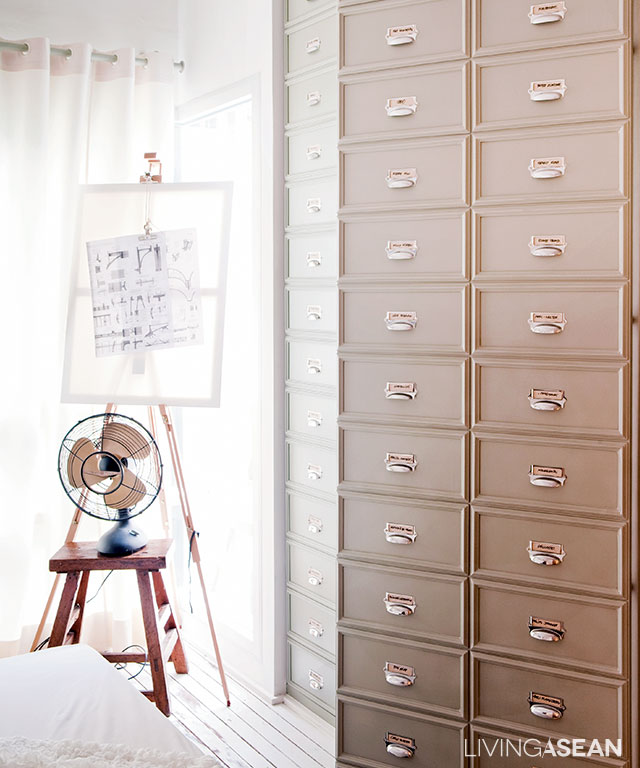 An idea for small rooms: A built-in cabinet in which clothes, shoes, bags, and books may be stored. You can make this kind of smart, easy-to-use closet in the Chinese medicine cupboard style. Label the drawers clearly for easy access. Wall cabinets add beautiful patterns and dimensions to your living spaces. They inspire you with a vision of freedom to create attractive walls.
Location: Preeyawat Temchavala's home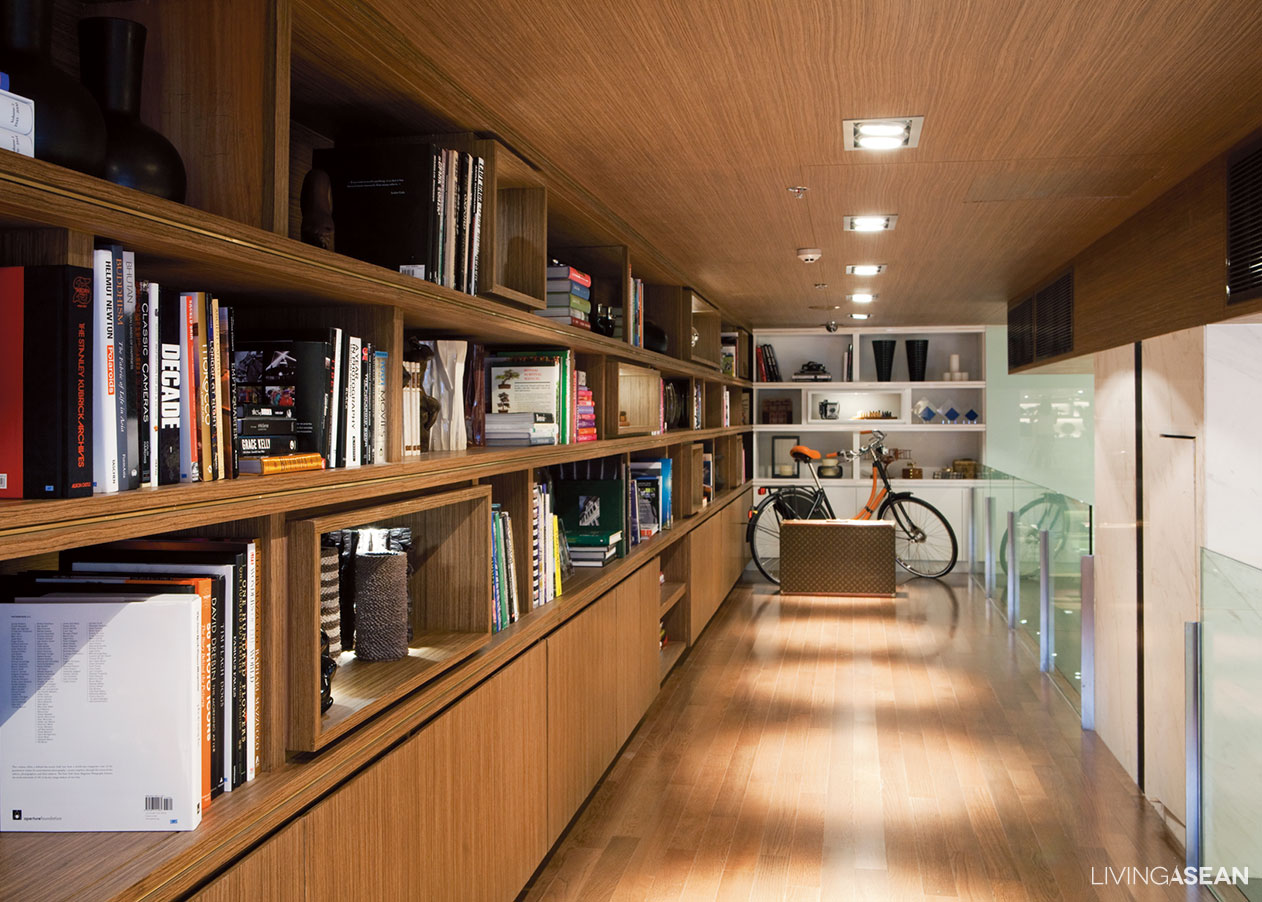 You can take your wall out of its humdrum existence by putting in exciting arrays of built-in closets and display spaces. Line them up along the corridor. Full-insert sliding doors, which fits completely in the openings, are ideal for the lower cabinets since they don't get in the way. The upper cabinets may consist of open compartments made of plywood or MDF wood. It's a good idea to incorporate electric lights in the design. Lights add interest and dimensions to rows of built-in shelving along the corridor. Recessed lighting fixtures behind the cabinets can be set at intervals that run parallel to downlights from the ceiling. They can hide behind veneer wood paneling in the same color as that on the ceiling.
Location: 3rd Floor, Sansiri lounge, Siam Paragon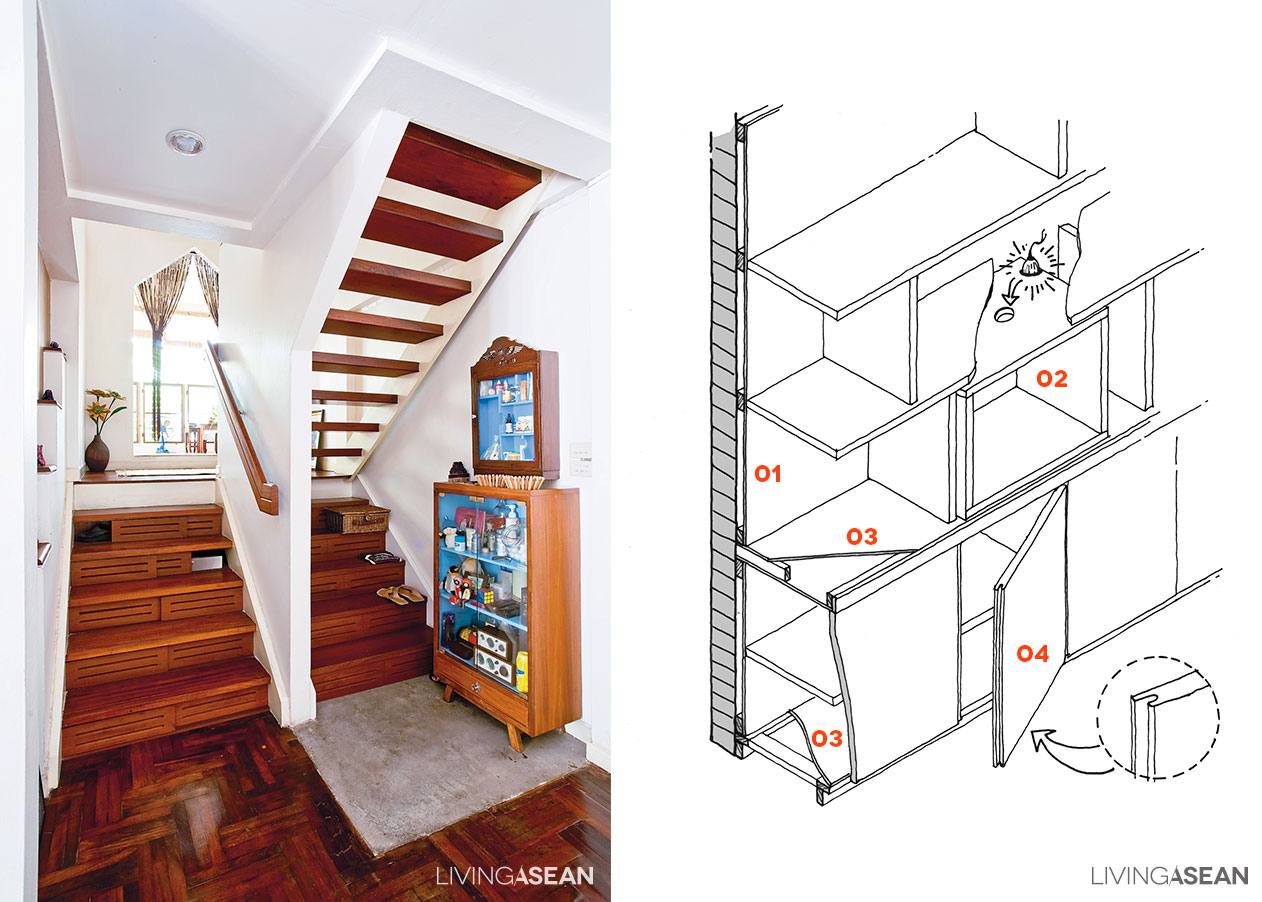 Left: Stair risers and treads make for creative shoe storage. Turn each riser space into a shoe box and cover it with sliding cabinet doors made of plywood or MDF wood. 10-mm-thick wood panels should suffice. Sliding doors are ideal because they don't get in the way. Make a couple of slits in the door for good ventilation. Now we've got an incredibly clever way to store shoes.
Right:
01 The rear and both sides of the cabinet made of plywood or veneer wood
02 Attach wooden boxes with LED or Halogen light fixtures about 5 cm in diameter. Install wiring at the rear.
03 Hardwood frame with plywood or veneer wood cover
04 The door panel with a recess cut into it so as to join the parts together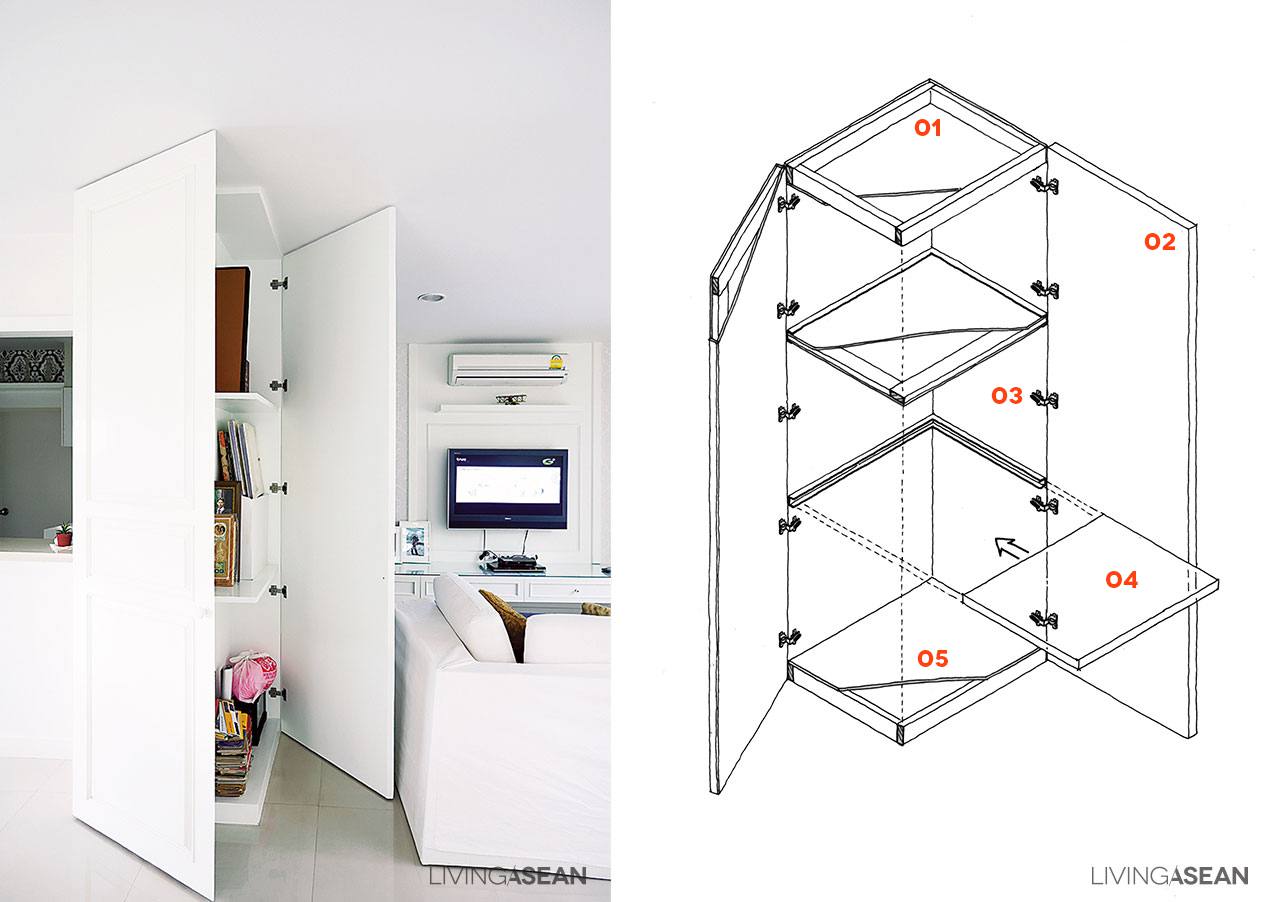 01 Hardwood cabinet
02 Cabinet shells made of white MDF wood
03 Permanent U-shaped stainless steel brackets to hold the shelf in place
04 White MDF wood shelves 24 mm thick
05 Hardwood frame covered with white MDF wood
Looks can be deceiving. What looks like a 40-by-50 cm pillar supporting the building is in fact a vertical storage space that stands tall from floor to ceiling. This creative storage can open on two sides for accessibility and convenience.
Location: Kasijsin Suwattanapim's home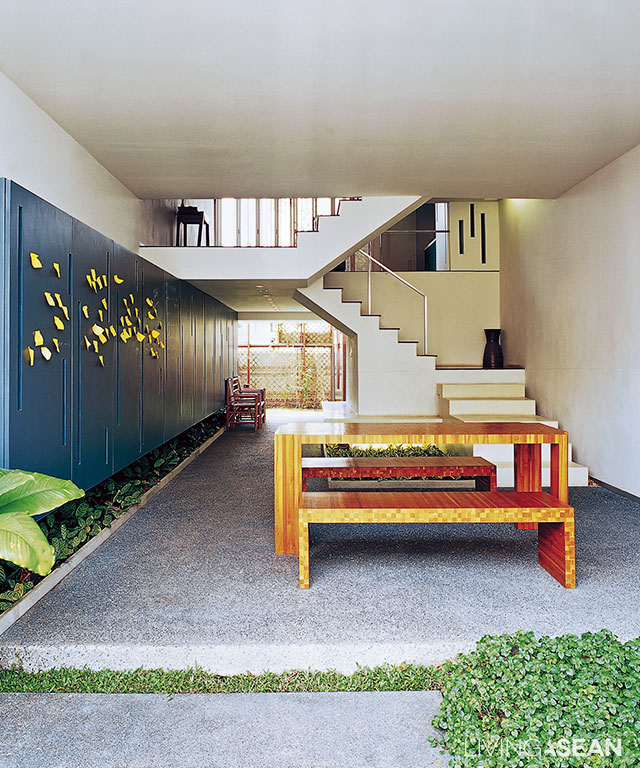 Hallway walls are perfect for putting in a full array of built-in closets. The semi-outdoor area is a convenient place for storing shoes, gardening tools, toolboxes for the handyman … you name it. Black-laminated cabinet doors make post-it notes highly visible. But if you prefer magnets like the kind used on the refrigerator, we recommend installing a magnetic board on the back of the laminated panel.
Location: Assist. Professor Singh Intrachooto's home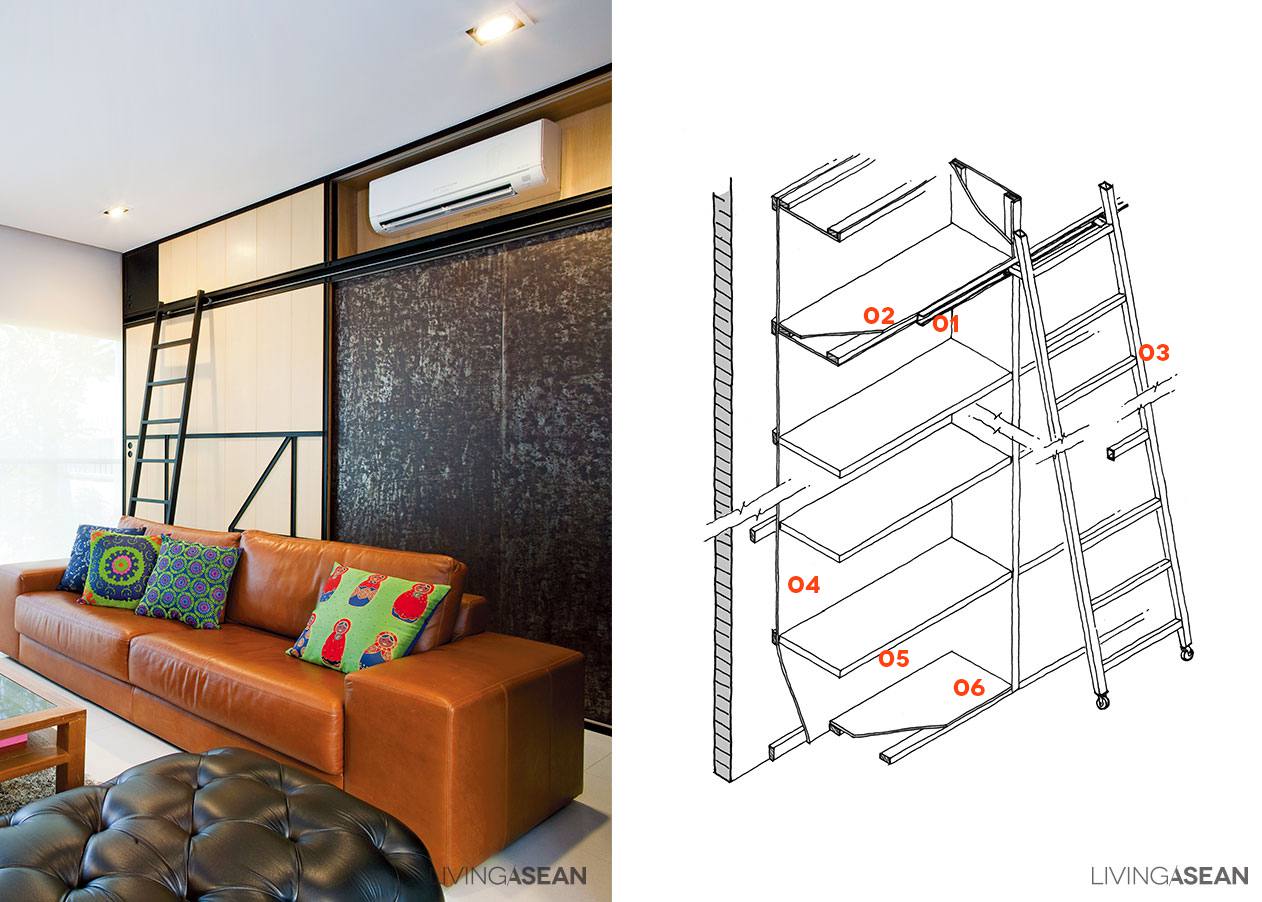 01 Black U-shape rail upon which a rolling library ladder rests.
02 Hardwood panels 30 mm wide, U-shaped steel rail painted matte black
03 Steel rolling library ladder painted matte black
04-05 The rear and the sides of the hardwood cabinet made of ash-plywood in natural colors
06 Hardwood frame covered with ash-plywood in natural tones.
An airy, high-ceilinged room is ideal for putting in a row of overhead shelves equipped with a rolling library ladder for easy access. The cabinet depth can be anything from 25 to 30 cm to create enough space for books and equipment. Add different textures to the wall to give the area a distinctive style.
Location: Areeya and Pilan Spanond's home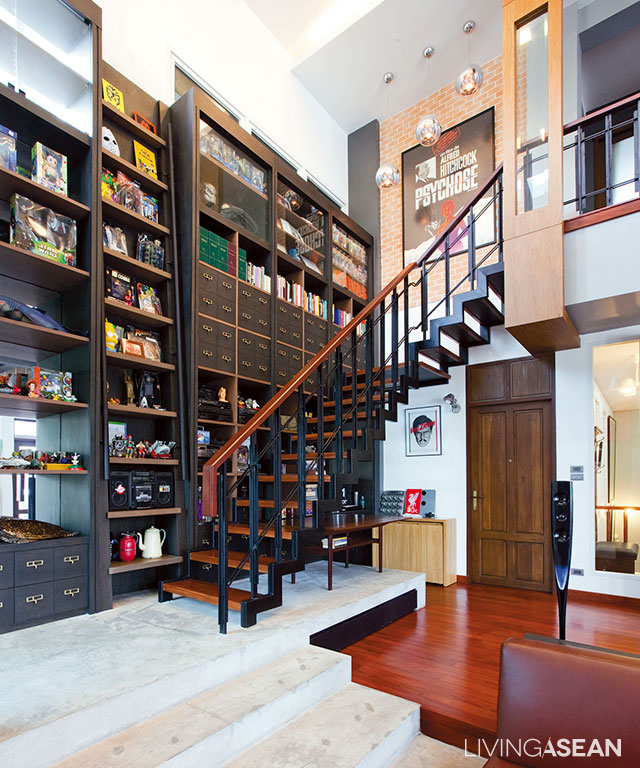 You can create even more storage spaces buy turning hallway walls into bookshelves. By positioning the stairs 40 cm away from the wall, you have got a bookshelf that stands tall from floor to ceiling covering the entire length of the room. Where appropriate, put in some glass doors so that you can access the top shelves from both front and back sides. This is just one clever hack to put yours walls to work.
Location: Wonlopsiri's Home Family
01 Outer frame
02 Hardwood frame covered with MDF plywood in gray
03 Furry carpet is held in place by Velcro tapes commonly found at stationery stores
04 Hardwood frame topped with plywood panel 18-20 mm thick
05 Hardwood drawers (30 x 30 x 45 cm) covered with gray MDF plywood
Nothing goes to waste. The space under the loft bed can transform into a commode containing concealed chambers used for storage. The commode can be as high as 45 cm from the floor to give ample spaces for storing miscellaneous items.
Location: Nu Nimsomboon and Klaiduean Sukhahoot's home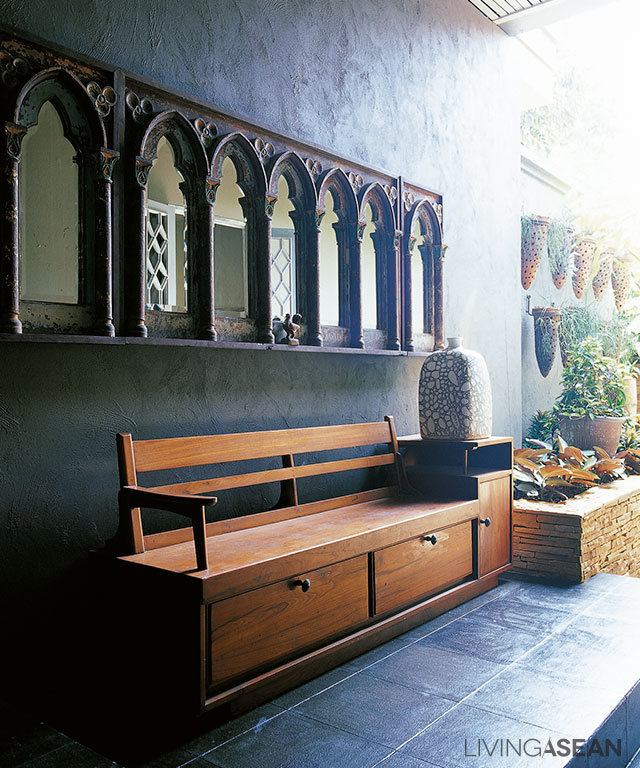 Even a mundane bench can turn into useful, multipurpose storage in the courtyard. The space under it can be remodeled to shelter your shoes, hand tools, gardening tools and all from bad weather or danger. It's a good idea to divide the underneath space into two parts and put in a couple of drawers with easy handles. The drawers can be made of plywood or MDF wood about 10 mm thick for durability.
Location: Bill Bensley and Jirachai Rengthong's home link: http://www.bensley.com/
link: http://www.roommag.com/home-ideas-1/scoop/10388/smart-storage-ideas-2/