"The Rising Together-Baton Run" for the 2017 SEA Games and the ASEAN Para Games (KL 2017) will be touring Bangkok this Saturday.
After 16 years, Malaysia is once again hosting the SEA Games and the ASEAN Para Games, which will be branded as Kuala Lumpur 2017. "The Rising Together-Baton Run" is a pre-game event for KL 2017 organized by MASOC with the cooperation of the countries involved.

Fast Facts of Baton Run
The run is held in conjunction with the 29th SEA Games and the 9th ASEAN Para Games (Kuala Lumpur 2017)
The baton will then be switched to a torch, which will be brought all over the country.
The run will be for a distance of 10 kilometers on average, covering 10 capital cities of the SEA region.
The run will cover iconic locations within the capital cities such as Malacanang Place in the Philippines, Singapore Lion in Singapore, Sultan Omar Ali Saifuddin Mosque in Brunei Darussalam and That Luang in Lao PDR.
The main runner, together with a group of at least 30 supporting runners, will then run from the main point for two kilometers and pass the baton to another set of runners led by another main runner, who will be on standby at the first check point.
The SEA Games will be held from Aug 19-31 and the official closing ceremony will be held in conjunction with the 60th Merdeka Day while the ASEAN Para Games will be held from Sept 17-23.
Dates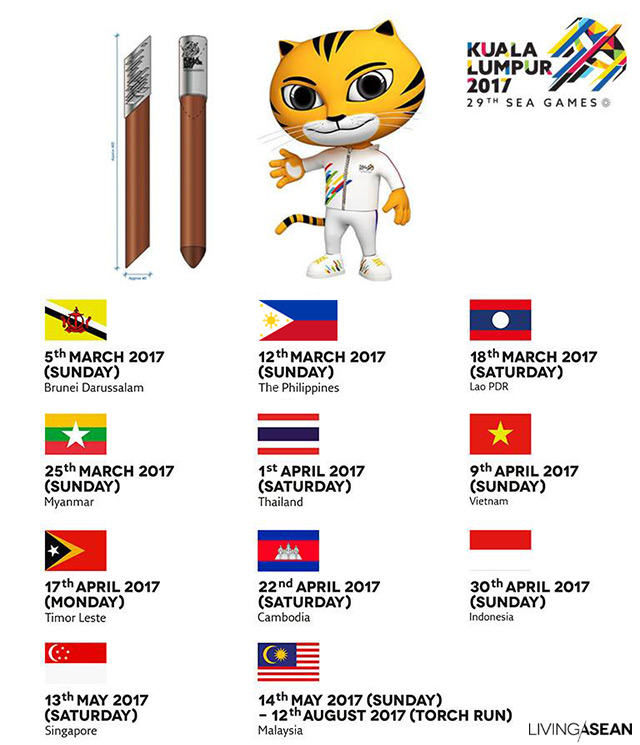 About the Baton
Royal Selangor is the designer of the baton that will be used in the Rising Together Baton Run. Below is the description of the baton:
The Baton draws directly from Kuala Lumpur 2017's theme Rising Together. Its clean form depicts a clear reference to the symbolic shards that represent every Southeast Asia nation and make up the Games' logo. Its triangular cross section, based on the strongest geometric shape, represents strength in unity. The length and width of the baton is 400.0mm (L) x 44.0mm (W); and it weighs approximately 600g. The Baton comprises a stave made of tawny wood native to Southeast Asia, and a satin-finished pewter finial.
The exact baton, which comes together with its box ,will be up for sale by Royal Selangor for RM1,480.00 per piece. It is now open for pre-orders to public.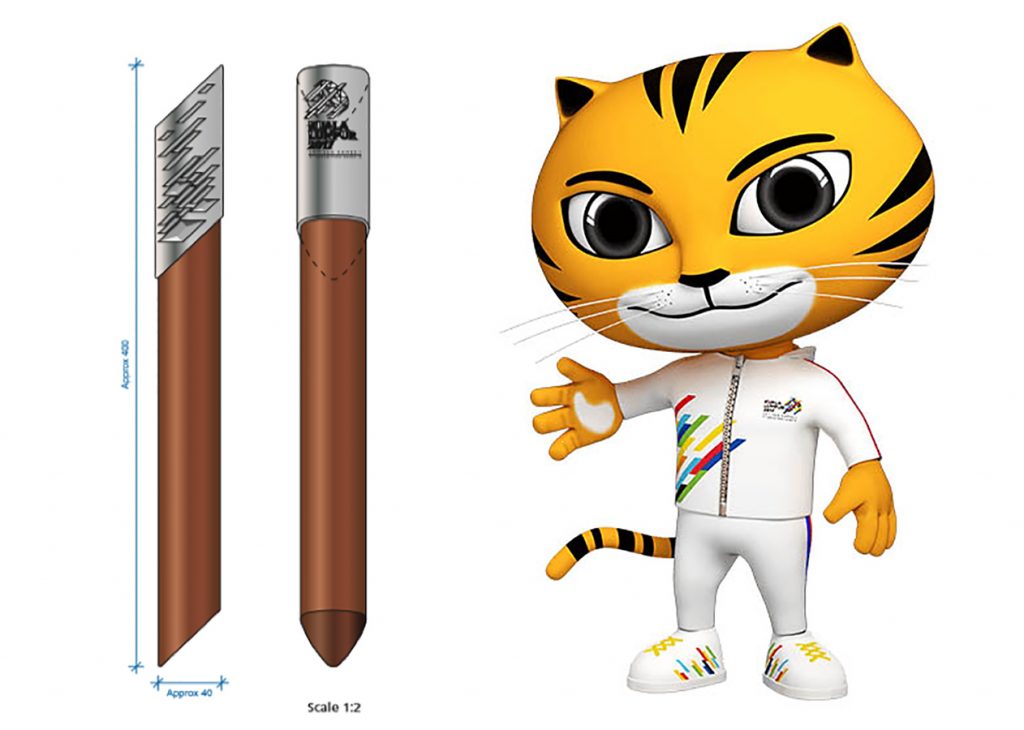 Link : http://kualalumpur2017.com.my/index.cshtml