FREE SEMINAR! YOU SHOULDN'T MISS
Want to make your millions?
Learn from business gurus at Asia Lifestyle Expo 2019
—
21-23 August 2019 at BITEC Bang Na
Starting a successful business isn't really a big mystery. First things first, search the information that widens your knowledge and understanding of how a company works. Stay ready to act. Be on the alert for change and adapt to new circumstances. That's enough to ensure your business success is within reach.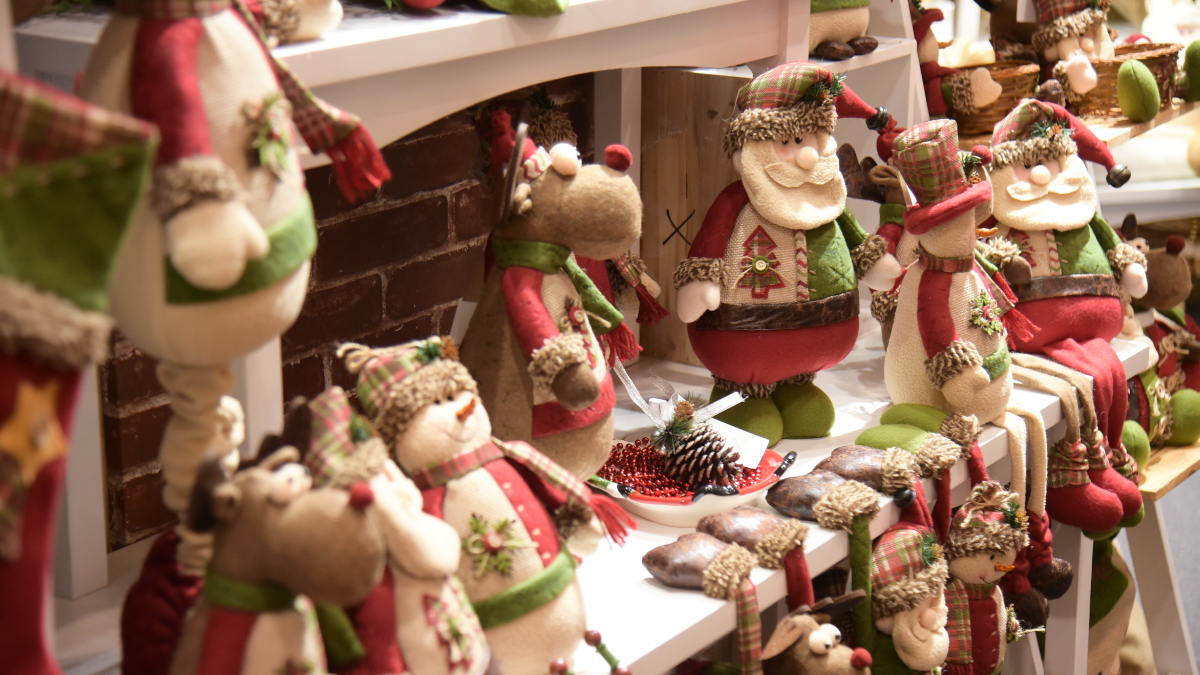 In the previous article, we presented information about the Asia Lifestyle Expo 2019, in which more than 500 exhibitors across Asia will participate from 21 to 23 August at Hall 98, BITEC Bang Na. More detail can be found at https://livingasean.com/explore/asia-lifestyle-expo-2019.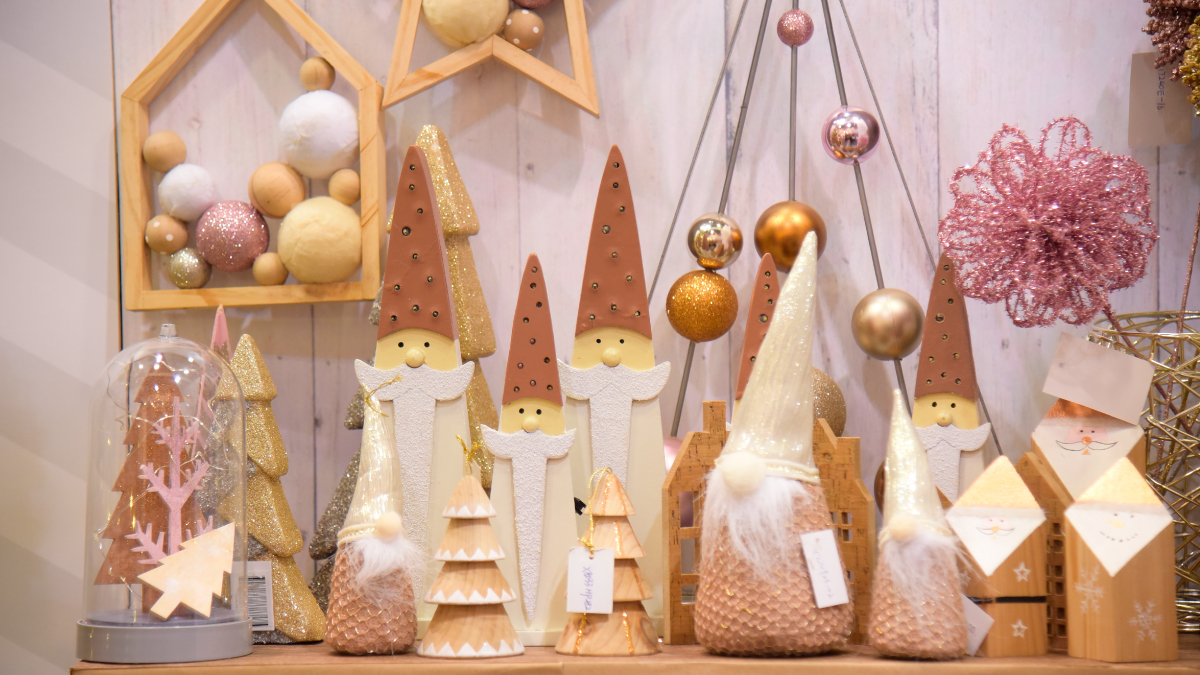 The Expo offers a series of seminars on exciting topics that we don't want you to miss. They are handpicked to help you discover new knowledge and be prepared to deal with future challenges. It's a rare opportunity for many influential business gurus to gather together in one place for a common purpose. In other words, plenty of information to share with you!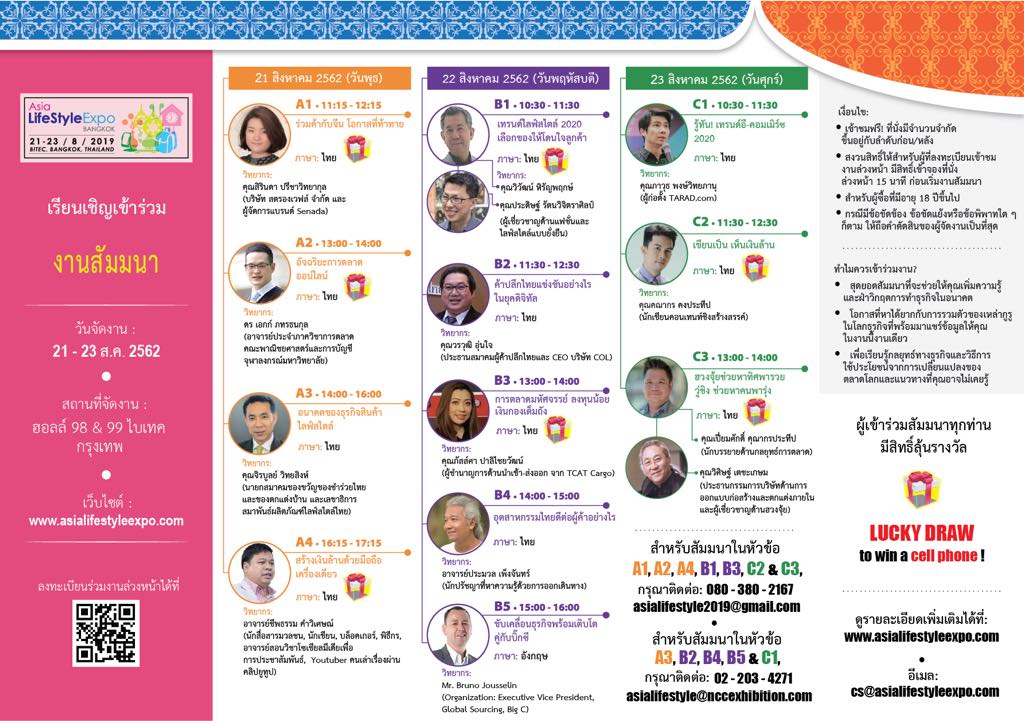 Date: 21 August 2019
Time: 11.15 – 12.15
Topic: Partnership with Giant: China Opportunities
By: Miss Sirinada Preechavidhayakul
Strongwave Co., Ltd. & Brand Manager Senada
Capture the critical success factors of fashion branding in China market. Meet the new generation management of SENADA; the leading Thai fashion brand, which firmly expands into the Chinese Upper Market. Understand the opportunity and threat of branding in China, partnership with distribution, and market-oriented design strategy.
Time: 13.00 – 14.00 hrs.
Topic: Online Marketing Genius
By: Dr. Ake Pattaratanakul,
Professor, Marketing and Branding Chulalongkorn University
Online Branding is the key to ensure customer loyalty, gain market share in the highly competitive e-commerce arena. The branding guru makes you understand how to strengthen your brand by the synergy of online and offline. Be inspired by marketing for the future.
Time: 14.00 – 16.00 hrs.
Topic: Overview of Global Lifestyle Industry
By: Jirabool Vittayasing
President of the Thai Gift Premiums & Decorative Association and Secretary-General of the Thai Lifestyle Products Federation Secretary-general of the Federation of Thai Lifestyle Products
How the Thai lifestyle industry has adapted to change amidst intense competition in the world marketplace. Countless online apps let people buy and sell and their fingertips. Now, where do we go from here to survive?
Time: 16.15 – 17.15 hrs.
Topic: Make a Million with One Mobile
By: Lecturer Mr. Cheeptham Kumvised
PR, Writer, Blogger, Social Media for PR lecturer, Youtube Creator, Founder of www.teamdigital.com, Board of committee for technology communication of tourism authority of Thailand​
Money made easy through M-Commerce. Bring your phone and join us at the seminar. Listen to Guru who influence top Thailand key success people both in private and public sectors.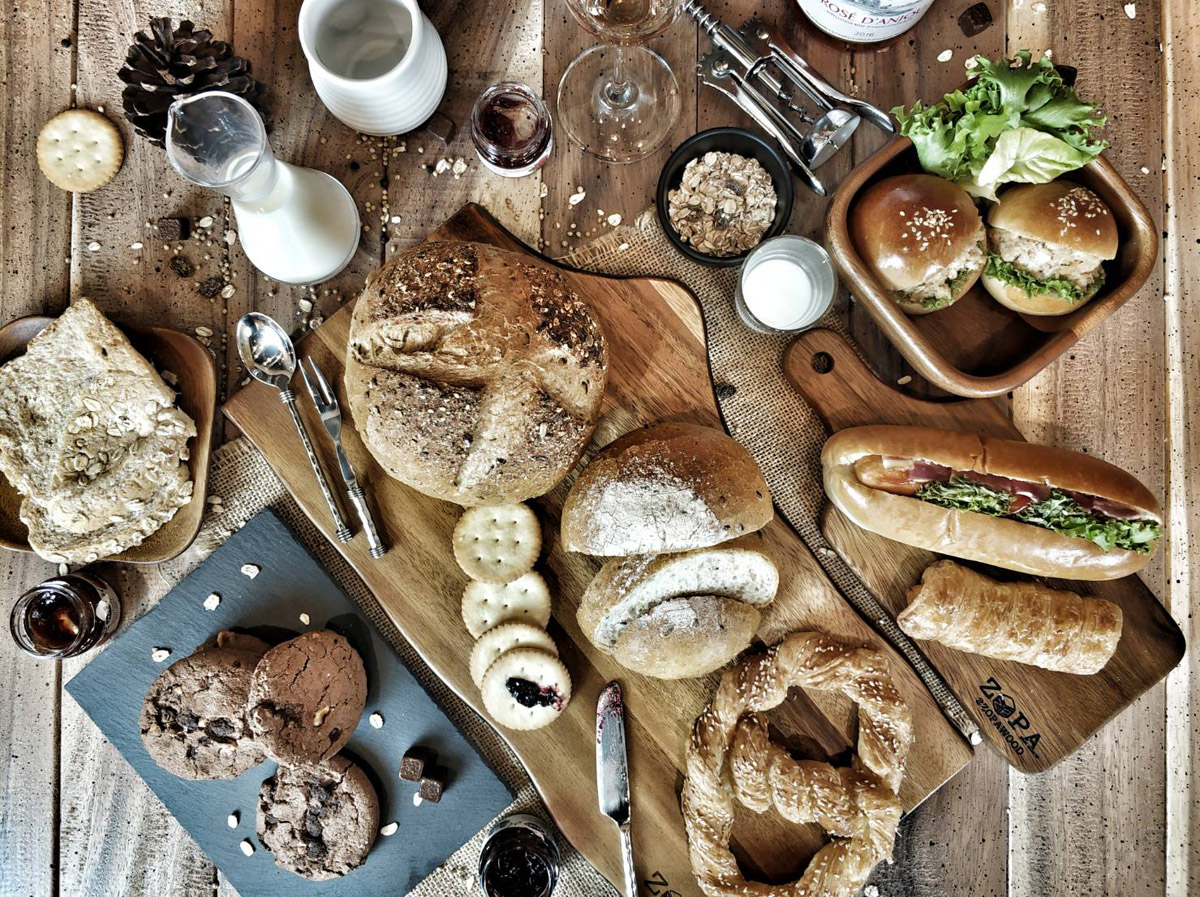 Date: 22 August 2019
Time: 10.30 – 11.30 hrs.
Topic: Lifestyle Trend 2020: Sourcing the Right Product
By: Wiwat Hirunpruk & Mr. Pradit Ratanawijitrasilp,
Design Trend Expert & Fashion Marketing Lecturer at Chulalongkorn University
Make topnotch lifestyle products Sustain your decision by knowing forward trends to reach the high potential target consumers. Create a practical design and marketing plan for higher turnover.
Time: 11.30 – 12.30 hrs.
Topic: Success Factors of Thai Retailers in the Digital Era
By: Worawoot Ounjai
President of the Thai Retailers Association and Chief Executive Officer of COL Public Company Limited
Topic you shouldn't miss if you want to jump into the competitive retail industry. Listen to the speaker, unlock the secrets to successful brand building in the Digital Age. He is renowned for generating awareness and promoting the OfficeMate brand. The multi-million-baht COL Company's success story has its origin in his master's thesis.
Time: 13.00 – 14.00
Topic: Miracle Marketing: Invest a small amount earning million
By: Passa Palichaiwat
Specialist in import-export of TCAT Cargo
5 years' experience in Chinese exports to Thailand
The topic touches upon various aspects of e-commerce, from web price comparison to wholesale/retail businesses and steps in buying from Chinese websites, among them Taobao.com, and 1688.com. What to do if you don't know Chinese? The speaker will show you the way, plus a look at the credibility of some online stores, and service provided by TCAT Cargo.
Time: 14.00 – 15.00
Topic: Smart exporter
By Ajarn Pramuan Pengchan
Philosopher
The much-traveled lecturer believes adventures are the best way to learn. In 2005 he resigned from a teaching job at Chiangmai University and started a journey on foot heading for Samui Island, his birthplace. More lessons were learned along the way. His book titled "Walk to Freedom" has become an inspiration for many.
Time: 15.00 – 16.00 hrs.
Topic: Drive Business and Accelerate BIG C Growth
By Bruno Jousselin
Organization: Executive Vice President, Global Sourcing, Big C 
Have you ever wondered what to do to sell your products at Big C? This session will show you exactly that. Learn about steps in the selection process and what rule applies from Mr. Bruno Jousselin, Organization: Executive Vice President, Global Sourcing, Big C, whose retail business experience spans more than 25 years.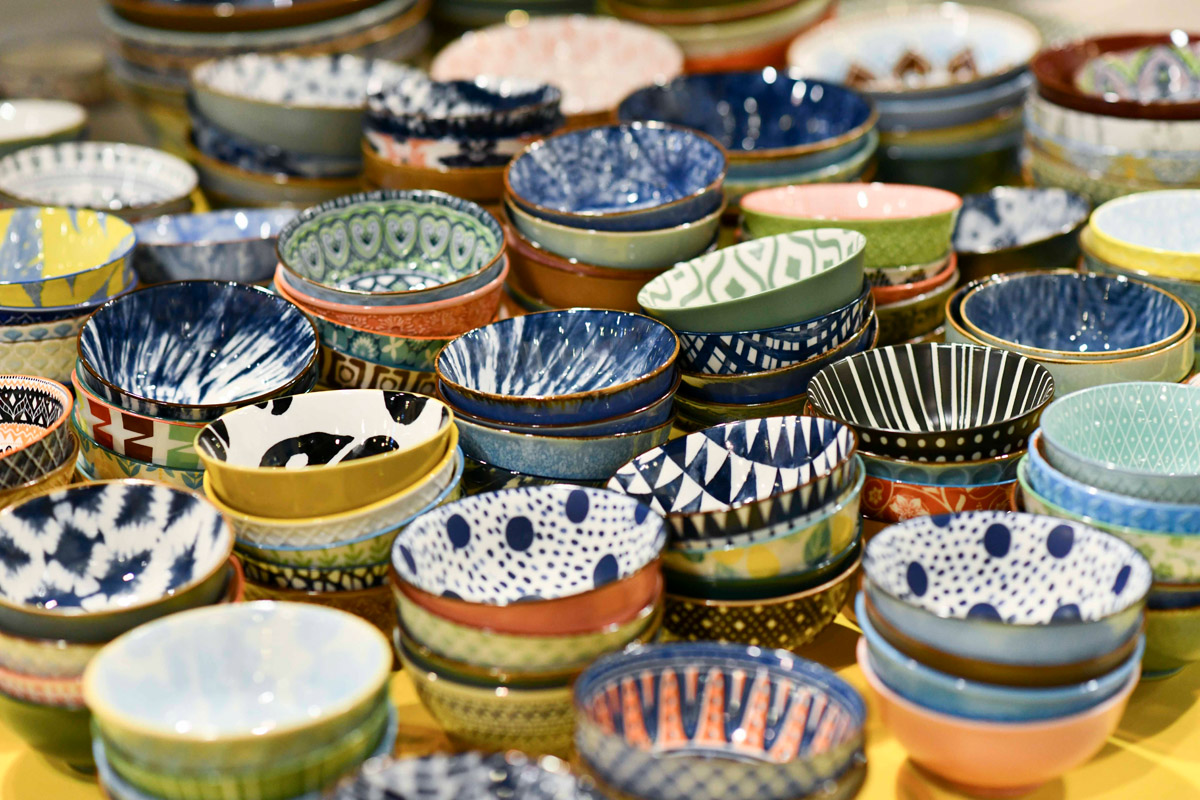 Date: 23 August 2019
Time: 30 – 11.30 hrs.
Topic: Marketing Trends of E-commerce 2020
By: Mr.Pawoot Pongvitayapanu (Pom)
Online entrepreneur, E-Commerce and Online media business leader, more than 20 years' experience in Digital and Technology industry.
The speaker is the founder of TARAD.com, one of Thailand's leading e-commerce companies. He will be sharing his knowledge in online trade and e-commerce trends for 2020. Want to start an online store? Then don't miss out on it.
Time: 11.30 – 12.30
Topic: Make Money through content Creation
By: Kanakorn Khongprateep
Creative Content Writer, SMEs News Reporter, MC, Lecturer, Speaker
How to make your first million through creative content writing, photography, and video editing as the key factors to promoting business in the Digital Age. Whether you're a seasoned entrepreneur or a newbie, using technology can improve your competitive edge.
Time 13.00 – 14.00
Topic: Feng Shui and Wu Ching for Business Success
By: Piemsak Kunakornprateep
Director of The Writing Development Institute, Show Host, Author in Business Administration and Investing, Lecturer and Marketing StrategistAnd: Mr. Visit Taechakasem
CEO of a company specialized in design, construction, and interior decoration, and an authority on Chinese geomancy, or Feng Shui
Let's familiarize ourselves with Feng Shui, a Chinese practice governing spatial arrangement and site orientation. If you're in the market for decorating materials, it helps to know where to place them to create harmony with the surroundings. An auspicious setup within a place of residence can have positive aspects of your life. While there, learn about marketing strategies and investing from the two famous business gurus.
​Just a reminder! The seminar is FREE! Booking open now so hurry limited seats available.
Special privileges for pre-registration to attend the show.
Privilege 1: You have the right to reserve a seat 15 minutes before the seminar starts. To enjoy the opportunity, register here: http://bit.ly/2JHS1EO

Privilege 2: Pre-register for a chance to win FREE AIR TICKET (Bangkok-Hong Kong)! See more detail at: http://bit.ly/2FM7TF5
For further information, please call 02-203-4271, or email us at: asialifestyle@nccexhibition.com.