Don't prejudge beauty: just look deep, seek the true inspiration at the center of a single art work, a particular piece that gives an extraordinary reflection of society, ideas, and culture, or perhaps may take you straight down into the depths of the human soul.
/// THAILAND ///
Story: Nirin P. /// Photography: Wara Sutthiwan
If you have time, we hope you'll use some of it each day visiting the Bangkok Biennale 2018 Art Festival, with exhibitions in urban settings and along the Chao Phraya riverside. Here we're calling your attention to six artists whose work you should experience for guaranteed insights into the world we live in.

Inflatable Pumpkins Balloons / Yayoi Kusama 
Let's start with "Auntie Polka Dot," Yayoi Kusama, famous for her characteristic repetitive use of those quirky dots on all sorts of artistic media. Some of the beauty in Auntie Yayoi's work comes out of her reflections on struggles for gender equality and women's rights. She uses netting, pumpkins, and mirrors to show relationships, as you'll see in the piece named Inflatable Pumpkins Balloons on display at Central World. There you'll see 14 pumpkin-shaped balloons suspended, chandelier-like, from the ceiling, in an environment dominated by red polka dots.
Why pumpkins?
Everyone asks this question! In a Louisiana Channel interview, Auntie Yayoi answered, "I love pumpkins because of their funny shapes, sometimes even quite like human facial features, and they give me a warm feeling." And the pumpkin shape has been a staple of her art since she her youth in the 1950's: she's always been attracted to materials whose natural forms had an unevenness to them, as well as showing repetitive patterns. Adding to her perception has been a neurological condition causing her to have double vision since age 10, which has actually contributed to her producing such world-class artistic work. Watching the dedicated performance of Auntie Yayoi's Japanese work team, we were amazed at how no tiny detail escaped them. This involved not only inflating and hanging the colorful balloons, but creation of beams and internal supports, and stringing wiring, finally resulting in the spectacle of gorgeous pumpkins floating high above which you can see today.
Location: Floor G, Central World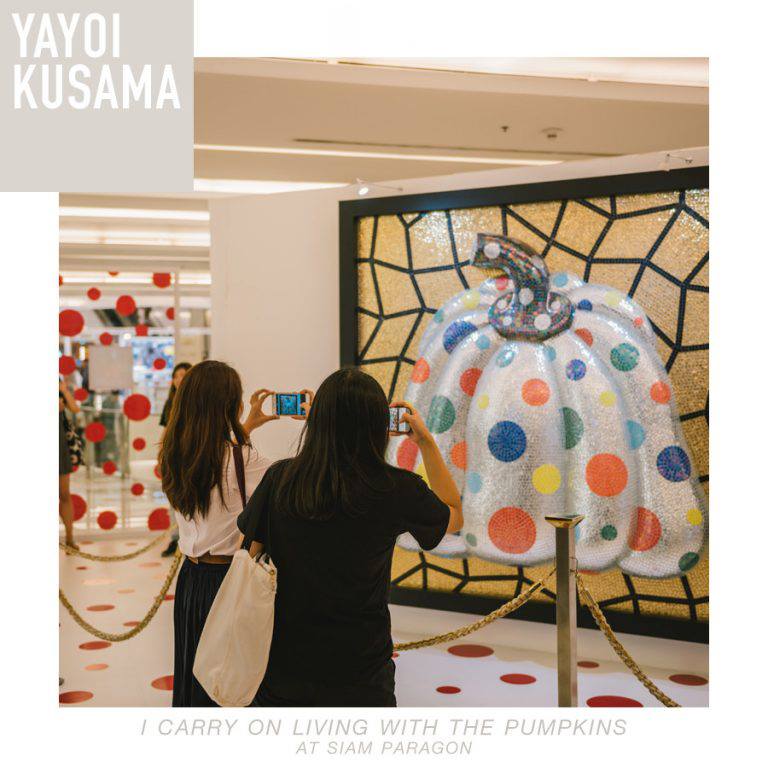 Another two of Auntie Yayoi's signature pumpkin works are on display at Siam Paragon, one a sculpture featuring silver dots in subtly detailed mosaic patterns reflecting various things hidden in them, and the other in the same area, a red pumpkin with black polka dots, called I Carry On Living With The Pumpkins, both definitely worth close-up observation.
Location:  Fashion Gallery 3, 1st Floor, Siam Paragon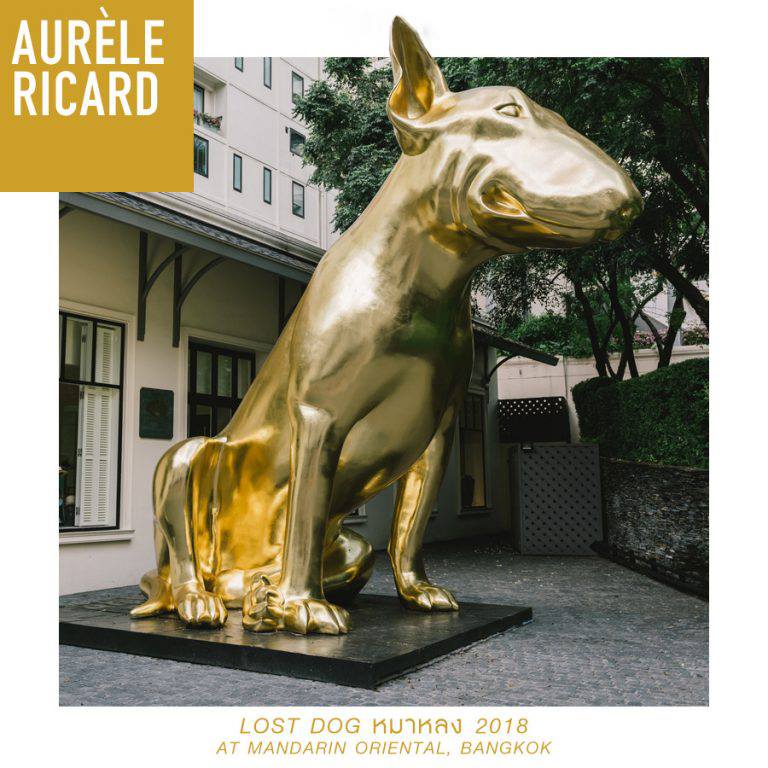 Lost Dog 
This title translates word for word between language, no room for misunderstanding. If you're an animal lover and see a lost dog poster, what's your first reaction? Naturally we feel sorry for both dog and owner and want them to find each other quickly. But more than that, imagine yourself in the dog's place: scared, anxious, unfamiliar with everything. Aurèle Ricard's Lost Dog may represent a person living in modern society, trying to find a path home in the confusion of today's world. And Lost Dog is a reflection of life not only under problematic social conditions, but also afflicted by the continuous environmental deterioration and decay caused by limitless and increasing human consumption.
Lost Dog CO2 is a huge 3.8-meter tall dog sculpture made entirely from more than 1500 plants, mainly ferns and climbing vines, vegetation helping to reduce air pollutants. We are the lost dog's owners: human beings who suffer from the pollution and confusion of the city. Although lost and stumbling around in the dark, by starting with ourselves we should be able to change the world, developing towards a good future for the young and the next generations.
Location: Mandarin Oriental, Bangkok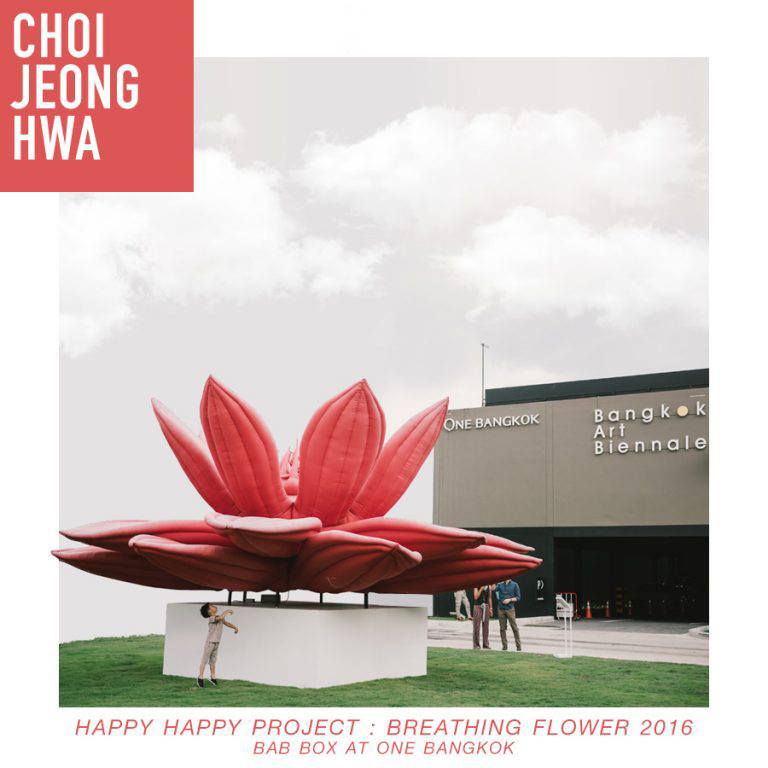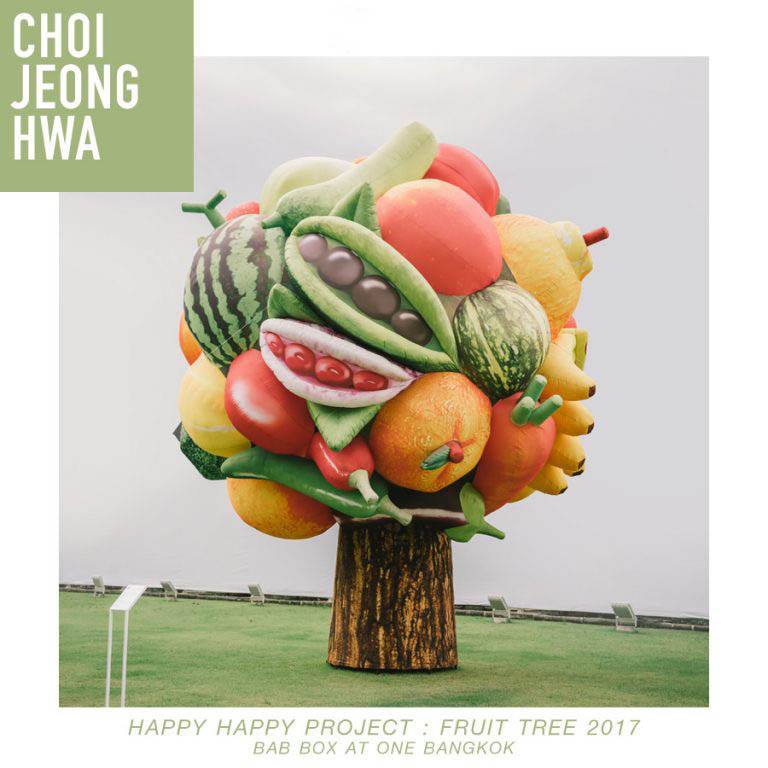 Choi Jeong Hwa
If you like balloons or animated 3-dimensional representations, you'll like Choi Jeong Hwa's work, as these sorts of things give life to his works. Abundant happiness is an ever-present theme which Choi likes to express by playing with space, large shapes, and sharp perspectives. Many of his works are best first seen from some distance. He makes use of unexpected materials, and takes great care to exhibit in locations where the art will have the greatest effect on viewers. One project he's given us is
Happy Happy Project: Fruit Tree 2017 and Flower 2016, at BAB Box @ One Bangkok, directly across from Lumpini Park: a giant flower whose motion simulates breathing, and a tree bursting with all manner of fruits. Choi says that he doesn't have words to describe his works, that instead he feels he is creating openings for people to appreciate and interpret according to their own experiences. His personal favorite phrase is "Your heart is my art."
Location: BAB Box @ One Bangkok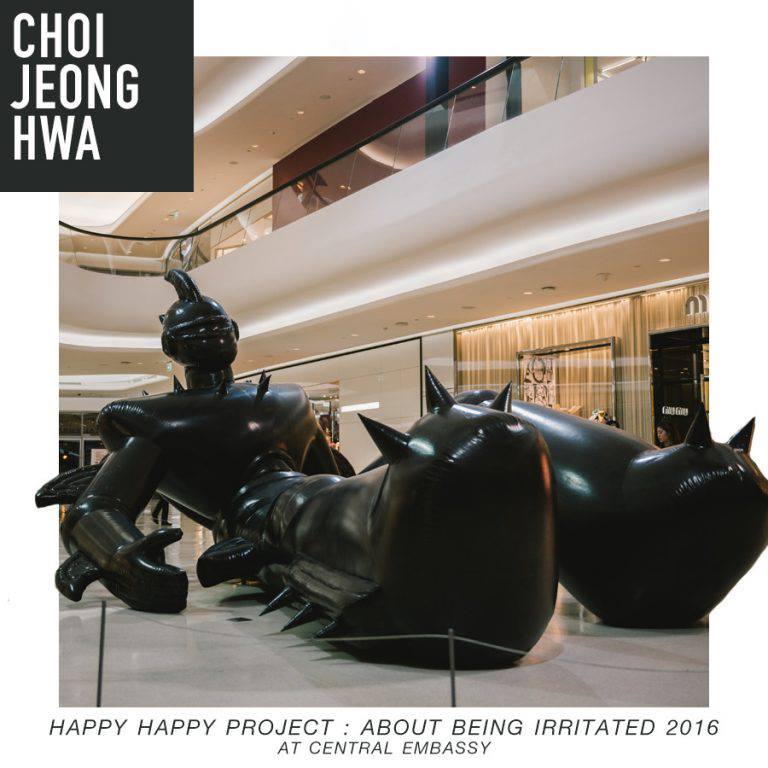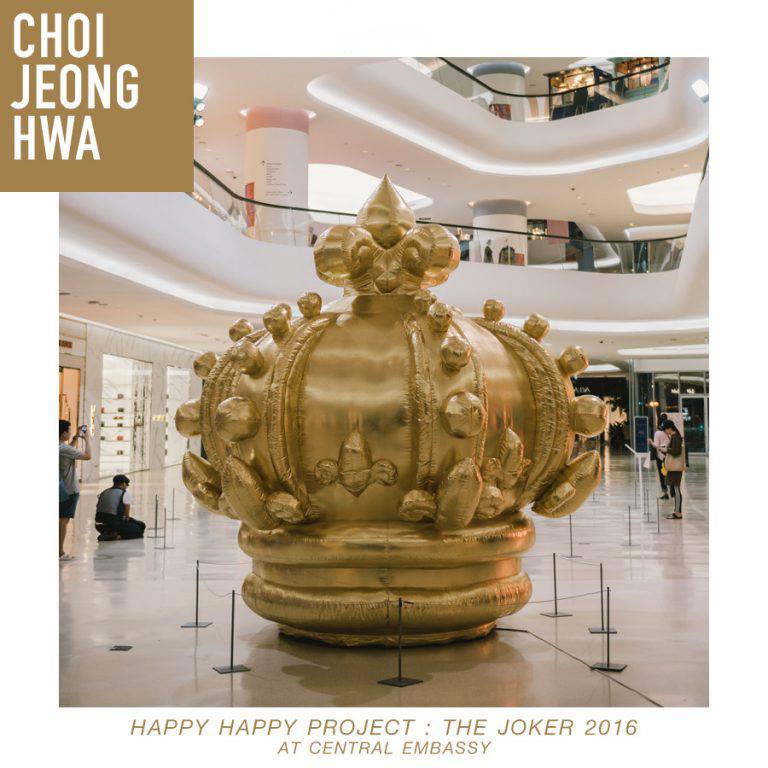 Driving, come just a little further down the road to Central Embassy for more Choi and more large pieces. Robot is a black, awesomely scary giant and The Joker is a huge golden crown that looks as if it's been dropped there. We don't know if there's any relationship between these two, but it's fun to strain the brain coming up with one. The black robot god can get up and lie back down as if fatigued from work. What's he been up to? Use your imagination.
Location: Central Embassy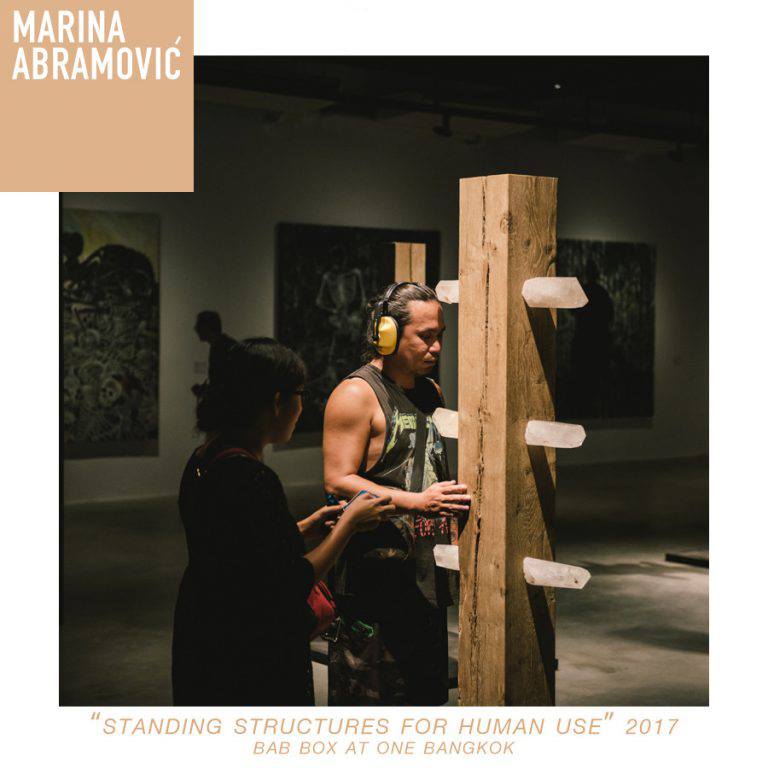 Standing Structures for Human Use (2017) / MARINA ABRAMOVIĆ 
Marina Abramović's fascinating performance art, revealing intention through an interplay of the human body and spirit, is at the core of all the works that made her famous, one of which is Rhythm 10 (1973).
Rhythm 10, her first solo performance, features knife play. Spreading her hand wide, she slams the points of the knives (there are 20 of them!) rapidly in each in-between space, all the time recording the sounds. Then she plays the recording and repeats the process in synch with the recorded rhythm. Spooky, no?
Marina says she's neither crazy nor has a death wish. Even if many of her works appear life-threatening, she is simply testing the extent of the body's powers. She's discovered it isn't so much the body, but the mind that enables us to go beyond our limitations. For her, performing before an audience merely means pushing her own limits to be able to do things normally impossible.
The works she has brought to Bangkok Art Biennale 2018 are retrospectives of her installation art. Visitors to Standing Structures for Human Use (2017) participate in activities by responding to the structures. A person stands on one side and communicates with another through a crystal. Marina believes that if our minds are still enough, they can send energy to each other.
Location: BAB Box @ One Bangkok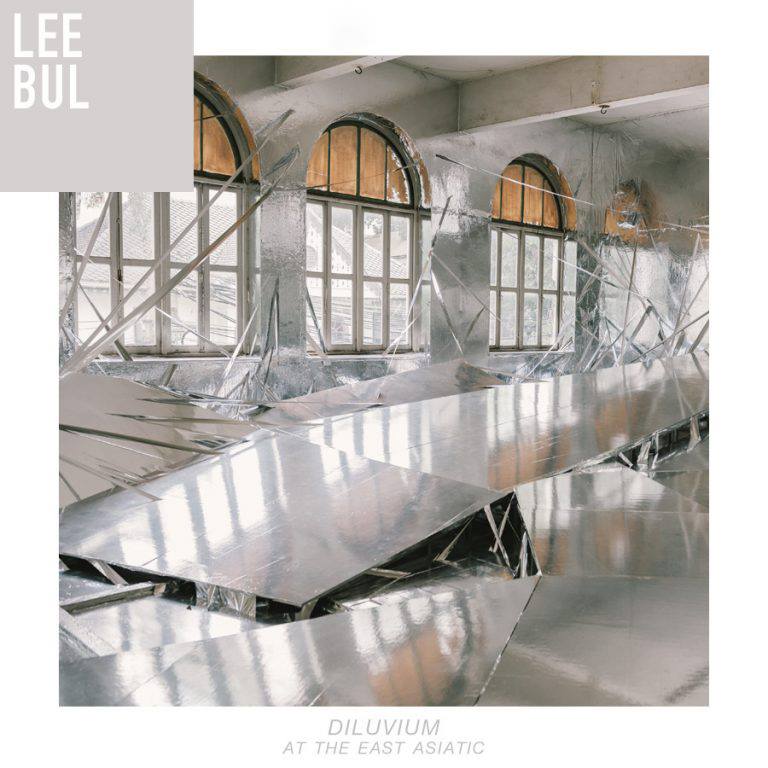 Diluvium / Lee Bul
This work is eye-catching from the first moment, a futuristic installation art uses reflective silver-colored plastic panels built on a temporary framework of connected steel boxes covered over with reflective plastic sheets. The name Diluvium, known in a very wide circles, has a Latin root meaning "flood" or "gush to overflowing." Artist Lee Bul says, "I'm always asking questions about mechanisms of the human body. This piece does that in a site-specific way: here we transform a large space into something completely different by playing with gravity. There's no place here where visitors stand up naturally straight, so they have to find their own balance, which means the brain is forced into constantly controlling the body."
Lee Bul's BAB festival works are found in the East Asiatic building, a splendid example of Renaissance revival architecture. This makes for a perfect blend of history and fascination.
Location: East Asiatic Building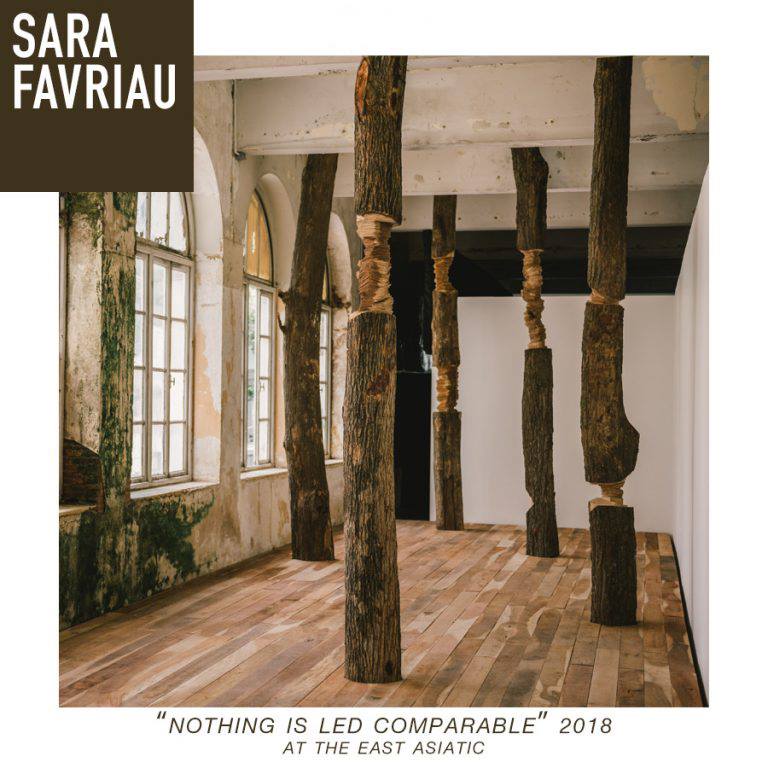 Nothing Is Less Comparable 2018 / Sara Favriau
Wood is valuable in all its forms; a tree has value, whether standing, cut into many forms, or even as wood chips, to get every possible use from it. Nothing Is Less Comparable 2018 is the name of a sculpture work by French artist Sara Favriau. Her remarkable strategies create installation art from teak, tembusu, and sandalwood to communicate a colonial flavor that reflects the exhibition building itself. But for the vision she brings to Bangkok, and how she makes use of wood materials in the tropics . . . ah, but yes! You must see this for yourself!
Location: East Asiatic Building
Beyond the 6 artists we've mentioned here, Bangkok Art Biennale 2018 offers countless works from many you have likely never seen, in a great number of locations across the city and along the river. The festival runs from October 19, 2018 through February 3, 2019 at 20 Bangkok venues.
You may also like…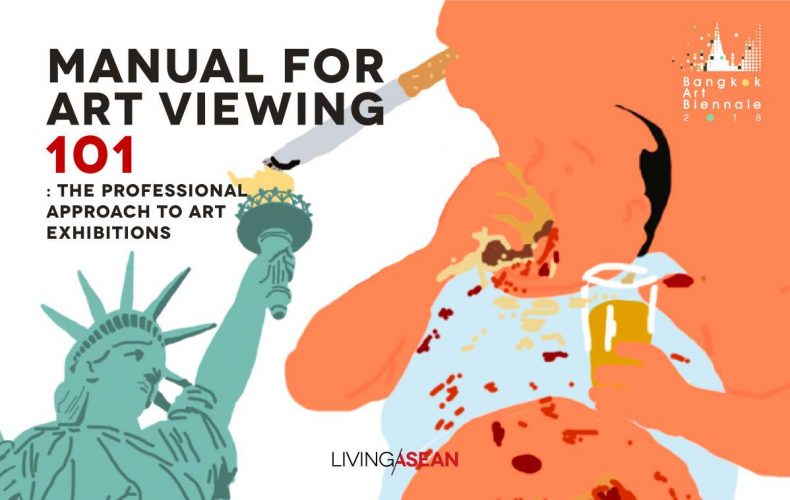 MANUAL FOR ART VIEWING 101: THE PROFESSIONAL APPROACH TO ART EXHIBITIONS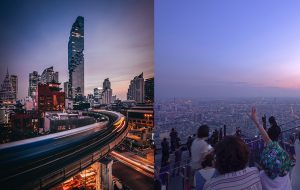 MAHANAKHON SKYWALK; BEST PLACE TO SEE THE BREATHTAKING SKYLINE OF BANGKOK